Furnace Heating System Q&As
Furnace inspection, troubleshooting, & repair FAQs
FURNACE HEATING FAQs - CONTENTS: questions & answers about Warm Air Furnace Heating Systems: inspection, diagnosis, repair
POST a QUESTION or READ FAQs about how to buy, install, maintain, and fix warm air heating furnaces, ductwork, and controls
InspectAPedia tolerates no conflicts of interest. We have no relationship with advertisers, products, or services discussed at this website.
Warm air furnace installation, troubleshooting, repair FAQs:

Questions & answers about how to repair a home heating furnace - force warm air heat troubleshooting.
This article series answers just about any question about forced air or warm air furnace central heating system troubleshooting, inspection, diagnosis, and repairs in residential buildings and homes. Sketch at page top courtesy of Carson Dunlop Associates.
Green links show where you are. © Copyright 2017 InspectApedia.com, All Rights Reserved.
Warm Air Furnace Troubleshooting or Inspection FAQs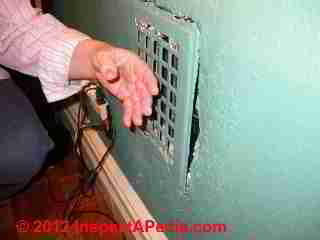 If you have no heat a all and your heat is by forced or gravity warm air, see HEATING LOSS DIAGNOSIS-FURNACES.
At this website we describe the basic components of a home heating system, how to find the rated heating capacity of an heating system by examining various data tags and components, how to recognize common heating system operating or safety defects, and how to save money on home heating costs. We include product safety recall and other heating system hazards.
If you don't know what kind of heat your building uses, we explain how to figure out the answer in more detail
at HEATING SYSTEM TYPES.
Recently-posted questions & answers about heating furnace troubleshooting, inspection, repair
Check for a bad thermocouple or flame sensor
Check for CO or flue gas spillage at the draft hood My gas furnace ignites but won't stay on for more than a few seconds before it goes out again. The induction fan and blower seem to be working fine. The furnace just seems to go through a series of igniting then going out right away. Sometimes, after a while it will stay on and heat to set temp and shut down appropriately, but then after the temp drops it will go back to a series of igniting then then flame out. Dave,
Please search InspectApedia for FURNACE RETURN AIR IMPROVEMENT to read some diagnostic and repair suggestions. It's pretty easy to make a lay-person's assessment of return air adequacy. That's where I'd start. A more powerful fan isn't enough if the return ducts are inadequate, blocked, leaking, etc.
I'm told my very efficient, gas, forced hot air furnace is only operating at 50% because it lacks return air. I thought this furnace was more powerful and more efficient than the old one. I ran two cold air returns and one heat duct to the new large bedroom.
It doesn't do much. I was told to cut a large cold air return into my hardwood floor, in the hallway up stairs. I really don't want to do that. I have easy access in the finished basement dropped ceiling. will that work? Furnace is a Trane XL80 upflow / horizontal, gas-fired 2 stage, fan assisted combustion system the house is a ranch 24'x 60'. We heat 60% of the finished downstairs as well. Thanks for your consideration.

Theo
I can only answer in theory as we have not a shred of information about your home. It is common for upper floors in homes to be warmer than we'd like and for lower floors to be cooler, if for no other reason than warm air rises by natural convection, passing upwards by stairways and even by smaller openings.
It would be very odd for that imbalance in heat to be caused by a thermostat as long as the thermostat is properly responding to calls for heat by turning the heating system on when temperature at the thermostat is below its setting and turning heat off when it senses that the call for heat has been met.
Sometimes a very simple winter-time step can improve the heat balance: closing upstairs room doors or even hanging a blanket or curtain across the top or bottom (better) of a stairwell can cut back the movement of downstairs heat up the stairwell. I have a two family home I had thermostat replace on bolt 1 st and the second floor and still the 2nd floor is too hot even when it shut the thermostat off I own a condo, 1,600 sq. ft. In a vintage 3 flat in Chicago. We have radiators and furnace serving all 3 units. We are looking into individual heating units with central air in each unit. How long, would you estimate the work, how messy and how do we have heat during the installation. Also rough estimate of cost for units, installation, labor? Do keep me posted - what you learn will help others, Chuck and stay safe.
Daniel Good advice about the CM detector. I fitted three 18 months ago, in strategic places i.e. in the utility room the furnace is in, another outside the room, and yet another upstairs in the gallery bedroom. The property is unusual in that it is a voluminous cavern of a living space (100'x 30'x 35' open plan) so my guess is the experts will take it at face value and throw away the standard rule book. I'll keep you posted. It makes sense to be careful where life safety questions are involved. I agree with bringing in a trained, experienced gas heat service technician. Your gas supplier should also be able to help.
Basically if a heater is installed in a small space it may lack enough air for the gas burner to completely consume it's fuel.
Complete combustion produces just CO2 (carbon dioxide) and water vapor.
Incomplete combustion Occurs if the gas burnerlacks enough oxygen (in air) so it then produces CO (dangerous Carbon monoxide)
An expert tests the exhaust for unsafe levels of CO using an instrument.
That could be due to improper chimney draft, bad burner adjustment, or insufficient combustion air.
In the last case one may add air from outside.
There are also simple rules of thumb about burner size in BTUs and room size that can suggest inadequate combustion air.
A pro can sort out the question for you.
Your immediate safety action must be to be sure your home has properly installed, located, tested Carbon Monxide detector alarms. If an alarm sounds, get everyone out right away and call emergency services.
Please keep me posted on what you are told. Thanks again for your comments. I did study the link but couldn't determine a definitive answer. Unfortunately it's all getting a bit to technical for me as I'm not an engineer and I don't understand the jargon. Your efforts to help is much appreciated but I think the best way forward is to ask for a second opinion from another company. Kind Regards. Chuck Is your "engineer" actually a P.E. ?
Does the engineer actually have expertise in gas fired furnaces, chimneys, combustion air? P.E.s usually have something better and more profitable to do than servicing furnaces.
How did the engineer determine that the furnace lacked adequate combustion air.
Did you search InspectApedia for COMBUSTION AIR REQUIREMENTS to read details about estimating combustion air needs? It's true that gas fired equipment is **VERY** dangerous if there is inadequate combustion air as you'll produce high CO.
Hi. Sorry, yes my question was basic but just to start the conversation. The system is gas fired warm air and has venting going from the unit to a chimney on the roof. The unit is in a large utility room which has a good sized window which has an air vent.
The engineer has suggested I need to get a builder to punch a hole through the granite wall and install a vent. It has been in the building (Converted Church Hall) for up to 20 years but seems very efficient and we've experience 2 Aberdeen winters. I just thought it prudent to have it serviced but it seems to have opened a can of worms. Any comments would be appreciated

Chuck It would be a bit of a stretch for me to pronounce legality having almost no information about your system, fuel, venting, etc. (and technically it's your local code inspector who declares it "legal" or not under building codes.
But certainly if the system is fossil fueled (oil or gas) its exhaust needs to connect to a working chimney and vent to outside.
Speculating and guessing all over the place since your question didn't give much information, if your engineer is referring to inadequate combustion air, that she thinks would be solved by providing outside air, that's a critical safety observation. Search InspectApedia for COMBUSTION AIR REQUIREMENTS to read details. Hi. I have inherited a Johnson & Starley warm air heating system. I asked a local engineer to service it and he advised that it was illegal because there was not outside venting in the utility room it is housed in. Is he correct? If the thermostat is calling for heat and the furnace is not turning on, I suspect a loose wire or a bad control board. Intermittents are hard to find. Start by eliminating the thermostat and its wiring from the equation: connect the two thermostat wire terminals at the furnace (the same as the thermostat calling for heat). If the furnace runs OK the issue is in the TT or its wiring. I have a gas furnace high efficient Bryant plus 90. It was not heating to the appropriate temperature and at times would not come on until I turned off the power at the furnace and turned it back on. I check the thermostat and cleaned the electronic filters. It worked correctly momentarily but now is back to not coming on at times until I reset it and then doesn't heat to the temperature setting. other times it cycles and works properly. Hi. Our hvac system is now making a buzzing sound when the heat comes on. A few days befor I noticed the emergency heat came on for no apparent reason. I am calling for technician, but wondered if anyone had any thoughts? Thank you. You are describing what may be a very dangerous condition. If the furnace heat exchanger is cracked, rusted, or has a hole in it then you may be venting dangerous flue gases including potentially fatal carbon monoxide into the occupied space. My suggestion is to ask for an inspection by a trained heating service company technician. My fiancee's house (manufactured) has forced hot air oil furnace. During times he's not there, the thermostat is set at 58. When returning home, the heat is turned up to 72. While the furnace is running, it smells like exhaust coming through the ductwork. The furnace was cleaned 4 months ago. There is no basement in the home, only a crawlspace. This is where the oil tank is located. There is a woodstove set up in another room but is not using the same chimney.
What can be causing this problem?
The man who cleans the furnace doesn't find anything. Is the noted furnace 110 or 220 volt supplied check for fuel supply, then check for a bad thermocouple My conv. heating system will start but will not ignite and fire the gas burner? I would shut the system off and call for repair; it may be overheating. Re-posting:
AUTHOR:Darrell cotrell (no email)
COMMENT:Space heater,it's brand new is making a high pitched noise when burner comes on and I'm finding a white powdery substance on top of heater surface. Re-posting:
AUTHOR:Darrell cotrell (no email)
COMMENT:Space heater,it's brand new is making a high pitched noise when burner comes on and I'm finding a white powdery substance on top of heater surface. Re-posting:
AUTHOR:Darrell cotrell (no email)
COMMENT:Space heater,it's brand new is making a high pitched noise when burner comes on and I'm finding a white powdery substance on top of heater surface. Re-posting:
AUTHOR:Darrell cotrell (no email)
COMMENT:Space heater,it's brand new is making a high pitched noise when burner comes on and I'm finding a white powdery substance on top of heater surface. Re-posting:
AUTHOR:Darrell cotrell (no email)
COMMENT:Space heater,it's brand new is making a high pitched noise when burner comes on and I'm finding a white powdery substance on top of heater surface. Re-posting:
AUTHOR:Darrell cotrell (no email)
COMMENT:Space heater,it's brand new is making a high pitched noise when burner comes on and I'm finding a white powdery substance on top of heater surface. Anon: please search InspectApedia.com for HEAT EXCHANGER LEAK TEST to see details. How to tell if the heat exchanger is gone I cannot find where to replace the filter. I have a gas heater with forced air. It's not in the furnace.
Question: how to find the age of my Lennox GN1-105C Gas Furnace
(Nov 23, 2011) jack said:
I am trying to find the age of my Lennox model GN1-105C gas, gravity fed air, furnace which the only thing I have had to do to it in the last 40 years besides cleaning is change the thermo-couple.
Reply:
Jack, at the upper left of this page where you see our links to heating-related articles and at the Article Index found at More Reading just above I have added
AGE of HEATERS, BOILERS, FURNACES
please take a look at that article and if questions remain just ask and I'll do my best to assist further.
Question: why won't my furnace heat the house to the thermostat set temperature
(Jan 4, 2012) patrick said:
My furnace will not reach the set temperature (winter now). I'd set it to 22c, the room temp starts at 17c, the furnace comes on, but can never hit 22c before it turns off again. I have no leakages. What could be the possible reasons?
Reply:
Check the building for unusual heat loss points;
Check the furnace BTUh rating against the building size and rough estimate of heat loss
Check the furnace for overheating in the heat exchanger by watching the fan limit switch dial to see if it's cutting off at high temperature
Question: musty odor from heating registers
(Jan 17, 2012) Musty smell said:
I have musty smell coming from registers. Furnace is on concrete in basement, but basement is dirt floors and dirt wall. Any ideas how to fix this. I was told when they put it in the basement that the basement smell would not be smelled through duct work. Otherwise, I would have put furnace in garage.
Reply:
Musty, there is not enough information in your note to reliably diagnose and cure your musty smell complaint, but I can suggest some places to start investigating:
1. leaks into the return duct from unconditioned spaces such as dirt floor and wall basement
2. improper return air source register location picking up air and odors from #1
3. water or moisture sources in the duct system or air handler contributing to mold growth
4. a mold reservoir in the building that has not been found, telegraphed via the HVAC system
Question: furnace motor runs for no reason
(May 7, 2012) MB said:
My furnace "motor" runs on its own and for seemingly no reason. For example the temp in the house today is 67 and the thermostat is set at 58. The motor will run for hours with out the burner or blower turning on. To clarify; I only have heat and not ac.
Reply:
Check for shorting wires controlling the furnace or fan or thermostat
Question: can a heat exchanger be cracked
(Nov 10, 2012) Eddie C said:
My furnace its going on and off. The repair man upon inspetion said: the heat exchange it's cracked and need to be replaced. Is that possible? It is an upflown system fairly modern, i'm unable to tell the brand for i'm away from home. Please advise thanks.
Reply:
A cracked heat exchanger is unsafe and should be replaced. I can't guess why that'd cause the furnace to cycle on and off; they may be separate problems.
Question:
(Dec 24, 2012) Robin G said:
I have a wood stove in my basement (family room). This stove heats 2/3's of my house nicely (via convection up the stair way. However, the family room is unbearably hot and the far end of the house is 5 degrees cooler than desirable. I am thinking of running some duct work with an inline fan (air boost fan) to pump the hot air from my basement over to the other end of the house. The duct inlet temperature will be approximately 120-130 deg. F. The duct insulation will be R5. Length of duct run is approximately 90 feet.
Question: How many CFM and at what static pressure should the fan be rated for? (room size = 14 x 14 ft)
Question: OK to leave the furnace shut off?
(Dec 29, 2012) William Wotton said:
I have heard that it is not good to leave my oil furnace shut off for extended periods of time...I am heating with wood & would like to keep my furnace as a backup but do not want to keep it on for the sake of keeping it on.
Reply:
The concerns are:
1. moisture causing rust in a furnace that never is heated to dry out - more of a concern for steel furnaces than cast iron units
2. solidification of soot and creosote deposits making the unit hard to clean
Have the unit thoroughly cleaned before shutting it down; inspect for and fix any unusual moisture sources.
Question: diagnosing furnace noises: a humming
(Nov 5, 2014) Af said:
Low pitch humming now that heating is on. Furnace is in basement and noises come from 2nd floor

Reply:
Check for a failing transformer or motor.
See these articles
Question: Lennox Conservalor III forced hot air furnace shuts off too much
(Feb 15, 2015) RLongfield3rd@hotmail.com said:
I have a gas Lennox Conservalor III forced hot air furnace. Sometimes it shuts off and the temperature drops quickly. When I reset the Carrier thermostat installed by Con Ed, the fan will go on, but no heat. When I go down to the furnace I can hear/see the electric starter spark, but the furnace does not ignite. I then shut off the switch next to the furnace for a couple minutes and then switch it back on and the spark begins again and usually the furnace fire up, but sometimes it takes a couple of times.
This problem occurs sporadically, but during this cool spell it has happened twice in two days. Obviously, if we ware on vacation then we would have suffered broken water pipes etc.
One addition point is that the 'clean air filter' message is always present even though I change the filter.
I did inform a company to come in to check it. They went through the same procedure and then just opened exhaust pipes and cleaned them out, but after awhile this problem reoccurred.
Is there something between the spark and ignition of the gas that could be the problem?
Reply:
Sure; it's time for a detailed inspection by your heating service technician. If the unit is not igniting there may be a burner, fuel, or control problem. Don't force the system to ignite as you may blow yourself up.
...
Continue reading at FURNACES, HEATING - home, or select a topic from closely-related articles below, or see our complete INDEX to RELATED ARTICLES below.
Or see FURNACE CONTROLS & SWITCHES
Or see HEATING FURNACE INSPECTION GUIDE
Or see NO HEAT - FURNACE
Or see FURNACE OPERATION DETAILS
Suggested citation for this web page
FURNACE HEATING FAQs at InspectApedia.com - online encyclopedia of building & environmental inspection, testing, diagnosis, repair, & problem prevention advice.
Or use the SEARCH BOX found below to Ask a Question or Search InspectApedia
...
Frequently Asked Questions (FAQs)
Try the search box below or CONTACT US by email if you cannot find the answer you need at InspectApedia.
...
Ask a Question or Search InspectApedia
Use the "Click to Show or Hide FAQs" link just above to see recently-posted questions, comments, replies, try the search box just below, or if you prefer, post a question or comment in the Comments box below and we will respond promptly.
Search the InspectApedia website
Technical Reviewers & References
Click to Show or Hide Citations & References
Mark Cramer Inspection Services Mark Cramer, Tampa Florida, Mr. Cramer is a past president of ASHI, the American Society of Home Inspectors and is a Florida home inspector and home inspection educator. Mr. Cramer serves on the ASHI Home Inspection Standards. Contact Mark Cramer at: 727-595-4211 mark@BestTampaInspector.com
John Cranor is an ASHI member and a home inspector (The House Whisperer) is located in Glen Allen, VA 23060. He is also a contributor to InspectApedia.com in several technical areas such as plumbing and appliances (dryer vents). Contact Mr. Cranor at 804-747-7747 or by Email: johncranor@verizon.net
Domestic and Commercial Oil Burners, Charles H. Burkhardt, McGraw Hill Book Company, New York 3rd Ed 1969.
National Fuel Gas Code (Z223.1) $16.00 and National Fuel Gas Code Handbook (Z223.2) $47.00 American Gas Association (A.G.A.), 1515 Wilson Boulevard, Arlington, VA 22209 also available from National Fire Protection Association, Batterymarch Park, Quincy, MA 02269. Fundamentals of Gas Appliance Venting and Ventilation, 1985, American Gas Association Laboratories, Engineering Services Department. American Gas Association, 1515 Wilson Boulevard, Arlington, VA 22209. Catalog #XHO585. Reprinted 1989.
"Warm Air Heating Systems". Instructional Technologies Institute, Inc., 145 "D" Grassy Plain St., Bethel, CT 06801 800/227-1663 [home inspection training material] 1987
Heating, Ventilating, and Air Conditioning Volume I, Heating Fundamentals,
The ABC's of Retention Head Oil Burners, National Association of Oil Heat Service Managers, TM 115, National Old Timers' Association of the Energy Industry, PO Box 168, Mineola, NY 11501. (Excellent tips on spotting problems on oil-fired heating equipment. Booklet.)
...
Books & Articles on Building & Environmental Inspection, Testing, Diagnosis, & Repair
Our recommended books about building & mechanical systems design, inspection, problem diagnosis, and repair, and about indoor environment and IAQ testing, diagnosis, and cleanup are at the InspectAPedia Bookstore. Also see our Book Reviews - InspectAPedia.
...