Kentile KenFlex Asbestos Floor Tiles Identification Requests & FAQs

Questions & answers about Kentile flooring & its asbestos hazard
InspectAPedia tolerates no conflicts of interest. We have no relationship with advertisers, products, or services discussed at this website.
Kentile Flooring identification requests, questions, answers:
FAQs about how to identify asbestos-containing Kentile or KenFlex floor tiles: Kentile ID requests & frequently-asked questions (and answers) about Kentile flooring and its asbestos hazard risks.
In this article series we provide a photo guide to Kentile asphalt-asbestos flooring & Kentile vinyl asbestos floor tile identification photographs, a list of product names, styles, colors, and vinyl-asbestos floor patterns, and colors for asbestos-containing floor tile products - flooring materials that are reported to or have been confirmed to contain asbestos in asbestos fiber or asbestos powder-filler form. We report on both asbestos-containing Kentile flooring and later Kentiles tested and found asbestos-free.
Green links show where you are. © Copyright 2017 InspectApedia.com, All Rights Reserved.
Kentile Flooring ID Requests & FAQs
Possible Solid Color Hexagonal Kentile? Vinyl Asbestos Flooring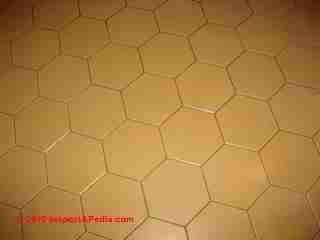 The floor tile photo shown here was provided by Meryl Silvers as a possible example of Kentile flooring that is being investigated.
The floor tiles shown at left were most-likely not a Kentile flooring product - Ed.
CONTACT us if you have additional information about or examples of this product. Testing for asbestos content is in process and will be reported here. Ms. Silvers describes the flooring as follows:
There is no writing at all on the back. Each of the 6 tile sides measures 4 inches. The tile is 8 inches wide and 7 inches long.
The tile is about 1/8th of an inch. From the edge view  it appears it has three thin layers. The top camel colored layer has a white colored edge.
The middle layer extends a bit past the top one to create a look of "grout". I believe this grout part also measures 1/8th of an inch. The backing is a light beige color, with a slight pattern(as opposed to being matte)
Reader questions about Kentile flooring Hazard:
In 1984 I put vinyl tile in my foyer and powder room. I was thinking of putting more in my laundry room, and even though it was a long shot, I did an internet search to see if I could find the same thing. Although I do not remember for sure what I have, the name Kentile popped in my head. Needless to say I was quite upset to discover that my tile may contain asbestos, and what happened to the company. How can I determine if my tile was Kentile, and if it has asbestos.
As you can see from the picture, one of the tiles has a chip.(which I read could make it dangerous) I have an extra tile could be used for testing. Any suggestions you can give me would be quite helpful. I'm not sure who I should be turning to for help. If it turns out I do have Kentile and you can use the pictures for your site , please do so. - M.S. 10/26/2010
Reply:
The approximate age of your Kentile flooring products (older than 1985) means you can make a fair guess at the chances that your tiles, if Kentiles, contain asbestos. (I haven't seen the particular tile pattern in your photos but will continue researching it - thanks for the photos) - Is there any printed information on the back of that tile you removed? And can you give me the dimensions including thickness?
You could also send a tile sample to an asbestos test lab for examination, or where the floors are in good condition, intact - and thus generally not harmfujl, you can just install new flooring overtop the old.
If you are going to remove asbestos-suspect flooring you'll need to have it done by someone who knows how to avoid creating an asbestos dust hazard in your home.
More complete advice is at https://InspectAPedia.com/sickhouse/asbestoslookB.htm and if that advice leaves you with questions just ask and I'll do my best to help further.
Don't panic - doing so will get you $$ gouged by someone. It's not radioactive, and if not damaged and friable, best left alone.
Reader follow-up: description of un-used Kentile Flooring
Thanks! I did not remove any tiles..I happen to have a few brand new ones. There is no writing at all on the back. Each of the 6 sections measure 4 inches. The tile is 8 inches wide and 7 inches long.The tile is very thin. I think it is measures 1/8th of an inch.From the side it appears it has three thin layers. The top camel colored layer has a white colored edge. The middle layer extends a bit past the top one to create a look of "grout".I believe this grout part also measures 1/8th of an inch. The backing is a light beige color, with a slight pattern(as opposed to being matte)
Since there are no Kentile pictures on the site you mention that look like mine it is hard to tell what I have.
I would not describe my floor as damaged in any way. If you look very carefully you can see some fine scratch lines, and one of the tiles has a chip. Otherwise I think it looks pretty good for it's age.
I will look into sending a tile somewhere to be tested. If it does turn out to have asbestos, is it safe for me to live with it the way it is? The area is large(175 sq feet), and it will probably cost several thousand dollars to cover it since I would probably want to use ceramic tile. Thanks so much for your help. Let me know if you need any more information. - M.S.
A flooring man was recently at my house.He told me that he used to rep Kentile, and he is pretty positive the vinly tile I have is from another company.(He couldn't remember which) He said Kentile did not make that shape, especially in that size. Of course that doesn't mean my tile does not have asbestos, ... M.S. 11/19/10
Kentile Buckskin Marbelized Asbestos Floor Tile Photos
Reader question: I have a floor that has a Kentile, tile floor. The numbers on the box are [ 551 Buckskin Marbleized 1H122C ] the floor was installed in 1978 or 1979. Can you tell me if these tiles contain asbestos without being tested. Thank You - R.F. South Dakota, U.S.A., 2/11/2014
The following Kentile identification photographs of both the floor tiles and their packaging were provided by reader R.F. We show Kentile pattern No. 551, Buck Skin, Marbelized, in lot No. 1HT22C, packaging.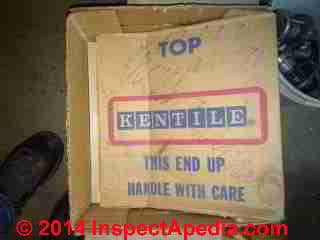 Here is all the info & pics of the box along with a pics of the tile. They also show the tiles in place along with a new tile. I would like to know if these tiles contain asbestos, you would think with all the info we have that there would be on a list if some kind.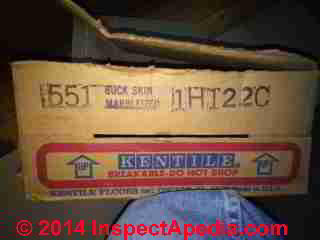 Reply:
R.F., as far as I have been able to determine from reading the company history, there was no Kentile flooring that was free of asbestos. Also the years you cite were when companies were still producing that form of flooring.

These photos will assist other readers in identifying asbestos-containing Kentile flooring in the Buck Skin color and marbelized pattern. Thanks so much, R.F.
Continuing with R.F.'s photographs of original Kentile floor tile packaging we have data that makes for virtually certainly-correct floor tile identification. Below left is more packaging at below right is a photograph of an individual Kentile Buck Skin marbelized floor tile pattern.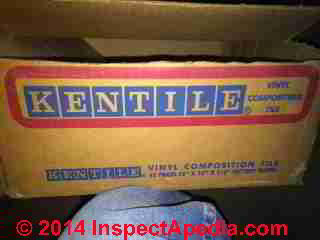 and here is the tile: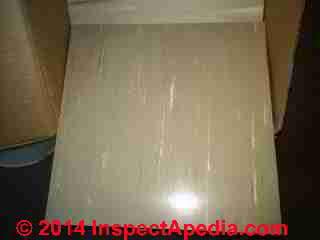 Below is the Kentile buckskin color and pattern flooring installed in the same home.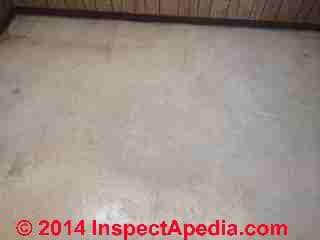 9" x 9" x 1/8" thick Kentile Fleecy Cerulian #D-225 & Kentile Napoleon Gray #C-222
These photographs of some beautiful Fleecy Cerulian Blue Kentile flooring (below left) and Napoleon Gray Kentile floor tiles were provided by reader Bob G. 7/8/2014.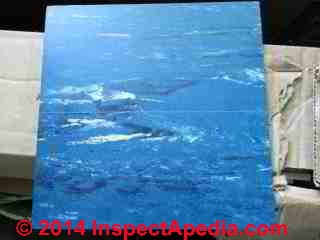 and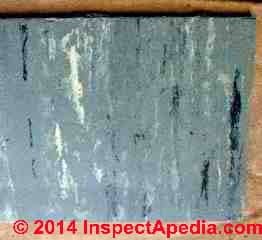 These are 9" factory-waxed Kentile floor tiles for which Bob also provided this original packaging image shown just below.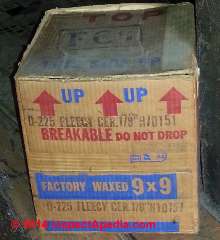 and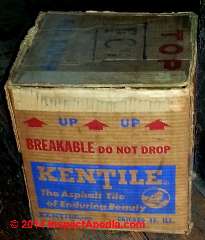 Reader Question: Identify this as Kentile Flooring?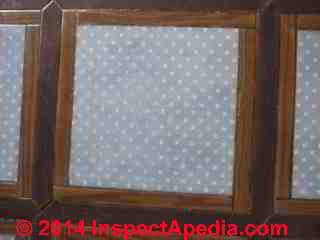 I have a solid vinyl kitchen floor which is almost as beautiful now as when it was installed 24 years ago.
As I described it to a very knowledgeable flooring store owner in Pasadena, CA, he says it is a Kentile floor. OK, interesting. But I just started looking for it on the Internet and found that Kentile manufactured Asbestos Vinyl tiles which led to mesothelioma and other significant diseases in installers.

I had been told, by a local flooring store (I live near Pasadena, CA) that this was a "new" solid vinyl tile and was the top quality available back in about 1986. It is a center blue tile with a modern pattern of white dots (not large polka dots) and then there are three pickets of vinyl "wood" in two colors surrounding each square.
It was very labor intensive to install. The company which installed it has closed due to retirement. Does this sound like a Kentile vinyl asbestos floor to you? I read an article on flooring on the Internet and it listed you as an expert on the topic willing to identify asbestos containing floors. knowledgeable person to whom I can turn.

Am I about to have an asbestos product removed from my house? Is this dangerous or has it been dangerous to my family? Perhaps the man at the store misidentified it. He hadn't seen it, just heard it described. Mr. Friedman, can you identify this tile? - 1/18/2011 W.F.
Reply:
Kentile produced flooring up to 1992, but I add that the floor pattern in your photo does not resemble any of the Kentile images we've been able to find. Kentiles produced approximately between 1986 and 1992 may not contain asbestos, as we found at KENTILES ASBESTOS-FREE.
At ASBESTOS MATERIAL REGULATIONSwe interpret the regulations to state clearly that it is in buildings constructed prior to 1980 that such flooring could be "presumed asbestos containing material" (PACM)
The flooring company you consulted might be correct about an asbestos free floor product, but while I am continuing to research this question, I have not yet found an authoritative or confirmed indication that Kentile stopped using asbestos in their products before the company was bankrupt.
In the U.S If a vinyl tile floor product was made (we emphasize "made" or "produced" as opposed to "installed") asbestos was used commonly into 1989 and was banned "entirely" by the US EPA in 1990 (The Asbestos Ban and Phase Out Rule) but that rule was overturned by an industry lawsuit in 1991 (Corrosion Proof Fittings v. EPA, 947 F.2d 1201 (5th Cir. 1991) - some products continue to legally contain asbestos.
Significantly the 1989 EPA ban clarification excluded vinyl-asbestos floor tile products.
Given the Kentile company history and the considerable dispute and need for two major clarifications by the US EPA extending to 1999, I would not assume without testing that your floor is asbestos free - safer to assume for now that it contains asbestos.
You can have a small floor sample tested for asbestos by a certified asbestos lab.
Also see MESOTHELIOMA doctors, organizations, treatment resources, legal advice.
Reader Question: can you identify this as Kentile Asbestos-containing Flooring?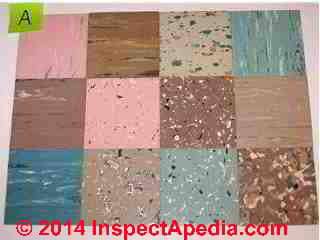 Thank you for providing a useful site about asbestos tile. Can you identify the tile I have and if it has asbestos in it? I did not see the exact picture on your site. Any assistance is
greatly appreciated.
The house was built in 1963.
The tiles are 12"x12" and are approximately 1.6 mm in thickness.
The last picture shows the back of the tile. - G.K. Cleveland, Ohio USA 4/16/2011
Reply:
G.K. - I'm not certain of the tile identity, and of course only a certified asbestos test lab can say with certainty the tile asbestos composition, but based on the age and pattern, it's reasonable to presume that these tiles contain asbestos fibers and filler.
The colors look like Kentiles and while 9x9 tiles were common in the 50's and 60's there were 12x12's being produced and installed. There is a Flickr site that has some Kentile photos that do not match your tile pattern - the images' owner was not particularly generous in providing more information - but the hues in your tiles, even though the pattern is different, point in that direction. I'm pasting in [to the original email reply] a Kentile image from a different source.
Reader Question - floor tile resembling Armstrong patterns
I just found your website while researching how to restore my old kitchen floor tiles. I love the pattern but it never occurred to me that it might be asbestos and therefor poisonous. A few of the tiles at thresholds are breaking apart so now I'm concerned. Your help will be most appreciated. The first part of my house was built in 1900, the kitchen was added sometime after that but remodeled as we have seen older tile beneath the cabinets. So I really have no way to know but I thing I may have seen a similar pattern in the 1973 Armstrong section of your website. - N.C. 3/1/2013
Reply:
N.C. this [PHOTO NEEDED] is not a flooring pattern I've seen before - which reminds us of the enormous variety of flooring designs that have been manufactured over the last 100 years or so. You didn't say if this was sheet flooring or individual tiles.
I have posted the image here because the solid color inset design is characteristic of many Kentile floor products.
Short of having a sample tested, it would be reasonable to treat the floor as PACM - presumed asbestos containing material. You used the word "poisonous" which is not quite how I'd put it, and you don't want to panic lest you become victimized by an aggressive contractor.
Take a look at ASBESTOS FLOORING HAZARD REDUCTION.
Reader follow-up:
Thank you for your response and advise. My floor is individual 9" tiles that have been cut diagonally and paired dark mottled grey with light mottled grey. A center triangle is cut out so when pieced together to form a 9" square there is a 3" solid red or solid grey square pieced in the middle of the two diagonally cut 9" tiles. I think it must have been a custom tile job at the time made with individually cut tiles. I don't want to take it out, I love the floor.
I was originally trying to figure out how best to preserve and restore it. I couldn't hope to duplicate this very original floor. If, based on my new description, your able to identify the year and manufacturer of my tiles, I would be interested to know. I am fine with our conversation being used to help others and only ask that my email etc. be kept private as you stated. - N.C.
Reply:
think it should be easy to preserve the floor as long as it remains well glued down. Non- abrasive cleaning followed by a clear non- yellowing sealant should work.
See the flooring cleaner & sealant products we tried
at ASBESTOS FLOORING LEFT IN PLACE
Reader question about the floor tiles shown in these boxes & as flooring - just below:
I recently bought some tile at a garage sale. It wasn't until I was loading it and turned it over that I read the word asbestos. So now I have this tile. Is this tile safe to install? I've attached pictures of the box and tile. It is Kentile Vinyl Asbestos Tile 12x12 sheets in Tan Portilla (716) color. The box also has 1K298C on it. I just wanted to know if these should be disposed of or if they are safe. R.R. 9/6/13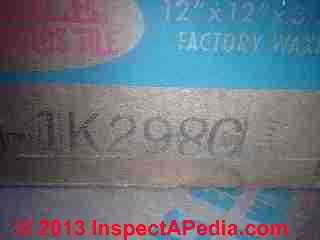 Reply: see the discussion here: these are asbestos-containing floor tiles and should be handled accordingly. We discuss this question and the disposal of these floor tiles in more detail at ASBESTOS DISPOSAL REGULATIONS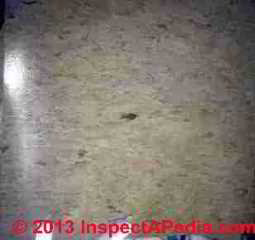 The first publicized installation of asphalt tile was in the Western Union office in New York City (1920). By the end of 1930, 3 million square yards of tile was being produced annually.
At above left is a known Kentile 12"x12" vinyl asbestos floor tile sample taken from the Kentile new old stock box shown above, in Kentile style Portilla Tan, lot no. 1K298G.
KENTILE KENFLEX ASBESTOS FLOOR TILE GUIDE, Founded by Arthur Kennedy in 1898, had its primary location at 58 Second Ave., Brooklyn 15 NY.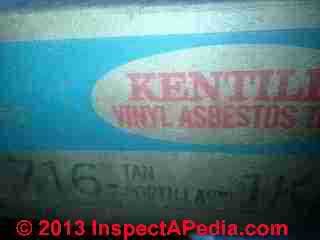 Reader Question: found boxes of Kentile Flooring
I have been reading your site with great interest as we've recently moved into a home that was custom built in 1957. It seems to have a significant amount of tiles that may very well contain asbestos---though the condition of the tiles is excellent and intact.
If I was reading correctly, your site mentions you'd like to have more photos of Kentiles for examples? I have a box of samples the original owners left in our home: A Box of 23 samples of Kentile and 21 samples of KenRoyal tiles...which seems to be a much brighter and slicker type of tile. The KenRoyal states on the box that it's a 'vinyl tile', while the KenTile states it is 'The Asphalt tile of enduring beauty'. (I understand both probably contain asbestos.)
If you're interesting in having photos of these, we could probably supply them/email them to you if they can help someone else.
We also have a lot of very small, mosaic-type tiles we're actually trying to preserve in a lot of the house. The original blueprints refer to these as 'Flex-o-tile' - tiny sea-green/sea-blue tiles laid directly into the concrete slab. Almost all are intact over a large area and we're hoping to preserve them/save them from glued-down carpet padding/carpet---presumably laid-down in the '70's. We're sad to suspect the Flex-o-Tile might also contains asbestos, though we believe we can preserve the tiles without too much disruption.
Question: Once we're able to clean the padding/glue from the Flex-o-Tiles (very large areas)....is there some way we can seal these areas to 'protect the tiles and us' further?

Thank you for such an extensive site. I haven't even read all of it yet, but know we'll be learning more as we go along. - A.K. & B.S. Charleston IL, 3/24/13
Reply:
Yes a collection of sharp high-resolution photos of the Kentile samples you've got would be invaluable to other readers needing to identify the product. It would be helpful to also know the dimensions (typically 9x9" or 12x12" but some Kentile inserts were pre-cut to other sizes and shapes).
About cleaning mosaic tiles, do you mean ceramic tiles?
And over what type of base or subfloor are they to be reinstalled?
Typically we can use thin-set mortar or a latex-based tile adhesive and if you are indeed working with ceramics, a color matched grout to finish the job.
[Photos pending]
Reader Question: suspected Kentile Flooring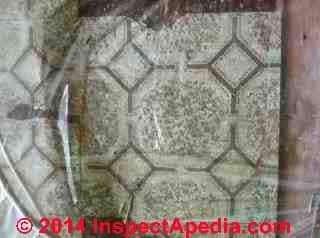 My husband and I are renovating our home built in 1980. We began demolition on our kitchen which had a ceramic tile floor.
After a good amount of demolition was done, we noticed there was vinyl flooring underneath the ceramic floors. We stopped demo completely and had the vinyl flooring tested as it was starting to crumble. You can see by the photo that we covered up the exposed flooring with a plastic tarp.
[Note: this is most likely an Armstrong vinyl-asbestos floor sample, not Kentile - Ed.]
The tiles are made by Kentile--labeled on the back with company name only--and I'm assuming they were made anytime from the late seventies through 1980. We did some research before finding a lab and your website was extremely helpful. We found out that Kentile made vinyl asbestos flooring through 1986 and it was very likely our flooring contained some amount.
After testing, it was determined that our tile contained a trace amount of asbestos and a trace amount of chrysotile. This lab considers a trace amount as less than 1%. My husband and I are going to complete the demo ourselves but we will use the proper equipment, protective gear and proper disposal.
Thank you for all the wonderful information your website provides. It really helped us decide a plan of action for our demolition. Please use our story and our photo to help others determine what flooring they might have. - J.S. 5/10/13
Reply:
J.S. the flooring in your photo is probably an Armstrong vinyl asbestos floor tile product. You can see similar patterns at
ARMSTRONG FLOOR TILE IDENTIFICATION 1974-1979
I agree that it makes perfect sense to treat the material as if it contained asbestos, using recommended procedures (we provide those at INspectAPedia) - I would not assume that the lab result was comprehensive; for example, tile mastic can also contain asbestos, and I'm also a little uncertain about the lab result.
In asbestos containing flooring in my experience there is either a significant amount of asbestos in fiber or powder filler form or both, or there is none detected. I'm not sure how the lab came up with "trace amount". This does NOT mean panic, just be careful.
Reader Question: is this brick pattern flooring Kentile?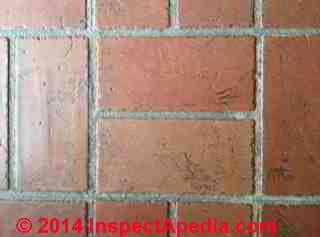 Great website and a terrific resource. I've attached a picture of 9 x 9 floor tiles – I don't know the brand – I'm guessing Ken-Tile -- but they're vinyl tiles made to look like brick. They're from an existing part of my house that was probably built in the 1970s or 80s. Any idea whether they contain asbestos? - H.C. 7/4/2013
Reply:
Indeed there were some asbestos-containing floor tiles that looked like brick. Depending on the age of yours, that could be the case as well.
Incidentally I don't think this is a Kentile product - I've not found brick patterns in that line, (though they may have existed.)

Reader follow-up: testing confirms asbestos content in brick pattern floor tiles - but less than 1% ?
Thanks for your response. I thought you might like to know that I had these tiles analyzed by TEM and they contain less than one percent of asbestos
0.5% of Anthrophyllite
Perhaps that information could be useful to someone somewhere! - H.C.
Reply: Really?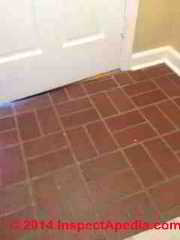 It's a very interesting finding and one that would bear further discussion.
What surprises me is that I would expect vinyl floor tiles to either have zero detected asbestos in their makeup or a rather high amount - far more than 0.5% = 1/2 of 1%. When used in tile production asbestos was used in powder form as a filler and also in fibrous form apparently as a strengthener in high percentages. Such products might have 70-80% crocidolites.
Yours is the second lab report I've learned about that came back with what amounts to an infitesimally small asbestos content.
One wonders if there is a cross-contamination issue, a lab being cautious to never give a "zero" result out of liability concern, or if there really is an asbestos based floor tile with so little asbestos comment. When time permits I will research this further.
Some citations of interest include
Sebastien, P., J. Bignon, and M. Martin. "Indoor airborne asbestos pollution: from the ceiling and the floor." Science 216, no. 4553 (1982): 1410-1412.
Hendry, N. W. "The geology, occurrences, and major uses of abestos." Annals of the New York Academy of Sciences 132, no. 1 (1965): 12-21.
Thomson, J. G., R. O. C. Kaschula, and R. R. MacDonald. "Asbestos as a modern urban hazard." S Afr Med J 37, no. Jan 19 (1963): 77-81.
Lange, John H., and Kenneth W. Thomulka. "An evaluation of personal airborne asbestos exposure measurements during abatement of dry wall and floor tile/mastic." International Journal of Environmental Health Research 10, no. 1 (2000): 5-19.
Dunn, Harris W., and Joseph H. Stewart Jr. "Quantitative determination of chrysotile asbestos in building materials by X-ray diffractometry." Analytical Chemistry 54, no. 7 (1982): 1122-1125.
If you don't object I'll publish this photo and discussion for further reader and expert comment - keeping your ID and info private of course.
Reader follow-up:
Yes – feel free to publish whatever you think will help people. And I've attached an additional photo if that would be helpful.
Of course, as a homeowner, my concern is the removal of those tiles – two environmental consultants I spoke with said the health risk of doing so was virtually nonexistent. We'll still take the necessary precautions – wetting the material, minimizing breakage, and venting as we remove the tiles.
New, Un-Used Kentile Flooring Quincy Slate pattern marked as soild vinyl
I have 120sq feet of brand new kentile flooring from the late 70's/early 80's. Pictures attached, it's advertised as "solid vinyle tile" does this mean no asbestos?
I didn't see the photos in your collection so I thought I would forward. - G.P. 8/8/2014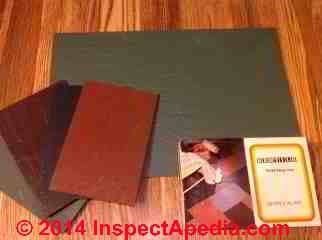 Reply:
After years of digging through research, catalogs, field reports, some lab test results, and the company history, I have no evidence that Kentile produced any flooring that did not contain asbestos. The tile obverse side stamp gives some additional details: this was an 1/8" thick vinyl [vinyl-asbestos] floor tile in the Quincy Slate pattern. One sample was Quincy Green - Q400 ut at least two other colors are shown.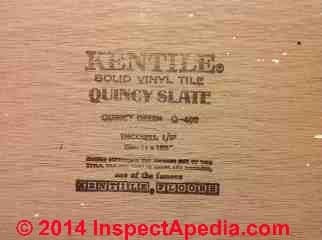 Not all floor tiles nor sheet flooring necessarily carried the term "asbestos" in the product name. Early in the history of asbestos-containing flooring, asbestos was considered a positive product feature (durable, fire resistant). Later the term does not always appear.
It would be prudent to treat these as Presumed Asbestos Containing Material or "PACM".
That's not to say it's highly hazardous - in un-damaged form. Dont' cut, saw, grind, sand the material. And under normal circumstances I would not install it in a building.
Reader Question: Does this Kentile-Like Flooring Contain Asbestos?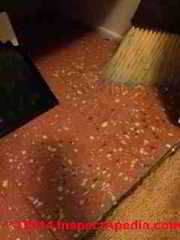 Can you tell from this picture if this tile is asbestos or not?
Reply: floor tile pattern resembling Kentile's Carnival series
K.S., the tile in your photograph resembles the Carnival pattern of Kentile vinyl asbestos floor tiles. It would be helpful to know the floor's age and the size of the tiles.
A safe approach would to treat the flooring as presumed to contain asbestos.
See ASBESTOS FLOORING HAZARD REDUCTION
for advice that includes options for keeping the flooring in place (leaving it alone is safest) but perhaps covering it with new flooring or with a clear hard sealant.
Earlier in this article we noted:
Kentile Carnival KenFlex Ovation - 9" x 9" vinyl asbestos a smaller round/ovate spatter pattern (similar to Armstrong Centennial 1961 & later (above right), but with smaller spots) e.g. Ovation 942, from August 1956 - floor tile samples were also manufactured and distributed in 3" x 3" size.
Other spatter pattern flooring is shown at ASBESTOS FLOOR TILE IDENTIFICATION PHOTOS by YEAR and was produced by Armstrong and others.
Reader Question: did all Kentile flooring contain asbestos?
I have a floor that has a Kentile, tile floor. The numbers on the box are [ 551 Buckskin Marbleized 1H122C ] the floor was installed in 1978 or 1979. Can you tell me if these tiles contain asbestos without being tested. - R.F. South Dakota, 6/2/2014
Reply:
Roger, as far as I have been able to determine from reading the company history, there was no Kentile flooring that was free of asbestos. Also the years you cite were when companies were still producing that form of flooring.
I'd [ be glad to take alook at ] photos of the flooring and of any packaging you've got.
Reader Question: possible asbestos-containing floor tile holding up sale of home?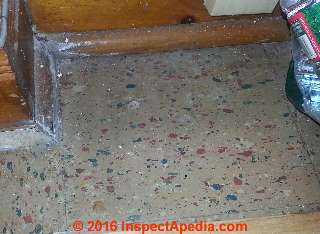 14 Nov 2014
We are trying to identify if this tile has asbestos. Our house was built in 1941. Is there anyway you can help us identify this?
Please let me know if you need any additional information.
Hopefully you can get back to me ASAP, we are trying to sell our house and this has been a big issue. Any help you can provide would be extremely appreciated! - [Anon - email]
Reply:
Your tile looks like and probably is Kentile Carnival KenFlex Ovation pattern -
see KENTILE KenFlex Floor Tiles
Here is a close-up of Kentile Carnival KenFlex Ovation flooringin a sales publication
Even if we did not know the certain identification of the flooring, based on its age one would be smart to treat this flooring as "PACM" - presumed asbestos-containing material.
Should an owner or home buyer be scared of this material? In my opinion as long as this floor tile is undamaged - that is, it is not breaking into small pieces, nor being cut, ground, sawn to make a dusty mess, then one would or should be hard pressed to claim justification for making the flooring material a "big issue" in the sale of a home.
Every expert source we have reviewed recommends leaving intact asbestos-containing floor tile in place as the least costly and least disruptive approach to minimizing the risk of asbestos exposure.
The floor can be coated with a clear sealant if the owner wants to preserve the original decor and style, or it can be coated with an epoxy paint or a new floor can be installed over top of the existing floor -
details are at ASBESTOS FLOORING HAZARD REDUCTION
Further, even if someone chooses the option of installing a new layer of flooring over this one, that cost is surely a very small fraction of the value of the home. If a buyer feels that they cannot afford to purchase a home because they want or need to install new flooring in some areas, they may be purchasing a home that is considerably beyond their means.
After all, expenses, both anticipated and surprises, are going to arise in the ownership of any home, new or 80 years old. We need to be able to meet them without financial disaster or we need to find a home in a different price range that leaves a margin for repairs and improvements.
I worry when a home buyer becomes very nervous (if they are) about a very manageable potential hazard such as flooring lest that fear - real & less likely asbestos hazards in buildings cause someone to miss a more immediate and serious hazard such as unsafe steps and rails, electrical wiring, fire hazards &c.
See ASBESTOS ENVIRO-SCARE
Question: 8" x 8" Kentile Floor in Satillo Natural
I've been told we have Kentile vinyl tile in our kitchen 8 x 8 squares, "Satillio Natural" color (terra cotta color). I was told they are commercial grade, would have been installed when the home was built in 1985, and will still be in great shape 30 years from now. (Just need periodic waxing). What are the chances they contain some asbestos?
There's no way they can be taken up from the concrete slab. Should they be covered over with porcelain tile to seal the asbestos away from people? - Sarah 7/10/11
Reply:
Sarah asbestos may be in Kentile flooring including yours. If you come across an extra tile or a broken fragment it's inexpensive to have a certified asbestos lab test it for you but in this case it is reasonable to assume the tiles contain asbestos.

In residential application you can
install new flooring over the existing material: ceramic, vinyl, other.
paint the surface with an expoxy floor paint; we did this to a 1970's floor, using a dark coating; no view of the tiles below meant the asbestos-containing surface was not being exposed to wear; after ten years of wear on the epoxy-painted floor surface we cleaned the floor and applied a floor rejuvenator sealant - the floor looks great;
Watch out: Don't run power tools, grinders, saws, or steel wool buffers; don't let an idiot try demolition, creating a dusty contaminated mess.

See detailed advice in the article linked to at page top and titled ASBESTOS FLOORING HAZARD REDUCTION
Also see the article titled ASBESTOS FLOORING REMOVAL GUIDE where we discuss using a floor rejuvenator product on vinyl asbestos flooring
Question: Kentile Napoleon Gray C-222 asphalt tiles and Kentile Fleecy Cerulean D-225 asphalt tiles
(July 7, 2014) Bob G. said:
I inherited a home with Kentile Napoleon Gray C-222 asphalt tiles and Kentile Fleecy Cerulean D-225 asphalt tiles in the kitchen. Do these contain asbestos? Is there an online resource that provides tile composition according to manufacturer and their product numbers? I am certain of their identity because I have an original Kentile box for the D-225's in the attic and I found a 1952 Kentile catalogue online that lists these two "names of exquisite marbles used to beautify fines homes and palaces though the ages". Any help will be greatly appreciated.
Reply:
Bob, all Kentile flooring contained asbestos.
Please use our CONTACT link found at page bottom to send me some sharp photos of the floor tiles and all sides of the packaging - both to permit further comment and as added patterns would certainly assist other readers.
Question:
(Nov 1, 2014) Jerry Bessert said:
I have D-712 Pink Clover 1/8W 112K Ashpalt tile made 3/19/57 and want to know if it has asbestoes
Reply:
Jerry, use the CONTACT link at page top or bottom to send us some sharp photos for further comment.
Question:
(Jan 4, 2015) John said:
Can you help to identify if this tile has asbestos or when it was made? The box is labeled Kentile Solid Vinyl Tile, Terresque. They are 9"x9" tiles, heavy gauge. The stamp is labeled E-65 Silver Terresque 84-1S348NW.
Reply:
John as we replied also by email: nearly all Kentiles contain asbestos - previously we said "all" but one reader reports lab testing of late-manufactured kentiles that did not find asbestos.. I'll post your box labeling photos as they may assist other readers. - DF
Question:
(Feb 6, 2015) Suzanne said:
We have had several tiles come loose - in googling to find the correct adhesive I found this mess! (asbestos)we are not financially able to replace and basically remodel our kitchen. We are most likely selling in the next few months! Help! What can we do? Will insurance help? Do we need to disclose this if we dont replace it?
Reply:
Suzanne
Disclosure issues are something for you to discuss with your attorney. Keep in mind that while some buyers may get panicky about asbestos or other potential hazards, no one can assert that a couple of loose floor tiles, by themselves, constitute a measurable hazard. The hazard from such flooring is more likely to occur if flooring is damaged, demolished, ground, cut, sawn.
There are certainly "leave in place" options that not only are less costly than removal but are safer as they leave the material undisturbed.
In the More Reading ARTICLE INDEX links above see these articles
ASBESTOS FLOORING HAZARD REDUCTION
ASBESTOS FLOORING REMOVAL GUIDE - IF flooring removal is necessary
Question:
(Mar 16, 2015) gdaffin said:
I had my home built in 1987 and installed Ken-Tile 12" x12" vinyl two toned gray flooring with grout on outer edges and was wondering if the flooring has asbestos in it? I am planning on replacing flooring in the near future and need to know if I need
To take precaution in removing Ken-Tile?
Reply:
GD
Indeed as one reader has found, at least one late product Kentile floor style was tested and found not to contain asbestos. I haven't see the lab report.
See
inspectapedia.com/hazmat/Kentile_Vinyl_Asbestos_Tile_List.htm#KentileNOASB
I would either treat the flooring as PACM (presumed asbestos containing material) - which is not necessarily onerous - or I'd have a sample tested. It's not costly to test, about $50.
use the CONTACT link at page bottom to find our email address to send me some photos of your floor and if you decide to have it tested I'd much like to see the lab report.
Question: Solid Vinyl Terresque after 1986 does not have asbestos.?
(June 25, 2015) MG said:
So, reading the last entry, it appears that Solid Vinyl Terresque after 1986 does not have asbestos.?
In April of 1988 I installed an Adobe Terresque floor. It is the same tile as the last entry only in a red color. Is it true then, that it has no asbestos?
Reply:
MG: we have had only one report, from a reader, indicating that their lab test did not detect asbestos in a 9x9" Kentile product and speculating that the product was made between 1986 and 1992. This claim is otherwise to date (May 2016) unsupported by other information but could be correrect. The reader opined that "Apparently about 5% of 9x9 tiles were made without it. It must have been made between 1986 and 1992 when Kentile stopped using asbestos."
Question: 1950's Kentile Travertine pattern floor tiles in our church contain asbestos: what is the proper maintenance to minimize the asbestos hazard?
(July 2, 2015) Frederick Seybold said:
Our church flooring appears to be 12" x 12" X 1/8" floor tile installed in the late 1950's. It is a Travertine pattern and no doubt contains some asbestos. Question: What is proper maintenance? Can a floor dressing be used even if the pattern recesses are filled with dressing? Is a skid resistant dressing available? The concrete subfloor has a large crack that has damaged the tile in one spot. Is there a caulk or epoxy product that will fill a gap and be similar to the cream color of the tile? Thanks in advance for your reply.
Reply:
Frederick,
You will want to coat the floor with a hard clear coating such as a polyurethane or epoxy floor sealer or coating. That coating will, properly applied, also enter and seal any remaining dust in cracks between tiles.
See inspectapedia.com/hazmat/Asbestos-Hazard-Reduction.php for more suggestions.
Don't run a vacuum cleaner in the area unless it's HEPA rated lest you increase the airborne dust levels.
Send me some photos of the church interior and flooring and I can comment further. Our email is at the page bottom or top CONTACT link.

Question: what about Nu-Wood acoustical ceiling tiles
(May 15, 2016) Pam K said:
I have found your info on Kentile asphalt tiles very helpful, but I'm having difficulty finding information on Nu-Wood acoustical ceiling tile and whether there is an associated asbestos concern. Any guidance you can provide would be greatly appreciated.

Reply:
Pam, please search InspectApedia.com using the page top or page bottom search box using the terms ASBESTOS CEILING TILES to see our information on that topic. If the ceiling tile about which you ask is one we've been able to find out an asbestos content from a reliable source that's where it will be listed. Note that some ceiling tiles made of cellulose (wood fiber) do not normally contain asbestos.
Question: 9" Kentiles for sale at a Midwestern building materials auction site contain asbestos?
2016/05/23 Kate H (no email)
COMMENT:I was searching a Midwestern auction house this morning and found a listing for commercial Kentile 9" squares approx. 65 boxes of them. In searching for more information about the product as a basement flooring option or contents of the tile as an art-printmaking supply like linoleum, I found your site and article. These tiles look very like the marbleized patterns in your photos, though the boxes appear new. Is this an asbestos product and should the seller/auction house be contacted. This is the link https://www.purplewave.com/auction/160607/item/BH9183.
Reply:
Kate the link you cited did not open at first but ultimately we were able to see it. It is reasonable to assume that Kentiles contain asbestos and to treat them accordingly. 9" Kentiles are even more likely to be an older product.
These two pallets of about 65 boxes of [purportedly-mostly] Kentile flooring were being sold at purplewave.com, an auction website, and when we looked (23 May 2016) had a winning bid of $10. Described were Kentile-labe3led boxes of 9" x 1/8" thick "Asphalt Style Tile" (229 mm x 229 mm) labelled ????..can J208A 08:22 00019 with a torn label reading in part 292?? Etruscan - the tile pattern of a box shown in close-up. The flooring was manufactured by Kentile Operating Company, Chicago, IL 60632 USA; Colors includes white, beige, green, gray, red, and perhaps others as we will illustrate.
The pallets of Kentile flooring were reported to be located at USD 308 Hutchinson Public Schools, 732 E 1st., Hutchinson KS 67501. The auction website added: "For information related to this specific item, please contact Vance Mayes at mayesv@usd308.com or 620.615.4045." [Readers note: by the time you read this most likely this mateiral will no longer be at this site. We advise directing any inquires to the auction website. - Ed. ]
Question: use caution when removing an old Kentile floor
(June 21, 2016) Joan Kumparak said:
I had a Kentile floor installed about 1982 to 1984 shortly after me aunt died. My pattern is the 4-1/2" by 9" simulated brick pattern with grout lines around edges. I need to get the floor stripped of wax and coated with a gloss coating. The company is concerned about asbestos and whether or not any asbestos might get released.
The floor is in excellent condition and goes with my antique decor. Should they be concerned about releasing any asbestos particles when stripping? The bricks were installed in a herringbone pattern and has been maintained thru the years. I am unable to do
do anymore and need to have someone else do the stripping. Thank you for any info you can give me.
with any asbestos release?
Reply:
I agree that the company should be cautious; while I've had one claim that late 80's Kentile did not all contain asbestos, the one lab report provided by a reader was from a questionable lab. It's better to be careful. Stripping using wet methods that don't grind, saw, cut, abrade the original flooring should be ok.
On floors I worked on I used liquid cleaners and never ran a grinder, sander, nor even a steel wool buffer. I cleaned the floor then clear-coated it. Use the page bottom or top CONTACT link to send along photos if you like.
Question: White herringbone kentile 12x12
(Aug 20, 2016) EstherG said:
I have a white herringbone design tile which is concerning me... It's 12 by 12, and may not be vinal. House was built after 75 but before 80. There is carpet in the tile covering it up but I'm still worried... I have pictures can someone take a look.
Reply:
You're welcome to use the page top or bottom CONTACT link to send us photos for comment;
Ultimately if you dont' find your floor tile in the online photo guides here the asbestos-content question is solved instead by sending a sample to a test lab.
Covering the flooring is a good approach and safer than trying to remove the floor tiles.
Question: Do you know if this Kentile Vynil Composition Tile #611 contained asbestos?
2016/12/30 Anonymous wrote by private email:
Do you know if this model of tile contained asbestos?
I have a pallet full [in our shop] and if it has asbestos I will have disposed of properly, if not it would be a shame to waste it.
Reply:
I do not recognize the exact pattern of your flooring, Roger but you may find a close match in the ID-library of asbestos flooring beginning at KENTILE KenFlex Floor Tiles
Indeed a few readers have had testing performed on late model 1980's Kentiles and reported that asbestos was not detected.
ADVICE: For buildings with floor tiles or sheet flooring that can be assumed to have been installed in North America before 1986 it would be prudent to treat the flooring as "PACM" or "Presumed Asbestos Containing Material".
The presence of known or assumed asbestsos-containing flooring does not mean we should panic nor that we must undertake an expensive and dangerous asbestos removal project.
Asbestos is safe and legal to remain in homes or public buildings as long as the asbestos materials are in good condition and the asbestos can not be released into the air.
Generally the safest approach is to leave such flooring alone and to cover it over with a coating or with another layer of flooring.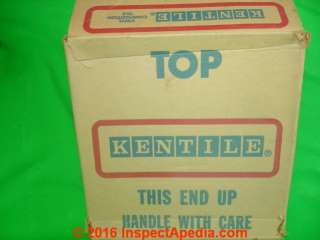 On any of our asbestos-related InspectApedia pages, at More Reading you will find a complete ARTICLE INDEX to ASBESTOS HAZARDS
See also therein
ASBESTOS FLOORING HAZARD REDUCTION
and
ASBESTOS FLOORING REMOVAL GUIDE
IF you are faced with a requirement for demolition and if you are uncertain about the flooring's asbestos content and cannot identify it through our guides, then you have a sample tested.
See ASBESTOS TESTING LAB LIST
Reader follow-up: Kentile 611 tested, found to be asbestos-free
We had the tile tested. Attached are the results. Asbestos Free.
The test was performed by the Wisconsin Occupational Health Laboratory, Wisconsin Sate Lab of Hygiene, University of Wisconsin-Madison, 2601 Agriculture Dr., Madison WI 53718, Tel: 800-446-0403, website: wohl-lab.org on 9 January 2017. [Copy on file at InspectApedia.com]
The lab report indicates that the lab used as its asbestos test method EPA600 R-93/116 and M4-82-020, for bulk asbestos sampling. The lab reported as follows:
Layer 1: Tile, beige color, resinous texture, with resin binder non-fibrous components. Asbestos was not detected.

Article Series Contents
...
Continue reading at KENTILE KENFLEX ASBESTOS FLOOR TILE GUIDE - home,or select a topic from closely-related articles below, or see our complete INDEX to RELATED ARTICLES below.
Or see ASBESTOS FLOORING DAMAGE HAZARDS
Or see ASBESTOS FLOORING HAZARD LEVEL ASSESSMENT
Or see ASBESTOS FLOORING HAZARD REDUCTION
For a detailed photo guide to individual vinyl-asbestos floor tile patterns, brands
,
sizes, and years of manufacture, see
ASBESTOS FLOOR TILE IDENTIFICATION PHOTOS by YEAR
.
Readers should see ASBESTOS FLOORING HAZARD REDUCTION
Also see FLOOR TILE HISTORY & INGREDIENTS for a discussion of the ingredients and production of asbestos-containing flooring.
Suggested citation for this web page
KENTILE FLOOR ID REQUESTS & FAQs at InspectApedia.com - online encyclopedia of building & environmental inspection, testing, diagnosis, repair, & problem prevention advice.
Or use the SEARCH BOX found below to Ask a Question or Search InspectApedia
...
Frequently Asked Questions (FAQs)
Try the search box below or CONTACT US by email if you cannot find the answer you need at InspectApedia.
Please see the Kentile ID requests & FAQs in the article above.
Or see KENTILE KENFLEX ASBESTOS FLOOR TILE GUIDE - home.
Try the search box below or CONTACT US by email if you cannot find the answer you need at InspectApedia.
...
Ask a Question or Search InspectApedia
Use the "Click to Show or Hide FAQs" link just above to see recently-posted questions, comments, replies, try the search box just below, or if you prefer, post a question or comment in the Comments box below and we will respond promptly.
Search the InspectApedia website
Technical Reviewers & References
Click to Show or Hide Citations & References
Armstrong ® Residential Flooring - Website 05/15/2010 http://www.armstrong.com/ lists current flooring products provided by the Armstrong Corporation, including Armstrong's current vinyl floor tile products at http://www.armstrong.com/flooring/products/vinyl-floors
Armstrong Corporation, Corporate History - http://www.armstrong.com/corporate/corporate-history.html - Web Search 05/19/2010
Armstrong vinyl asbestos floor tiles: photos of asbestos-vinyl floor tiles as catalog pages (PDF form) are at www.asbestosresource.com/asbestos/tile.html
"Asbestos in your home or at work," Forsyth County Environmental Affairs Department, Winston-Salem NC 12/08
"Asbestos Floor Tile Removal", the University of Minnesota's advice on removing VAT (vinyl asbestos or asphalt asbestos floor tile) can be read in detail at www.health.state.mn.us/divs/eh/asbestos/floortile/index.html
Copy on file as ASBESTOS IN YOUR HOME - U.S. EPA, Exposure Evaluation Division, Office of Toxic Substances, Office of Pesticides and Toxic Substances, U.S. Environmental Protection Agency, Washington,D.C. 20460
Resilient Floor Covering Institute, 1030 15th St. NW, suite 350, Washington D.C.
Book Recommendations for Asphalt & Vinyl-Asbestos Floor Tile Identification:
Asbestos products and their history and use in various building materials such as asphalt and vinyl flooring includes discussion which draws on ASBESTOS, ITS INDUSTRIAL APPLICATIONS, ROSATO 1959, D.V. Rosato, engineering consultant, Newton, MA, Reinhold Publishing, 1959 Library of Congress Catalog Card No.: 59-12535 (out of print).
David Grudzinski, Advantage Home Inspections, is a professional home inspector in Cranston, RI. 02910. He can be reached at 401-935-6547, fax- 401-490-0607 or by email to contact/us@advantagehomeinspections.us 04/26/2009
EPA Guidance for Controlling Asbestos-Containing Materials in Buildings, NIAST, National Institute on Abatement Sciences & Technology, [republishing EPA public documents] 1985 ed., Exposure Evaluation Division, Office of Toxic Substances, Office of Pesticides and Toxic Substances, U.S. Environmental Protection Agency, Washington,D.C. 20460
EVER WEAR TILE CO is currently (2009) in the Terrazzo, Tile, Marble, and Mosaic Work industry in Fallon, NV. 775) 423-6221. [We do not know the company history nor whether there is an association with EverWear vinyl asbestos floor tiles discussed in this article.]
Kentile KenFlex flooring photographs:Flickr web search 5/15/2010 - see original material and other asbestos product photos at http://www.flickr.com/photos/asbestos_pix/tags/floortile/
"Plastic Flooring Spreads Through the House", Jackson Hand, Guide to Home-Improvement Materials, Popular Science, April 1969, p. 154-158
Thomas Hauswirth, Managing Member of Beacon Fine Home Inspections, LLC and (in 2007) Vice President, Connecticut Association of Home Inspectors Ph. 860-526-3355 Fax 860-526-2942 beaconinspections@sbcglobal.net 06/07: thanks for photographs of transite asbestos heating ducts
Gary Randolph, Ounce of Prevention Home Inspection, LLC Buffalo, NY, for attentive reading and editing suggestions. Mr. Randolph can be reached in Buffalo, NY, at (716) 636-3865 or email: gary@ouncehome.com 3/07
Thanks to reader Matt Abel Design Services Department, Strongwood Log Home Company, 711 Shadow Road, Waupaca WI 54981, Office (715) 258-4818, Toll Free (866) 258-4818, www.gostrongwood.com "Begin your journey home.." for vinyl asbestos floor photos, October 2010.
Thanks to reader Meryl Silvers for hexagonal floor tile photos showing a possilbe Kentile product that contained asbestos. October 2010.
Asbestos Identification and Testing References

Asbestos Identification, Walter C.McCrone, McCrone Research Institute, Chicago, IL.1987 ISBN 0-904962-11-3. Dr. McCrone literally "wrote the book" on asbestos identification procedures which formed the basis for current work by asbestos identification laboratories.
Stanton, .F., et al., National Bureau of Standards Special Publication 506: 143-151
Pott, F., Staub-Reinhalf Luft 38, 486-490 (1978) cited by McCrone

Copy on file as ASBESTOS IN YOUR HOME - U.S. EPA, Exposure Evaluation Division, Office of Toxic Substances, Office of Pesticides and Toxic Substances, U.S. Environmental Protection Agency, Washington,D.C. 20460
Asbestos NESHAP ADEQUATELY WET ASBESTOS GUIDANCE, EPA340/1-90-019, December 1990, U.S. ENVIRONMENTAL PROTECTION AGENCY, Office of Air Quality Planning and Standards, Stationary Source Compliance Division, Washington, DC 20460,original web source: http://www.epa.gov/region04/air/asbestos/awet.htm
Asbestos products and their history and use in various building materials such as asphalt and vinyl flooring includes discussion which draws on ASBESTOS, ITS INDUSTRIAL APPLICATIONS, ROSATO 1959, D.V. Rosato, engineering consultant, Newton, MA, Reinhold Publishing, 1959 Library of Congress Catalog Card No.: 59-12535 (out of print, text and images available at InspectAPedia.com).
Asbestos Information Links: Asbestos Detection, Testing, Recognition, Hazards, Field Photos, and Information Sources, including health-related links such as legal services and information about mesothelioma and other cancers.
"Handling Asbestos-Containing roofing material - an update", Carl Good, NRCA Associate Executive Director, Professional Roofing, February 1992, p. 38-43
EPA Guidance for Controlling Asbestos-Containing Materials in Buildings, NIAST, National Institute on Abatement Sciences & Technology, [republishing EPA public documents] 1985 ed., Exposure Evaluation Division, Office of Toxic Substances, Office of Pesticides and Toxic Substances, U.S. Environmental Protection Agency, Washington,D.C. 20460
Vinyl Asbestos Floor Tile Composition Description - websearch 01/21/2011, various.
Books & Articles on Building & Environmental Inspection, Testing, Diagnosis, & Repair
Our recommended books about building & mechanical systems design, inspection, problem diagnosis, and repair, and about indoor environment and IAQ testing, diagnosis, and cleanup are at the InspectAPedia Bookstore. Also see our Book Reviews - InspectAPedia.
...