Electric Motor Start / Run Capacitor Operation
Installation Guide to Air Conditioning Compressor Motor & Other Electric Motor Start-Boost or Run Capacitors
InspectAPedia tolerates no conflicts of interest. We have no relationship with advertisers, products, or services discussed at this website.
How does an electric motor capacitor work? This article gives a short simple explanation of how a motor starting capacitor or motor run capacitor actually works to get a motor spinning or to keep it spinning efficiently.
Capacitors are electric devices that get an electric motor running at start-up or that help keep a motor running once it has started. If the capacitor has failed the most common symptom is that the motor won't start.
Green links show where you are. © Copyright 2017 InspectApedia.com, All Rights Reserved.
Explanation of How a Starting Capacitor or Booster for Hard Starting Air Conditioners Works
Capacitors are electric devices that get an electric motor running at start-up by providing a "jolt" of stored electrical energy, or that help keep a motor spinning once it has started.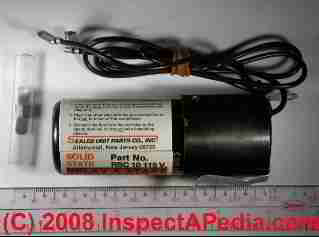 [Click to enlarge any image]
The starting capacitor helps a motor start spinning by creating a high-torque, rotating, electrical field in the motor.
If the start capacitor has failed the symptom is that the motor won't start. If either or both start and run capacitors are defective the motor may try to start but will hum and won't keep running. t.
Watch out: If you observe a humming electric motor that is not starting we suggest that to avoid damage you turn off the system while waiting for repairs.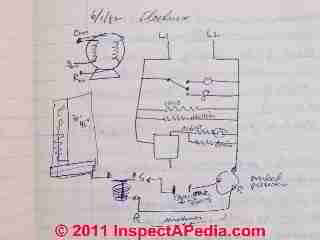 Our little sketch of a basic refrigeration circuit shown at left illustrates where and how a starting capacitor fits into a refrigeration or air conditioning electrical circuit.
The starting capacitor works by "accumulating" a large electrical charge inside the capacitor. During compressor or other motor startup, the start capacitor releases its charge to give a voltage "boost" to get the electric motor spinning.
During an electric motor start-up (such as an air conditioner compressor motor and some fan motors) where a starting capacitor is included in the circuit, with the added charge stored in the capacitor, run-start and start-common voltages increase to a maximum value to start the motor spinning.
The total supply subsequently current drops back to normal run conditions when the start device is dropped from the circuit - the motor continues to run.
This "electrical starting booster charge" can be particularly needed if an air conditioner is suddenly switched off and back on when it has been operating. Suddenly switching off an air conditioning compressor leaves a high "head pressure" inside the compressor which can provide extra mechanical resistance when the motor is attempting to re-start.
Traditionally electrical capacitors were also called "accumulators" for this reason. The capacitor's electrical charge is released at motor start-up time, gives the compressor motor or other electrical motor a boost for starting.
What makes the Start Capacitor Drop from the Circuit when the Motor has Started
As we explain next at How to Find, Choose, & Buy a Replacement Electric Motor Starting Capacitor, once a starting capacitor has provided the necessary boost to get the electric motor spinning, to avoid possible motor damage the capacitor has to drop from the electrical circuit, leaving the motor to run on normal operating current.
Centrifugal switches: a mechanical centrifugal switch may be used to disconnect the starting capacitor when the motor speed has reached a critical rpm, typically about half of the motor's run speed.[2]
PTC-devices: Positive Temperature Coefficient devices are the traditional means of dropping the capacitor from the motor circuit once the motor has successfully started. PTC devices are basically a tiny electric heater that use the change in electrical resistance of the heating element to open an electrical switch that removes the start winding in the motor from the run circuit. The switch opens in less than a second after the motor has started.
PTC devices have the advantage of being simple and avoiding the need for more complex electrical wiring of a motor starting system. Supco explains that this device is unable to sense whether or not the motor has successfully started, and if the motor does not start, several minutes are needed to let the heater cool down before the motor restart can be attempted again. This cool-down time provides a safety margin that helps protect against burning out the windings of a hard-starting motor.
PRD-devices: Potential Relay Devices use voltage sensing (The Supco method) or current sensing devices (two different approaches) to determine when to release the starting capacitor from the motor run circuit. Supco points out that "The electronic potential relay is inherently more reliable and precise than the older type mechanical potential relay." [1]
Both of these start capacitor control approaches work fine, and typical HVAC or residential appliance motor repairs the technician won't need to consider which method is being used to control the capacitor as long as she/he follows the manufacturer's recommendations on the product for its selection and use.
Start & Run & Dual Capacitors
Essex, Brown: "Motor Repair Supplies" (Catalog), Essex Group, Inc., 1601 Wall St., Fort Wayne, Indiana 46801, Tel: 219-461-4633, Website: www.superioressex.com, retrieved 6/20/14, original source: http://www.essexbrownell.com/uploadedFiles/Content/Products/MR%20Supplies%20Catalog-s.pdf - see pp. 86-89.
Sealed Unit Parts Co., Inc., PO Box 21, 2230 Landmark Place, Allenwood NJ 08720, USA, Tel: 732-223-6644, Website: www.supco.com, Email: info@supcocom, Supco Catalog, retrieved 6/20/14, original source: http://www.economicelectricmotors.com/cdrom/catalogs/Supco_catalog.pdf - see pp. 2-6.
van Roon, Tony, "Capacitors", [online article], retrieved 6/20/14, original source: http://www.sentex.ca/~mec1995/gadgets/caps/caps.html, gives a very detailed history of the invention and history of electrical capcitors beginning with van Musschenbroek's Leyden jar in 1745. This article includes
"Capacitor Nomenclature" by Dean Huster.

Kaiser, Cletus J., The Capacitor Handbook: A Comprehensive Guide For Correct Component Selection In All Circuit Applications. Know What To Use When And Where, 2d Ed., [at Amazon.com] C.J. Publishing (2011), ISBN-10: 0962852538, ISBN-13: 978-0962852534 - product description
This book provides practical guidance and application information when using capacitors in electronics and electrical circuit design. This easy-to-use book covers the following capacitor types: Ceramic, Plastic Film, Aluminum Electrolytic, Tantalum, Glass, Mica, and others. This book also has a very comprehensive Glossary and Index. The Selection Guidelines and the Symbols and Equations sections have the answers to all of your daily application questions. This book is one in a series of component handbooks.
Article Series Contents
...
Continue reading at TEST a MOTOR START or RUN CAPACITOR or select a topic from closely-related articles below, or see our complete INDEX to RELATED ARTICLES below.
Or see HARD STARTING ELECTRIC MOTOR CAUSES
Suggested citation for this web page
HOW a STARTING CAPACITOR WORKS at InspectApedia.com - online encyclopedia of building & environmental inspection, testing, diagnosis, repair, & problem prevention advice.
Or use the SEARCH BOX found below to Ask a Question or Search InspectApedia
...
Frequently Asked Questions (FAQs)
Try the search box below or CONTACT US by email if you cannot find the answer you need at InspectApedia.
Question:
(Feb 21, 2014) Anonymous said:
is it possible to rebuild a submersible well pump
Reply:
Yes ... maybe; it depends on the condition of the pump casing, parts, an in my opinion, an accurate diagnosis of the trouble; at some point rebuilding is not cost effective. Indeed there are specialists (H Shreck in Poughkeepsie used to be one of them) who rebuild electric motors of all kinds.
There are also many water pumps whose design makes it quite reasonable to replace pump impellers.
So to answer your question, I dunno - it depends on what's broken.
Question: fan will start but won't keep running.
(June 1, 2014) Anonymous said:
The fan on my Conquest 80 will not stay on (interior fan). It starts and then stops after a few seconds. It was installed in 2005. Help.
Reply:
Anon,
The start capacitor is for getting a motor started, not keeping it running.
Often motors have two windings, a start winding and a run winding. Your motor's run winding may be damaged.
Or your fan motor may require a dual capacitor (start and run) or a separate run capacitor to keep it spinning.
Or your system may have a faulty control.
Question: will a hard start capacitor reduce current drawn and stop tripping a breaker
(June 7, 2014) Joel said:
I have a commercial hood & exhaust fan (120v) running in a food truck that is used for catering. We occasionally need to run off a generator (3000w) and we've found that the fan cause the generator overload to trip. The fan has been tested and observed to draw 8 amps running at full speed. Given this, would it be possible to add a hard start kit, such as SUPCO SPP4E? Will need to confirm the motor size, just wondering if this would help.
The total draw of all items is less than 20 amps and the generator is capable of supplying 25 amps constant.
Thanks for the advice.
Reply:
Joel I think the problem lies elsewhere and needs some further diagnostics. I suspect that your total current draw is exceeding the ability of the generator - you may be running more than the fan, such as lighting, a cooler, toasters, other electrical appliances. If it were just the fan, drawing 8A, it has no business tripping the breaker.
Put another way if the problem is the fan and there are NO other appliances running, then there is a failing fan motor drawing high current, or an electrical short circuit or other unsafe condition to find and fix.
A start capacitor or a run capacitor won't change the current drawn by the motor.
...
Ask a Question or Search InspectApedia
Use the "Click to Show or Hide FAQs" link just above to see recently-posted questions, comments, replies, try the search box just below, or if you prefer, post a question or comment in the Comments box below and we will respond promptly.
Search the InspectApedia website
Technical Reviewers & References
Click to Show or Hide Citations & References
Supco, Sealed Unit Parts Company, PO Box 21, 2230 Landmark Place, Allenwood, New Jersey, 08720, Tel: 732-223-6644, 201-449-3300, email: info@supco.com, provided the compressor starting capacitor and packaging information (purchased by the author from an air conditioning parts supplier in New York) - our example uses a Sealed Unit Parts Company Solid State part No. RSC 10 115V starting capacitor which was designed for installation on refrigerators and freezers. See www.supco.com/
[1] "The E Class Advantage", Supco (op cit), describes the company's advanced start/run capacitor products. Web search 08/04/2011, original source: http://www.supco.com/eclassadvantage.htm Quoting from that article:


The SUPCO E-Class Series comprise the most advanced developments in start device technology:

1. Voltage sensing technology that monitors for motor start (current sensing devices require internal fuse protection).
2. A 2-wire connection that simplifies installation
3. A secondary timing circuit that ensures that the capacitor is not permanently left in the start winding circuit
4. A fully electronic device - minimizing the limitations of mechanical devices and secondary fusing associated with triac devices
5. A start device matched with an appropriately sized capacitor to cover the range of compressors for the intended application (one size does not fit all)

The use of compressor start devices results from a need to ensure that a compressor (usually air conditioning) will start under voltage conditions that are less than ideal. As discussed, several options exist in the market to address compressor start concerns. Start devices exist in many forms for specific applications. SUPCO provides a full range of products in all relevant technologies to effectively match the proper start device to the application. Care should be taken to utilize a device that meets the requirements of the job. Extra caution should be observed when employing the "one-size-fits-all" and "a bigger capacitor is better" approach to applying a start device. Consult SUPCO, a manufacturer with a complete product range, to ensure the greatest success in the start device application.

[2] "Motor Start and Run Capacitors", AFCAP (African Capacitors Limited), web search 08/05/2011, original source: http://www.afcap.co.za/manual/Part2.pdf
[3] "Kenmore model 580. 75121 room unit air conditioner wiring diagram", Sears Roebuck window air conditioner wiring diagram for a typical room or window air conditioner
George Fazio, reader, contributed comments on failed starter capacitor diagnosis by noting the bulged capacitor ends. 09/25/2009
Troubleshooting Compressor Problems," Henry Puzio, Fuel Oil & Oil Heat with Air Conditioning Magazine, June 1993, p. 39
Tom Morris, Engineer, capacitor discussion and correction to the original data. Email to D Friedman 5/29/2006 - Thanks Tom for critical editing. The text above explaining about capacitors was suggested by Mr. Morris. The original text of the 1993 compressor diagnosis article had the resistance explanation backwards.
Thanks to reader Diane McGivney for asking about air conditioner compressor motor starting capacitor costs and typical air conditioner service call fees - (May 2010)
Thanks to reader James Oiler for reporting on the replacement of a heat pump starter capacitor, August 2010.
Wikipedia provided background information about some topics discussed at this website provided this citation is also found in the same article along with a " retrieved on" date. NOTE: because Wikipedia entries are fluid and can be amended in real time, we cite the retrieval date of Wikipedia citations and we do not assert that the information found there is necessarily authoritative.
Books & Articles on Building & Environmental Inspection, Testing, Diagnosis, & Repair
Modern Refrigeration and Air Conditioning, A. D. Althouse, C.H. Turnquist, A. Bracciano, Goodheart-Willcox Co., 1982
Principles of Refrigeration, R. Warren Marsh, C. Thomas Olivo, Delmar Publishers, 1979
"Air Conditioning & Refrigeration I & II", BOCES Education, Warren Hilliard (instructor), Poughkeepsie, New York, May - July 1982, [classroom notes from air conditioning and refrigeration maintenance and repair course attended by the website author]
Refrigeration and Air Conditioning Technology, 5th Ed., William C. Whitman, William M. Johnson, John Tomczyk, Cengage Learning, 2005, ISBN 1401837654, 9781401837655 1324 pages
Asbestos HVAC Ducts and Flues field identification photos and guide
Fiberglass: Indoor Air Quality Investigations: Fiberglass in Indoor Air, HVAC ducts, and Building Insulation
...