Solving Neighboring Chimney Complaints
Clearances from chimneys to neighboring buildings & properties
CHIMNEY CLEARANCE to NEIGHBORS - CONTENTS: complaints about smoke, odors, soot from a neighboring chimney or a nearby building: chimney clearances to buildings, property lines; how to reduce smoke & odor complaints between neighbors, neighboring buildings & nearby chimneys
POST a QUESTION or READ FAQs about distance requirements between chimneys & neighbouring buildings
InspectAPedia tolerates no conflicts of interest. We have no relationship with advertisers, products, or services discussed at this website.
Chimney clearances to neighbors & property lines:
This article describes approaches to solving complaints about smoke, odors, soot from a neighboring chimney or a nearby building: chimney clearances to buildings, property lines; how to reduce smoke & odor complaints between neighbors, neighboring buildings & nearby chimneys.
Our page top photo shows multiple chimneys on nearby buildings in Oxford in the U.K.
Green links show where you are. © Copyright 2017 InspectApedia.com, All Rights Reserved.
Clearances Between Chimneys & Adjacent Buildings, Neighbors, Others
Reader Question: is 25 feet to a nearby roof ridge sufficient chimney clearance distance?
We built a one and a half story garage next to a breezeway that separates the house by an additional 12 feet making the ridge of the garage 25 feet from the top of the chimney to the top of the ridge,the ridge is even with the top of chimney which is 25 feet away is this a safe distance between them? - Paul F. 4/29/12
Our photo shows steam and exhaust rising from a plant along the North Shore of Lake Superior, Minnesota.
[Click to enlarge any image]
Reply:
Paul,
if you've checked the sketches on chimney clearance distances shown on this page (10 ft. from a roof, 3 feet above the roof, etc) I'm unclear on the question in your note. If you are saying your chimney top is 15 feet away from a ridge that is at the same height, it's certainly past any clearance issue.
Keep in mind however that wind effects on a chimney can indeed be affected by more distant site conditions, even a hill, or trees. So if there is a draft issue changes could be needed.
Question: Objection to neighbor's chimney fumes
I wonder if you could advise me - a neighbour some thirty years ago put on a side extension and wanted to put a chimney in. I put in an objection to this due to the fact that the smoke would come into my garden and across the front of my home. He wrote to me assuring me that his intention was to use a gas fire and not a wood or coal burning stove/fire and he would never extend his chimney.
Recently he has extended his chimney by approximately one meter? I am now getting fumes from the fire both in the front and rear of the house and if I open the windows the fumes come in. I live in the Barnet area North London. - Gordon 5/6/2012
I should have mentioned that it was a single storey extension with a flat roof. Look forward to hearing from you.
Reply:
Gordon, I'm a bit puzzled by this description, but you didn't give any chimney clearance distances. Indeed a gas fireplace won't produce smoke, and if properly adjusted shouldn't be producing strong fumes that bother a neighbor, but the real answer to the question includes knowing the distances involved.
The same clearance distances that apply to building a chimney on an individual home would certainly provide minimum clearance distances between neighbors. Did your neighbor obtain a building permit and approvals for his construction?
Question: chimney fumes bothersome on adjacent roof deck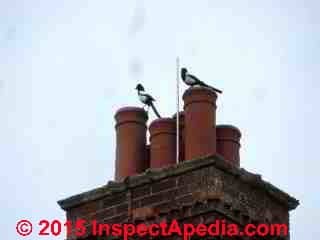 I have an old masonry chimney that extends about 5 feet above the flat roof in an old four story townhouse (brownstone).
The problem is I have a roof deck on that flat roof and recently I've noticed fumes frequently if not constantly coming out of the chimney. There were always some fumes but not to this extent. Since it's June, the fumes would be from heating of the hot water which is heated by the year 2001 oil burner.
1) I think we need our boiler adjusted, do you agree?
2) Can we extend our chimney to vent the fumes higher? Do we need to extend the chimney using masonry and how much higher would you recommend? - Judy, 6/10/12
Our photo (above) shows a pair of magpies atop near-adjacent chimney pots in Oxford. Close chimney top terminations of the same height can result in draft and backdraft problems on some buildings.
Reply:
Judy, I'm not sure there is a single correct answer to your question because local and site conditions (wind direction, downdrafts, other obstructions, as well as condition of the oil fired heating equipment) all affect the production of odors and downdrafts that may send chimney fumes down onto an adjacent area. But certainly I agree that
1. the heating system should be cleaned and adjusted annually; if after your service tech leaves the chimney is showing smoke then something is still wrong and you need to talk with the service manager for your oil heating company.
See OIL BURNER INSPECTION & REPAIR for a complete guide to oil burner troubleshooting & tuneup.
2. the chimney height of five feet is certainly inadequate clearance above an occupied deck; you may need to at least double that, as well as providing bracing.
Question: chimney top too close to neighbors, too close to property line, too close to other buildings: chimney neighbours complaints, USA, UK, AU, NZ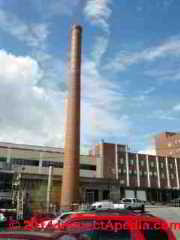 (Oct 11, 2012) Simon Mifsud said:
I have a wood burning stove with the chimney being 6 feet above our flat roof top. It is 5 feet away from neighbours who have a washroom that rises 4 feet above our chimney. The neighbours have an internal shaft which is around 18 feet away from our chimney. Would our neighbours have problems with our exhaust? Thank you
(Oct 14, 2012) Martin said:
My neighbour's home sits below mine. He has a wood stove with a Selkirk chimney on the side of the house next to ours. The top of his chimney appears to meet the rules for his home, but as the top of the chimney is below the top of our bungalow, we have a lot of smoke swirling around out home near the ground, which prevents us from having windows open as the temperature drops. Are there rules around neighbour's chimneys and if such a chimney has to clear our roof as well?
Thank you
Nov 5, 2012) Anonymous said:
How close to a neighbors house can a chimney be built? The property line is only about 24 inches away from the side of their house and about 10 feet from the side of our home. The current chimney (heat duct) that they are using, fills our home with smoke. Our house is much higher than theirs and the smoke has already set off the smoke detectors in our home. I know that building codes enforcement has already been in contact with them. I'm not sure if this is something I should contact the enforcement office about? They are digging for a new foundation as I type. Please help!
(Nov 22, 2012) Disturbed! said:
Hello...My neighbour has installed a metal vent to vent out his new woodstove. Unfortunately, we can smell the smoke from inside our house and as soon as we go outside, we can also smell it. It is horrible. There is a higher roof that connects to the lower roof where he has vented out. Our house is about 35 feet away but we get the smoke into our house. It blows down and in. Is there some sort of rule against this what they have done? I know they did not obtain any permits. I am very frustrated and looking to rectify this problem |ASAP!!
(Jan 1, 2013) Tanya Sisk said:
Our neighbor's just installed a wood burning device (I'm assuming a pot belly type) and when they burn it the smell permeates into our house. The smell is very strong and should we be concerned with carbon monoxide? I'm wondering if their smoke stack isn't high enough? We have a split level home and they have a ranch style and installed the device in their basement. Any suggestions? Thanks!
(Apr 10, 2014) Charles Cham said:
Hi, how far shall a direct vent for a fireplace(thru the roof) be installed from the property line
(July 2, 2014) Alexandra said:
Hi, our neighbours are exceptionally sensitive about any smoke which comes from our heat master firebox- installed in a brand new house 7 yrs ago, to council specs and just recently cleaned. We wondered if extending the metal flue above the current height would help alleviated any smoke from their backyard, which sits diagonally adjacent to our house and below the chimney by at least 20 feet.
We would do anything to avoid the aggression we incur every time we light a fire in the day!( not the evening) The council have checked the fire and it conforms to all regulations.
Reply: Suggestions for reducing smoke complaints from neighbours to a chimney
Alexandra
I read your query last night and then spent some time thinking about it as I don't see a cheap easy answer. Are you in the U.K. ? We've had a spate of requests around this topic, mostly from our U.K. readers of late.
A fireplace and chimney that meet standards and regulations for your country and city can still perform poorly or generate smoke complaints depending on local terrain or building features that cause poor draft or annoying smoke distribution patterns.
I would
- build a fire that generates visible smoke
- step outdoors and observe very carefully where smoke travels
- examine the building and terrain features as well as obtain data on prevailing wind directions in order to better understand downdrafts and directions of air movement
Discuss with a chimney expert:
- whether or not the chimney is drafting properly
- whether or not the chimney cap is the optimum design
- a concern for the effect of site features, terrain, wind on smoke distribution
- whether or not an extension of chimney height can possibly improve the situation (without having to go to a ridiculous or unsafe height), and the requirement for additional bracing if the chimney is extended
- choices of fuel that may reduce smoke output
- testing and confirmation of adequate combustion air
So that other readers can comment I'll also include this discussion in the FAQs above.
Do keep me posted and add additional information if you can - as the discussion will also assist others.
Daniel
Disturbed
This may be a case in which a chimney meets minimum code standards but does not adequately handle actual site conditions. Ask for help and advice from your local building department.
Charles Cham:
This is a question I can't answer as I don't know. But it seems to me that if the chimney - I presume you're talking about an exhaust vent for some sort of fuel fired heating appliance - terminates meeting all of the building clearances stated in the appropriate article at the "More Reading" article list above I just don't see how a property line clearance would be at issue. What am I missing?
...
Continue reading at CHIMNEY HEIGHT EXTENSIONS or select a topic from closely-related articles below, or see our complete INDEX to RELATED ARTICLES below.
Or see CHIMNEY HEIGHT & CLEARANCE CODE
Or see CHIMNEY CLEARANCE & CONDITION SAFETY
Suggested citation for this web page
CHIMNEY CLEARANCE to NEIGHBORS at InspectApedia.com - online encyclopedia of building & environmental inspection, testing, diagnosis, repair, & problem prevention advice.
Or use the SEARCH BOX found below to Ask a Question or Search InspectApedia
...
Frequently Asked Questions (FAQs)
Try the search box below or CONTACT US by email if you cannot find the answer you need at InspectApedia.
Question: UK chimney neighbour codes & restrictions
(Feb 15, 2015) Mary said:
Hi. My neighbour has recently fitted a wood burning stove and run an ugly metal chimney up the outside of their house that overhangs our garden. Our houses are angled as we have a corner plot and ours is set back. The problem is that we can't have our bedroom window open because the fumes come straight in when the wind blows this way. I am worried about the health implications and fed up with the smell. I would guess that the distance from the top of their chimney to my window is about 10 to 15 feet. I would appreciate any advice. Thanks.
Reply:
Mary
The installation of a wood stove requires a building permit, inspections, approvals in just about every jurisdiction in North America. Of course you may be somewhere else without regulation - I don't know. But if your neighbour is recalcitrant you have not much left than to ask your local building department to take a look at the installation, starting with safety.
(Feb 17, 2015) Mary said:
Thanks Dan for your response. I live in the UK so will contact my local building regulator.
...
Ask a Question or Search InspectApedia
Use the "Click to Show or Hide FAQs" link just above to see recently-posted questions, comments, replies, try the search box just below, or if you prefer, post a question or comment in the Comments box below and we will respond promptly.
Search the InspectApedia website
Technical Reviewers & References
Click to Show or Hide Citations & References
[1] ...
[2] Arlene Puentes, an ASHI member and a licensed home inspector in Kingston, NY, and has served on ASHI national committees as well as HVASHI Chapter President. Ms. Puentes can be contacted at ap@octoberhome.com
[3] Roger Hankeyis principal of Hankey and Brown home inspectors, Eden Prairie, MN, technical review by Roger Hankey, prior chairman, Standards Committee, American Society of Home Inspectors - ASHI. 952 829-0044 - hankeyandbrown.com
[4] G. Howard suggested text clarification on proper chimney height and roof clearances, August 2009.
[5] NFPA 211 - Standards for Chimneys & Fireplaces, NFPA 211: Standard for Chimneys, Fireplaces, Vents, and Solid Fuel-Burning Appliances, 2006 Edition (older editions and standards are found at the same bookstore)
[6] NFPA #211-3.1 1988 - Specific to chimneys, fireplaces, vents and solid fuel burning appliances.
[7] NFPA # 54-7.1 1992 - Specific to venting of equipment with fan-assisted combustion systems.

NFPA 211 - 3-1.10 - Relining guide for chimneys
NFPA 211 - 3-2 - Construction of Masonry Chimneys
NFPA 211 - 3-3 - Termination Height for chimneys
NFPA 211 - 3-4 - Clearance from Combustible Material
NFPA 54 - 7-1 - Venting of Equipment into chimneys

[8] GAMA - Gas Appliance Manufacturers' Association has prepared venting tables for Category I draft hood equipped central furnaces as well as fan-assisted combustion system central furnaces.
[9] National Fuel Gas Code, an American National Standard, 4th ed. 1988 (newer edition is available) Secretariats, American Gas Association (AGA), 1515 Wilson Blvd., Arlington VA22209, and National Fire Protection Association (NFPA), Batterymarch Park, Quincy MA 02269. ANSI Z223.1-1988 - NFPA 54-1988. WARNING: be sure to check clearances and other safety guidelines in the latest edition of these standards.
[10] Fire Inspector Guidebook, A Correlation of Fire Safety Requirements Contained in the 1987 BOCA National Codes, (newer edition available), Building Officials and Code Administrators International, Inc. (BOCA), Country Club HIlls, IL 60478 312-799-2300 4th ed. Note: this document is reissued every four years. Be sure to obtain the latest edition.
[12] New York 1984 Uniform Fire Prevention and Building Code, Article 10, Heating, Ventilating, and Air Conditioning Requirements
[13] New York 1979 Uniform Fire Prevention & Building Code, The "requirement" for 8" of solid masonry OR for use of a flue liner was listed in the One and Two Family Dwelling Code for New York, in 1979, in Chapter 9, Chimneys and Fireplaces, New York 1979 Building and Fire Prevention Code:
[14] Field Controls provides instructions for the installation of LP and Natural Gas spill sensor switches, for example for their Gas Spillage Sensing Kit Model GSK-3, GSK-4, GSK-250M switches. Contact your heating service technician directly, or contact Field controls at fieldcontrols.com for more information. These switch models include a manual reset switch. Field Controls, Kingston NC 28504 - Tel 252-522-3031.
[15] Tjernlund Products provides instructions for the installation and use of their controls, including the WHKE Millivolt Interlock Kit for use with their UC1 Universal Control, MAC1E or MAC4E auxiliary controls for gas fired equipment. This document also describes Tjernlund's recommended combustion air safety check which we recommended in this article. Contact Tjernlund Products at tjernlund.com or at 800-255-4208.
[16] Bachrach Corporation, www.bachrach-training.com provides education for HVAC technicians. We found their web pages hanging during loading -01/2009. Readers may want to contact the company directly at: bacharach-inc.com or at 800-736-4666.
"Top Ten Chimney (and related) Problems Encountered by One Chimney Sweep," Hudson Valley ASHI education seminar, 3 January 2000, contributed by Bob Hansen, ASHI
Chimney Inspection Checklist, Carson Dunlop, Associates, Toronto, Ontario
"Rooftop View Turns to Darkness," Martine Costello, Josh Kovner, New Haven Register, 12 May 1992 p. 11: Catherine Murphy was sunning on a building roof when a chimney collapsed; she fell into and was trapped inside the chimney until rescued by emergency workers.
"Chimneys and Vents," Mark J. Reinmiller, P.E., ASHI Technical Journal, Vol. 1 No. 2 July 1991 p. 34-38.
"Chimney Inspection Procedures & Codes," Donald V. Cohen was to be published in the first volume of the 1994 ASHI Technical Journal by D. Friedman, then editor/publisher of that publication. The production of the ASHI Technical Journal and future editions was cancelled by ASHI President Patrick Porzio. Some of the content of Mr. Cohen's original submission has been included in this more complete chimney inspection article: InspectAPedia.com/chimneys/Chimney_Inspection_Repair.php. Copies of earlier editions of the ASHI Technical Journal are available from ASHI, the American Society of Home Inspectors.
Natural Gas Weekly Update: http://tonto.eia.doe.gov/oog/info/ngw/ngupdate.asp Official Energy Statistics from the U.S. Government
US Energy Administration: Electrical Energy Costs http://www.eia.doe.gov/fuelelectric.html
Brick Institute of America - Flashing Chimneys
Brick Institute of America - Proper Chimney Crowns
Brick Institute of America - Moisture Resistance of Brick
American Gas Association - New Vent Sizing Tables
Chimney Safety Institute of America - Chimney Fires: Causes, Effects, Evaluation
National Chimney Sweep Guild - Yellow Pages of Suppliers
Fireplace & Chimney Design, Repair Books - Fireplaces, Chimneys: design, repair
Fireplace & Chimney Inspection Books - Inspecting and diagnosing chimney problems, fireplace problems, chimney & fireplace standards
Ceramic Roofware, Hans Van Lemmen, Shire Library, 2008, ISBN-13: 978-0747805694 - Brick chimneys, chimney-pots and roof and ridge tiles have been a feature of the roofs of a wide range of buildings since the late Middle Ages. In the first instance this ceramic roofware was functional - to make the roof weatherproof and to provide an outlet for smoke - but it could also be very decorative.
The practical and ornamental aspects of ceramic roofware can still be seen throughout Britain, particularly on buildings of the Victorian and Edwardian periods. Not only do these often have ornate chimneys and roof tiles but they may also feature ornamental sculptures or highly decorative gable ends. This book charts the history of ceramic roofware from the Middle Ages to the present day, highlighting both practical and decorative applications, and giving information about manufacturers and on the styles and techniques of production and decoration.
Hans van Lemmen is an established author on the history of tiles and has lectured on the subject in Britain and elsewhere. He is founder member and presently publications editor of the British Tiles and Architectural Ceramics Society. Available at the InspectAPedia Bookstore.
Chimney Inspection Checklist, Carson Dunlop, Associates, Toronto, Ontario
Chimney & Stack Inspection Guidelines, American Society of Civil Engineers, 2003 - These guidelines address the inspection of chimneys and stacks. Each guideline assists owners in determining what level of inspection is appropriate to a particular chimney and provides common criteria so that all parties involved have a clear understanding of the scope of the inspection and the end product required. Each chimney or stack is a unique structure, subject to both aggressive operating and natural environments, and degradation over time. Such degradation may be managed via a prudent inspection program followed by maintenance work on any equipment or structure determined to be in need of attention. Sample inspection report specifications, sample field inspection data forms, and an example of a developed plan of a concrete chimney are included in the guidelines. This book provides a valuable guidance tool for chimney and stack inspections and also offers a set of references for these particular inspections.
Fireplaces, a Practical Design Guide, Jane Gitlin
Fireplaces, Friend or Foe, Robert D. Mayo
NFPA 211 - Standards for Chimneys & Fireplaces, NFPA 211: Standard for Chimneys, Fireplaces, Vents, and Solid Fuel-Burning Appliances, 2006 Edition (older editions and standards are found at the same bookstore)
Principles of Home Inspection: Chimneys & Wood Heating (Principles of Home Inspection), Carson Dunlop
Books & Articles on Building & Environmental Inspection, Testing, Diagnosis, & Repair
Our recommended books about building & mechanical systems design, inspection, problem diagnosis, and repair, and about indoor environment and IAQ testing, diagnosis, and cleanup are at the InspectAPedia Bookstore. Also see our Book Reviews - InspectAPedia.
...