Air Conditioner / Heat Pump Refrigerant Pressure Too High - Overcharged
Effects of too much refrigerant in air conditioners, heat pumps & other refrigeration equipment
InspectAPedia tolerates no conflicts of interest. We have no relationship with advertisers, products, or services discussed at this website.
Refrigerant charge quantity for air conditioners & heat pumps:
This air conditioning repair article series discusses the the diagnosis and correction of abnormal air conditioner refrigerant line pressures as a means for evaluating the condition of the air conditioner compressor motor, which in turn, is a step in how we evaluate and correct lost or reduced air conditioner cooling capacity.
We explain how overcharging or undercharging of refrigerant in an air conditioner or heat pump is detected and we list the effects of overcharged or undercharged refrigerant.
Green links show where you are. © Copyright 2017 InspectApedia.com, All Rights Reserved.
Effects of Overcharging the Refrigerant Level in an Air Conditioner, Heat Pump, or other refrigeration equipment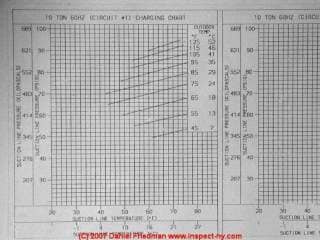 Effects of too much refrigerant in the system - overcharging, over-metering, or other high refrigerant pressure situations: normally we want the low side pressure to be as low as possible for refrigeration systems.
Excessive refrigerant in the system raises the system operating pressure and temperature and actually reduces the cooling ability of the system.
[Click to enlarge any image]
Overcharging of the refrigerant in a closed refrigerant system such as a typical residential air conditioner, heat pump, or refrigerator, where no liquid refrigerant receiver is included, has the following effects:
Improper operating pressures - too high: Refrigerant pressure will be increased on both the high side and low side of the system
More expensive operation: The system may still be able to change state, but at a higher temperature than intended, thus in an air conditioner, it won't cool as effectively nor as efficiently as with the proper charge
Effects of refrigerant floodback or of liquid slugging the compressor motor: if liquid refrigerant enters moving parts of the compressor motor, the motor is likely to be destroyed.

Watch out: overcharging sufficient to cause liquid slugging can quickly destroy the HVACR compressor motor. The compressor motor's moving parts (piston & cylinder, scroll spirals, or rotary vane pump) expect to be compressing a gas and can't handle liquids. HVAC technicians refer to these conditions as liquid slugging. Details are at REFRIGERANT FLOODBACK, LIQUID SLUGGING

Liquid slugging is cited at AIR CONDITIONING & HEAT PUMP NOISES where we discuss A/C or heat pump compressor motor noises.
Air Conditioner or Heat Pump Compressor Motor or other Electric Motor Runs Backwards?
An electric motor may start running backwards due to a failed start capacitor, a reaction to high refrigerant pressure (for refrigeration motors), or other electrical events.
High refrigerant pressure in an A/C unit or heat pump or some other refrigeration motors can cause the equipment to run backwards. Cooling compressors, heat pump compressors and some other electrical motors can run backwards too: well pumps, fans, even an A/C or heat pump compressor.
If the compressor motor is a scroll-type design and in some cases if the motor is a rotary vane type design high refrigerant pressure combined with a loss of electricity can, on return of power, start the motor backwards. Scroll type compressor motors use an anti-restart control (basically a timer) to prevent the compressor from starting to run backwards.
A scroll-type compressor (and possibly a rotary vane A/C compressor motor) can start to run backwards if the motor is suddenly stopped (due to brief power loss or because you foolishly switched its electrical power "off" and back "on" quickly. In that condition, high refrigerant pressure on the outlet side of the compressor motor gives it a backwards push. When power is restored that backwards push gets the motor running backwards.
And as we discuss at CAPACITORS for HARD STARTING MOTORS, a bad start capacitor can let a motor run backwards. We've also found cases of water well pump motors running backwards after a lightning strike.
And at Questions & Answers about compressor/condenser unit fans we include a field report of a backwards running condenser unit fan.
More Effects of Overcharging A/C Refrigerant In a Cooling or Refrigeration System
Reader Question: What happens to an overcharged cooling system with too much refrigerant?
Could you describe what will happen with an over charged system? - S.F.
Reply: Here are the effects of overcharging with refrigerant
An expert inspection of any individual cooling or air conditioning system is likely to discover things that we miss by email discussions. That said, here are some things to consider:
The most serious problem is damage to the A/C compressor. Damage could occur to the compressor piston or to the refrigerant control flow valve (A/C compressors use a reed type valve that seals the compressor high side outlet) - imagine sending a slug of liquid into any reciprocating piston engine or valve that is designed to move a gas - the piston comes up and slams into liquid - and is destroyed.

Overcharging a residential A/C system or refrigerator can damage or even put the system out of operation - because these systems don't have a receiver, too much refrigerant risks sending a slug of liquid refrigerant+oil into the cap tube, the metering device, clogging it and leading to failure
Overcharging a commercial system with a receiver - it depends. A small overcharge just rests in the receiver but a large one can result in Thermal Expansion Valve (TEV) damage or TEV freeze-up, leading to loss of system cooling entirely.
We want just enough air conditioner or refrigerator refrigerant to cool the coil; too little can lead to coil frost-up (suction side pressure too low) and too much refrigerant can lead to cooling coil running warm over part of its surface (suction side pressure too high).
Refrigerant overcharging can also result in liquid refrigerant running too far into the evaporator coil, leading to a too-low suction side pressure and a reduction in cooling capacity
In other cases overcharging with a refrigerant can lead to unexpected condensation or frosting on some of the system parts and components both in the air handler and in the compressor/condenser unit. In HVAC school, with gauges in place and a means of adding or removing refrigerant we could watch the frost line advance or recede on a cooling coil from this effect.
Some sources also cite higher compressor amps draw but that claim needs more research

Watch out

: an air conditioner or heat pump system that has been over-charged with refrigerant can also show up the problem as short cycling, rapid on-off cycling of the compressor motor. This happens when excess refrigerant is blocking proper operation of the thermostatic expansion valvce (TEV) or capillary tube or other refrigerant metering control.

Effects of Undercharging the Refrigerant Level in an Air Conditioner, Heat Pump, or other refrigeration equipment
Effects of too little refrigerant in the system are described in detail separately at THERMOSTATIC EXPANSION VALVES, REFRIGERANT
How do We Measure the Actual Quantity of Refrigerant in an Existing HVAC System
Reader question:
How can i measure the quantity of refrigerant in the system? is there any instrument that can be use to measure this? said:
How can i measure or ascertain the quantity of refrigerant in the system? is there any instrument that can be use to measure
1. Please kindly assist me on how to ascertain or measure the refrigerant quantity in a system.
2. Is there any instrument for this measurement?
3. Any relationship between an air-conditioners rated current and the refrigerant quantity?
4. Can the Pressure-Temperature chart be used to ascertain refrigerant quantity?
- S.A. 4/1/2014
Reply:
On your question of does the electrical current determine the amount of refrigerant in the system, No the rated current - if you mean the equipment amps draw - does not determine the proper refrigerant charge quantity, though an overcharge or undercharge that is causing improper equipment operation or even damage might be reflected in the current draw by the compressor.
I don't know a way to precisely measure the liquid volume of what's in an individual HVAC system, as there are technical demands that I will explain here, but you can get an idea of quantity by looking at pressures, temperatures, ambient temperatures around the unit and tables published by the manufacturers.
You'd think we could just calculate the gas volume and liquid volume at any given time and temperature and pressure - theoretically that's right. But because each HVAC system has some unique installation details such as exact lengths of refrigerant piping (depending on where components are installed and how far apart they are located), the actual physical volume of liquids and gases that are in the system are not trivial to compute.
Consider that at any moment in the operation of a piece of refrigeration equipment the refrigerant inside the device exists in two places - on the high side and on the low side of the system, under high pressure as a high pressure gas, or as a liquid, and on the low side as a gas. Just how much of the refrigerant is on either side of the metering valve varies. But an accurate total of the refrigerant quantity would have to add both of these together and convert them to a common measure (liquid or gas volume with adjustments for temperatures and pressures).
A different data point is at the time of installation: the installer can use a charging cylinder to measure the accurate quantity of refrigerant that was introduced into the system - again with some adjustments for temperature. That's where the charging pressure-temperature chart comes in handy. If the manufacturer says install N liquid ounces of refrigerant X the technician has to consider temperature and possibly pressure when measuring refrigerant volumes.
A refrigerant charging cylinder provides a chart built into the device for making an accurate charge. Electronic refrigerant charging equipment does the same thing, more precisely, using circuitry and temperature (and perhaps pressure) data sensors built into the equipment.
These difficulties explain why on small systems that need a very accurate refrigerant charge, the technician often has to approach the job by first evacuating the system completely and next installing an accurately-measured charge of refrigerant.
Two times that the HVACR refrigerant charge is accurately known
There is no simple instrument that reads how much refrigerant by volume (gas, liquid, or more accurately a combination of the two) in a refrigeration system. There are just two times that we know accurately how much refrigerant is inside of the equipment:
When the equipment is new, has not been installed, or has been fully evacuated - then the answer is normally zero though to be more precise, in an evacuated system that previously contained refrigerant some molecules remain.
When the equipment has been evacuated and then given a measured refrigerant charge. For small systems with no receiver the refrigerant charge has to be very precise. For larger HVACR systems a receiver is included in the design to act as a buffer or accumulator of liquid refrigerant so that the system will work properly with a refrigerant charge quantity that is less precise.
Now if an air conditioner, refrigerator or similar HVACR device has not leaked, we would reasonably assume that the amount of refrigerant in the system is exactly what was originally installed. This is the case for thousands of HVACR appliances that run for years without leaking.
Since your wrote again that you still didn't see a clear answer to your question as you posed it, in sum, the short answer is no.
...
Continue reading at UNDER CHARGED REFRIGERANT, EFFECTS or select a topic from closely-related articles below, or see our complete INDEX to RELATED ARTICLES below.
Or see REFRIGERANT CHARGING PROCEDURE
Or see GAUGE, REFRIGERATION PRESSURE TEST
Or see REFRIGERANT PRESSURE READINGS & CHARTS
Or seeREFRIGERANT FLOODBACK, LIQUID SLUGGING
Or see these
Air Conditioning & Heat Pump Refrigerant Articles
Suggested citation for this web page
OVER CHARGED of REFRIGERANT, EFFECTS at InspectApedia.com - online encyclopedia of building & environmental inspection, testing, diagnosis, repair, & problem prevention advice.
Or use the SEARCH BOX found below to Ask a Question or Search InspectApedia
...
Frequently Asked Questions (FAQs)
Ask a Question or Search InspectApedia
Use the "Click to Show or Hide FAQs" link just above to see recently-posted questions, comments, replies, try the search box just below, or if you prefer, post a question or comment in the Comments box below and we will respond promptly.
Search the InspectApedia website
Technical Reviewers & References
Click to Show or Hide Citations & References
Books & Articles on Building & Environmental Inspection, Testing, Diagnosis, & Repair
Modern Refrigeration and Air Conditioning, A. D. Althouse, C.H. Turnquist, A. Bracciano, Goodheart-Willcox Co., 1982

Principles of Refrigeration, R. Warren Marsh, C. Thomas Olivo, Delmar Publishers, 1979

"Air Conditioning & Refrigeration I & II", BOCES Education, Warren Hilliard (instructor), Poughkeepsie, New York, May - July 1982, [classroom notes from air conditioning and refrigeration maintenance and repair course attended by the website author]

Refrigeration and Air Conditioning Technology, 5th Ed., William C. Whitman, William M. Johnson, John Tomczyk, Cengage Learning, 2005, ISBN 1401837654, 9781401837655 1324 pages

Carson Dunlop, Associates, Toronto, have provided us with (and we recommend) Carson Dunlop Weldon & Associates' Technical Reference Guide to manufacturer's model and serial number information for heating and cooling equipment ($69.00 U.S.).

Air Conditioning Inspection, Diagnosis, Repair, Efficiency all the basics for home owners, inspectors, new repairmen

Asbestos HVAC Ducts and Flues field identification photos and guide

Fiberglass: Indoor Air Quality Investigations: Fiberglass in Indoor Air, HVAC ducts, and Building Insulation

...