Air Conditioner / Heat Pump FAQs

Questions & answers about air conditioners & heat pumps
InspectAPedia tolerates no conflicts of interest. We have no relationship with advertisers, products, or services discussed at this website.
Frequently Asked Questions (and answers) about air conditioners & heat pumps
FAQs about air conditioning and heat pump systems help diagnose inspection, installation, troubleshooting or repair problems.
These FAQs are part of an article series discussing how to inspect and repair all types of residential air conditioning systems (A/C systems). Page top image provided courtesy Carson Dunlop Associates.
Green links show where you are. © Copyright 2017 InspectApedia.com, All Rights Reserved.
Air Conditioning & Heat Pump FAQs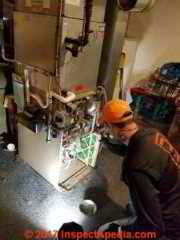 These questions & answers about air conditioning & heat pump systems were posted originally at AIR CONDITIONING & HEAT PUMP SYSTEMS - home
[Click to enlarge any image]
Bob

It can be very difficult to find a small, slow refrigerant leak with or without a refrigerant gas detector. The leak can be in a spot that you cannot place the detector tip.

However you can sometimes spot a leak by visual means, noting refrigerant oil stains on a refrigerant line or at a fitting (dark oily residue).

It would be unusual to find refrigerant in a condensate drain itself but if indeed you're detecting refrigerant gas at the drain line opening at the evaporator that says it's time to check the evaporator coil and piping and fittings around it more closely.
I have a refrigerant leak of a 3 year old 410A heat pump. It's losing about 1 lb. per year.
I bought a halide leak detector and went over the whole system and the only alarm I really got was inside the condensate drain line opening of the evaporator.
Maybe a smaller alarm around the inside of the coil but couldn't pinpoint it or get the same area twice. Would this alarm inside condensate drain line be refrigerant leaking off the evaporator into the condensate ? Because I've went over all the fittings, valves,solder joints with soapy water too and found zero.
I've also got 30 year old freon lines that were not replaced inside the outside wall & into the attic and I just felt around them with my hand and didn't feel anything wet or oily.
I've got a 10 year warranty on the system so I think I'll replace the evaporator and refrigerant lines because I just pay labor and I know someone that does this reasonably and feel 90% this is problem from what I've heard of evaporator coil problems in this industry. Thank you, Bob W. 11/10/2017

How to check the control board. The compressor never comes on in cooling

I have installed a 4 ton split system a/c . Manufacture suggested min circuit 20.8 amps max 35 amps.
So I installed 10/2 with ground and wired unit up with 30 amp zinsco breaker and 2 30 amp fuses. Inspector shot me down saying I need to run 8/2 wire and change breaker to 35 amp in case homeowner puts in 35 amp fuses. Im in between min and max manufactures suggested circuit but inspector says it must be wired to max circuit size. Any suggestions on what I should do?

Allen,

It's possible that other components were damaged or a control board shorted when the power wire was cut. I would leave power to the unit OFF in the faint hope that electrical repairs will be sufficient to get the compressor running again. Your onsite service tech will check the fan control relay and control board that operates the fan and compressor.

How are you bill ? I have a question . My daughter dropped her phone charger in my ac compressor . The charger wrapped around the fan . The charger spun around cutting the black wire connecting the the fan motor and the grey box on my house . I didn't notice it for a few days. When I did notice the issue . The outside ac unit was makeing a gentle humming sound and the fan is not turning. I spliced the black wire but still only get the humming noise. Can u help me with some professional advise ?

Our condensor fan stopped working so we bought a replacement. The shaft is to long and it has no screw holes to hold the fan blade on. We didnt think it would be so difficult to replace. What did we do wrong? Help!

You can certainly turn off the outside compressor/condenser, and leave that power off. That won't damage it.

The indoor unit will continue to run, circulating air but not cooling.
I left the set point too cold in the house and the unit will run 24/7 for 3 months.
Because I locked and alarmed it before leaving, can I have a neighbor quick-disconnect the outside compressor without damaging the system (inside air handler)?

No, James. by definition you're brazing to make a connection between open tubing sections or to repair damage
- so there won't be refrigerant in the piping.
Also after brazing the AC pipes need to be evacuated, held at a vacuum, and new filter-drier canisters installed to keep any oxidized crud (from the brazing) from clogging the A/C controls.
Can you braze ac pipes when charged

Perhaps an internal blockage or most-likely lost refrigerant - depending on the routing of the refrigerant tubing

my evaporator is cooled on botton an warm 50 percent on top what causes that

Randy

Assuming you've confrimed that the fan relay is sending power to the fan, Look first for a bad fan start/run capacitor, then for a bad or seized fan motor

WATCH OUT for fatal electric shock hazards working on this equipment; if you're not trained and familiar with safe practices hire an expert.
have diakin hcfc 22 condensing unit model r125lutal fan motors wont turn on compressor eventually shut down, can u troubleshoot fault of this type of unit?

Anon

I can but guess that an expansion or metering valve is not opening or is clogged. With the overpressure you may be forcing it.
my car ac with a normal charge wont cool,, over charged with 60 on liw side 196 on high,, it cools good,,I dont understand that,, any ideas

Sounds like an ice-blocked coil, perhaps from low refrigerant, improper charge or a refrigerant leak or an improperly-set thermostatic expansion valve . Call your service company for repair and let me know what you're told. Read more by using the search box on this page to find our article on COOLING COIL ICING or LEAKS

I bought a new AC system from Sears bout no air flowing and ice formed on com pressure and copper tubing on Atic coil?

Question: what causes a clunk thunk noises from compressor/condenser unit
(Jan 21, 2016) Peter Shepley said:
My outside unit of a heat pump makes a loud metallic thunk when the unit turns off. Anyone know what may be causing this?
Reply:
Sure Peter, please see this AC noise diagnostic article
NOISE AIR CONDITIONER / HEAT PUMP - home.
or in that article see this article
HVAC NOISE-2 CHATTER CLANK FAN GROAN - chattering, clanks, clunks, cyclical, fan, groans, growls
Question: heat pump won't start and emergency heat doesn't work
(Feb 15, 2016) Lisa said:
My heatpump is not working neither is the emergency heat setting, what can I do?
Reply:
Lisa I wouldn't try to "force" anything as you may cause more damage or make the system unsafe. Unfortunately it's time to call a repair technician.
Meanwhile you might get some emergency heat from an oil-filled portable electric heater or several of them - buy or rent.
Also see AIR CONDITIONER WON'T START
Question: is refrigerant a liquid or a gas?
(Mar 16, 2016) james said:
is an air conditioning refrigerant liquid or a gas? are there any concerns with a leakage of a window ac unit?
Reply:
James in a refrigeration system the refrigerant changes states: on the "low pressure" side of the cooling coil it is in a gas; on the high pressure side of the system after exiting from the condensing coil, the refrigerant is a liquid.
Leaks of refrigrant at any AC unit will mean it will stop working; and you're contaminating the environment.
See REFRIGERANT GASES & PIPING - home
Question: overcharged for air conditioner repair that replaced just a capacitor?
(Apr 12, 2016) LHS said:
I had an encounter and would like to share this.
My air compressor stops working.
I called for a repair. The repaired took less than 5 minutes and change a capacitor. The parts cost is $30 and the overall sum adds up to $120. The huge gap was in questions and ask for justification. Unwillingly the man reduced to $80.
So please beware of such incidents and always see for the work that is being done. Those dishonest repair that we as a consumer should learn how to protect ourselves.
Reply: there is a danger of paying too much but also a danger in paying too little
LHS
Indeed most trades people have a minimum charge for a service call, and to a homeowner who finds that the call took just five minutes, the cost of that (CAPACITORS for HARD STARTING MOTORS) repair can be upsetting.
Please consider, however, a different point of view about the true cost and fair charge for HVACR repairs:
The $80 that you paid was not simply for "5 minutes of work and a $30. part" or a net of $50. for the 5 minutes of work. That $50. covered also the following:
1. The knowledge and expertise on the repair person's part that allowed her or him to quickly determine what was wrong, and to make the repair properly, effectively, and without causing some other problem.

That expertise comes from many hours of classroom training and probably years of job experience. Knowledge and expertise have tremendous value, and also a big investment of time and effort on the part of the repair person to develop that expertise.
2. Lesser, but also important, you were paying for someone to
2.a. take the time to drive to and from your home - that's essentially unpaid, unproductive time
2.b. drive a heavy truck (not cheap to operate) that carries a spare parts inventory (a large tie-up of money in inventory that has to be monitored, maintained, replenished) that included exactly the part that was needed
3. Pay a small contribution to health care, retirement pension, truck insurance, liability insurance, warrantying the work performed, and other fundamental but essential components of what it costs to hire and train a service technician and send him or her into the field.
You're not just paying for the part and 5 minutes of someone's time you're paying for the value of that expertise, having parts on hand, and bringing the right parts and right repair to your home.
There's an old surgeons joke about that sort of fee when the patient complained that the surgeons' bill of $4,500. to remove a small tumor was too high as the operation only took 14 minutes. The surgeon replied: OK I'll re-write the bill:
Charge for 14 minutes of time (at my hourly rate) = $75.00
Charge for your share of 18 years of schooling, 21 years of surgical experience, and a portion of my costs for the operating room, anesthesiologist, nursing staff, equipment, medicine, bandages, and liability insurance: $4,425.
See HOW MUCH SHOULD YOU PAY what is the right amount to pay for a professional building inspection or for environmental tests of a building? Environmental Testing Fees. Home Inspection Fees. It is a mistake to pay too much for a professional service. It may be a bigger mistake to pay to little for a professional service.
Also see REFRIGERANT DIAGNOSTIC FAQS
Comment:
(Apr 14, 2016) ronaz said:
agree with (mod) comments - OK to pay for expertise but how about the following which happened to me last week:
Called reliable (?) a/c company for $79 tuneup,tech says large capacitor out, compressor won,t start, $437 to replace (Mars 11069 - $32 on Amazon), told him no way,
he called office who dropped price to $295- I declined & told him to return unit to original condition by replacing fuse, Miracle of miracles, fan & compressor turn on. Kicker::: Impossible to get capacitor part numbers & sp-ecs from Trans/Am Stan. This company protects their ripoff dealers.
WILL NEVER BUY their mdse,
Reply:
Agree, Ronaz that service people can be mistaken and that some service companies may be gouging.
Certainly I found a popular Dutchess County New York HVAC repair company that responded quickly to service calls but provided me with marginal service at maximal price. Some companies have a business model that establishes a refrigerant-delivery-route business, like the traditional milkman delivery route, but at 100 times the cost of a bottle of milk and without fixing the underlying problem.
In the case you describe, the tech may have just been guessing at the most-likely problem, and the tech does not set prices. But certainly a fundamental first step in checking out an AC that won't start is to confirm that it has power.
Also see FAN, COMPRESSOR / CONDENSER DIAGNOSTIC FAQs
Question: blower fan noise as if hitting something
(Apr 25, 2016) Anonymous said:
This unit is in my sunroom. It sounds like the blower or fan is hitting against something and making a terrible noise. This is a small wall unit.
Reply:
Turn off the unit to avoid further damage.
Your HVACR tech will check for a loose or worn fan bearing or for an obstruction that has fallen into the air handler blower assembly.
Question: wiring diagram for Rheem Sure Comfort php14a48j heat pump package unit
(May 1, 2016) Ed said:
Where can I find a wiring diagram for a Rheem Sure Comfort php14a48j heat pump package unit. Any help is greatly appreciated.
Reply: Rheem heat pump installation manuals & wiring diagrams
Ed:
You're looking for a Rheem packaged heat pump installation manual or guide as that will have the wiring diagram.
I found this heat pump installation manual that might help you out:
Rheem Heat Pump Installation Manual [PDF]
If this wiring diagram doesn't match your Rheem Sure Comfort heat pump unit, then see the contact information for Rheem at MANUALS & PARTS GUIDES - HVAC where we also include direct links to wiring diagrams.
Below: a typical Rheem wiring diagram for the AHU. [Click to enlarge any image]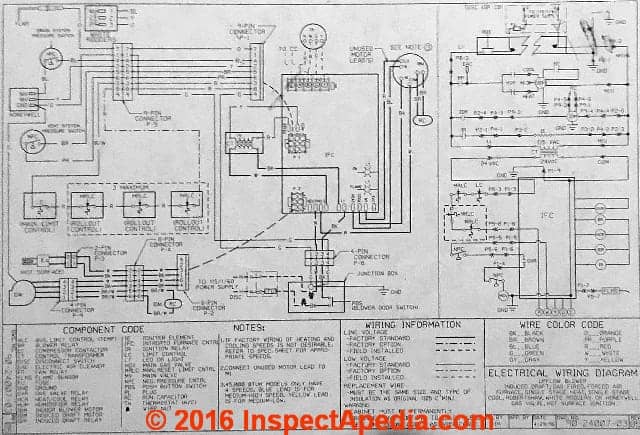 Also see below this very general electrical problem troubleshooting flowchart that works for Rheem as well as other air conditioning & heat pump systems. This chart was found in a "MFA" clickbait page that offered no other diagnostic help.
[Click to enlarge any image]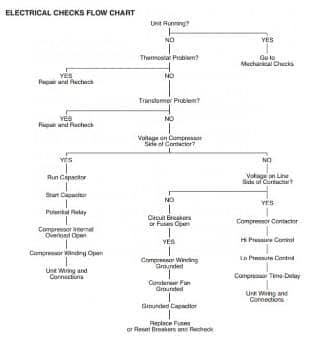 Question: Mitsubishi split system thermostat display is blank, no error code.
(May 10, 2016) sarfraz said:
I have a one Mitsubishi duct splits
Thermostat automatic going off mode without showing any error code what the resion and how to fix
Reply:
Sar
If the thermostat display is showing blank most-likely it has lost power.
Also see SPLIT SYSTEM AIR CONDITIONERS & HEAT PUMP FAQs
Question: AC was cooling normally for 10-15 minutes then cooling stopped and amps dropped
(May 14, 2016) Anonymous said:
My split AC 1 ton starts normally and the cooling was so good after 10-15 minute the compressor was running but the cooling was stopped and the amp was down to 2 amp what is the problem?
Reply:
Anon you need an onsite expert to actually say what is the problem, as I can only guess from so little information as a one-line e-text. It's possible that the cooling coil is icing over due to low refrigerant or due to low air flow. Or a TEV can be freezing up.
Question:
(May 20, 2016) javed hussain said:
Me interview me jankari Lena chahta ho
Reply:
Information wants to be in the interview. We agree.
Also see COMPRESSOR / CONDENSER DIAGNOSTIC FAQs
Question: Compressor won't turn on but fan blows, do I need an A/C repairman
(May 27, 2016) Anonymous said:
My heat pump is in a condo, four years old, the compressor wont come on, just the fan is blowing. I have turned the unit off a couple of times, waited a few minutes, than turned back on but no cold air is coming out. Do I need to call a repair man?
Reply:
If the air handler blower starts when you have set the thermostat to COOL, AND the indoor temperature is above the thermostat cooling-set temperature, AND the outside unit never runs then yes your system needs repair.
See also AIR CONDITIONER WON'T START FAQs
Question: Water leaking out the bottom of the air handling unit
(May 29, 2016) Ed said:
Water is leaking out the bottom of the air handling unit in the house
Reply:
Ed: search InspectApedia.com for AIR CONDITIONER CONDENSATE LEAKS to read diagnostic and repair suggestions. Your system's condensate line may be clogged, or the condensate collection tray may be leaking.
Question: lit match odor when central A/C starts
(July 6, 2016) michelle said:
when our central a/c kicks on there is an odor like a lit match that first comes from the duct. we live in an extremely hot and humid tropical climate in south florida. our home is a mobile home on blocks with the entire unit outdoors. this is a recent development. our temperatures and humidity levels are even higher than 'normal'. any suggestions? thanks!
Reply:
Please see ODORS in AIR HANDLERS & DUCT WORK and then see DUCT & AIR HANDLER ODOR FAQs
Question:
(July 7, 2016) JR20829 said:
Do you have access to a wiring diagram on an Intercity model # CA9636VKA1 or Manufacturer # NCA9636VKA1 Heat pump?
Reply:
Sorry that's not a specific product I recognize.
But check out the Intercity sources at
inspectapedia.com/heat/HVAC_Manuals_Air_Conditioners_Boilers_Furnaces.php MANUALS & PARTS GUIDES - HVAC
Question: mix and match condenser and air handler brands?
(July 10, 2016) george said:
can you use a carrier condenser and Panasonic air handlers in a mini ducted system?
Reply:
Yes in concept, George. But the capacity, refrigerant, and controls must meet one another's specifications.
Question: A/C keeps tripping the circuit breaker
(July 11, 2016) thabo said:
I hv aircon st my office it does not wat to run it keeps dripping circuit breaker
Reply:
YOu need a service tech on site, sir. The problem could range from a failing control or relay to a seizing compressor motor.
Question: is a rooftop HVAC unit part of the equipment used to heat or ventilate a building?
(July 18, 2016) john simmons said:
is a rooftop hvac unit one of the component parts of the equipment to heat and ventilate a building?
Reply:
Sure, John. A rooftop HVAC unit may be providing cooling, heating, or both.
Good luck with your test.
Question:proper term for housing for an A/C unit
(July 18, 2016) Anonymous said:
Our ac unit housing needs to be replaced. What is it called?
Reply:
Housing
is fine
For a through-wall unit some manufacturers may use the term "through wall sleeve"
Question:
2016/07/24 joy said:
Air comes in but not cooling like it usually does. Thermostat set to 75 but saying 82 in house. Changes all filters.
Reply:
Joy if you search InspectApedia.com for LOST COOLING CAPACITY you'll see a sequence of diagnostic steps that you should take.
Question: specifications for walk-in cooler design, repair, maintenance
2016/07/26 Damon said:
Do you have info on walk in coolers

Reply:
Damon
see WALK IN COOLER REPAIR at inspectapedia.com/aircond/Walk_In_Cooler_Design.php and in the future, please avoid tripling our workload: just ask question on one page, not three. Thanks. - Mod
Question: A/C fan turns off and trips breaker when it's hot outside
2016/07/27 Toni said:
My Bryant air conditioner fan is turning off when the temperature outside is over 105, and it's tripping the breaker. The unit works fine otherwise.
Reply: thermal overload switch?
Toni it sounds as if your system is overhreating and tripping a thermal overload switch; time for a service call.
Toni said:
Is that the exact name of the part? And can someone replace that part themselves? Thank you for all your help.
Mod said:
Toni,
The thermal overload switch, if present in a motor such as an air conditioner compressor motor, is usually built into the motor, is not a part you'd replace yourself, and is not usually the trouble anyway. The trouble is more likely to be that the motor is overheating because it is overloaded or has low voltage, or is simply failing, e.g. because of a worn bearing.
Some people try testing the compressor/condensor for overheating by wetting and cooling it down with a garden hose when it's hot. (Don't spray directly onto or into electrical components, but wetting the outdoor unit just as if it were raining is OK). If when cooled down the unit runs, that confirms an overheating problem.
Keep in mind that based on a brief e-text I'm only guessing at what's wrong. It would be a mistake to dash out to try to replace any part before we've had an onsite diagnosis of the problem and thus have correctly-identified what repair part(s) is (are) needed.
For photographs of these various air conditioning and heat pump parts, and for an explanation of where these air conditioning components are physically located, see A/C COMPONENTS which discusses and helps you name and recognize various Indoor A/C Components and Outdoor A/C Components

...
Continue reading at DIAGNOSTIC GUIDES A/C / HEAT PUMP or select a topic from closely-related articles below, or see our complete INDEX to RELATED ARTICLES below.
Or see AIR CONDITIONING HEAT PUMP REPAIR FAQs - HVAC inspection, installation, diagnosis & repair procedures
Or see AIR CONDITIONING & HEAT PUMP SYSTEMS - home
Or see AIR HANDLER / BLOWER UNITS - home
Or see COMPRESSOR / CONDENSER REPAIR - home
Or see these
HVAC repair guides
Suggested citation for this web page
AIR CONDITIONER HEAT PUMP FAQs provided free at InspectApedia.com - online encyclopedia of building & environmental inspection, testing, diagnosis, repair, & problem prevention advice.
Or use the SEARCH BOX found below to Ask a Question or Search InspectApedia
...
Frequently Asked Questions (FAQs)
Try the search box below or CONTACT US by email if you cannot find the answer you need at InspectApedia.
Please see these A/C & Heat Pump Diagnostic FAQs & diagnostic guides
...
Ask a Question or Search InspectApedia
Use the "Click to Show or Hide FAQs" link just above to see recently-posted questions, comments, replies, try the search box just below, or if you prefer, post a question or comment in the Comments box below and we will respond promptly.
Search the InspectApedia website
Technical Reviewers & References
Click to Show or Hide Citations & References
...
[1] "Air Conditioning & Refrigeration I & II", BOCES Education, Warren Hilliard (instructor), Poughkeepsie, New York, May - July 1982, [classroom notes from air conditioning and refrigeration maintenance and repair course attended by the website author]
[2] Thanks to Mark Cramer, Tampa Florida, for assistance in technical review of the "Critical Defects" section and for the photograph of the deteriorating gray Owens Corning flex duct in a hot attic. Mr. Cramer is a Florida home inspector and home inspection educator.
[3] Thanks to Jon Bolton, an ASHI, FABI, and otherwise certified Florida home inspector who provided photos of failing Goodman gray flex duct in a hot attic.
[4] Thanks to Scott at SJM Inspect for suggesting this EPA document and for technical editing remarks regarding our air conditioning website, SJM Inspection Service LLC, serves the entire state of CT, sjminspect.com 203-543-0447 or 203-877-4774 5/16/07
[5] Thanks to Joe Panimondo for technical editing, April 2011
[6] This website discusses these air conditioning and heat pump terms and problems: Air Conditioners: Central Air Conditioning Troubleshooting & Repair Guide: How to Inspect, Diagnose, & Repair Central Air Conditioning: Defects in A/C compressors, air handlers, duct work, and controls. We explain how to inspect & repair central air conditioning systems and for homeowners we also answer basic HVAC questions such as what are the basic air conditioning components? We provide guidance in determining air conditioning cooling capacity & energy efficiency, Troubleshooting air conditioning compressor problems, Diagnosing air conditioning air handler problems, Air conditioning condensate problems, Duct system inspections, defects, repairs, Cleaning air conditioning equipment & A/C refrigerants.
[7] HVAC brands discussed include but are not limited to: Lennox, American Standard, Amana, Everrest, Goodman, Frigidaire, Coleman and Gibson. Brands of related air handling equipment include Honeywell, Aprilaire, White-Rogers, Broan. Nutone, Fantech, Venmar, Arzel, Hi-Velocity, Vanguard, Wirsbo, Weil McLain, Unico, Heat Link, A.O. Smith, Water Furnace, ClimateMaster, Geo-Excel, Command Aire, Friedrich, LG, Mitsubishi, Sanyo, Hart &
Cooley, Munchkin, Superstor Ultra, Lochinvar and Knight HVAC equipment.
[8] HVAC Employment: U.S. Department of Labor website describes HVAC jobs and the employment outlook for HVAC technicians.
[8a] Bureau of Labor Statistics, U.S. Department of Labor, Occupational Outlook Handbook, 2014-15 Edition, Heating, Air Conditioning, and Refrigeration Mechanics and Installers, on the Internet at http://www.bls.gov/ooh/installation-maintenance-and-repair/heating-air-conditioning-and-refrigeration-mechanics-and-installers.htm (visited February 05, 2014).
[9] HVAC Education, Training Accreditation agencies: Quoting the U.S. DOL HVAC website above::
After completing the programs below, new technicians generally need between 6 months to 2 years of field experience before they are considered proficient. Three accrediting agencies have set academic standards for HVACR programs:

[10] HVAC Excellence. 1701 Pennsylvania Ave NW, Washington, DC 20006 Tel: (800) 394-5268. Quoting:
HVAC Excellence is a not for profit organization that has been serving the HVACR industry since 1994. It is our goal to improve competency through validation of the technical education process. by setting standards and verifying that they have been met, we inspire the industry to excel. We know that all of the challenges that face our industry are achievable by continuous improvement in the way that we prepare technicians.
[11] National Center for Construction Education and Research, 3600 NW 43rd Street, Bldg. G, Gainesville, FL 32606, Tel: 888.622.3720, Quoting:
NCCER is a not-for-profit education foundation created to develop industry-driven standardized craft training programs with portable credentials and help address the critical workforce shortage facing the construction industry.
[12] The Partnership for Air-Conditioning, Heating, and Refrigeration Accreditation, (PAHRA) 2111 Wilson Blvd., Suite 500 Arlington, VA 22201-3001 (703) 524-8800, Quoting: The Partnership for Air-Conditioning, Heating, Refrigeration Accreditation (PAHRA) is an independent, third party organization that is a partnership between heating, ventilation, air-conditioning and refrigeration (HVACR) educators and the HVACR industry that will award accreditation to programs that have met and/or exceeded industry validated standards. This programmatic accreditation program is the only one that is supported by the major industry associations.

Licensure. Heating, air-conditioning, and refrigeration mechanics and installers are required to be licensed by some States and localities. Requirements for licensure vary greatly, but all States or localities that require a license have a test that must be passed. The contents of these tests vary by State or locality, with some requiring extensive knowledge of electrical codes and others focusing more on HVACR-specific knowledge. Completion of an apprenticeship program or 2 to 5 years of experience are also common requirements.
In addition, all technicians who purchase or work with refrigerants must be certified in their proper handling. To become certified to purchase and handle refrigerants, technicians must pass a written examination specific to the type of work in which they specialize. The three possible areas of certification are: Type I—servicing small appliances; Type II—high-pressure refrigerants; and Type III—low-pressure refrigerants. Exams are administered by organizations approved by the U.S. Environmental Protection Agency, such as trade schools, unions, contractor associations, or building groups.
[13] HVAC Training Courses, Schools: HVAC Technician Training Schools [http://technicianschool.net/hvac-technician-training-schools/], lists the following schools offering technical courses may offer specific training programs for potential careers, including HVAC technicians. Among HVAC schools that website lists are

Everest Colleges [http://www.everest.edu],
Florida Career College 7891 Pines Blvd Hollywood, FL 33024 http:// www.careercollege.edu/,
Lincoln Institute 2299 Vauxhall Road Union, NJ 07083 http:// www.lincolnedu.com/
NOTE: when considering an HVAC training course or school, check the HVAC education accrediting associations listed above.


[14] Ratib Bakera is member of Refrigeration Service Engineers Society (RSES), an International training organization for the HVACR industry provides educational and certification programs to HVACR professionals of all experience levels. www.rses.org provides information on the organization and its training materials. Independent testing and certification of HVAC technicians is provided by North American Technician Excellence - NATE - see www.natex.org. NATE is supported by ASHRAE, the US EPA, and a host of other trade and professional associations.
[15] Singer brand HVAC equipment brand history:

Singer was bought by & became the climate control unit of Dallas-based Snyder General Corp. (founded by a former Singer HVAC manager) in 1982.

The name Singer was dropped in 1984.

In 1984 Snyder General operations included Arcoaire, Comfortmaker,

and

McQuay. In 1991 Snyder General sold Arcoaire & Comfortmaker to Inter-City Products. In 1994 Snyder General was acquired by Hong Leong Group Malaysia. Snyder General is at 2001 Ross Avenue Dallas, TX 75201

.
[16] Lennox air conditioning and heat pump owners manuals for air conditioners, air handlers, furnaces, heat pumps, indoor air quality systems, packaged units, water heaters, zone controls and other controls such as thermostats, are provided by Lennox at http://www.lennox.com/support/manuals.asp
[23] Air Diffusion Council, 1901 N. Roselle Road, Suite 800, Schaumburg, Illinois 60195, Tel: (847) 706-6750, Fax: (847) 706-6751 - info@flexibleduct.org - www.flexibleduct.org/ -
"The ADC has produced the 4th Edition of the Flexible Duct Performance & Installation Standards (a 28-page manual) for use and reference by designers, architects, engineers, contractors, installers and users for evaluating, selecting, specifying and properly installing flexible duct in heating and air conditioning systems.
Features covered in depth include: descriptions of typical styles, characteristics and requirements, testing, listing, reporting, certifying, packaging and product marking.
Guidelines for proper installation are treated and illustrated in depth, featuring connections, splices and proper support methods for flexible duct. A single and uniform method of making end connections and splices is graphically presented for both non-metallic and metallic with plain ends."
The printed manual is available in English only. Downloadable PDF is available in English and Spanish. 
[24] Engineering toolbox properties of water - http://www.engineeringtoolbox.com/water-thermal-properties-d_162.html and email: editor.engineeringtoolbox@gmail.com web search 09/16/2010
[25] Owens Corning Duct Solutions - www.owenscorning.com/ductsolutions/ - provides current HVAC ductwork and duct insulating product descriptions and a dealer locator. Owens Corning Insulating Systems, LLC, One Owens Corning Parkway, Toledo, OH 43659 1-800-GET-PINK™
[26] "Flexible Duct Media Fiberglas™ Insulation, Product Data Sheet", Owens Corning - see owenscorning.com/quietzone/pdfs/QZFlexible_DataSheet.pdf
"Owens Corning Flexible Duct Media Insulation is a lightweight, flexible, resilient thermal and acoustical insulation made of inorganic glass fibers bonded with a thermosetting resin."
[27] Modern Refrigeration and Air Conditioning, A. D. Althouse, C.H. Turnquist, A. Bracciano, Goodheart-Willcox Co., 1982
[28] Principles of Refrigeration, R. Warren Marsh, C. Thomas Olivo, Delmar Publishers, 1979
"Air Conditioning & Refrigeration I & II", BOCES Education, Warren Hilliard (instructor), Poughkeepsie, New York, May - July 1982, [classroom notes from air conditioning and refrigeration maintenance and repair course attended by the website author]
[29] Refrigeration and Air Conditioning Technology, 5th Ed., William C. Whitman, William M. Johnson, John Tomczyk, Cengage Learning, 2005, ISBN 1401837654, 9781401837655 1324 pages
[30] Carson Dunlop, Associates, Toronto, have provided us with (and we recommend) Carson Dunlop Weldon & Associates' Technical Reference Guide to manufacturer's model and serial number information for heating and cooling equipment ($69.00 U.S.).
[32] FlowKinetics LLC, 528 Helena Street Bryan, Texas 77801 USA, Tel: (979) 680-0659, Email: inform@flowkinetics.com, Website: www.flowkinetics.com, "FKS 1DP-PBM Multi-Function Meter Pressure, Velocity & Flow User's Manual", web search 07/16/2012, original source: http://www.flowkinetics.com/FKS_1DP_PBM_Manual.pdf [copy on file] and "FKT Series Flow Measurement And Pressure Acquisition System User's Manual" http://www.flowkinetics.com/FKTSeriesManual.pdf [copy on file]
[33] Histoire de l'Académie royale des sciences avec les mémoires de mathématique et de physique tirés des registres de cette Académie: 363–376. Retrieved 2009-06-19.- Pitot Tubes, Henri Pitot (1732)
[34] Wikipedia provided background information about some topics discussed at this website provided this citation is also found in the same article along with a " retrieved on" date. NOTE: because Wikipedia entries are fluid and can be amended in real time, we cite the retrieval date of Wikipedia citations and we do not assert that the information found there is necessarily authoritative.
"Pressure sensor", retrieved 7/16/2012
[35] "GE Zoneline® Owners Manual and Installation Instructions, Heat/Cool Model 2900, Heat Pump Model 3900", General Electric Corporation, [copy on file].
[36] "GE Zoneline® Owners Manual and Installation Instructions, Heat Pump Model 5800", General Electric Corporation, [copy on file].
[37] "Whirlpool WGPH45 Packaged Heat Pump, Product Specifications", Whirlpool Corporation, [copy on file]. Website: www.whirlpoolcomfort.com
[38] N Lu, YL Xie, Z Huang, "Air Conditioner Compressor Performance Model", U.S. Department of Energy, August 2008, [copy on file as PNNL-17796.pdf] Available to the public from the National Technical Information Service, U.S. Department of Commerce, 5285 Port Royal Rd., Springfield, VA 22161 ph: (800) 553-6847, fax: (703) 605-6900 email: orders@ntis.fedworld.gov online ordering: http://www.ntis.gov/ordering.htm
[39] Yinger R, R Bravo, and D Martinez. 2006 Air Conditioner Stalling Effects Study/Air Conditioner Testing Procedures. Southern California Edison, Rosemead, California
[40] Bravo, R, R Yinger, and L Gaillac. 2006. Conditioner Stalling Unit Level Solutions Test Report. Southern California Edison, Rosemead, California.
[41] Lu N, B Yang and Z Huang. 2008a. Evaluation of Southern California Edison Air-Conditioner Stalling Solutions. PNNL-17686, Pacific Northwest National Laboratory, Richland, Washington.
[42] Danny S. Parker, John R. Sherwin, Bart Hibbs, "Development of High Efficiency Air Conditioner Condenser Fans", ASHRAE Transactions June 2005, [copy on file as FSEC-CR-1674-05.pdf]
[43] Thanks to Alexis Claro alexis.hvaced@gmail.com who maintains a website offering information about HVAC training found at http://hvaced.com/hvac-training.
Books & Articles on Building & Environmental Inspection, Testing, Diagnosis, & Repair
Our recommended books about building & mechanical systems design, inspection, problem diagnosis, and repair, and about indoor environment and IAQ testing, diagnosis, and cleanup are at the InspectAPedia Bookstore. Also see our Book Reviews - InspectAPedia.
Complete List of Air Conditioning & Heat Pump Design, Inspection, Repair Books at the InspectAPedia Bookstore.
Modern Refrigeration and Air Conditioning, A. D. Althouse, C.H. Turnquist, A. Bracciano, Goodheart-Willcox Co., 1982
Principles of Refrigeration, R. Warren Marsh, C. Thomas Olivo, Delmar Publishers, 1979
"Air Conditioning & Refrigeration I & II", BOCES Education, Warren Hilliard (instructor), Poughkeepsie, New York, May - July 1982, [classroom notes from air conditioning and refrigeration maintenance and repair course attended by the website author]
Refrigeration and Air Conditioning Technology, 5th Ed., William C. Whitman, William M. Johnson, John Tomczyk, Cengage Learning, 2005, ISBN 1401837654, 9781401837655 1324 pages
...