Signs of Septic System Failure
Step by Step Septic Problem or Failure Diagnosis
InspectAPedia tolerates no conflicts of interest. We have no relationship with advertisers, products, or services discussed at this website.
What is considered a septic system or soakaway or drainfield failre? Are there failure criteria? Yes.
How Does Each Septic System Component Fail? What to Look For During a Septic Inspection - Step by Step Diagnosis of Septic System Failures, clogged drains, odors, sewer backup, wet areas in the yard, and slow drains.
This septic system inspection article describes detailed "how to" steps instructing the septic inspection investigator in how to inspect specific septic components for signs of failure.
We describe the criteria for saying a septic system has failed, and we take you step by step through the onsite waste disposal system, from the building to tank to absorption system, with suggestions for examining the condition of each component so that a proper diagnosis of the cause of septic failure and a specification of the appropriate repair can be made.
In the photo at the top of this page, a wet spot appeared in the previously "perfect" yard of this older home within twenty-four hours of the new family moving-in. The buyers had obtained a "septic inspection" but it was improperly performed and missed the chance to discover before purchase that the septic system was in total failure.
We also provide a MASTER INDEX to this topic, or you can try the page top or bottom SEARCH BOX as a quick way to find information you need.
SYSTEM FAILURE CRITERIA - Septic System Failure Causes: What Constitutes a "Failed" Septic System?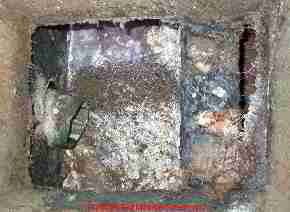 Before digging up your septic tank or calling a septic pumper, if you think the septic system is failed because of drain blockage or drains backing up into the building, you should to see CLOGGED DRAIN DIAGNOSIS & REPAIR Is it a blocked drain or the septic system? - A First Step for Homeowners.
If you link to that text, please return here using your browser's "BACK" button.
[Click to enlarge any image]
Article Contents
Onsite Waste Disposal System Failure Criteria
Massachusetts Title 5 Septic Law lists specific failure criteria and serves as a good model for septic inspections anywhere.
(The photograph shows the septic baffles in a concrete septic tank. While at the time of inspection the sewage was not flowing over the baffles, sewage debris atop the concrete baffle shows that at some point that problem had occurred. Further diagnosis was in order.
Drain or Sewage Backup anywhere in the system. See

CLOGGED DRAIN DIAGNOSIS & REPAIR for details.


Discharge of effluent to the surface, stream, etc. regardless of whether or not septic dye is observed.

See SEPTIC SYSTEM INSPECTION & TEST GUIDE


Static effluent level or floating scum over the top of the baffles in the septic tank [added by DF]


Static effluent level above outlet in the D-box


Septic Tank or Septic System has to be pumped more than 4 times a year.

See SEPTIC TANK PUMPING SCHEDULE for details.


Metal septic tanks (municipality dependent; note that in special site conditions small metal tanks may be the "only" solution and may be approved by local officials. An owner/buyer must be informed of the implications of such installations.)

See SEPTIC TANK INSPECTION PROCEDURE for more details.


Soil Absorption System (or cesspool, etc) is at a depth exposing it to the maximum groundwater level.

See SEPTIC SYSTEM DESIGN SPECIFICATIONS for more details.


Depressions or low areas over the septic tank, septic drainfield depressions: a depression in the septic tank area or a septic field depression may or may not indicate trouble with the septic system. It is normal for backfill over septic tanks or drainfield lines to settle and leave a depression or "low area" in the soil.

But if the septic tank or fields have not been dug-up, or otherwise disturbed and if you see a new depression or area of settlement it should be marked-off, access to that area should be prevented, and it should be investigated by a professional - possible collapse of a septic tank, distribution box, or other buried septic components can be very dangerous or even fatal.

See SEPTIC & CESSPOOL SAFETY for details.
Detailed criteria that define when a septic system has failed can be read at SEPTIC FAILURE CRITERIA.
Septic Piping Failures Between Building Drains and the Septic Tank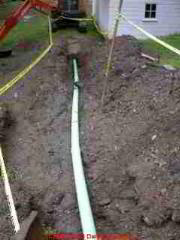 Outside, waste piping conducts sewage (black water and gray water) from the building to the treatment tank or "septic tank," and from the treatment tank to the distribution box. Our photo shows a new waste line carrying sewage down from the home to the septic tank in lower yard. The previous waste line had been broken when driven over by a heavy lawnmower.
Septic drain lines between the house and the septic tank should be of solid, non-perforated material and need to be protected from mechanical damage (such as by vehicles).
Piping extending from the distribution box into drain fields is normally perforated, though solid lines might be used if effluent is being processed by more specialized devices such as seepage pits, galleys, or a sand-bed system.
Distribution piping connects the house drain to the septic tank, running between the building and the tank inlet.
More distribution piping connects the septic tank outlet to the distribution box and from there to the leach field. Distribution pipes can settle (especially in new construction), break, become blocked or clogged, or become invaded and blocked by tree roots or soils.
Older ORANGEBURG PIPE which look like black asphalt-soaked cardboard (they are) crush and deteriorate with age.
Clay pipes also break and have a tendency to become blocked by tree roots at their joints. You won't know what kind of piping is installed until it is excavated, but the age of the property may be a clue. Homes built from the 1970's on, certainly from the 1980's on, use cast iron or more often plastic ABS or PVC piping for these connections.
This line may become blocked by waste, damaged by collapse of a section, or invaded by roots. Detection of these conditions is fairly easy by routing a snake or power snake from the building drain to the septic tank.
An experienced power snake operator can often tell by "feel" that a drain line is collapsed, partially collapsed, or invaded by roots. While you may make a temporary "repair" of such a condition by drain-cleaning, if the line is broken or root-invaded, you should expect to have to excavate and replace it soon.
Also see DRIVING or PARKING OVER SEPTIC
How Different Types of Septic Tanks Fail
Additives: Use of septic tank or drain field additives which claim to extend system life can generate so much activity in the tank that solids are held in suspension and forced into the soil absorption system! Do not add any treatments, chemicals, yeast, or other treats to a septic system. In general these treatments don't work, may ruin the system, and are illegal in many localities. There is no magic bullet to repair a bad SAS.
Septic tank cover failures: Concrete tanks are pretty durable but they can crack and leak or may have an unsafe cover. Leaks may occur around the cover where it rests on the tank or at the access ports through the cover.



Watch out

: steel or damaged concrete covers or insecure septic tank cleanout or access port covers can cause death if someone falls into or otherwise enters a septic tank.

See SEPTIC & CESSPOOL SAFETY
Concrete septic tank baffles can deteriorate, crack, break, fall off.
Concrete septic tank lids: can be damaged by vehicle traffic; heavy duty covers are available.
Concrete septic tanks can crack or sections may separate causing leaks with the same effects as just stated
Concrete septic tank baffles: may erode from chemicals, detergents, poor concrete mix, water flowing over top of baffles, or may be broken by improper pumping procedures
Diapers, Toys, Garbage which find their way into building toilets and drains risk clogging the drain piping, distribution piping, or the septic tank baffles. Keep diapers, tampons, sanitary napkins, kids toys, household chemicals, and the like out of your building drains and toilets.

See WHAT CAN GO INTO TOILETS & DRAINS?
Driving over the septic tank, septic piping, or drainfield are likely to crush a pipe, collapse a tank, or ruin a drainfield.

Only if special installation steps have been taken can a septic pipe or tank be located below a driveway or parking area and never can a septic drainfield work in such a location.

See DRIVING or PARKING OVER SEPTIC
Garbage disposers also increase the solid waste load on septic tanks and may require that the tank be pumped more often.
Home made septic tanks: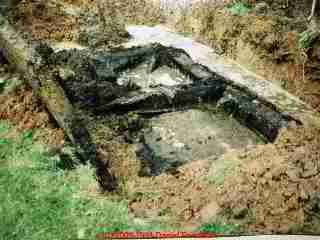 Home made or "site built" septic tanks, often using dry-stacked concrete blocks or even stone can collapse, a fatal hazard if someone falls in.

The tank shown in the photo here had

a CONCRETE SEPTIC TANK COVER [Image] but when the cover was removed we found that the tank was under-sized, built of concrete blocks, and totally impacted with waste, as shown in

the OPEN SEPTIC TANK [Image].

The septic system was inadequate, not working, and required replacement. Incidentally, this was the septic system "serving" the property with the nice green lawn in the photo at the very top of this page. ""

The property seller was an elderly, single occupant who used no water and never did laundry in her home. The new owners had effluent in their yard within 24 hours of moving into the home.

The buyer's inspector performed an inadequate septic inspection and test. A proper loading and dye test would probably have detected this failure.
Leaks: Septic tank leaks: a septic tank should be water tight. If ground or surface water leak into the tank the result is often a flooded and failed drainfield;

if sewage effluent leak out of the septic tank the result is the discharge of inadequately treated effluent into the soils and in the case of a very leaky septic tank, the result may also be a too-rapid loss of effluent in the septic tank resulting in too rapid build-up of solids and total system clogging and failure.
Pumping: Septic Tanks which are not pumped often enough can become filled with sludge and scum, becoming totally impacted. Well before this condition is detected, such systems have sent solids into the leach field, shortening its life.
Rusting steel septic tank covers can cause death! Rusted covers can collapse. Steel septic tanks rust out and collapse, often sending solids into the leach field and reducing its future life as well.



Watch out

: Septic tank covers themselves can also collapse, especially if made of steel as shown in

the STEEL TANK PHOTO [Image] as mentioned above. Other tank covers may be made of wood which eventually rots and collapses.

Collapsing septic tanks are very dangerous. Falling into a tank is likely to be fatal.

We have reports of children and adults who have died from this hazard (December 1997, California).

In 2000 we consulted in a fatality involving an adult falling into a cesspool. At a building inspection I myself stepped through a hidden, rusted-through steel septic tank cover.

Falling into a septic tank, drywell, or cesspool is quickly fatal, either from being buried by falling soils and debris, or by asphyxiation.

Septic gases are highly toxic and can kill in just minutes of exposure. Even leaning over an empty (just pumped) tank has led to collapse and fatality of a septic pumper.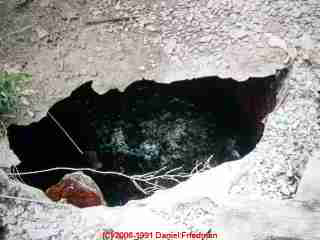 Steel septic tank baffles rust off, as you see in the lower left of the above photo which also depicts a very dangerous rusted-out steel septic tank cover.

Even if the cover is intact a rusted or lost septic tank baffle sends solids and grease into the leach field, shortening its life.

A steel septic tank baffle is visible in the lower left of this photograph.


Steel tank bottoms rust out permitting effluent to leak into soils around the tank, possibly giving a large void in tank at time of testing, thus subverting a loading or dye test


How to Find The Septic Blockage
The same failures can occur on the effluent distribution pipe line from the septic tank outlet in to the distribution box as we described earlier on piping from house to the septic tank.
Pipes can settle (especially in new construction), break, become blocked or clogged, or become invaded and blocked by tree roots or soils.
How to Determine Where a Septic Blockage Is Located
How would we distinguish among blockages at different points in these distribution lines?
Blocked pipe between house and tank: discover by snaking the line from house to tank or by observing a backup in the house and, on opening the septic tank access cover, observe poor or no flow into the tank when water is running in the building drains.
Blocked pipe between tank and septic system D-box: discover by opening the tank and seeing that it is not draining out when water is being run into it from the building drains, and by opening the D-box to observe poor flow or flow into the D-Box when the tank is backing up.
Blocked septic system each field lines: discover by excavating at sample points along individual leach lines, often by opening up the line at its lower end. If no effluent is present at the lower end of a leach field line and if effluent is entering that line at the D-Box the line is collapsed or blocked along its passage.


Failed septic leach field: effluent is confirmed as flowing freely from building drains to tank, tank to D-Box, and D-Box attempting to flow into the leach lines - perhaps both backing up in the D-Box (see flood lines above the D-Box outlets) and also flowing out at the excavated ends of the leach lines.
Septic System D-Box Failures: What Goes Wrong at the Septic System Distribution Box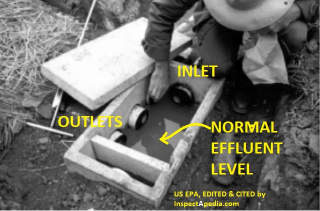 Distribution boxes serve as a connection point to distribute effluent which arrives from the septic tank outlet and is to be sent into two or more individual leach field lines.
Distribution boxes ("D-Boxes") can settle or tip.
A damaged or tipped D-box will fail to divert effluent uniformly among the effluent receiving drainfield lines, causing flooding of one leach line. If you see depressions suggesting that there are four leach lines at the property and the end of just one of them is producing wet soil or surface-breakout of effluent, we'd suspect a tipped D-box.
Opening the D-box can also show whether or not effluent is being directed uniformly into each of the leach lines. A tipped D-box can overload one line and cause early failure of the absorption system.
If this is happening, flow adjustment end-caps (eccentric holes) can be installed in the distribution box on the inlet end of each of the drain lines, permitting adjustment of effluent delivery into each line, perhaps relieving the problem line and redistributing effluent into the others.
Septic Drain Field Piping - Diagnosing Leach Field Failures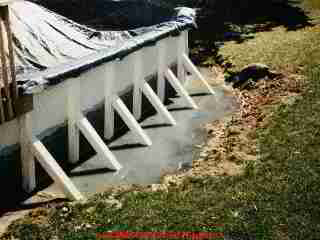 In a conventional "drain field" (synonyms: leachfield, leaching bed, soakbed, soakaway bed, seepage bed) of perforated pipes buried in gravel-filled trenches, a drain line may be invaded by tree roots. This is why experts advise keeping tree and shrub plantings away from drain fields.
Vehicle traffic can also collapse this or any outdoor waste piping, which is why experts advise against ever driving over a drainfield or over any other septic system components.
See DRIVING or PARKING OVER SEPTIC
Drainfield piping is usually constructed of perforated pipe buried in gravel-filled trenches. It receives effluent from the D-box and allows it to percolate or seep into the soil around the trench where added filtering and bacterial treatment occur.
Like the distribution piping discussed above, individual drainfield pipes can become crushed, shifted, or clogged by tree roots or other debris. More general clogging and failures of the leach field are discussed below.
A broken or clogged pipe, once it has been located, may be much less costly to repair than a complete leach field replacement, so this possibility needs to be considered during diagnosis of a "failed" septic system.
Antiquated, obsolete septic drainfield pipe materials likely to fail or to have already failed:

ORANGEBURG PIPE and clay or terra-cotta sewer lines and drainfield lines.
Building on the leach field: A leach field can be destroyed by other site "improvements" such as this attempt to install a swimming pool atop the leaching area in the photo shown at left.

This mistaken installation involved multiple errors: placing a pool atop the leaching area which prevents proper oxygenation and evaporation, driving over the leach field which risks damaging buried pipes and compacting the soil, and excavating to remove a portion of the absorption system soil to put in the swimming pool.

The gray water you see next to the swimming pool in LARGER PHOTO [Image] was effluent from the failed septic fields.
Compacted soils: driving over the leach field in any vehicle larger than a child's bicycle is a bad idea. Heavy vehicles may actually crush buried leach field lines, or they may compress the soils around the leach field, either of which leads to failure. Driving on or parking on leach fields will destroy them.
Paving over the leach field: a leach field cannot function properly if it is paved-over.

Some folks may try this as a way to permit parking over the absorption system. But paving prevents both evaporation of effluent (a portion of the effluent disposal method) and it prevents oxygen from reaching the soil, thus inhibiting proper bacterial action needed to treat the effluent.
Clogged soils: Soil absorption systems stop absorbing. Eventually the soils around the leaching bed trenches become clogged and stop passing effluent. Sending grease and floating solids into the leach field hastens this failure. The biomat which forms below the leaching beds may also become too solid and impacted, stopping soil absorption.

In this LEACH FIELD PHOTO [Image] effluent was appearing in the light colored area where the homeowner had begun some exploratory digging in a soggy spot only to see her hole fill up rapidly with effluent.
In the building drains become sluggish, stop, or back up into the building (unsanitary), or effluent may appear on the property surface when the absorption system can no longer function or where a pipe has become damaged.
Lockwood, in "An Engineer's View of Septic Systems" listed these causes of absorption field failure:
" If the liquid effluent cannot soak into the soil surrounding the leach field, sewage may back up into the system and overflow into the house or puddle on the surface of the ground. There are several possible causes for this problem."
Poor Soil Conditions: Faulty Design or Installation of Septic Systems A leaching system placed in unsuitable soil, a system that is too small for the house it serves, or an improperly constructed system may lead to early failure.
Soil Clogging and Septic Systems: If sludge or scum is allowed to escape into the distribution box and from there into the leach field, the soil will quickly become clogged. If this happens, the liquid will no longer soak, or percolate, into the soil.

This condition can be caused by broken baffles in the septic tank that allow sludge or scum to escape.

Failure to have the tank pumped can also lead to a situation where the sludge and scum overwhelm the baffles.

If a steel septic tank has rusted out and collapsed you should assume that before the collapse it was releasing solids and grease into the absorption system, reducing its life.
High Water Table and Septic Systems: During wet, or abnormally wet, seasons groundwater may rise into the leach field and force sewage upward to the ground surface.

This condition may mean the system has to be re-installed at a higher level. It may also be possible to intercept the high groundwater with a series of drains around the system called "curtain drains".
Roots and Clogging of Septic Systems: The roots of trees and bushes planted too close to the system can sometimes enter and block the pipes of the system.

Removal of the plants and clearing the pipes of the roots is usually required.
Physical Damage to Septic System Components: Trucks or heavy equipment passing over the system can damage pipes and joints to the point of rendering the system inoperable. You should be aware of the location of the system and direct traffic to avoid such damage.
These pages are part of our SEPTIC DYE TEST PROCEDURE for testing septic system function.
...
Continue reading at DRAINFIELD RESTORATION APPROACHES or select a topic from closely-related articles below, or see our complete INDEX to RELATED ARTICLES below.
Or see SEPTIC FAILURE INDICATOR FAQs - posted originally at this article
Or see SEPTIC & CESSPOOL SAFETY
Or see these
Septic Drainfield Failure Inspection Articles
Suggested citation for this web page
SEPTIC FAILURE CRITERIA at InspectApedia.com - online encyclopedia of building & environmental inspection, testing, diagnosis, repair, & problem prevention advice.
Or use the SEARCH BOX found below to Ask a Question or Search InspectApedia
...
Ask a Question or Search InspectApedia
Try the search box just below, or if you prefer, post a question or comment in the Comments box below and we will respond promptly.
Search the InspectApedia website
Technical Reviewers & References
Click to Show or Hide Citations & References
Books & Articles on Building & Environmental Inspection, Testing, Diagnosis, & Repair
Our recommended books about building & mechanical systems design, inspection, problem diagnosis, and repair, and about indoor environment and IAQ testing, diagnosis, and cleanup are at the InspectAPedia Bookstore. Also see our Book Reviews - InspectAPedia.
Pennsylvania State Fact Sheets relating to domestic wastewater treatment systems include
Pennsylvania State Wastewater Treatment Fact Sheet SW-161, Septic System Failure: Diagnosis and Treatment
Pennsylvania State Wastewater Treatment Fact Sheet SW-162, The Soil Media and the Percolation Test
Pennsylvania State Wastewater Treatment Fact Sheet SW-l64, Mound Systems for Wastewater Treatment
Pennsylvania State Wastewater Treatment Fact Sheet SW-165, Septic Tank-Soil Absorption Systems
Document Sources used for this web page include but are not limited to: Agricultural Fact Sheet #SW-161 "Septic Tank Pumping," by Paul D. Robillard and Kelli S. Martin. Penn State College of Agriculture - Cooperative Extension, edited and annotated by Dan Friedman (Thanks: to Bob Mackey for proofreading the original source material.).


Advanced Onsite Wastewater Systems Technologies, Anish R. Jantrania, Mark A. Gross. Anish Jantrania, Ph.D., P.E., M.B.A., is a Consulting Engineer, in Mechanicsville VA, 804-550-0389 (2006). Outstanding technical reference especially on alternative septic system design alternatives. Written for designers and engineers, this book is not at all easy going for homeowners but is a text I recommend for professionals--DF.
Builder's Guide to Wells and Septic Systems, Woodson, R. Dodge: $ 24.95; MCGRAW HILL B; TP;
Country Plumbing: Living with a Septic System, Hartigan, Gerry: $ 9.95; ALAN C HOOD & TP;
US EPA Onsite Wastewater Treatment Systems Manual [online copy, free] Top Reference: US EPA's Design Manual for Onsite Wastewater Treatment and Disposal, 1980, available from the US EPA, the US GPO Superintendent of Documents (Pueblo CO), and from the National Small Flows Clearinghouse. Original source http://www.epa.gov/ORD/NRMRL/Pubs/625R00008/625R00008.htm Onsite wastewater treatment and disposal systems, Richard J Otis, published by the US EPA.
Eco John® Innovative Toilet Solutions, Global Inventive Industries, Fountain Valley CA, PDF, product brochure
"International Private Sewage Disposal Code," 1995, BOCA-708-799-2300, ICBO-310-699-0541, SBCCI 205-591-1853, available from those code associations.
"Manual of Policy, Procedures, and Guidelines for Onsite Sewage Systems," Ontario Reg. 374/81, Part VII of the Environmental Protection Act (Canada), ISBN 0-7743-7303-2, Ministry of the Environment,135 St. Clair Ave. West, Toronto Ontario M4V 1P5 Canada $24. CDN.
Manual of Septic Tank Practice, US Public Health Service's 1959.
Onsite Wastewater Disposal, R. J. Perkins;
Onsite Wastewater Treatment Systems, Bennette D. Burks, Mary Margaret Minnis, Hogarth House 1994
SEPTIC SOIL & PERC TESTS soil perc testing guide and instructions
Percolation Testing Manual, CNMI Division of Environmental Quality, PO Box 501304, Saipan, MP 96950
Planting Over Septic System Component", Daniel Friedman (author/editor, InspectAPedia.com), The Innovator, Winter/Spring 2008, BCOSSA, British Columbia OnSite Sewage Association, 201-3542 Blansard St., Victoria BC V8X 1W3 Canada
Save the Septic System - Do Not Flush These Items Down the Toilet, Daniel Friedman, InspectAPedia.com - PDF document, printable
Septic System Owner's Manual, Lloyd Kahn, Blair Allen, Julie Jones, Shelter Publications, 2000 $14.95 U.S.
Test Pit Preparation for Onsite Sewage Evaluations, State of Oregon Department of Environmental Quality, Portland OR, 800 452-4011. PDF document. We recommend this excellent document that offers detail about soil perc tests, deep hole tests, safety, and septic design. Readers should also see SEPTIC SOIL & PERC TESTS and for testing an existing septic system, also see Dye Tests
Grass is Always Greener Over the Septic Tank, Bombeck, Erma: $ 5.99; FAWCETT; MM; This septic system classic whose title helps avoid intimidating readers new to septic systems, is available new or used at very low prices. It's more entertainment than a serious "how to" book on septic systems design, maintenance, or repair. Not recommended -- DF.
US EPA Onsite Wastewater Treatment Systems Manual Top Reference: US EPA's Design Manual for Onsite Wastewater Treatment and Disposal, 1980, available from the US EPA, the US GPO Superintendent of Documents (Pueblo CO), and from the National Small Flows Clearinghouse. Original source http://www.epa.gov/ORD/NRMRL/Pubs/625R00008/625R00008.htm
Water Wells and Septic Systems Handbook, R. Dodge Woodson. This book is in the upper price range, but is worth the cost for serious septic installers and designers.

Wells and Septic Systems, Alth, Max and Charlet, Rev. by S. Blackwell Duncan, $ 18.95; Tab Books 1992
The NSFC Products List has an excellent list of design manuals/modules available from their website or by telephone 800-624-8301
Submissions welcome. send us a suggested document link or request an exchange of website links
...
Publisher InspectApedia.com - Daniel Friedman