Septic System Failure Sign FAQs
Q&A on indications that the soakbed is failing
InspectAPedia tolerates no conflicts of interest. We have no relationship with advertisers, products, or services discussed at this website.
Questions & Answers on what is considered a septic system or soakaway or drainfield failure and what on-site visual signs indicate that the drainfield or soakbed is failing.
This septic system inspection article series describes detailed "how to" steps instructing the septic inspection investigator in how to inspect specific septic components for signs of failure.
Green links show where you are. © Copyright 2017 InspectApedia.com, All Rights Reserved.
Septic System Failure Indicator FAQs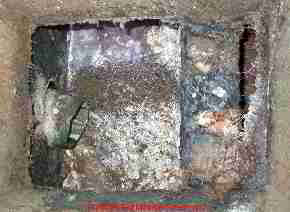 Before digging up your septic tank or calling a septic pumper, if you think the septic system is failed because of drain blockage or drains backing up into the building, you should to see Diagnosing Clogged Drains: Is it a blocked drain or the septic system? - A First Step for Homeowners. If you link to that text, please return here using your browser's "BACK" button.
[Click to enlarge any image]
Recently posted questions & answers about detecting a septic system failure: warning signs.
Sharon
Possibly.
If this is the only wet area AND if it's not ground-water leaking into the septic area, you may be able to diagnose the question by watching the hole:
After a period of no one running water in the home, check the water level in the home;
Then check the level again after lots of water has been run for bathing, washing dishes, laundry; and check again hourly. If you see the water level rising in the test hole AND if there is no outdoor source (rainfall for example) then the water may be sewage effluent in the ground.
The next step would be to look for backup in the Distribution Box and to inspect the septic tank for high sewage levels that can occur if the drainfield is backing up or failing.
DO NOT open the septic tank and lean over the opening - you can be asphyxiated, or fall in - both can be fatal.
I noticed a small amount of water in my yard not sure if it from my septic it was gone the next morning
Wedug a small hole and there is water in it could it be the septic
If your sewer pipes are all connected to city sewer then your home isn't discharging into an old onsite system, but groundwater could be flooding that system bringing odors or old waste to the surface; however a septic tank that wasn't properly abandoned may also be unsafe - risking a collapse, for example.
I'm doubtful the two are connected.
For a few days my bathroom sink emitted a horrid gas odor, which I used vinegar/baking soda & it went away after 2 days - no other drain issues in house. Today the backyard had a gray gritty water patch @ 25' from house. I had switched over to city sewer over 10 yrs ago. The Watershed never had confirmation of my septic/leach fields. I believed my septic tank was 'smashed' & left in the ground. Could the heavy snow melt cause 10 yr+ leach field leaching??
Yes often, Maria, if the plumber uses a sewer line inspection camera the cause of blockage can be seen.
Can you find things in septic or drains that caused it.. Landlord is blaming me
If you mean that the drainfield pipes will not drain unless Vince are opened in the field I suspect that the septic tank is back flooded or at an abnormally high level, or is blocked.
My septic system won't drain if vent tube caps are on what would cause this
Noticed greener grass in a rectangle that follows the outline of my septic tank. Does this mean that the septic tank is leaking between tank and the top cover? The lines that flow away from the ST are green with no wet spots, as if this part of the system is working properly. Should I be concerned about this? (There might be a very, very minor slow drain problem as well...)
I am looking at an very old property in Wexford, Ireland which has not been lived in for at leat ten years. I want to put in an offer but I am worried as the auctioneers says the septic tank would need replacing. Other people have said it may just need a service/clean etc. It it totally overgrown with briars and it is impossible to even see it. I am afraid that the cost or replacing it will be very high. I want to put an offer in for the property but don't know how much to offer as the cost to replace the system may run into thousands of euro.
Thanks, Aine
Backflow into the D-box or one of them suggests that that drainfield line is saturated and failed, or has become blocked.
You don't want to see effluent leaking out of the very end of the drainfield trench - that'd be a different type of septic failure; rather the effluent should be dispersed into soil along the length of the trench.
I'd stop sending effluent into the failed line and I'd suggest using one or several of the other lines, accomplished by adjusting the flow control in each of your nine D-boxes. Use the page bottom CONTACT link if you'd like to send photos for further comment.
Daniel
Thank you for responding. This is where my confusion lies. I have 9 D-boxes and each has a changeable elbow. I believe some are placed incorrectly because I have no drainage at all coming out of either section of the leach bed. However, it appears to be flowing back into the last D-box.
Tony:
Check the D-box to see how those eccenctric holes in the outlet pipes are adjusted; you may want to send effluent into half of the total drainage lines at a time, letting the other field section rest for 5-10 years.
Excellent point, Anon. A check valve or "backflow preventer" is useful on any sewage or septic effluent pump that has to deliver wastewater uphill and as you say, that'll reduce the amount of pump cycling and extend the pump life.
Backflow can also send water back into a pumping station if the drainfield itself is flooded or in failure.
Hi Bee,
My pump was also running 24/7 and my pump also burned up. The guy who replaced it told me that there was no back flow preventer installed. So once water was pumped out it would flow right back into the tank again. There's about 200 ft to my leach bed so that much water was flowing right back in. Worth checking out. 👍
Hi, my leach bed is divided into two sections. I've noticed that there is no drainage coming out of either drain pipe from either section. However, there is clear water ( looks like drinking water) flowing into the 9th (have a total of 9) d- box. It is not flowing into the box through one of the pvc pipes but from a smaller hole in back of the box with a black plastic ring around the hole. Any ideas why?
Bee
It sounds as if the control, wiring, pump or another component is either improperly installed or is defective and needs repair or replacement. If none of the repair people youve contacted will help inspect, diagnose, and repair the problem then you will need to look further to find a competent repair service close to your home.
Also search InspectApedia for SEWAGE PUMPS to read details about how these pumps work, how they are controlled, and to see common problems, diagnostic step and solutions.
DO NOT try to work on a septic tank yourself; simply leaning over an open tank can be fatal.
Hi there. My family and I desperately need help! We had a holding tank with leeching field installed by a professional while building our new home. We have an electric pump in the holding tank which runs 24/7. Literally! If for some reason we loose power to the house, our sewer backs up into our basement.
This has happened since we first moved in. The first time it happened I called an emergency tank pump, and they said there was hardly anything in the tank. We have tried to have it repaired, but nobody will help us. Our pumps burn out every few months due to continuous running. Any suggestions??
Robert:
You asked and we replied to this question at http://inspectapedia.com/septic/Septic_Tank_Tees.php
Please help avoid doubling our already heavy Q&A workload by asking a question in just one article.
Thanks. - Mod
My concrete septic tank flow good from house to tank. No backup. But will not leave tank through overflow lines away from tank I need new overflow lines how much is cost I have 3 acres
Brad the lower end of the drainfield, that is the end most distant from the septic tank is one of the more common places for failure to show up first.
Search InspectApedia for SEPTIC D-BOX INSTALL REPAIR - that article may help you find and open the distribution box - that's where you can check for a problem that's overloading one of the drainfield lines.
Hi, I have a septic system where at the end of the drain field it is quite wet, I'm not sure if it is more wet than usual but noticeably wet. There aren't any puddles but the soil is saturated. It is only our 3rd year in our house and I know that they had some work done cleaning out some of the drain field pipes a couple of years before we moved in. I am just wondering if some of the drain field pipes might be clogged causing more than the normal share of liquid effluent to be leached by the lines that are working. For the record, there has been no indication of any malfunction from the house or anything like that, this is just from my observation of the lawn. Could I be over thinking this or is there cause for concern? Thank you for your time, the site has been quite informative.
Septic tank leaking into yard
Sorry Stephani, our malware scanner has trouble if people type a period at the end of a sentence that is followed by another letter rather than a space - it thinks the text contains web links. I have to find and manually "accept" such comments, as I have done with yours below.
If you see sewage on the ground surface
- that is a health hazard and is prohibited by building codes in almost all jurisdictions (you didn't mention where you live)
- it means that there is a blockage, either at the septic tank outlet or due to a clogged or failed drainfield pipe
- also I agree that sewer gases are more than just smelly: they might contain harmful gases or pathogens and of course if accumulated, the methane can be explosive.
If the property owner won't address an unsafe or unhealthy condition you might have no choice but to ask for help from your health department officials.
About an hour ago I made a lengthy comment and a minute later a short comment. The short one posted. Where's the long one ? The short one makes no sense w/o the longer one.
Oops, I forgot to ask the question. What could be wrong with the tank ? Should I be worried about the fumes ? And shouldn't professionals be called out to fix it? also I AM getting headaches.
I live in a mobile home park and the septic tank is right between mine and the mobile home next door. more so under his. We are about 10 ft apart divided by a little picket fence.The other day I noticed that on his side of the fence was a nasty 'pool' of toilet paper, liquid and feces . I told the owners of the park about it ( who by the way don't like to pay and fix things ) after almost a week someone came out and somewhat cleaned it off the top of the dirt. but not all of it. I don't know what they've done about fixing it if anything. the stench is hurendous . Today I notice that about 8 ft away from that spot, still next to his home and also now on my side, the dirt is wet. and it has not rained in awhile. also last nite I heard blub blub blub coming from the ground. Also now there is strong fumes. I can't even open my front door without my eyes burning it smells so bad. The owner said we'll take care of it. That's what he said last time.
Bill:
I suspect that your drainfield or soakbed is fully saturated, maybe even under-water, and that the result is that effluent, mixed with rainwater, is back-flowing into the septic tank.
WATCH OUT: the risk is a sewage backup in the home. Run as little water as possible until things quiet down.
Check also for water leaking directly into the septic tank.
Ultimately if this problem is frequent and it's drainfield saturation you'll need to either get groundwater away from the septic fields or re-design the drainfield to a higher mound or raised bed type system.
We've had some heavy rain and I noticed that smell and I'm seeing bubbles come from the ground above my septic tank. Any ideas on the cause?
Sounds like improperly sloped drain lines or a blockage at the sewer line past the Y junction or at the septic tank, or a flooded septic tank and failing drainfield.
We have installed a septic system for our house and shed, connecting them with a y junction. We are finding that some of the effluent from the house is going up the y junction for the shed and smelling. What can we do for this? Are there y junctions with a flap to stop this?
thank you
Possibly yes if it allows surface runoff to enter the tank that could flood the fields.
Or flooded fields may be backing up into and leaking out of the tank
These pages are part of our SEPTIC DYE TEST PROCEDURE for testing septic system function.
...
Continue reading at SEPTIC FAILURE CRITERIA - signs of a septic system failure, or select a topic from closely-related articles below, or see our complete INDEX to RELATED ARTICLES below.
Or see DRAINFIELD RESTORATION APPROACHES
Or see SEPTIC & CESSPOOL SAFETY
Or see these
Septic Drainfield Failure Inspection Articles
Suggested citation for this web page
SEPTIC FAILURE INDICATOR FAQs at InspectApedia.com - online encyclopedia of building & environmental inspection, testing, diagnosis, repair, & problem prevention advice.
Or use the SEARCH BOX found below to Ask a Question or Search InspectApedia
...
Frequently Asked Questions (FAQs)
Try the search box below or CONTACT US by email if you cannot find the answer you need at InspectApedia.
...
Ask a Question or Search InspectApedia
Use the "Click to Show or Hide FAQs" link just above to see recently-posted questions, comments, replies, try the search box just below, or if you prefer, post a question or comment in the Comments box below and we will respond promptly.
Search the InspectApedia website
Technical Reviewers & References
Click to Show or Hide Citations & References
Books & Articles on Building & Environmental Inspection, Testing, Diagnosis, & Repair
CLOGGED DRAIN DIAGNOSIS & REPAIR
SEPTIC SYSTEM TROUBLE: WHAT GOES WRONG in the Home Buyer's Detailed Guide to Septic Systems - Buying a Home With a Septic Tank
Why Septic Systems Fail in "What is a Septic System - an Engineer's View"
The Septic System Information Website home page for this topic
Septic Systems Inspection, Testing, & Maintenance - online textbook. Detailed how to inspect, maintain, repair information
Septic Tank Pumping Guide: When, Why, How to pump the septic tank
Septic Tank Capacity vs Usage in Daily Gallons of Wastewater Flow, calculating required septic tank size, calculating septic tank volume from size measurements
Septic Tank/Soil-Absorption Systems: How to Operate & Maintain [ copy on file as /septic/Septic_Operation_USDA.pdf ] - , Equipment Tips, U.S. Department of Agriculture, 8271 1302, 7100 Engineering, 2300 Recreation, September 1982, web search 08/28/2010, original source: http://www.fs.fed.us/t-d/pubs/pdfimage/82711302.pdf.
How Big Should the Leach Field Be? - table of soil percolation rate vs. field size
Septic System Drainfield Absorption System Biomat Formation - what leads to drain field clogging and expensive drainfield repairs
Table of Required Septic & Well Clearances: Distances Between Septic System & Wells, Streams, Trees, etc.
Ten Steps to Keeping a Septic System Working, suggestions from the U.S. EPA, edits and additions by DJF
Pennsylvania State Fact Sheets relating to domestic wastewater treatment systems include

Pennsylvania State Wastewater Treatment Fact Sheet SW-161, Septic System Failure: Diagnosis and Treatment
Pennsylvania State Wastewater Treatment Fact Sheet SW-162, The Soil Media and the Percolation Test
Pennsylvania State Wastewater Treatment Fact Sheet SW-l64, Mound Systems for Wastewater Treatment
Pennsylvania State Wastewater Treatment Fact Sheet SW-165, Septic Tank-Soil Absorption Systems
Document Sources used for this web page include but are not limited to: Agricultural Fact Sheet #SW-161 "Septic Tank Pumping," by Paul D. Robillard and Kelli S. Martin. Penn State College of Agriculture - Cooperative Extension, edited and annotated by Dan Friedman (Thanks: to Bob Mackey for proofreading the original source material.)

...
Books & Articles on Building & Environmental Inspection, Testing, Diagnosis, & Repair
Design Manuals for Septic Systems
US EPA Onsite Wastewater Treatment Systems Manual [online copy, free] Top Reference: US EPA's Design Manual for Onsite Wastewater Treatment and Disposal, 1980, available from the US EPA, the US GPO Superintendent of Documents (Pueblo CO), and from the National Small Flows Clearinghouse. Original source http://www.epa.gov/ORD/NRMRL/Pubs/625R00008/625R00008.htm Onsite wastewater treatment and disposal systems, Richard J Otis, published by the US EPA. Although it's more than 20 years old, this book remains a useful reference for septic system designers. U.S. Environmental Protection Agency, Office of Water Program Operations; Office of Research and Development, Municipal Environmental Research Laboratory; (1980)
Eco John® Innovative Toilet Solutions, Global Inventive Industries, Fountain Valley CA, PDF, product brochure
"International Private Sewage Disposal Code," 1995, BOCA-708-799-2300, ICBO-310-699-0541, SBCCI 205-591-1853, available from those code associations.
"Manual of Policy, Procedures, and Guidelines for Onsite Sewage Systems," Ontario Reg. 374/81, Part VII of the Environmental Protection Act (Canada), ISBN 0-7743-7303-2, Ministry of the Environment,135 St. Clair Ave. West, Toronto Ontario M4V 1P5 Canada $24. CDN.
Manual of Septic Tank Practice, US Public Health Service's 1959.

Onsite Wastewater Disposal Books
Onsite Wastewater Disposal, R. J. Perkins; Quoting from Amazon: This practical book, co-published with the National Environmental Health Association, describes the step-by-step procedures needed to avoid common pitfalls in septic system technology. Valuable in matching the septic system to the site-specific conditions, this useful book will help you install a reliable system in both suitable and difficult environments. Septic tank installers, planners, state and local regulators, civil and sanitary engineers, consulting engineers, architects, homeowners, academics, and land developers will find this publication valuable.
Onsite Wastewater Treatment Systems, Bennette D. Burks, Mary Margaret Minnis, Hogarth House 1994 - one of the best septic system books around, suffering a bit from small fonts and a weak index. While it contains some material more technical than needed by homeowners, Burks/Minnis book on onsite wastewater treatment systems a very useful reference for both property owners and septic system designers.
Septic Tank/Soil-Absorption Systems: How to Operate & Maintain [ copy on file as /septic/Septic_Operation_USDA.pdf ] - , Equipment Tips, U.S. Department of Agriculture, 8271 1302, 7100 Engineering, 2300 Recreation, September 1982, web search 08/28/2010, original source: http://www.fs.fed.us/t-d/pubs/pdfimage/82711302.pdf
SEPTIC SOIL & PERC TESTS soil perc testing guide and instructions
Percolation Testing Manual, CNMI Division of Environmental Quality, PO Box 501304, Saipan, MP 96950
Planting Over Septic System Component", Daniel Friedman (author/editor, InspectAPedia.com), The Innovator, Winter/Spring 2008, BCOSSA, British Columbia OnSite Sewage Association, 201-3542 Blansard St., Victoria BC V8X 1W3 Canada
Save the Septic System - Do Not Flush These Items Down the Toilet, Daniel Friedman, InspectAPedia.com - PDF document, printable
Septic System Owner's Manual, Lloyd Kahn, Blair Allen, Julie Jones, Shelter Publications, 2000 $14.95 U.S. - easy to understand, well illustrated, one of the best practical references around on septic design basics including some advanced systems; a little short on safety and maintenance. Both new and used (low priced copies are available, and we think the authors are working on an updated edition--DF. Quoting from one of several Amazon reviews: The basics of septic systems, from underground systems and failures to what the owner can do to promote and maintain a healthy system, is revealed in an excellent guide essential for any who reside on a septic system. Rural residents receive a primer on not only the basics; but how to conduct period inspections and what to do when things go wrong. History also figures into the fine coverage.
Test Pit Preparation for Onsite Sewage Evaluations, State of Oregon Department of Environmental Quality, Portland OR, 800 452-4011. PDF document. We recommend this excellent document that offers detail about soil perc tests, deep hole tests, safety, and septic design. Readers should also see SEPTIC SOIL & PERC TESTS and for testing an existing septic system, also see Dye Tests
Grass is Always Greener Over the Septic Tank, Bombeck, Erma: $ 5.99; FAWCETT; MM; This septic system classic whose title helps avoid intimidating readers new to septic systems, is available new or used at very low prices. It's more entertainment than a serious "how to" book on septic systems design, maintenance, or repair. Not recommended -- DF.

US EPA Onsite Wastewater Treatment Systems Manual Top Reference: US EPA's Design Manual for Onsite Wastewater Treatment and Disposal, 1980, available from the US EPA, the US GPO Superintendent of Documents (Pueblo CO), and from the National Small Flows Clearinghouse. Original source http://www.epa.gov/ORD/NRMRL/Pubs/625R00008/625R00008.htm
Water Wells and Septic Systems Handbook, R. Dodge Woodson. This book is in the upper price range, but is worth the cost for serious septic installers and designers. Quoting Amazon: Each year, thousands upon thousands of Americans install water wells and septic systems on their properties. But with a maze of codes governing their use along with a host of design requirements that ensure their functionality where can someone turn for comprehensive, one-stop guidance? Enter the Water Wells and Septic Systems Handbook from McGraw-Hill.
Written in language any property owner can understand yet detailed enough for professionals and technical students this easy-to-use volume delivers the latest techniques and code requirements for designing, building, rehabilitating, and maintaining private water wells and septic systems. Bolstered by a wealth of informative charts, tables, and illustrations, this book delivers:
* Current construction, maintenance, and repair methods
* New International Private Sewage Disposal Code
* Up-to-date standards from the American Water Works Association

Wells and Septic Systems, Alth, Max and Charlet, Rev. by S. Blackwell Duncan, $ 18.95; Tab Books 1992. We have found this text very useful for conventional well and septic systems design and maintenance --DF. Quoting an Amazon description:Here's all the information you need to build a well or septic system yourself - and save a lot of time, money, and frustration. S. Blackwell Duncan has thoroughly revised and updated this second edition of Wells and Septic Systems to conform to current codes and requirements. He also has expanded this national bestseller to include new material on well and septic installation, water storage and distribution, water treatment, ecological considerations, and septic systems for problem building sites.

The NSFC Products List has an excellent list of design manuals/modules available from their website or by telephone 800-624-8301
Submissions welcome. send us a suggested document link or request an exchange of website links
...