Cause, Cure, Prevention of Black or Green Algae Stains on Asphalt Roof Shingles

ALGAE STAINS on ROOFS - CONTENTS: How to identify & prevent black algae growth & stains on roof surfaces. How to identify & prevent green algae growth & stains on roofs. Algae stains and black marks on asphalt roof shingles: causes, effects on roof life, cure & prevention
POST a QUESTION or READ FAQs about the cause, cleaning, cure or prevention of algae staining on building roofs
InspectAPedia tolerates no conflicts of interest. We have no relationship with advertisers, products, or services discussed at this website.
Causes of roof stains by algae: This article explains the causes of dark colored algae (sometimes mistaken for "black fungal growth") on roof shingles, the effects of these conditions, and how to cure or prevent them.
Algae growth is common on roof surfaces of several materials including asphalt shingles, concrete and clay roof tiles, and even slate. Often algae that is identified as green when studied microscopically, also looks "black" or quite dark on a roof surface. We provide a list of type of stains and colors that appear on roof shingles and on other roofing materials.
Green links show where you are. © Copyright 2015 InspectApedia.com, All Rights Reserved.
Black (or Brown or Green) Algae Stains on Asphalt Roof Shingles
Misnamed as "mildew" or "fungus" by some writers, algae staining on asphalt shingles usually in shaded areas or on the more-shaded roof slopes- characterized by black staining fairly uniform over shingles, but appearing specifically in areas of the roof shaded by nearby trees.
Article Series Contents
Black roof algae: Some black stains on asphalt roof shingles are caused by a black algae, typically Gloeocapsa magma. These black roof algal stains are sometimes misnamed or misidentified as a black fungus or even a "mildew") .
Algae is more likely to grow on shaded roof sections (probably the cause of black stains on the lower roof in the photo at above right), while asphalt shingle bleed-through stains more often appear to emanate from single points regardless of sun or shade exposure (probably the cause of stains in the photo at above left).
As NRCA's James R. Kirby pointed out back in 1996, black or dark-green streaking on asphalt shingles is most likely caused by an airborne algae, Gloeocapsa that tends to grow in warm, humid environments, but can occur throughout most of the U.S. and Canada. Kirby notes that algae on asphalt shingles is a cosmetic or aesthetic issue, not a roof performance (durability) problem, and it is generally not necessary to remove and replace asphalt shingles strictly because of algae growth and the associated discoloration.
The more faint black stains on the roof in our photograph of roof stains at above left are probably an algal growth. The black stains on the lower left roof in our photo at above right are in an area that is shaded from sunlight and are almost certainly restated to that fact: algal growth. You may notice faint algae stains on the upper roof to the left side of each of the roof dormers.
According to algae expert Michael Guiry, (Algae Base) some of these "black algae" are (as identified in the lab), blue-green or even lichenized algae, while others are a diverse group of coccoid algae (like our microscope photo below) that are turning out be be very diverse.
To remove and prevent black algae stains on roofs, see BLACK STAIN REMOVAL & PREVENTION.
See STAIN DIAGNOSIS on BUILDING EXTERIORS
and STAINS on STONE, DIAGNOSE & CURE for additional examples of diagnosing, cleaning, and preventing stains on building materials and artifacts.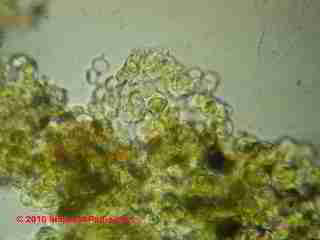 Green roof algae: Algal growth on roofs also appears as green stains in some climates and locations. And keep in mind that some black roof stains, when studied in by an expert, may also be identified as actually green algae, even though it looks black on the roof surface.
Our photo (left) shows green coccoid algae (tentative identification: Synechococcoideae) from an asphalt shingle roof, magnified 720x. Here is a similar sample from a different home. (Coccoid algae are algae that appear as individual non-motile cells with a cell wall and lacking a flagella.)
When black or green stains on a roof surface are more uniform and cover a wide area that does not originate at one or more single pinpoints in the shingles, this is likely to be a black algae growing on the shingle surface. Some writers refer to the black staining as a fungal growth - probably inaccurately in many cases.
There are many genera/species of algae. AlgaeBase lists more than 125,000, and it is likely that quite a few different genera/species of algae appear on different types of building surfaces. Here is a photo of a different green algae identified in our lab from a tape sample collected from a concrete surface outdoors.
Watch out: don't waste much time arguing with your roofing manufacturer over cosmetic green or even most black algae stains on roofs: the warranty coverage for algae-resistant AR roofing shingles is limited, as we discuss
at Roof Shingle Algae Stains and Roof Warranties.
What Causes Black or Green Algae Stains and Algae Growth on Asphalt Shingles?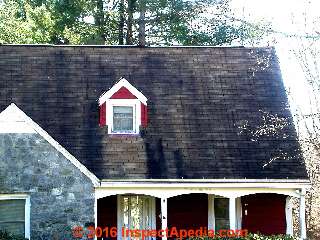 Why does algae grow on roofs? Algae is naturally in the air in most areas of the country except probably the very dry. It grows on building surfaces where it finds food (lime, paint, other) and moisture; it is retarded but perhaps not entirely retarded, by sunlight and heat.
The increase in occurrence of Gloeocapsa magma algae growth on asphalt shingle roofs in the last decade or so may be due to changes in the composition of asphalt shingles: limestone added to shingles to add weight also makes the surface attractive to Gloeocapsa magma.
Black algae stains may be mistaken for but are not "extractive bleeding" - a product cosmetic defect. We need a closer look.
Black algae stains on asphalt shingles tend to be fairly uniform over the stained area, appearing more on shaded and more damp roof slopes. When stains on the roof surface are more uniform in pattern and when they cover a wider area that does not originate at one or more single pinpoints in the shingles, this may be a black algae growing on the shingle surface.
At BLACK STAIN REMOVAL & PREVENTION we discuss getting rid of and preventing these stains.
Tips for Distinguishing Algae on Roofs from Other Stains
Since black or green roof algae is more likely to grow on a shaded, cooler, or more damp roof surface, it is less likely that you'll find black algae stains uniformly on all roof slopes on a building. Black algae staining on an asphalt shingle roof is actually dead organic debris from an algae. The algae most often found on black-stained roofs is Gloeocapsa magma (some writers refer to it as "GM" algae).
Roof consultant William Norman has pointed out that the absence of staining below the dormer in this photo is compelling evidence that the stains are due to algal growth, not extractive bleeding.
To remove and prevent black algae stains on roofs, see BLACK STAIN REMOVAL & PREVENTION.
See EXTRACTIVE BLEEDING on SHINGLES for more on black stains that may be due to extractive bleeding on asphalt shingles. Some roofing consultants, including Mr. Norman (above) assert that many of the black stains on asphalt shingle roofs are due to algae growth and that extractive bleeding may not be a current roof problem.
Other dark roof stains from specific sources include soot from chimneys (brown/black, around a chimney and down-roof from the chimney), and debris staining on roof shingles or tiles where organic debris such as leaves has been left in place over time.
Free Testing Offered to Identify Roof Stain Material: see ALGAE STAIN TEST METHODS for a description of both free forensic microscopy lab tests and do-it-yourself roof stain tests that can help decide on the cause, clean-up, and prevention of algae stains on roofs.
Does Roof Algae Growth on Asphalt Shingles Affect Shingle Life?
Comments & Opinion on three claims of harm caused by roof algae:
1. Roof algae causes shingle granule loss? We have read in roof-cleaning-product sales literature that black algae reduces roof shingle life by "eating" at the shingles (loosening mineral granules and exposing the shingle substrate).
We agree that granule loss is associated with reduction in shingle life, but inspecting black algae-stained roofs in the U.S. we have not seen a difference in granule loss between the black algae-stained area and the non-stained areas. Contact us if you have different experience.
2. Roof algae causes shingle tab lifting? We have also read in roof cleaning product sales literature that black algae on roof shingles is a cause of shingle tab lifting. We have not observed this phenomenon nor have we found technical reports of this defect nor an explanation of its causal mechanism.
3. Roof algae releases harmful toxic spores on, around, and into homes? This is nonsense. Except when the ground is covered by snow, outdoor air has varying amounts, often very large amounts of all kinds of particles, including mold spores and rarely, algal spores.
Outdoor airborne particles indeed can enter a home through open windows and doors, and if building occupants are allergic to specific particles (typically certain pollen grains, some molds, other dust particles) they may suffer. Having inspected and tested airborne particles in and around nearly 3000 buildings we have never once found a significant level of algal particles in indoor air.
OPINION: As we said about green algae on roofs, the presence of these black "fungal" or algal stains on the roof is sometimes an indicator that this roof area is in a shaded spot (look for shade from trees or nearby buildings) where you may want to be alert for development of moss or other roof problems, but the level of damage from the black algae is probably low, even less than that caused by lichens and certainly less than that caused by moss.
To remove and prevent black algae stains on roofs, see BLACK STAIN REMOVAL & PREVENTION.
Roof Shingle Algae Stains and Roof Warranties
Watch out: Algae resistance provisions of asphalt roof shingle warranties are limited in coverage and scope. (Also see WARRANTIES for ROOF SHINGLES)
Using Owens Corning's shingle warranty (4/28/10) as an example, note that [quoting]
Roof Shingle Warranty Exclusions [include the following]
Discoloration caused by algae, fungi, lichens or cyanobacteria (unless covered under the section "What About Algae Resistance" that follows)

What About Algae Resistance
If the Shingles that you purchased were not specifically labeled as "Algae Resistant" ("AR"), then
any discoloration caused by algae is not covered by this warranty as explained in the section
above "What is Not Covered." However, if you did purchase AR shingles, they are covered under
this warranty for a period of five (5) years commencing on the date of installation ("AR Warranty
Period") against discoloration caused by algal, fungal, lichen, or cyanobacterial growth ("Algae
Growth"). If such discoloration occurs during the AR [Algae Resistant] Warranty Period, you will be entitled to
the following remedy:

Remedy for Algae Growth – Should the AR Shingles exhibit discoloration due solely to
algal, fungal, lichen, or cyanobacterial growth during the AR Warranty Period, your sole and
exclusive remedy, and Owens Corning's sole obligation, shall be for Owens Corning to pay you
an amount equal to the reasonable cost of cleaning such growth off of the affected AR Shingles.
A later 2008 Owens Corning Roof Warranty provided to us by a client whose Owens Corning algae-resistant shingle roof was just two years old when an extensive green algae growth was observed, provides similar constraints as the 2001 warranty above, but extends the warranty period to ten (10) years.
An Owens Corning representative informed us (by telephone O.C. to DF, 04/2010) that the algae-resistant portion of a roof shingle warranty is also limited to one genera/species of roof algae, apparently excluding green algae staining.
Watch out: don't try cleaning asphalt shingle roofs without checking with the manufacturer about their recommended methods. For example using power washers (not recommended), and some chemicals may damage the shingles and reduce the roof life. Other chemicals such as bleach may also cause staining on other building areas and can be unsafe if not handled properly. To remove and prevent black algae stains on roofs, see BLACK STAIN REMOVAL & PREVENTION.
OPINION: algal growth on asphalt roof shingles, unlike moss and lichens growth (MOSS & LICHENS on SHINGLES), is a cosmetic concern and is not likely to affect roof shingle life.
See WARRANTIES for ROOF SHINGLES for more about roofing product warranties and for roofing product manufacturer claims & contact information.
Continue reading at BLACK ROOF STAIN REMOVAL & PREVENTION or select a topic from the More Reading links shown below.
Or see ALGAE, FUNGUS, LICHENS, MOSS on SHINGLES to compare algae, moss and lichens on roofs
Suggested citation for this web page
BLACK or GREEN ALGAE STAINS on ROOFS at InspectApedia.com - online encyclopedia of building & environmental inspection, testing, diagnosis, repair, & problem prevention advice.
More Reading
Green link shows where you are in this article series.
...
Frequently Asked Questions (FAQs)
Reader Comment: negative effects of algae growth on light colored roofs
5/10/2014 Rebecca Vanderpool said:
In your articles concerning black algae you present that it is basically benign. You neglect to take into consideration that one of the basic tasks of a roof is to reflect the sun. In the south this has lead to significantly raising cooling costs in some cases with a fully involved roof the costs have doubled. I only suggest that all variables should be considered and all pertinent information included in your info.
Reply: research on the effects of algae on roof life, heat gain, and other effects
Rebecca, You raise an interesting point, arguing that on white and light colored roofs the effects of algae may include higher roof temperatures. My comments on algae address health effects or damage to roof - generally not measurable.
You might like to see these citations, particularly Levinson's work.
Akbari, Hashem, Asmeret A. Berhe, Ronnen Levinson, Stanley Graveline, Kevin Foley, Ana H. Delgado, and Ralph M. Paroli. "Aging and weathering of cool roofing membranes." (2005).
Berdahl, Paul, Hashem Akbari, Ronnen Levinson, and William A. Miller. "Weathering of roofing materials?an overview." Construction and Building Materials 22, no. 4 (2008): 423-433.
- discusses the effects on the roof life of stuff that grows thereon
Levinson, Ronnen, Paul Berdahl, Asmeret Asefaw Berhe, and Hashem Akbari. "Effects of soiling and cleaning on the reflectance and solar heat gain of a light-colored roofing membrane." Atmospheric Environment 39, no. 40 (2005): 7807-7824.
Polkowska, Z. "Examining the Effect of the Type of Roofing on Pollutant Content in Roof Runoff Waters from Buildings in Selected Districts of the City of Gda?sk often,." Polish Journal of Environmental Studies 13, no. 2 (2004).
Susca, T., S. R. Gaffin, and G. R. Dell?Osso. "Positive effects of vegetation: Urban heat island and green roofs." Environmental Pollution 159, no. 8 (2011): 2119-2126.

...
Ask a Question or Search InspectApedia
Use the "Click to Show or Hide FAQs" link just above to see recently-posted questions, comments, replies, try the search box just below, or if you prefer, post a question or comment in the Comments box below and we will respond promptly.
Search the InspectApedia website
Technical Reviewers & References
Publisher's Google+ Page by Daniel Friedman
Click to Show or Hide Citations & References
Shingle Shield™ are zinc strips that are inserted under the shingle tabs of individual shingles to reduce moss, lichens, and algae growth on asphalt roofing - see shingleshield.com
StainhandleR are zinc strips that are inserted under the shingle tabs of individual shingles to reduce moss, lichens, and algae growth on asphalt roofing- see stainhandler.com
Zinc-Shield® - zincshield.com and Z-stop™ zinc roofing strips - z-stop.com, are roll-out zinc strips intended for installation near the ridge of a roof to reduce moss, lichens, and algae growth on roofs
04/09: thanks to William M. Norman, P.E., S.E., Keeler-Webb Associates, 486 Gradle Drive, Carmel, IN 46032 for opening discussion regarding the legitimacy of extractive bleeding as a term to apply to asphalt roofing material. Mr. Norman suggests that many (not all) black stains on asphalt roofing may be due to algal growth. We will report progress in this discussion as updates to this web article.
"Cleaning, preventing algae growth on asphalt shingles", James Kirby, Professional Roofing (NRCA), November 1996, p. 45
NRCA - National Roofing Contractors Association - http://www.nrca.net/, 10255 W. Higgins Road, Suite 600, Rosemont, IL 60018-5607, Tel: (847) 299-9070 Fax: (847) 299-1183
Guiry, M.D. & Guiry, G.M. 2010. AlgaeBase. World-wide electronic publication, National University of Ireland, Galway. http://www.algaebase.org searched on 28 April 2010, http://www.algaebase.org/
AlgaeBase is a database of information on algae that includes terrestrial, marine and freshwater organisms. 125,262 species and infraspecific names are in this algae database (April 2010) that includes images of terrestrial algae and aquatic algae, in situ and by microscope. But because this data base is intended for algae taxonomists and nomenclaturists, it can be difficult for a non-expert to search by image type rather than genus/species name.-DF
Quoting:
AlgaeBase is a database of information on algae that includes terrestrial, marine and freshwater organisms. At present, the data for the marine algae, particularly seaweeds, are the most complete. For convenience, we have included the sea-grasses even though they are flowering plants.
Thanks to Michael Guiry for discussing roof algae taxonomy in brief email 4/28/2010.
Classification of Algae, Oilgae, (Oilgae is the global information support resource for the algae fuels industry.
http://www.oilgae.com/algae/cla/cla.html
Quoting:
The classification of algae into taxonomic groups is based upon the  same rules that are used for the classification of land plants, but the  organization of groups of algae above the order level has changed  substantially since 1960. Research using electron microscopes has  demonstrated differences in features, such as the flagellar apparatus,  cell division process, and organelle structure and function, that are  important in the classification of algae. Similarities and differences  among algal, fungal, and protozoan groups have led scientists to propose  major taxonomic changes, and these changes are continuing.
Taxonomic Groups of Algae

Bacillariophyta
Chloro phycophyta (green algae)
Chrysophycophyta (golden algae)
Cyanobacteria (blue green algae)
Phaeco phycophyta (brown algae)
Dinophyta(dinpflagellates)
Rhodo phycophyta (red algae )

Algae, common freshwater types of algae, http://www.microscopy-uk.org.uk/index.html?http://www.microscopy-uk.org.uk/pond/algae.html includes flagellated forms of algae: [Note that although these references pertain primarily to water-borne algae, the growth structures and characteristics are also generally helpful for identification of forms of algae encountered throughout the environment; for example some water borne algae may become wind-borne under certain conditions-DF]

Euglenoids, Dinoflagellates, and
Green algae (chlorophyta) Volvox (ponds), colonial flagellates Gonium, Eudorina, Pandorina, Sorastrum algae, Synura, & Uroglena algae. The site notes that not all "green algae" are green - some are red in appearance (Haemotoccus),
Also brown algae
and non-flagellated forms of algae
Blue-green algae (cyanobacteria), Diatoms, Desmids (green, no flagella, solitary, some colonial, two mirror image semi-cells),
Green algae: no flagella, don't move, not attached to a surface


Cyanobacterial Image Gallery, http://www-cyanosite.bio.purdue.edu/images/images.html provides a photo library of reference images for identification of cyanobacteria
Freshwater Algae, George Booth, http://www.aquaticscape.com/articles/algae.htm includes low-magnification images of algae focused on aquatic algae, describes the differences among algae types:

Blue-green, slime or smear algae
Brown algae
Green water
Spot algae
Fuzz algae, Beard algae, Fuzz algae
Staghorn algae, and Brush algae

2001 Owens Corning International Shingle Warranty (PDF) 08/03/2010
2008 Owens Corning Roof Warranty (PDF), thanks to reader Carla Owens 4/30/2010, Kent State University
The Ecology of Algae, F.E. Round, Cambridge University Press, 1984 ISBN-10: 0521269067 ISBN-13: 978-0521269063 (Available at Amazon.com)
After an introduction outlining the chemical and physical characteristics of the environment, the book goes on to look at the actual habitats in which algae occur. The communities of the individual habitats such as open water, sediments, rocky shores, coral reefs, hot springs, sea ice, soil, etc., are then discussed with special phenomena highlighted, for example rhythmic activity, nitrogen fixation and buoyancy. There are also chapters on seasonal cycles of algal growth, energy flow, geographical dispersion, palaeo-ecology and contribution to sediments. The importance of algae in symbiotic relationships and their considerable significance to animal grazers in aquatic food chains are also discussed. The final chapter deals with the relationships of algae to eutrophication and pollution of water. This is an important aspect, which can only be understood through an appreciation of algal ecology.
Lichens of North America, Irwin M. Brodo, Yale University Press, 2001, ISBN-10: 0300082495, # ISBN-13: 978-0300082494 (Available at Amazon.com)
Quoting from Library Journal:
Lichens are a combination of a fungus and an alga but have a unique structure and appearance quite different from either. Existing worldwide and growing on a variety of surfaces, including rocks, soil, and trees, they may appear leafy, shrubby, mossy, crusty, or jellylike and are seen in a wide range of colors, from brilliant oranges, yellows, and reds to dull grays and browns. This huge new book, written by a world authority on lichens and emeritus research scientist at the Canadian Museum of Nature, Ottawa, provides information on about 1500 of the roughly 3600 recognized North American lichens. Part 1 introduces lichens in 14 clearly written chapters that discuss their biology, ecology, geography, environmental roles, and collection. Part 2, the heart of the book, is a guide that offers identification keys to groups, genera, and species and their descriptions, with accompanying photographs and North American distribution maps. The more than 900 truly beautiful, full-color photos were taken by the Sharnoffs, nature photographers whose work has been widely published in National Geographic, Smithsonian, and elsewhere. Of value to professionals and amateurs alike, this book is certain to be a classic reference for decades to come. Highly recommended for academic and research libraries and for public libraries where interest warrants; libraries needing only a brief yet informative introduction to lichens should consider William Purvis's inexpensive Lichens (Smithsonian Institution, 2000). William H. Wiese, Iowa State Univ. Lib., Ames
Books & Articles on Building & Environmental Inspection, Testing, Diagnosis, & Repair
The Home Reference Book - the Encyclopedia of Homes, Carson Dunlop & Associates, Toronto, Ontario, 25th Ed., 2012, is a bound volume of more than 450 illustrated pages that assist home inspectors and home owners in the inspection and detection of problems on buildings. The text is intended as a reference guide to help building owners operate and maintain their home effectively. Field inspection worksheets are included at the back of the volume. Special Offer: For a 10% discount on any number of copies of the Home Reference Book purchased as a single order. Enter INSPECTAHRB in the order payment page "Promo/Redemption" space. InspectAPedia.com editor Daniel Friedman is a contributing author.

Or choose the The Home Reference eBook for PCs, Macs, Kindle, iPad, iPhone, or Android Smart Phones. Special Offer: For a 5% discount on any number of copies of the Home Reference eBook purchased as a single order. Enter INSPECTAEHRB in the order payment page "Promo/Redemption" space.
Best Practices Guide to Residential Construction, by Steven Bliss. John Wiley & Sons, 2006. ISBN-10: 0471648361, ISBN-13: 978-0471648369, Hardcover: 320 pages, available from Amazon.com and also Wiley.com. See our book review of this publication.
Decks and Porches, the JLC Guide to, Best Practices for Outdoor Spaces, Steve Bliss (Editor), The Journal of Light Construction, Williston VT, 2010 ISBN 10: 1-928580-42-4, ISBN 13: 978-1-928580-42-3, available from Amazon.com
The Journal of Light Construction has generously given reprint permission to InspectAPedia.com for this article. All rights and contents are ©Journal of Light Construction and may not be reproduced in any form.
Architectural elements: the technological revolution: Galvanized iron roof plates and corrugated sheets; cast iron facades, columns, door and window caps, ... (American historical catalog collection), Diana S Waite, available used out of Amazon.
Building Pathology, Deterioration, Diagnostics, and Intervention, Samuel Y. Harris, P.E., AIA, Esq., ISBN 0-471-33172-4, John Wiley & Sons, 2001 [General building science-DF] ISBN-10: 0471331724 ISBN-13: 978-0471331728
Building Pathology: Principles and Practice, David Watt, Wiley-Blackwell; 2 edition (March 7, 2008) ISBN-10: 1405161035 ISBN-13: 978-1405161039
Built-Up Roof Systems, Manual, C.W. Griffin, Mcgraw-Hill (Tx); 2nd edition (July 1982), ISBN-10: 0070247838, ISBN-13: 978-0070247833
Concrete Folded Plate Roofs, C. Wilby PhD BSc CEng FICE FIStructE (Author), Butterworth-Heinemann, 1998, ISBN-10: 0340662662, ISBN-13: 978-0340662663
Concrete Shell Roofs, C. Wilby PhD BSc CEng FICE FIStructE (Author),
Concrete Dome Roofs (Longman Concrete Design and Construction Series),
Concrete Roofing Tile, History of the, Batsford, 1959, AISN B000HLLOUC (availble used)
Copper Roofing, by CDA
Copper Roofing, Master specifications for copper roofing and sheet metal work in building construction: Institutional, commercial, industrial, I.E. Anderson, 1961 (hard to find)
Corrugated Iron, Building on the Frontier, Simon Holloway
Green Roof Plants: A Resource and Planting Guide, Edmund C. Snodgrass, Lucie L. Snodgrass, Timber Press, Incorporated, 2006, ISBN-10: 0881927872, ISBN-13: 978-0881927870. The text covers moisture needs, heat tolerance, hardiness, bloom color, foliage characteristics, and height of 350 species and cultivars.
Green Roof Construction and Maintenance, Kelley Luckett, McGraw-Hill Professional, 2009, ISBN-10: 007160880X, ISBN-13: 978-0071608800, quoting: Key questions to ask at each stage of the green building process Tested tips and techniques for successful structural design Construction methods for new and existing buildings Information on insulation, drainage, detailing, irrigation, and plant selection Details on optimal soil formulation Illustrations featuring various stages of construction Best practices for green roof maintenance A survey of environmental benefits, including evapo-transpiration, storm-water management, habitat restoration, and improvement of air quality Tips on the LEED design and certification process Considerations for assessing return on investment Color photographs of successfully installed green roofs Useful checklists, tables, and charts
Handbook of Building Crafts in Conservation, Jack Bower, Ed., Van Nostrand Reinhold Company, NY 1981 ISBN 0-442-2135-3 Library of Congress Catalog Card Nr. 81-50643.
Historic Preservation Technology: A Primer, Robert A. Young, Wiley (March 21, 2008) ISBN-10: 0471788368 ISBN-13: 978-0471788362
Historic Slate Roofs : With How-to Info and Specifications, Tina Skinner (Ed), Schiffer Publishing, 2008, ISBN-10: 0764330012 , ISBN-13: 978-0764330018
Low Slope Roofing, Manual of, 4th Ed., C.W. Griffin, Richard Fricklas, McGraw-Hill Professional; 4 edition, 2006, ISBN-10: 007145828X, ISBN-13: 978-0071458283

Roof failure causes in depth (and specific methods for avoiding them)
Roof design fundamentals and flourishes, based on voluminous industry research and experience
New technologies and materials -- using them safely and correctly
Comprehensive coverage of all major roofing systems pecifications, inspection, and maintenance tools for roofing work

Metal Roofing, an Illustrated Guide, R.A. Knowlton , [metal shingle roofs],
Patio Roofs, how to build, Sunset Books
Problems in Roofing Design, B. Harrison McCampbell, Butterworth Heineman, 1991 ISBN 0-7506-9162-X (available used)
Roofing The Right Way, Steven Bolt, McGraw-Hill Professional; 3rd Ed (1996), ISBN-10: 0070066507, ISBN-13: 978-0070066502
Slate Roofs, National Slate Association, 1926, reprinted 1977 by Vermont Structural Slate Co., Inc., Fair Haven, VT 05743, 802-265-4933/34. (We recommend this book if you can find it. It has gone in and out of print on occasion.)
Roof Tiling & Slating, a Practical Guide, Kevin Taylor, Crowood Press (2008), ISBN 978-1847970237,
If you have never fixed a roof tile or slate before but have wondered how to go about repairing or replacing them, then this is the book for you. Many of the technical books about roof tiling and slating are rather vague and conveniently ignore some of the trickier problems and how they can be resolved. In Roof Tiling and Slating, the author rejects this cautious approach. Kevin Taylor uses both his extensive knowledge of the trade and his ability to explain the subject in easily understandable terms, to demonstrate how to carry out the work safely to a high standard, using tried and tested methods. 
This clay roof tile guide considers the various types of tiles, slates, and roofing materials on the market as well as their uses, how to estimate the required quantities, and where to buy them. It also discusses how to check and assess a roof and how to identify and rectify problems; describes how to efficiently "set out" roofs from small, simple jobs to larger and more complicated projects, thus making the work quicker, simpler, and neater; examines the correct and the incorrect ways of installing background materials such as underlay, battens, and valley liners; explains how to install interlocking tiles, plain tiles, and artificial and natural slates; covers both modern and traditional methods and skills, including cutting materials by hand without the assistance of power tools; and provides invaluable guidance on repairs and maintenance issues, and highlights common mistakes and how they can be avoided. The author, Kevin Taylor, works for the National Federation of Roofing Contractors as a technical manager presenting technical advice and providing education and training for young roofers.
The Slate Roof Bible, Joseph Jenkins, www.jenkinsslate.com, 143 Forest Lane, PO Box 607, Grove City, PA 16127 - 866-641-7141 (We recommend this book).
Slate Roofing in Canada (Studi4es in archaeology, architecture, and history),
Smart Guide: Roofing: Step-by-Step Projects, Creative Homeowner (Ed), 2004, ISBN-10: 1580111491, ISBN-13: 978-1580111492
Solar heating, radiative cooling and thermal movement: Their effects on built-up roofing (United States. National Bureau of Standards. Technical note), William C Cullen, Superintendent of Documents, U.S. Govt. Print. Off (1963), ASIN: B0007FTV2Q
Tile Roofs of Alfred: A Clay Tradition in Alfred NY
"Weather-Resistive Barriers [copy on file as /interiors/Weather_Resistant_Barriers_DOE.pdf ] - ", how to select and install housewrap and other types of weather resistive barriers, U.S. DOE
Wood Shingle Roofs, Care and Maintenance of wood shingle and shake roofs(EC), Stanley S. Niemiec (out of print)
...