Propane - LP Gas Tank Installation, Location, Piping, Filling, & Inspection
InspectAPedia tolerates no conflicts of interest. We have no relationship with advertisers, products, or services discussed at this website.
LP or Propane Gas Tank Installation, inspection, controls, repairs:
Here we provide descriptions and photographs of unsafe gas piping, indications of unsafe or improperly operating gas appliances, gas meters, and other gas installation defects are provided. The photo above shows two 24-gallon LP gas tanks installed outdoors on a wobbly unstable base.
This document also provides free sample draft home inspection report language for reporting defects in oil and gas piping at residential properties. Do not copy contents from InspectApedia to other websites.
We also provide a MASTER INDEX to this topic, or you can try the page top or bottom SEARCH BOX as a quick way to find information you need.
LP Gas Tank Observations & Gas Tank Safety Recommendations for Home Inspectors & Home Owners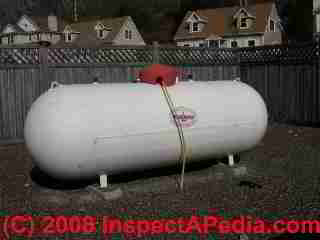 General safety warning: improper installation and even improper inspection and testing methods involving natural or "LP" gas can involve dangerous conditions and risk fire or explosion.
If you smell gas you should leave the building immediately and should do so without doing anything that could create a spark such as operating a light switch or telephone.
From a safe location, call your gas company's emergency line and/or your fire department.
Article Series Contents
Immediate LP or natural gas safety hazards: if there is evidence of an LP or natural gas leak at a building, gas odors, for example, you should:
Do not do anything that is likely to cause a gas explosion, such as lighting a match, operating an electrical switch, or even using a telephone in the building
Leave the building immediately
Notify other building occupants of the safety concern
Contact the local gas company and/or fire department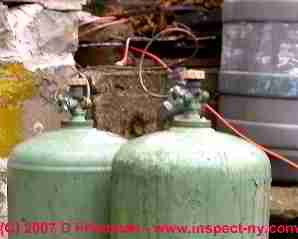 LP gas tanks [liquid petroleum gas tanks] are normally placed only outdoors, above ground or (if the tank is designed for it), buried below ground.
Where LP tank regulators can be exposed to the weather, especially in northern climates exposed to freezing weather, they should be protected from water and frost to prevent potentially dangerous damage to the LP gas pressure regulator, shown as the gray disk behind the right-most tank in this photograph of LP gas tanks in the Hudson Valley of New York.
LP gas tank regulators are discussed at Gas Regulators for Tanks .
How Does the LP Gas Company Fill the LP Gas Tank at a Building?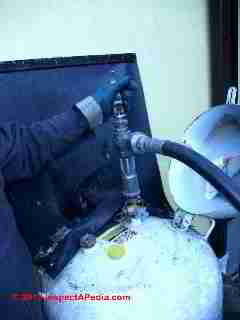 At left our LP gas tank is being filled by an automatic delivery schedule. Photo courtesy of the author & Bottini Fuels, Poughkeepsie, NY.[9]
There are several ways your LP gas company will know when to make a delivery.
Automatic LP Gas delivery: the gas company monitors your usage rate and calculates when to make a delivery based on usage history; if you add or change gas fired appliances at your building you should discuss this modification with your gas vendor to keep deliveries on track.
On-Demand LP Gas delivery: you will have to watch the fuel level in your LP gas tank and call your gas vendor when the fuel level is low. Most gas companies prefer to make a delivery when the fuel level in the LP tank is below 20%.
LP tank swap-out: In some communities the LP gas company will also deliver smaller LP tanks to replace an empty one at your property.

And if your LP gas use is only from a small portable LP tank then it's up to you to bring the tank to an authorized LP vendor for refill.
If your building uses piped-in natural gas, fuel delivery is continuous through the piping system and of course you won't have an LP gas tank at your property.
Watch out: if you have run out of LP gas entirely your fuel delivery driver may refuse to re-fill the tank unless provision can be made to assure that pilot lights in the building are also re-lit and that the building is safe from risk of a gas leak.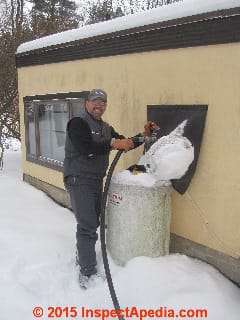 The fuel delivery driver will (or should) refuse to deliver LP gas if he is aware of unsafe conditions such as a leak or nearby open flames.
And since the LP gas delivery truck driver has to pull a heavy gas hose and nozzle from the truck to your LP tank, you don't want to run out of fuel in the dead of winter with deep snow-cover and no path cleared to the LP gas tank.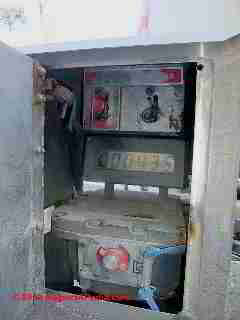 The LP gas delivery driver will print a receipt that documents the date, time, and quantity of LP fuel delivered to the building.
To protect customers from a dishonest LP gas delivery driver, the fuel meter will not print a receipt if the LP gas delivery truck has moved at all from the time of start of LP gas pumping. Our driver explained that otherwise, "in the old days" of older LP gas meters, a dishonest driver could drop off LP gas at multiple properties, billing just the last customer for fuel.
Is the LP Gas Tank Supposed to be Filled to the Very Top of the Tank or to 100% on the Gas Gauge?
No.
LP Gas tank fill-volume is typically to 80-85% of capacity, leaving vapor space in the tank. The LP gas company does not fill the tank to its very top as that would not leave sufficient room for expansion of the liquid fuel as temperatures increase from the temperature of the liquid propane at the time of delivery. This is an important safety detail: your gas company is not short-changing you.

NOTES: Liquid propane has a comparatively high coefficient of expansion (> 50 psig per °F - O'Brien (2010) REALLY? NIST in discussing the coefficienty of expansion of propane cites that for propane, at temperatures from about 85K to 650K the pressure will range from 1kPa to 4521 kPa as a function of temperature and pressure.
The same source offers this additional data: Density (Liquid) as a function of Temperature and Pressure Temperature from 85.525 K to 369.89 K
Pressure from 1 kPa to 1000000 kPa - NIST (2014))

Overpressure in the LP tank can cause direct venting of combustible gas to the atmosphere, liquid fuel in the distribution lines, abnormally high and thus unsafe pressures at the appliance, or even a ruptured tank. . - Ramirez et als. (retrieved 2014)
Details are at GAS PRESSURES LP vs NATURAL GAS
How & Where to Install Above Ground Liquid Petroleum Gas Tanks - LP or Bottled Gas Tanks: Clearance Distances
Specifications for Installing & Inspecting Above-ground LP Gas Storage Tanks - gas cylinders not filled on site
These LP Gas tank location clearances for above-ground LP gas tanks are given as measured from the tank's relief valve in any direction away from any potential source of ignition (of a gas leak) or where leaking gas could be drawn into a building window or other vent opening. If your fuel is piped-in natural gas rather than from an onsite storage tank of LP gas, you will want to
see GAS METER CLEARANCE DISTANCES.
Gas tank distance from windows, crawl space openings, fan openings: Install the above ground LP gas storage tank at least three feet from a building window, crawl space opening, or through-wall exhaust fan opening
Gas tank distance from appliance air intakes: Install the above ground LP gas storage tank at least five feet from the air intake to any direct venting appliance (such as a high efficiency gas boiler)
Gas tank distance from air conditioners: Install the above ground LP gas storage tank at least ten feet from the nearest window air conditioner to avoid a possible gas leak ignition
Gas tank fill valve distance from building components: If the gas cylinders are to be filled on site, say from a gas delivery truck, the fill valve used to connect the gas hose from the filler truck must be at least ten feet from any exterior source of ignition and from building windows, vent openings, or air intakes.
Sample gas tank inspection report language: Safety: Install secure and level support for the LP gas tank at ... - if a tank tips over and breaks gas line it could be dangerous. This is an inexpensive item. This item should be handled promptly on establishing gas service for the house, preferably before tanks are filled.
Also see Installation specifications for Buried LP gas tanks.
Specifications for Installing & Inspecting Above-ground LP Gas Storage Tanks - gas cylinders that are to be filled on site: Clearance Distances
Below is a common LP gas tank cleareance distance skectch example used by most authoirities, cited from NFPA 58 in its Appendix I.
[Click to enlarge any image]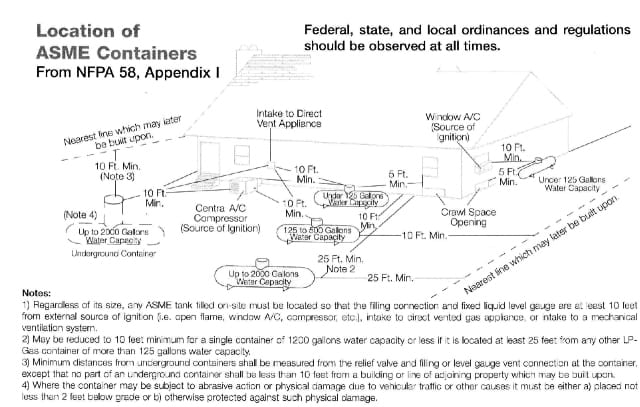 Reader Question: proper backfill for a buried propane tank
(Sept 15, 2014) Hal said:
I am confused as to the proper backfill for a 1000 gallon propane tank, one supplier uses sand, another limestone. which one is recommended?
Reply:
Hal
The concern with *any* backfill on tanks or piping is to avoid sharp rocks or objects that, through settlement, might perforate or damage the equipment. I'm not sure what sort of limestone nor what size gravel that contractor uses, but sand sounds safer to me.
See the following references for code and specificastions for installing underground propane or LPG Tanks
NFPA 58: Liquified Petroleum Gas Code, (2014), NFPA 1 Batterymarch Park Quincy, MA 02169-7471 Tel: +1 617 770-3000, or from Mexico toll free: 95-800-844-6058, Website: www.nfpa.org, Excerpt:
The code includes minimum requirements for safe handling during LP gas transfer, including operator qualifications, maximum filling quantity in containers, and pre-transfer inspections to ensure containers are fit for continued service. - http://catalog.nfpa.org/2014-NFPA-58-Liquefied-Petroleum-Gas-Code-
NPGA #412-94 "Installation of Underground LP-Gas Systems", National Propane Gas Association, 1600 Eisenhower Lane, Suite 100, Lisle IL 60532, Tel: 630-515-0600 (1994), Website: http://www.npga.org/, - retrieved 3 Feb 2015, original source: https://www.suburbanpropane.com/pdf/NPGA412-94.pdf
Excerpts & adaptations or paraphrasing from this source:

This bulletin provides guidelines for the installation and inspection of underground LP-Gas systems and outlines song of the unique problems and conditions inherent in these installations that are not encountered when dealing with aboveground systems. It is not intended to cover all facets of every application, but is meant to be of general assistance to personnel who install and inspect underground LP-Gas systems."

LPG tank Excavation & Setting Guidelines
Install the container and the rest of the system in accordance with accepted standards such as NFPA 58, and/or the authority having jurisdiction. Make sure tank is located in accordance with spacing requirements. See Figure 1 [in the original document] and NFPA 58.
...
The bottom of the excavation must be level and free of rock~ If rocks are present, a 6-inch bed of sand should be used. For completely buried tanks, the excavation must be dug to a proper depth to provide for the housing dome to extend far enough above ground level to prevent entrance of surface water (1 to 3 inches is common practice), allowing for grading away from the dome. See item 7. If conditions require it, suitable precautionary measures such as shoring should be taken to prevent cave-ins during excavation.
...
For mounded systems, the same general procedure shall be followed, except that the aboveground surface area of the tank must be covered with at least 1 foot of earth, sand, or other noncombustible, noncorrosive materials such as vermiculite or perlite.
...
In high ground water level areas, provisions shall be made to adequately secure the container to the ground, or to a concrete slab, to prevent flotation. Remember that a properly filled container can float because the density of LP-Gas is about half that of water. Local soil conditions may require other provisions to allow proper drainage from within housing dome.
...
The container should be set substantially level on a firm foundation (firm earth may be used) and surrounded by earth or sand firmly tamped in place. Backfill should be free from rocks or similar abrasives.
...
Where underground containers are installed in locations subject to vehicular movement, such as automobiles, trucks, tractors, etc., protection shall be provided ...
Australia & New Zealand LP Gas Code: AS-NZS 5601-1 (2011) (English): Gas installations - Part 1: General installations [By Authority of New Zealand Gas (Safety and Measurement) Regulations 2010 (SR 2010/76)]
Excerpt:

This Standard contains the mandatory requirements and means of compliance for the design, installation and commissioning of gas installations that are associated with the use or intended use of fuel gases such as natural gas, LP Gas, biogas or manufactured gas. The user is expected to be familiar with the properties and characteristics of those fuel gases and the principles of combustion, ventilation and flueing applicable to the safe installation and operation of gas appliances.

For New Zealand, these requirements cover gas installations downstream of the point of supply (as defined in the Gas (Safety and Measurement) Regulations 2010. F

or Australia, these requirements cover gas installations downstream of the outlet of -
(a) the consumer billing meter installation;
(b) the first regulator on a fixed gas installation where an LP Gas tank or cylinder(s) is installed on site; or
(c) the first regulator on site ...


"Liquified Petroleum Gas (LPG) Propane Awareness", Massachusetts Department of Fire Services, Massachusetts Firefighting Academy", retrieved 12 January 2015, original source: http://www.mass.gov/eopss/docs/dfs/mfa/student-guides/417-propaneawareness.pdf [copy on file]
Australia, Victoria: "Gas Safety (Gas Installation) Regulations 1999, S.R. No. 6/1999, retrieved 3 Feb 2015, original source: http://www.legislation.vic.gov.au/
U.K. Liquified Petroleum Gas (LPG) Regulations: "Safe use of liquefied petroleum gas (LPG) at small commercial and industrial bulk installations"[PDF], - retrieved 3 Feb 2015, original source: http://www.hse.gov.uk/gas/lpg/safeuse.htm
Excerpt:
When the risks are properly identified and managed, LPG can be safely used as a fuel source for many applications. This information is aimed primarily at users of LPG to provide information and help to ensure it is used safely.
Installation Specifications for Below-ground LP Gas Storage Tank: Clearance Distances
Install the below-ground (buried) LP gas storage tank at least ten feet from the nearest window air conditioner to avoid a possible gas leak ignition
Install the below-ground (buried) LP gas storage tank at least ten feet from the nearest crawl space vent opening.
Install the below-ground (buried) LP gas storage tank at least ten feet from the nearest building wall
Install the below-ground (buried) LP gas storage tank at least ten feet from the air intake to any direct venting appliance
Install the below-ground (buried) LP gas storage tank at least ten feet back from the property line
Install the below-ground (buried) LP gas storage tank at least ten feet from an "important building" [presumably we exclude things like garden sheds] or from abutting property that may later have a building constructed on it.
Above we provide additional installation specifications for above ground LP gas tanks and cylinders.
Specifications for Finding, Inspecting, Installing Buried LP Gas Tanks
How to Find a Buried LP Gas Tank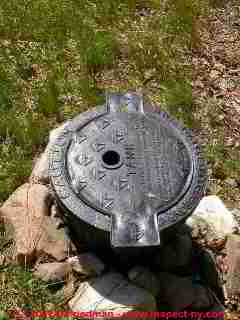 Finding a buried LP gas tank should not be difficult at a property, since the top of the tank has to be accessible for filling and inspection.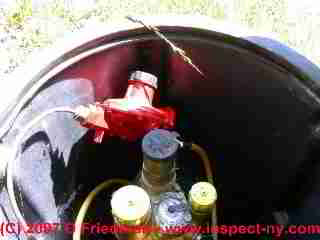 Look for the access cover, usually white steel on older LP gas cylinders or black plastic covering an access well on new buried LP gas tanks, as we mention next.
At some new properties you may first have to see and recognize the plastic access well and cover such as the buried LP gas tank cover shown in these photographs.
When the buried LP gas tank access cover is opened, the buried LP gas tank fill valve and regulator are plainly visible as should be a gauge indicating the remaining amount of LP gas in the tank.
How to Find & Read the LP Gas Tank Gauge Guide
The LP tank gauge is installed at a fitting either on the tank top itself or on a combination fitting at the tank top where the gas valves and connections are also installed.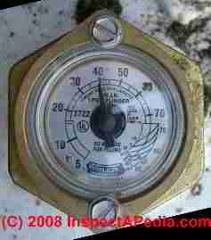 This Liquid Petroleum Gas Tank Gauge - LP tank gauge or bottled gas tank gauge shows us that it is intended for installation on a 200 Lb. LP gas cylinder, and that the tank is at about 40% full.
LP Gas tanks are normally filled before the tank is totally empty. The liquid petroleum gas delivery truck driver can assure that no contaminants have leaked into the tank if it is still under pressure. LP tanks are usually not filled to 100% of tank capacity, since doing so would risk sending liquefied LP gas out of the gas tank and into the regulator where it could cause damage or be unsafe.
The curved graph at the upper end of the LP gas gauge dial shows the effects of temperature on the LP gas stored in the tank and thus on the effective remaining amount of fuel in the tank.
Some smaller LP gas cylinders may lack a gauge. When a gas cylinder has no percentage-full gauge and we want to know if the tank is empty or nearly so, we gently rock the tank (be careful not to cause a gas leak).
If the tank is heavy and hard to move it's probably nearly full. A bit of experience with pushing slightly on the tank just before and just after it has been filled by your LP gas delivery company can make it easy to have a general idea of the level of fuel in the tank.
Be sure that LP gas cylinders are not so loose or poorly supported that they can tip over - risking injury or even a gas leak and explosion!
LP Gas Tank Home Safety Tips & Inspection Report Language Examples
Here are some LP gas safety recommendations and home inspection report examples:
LP Gas Cylinder that is Incompletely Buried
Propane Gas Tank Safety Recommendations: The liquid propane gas tank at ... is partially buried - this may not be a recommended building practice; accelerated rust may lead to failure of the container. Please review this question with the gas supply company.
Propane Gas Tank Safety Recommendations:Be sure that the safety relief valve and controls atop the LP gas tanks outside are protected from icing (for example from exposure to rain or gutter overflow). Iced controls can prevent proper operation of safety devices.
...
Continue reading at GAS PIPING DEFECTS or select a topic from closely-related articles below, or see our complete INDEX to RELATED ARTICLES below.
If your fuel supply is from piped-in natural gas fed through a meter then you should refer to GAS METER CLEARANCE DISTANCES for meter & piping clearance distances and installation specifications.
Or see PROPANE GAS EXPOSURE EFFECTS
Suggested citation for this web page
GAS TANKS, LP at InspectApedia.com - online encyclopedia of building & environmental inspection, testing, diagnosis, repair, & problem prevention advice.
Or use the SEARCH BOX found below to Ask a Question or Search InspectApedia
...
Frequently Asked Questions (FAQs)
Try the search box below or CONTACT US by email if you cannot find the answer you need at InspectApedia.
Question:
My gas company is making me pay to move the tank because of the air conditioner. They put it there, not me - Stephen 6/2/11
Reply:
Stephen,
Seems doubtful that the gas company installed the A/C unit. But even if that unit was installed previously and the LP tank has just now been recognized as a hazard, I'd be grateful that someone recognized and warned you about a safety hazard.
Question:
i would like to ask if there is a provision that requires a minimum distance of LP-gas pipe line away from any source of heat? - Randy 5/1/12
Reply:
Randy, "any source of heat" is not well defined. So no, not at that level of definition. After all, an LP tank is installed outside exposed to heat from the sun. But you can read some LP gas tank location and piping routing safety specifications at GAS PIPING DEFECTS as well as in the article above.
Question:
My lp tanks outside my mobile home are just a foot away from where my dryer vents outside at. I just bought this home and it was already like that. Is it safe? I have electric dryer. - Robin 1/10/2013
Reply:
The heat of a clothes dryer won't be a risk to an LP gas tank; but if the dryer is blowing lots of lint around I'd double check that the LP gas regulator vent is not exposed to lint-clogging from blowing debris - that would be, in my view, unsafe.
Question: accuracy of LP delivery truck gas bill printers
(Apr 17, 2014) Bert said:
If the printer on a propane gas delivery truck is faulty and prints out dates that are regularly 10 days in advance of the actual delivery date what is the likelihood that the delivered amount of gas is also faulty?
Reply:
What a fascinating question. I can't assume a darn thing about the gas being delivered but I don't blame you for being concerned. The accidental foul-up of a printer wouldn't concern me provided the company responded and fixed the problem promptly. But if this were an ongoing situation I could not but wonder if the company is not doing something funny financially that I don't understand. Financial cheating is ... well, lying and cheating and probably illegal. Do people who cheat on their taxes or in billing also cheat on product delivery - well that's just an opinion, but hey, I'm just askin'
You might want to report this problem to your state regulators - surely your state has an agency that regulates the metering of fuel delivery truck meters just as they do at the gas pump.\
Keep us posted. If something egregious arises it might be appropriate to let the sun shine (in publishing) on the company.
Question: Auckland NZ dealer won't fill my LPG bottle
(July 28, 2014) Peter Stoneham said:
My local petrol station (in Auckland, New Zealand) wont fill my LPG bottle when the petrol tanker is at the station filling the stations tanks. They do, however, allow people to fill their cars as normal with petrol and in closer proximity. Why is filling an LPG bottle deemed a health and safety issue around petrol tankers?
Reply:
Interesting question, Peter. I'll research the answer a bit now (and post findings here) and will research it further when I'm in Christchurch later this year.
Follow-up from Christchurch NZ about LPG regulations
Peter
The New Zealand LPGA has a document you'll want to obtain online or from the
LPG Association of New Zealand Inc
PO Box 1776
Wellington
Titled
New Zealand Association of New Zealand Inc
Code of Practice
In-situ Filling of LPG Cylinders
Quoting:
Hazardous atmosphere zones must be delineated
and identified in accordance with AS/NZS
60079.10.1:2009. Examples of setting hazardous atmo
sphere zones about cylinders taken
from Annex ZA 6.5.2.16 and 17 of AS/NZS
60079.10:2009 are shown in Appendix 1.
Question: risks of playing around propane tanks or LPG containers
(Sept 26, 2014) Dee said:
There are 3 underground lpg tanks in our housing estate. There is a brick wall immediately next to the tanks (seperating them from a green area) Is it safe for children to play next to this wall?
Are there any risks for a house which is 10ft from the tanks?
Reply:
If there are LPG leaks everyone is potentially at risk as are nearby buildings.
If the tanks, piping, regulators, and related LPG equipment are properly installed and maintained and operated then the risks of this fuel are within accepted guidelines of the various authorities we cite. No one can, by e-text alone, make an assessment about the actual risks at your site. If you have reason to be concerned, after evacuating everyone to a safe distance, from a safe location call your emergency services, 911, or if you don't have an immediate emergency concern check with your local building and fire departments and ask for a safety inspection.
Take a look at the regulations for LP Tank siting and the LPG Propane Awareness article we link-to from Massachusetts in the U.S. for a detailed reply.
Question: where to put myh propane tank
(Oct 24, 2014) Chip Griswold III said:
I just bought a home with a propane fireplace. A coper pipe goes out through the exterior wall; there is no tank the prior owner apparently removed it. Where that pipe comes out is about 4 or 5 feet from the HVAC unit. The best place for me to put the tank would be ten or twelve feet on the other side of the HVAC units, but to do this, I would need to have the copper pipe line extended along the house within a couple feet of the HVAC unit, is that allowable. Short story is putting the tank ample distance away is not a problem, but will the line going to the tank be one?
Reply:
Not if it is piped, installed, protected as per LPG codes we cite in this article. Keep in mind that you will add to the safety of your installation by complying with local codes and regulations including the required building permit and inspections.
...
Ask a Question or Search InspectApedia
Try the search box just below, or if you prefer, post a question or comment in the Comments box below and we will respond promptly.
Search the InspectApedia website
Technical Reviewers & References
Click to Show or Hide Citations & References
O'Brien, Jim, "CLAS Safety Seminar", Connecticut Lighter than Air Society, (2010), retrieved 4/28/14, original source: http://www.unitoops.com/Propane%20Safety.pdf
NIST "Property Availability: Properties of Propane", NIST/TRC Web Thermo Tables (WTT) NIST Standard Reference Subscription Database 3 - Professional Edition Version 2-2012-1-Pro , U.S. Secretary of Commerce, retrived 4/28/14, original source: http://wtt-pro.nist.gov/wtt-pro/index.html?cmp=propane#propane/ aa1;374,264,507,424/A;0,0,507,424;help,about/aa2;28,45,507,623/
Venera Brinzea, Maria Mitu, Codina Movileanu, Adina Musuc and Domnina Razus, "Expansion Coefficients And Normal Burning Velocities Of Propane-air Mixtures By The Closed Vessel Technique:, University of Bucharrest, Analele Universatati Bucuresti, Department of Physical Chemistry 4'12 Regina Elisabeta Blvd, District 3, Bucharest phone: +40'21'3143508; fax: +40'21'3159249 p ISSN: 1220'871X e ISSN: 1844'0401, ARS DOCENDI PUBLISHING HOUSE Sos. Panduri 90, District 5 Bucharest phone/fax: +40'21'4102575 e'mail: arsdocendi@yahoo.com
American Gas Association, 400 North Capitol Street, NW | Washington, DC 20001, web searhc 08/25/2011, original source: http://www.aga.org/Kc/aboutnaturalgas/consumerinfo/
Pages/NGDeliverySystem.aspx
National Fuel Gas Code, ANSI Z223.1-yyyy - American Gas Association / National Fire Protection Association
LP-Gas Serviceman's Handbook,Fisher-Rosemount, Fisher Controls
National Fire Protection Association (NFPA) Pamphlets No. 54 and 58.
Specifications for Gas Installations, Central Hudson Gas and Electric Corporation
"Gaslight", Gary Quilliam, The Old House Journal, March/April 1989 article describes fixtures, modern fixtures, and sources of supply.
Residential Gas Hot Water Heater Pocket Partner - Testing and Trouble Shooting, 19. State Corp., Ashland City, TN 37015
Gasco, "Propane Safety, Propane Properties", Gasco, Green Bay Wisconsin, Tel: 1-800-589-2244, Email: sales@gasco-propane.com, Retrieved 4/28/14,original source: http://www.gasco-propane.com/Files/safety.html
J. C. Ramirez, R. A. Ogle, A. R. Carpenter, and D. R. Morrison, "The Haards of Thermal Expansion", Exponent Failure Analysis Associates 1011 Warrenville Road, Suite 215 Lisle, IL 60532 Phone (630) 274-3225
[1] U.S. Energy Information Administration - eia.doe.gov/
[2] U.S. Environmental Protection Agency - epa.gov/solar/energy-and-you/affect/natural-gas.html
[3] At Natural Gas.Org www.naturalgas.org/environment/naturalgas.asp#emission you'll find a table of combustion products
[4] At geocities.com/rainforest/6847/report1.html is an interesting and detailed though not "neutral" report on the components and contaminants in the combustion of natural gas. You'll see a long long list of emissions products, but look again – most of the contaminant levels listed are in the picograms.
[5] apvgn.pt/documentacao/iangv_rep_part1.pdf lists the components in natural gas exhaust from vehicles
[6] The Need Project, Manassas, VA: need.org/needpdf/infobook_activities/SecInfo/NGasS.pdf
[7] Kroschwitz, Jacqueline I., and Mary Howe-Grant (eds.). "Gas, Natural." In Encyclopedia of Chemical Technology. 4th ed., vol. 12. New York: John Wiley and Sons, Inc., 1993.
[8] Tussing, Arlon R., & Bob Tippee. The Natural Gas Industry: Evolution, Structure, and Economics. 2nd ed. Tulsa, OK: PennWell Publishing, 1995.
[9] Bottini Fuel is a residential and commercial heating oil distributor and oil heat service company in Wappingers Falls, NY and with offices in other New York locations. Bottini Fuel, 2785 W Main St, Wappingers Falls NY, 12590-1576 (845) 297-5580 more contact information for Bottini Fuel
Books & Articles on Building & Environmental Inspection, Testing, Diagnosis, & Repair
Our recommended books about building & mechanical systems design, inspection, problem diagnosis, and repair, and about indoor environment and IAQ testing, diagnosis, and cleanup are at the InspectAPedia Bookstore. Also see our Book Reviews - InspectAPedia.
Carbon Monoxide Gas Toxicity, exposure limits, poisoning symptoms, and inspecting buildings for CO hazards
HOT WATER HEATERS - a detailed guide to all types of hot water sources, problems, inspection, repair
...