What Does Indoor Mold Look Like? Black Mold spores in the Home
How to recognize toxic black mold & other indoor mold in buildings

MOLD APPEARANCE - WHAT MOLD LOOKS LIKE - CONTENTS: Photos of black mold & other dark colored mold on & in buildings - how to find & recognize mold on building surfaces. Photographs of black and other dark colored mold on drywall, on plywood subfloor, behind wallpaper, and in wall cavities and on building insulation kraft facing paper. Black mold identification is included in this article.
POST a QUESTION or READ FAQs about what black mold, "toxic black mold" or plain cosmetic (harmless black mold) looks like in buildings, including homes, offices, and even in boats, cars, trucks, and mobile homes.
InspectAPedia tolerates no conflicts of interest. We have no relationship with advertisers, products, or services discussed at this website.
What does building mold look like?
Here is an online reference photo library of various kinds and colors of mold as it is found growing in buildings.
These photos of mold on indoor building surfaces may help you recognize mold in buildings, recognize probably-cosmetic mold, and recognize stuff that is not mold and does not need to be tested.
Green links show where you are. © Copyright 2015 InspectApedia.com, All Rights Reserved.
Photographs to Help Identify Mold in Buildings - What mold contamination looks like in a home
Directories of 6 atlases or indices of building mold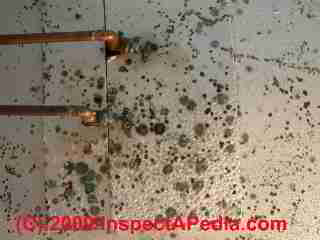 Identification Photographs of Black Mold in Buildings - what does black mold look like?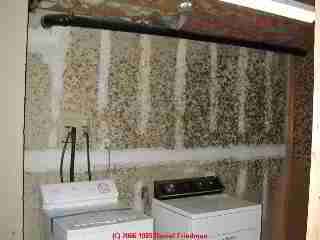 Black mold in the laundry room may look like this extensive case. In cases of large areas of visible mold, unless the mold proves to be only cosmetic mold, professional cleaning is probably needed.
Look closely when inspecting or collecting test samples of "toxic black mold" because often there are other molds, sometimes more harmful and more easily airborne mold species on the same surface, on the hidden side of the same surface of drywall, or nearby.
These include lighter colored genera/species of Aspergillus sp., Penicillium sp. etc. which are too often missed when investigators or building owners focus only on "black mold" testing.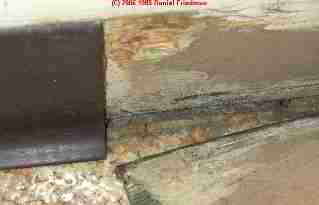 Tiny Stachybotrys toxic black mold colony on drywall behind a laundry room baseboard. If this is all that's present this is a trivial cleanup and does not need testing and remediation.
But if this is a "tip of iceberg" clue of a larger hidden problem in the wall, or if it might be, further investigation, at least exploring the wall cavity, would be appropriate.
Black mold on rotting subfloor below a leaky sliding glass door - this "black mold" was Taeoniella rudus for which no medical issues have been reported - a wood rotting organism though.
An investigation of the source of outside leaks and extent of damage to the structure were needed at this building.
Black Stachybotrys chartarum black mold on wallpaper below a leaky window. The window had been left open more than once during rainy weather. We found that water was leaking into the wall cavity, not just behind the wallpaper.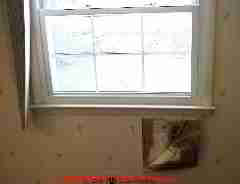 Replacement of a small section of drywall, wall cavity insulation, and wallpaper were appropriate at this location where the first symptom was loose peeling wallpaper which exposed black mold.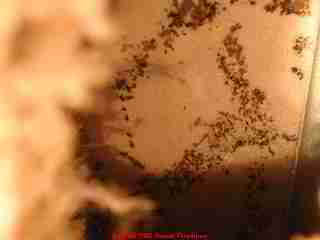 Toxic black mold, Memnoniella echinata visible at a small test cut into the wall cavity and contaminating fiberglass insulation in a NY City high rise apartment after water leaked from an A/C condensate line into the metal track of the metal-stud wall.
Larger wall cuts to look for hidden mold and final demolition exposed a very extensive toxic mold colony in this building. Lab processing of a tape sample of this mold was necessary to identify it.
Notice the funny black mold growth pattern on the cavity side of the opposing drywall. This pattern maps the points of contact of the wall insulation kraft paper with the drywall surface, and the movement of moisture and spreading mold growth on the wall surface. It is characteristic of wall cavity mold and is different from the growth pattern of mold growing on a freely exposed-to-air drywall surface.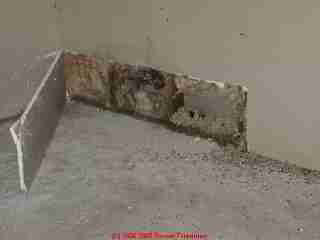 Black and hidden mold in fiberglass wall insulation in a basement exposed to prolonged wet conditions from a wall leak at a water pipe entry point. This mold was almost hidden except for a small mold-suspect patch and larger water stains on the exposed side of the drywall.
The wall cut exposed a surprise point of water entry. Black mold was visible on the insulation kraft paper.
The problematic mold in this case was not visible but was found by a special sampling technique we used to examine the building insulation for Aspergillus sp. and Penicillium sp. (problem molds) in the fiberglass.
It was found to be highly contaminated and was determined to be an active reservoir releasing high levels of airborne mold into the basement.

More Photos & Close ups of Black Mold on Building Surfaces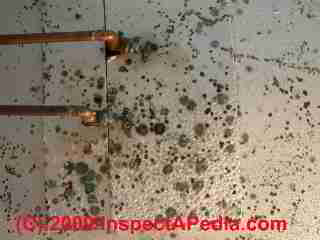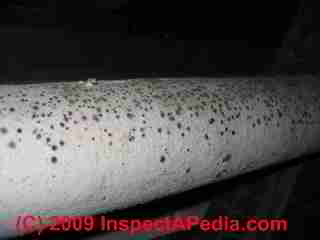 Our mold photo at above left shows black mold colonies growing among green mold colonies on a laundry room ceiling, covering both plastic ceiling tile material (around the plumbing pipes) and drywall. It is often the case that multiple mold genera/species may be growing in the same area, often on the same surface, and at times, on top of one another.
As we advised earlier, look closely when inspecting or collecting test samples of "toxic black mold" because often there are other molds, sometimes more harmful and more easily airborne mold species on the same surface, on the hidden side of the same surface of drywall, or nearby.
In this building that was still wet at the time we took this photograph, the airborne level of Aspergillus sp. and Penicillium sp. (the green, gray, and light colored molds in the photo) was very high while the level of airborne Stachybotrys chartarum, Cladosporium sphaerospermum, and Nigrospora sp. (black molds found on these surfaces) was very low.
Our photo at above right shows black mold colonies as smaller "spots" growing on the painted surface of cloth covering asbestos pipe insulation.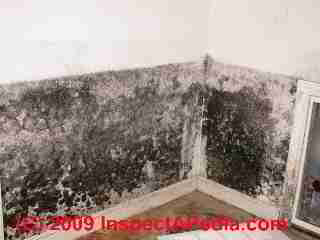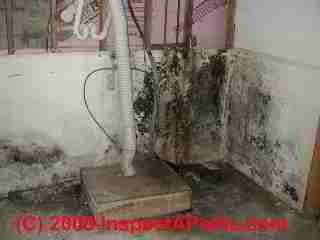 Our black mold photos above show dense black fungal growth on drywall (black mold on Sheetrock™ type wall surfaces) in areas that have been very wet. The distinct top edge of mold growth may mark a flood water level or a discontinuity in the wall material, such as a tape joint in drywall that affected the moisture gradient in the wall and thus the mold growth pattern.
Close up Photographs of Black Mold on Building Surfaces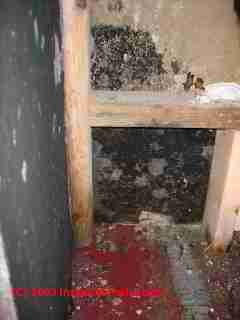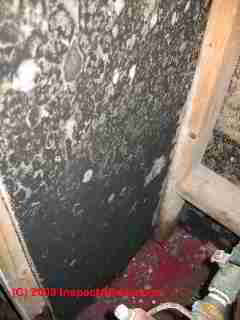 Here we begin to "zoom in for a closer look at dense black mold growth on indoor building surfaces in a wet basement. Notice that the mold growth on drywall and often on other surfaces includes a family of circular growth patterns (upper area of photo at above right) until the mold growth has expanded to form a solid black covering (left wall of photo at left and lower wall of black mold in photo at right).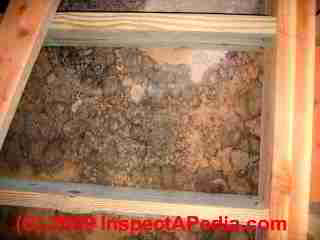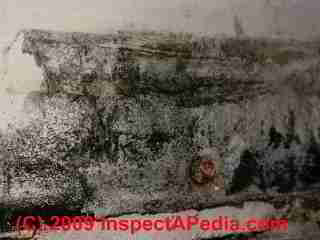 Our photo at above left shows black mold colonies as individual rounded "rings" on the cavity side of drywall on a building crawl area wall. The black mold photo at right shows how dense black mold may be hidden from view behind wall baseboard trim (removed for this picture) in a building that has suffered wet floors.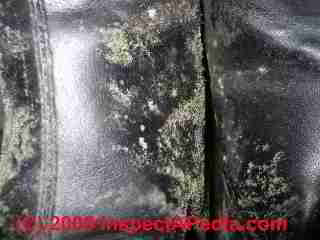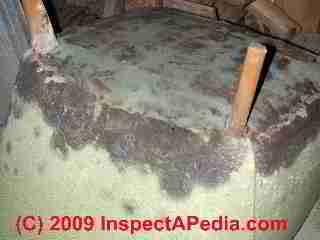 Black mold growth on furniture is obvious in these two photographs, of a mold on a leatherette surface (left) and on an upholstered chair (right).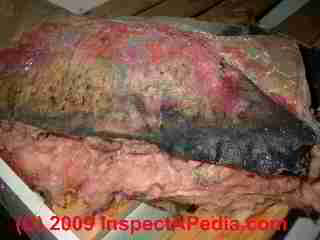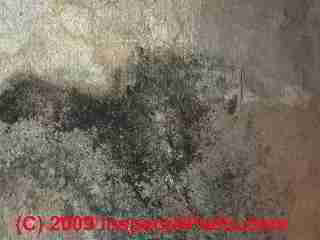 In our photo at above left we see black mold and other mold growths on the kraft paper facing of fiberglass building insulation. Our black mold photo at above right shows that mold colonies do not always grow in the neat round ring-like colonies shown in some our earlier photographs.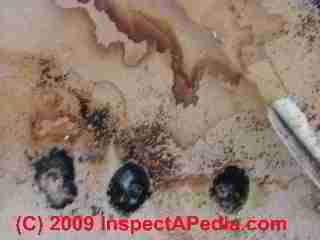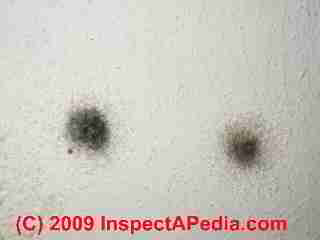 Here we start to zoom in our photographs of black mold on building surfaces to show what mold colonies look like on close inspection in-situ. At left is mold on water stained drywall in a basement utility area. At right are small mold colonies that have appeared on a kitchen ceiling in just a few days after a heating system leak led to high indoor moisture and humidity levels.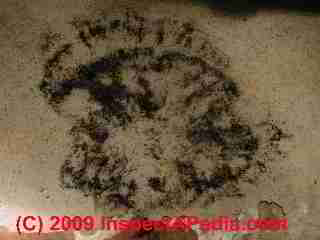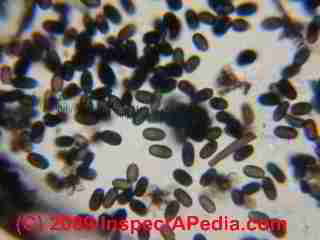 Much more closely we can examine an individual black mold colony on a painted drywall ceiling (above left). In the microscope at 1000x we can see individual spores of Stachybotrys chartarum - a well known black mold that is often found on indoor building surfaces.
Other Examples of What Mold Looks Like in Buildings
Question: Is this stuff on my ceiling mold?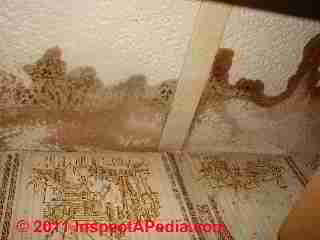 I just moved into a rental trailer and it had a strong musty smell. I thought, maybe it hasn't been aired out. well, after two days of doors and windows open, it still smells. I found the brown discoloration on the ceiling in the kitchen cabinets. Is it mold? Thank you, - L.B.
Reply: maybe not, but those water stains mean there may be a significant risk of hidden mold indoors
Your photo shows some heavy staining on what looks like suspended ceiling tiles. The brown stains themselves may not be mold but rather brown materials carried by roof leaks into the ceiling structure. Older trailers and mobile homes often have leaky roofs.
It looks as if water has also run down the wall surface and quite likely the wall cavity of the home below those same stains.
In this case the stains you see might not be mold but they do indicate that there is a high risk of mold in this home. Here are spots where I'd suspect a more hidden but possibly larger problem reservoir of mold when we see leak stains like yours:
The ceiling tiles may themselves be moldy on their upper or hidden surface, depending on what they are made-of. Even plastic-faced fiberglass suspended ceiling tiles that might not look moldy may in fact be contaminated if they have been wet.
See INSULATION MOLD TEST.
The back side of wallpaper that has been soaked is often moldy.
At HIDDEN MOLD in OTHER PLACES we include a photo of mold found behind wallpaper that looked just fine from the room side.
If the walls are covered with drywall behind that wallpaper, its cavity side may be moldy, though more likely your walls are paneled. Un-painted cavity side of wood paneling often supports mold growth and of course insulation within the wall cavity may be wet and moldy too.
Finally, where we see significant stains at a wall/ceiling juncture indicating a history of roof leaks that sent water into and down the wall, we take a close look at carpeting, carpet padding, and insulation that may be under the floor below.
I suggest having someone take a look at the insulation and floor condition in the area of leakage from below the mobile home. If that area is wet and damaged you can pretty much expect that there is hidden damage and mold in the ceiling and wall above.
If the damage is not so extensive that immediate major repairs to the structure are needed, but if there appears to be anything greater than 30 sq.ft. of moldy material, professional cleaning and repairs are needed. And the cleaning and repair work cannot be concluded before the leaks are fixed.
Watch out: in some mobile homes where there has been chronic leakage we have seen floors that were badly deteriorated and even collapse.
Finally, because you are renting, you will want to see our mold advice for renters: RENTERS & TENANTS: MOLD ADVICE
Continue reading at BLACK MOLD, HARMLESS or select a topic from the More Reading links shown below.
Or see MOLD GROWTH on SURFACES, PHOTOS for an extensive catalog of images of mold growth on various materials & surfaces
Suggested citation for this web page
MOLD APPEARANCE - WHAT MOLD LOOKS LIKE at InspectApedia.com - online encyclopedia of building & environmental inspection, testing, diagnosis, repair, & problem prevention advice.
More Reading
Green link shows where you are in this article series.
...
Frequently Asked Questions (FAQs)
>
Question: worried about mold related illness
(Mar 24, 2014) tracey said:
Our water heater tank in basement of my condo burst open and a couple of inches of water standing in basement of our 1947 built building.I asked the man replacing it what he was going to do about the standing water. He said, " It will dry up in time". I was shocked! My old neighbor across the hall said they had mold in their place too, but they moved out. The lady downstairs is 70 who moved in 4 months ago has become sick and I have been sick at 53 with a week immune system. My skin has been getting rashes,I have severe brain fog, joint aches, gums receding and even my 2 year old dog can't jump up on the bed anymore. I have eye twitching and hair loss.
I am scared I am really sick because they say the skin is the sign of inside problems. I bought my condo outright and afraid I will loose my home and not be able to sell it and have no where to go. Is the HOA responsible and how do we prove it? How can I tell if it is what is the cause of all my symptoms? The lady downstairs rents. I just got back from being away 12 days and my skin got better and didn't have the joint aches that I wake up with here at home. It was a light turning on that something in my home is making me sick. I am on disability and live on a small income. Can you guide me? Thank you Tracey
Reply:
A couple of inches of standing water will "dry up in time" is not sensible from a viewpoint of what's needed to avoid mold contamination indoors. I'd have asked "in time for what?"
Even if the basement were totally unfinished - absent of mold friendly materials like stored cardboard boxes, paper, drywall, wood, etc., evaporating a large volume of water in a building basement is most likely sending that moisture up through the entire structure. At times we even see attic condensation traced to a wet basement.
Not to panic, but if mold-friendly stuff gets wet and we don't dry it out in a couple of days, mold growth is a likely result.
And when a building is occupied by elderly or immuno-compomised people, the risk from any environmental contaminants or irritants, mold, insect fragments, bacteria, is more significant.
START by consulting with your doctor, including discussing her opinion of whether or not your complaints are likely to be related to the environment in your home.
If the doc says yes, then see our article MOLD / ENVIRONMENTAL EXPERT, HIRE ? for some help in deciding if you need an onsite expert to examine the building. DO NOT hire someone who's just going to "do a test" - as what's needed is a diagnostic inspection. Otherwise, even with a test result that hints at an indoor problem (mold contamination for example) we don't know how to proceed because we don't know where the problem lies.
Question:
(Apr 22, 2014) Anonymous said:
My teenage son had a tank with a live animal and constantly had a humidifier going in his room. He no longer has this, but I noticed the following and am concerned that it may be mold. One of the walls in his room has a white looking type stain all over the wall. It almost looks like a water drip but there aren't any leaks at all. It is white but strangely it only appears on one wall in his room. It is an outside wall that this white looking mold appears on. He has another outside wall that is painted a dark color but I don't see anything on that wall or the other two inside walls that are painted the same color as the wall with the possible mold on it. Does it sound like mold to you? If so how can I get rid of it? Will re-painting the wall eliminate the mold or will the mold still continue to grow if in fact it is mold? the tank was kept on his wood night table and now the table has these mold looking black dots on it. I want to throw it out but my husband thinks I should just clean it with bleach. Do either of these seem like mold and what would be the treatment? Thank you Nan
Reply:
Anon, sorry but I can't identify mold from a text description such as that below. White stuff on a wall may be a mold growth or mineral deposit or discoloration. Take a look at the WHITE MOLD PHOTOS article in the More Reading links above.
The response to mold contamination is to remove the material and fix its cause. If mold is growing on drywall the most effective repair is to remove the moldy drywall, assure no mold growth in the cavity behind it, and re-drywall, prime and paint.
If I thought that a wall was never actually wet and was not worried about a hidden mold resevoir in the wall cavity and if I were looking at a trivial area - a foot square, say, I'd just clean and paint the surface - breaking the "rules" of best practice.
At the topic home page MOLD: A COMPLETE GUIDE - or by searching you can find our articles on bleaching mold - generally the wrong approach.
Question: mold on wood cabinets
(July 14, 2014) Anonymous said:
I have some wooden cabinets that have what I am told is mold. There are craft papers on the bottom shelf and there is a powdery blue/green substance they say is mold. There was water on the floor but we don't know how long. I believe it was only a week or two. Is this substance mold?
Reply:
Anon,
With just your e-note no responsible person would assert whether or not we're looking at mold or something else, but certainly mold can grow on a mold friendly material in 24-48 hours of that surface becoming wet.
Unless you are facing very large cleanup cost or have a special medical need, I would not test the suspect mold. Rather, remove the cabinets, clean all surfaces, then when the surfaces are dry, seal them with an appropriate coating such as clear shellac - on ALL surfaces. Certainly you'd toss the craft paper.
Question:
(July 24, 2014) sharon said:
I have just moved in to a new apt building. After just a week of being here I have been really sick. I notice there is a lot of black mold in the laundry and storage rooms. I tried to talk to the apt manager but to no avail. What can I do. I don't have the funds to move again.
Reply:
Sharon
We give mold-problem advice for tenants at
inspectapedia.com/sickhouse/Rental_Unit_Mold.php
Question:
(Sept 8, 2014) Michelle said:
I have been living in my house for 6 months but only noticed yesterday that there is a very pale-mid green colour on the very top of the wall walking up the stairs. This also is in patches in several places on the same wall but its too high for me to reach. I have not noticed this before and do not think it was there when I first moved in. This also appears to be under the bottom of door frame outside bedroom at top of landing. I peeled back wallpaper there and there is no mold or damp behind it. I do not understand why this green is appearing on the outside of the wallpaper! Is it possible that the stairwell (which is half open to the lounge) can accumulate mold? I had wondered if the previous wallpaper behind it was geen but there doesn;t appear to be any green wallpaper. The colour is like pale mint ice-cream! Please could you advise? It does not appear anywhere else in the house. Thanks
Reply:
Michelle
in the More Reading links above see these article
GREEN MOLD PHOTOS
and
LIGHT COLORED MOLD
for help in deciding if what you are seeing is mold or something else.
If your indoor air is at high humidity or if there are building leaks you might expect any of several green molds growing on building surfaces. If this is mold it needs to be removed and its cause corrected.
Question: black mold in 1975 mobile home
(Sept 16, 2014) Roberta said:
I bereaved we have black mold through out our 1974 mobile home. Do mobiles have to be replaced when black mold is present?
Reply:
Roberta,
You ask an important question: at what point do we condemn a property rather than repair it. The answer, as Mark Cramer says, is "It depends...."
You'd need a thorough, expert inspection to find the location and extent of mold removal and leak repairs that are needed for the specific mobile home. Compare that cost to the value of the home or to its replacement cost.
Watch out: "black mold" is an over-poplular worry in that there are many mold genera/species that can grow in buildings, that can be harmful, and that are not black at all but may be white, green, red, yellow, or other colours.
Question: mold inspections for invisible mold
(Oct 3, 2014) Celeste said:
How effective is a mold inspection if you can no longer see the mold? In August, there was black stuff on my basement walls (block walls, I guess). When I ran my finger over the black stuff, it acted like soot. Now, with the dryer, colder weather, most of that black appearance is gone, but a little remains.
I am allergic to mold and have been sick all of August and now into October. My kids all have respiratory illnesses with compromised systems, so they should not be around it either. My landlord refuses to have anything done or tested. Since it's no longer visible, I wonder if he's drug his feet too long and a mold inspection and test would be ineffective (since it can no longer be seen). Will a mold inspector still be able to determine the extent of the mold and what needs to be done, even if it is no longer visible on the walls?
Reply:
Celeste:
As Mark Cramer says ... it depends. If this is a post-cleanup cleareance the inspector can assess the extent and quality of the cleanup job and can confirm that the mold growth cause was identified and fixed.
If what you thought was mold has disappeared on its own , I don't know what to make of the level of risk or the need for an inspection. But certainly a competent mold inspection must consider the chances of hidden problematic mold in a building cavity such as a wall or ceiling, not just mold that's visible. And keep in ind that small amounts (under 30sqft) of indoor mold growth without other data to suggest a bigger problem don't merit the cost and trouble of a professional inspection.
(Oct 4, 2014) Celeste said:
If I'm understanding you correctly, you're saying unless it's an area larger than 30 sqft, it doesn't pay to get it inspected. If that's true, what is someone in my position (allergic to mold and children with compromised respirator problems) supposed to do? Moving isn't really an option due to lack of housing availability. The insurance adjuster was here and said the ground from the driveway slopes toward the house, rather than away from it, and the "grade" of it should be raised to slope away from the house (leaving me to think that's the source of the water problem). If that's the case (and dirt is not added) any time there is a large amount of water, it will drain into the basement walls and cause a problem. Correct?
Doesn't that have to be dealt with and then the mold cleaned up? Due to risks associate with mold, I'm afraid to just bleach it myself. Even if I did, would that really help anything? I don't know if this is isolated to the basement or has spread to other areas of the house (I'd read on one website that mold in your toilet is a sign of a mold problem -- and I always have mold in my 2nd floor toilet). I'm searching for options and correct answers to solve this rather than just applying a "bandaid" quick fix that really won't help in the long run. Any ideas and advice you can offer would be appreciated.
Reply:
Celeste
Right; most expert sources point out that for small areas of mold contamintion, ordinary cleaning procedures are sufficient. But for someone who is particularly sensitive, you might want someone else to do the work.
In-slope grade towards a building invites water entry, leaks, and thus could be a contributor to mold problems. A more careful inspection could corroborate this by noticing where water is actually entering the stucture.
Just "bleaching" mold is incorrect and unsafe. The moldy surfaces are physically cleaned to remove the mold; stuff that can't be cleaned such as moldy drywall, insulation, carpet, is removed and discarded.
Key to "fixing" the mold problem rather than a wasteful superficial or temporary "band-aid" approach is to find and remove the mold and find and fix its cause.
...
Ask a Question or Search InspectApedia
Use the "Click to Show or Hide FAQs" link just above to see recently-posted questions, comments, replies, try the search box just below, or if you prefer, post a question or comment in the Comments box below and we will respond promptly.
Search the InspectApedia website
Technical Reviewers & References
Publisher's Google+ Page by Daniel Friedman
Click to Show or Hide Citations & References
Books & Articles on Building & Environmental Inspection, Testing, Diagnosis, & Repair
Thank you to reader Thomas M.Brooks for attentive editing assistance 03/30/09
Black Mold that is Harmless Photos of recognizable, usually harmless black mold on wood, bluestain, ceratocystis, ophistoma
Kansas State University, department of plant pathology, extension plant pathology web page on wheat rust fungus: see http://www.oznet.ksu.edu/path-ext/factSheets/Wheat/Wheat%20Leaf%20Rust.asp
"A Brief Guide to Mold, Moisture, and Your Home", U.S. Environmental Protection Agency US EPA - includes basic advice for building owners, occupants, and mold cleanup operations. See http://www.epa.gov/mold/moldguide.htm
US EPA - Mold Remediation in Schools and Commercial Building [ copy on file as /sickhouse/EPA_Mold_Remediation_in_Schools.pdf ] - US EPA
US EPA - Una Breva Guia a Moho - Hongo [on file as /sickhouse/EPA_Moho_Guia_sp.pdf - - en Espanol
Books & Articles on Building & Environmental Inspection, Testing, Diagnosis, & Repair
The Home Reference Book - the Encyclopedia of Homes, Carson Dunlop & Associates, Toronto, Ontario, 25th Ed., 2012, is a bound volume of more than 450 illustrated pages that assist home inspectors and home owners in the inspection and detection of problems on buildings. The text is intended as a reference guide to help building owners operate and maintain their home effectively. Field inspection worksheets are included at the back of the volume. Special Offer: For a 10% discount on any number of copies of the Home Reference Book purchased as a single order. Enter INSPECTAHRB in the order payment page "Promo/Redemption" space. InspectAPedia.com editor Daniel Friedman is a contributing author.

Or choose the The Home Reference eBook for PCs, Macs, Kindle, iPad, iPhone, or Android Smart Phones. Special Offer: For a 5% discount on any number of copies of the Home Reference eBook purchased as a single order. Enter INSPECTAEHRB in the order payment page "Promo/Redemption" space.
Carson Dunlop, Associates, Toronto, have provided us with (and we recommend) Carson Dunlop Weldon & Associates' Technical Reference Guide to manufacturer's model and serial number information for heating and cooling equipment
Special Offer: Carson Dunlop Associates offers InspectAPedia readers in the U.S.A. a 5% discount on any number of copies of the Technical Reference Guide purchased as a single order. Just enter INSPECTATRG in the order payment page "Promo/Redemption" space.

Environmental Health & Investigation Bibliography - our technical library on indoor air quality inspection, testing, laboratory procedures, forensic microscopy, etc.
Adkins and Adkins Dictionary of Roman Religion discusses Robigus, the Roman god of crop protection and the legendary progenitor of wheat rust fungus.
Kansas State University, department of plant pathology, extension plant pathology web page on wheat rust fungus: see http://www.oznet.ksu.edu/path-ext/factSheets/Wheat/Wheat%20Leaf%20Rust.asp
"A Brief Guide to Mold, Moisture, and Your Home", U.S. Environmental Protection Agency US EPA - includes basic advice for building owners, occupants, and mold cleanup operations. See http://www.epa.gov/mold/moldguide.htm
US EPA - Mold Remediation in Schools and Commercial Building [Copy on file at /sickhouse/EPA_Mold_Remediation_in_Schools.pdf ] - US EPA
US EPA - Una Breva Guia a Moho - Hongo [Copy on file as /sickhouse/EPA_Moho_Guia_sp.pdf - en Espanol
"A Brief Guide to Mold, Moisture, and Your Home", U.S. Environmental Protection Agency US EPA - includes basic advice for building owners, occupants, and mold cleanup operations. See http://www.epa.gov/mold/moldguide.htm
"Disease Prevention Program for Certain Vegetable Crops," David B. Langston, Jr., Extension Plant Pathologist - Vegetables, University of Georgia (PDF document) original source: www.reeis.usda.gov/web/crisprojectpages/209797.html
"Disease Prevention in Home Vegetable Gardens," Patricia Donald, Department of Plant Microbiology and Pathology, Lewis Jett
Department of Horticulture, University of Missouri Extension - extension.missouri.edu/publications/DisplayPub.aspx?P=G6202
"Management of Powdery Mildew, Leveillula taurica, in Greenhouse Peppers," Ministry of Agriculture and Lands, British Columbia - Original source: www.agf.gov.bc.ca/cropprot/peppermildew.htm
Fifth Kingdom, Bryce Kendrick, ISBN13: 9781585100224, is available from the InspectAPedia online bookstore - we recommend the CD-ROM version of this book. This 3rd/edition is a compact but comprehensive encyclopedia of all things mycological. Every aspect of the fungi, from aflatoxin to zppspores, with an accessible blend of verve and wit. The 24 chapters are filled with up-to-date information of classification, yeast, lichens, spore dispersal, allergies, ecology, genetics, plant pathology, predatory fungi, biological control, mutualistic symbioses with animals and plants, fungi as food, food spoilage and mycotoxins.
US EPA: Mold Remediation in Schools and Commercial Building [Copy on file at /sickhouse/EPA_Mold_Remediation_in_Schools.pdf ] - US EPA
Mycology, Fundamentals of Diagnostic, Fran Fisher, Norma B. Cook, W.B. Saunders Co. 1998, ISBN 0-7216-5006-6 (buy this book at Amazon)
...