Home Inspection Methods
POST a QUESTION or READ FAQs about home inspection certification, licensing, professional associations, procedures, reports, ethics, classes & education
InspectAPedia tolerates no conflicts of interest. We have no relationship with advertisers, products, or services discussed at this website.
Home inspection education , training, classes, references:
This article series explains how to inspect and diagnose all types of defects found at residential and light commercial buildings, how to perform home inspections, home how to find a qualified home inspector, home inspection standards and ethics, and detailed home inspection methodology.
Advice for home buyers includes how to choose a home inspector and how to get the most from a home inspection.
Advanced home inspection methods are presented, stressing methods for increasing the detection of significant or safety defects at properties, technical expertise, and ethical conduct.
Advice is provided for people interested in becoming a home inspector as well as for home buyers or owners who need to hire a home inspector. Our page top sketch was published by US DHEW and by New York State in 1955 or earlier. [1] A glossary key to the numbered items is found at Home Inspection Definitions & Terms.
We also provide a MASTER INDEX to this topic, or you can try the page top or bottom SEARCH BOX as a quick way to find information you need.
How to Find a Home Inspector
How to Become a Home Inspector: certification, costs, education & Training
To find what you need quickly, if you don't want to scroll through this index you are welcome to use the page top or bottom SEARCH BOX to search InspectApedia for specific articles and information.
Reader Question on how to get into the home inspection "business" or "profession"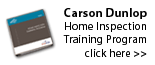 I've been looking around for good advice about home inspection. I'm in the 'brainstorming stage', of starting a new venture.
My interest is multi-purposed. I want to become a certified home inspector in Pennsylvania, as the first stage. I've found it difficult to get good advice about which 'on line' course to purchase. Hidden fees, and marginal disclosure are my hurdles.
Your site is the first I've seen that seems without bias. Is it possible to see a comparison of on line courses for certification in Pennsylvania? I am willing to pay for the best, but it seems impossible to compare.
The purpose of my schooling is to facilitate a dream my son and I share. My son is in college for another two years, and wants to become a real estate 'mogul'. He is actually taking the right classes. As most his age, his imagination/dreams fall short of reality. I'm a home owner. No mortgage, and willing to sell if it could provide start up cash for our goal.
Why does it require $25K to get this home inspection business off the ground, when the course costs only a thousand dollars? I've got other financial backing, but prefer to go forward on my own. I will appreciate your reply.
Your site has been what I was looking for, unless you are in the business of promoting a vested interest. There are recognized associations other than ASHI. I am eager to learn more. - D.R.
Reply: costs & how to figure out where to concentrate your home inspection education

I'm sorry to have to reply that I don't have specific enough information about home inspection courses in PA to have an opinion about which is best.
Some national education projects with which we've been connected are listed below as well as at BOOKS & ARTICLES.
I'm not sure why you have found it costs $25,000. to enter the home inspection "business", unless you are considering buying a franchise.
See HOME INSPECTION COMPANY FRANCHISES.
But the cost of home inspection education is certainly going to be more than the $1000. you quote, as to succeed and to practice at a level of competence that minimizes the chance that you'll harm your clients, continuing education and professional involvement will be needed.
Some very good technical education is free if you are someone who can enjoy reading in-depth technical material, including the several thousand building inspection, diagnosis, and repair articles found for free here at InspectAPedia
Watch out: the advantage of taking some formal home inspection education courses and classes is that presumably the teacher takes an organized approach to presenting material to assure that you are not omitting critical basic skills and knowledge - a risk if you simply wander through publications on your own.
HOME INSPECTOR EDUCATION lists home inspection training, courses, home study programs, texts, and references for home inspectors and other building inspectors and building diagnosticians as well as for building, structural, and indoor environment forensic investigators
Watch out: in my experience, some self-appointed home inspection educators and course providers simply teach their "opinion" as if it were fact, and may fail even to have read basic authoritative sources on the very subject they present. Look for authoritative citations to expert sources in all of your course and reading material on home inspection methods, building practices, etc.
The three Carson Dunlop home inspector education and report writing courses here start at much lower out of pocket costs than you cite. [Disclosure: Carson Dunlop Associates have contributed illustrattions and technical content to InspectApedia.com and I have contributed content to their training material. - Ed.]

As I have experience in the home inspection education field, naturally I have opinions about that education process in general, as well as about some of the courses offered in classrooms and by distant education.
Some more general advice about both choosing a home inspection course and home inspection education might include
Take a look at the education and experience of the instructors themselves. Some instructors may actually have had little or no field experience, or may come from an industry that gives them depth in a particular topic but who have little idea about what's needed during a home inspection.

During an home inspection seminar in St. Louis a highly competent expert from the gas company was invited to tell us what problems to look for during a home inspection. He brought a gas meter onto the dais and proceeded to show how a gas meter is disassembled and tested for accuracy - interesting as background but completely off track.

Watch out

: home inspection educators and classes, like construction in general, is often plagued by arm-waving "experts" who in fact have strong opinions but who have never even read the instructions on the box. Look for authoritative citations to expert sources when standards, procedures, and requirements are being discussed.
Getting licensed vs. staying in business: Most important: front-end or beginning home inspector education is aimed at meeting the requirements for licensing or "certification" in various states and provinces.

But having worked on home inspection course curriculum development, standards, and exam or test questions, I can assure you that it is impossible to include in any single series of classes or tests all of what a home inspector really needs to know to avoid a catastrophe such as missing a costly or even fatal defect at a property.
Continuing professional education: Getting into the "business" (it's less of a profession and more of a business these days) is easier than staying in the business.

Therefore my OPINION is that anyone serious about developing professional-level expertise as a home inspector needs to plan for continuing education, participation in classes, seminars, professional meetings, etc. You are quite correct that there are "recognized" home inspection associations besides the original - ASHI, the American Society of Home Inspectors.
Professional home inspection associations, ASHI and others, include among their members people who are highly ethical, professional, serious, and competent, and almost always such people are happy to assist newcomers to the field. As in any association, you'll also come across some people who are perhaps more lax about ethics, professionalism, and competence.

The benefits from working together in education, professional development, and even marketing far exceed the personal gain that might be obtained by being individually greedy or exclusive. Your task will include sorting out the people with whom you want to associate from those you will want to avoid.

Your recognition of the ethical and practical issues around hidden fees and marginal disclosure make clear that you already have a criteria for making that distinction.
Focus first on what you know least: In beginning one's home inspection education, and considering the vast breadth and depth of knowledge that is required to approach all of the many systems, materials, and components of even a simple residential structure, there is one trick that can help: admit to yourself, honestly, which topics you know the least about, and concentrate on becoming educated on those areas first.
Eschew overconfidence: Last among this sermon, is the need for humility. As soon as one of us becomes overconfident that we know know it all, we're going to make serious mistakes, errors, or omissions that put both our clients and ourselves at risk.

Even after thousands of diligent home inspections, the best inspectors approach every building with a genuinely curious mind, asking "what crazy weird new problem am I going to find here?" And never, ever try to buffalo or bluff your clients. I found that the more honest I was about admitting what I did not know, the more my clients trusted me.
Particularly because you are planning to work in the field, I invite you to take a look at any of our articles that you find of interest, and to comment, critique, ask for more information, or contribute information. Doing so improves the quality of our information and it gives another opportunity for a credit-link to refer readers to you for your own professional services.
We would much appreciate hearing any comments, critique, suggestions, or further questions that you may have after you've taken a look at any of our online articles (see CONTACT).
We are dedicated to making our information as accurate, complete, useful, and unbiased as possible: we very much welcome critique, questions, or content suggestions for our web articles. Working together and exchanging information makes us better informed than any individual can be working alone.
Please keep me posted on how things progress, and send along photos of interesting or curious things you come across at home inspections or in classes if you can. Such added details can help us understand what's happening and often permit some useful further comment. What we both learn may help me help someone else.
More detailed advice about becoming a home inspector is found at HOME INSPECTOR, HOW TO BECOME
Basic & Advanced Home & Building Inspection Methods Courses & Papers
Also see the home inspection topics listed at page top or at the MORE READING links at the bottom of this article .
HOME INSPECTOR EDUCATION home inspection training, courses, home study programs, texts, and references
ADVICE ON BECOMING A HOME INSPECTOR - opinions and tips from experienced home inspection professionals
AFCIs ARC FAULT CIRCUIT INTERRUPTERS 2008 National Electrical Code Update on AFCIs and GFCIs in homes
ALUMINUM WIRING HAZARDS how to identify and repair the fire hazard of aluminum electrical wiring in homes
AMPS & VOLTS DETERMINATION how to figure out Amps and Volts at a property
BUILDING DEFECTS LISTS - curriculum recommendations for home inspector education, includes recommended knowledge base, inspection skills, and typical defects for each major area of residential and light commercial building inspections. Focus is on the identification and reporting of building and building mechanical system defects and hazards, rather than (the more narrow and new-construction-focused building code compliance).
ASHI@HOME home inspection training program - an ASHI version of the Carson Dunlop Home Study Course. Contact the company at 800-268-7070.


Basic Housing Inspection, US DHEW, S 352.75 U48, p.144, out of print, but is available in most state libraries; New York State version, ca 1955, source of our page top sketch of house parts.

However even this illustration appears to have been copied from a still earlier source and we have seen this identical drawing with different numbers and often published without a consistent key that defines the numbered items.


BECOME A HOME INSPECTOR, HOW TO How to enter the home inspection profession (or business)
BUILDING DEFECTS LISTS - curriculum recommendations for home inspector education, includes recommended knowledge base, inspection skills, and typical defects for each major area of residential and light commercial building inspections.

Focus is on the identification and reporting of building and building mechanical system defects and hazards, rather than (the more narrow and new-construction-focused building code compliance).
CAN X-RAY VISION WARN OF SINK HOLES? in Florida or elsewhere
CERTIFICATIONS FOR HOME INSPECTORS Professional associations, licensing


CHECKLIST vs NARRATIVE INSPECTION REPORTS - advice for home inspectors & home buyers
CHINESE DRYWALL HAZARDS discusses Chinese drywall odors, sulphur smells, and corrosive outgassing hazards in buildings. Major costs to remove this product, repair or replace electrical wiring, plumbing, and HVAC components may be involved, and there may be immediate safety hazards due to damaged smoke detectors or carbon monoxide detectors in buildings where Chinese drywall outgassing has caused damage.
CRAWL SPACE ACCESS - what are the accessibility requirements & codes for entering crawl spaces: how can we inspect a crawl area and building conditions when safe, ready access are not already provided.
CRAWL SPACE SAFETY ADVICE - when should you stay out of a crawl space; how do you enter one safely.
DECK & PORCH CONSTRUCTION - Deck & Porch construction details for safe, durable structures.

Also see DECK COLLAPSE Case Study
DEVELOPING YOUR X-RAY VISION - 6TH ED. The Science of Building Inspections - advanced home inspection techniques including "The Limits of Vision," "Inattentional Blindness," "Invasive Inspection Methods," "Missed Defects," & "Contextual Inspection," "Termite Inspections," "Moisture & Building Water Entry," © Daniel Friedman 2006-1987
DEVELOPING YOUR X-RAY VISION - 5TH ED.- PPT SLIDES Presentation slides © 2005 Daniel Friedman
Electrical Education Classes - the following are work in process Power Point Presentations, very large files, for Milestone Electric, Dallas, TX - due - 3/25/2010
ELECTRICAL SYSTEM INSPECTION SAFETY PROCEDURESfor home inspectors & electrical inspectors
THE NATURE OF VISION, Inspecting Complex Systems,why inspectors don't see certain defects and miss important omissions
HEALTHY HOUSING INSPECTION MANUAL [PDF] Centers for Disease Control and Prevention and U.S. Department of Housing and Urban Development. Healthy housing inspection manual. Atlanta: US Department of Health and Human Services; 2008. from US HUD and HHS, retrieved 2018/11/10, original source: https://www.cdc.gov/nceh/publications/books/inspectionmanual/healthy_housing_inspection_manual.pdf

Excerpt: The Healthy Housing Inspection Manual is a model reference tool that local jurisdictions or others may use as is or modify based on local needs. Use of the manual is expected to improve the effectiveness and efficiency of the public health, housing management, and workforces that identify, prevent, and control health problems associated with housing.

The manual does not introduce any inspection requirements, nor does it modify any existing inspection requirements for housing agencies, residents, HUD, or CDC. The manual is not a substitute for the Federal Housing Administration (FHA) Minimum Property Standards.

Finally, the manual does not propose to establish any regulatory authority for HUD or CDC with regard to residential inspection requirements.

The Healthy Housing Inspection Manual takes environmental health professionals and housing managers, specialists, and inspectors through the elements of a holistic home inspection. It is also a useful reference tool for nurses, outreach workers, and others who are interested in preventing illness and injury due to residential health and safety hazards.

The Healthy Housing Inspection Manual addresses the broad range of housing deficiencies and hazards that can affect residents' health and safety.
HOME INSPECTION DEFINITIONS & TERMS collected from various professional associations & home inspection standards
HOME INSPECTORS DIRECTORY - online directory of home inspectors by state, no-fee listings from InspectAPedia.com
Safety & Environmental Articles for Building Owners and Inspectors
Historic Homes, Home Improvement Costs, Home Research
Home Inspection Business Offerings, Franchises, Start-ups, or Inspection Companies for Sale
Home Inspection Standards, Ethics, American Society of Home Inspectors-ASHI and Other Home Inspection Standards, Ethics, and Home Inspector Certification Procedures
Reader Question: Please help me, my home has many problems
2016/04/01 Hi, I hope you can help me as I am at the end of my tether and I have tried everything I can think of. I live in Scotland and my home is around 46 years old and I have lived here all my life.
In the past three years I have noticed small changes in and around my home, garage and garden, I have also had a catalogue of disasters such as decaying joist caused by seal round the bath, kitchen ceiling flooded caused by pressure valve coming off from toilet cistern also I had to be rewired because the sockets were tripping even when nothing plugged in.
The list seems endless.
I had the old aspestos heating system removed after 10 years unused but the old plastic tank is still in the loft.
I was wondering if I sent some pictures if you would let me know your professional opinion or suggest someone who could help me as I have had pest control in and a structural survey done but I just cannot seem to get to the bottom of this problem. - K.E. by private email
Reply: how to find a building inspector for your home in Scotland
K.E.,
you're welcome to send me some photos and I may be able to comment. But to help me help you, please give me a specific problem statement or question. Reading your note I found several topics and found myself getting confused: asbestos for example, vs a plastic tank, vs. pesticide, vs. rot vs flooding and leak damage, vs. electrical wiring.
If you have trouble with many different types of systems and components in your home you may be best served by hiring a chartered surveyor.
Contact RICS in Scotland
To find a chartered surveyor in Scotland, contact RICS the Royal Institute of Chartered Surveyors. In Scotland that's at http://www.rics.org/us/about-rics/where-we-are/uk/scotland/
RICS 3rd Floor 125 Princes Street Edinburgh EH2 4AD t +44 (0)131 225 7078 email: scotland@rics.org Website: http://www.rics.org/us/about-rics/where-we-are/uk/scotland/
RICS surveyor members cover a wide range of building specialities, so you'll need to make clear that you are looking for a RICS building surveyor who can examine a private home and its mechanical system, with the objective of telling you (in writing) the dangerous or costly defects that need to be addressed and who can help you set priorities of repair.
Basically you want to address first things at your home that
1. are dangerous: an immediate threat to life and safety
2. causing rapid, costly damage
3. just plain don't work, or don't work reliably enough, and that are needed, such as flushing toilets and a working heating and electrical system
Keep me posted.
Question: is it ethical for a home inspector to pay agents or realtors for referrals?
(Aug 26, 2014) john said:
I would like to know ASHI's rules on home inspectors paying agents or even REALTORs for referrals I couldn't find it on here could you please send me in the right direction or just a strait answer thank you
surfbum22@hotmail.com
Reply: No.
John
When I served on the Ethics Committee for ASHI we found that paying real estate agents for referrals was certainly unethical because of an innate conflict of interest that pertains. That was the view of the unanimous committee as well as a consultant we'd hired who was an expert on business ethics. However I cannot comment on ASHI's current position nor on whether or not the association enforced such ethical rules.
Inspectors are not prohibited from advertising.
Where the topic becomes sticky, even a slippery slope, was payments for referrals that are operating under the guise of an advertisement in a real estate company's magazine. The pressures and implications should be obvious.

Question: are there lists of things that home inspectors are NOT allowed to do?
(Feb 12, 2015) NHFireBear said:
Is there a page that lists things a Home Inspector is NOT allowed to do? For instance, a home inspector is not necessarily a licensed professional engineer, licensed electrician, license plumber, nor a certified fire inspector, so should NOT be offering advice in those areas, right? I believe ASHI has guidelines, but I wondered if Inspectapedia has addressed this. Thanks for the greatest inspection website EVER!
Now I see the page on Home Inspection Standards, showing the 2002 ASHI Guidelines, but they only say "an inspector is not required to ...." do those things, not that they may also be legally prohibited from doing or saying certain things.
Reply: building inspectors must stay within their area of expertise but are not prohibited from offering in-depth expert services beyond the scope of a home inspection
NH
OPINION: You're right that the prohibited list for home inspectors is short and sweet. And home inspection standards have focused more on excluding items from inspection because of safety, accessibility, or site conditions rather than to tell home inspectors not to inspect something.
The states or provinces that license home inspectors, or in the U.K., chartered surveyors, and the home inspection associations (such as ASHI or CREIA) or chartered surveyor associations (such as RICS) don't want to prohibit an expert from doing more than the standards require.
In part that's because of the variation in training and skill level that some inspectors have that places them (by ability or expertise) above the minimum level required for state licensing or inspector association certification.
Home inspection standards are a minimum standard of compliance intended to protect the public from inspectors who might otherwise, for speed, greed, or stupidity, would simply skip some major topics that belong in the scope of a home inspection. (Such as "I don't do roofs").
Home inspectors, like any profession (or more accurately for some inspectors, "any business") are expected to stay within the limits of their individual expertise, just as we do not expect structural analysis or beam design from a licensed professional engineer whose expertise is in circuit design.
For example, one home inspector may be a licensed electrician or may be expert in electrical testing and might offer in-depth electrical analysis services. The various home inspection standards will not prohibit the performing of that service. But those same standards of practice should make clear that such in-depth expert services are not considered part of a standard or normal home inspection for a home buyer or home seller.
Where matters get sticky is when a licensed professional engineer or architect chooses to perform home inspections. When the licensed professional performs a service whose scope is defined by law or by codes of professional practice (such as a home inspection) she or he is not or at least should not be expected to have been functioning in their licensed professional engineering or architecture capacity - which might present a higher duty of care. Where the stickiness can get tacky is where a few licensed professionals have tried to have their cake and eat it too: using the credential of their license to market home inspection services but still wanting to be held to the lower or more general standard of home inspections should a disupute later arise about their inspection.

...
Continue reading at HOME INSPECTOR EDUCATION or select a topic from closely-related articles below, or see our complete INDEX to RELATED ARTICLES below.
Or see BUILDING DEFECTS LISTS
Or see these
Home Inspection Articles for Consumers & Home Inspectors
Suggested citation for this web page
HOME & BUILDING INSPECTION at InspectApedia.com - online encyclopedia of building & environmental inspection, testing, diagnosis, repair, & problem prevention advice.
Or use the SEARCH BOX found below to Ask a Question or Search InspectApedia
...
Ask a Question or Search InspectApedia
Try the search box just below, or if you prefer, post a question or comment in the Comments box below and we will respond promptly.
Search the InspectApedia website
Technical Reviewers & References
Click to Show or Hide Citations & References
ID="Citations" CLASS="hidden">
[2] Gregory Brown, P.E., Eastern Environmental Engineering Services, Califon NJ, Tel: 908-832-5098, Email: gabrown48@comcast.net. Mr. Brown, a licensed professional engineer in New Jersey and Pennsylvania, provides environmental / compliance, investigation, and remediation services and is the contributor of ENVIRONMENTAL REGULATIONS, New Jersey - Update on New Jersey Environmental Regulations that impact real estate transactions.
[3] Building Pathology, Deterioration, Diagnostics, and Intervention, Samuel Y. Harris, P.E., AIA, Esq., ISBN 0-471-33172-4, John Wiley & Sons, 2001 [General building science-DF] ISBN-10: 0471331724 ISBN-13: 978-0471331728
[4] Building Pathology: Principles and Practice, David Watt, Wiley-Blackwell; 2 edition (March 7, 2008) ISBN-10: 1405161035 ISBN-13: 978-1405161039
Books & Articles on Building & Environmental Inspection, Testing, Diagnosis, & Repair
Our recommended books about building & mechanical systems design, inspection, problem diagnosis, and repair, and about indoor environment and IAQ testing, diagnosis, and cleanup are at the InspectAPedia Bookstore. Also see our Book Reviews - InspectAPedia.
...
Publisher InspectApedia.com - Daniel Friedman