HVAC Guide to Balancing Heating & Air Conditioning Air Flow in buildings

InspectAPedia tolerates no conflicts of interest. We have no relationship with advertisers, products, or services discussed at this website.
Heating & air conditioning HVAC ductwork air flow balancing: this building air supply ductwork diagnosis and repair article describes proper (and improper) balancing of heating & air Conditioning duct air flow in residential buildings and in commercial office space including high-rise buildings. Our page top photo shows how individual office occupants who are too hot or too cold can foul up carefully balanced air distribution in a building. Just push over a section of suspended ceiling.
Green links show where you are. © Copyright 2013 InspectAPedia.com, All Rights Reserved. Author Daniel Friedman.
Balancing Air Ducts for Proper Warm or Cool Air Delivery
Look for indications that the system has not been balanced for optimum air flow:
Uneven temperatures throughout the air conditioned space, room to room, or within rooms, when the system is operating
All registers are open but airflow varies widely from register to register
Also see ZONE DAMPER CONTROLS where we explain the use of manual or automatic duct dampers for adjusting and balancing building airflow through its HVAC duct system
You may want your service person to review air flow in different rooms, to add manual balancing dampers in the duct system (and show you where they are located and mark on the duct just where the balancing damper levers are normally set.
Air conditioning cool air balancing in offices & commercial spaces or in homes with long HVAC duct runs
Location of Air Supply and Air Return Registers
The photographs above show both supply and return ceiling registers in a commercial office space. In this case they are located too close together. The second photograph shows that a ceiling tile has been removed from a suspended ceiling over an office which uses the ceiling cavity as a common return air plenum. While this may produce more airflow in the office where this suspended ceiling tile was removed, it has unbalanced the entire air conditioning system for the rest of the offices in the building.
Many commercial spaces and offices are cooled (and sometimes heated as well) by an air handler which delivers supply air to each office area by flex duct connected to ceiling registers.
Return air is passed back to the air handler through the large common space above a suspended ceiling over the occupied space. Special vents either around the supply registers or placed separately are intended to pass return air to the common ceiling space, and their location and adjustment are important to provide balanced airflow in the work space.
Debris & Contaminants in Ceilings Used as Return Plenums Risk Entrainment in Building HVAC Airflow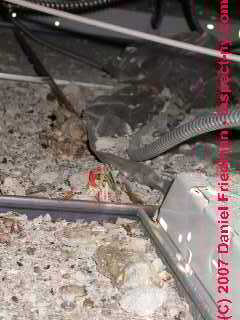 This photograph shows a common ceiling plenum over a commercial office space in a Manhattan high rise building. Notice the considerable amount of debris atop the ceiling tiles?
All of the office conditioned air moves through this area, risking additional levels of irritating or harmful particles, particularly if the debris contains asbestos fragments or lead paint chips. (In this particular case tests showed that this was not the case.)
Here are some common concerns or defects in commercial installations that use this design:
Missing ceiling tiles: People in individual offices subvert the system by seeking more or less cool air by removing suspended ceiling tiles. These un-planned openings make it impossible for the system to be properly balanced.
Common return air plenum Use of the ceiling space as a giant return plenum above the work area means that any debris, mold (perhaps from roof leaks), fiberglass, asbestos, or other problematic particles that are in this space are readily circulated through the building air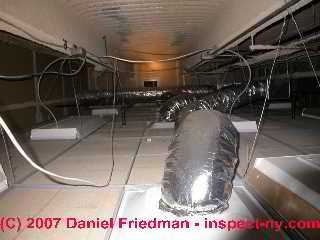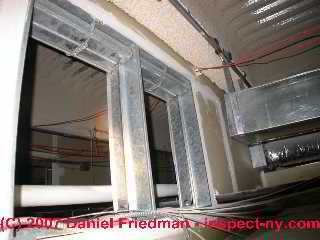 Openings that Subvert Proper HVAC Duct Airflow
These photos show a common ceiling return air plenum over commercial offices. In the first or left hand photo, notice that rectangular opening in the distance? The second photo is a closeup. Openings had been left open between the office space and the top floor hallway and also between the hallway and other office spaces in the building, so that particles, leak-related mold, or other irritating particles developing over any office will be shared among all of the tenants on this building floor.
Missing or incomplete ceiling partitioning in large commercial buildings may mix air (and odors or contaminants) from multiple offices or building use areas, redistributing these un-wanted odors or particles to other building areas. One of our clients who maintained a law office in a strip mall complained of chemical odors which were traced to a beauty parlor located at the extreme other end of the building.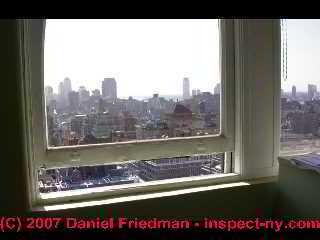 Open windows, especially in a tall office building such as shown by this photograph, cause a tremendous up-draft through the building, moving particles, gases, or other potential IAQ concerns up through the building.
In this instance the office occupants on the 18th floor of this Manhattan office opened their windows and also their office entry door to try to cool off their offices because they were unable to turn off the building heating radiators.
Other Causes of Poor Air Flow Through Commecial or Long Residential HVAC Duct Runs
In addition to the HVAC air duct flow balancing problems & recommendations discussed above, consider these possible causes of inadequate cool air or warm air deliver to some building areas:
HVAC Duct layout problems: Un-balanced HVAC air flow or cool air or warm air delivery due to differences in HVAC duct length, diameter, bends, restrictions may fail to properly balance air flow across a long flat building, between building floors, or where ducts have to make tortous passage from one building area to annother; See DUCT ROUTING & SUPPORT
Vertical air flow problems: in a tall building, even a residential property, if a single air handler is used for both heating and cooling, a basement located air handler will have an easier time pushing warm air up into higher floors of the home than it will pushing cool air up into the same spaces during the cooling season. (Warm air rises through a building by convection while heavier cool air tends to fall). Increased fan speed for cooling operation or booster fans may help. To avoid this problem some HVAC designs use two air handlers, placing the second unit in the attic or ceiling above the uppermost floor.
HVAC Duct leaks: leaky ducts or even open duct connections, especially un-discovered in hidden areas, can completely subvert balanced cool or warm air flow distribution in a building even if the original duct layout and design were well done. See LEAKY DUCT CONNECTIONS
Stuck or not-working HVAC Duct Dampes, Booster Fans: check to make sure that duct balancing dampers have not been manually left in the wrong position (shut, open when should be partly closed, etc) and that automatic devices such as duct balancing dampers and duct booster fans and their controls are in fact operating
Inadequate return air or tight rooms: if a building uses centralized return air inlets to the HVAC system then remote building areas may lack adequate air flow because of inadequate return air flow out of that building area back to the system air handler; for example closing the door to a room that has no in-room return duct inlets may substantially reduce the flow of conditioned air into that room. See RETURN AIR REGISTERS & DUCTS and also see UNDERSIZED RETURN DUCTS.
Other steps to improve HVAC air flow through the duct system are described at AIR FLOW IMPROVEMENT, HVAC
Frequently Asked Questions (FAQs) About HVAC air duct balancing: how to obtain even heating or cooling air flow thorughout a building
Question: forms for commercial air duct flow balancing for a retail building?
I need forms for commercial air balancing for a retail building. - Kevin Ryan, Oct 2012
Reply:
Kevin I am doubtful that "forms" will be enough to balance air flow in a retail building; the HVAC duct design has to consider quite a bit of information beyond what's in a duct layout sketch form. I'd start by making a drawing of the existing system, including duct diameters, lengths, bends, and location of supply and return registers; You may need to consult an HVAC design engineer, but some defects will become obvious simply by examining the duct layout.

Don't forget to match the "theory" to the "practice" - I've inspected commercial HVAC duct installations in which the site maintenance and engineering staff sat in a computer room looking over sensor data while still being unable to explain why the occupants of some buildings and areas were complaining about being too hot or too cold. No one had bothered to actually inspect the current state of the installation. Doing so, we found that a duct section had fallen off; thet sensor that told the site engineer what was going on was still happily reporting that air was blowing into an office space when in fact all of the cool air was blowing into the building's attic.
Question: How do we get cool air to the more-distant, hotter end of our house?
Your site is fantastic. I am a home owner that needs a cheap but through education because of a bad remodel. My question is: my home is a one story shaped like a rectangle. We have a brand new AC unit. One end of the house is cool and very comfortable. The very end of the house is always much hotter. If we cool the entire house we have to set the thermostat at 65 degrees. So the really cool end of the house is like a meat locker and the other end is just comfortable.
I know this could be a duct problem or it could be the wrong size unit was purchased to begin with. We have a 5 ton - maybe we needed two smaller units? Did I mention I live in Phoenix AZ? What is the logical way to start? If I missed this issue on your site you could tell me where it is. thanks. - G.B. - Phoenix, AZ /p>
Reply: priority of things to try to improve cool air (or warm air flow) across a building with long HVAC duct runs
G.B.,
Before doing something expensive like installing a pair of new A/C units and separate HVAC cooling duct systems to make cooling distribution more effecive across yoru home, and presuming there is a complete house HVAC duct system already installed, I'd have considered these steps:
First, check for snafus like lost or missing HVAC duct insulation, leaky air ducts, and avoidable solar gain on the hot end of the house.
Install balancing dampers in the ductwork in both cooling zones; that will let you partly restrict airflow into the cooler (closer to the A/C air handler) zone and thus force more cool air towards the more distant and too-warm zone in the home.
Add an in-duct airflow booster fan to improve air flow to the more distant part of the home.
Those components should be much less costly than system replacement and redesign.

...
Ask a Question or Search InspectApedia
Questions & answers or comments about how to balance air delivery or air supply in duct systems for building heating and air conditioning.
Ask a Question or Enter Search Terms in the InspectApedia search box just below.
Technical Reviewers & References
Related Topics, found near the top of this page suggest articles closely related to this one.
Thanks to AMark Cramer, Tampa Florida, for assistance in technical review of the "Critical Defects" section and for the photograph of the deteriorating gray Owens Corning flex duct in a hot attic. Mr. Cramer is a Florida home inspector and home inspection educator.
Thanks to Jon Bolton, an ASHI, FABI, and otherwise certified Florida home inspector who provided photos of failing Goodman gray flex duct in a hot attic.
Air Diffusion Council, 1901 N. Roselle Road, Suite 800, Schaumburg, Illinois 60195, Tel: (847) 706-6750, Fax: (847) 706-6751 - info@flexibleduct.org - www.flexibleduct.org/ -
"The ADC has produced the 4th Edition of the Flexible Duct Performance & Installation Standards (a 28-page manual) for use and reference by designers, architects, engineers, contractors, installers and users for evaluating, selecting, specifying and properly installing flexible duct in heating and air conditioning systems.
Features covered in depth include: descriptions of typical styles, characteristics and requirements, testing, listing, reporting, certifying, packaging and product marking.
Guidelines for proper installation are treated and illustrated in depth, featuring connections, splices and proper support methods for flexible duct. A single and uniform method of making end connections and splices is graphically presented for both non-metallic and metallic with plain ends."
The printed manual is available in English only. Downloadable PDF is available in English and Spanish. 
Owens Corning Duct Solutions - www.owenscorning.com/ductsolutions/ - provides current HVAC ductwork and duct insulating product descriptions and a dealer locator. Owens Corning Insulating Systems, LLC, One Owens Corning Parkway, Toledo, OH 43659 1-800-GET-PINK™
"Flexible Duct Media Fiberglas™ Insulation, Product Data Sheet", Owens Corning - see owenscorning.com/quietzone/pdfs/QZFlexible_DataSheet.pdf
"Owens Corning Flexible Duct Media Insulation is a lightweight, flexible, resilient thermal and acoustical insulation made of inorganic glass fibers bonded with a thermosetting resin."
Complete List of Air Conditioning & Heat Pump Design, Inspection, Repair Books at the InspectAPedia Bookstore.
Modern Refrigeration and Air Conditioning, A. D. Althouse, C.H. Turnquist, A. Bracciano, Goodheart-Willcox Co., 1982
Principles of Refrigeration, R. Warren Marsh, C. Thomas Olivo, Delmar Publishers, 1979
"Air Conditioning & Refrigeration I & II", BOCES Education, Warren Hilliard (instructor), Poughkeepsie, New York, May - July 1982, [classroom notes from air conditioning and refrigeration maintenance and repair course attended by the website author]
Refrigeration and Air Conditioning Technology, 5th Ed., William C. Whitman, William M. Johnson, John Tomczyk, Cengage Learning, 2005, ISBN 1401837654, 9781401837655 1324 pages
...
Books & Articles on Building & Environmental Inspection, Testing, Diagnosis, & Repair
The Home Reference Book - the Encyclopedia of Homes, Carson Dunlop & Associates, Toronto, Ontario, 25th Ed., 2012, is a bound volume of more than 450 illustrated pages that assist home inspectors and home owners in the inspection and detection of problems on buildings. The text is intended as a reference guide to help building owners operate and maintain their home effectively. Field inspection worksheets are included at the back of the volume. Special Offer: For a 10% discount on any number of copies of the Home Reference Book purchased as a single order. Enter INSPECTAHRB in the order payment page "Promo/Redemption" space. InspectAPedia.com editor Daniel Friedman is a contributing author.

Or choose the The Home Reference eBook for PCs, Macs, Kindle, iPad, iPhone, or Android Smart Phones. Special Offer: For a 5% discount on any number of copies of the Home Reference eBook purchased as a single order. Enter INSPECTAEHRB in the order payment page "Promo/Redemption" space.
Carson Dunlop, Associates, Toronto, have provided us with (and we recommend) Carson Dunlop Weldon & Associates' Technical Reference Guide to manufacturer's model and serial number information for heating and cooling equipment
Special Offer: Carson Dunlop Associates offers InspectAPedia readers in the U.S.A. a 5% discount on any number of copies of the Technical Reference Guide purchased as a single order. Just enter INSPECTATRG in the order payment page "Promo/Redemption" space.

...