Heating & Air Conditioning Air Flow Balance FAQs
InspectAPedia tolerates no conflicts of interest. We have no relationship with advertisers, products, or services discussed at this website.
Heating & air conditioning HVAC ductwork air flow balancing Q&A:
Frequently-asked questions (and answers) about how diagnose & solve air flow distribution & balance in heating or air conditioning duct systems.
This building air supply ductwork diagnosis and repair article series describes proper (and improper) balancing of heating & air Conditioning duct air flow in residential buildings and in commercial office space including high-rise buildings.
Green links show where you are. © Copyright 2017 InspectApedia.com, All Rights Reserved.
Air Duct Flow Balancing FAQs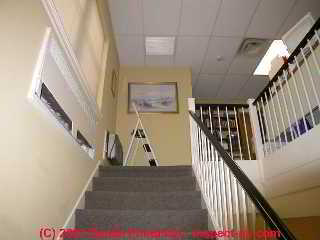 Shown in our photo: rather excessive loops of flex duct in an attic.
[Click to enlarge any image]
These questions & answers about balancing the air flow in HVAC duct systems were posted originally at BALANCING AIR DUCT FLOW
I speculate that your contractor is taking a compromise-position since optimally cool air is delivered near the ceiling while warm air would be delivered near the floor.

My contractor is installing wall registers for the forced air heating/ac supply line.
He's not putting them just below the ceiling but 3 1/2 feet below (10 ft ceilings). Is that okay or should I ask him to raise them to just below the ceiling?

If the coil airflow in to the room improves when the room doors are open that would be diagnostic.

Also, the return sizes in the main rooms are 14 x30 and 20 x 30..

I have a new home and the builder/HVAC company placed a main return in the hallway or main rooms of the home but also place 16x16in returns in each bedroom to eliminate hot/cold areas.
I have checked the returns and we get some air flow and the filters are clear but the rooms have issues with hotness when the hallway where the main return and the thermostate is located is cold.
How can we equalize this situation where all rooms stay the same or close to it?

what are the best instrument/equipment to measuring air balancing.

@Asa Wrange, ok first off you have to return twice as much cfm as you distribute in other words you have a 6 in supply duct in a room you need a 8 in return now supply du
there's a lot more but I can't just sit here and text all that several thing you have to take into consideration open doors closed doors are you returning from the rooms with the doors closed if the doors are closed in the air will sit stagnant in those rooms and not go back to the unit to make it work properly

Asa,

It sounds to me as if you need an on-site HVAC design engineer, or an installing contractor with plenty of experience.
She can discuss your observations and concerns and then can examine the ductwork, air handler, air flow, etc. to make some suggestions.

We finally got AC / heat installed in our office after years of suffering. Sorry to say....it is still a struggle to get a balanced climate in the office
. The old central system was replaced with 2 new units, which we are supposed to able to control from our suite.
One unit controls 4 small treatment rooms, hallway and large waiting room. Other unit covers 2 smaller treatment rooms, 2 bathrooms and one larger treatment room. The old ducts and returns were used, and a few new were added.
The thermostats for both were placed side by side in the larger waiting room area.
It's impossible to get a balanced temperature on either. When I think about it, it seem to meet there has to be some kind do of rules used on placements and amount registers and return.Is that right?
If the small rooms has only one inlet each, the front desk area and hallway should need numerous as such much larger area is covered. Any thoughts? Thank you Sincerely, Osa

It is always hard to balance air flow in a system that has to push air into multiple building levels, but it is usually easier to push cool air down from above into lower floors than to push cool air upwards say to an upper floor from a basement air handler.

The fact that your case reports the center floor as the problem area I'd be looking for just what you think: a duct problem such as an open, leaky, or crimped or crushed air duct.

Also confirm that you are not trying to push air into small closed-off rooms.

We purchased a three story townhome and the air in the center floor has never worked well. The A/C unit is in the attic. The top floor has so much pressure that if you close down the register the air noise is very loud and the rooms get very cold.
The bottom floor is not as extreme and cools well. The problem is the center floor where the thermostat is located and is the main living area. There is only three registers on the floor but the main problem is the air flow is so low that a streamer taped to the register hardly moves.
Since this floor does not cool the A/C runs constantly. We eased a sharp turn in the flex duct coming off the plenum and this helped a little. The company that contracted with the developer is taking no responsibility and make stupid excuses. I am thinking of hiring a company with a camera that can be run through the duct to look for crimped or crushed flex.
The main feed is 12 or 14 inch flex and once it takes a turn down a chase I can not see what is going on. Thank you for any ideas you can help me with.

Check for crimped,blocked, leaky ductwork
Check for rooms that don't cool because the doors are shut and doors are not undercut and there is only a central air return: trying to blow in cool air into a small enclosed room with no air return is like trying to blow up a balloon.
Then try adjusting the supply register louvers to balance the air supply

I have to separate units. One for the top floor and one for the bottom. On the top floor, air is distributed heavily in the master bedroom, but the other three rooms have very minimum distribution. Please help with suggestions. Thanks

GRF

Sorry but asking the same question in 3 places triples our work.

See http://inspectapedia.com/aircond/Return_Ducts_Registers.php

I have a central air system in my house blower unit in the attic evaporator coil and compressor outside . it is a three ton cooling capacity two stage system made by Bryant.
my issue is the main part of the house cools very good but our family room on the far end of the house is consistently 5-8 degrees warmer .
the room has cathedral ceilings. the incoming cool air vents are up high and the single return vent is at same level in between the to incoming vents. my question is if I increased the size of the return air to the system will i get better cooling in this room?

Tom

It sounds as if the room has high thermal heat gain and/or inadequate cool air supply.
Have you checked and compared air flow rate and temperaturre at the supply registers in the problem room vs other rooms? I'd start there.

We added on to our house and we have one room that is not staying cool. The room faces west and the sun beats through the 12x8 foot tinted sliding glass doors. We put up drapes to block the sun.
The attic has R30 insulation and Radiant Barrier. The room initially had just 2 air vents and the contractor came back and installed a third one.
Still with 3 vents blowing there is a noticeable difference in the air temperature in that room (Living Room),the other 3 rooms, 2 bedrooms and a bathroom are fine.I am not sure what is wrong.
I not sure if it is balanced right. The windows and doors are quality and the block walls are insulated too.

Question: forms for commercial air duct flow balancing for a retail building?
I need forms for commercial air balancing for a retail building. - Kevin Ryan, Oct 2012
Reply:
Kevin I am doubtful that "forms" will be enough to balance air flow in a retail building; the HVAC duct design has to consider quite a bit of information beyond what's in a duct layout sketch form. I'd start by making a drawing of the existing system, including duct diameters, lengths, bends, and location of supply and return registers; You may need to consult an HVAC design engineer, but some defects will become obvious simply by examining the duct layout.

Don't forget to match the "theory" to the "practice" - I've inspected commercial HVAC duct installations in which the site maintenance and engineering staff sat in a computer room looking over sensor data while still being unable to explain why the occupants of some buildings and areas were complaining about being too hot or too cold.
No one had bothered to actually inspect the current state of the installation.
Doing so, we found that a duct section had fallen off; thet sensor that told the site engineer what was going on was still happily reporting that air was blowing into an office space when in fact all of the cool air was blowing into the building's attic.
Question: How do we get cool air to the more-distant, hotter end of our house?
Your site is fantastic. I am a home owner that needs a cheap but through education because of a bad remodel. My question is: my home is a one story shaped like a rectangle. We have a brand new AC unit. One end of the house is cool and very comfortable.
The very end of the house is always much hotter
If we cool the entire house we have to set the thermostat at 65 degrees. So the really cool end of the house is like a meat locker and the other end is just comfortable.
I know this could be a duct problem or it could be the wrong size unit was purchased to begin with.
We have a 5 ton - maybe we needed two smaller units? Did I mention I live in Phoenix AZ? What is the logical way to start? If I missed this issue on your site you could tell me where it is. thanks. - G.B. - Phoenix, AZ /p>
Reply: priority of things to try to improve cool air (or warm air flow) across a building with long HVAC duct runs
G.B.,
Before doing something expensive like installing a pair of new A/C units and separate HVAC cooling duct systems to make cooling distribution more effecive across yoru home, and presuming there is a complete house HVAC duct system already installed, I'd have considered these steps:
First, check for snafus like lost or missing HVAC duct insulation, leaky air ducts, and avoidable solar gain on the hot end of the house.
Install balancing dampers in the ductwork in both cooling zones; that will let you partly restrict airflow into the cooler (closer to the A/C air handler) zone and thus force more cool air towards the more distant and too-warm zone in the home.
Add an in-duct airflow booster fan to improve air flow to the more distant part of the home.
Those components should be much less costly than system replacement and redesign.

Question: shared return air opening among 3 air handlers, only one condensate pump operates - why?
I have 2 furnaces and 1 down flow furnace, sharing 1 common re
turn.I am wondering if given the set up why would only 1 condensate pump turn on when called . It is always the same one. The down flow does not have a pump.My thinking is that the air flow favors the one pump. - R.K. 10/1/2013
Reply: unbalanced air flow is likely in the system you describe; here are various reasons why just one of three condensate pumps seems to be running
A competent onsite inspection by an expert usually finds additional clues that would permit a more accurate, complete, and authoritative answer than we can give by email alone. For example onsite one might find details about how air actually flows through your system.
You will find additional depth and detail in articles at our website. That said I offer these comments:
I infer from your question that the root concern with your HVAC system is one of improper air flow or flow balancing among three air handlers sharing common return ducting.
A single air return feeding three air handlers could face at least these technical hurdles:
1. inadequate total air return to all 3 air handlers, resulting in an air-starved system at one or more units and un-balanced air flow through the total duct system
2. Poor location of return air for one, two, or even all three systems. With a single air return, for example, if the door to a room is shut there may be poor delivery of conditioned air into that room.
You are asking about condensate handling which in turn leads one to assume we're talking only about cooling or air conditioning conditions. It would be no surprise for the cooling load to be very different in various building areas; for example upper floors or floors with lots of glass and thus solar gain have a higher cooling load (in general) than other areas.
Unevenness in cooling load, OR, as you speculate, unbalanced airflow through the system could cause just one condensate pump (presuming one pump per air handler) to operate more often than the others.

Watch out: check that all three condensate pumps are actually operating, and that each properly drains to a suitable location. We don't want condensate leaks into the building.
Summarizing: in concept one would be looking at your HVAC system for duct design and air flow balancing problems and once understood, one would choose a method (duct dampers, more air returns, fan speed adjustments, supply register adjustments, more return air flow openings between rooms, etc) to improve system performance.

...
Continue reading at BALANCING AIR DUCT FLOW or select a topic from closely-related articles below, or see our complete INDEX to RELATED ARTICLES below.
Or see DUCT ROUTING & SUPPORT
Or see AIR FLOW IMPROVEMENT, HVAC
Or see LEAKY DUCT CONNECTIONS
Or see this
Article Series Contents:
Suggested citation for this web page
DUCT AIRFLOW BALANCING FAQs at InspectApedia.com - online encyclopedia of building & environmental inspection, testing, diagnosis, repair, & problem prevention advice.
Or use the SEARCH BOX found below to Ask a Question or Search InspectApedia
...
Frequently Asked Questions (FAQs)
Try the search box below or CONTACT US by email if you cannot find the answer you need at InspectApedia.
...
Ask a Question or Search InspectApedia
Questions & answers or comments about how to balance air delivery or air supply in duct systems for building heating and air conditioning.
Use the "Click to Show or Hide FAQs" link just above to see recently-posted questions, comments, replies, try the search box just below, or if you prefer, post a question or comment in the Comments box below and we will respond promptly.
Search the InspectApedia website
Technical Reviewers & References
Click to Show or Hide Citations & References
Thanks to Mark Cramer, Tampa Florida, for assistance in technical review of the "Critical Defects" section and for the photograph of the deteriorating gray Owens Corning flex duct in a hot attic. Mr. Cramer is a Florida home inspector and home inspection educator.
Thanks to Jon Bolton, an ASHI, FABI, and otherwise certified Florida home inspector who provided photos of failing Goodman gray flex duct in a hot attic.
Air Diffusion Council, 1901 N. Roselle Road, Suite 800, Schaumburg, Illinois 60195, Tel: (847) 706-6750, Fax: (847) 706-6751 - info@flexibleduct.org - www.flexibleduct.org/ -
"The ADC has produced the 4th Edition of the Flexible Duct Performance & Installation Standards (a 28-page manual) for use and reference by designers, architects, engineers, contractors, installers and users for evaluating, selecting, specifying and properly installing flexible duct in heating and air conditioning systems.
Features covered in depth include: descriptions of typical styles, characteristics and requirements, testing, listing, reporting, certifying, packaging and product marking.
Guidelines for proper installation are treated and illustrated in depth, featuring connections, splices and proper support methods for flexible duct. A single and uniform method of making end connections and splices is graphically presented for both non-metallic and metallic with plain ends."
The printed manual is available in English only. Downloadable PDF is available in English and Spanish. 
Owens Corning Duct Solutions - www.owenscorning.com/ductsolutions/ - provides current HVAC ductwork and duct insulating product descriptions and a dealer locator. Owens Corning Insulating Systems, LLC, One Owens Corning Parkway, Toledo, OH 43659 1-800-GET-PINK™
"Flexible Duct Media Fiberglas™ Insulation, Product Data Sheet", Owens Corning - see owenscorning.com/quietzone/pdfs/QZFlexible_DataSheet.pdf
"Owens Corning Flexible Duct Media Insulation is a lightweight, flexible, resilient thermal and acoustical insulation made of inorganic glass fibers bonded with a thermosetting resin."
Complete List of Air Conditioning & Heat Pump Design, Inspection, Repair Books at the InspectAPedia Bookstore.
Modern Refrigeration and Air Conditioning, A. D. Althouse, C.H. Turnquist, A. Bracciano, Goodheart-Willcox Co., 1982
Principles of Refrigeration, R. Warren Marsh, C. Thomas Olivo, Delmar Publishers, 1979
"Air Conditioning & Refrigeration I & II", BOCES Education, Warren Hilliard (instructor), Poughkeepsie, New York, May - July 1982, [classroom notes from air conditioning and refrigeration maintenance and repair course attended by the website author]
Refrigeration and Air Conditioning Technology, 5th Ed., William C. Whitman, William M. Johnson, John Tomczyk, Cengage Learning, 2005, ISBN 1401837654, 9781401837655 1324 pages
...
Books & Articles on Building & Environmental Inspection, Testing, Diagnosis, & Repair
Our recommended books about building & mechanical systems design, inspection, problem diagnosis, and repair, and about indoor environment and IAQ testing, diagnosis, and cleanup are at the InspectAPedia Bookstore. Also see our Book Reviews - InspectAPedia.
...