Guide to Refrigeration Gas Test Gauge Use

GAUGE, REFRIGERATION PRESSURE TEST - CONTENTS: Recommendations for refrigeration gas pressure measurement using a test gauge set. Proper Use of the Refrigeration Charging / Testing Gauge Set to Keep Moisture & Dirt out of an Air Conditioner, Heat Pump, Refrigerator, Freezer, etc. - How to hook up a refrigerant test / charging gauge set to the test ports - Attaching the Refrigeration Gauge Set to the Air Conditioner, Heat Pump, or other refrigeration equipment - Procedures for Reading the Gauges on a Refrigeration Gauge Set. Procedure for Charging the HVAC System or Appliance with Refrigerant Using a Gauge Set
POST a QUESTION or READ FAQs about how to hook up and use an air conditioner, heat pump, or other refrigeration equipment refrigerant gas pressure test gauge
InspectAPedia tolerates no conflicts of interest. We have no relationship with advertisers, products, or services discussed at this website.
Air conditioner & heat pump refrigerant test gauges: this article describes the connections, use, and reading of a refrigerant gas pressure test gauge set. We describe the procedure for using test gauges when adding or replacing refrigerant: charging an air conditioner, heat pump, refrigerator with refrigerant gas.
We explain how a refrigeration gauge set should be connected to HVAC equipment to avoid contamination damage and we review the refrigeration system evacuation and cleaning procedure.
Green links show where you are. © Copyright 2015 InspectApedia.com, All Rights Reserved.
Details on Proper Use of the Refrigeration Charging / Testing Gauge Set to Keep Moisture & Dirt out of an Air Conditioner, Heat Pump, Refrigerator, Freezer, etc.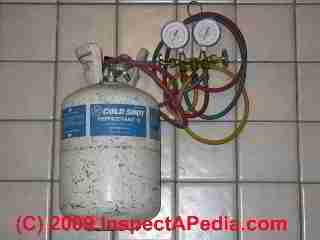 To keep moisture out of a refrigeration system, in addition to finding and fixing leaks, we need to know how to properly use a refrigerant gauge set with charging lines, and how to use cap off plugs on the charging fittings.
To be clear, when connecting an HVAC refrigeration gauge set to test fittings on an air conditioner or heat pump we must:
Connect the gauge set center supply tube to a canister of the proper refrigerant gas matching the refrigerant in the system being tested
Leave some positive pressure of refrigerant gases in each of the two gauge test connection hoses - the high pressure side and the low pressure side, so that when the gauge hose fitting is connected to the service port on the HVAC equipment no outside air or moisture are pushed into the system piping.
Refrigeration Servicing Gauge Set Installation & Use
Reading the Gauges on a Refrigeration Gauge Set
We use (and illustrate) a traditional Imperial System Analyzer gauge set that provides three charging lines (refrigerant canister, high side, low side). This is a diaphragm type gauge but other methods of measuring and charging systems are available.
How to Read the Low Pressure Side Refrigerant Gauge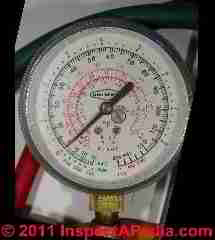 The compound gauge at left is used on the low pressure side of the system and shows pressure readings in black, from 0 to 300 psi gauge pressure. [Click any image to see an enlarged, detailed version.]
Temperature corresponding to pressure is shown in red on this gauge for R12 and R22, or for newer refrigerants on newer gauges.
Vacuum is also shown on this gauge on a scale from 0-30 in. Hg. in green..
Reminder: as we discuss at REFRIGERANT PRESSURE READINGS if you use pressure test gauges (GAUGE, REFRIGERATION PRESSURE TEST) to measure the refrigerant pressure in the static or equalized air conditioning or heat pump system, the gauges only tell you the refrigerant pressure, not the quantity of refrigerant that is present in the system.
For example at 70F ambient temperature and with R12 refrigerant, the static system pressure would be at 70 psi as long as there is enough refrigerant in the system to have at least some in liquid state.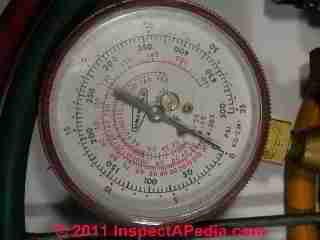 Reading the High Pressure Side Refrigerant / HVAC Test Gauge
The compound gauge on the right of this gauge set is used on the high pressure side of the refrigeration system and shows refrigerant pressures, typically from 0 - 500 psi on the black scale or 0 - 35 KG/CM3 on the outermost red scale.
In the center of the refrigerant gauge the red scales give temperature readings for three older refrigerants (this is an old gauge): R502, R12, and R22.
Attaching the Refrigeration Gauge Set to the Air Conditioner, Heat Pump, or other refrigeration equipment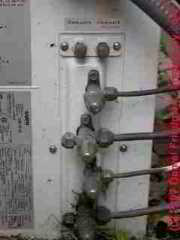 Find the service ports
Central air conditioning systems, heat pumps, and split systems typically have service ports installed specifically for the attachment of test gauges for system inspection, evacuation, and charging.
Residential refrigerators, freezers, and window or portable air conditioners typically will not have these service ports. To service one of those latter devices you'll need to cut the refrigerant line and install (solder in place) a tee and a service port.
Our photo (left) shows four covered service ports on this split system compressor/condenser unit. That's because this unit supports two indoor wall-mounted cooling units.
If its not obvious to you that the larger diameter line is the low pressure or suction side and the smaller diameter refrigerant line is the high pressure side, then really you should not be messing with this equipment before taking a refresher class in HVAC servicing and repair.
Using Temporary Access Valves for HVAC or Refrigeration Testing & Diagnosis
Tapaline® and other piercing valves are available in various sizes to allow the HVAC technician to tap into the refrigerant lines on a system in order to perform diagnosis where there are not already service valves installed. Smaller bullet-type valves are installed using an allen wrench.
Use these valves as a temporary service tool, preferably attached on the process tube. [See Types of air conditioner or heat pump compressors & compressor designs if you don't know what a process tube is.]

Watch out: do not leave these temporary test valves on the refrigerant piping - you're asking for a future leak. These valves are suitable to aid diagnosis of a refrigeration system by avoiding disturbing the troubled state of the system (as you'd do if you had to cut lines and solder in service valves just to do a test).
After using a temporary tap-in valve on the process tube at a compressor unit, you should solder off the line puncture and add a permanent service valve fitting - the type that uses a schrader valve and cap - also referred to as an access valve or line valve.
Connect the Test Gauges to the Air Conditioner, Heat Pump, etc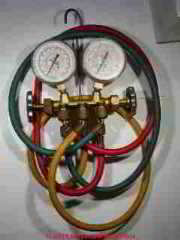 In the shop we connect both high and low pressure gauges to the equipment being tested. In the field technicians often use only the low pressure side of the HVAC test gauge set, since high side problems also show up on the low side.
On test gauge sets such as ours shown here, the service lines always open or close a connection between the HVAC equipment refrigeration test ports and the gauges. The end-valves (silver handles) on either side of the gauge set then open or close a further connection between that valve and either high or low side connection and the yellow hose that will in turn connect to a refrigerant source.
You'll notice in our photo that both ends of the refrigerant hoses are attached to the gauge set. On the front of this gauge (and more easily seen in the photograph) are three blind connector plugs to which we connect the hoses when the gauge is not in use - this step is to help keep the gauge hoses clean of debris.
In the photo at left, the "live" hose connection ports are somewhat hidden behind the gang of hoses and the "blind" connectors used to keep the hoses and their end connectors clean when not in use.
The gauge set has stop valve handles that you see on either side of the gauge. These controls open or close the high or low side service lines once they have been properly connected to the high or low side service port.
As we've mentioned before, we would not normally connect our gauge set to the service ports without first attaching a can of the proper refrigerant to the gauge set service port and then using that refrigerant to purge any air that may be in the refrigerant hoses. That's to avoid blowing air and contaminants into the HVAC system.
On our air conditioner or heat pump test gauges we use a
A blue flexible hose on the low-side gauge. In the photo above the blue hose is connected to the left-hand low pressure gauge port, while its free end is connected to a right-hand blind port. When in use the free end of the low pressure gauge is removed from its "blind port" and is then connected to the low side of the system at that service port.

[Click to enlarge any photo to see more detail]
A red hose on the high side gauge. In the photo the red hose is connected to the right-hand high pressure gauge and its free end - the end that will connect to the HVAC equipment test gauge port - is connected to a left-hand blind port to keep the fitting clean when not in use. The high pressure gauge (red hose) will be connected to the high side of the system at that service port.
A yellow hose on the center gauge service port just to help avoid any confusion in the field. The free end of the yellow hose is also connected to a center blind port to keep out debris. The center service port on the gauge set will connected to a refrigerant canister, charging device, or to an evacuator pump, depending on what the HVAC technician needs to do.
Depending on which valves you open or close, this gauge set permits charging the refrigerant system on either the high side or the low side.
Refrigerant Test Gauge Hose Hookup Details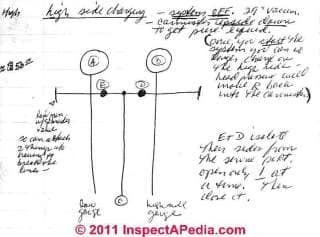 In our sketch at left
(A) is the low side pressure gauge,
(B) the high side pressure gauge,
(C) is the service line at the gauge center, connected to a refrigerant gas source or perhaps to an evacuator pump.
(D) is the location of the high side gauge control valve and
(E) is the functioning location of the low side control valve.
Watch out: not all HVAC test gauge sets may have their high pressure and low pressure gauges in the same left and right positions.
What is critical is that the low pressure gauge is connected to the low pressure port (by convention using a blue hose) and the high pressure gauge is connected to the high pressure port (by convention using a red hose).
Watch out: Valves (D) and (E) are used to isolate their sides from the service port.
Open only one control valve at a time, then close it before opening the other.
Attach the refrigerant canister to the gauge set
Loosely attach the low side gauge (A) line to the low side service port. Assure that the service valve is turned all the way OUT
Open the refrigerant canister (C) and by opening the gauge valve (E - low side) purge the lines (do not use the system's refrigerant to purge the gauge lines)
Tighten the service line to the service port
Turn off the refrigerant gas canister supply
Turn the equipment service valve in slightly and run the system. The gauge(s) will indicate what the system is doing.
Watch out: as we warn at many places in this article series, do not send liquid refrigerant into the low side of a refrigeration system. Liquid refrigerant will enter the bottom of the compressor motor and can damage the compressor, or even if the compressor tolerates and passes the refrigerant through its pumping system, the refrigerant can carry away the lubricating oil from the compressor, and/or cause an air trap in the system.
We use the same procedure for attaching the gauges to the high side of the system.
Restating a bit:
For the gauge set shown above, turn the valves all the way out to attach the gauges, since service ports are stopped OFF.
Turn the gauge control valve all the way in (closed) to stop off the line to the evaporator/condenser (depending on which valve you are using).
Attach the gauge hose test line loosely to the test port;
Feed a small amount of refrigerant through the gauge test line and the charging line to purge any air. [NOTE that newer test equipment may provide other solutions for this step to avoid releasing any refrigerant to the atmosphere.]
Then tighten the connection of the test hose to the equipment service port.
To Remove the Service Test Gauges on Refrigeration Equipment
Back-seat (all the way out) the equipment service valve to close off the service port, then remove the gauge and cap both the service port and the test gauge hose ends.
Continue reading at REFRIGERANT PRESSURE READINGS
or at OVER CHARGED of REFRIGERANT, EFFECTS or select a topic from the More Reading links shown below.
More Reading
Green link shows where you are in this article series.
...
Frequently Asked Questions (FAQs) About Refrigeration & Air Conditioning or Heat Pump Refrigerant Gas Pressure Test Gauge Use
No FAQs have been posted for this page. Try the search box below or CONTACT US by email if you cannot find the answer you need at InspectApedia.
Question: what is a good R14 refrigeration pressure ? What should the refrigerant pressure be in my unit?
model cxa6 keeprite unit r14 refrigeration what psi pressure it should be good. - Litt 7/26/2011
what are the low and high readings for a 7.5 ton, 220 three phase compressor with two cooling coils and serves two inside units, mod BTA090C300H0, SER W01 195521 - rcannon49@att.net 8/2/11
Reply:
Litt

The pressure of any refrigerant will measure very differently depending on system operating status. At equalization pressure the LOW and HIGH sides will read the same, and as long as there is at least some liquid refrigerant in the system the pressure will be given by a temperature/pressure chart for that specific refrigerant.

If you scroll down to the list of article references below you'll see a link to a refrigeration pressure and temperature chart provided by Reece, an Australian company. That chart is missing R-14 refrigerant but at encyclopedia
[dot]airliquide[dot]com[slash]Encyclopedia[dot]asp?GasID=61#VaporPressureGraph you can find that information.

You'll see that at 10 bars of pressure R14 will be at 185K or about -88 C - in other words readily boiling to a vapor at ambient pressures. At 40 bars the temperature will be 230K or -43C. For a working pressure/temperature chart for refrigerants at ambient and typical HVAC pressures I'd go to the unit manufacturer.
[dot]airliquide[dot]com[slash]Encyclopedia[dot]asp?GasID=61#VaporPressureGraph you can find that information.
I add that for R14, its Latent heat of vaporization (1.013 bar at boiling point) is 135.7 kJ/kg

One Bar is 0.06895 psi
One kJ/kg = 2.326 British BTUs/Lb

But I THINK that the question you are asking is what pressures will be seen on the HIGH and LOW sides of a refrigeration system using R14 refrigerant.
For any refrigerant, you have to consult the individual refrigerant pressure/temperature chart, note the temperature of your system and the measured HVAC-system running stable state suction pressure (LOW SIDE) evaporative data, and of course the running HIGH side for the compressor/condenser condensation pressure data.
Mr. Cannon
You need to consul the manufacturer's technical literature for the refrigerant gas in use and the compressor model in use, and then you'll need to use a table of gases that provides temperature and pressure data in one place, as ambient temperature affects the answer. In sum there is no single precise right number. There are typical operating ranges of refrigerant pressures, as you can see a REFRIGERANT PRESSURE READINGS. Also take a look at our answer to Mr. Litt, just above.
Question: what causes excessive refrigerant pressure?
what cause to much high pressure - Anonymouse
Reply:
Anon: among the reasons for excessively high pressure on the HIGH Side or output side of the compressor/condenser section of an air conditioner or heat pump are a plugged or debris blocked condensing coil, plugged refrigerant line, plugged dryer/filter on the line, or a stuck refrigerant metering device such as a capillary tube or thermostatic expansion valve. There may be other causes of high refrigerant pressure that other readers can add.
Question: High pressure readings on the low side of my heat pump
I am getting very high pressure readings on the low side of my heat pump. The discharge and return line to the air handler are cool and equal in temp.(showing no refrigerant movement), But my suction line and discharge line leading in to and out of my compressor are very hot. Have open the lines and checked the orifices and they are clear as is the lines to the air handler. Is it possible that the condensing alone can be clogged? I did have a compressor burn out last year. - D. Nix 8/7/11
Reply:
High pressure on the low side sounds to me as if a metering device is stuck wide open; perhaps when your compressor burned up last year it left some debris in the refrigerant lines that has found its way to the TEV and has jammed it. Ask your HVAC tech to check the system again, check the TEV adjustment, and also consider installing a (new) filter/drier on both ends of the refrigerant piping system.
Question: can a refrigerant gas leak be fixed or does the whole compressor need replacement?
I need to know whether a leak form one of the compressor tubes is fixable or not. My technician said that the whole compressor would need to be replaced. - Ehab 8/176/11
Reply:
Ehab refrigerant leaks can be repaired by various patch methods. But if the leak is discovered to be a symptom of more extensive corrosion, such as at a cooling coil, it's a much bigger repair than just a patch. I'm not sure why, if the compressor was working normally, you'd need to replace all the equipment- perhaps the tech is referring to the issue that s/he cannot any longer recharge with R12 or R22 - used in older compressors, but there are alternative refrigerants that can often work with some adjustments.
Question: Comment on hose color coding; How do I know if the HVAC Tech Put In Enough Refrigerant?
Blue line goes to bigger line in compressor and red on little line
For high side - Anon 10/6/11
Hello, For a typical home split air conditioner, how to make sure that the technician has filled in enough gas in the out door compressor unit? - Sanjay 7/21/2012
Reply:
Sanjay, without evacuating the air conditioner completely and putting in a precisely measured charge using gauges and metering equipment, you cannot know yourself exactly how much refrigerant is in the system. But there are indications of the refrigerant charge being too much or too little that can show up without sophisticated instruments. For example:
- if you hear a bubbling sound in the liquid line the charge may be low
- if you see bubbles in the sight glass (usually only found on commercial refrigeration equipment and on some residential air conditioner or heat pump systems) the charge may be low
- if the cooling coil is frosting over one of the causes is low refrigerant charge
- if the compressor makes a horrible clanking sound and then stops dead, one of the possible causes is overcharging or another problem (such as a failed TEV or other refrigerant metering control) that has caused liquid slugging of the compressor on the suction side.
Beyond these observations, you need to be able to trust your HVAC technician. While mistakes are of course possible, no service tech any credible motive for placing an improper refrigerant charge into the system. Doing so just makes more work and trouble for everyone.
...
Ask a Question or Search InspectApedia
Use the "Click to Show or Hide FAQs" link just above to see recently-posted questions, comments, replies, try the search box just below, or if you prefer, post a question or comment in the Comments box below and we will respond promptly.
Search the InspectApedia website
Technical Reviewers & References
Publisher's Google+ Page by Daniel Friedman
Click to Show or Hide Citations & References
Thanks to reader G.G. for technical comments regarding article text clarity, 12/30/2013.
Carson, Dunlop & Associates Ltd., 120 Carlton Street Suite 407, Toronto ON M5A 4K2. (416) 964-9415 1-800-268-7070 info@carsondunlop.com. The firm provides professional home inspection services & home inspection education & publications. Alan Carson is a past president of ASHI, the American Society of Home Inspectors. Thanks to Alan Carson and Bob Dunlop, for permission for InspectAPedia to use text excerpts from The Home Reference Book & illustrations from The Illustrated Home. Carson Dunlop Associates' provides:

Commercial Building Inspection Courses - protocol ASTM Standard E 2018-08 for Property Condition Assessments
Home Inspection Education Courses including home study & live classes at eleven colleges & universities.
Home Inspection Education Home Study Courses - ASHI@Home Training 10-course program.
Special Offer: Carson Dunlop Associates offers InspectAPedia readers in the U.S.A. a 5% discount on these courses: Enter INSPECTAHITP in the order payment page "Promo/Redemption" space. InspectAPedia.com editor Daniel Friedman is a contributing author.
The Home Reference Book, a reference & inspection report product for building owners & inspectors.
Special Offer: For a 10% discount on any number of copies of the Home Reference Book purchased as a single order. Enter INSPECTAHRB in the order payment page "Promo/Redemption" space. InspectAPedia.com editor Daniel Friedman is a contributing author.
The Home Reference eBook, an electronic version for PCs, the iPad, iPhone, & Android smart phones.
Special Offer: For a 5% discount on any number of copies of the Home Reference eBook purchased as a single order. Enter inspectaehrb in the order payment page "Promo/Redemption" space.
The Illustrated Home illustrates construction details and building components, a reference for owners & inspectors.
Special Offer: For a 5% discount on any number of copies of the Illustrated Home purchased as a single order Enter INSPECTAILL in the order payment page "Promo/Redemption" space.
The Horizon Software System manages business operations,scheduling, & inspection report writing using Carson Dunlop's knowledge base & color images. The Horizon system runs on always-available cloud-based software for office computers, laptops, tablets, iPad, Android, & other smartphones.

TIF Instruments, Inc., 9101 NW 7th Avenue, Miami, Florida 33150 (This is where we've sent our TIF 8800 and TIF 5000 for repairs).
Jennifer Moore, Sales Administrator, Nextteq, LLC, Tampa FL, www.nextteq.com 813-249-5888. Nextteq is the master Distributor for Gastec in the United States. According to the company's website, Gastec Gas Sampling Pumps are the industry's first and only pumps to provide on-the-spot measurement of ambient temperature. [Private email, JM to DF 5/23/08]
"Choosing and Using a Carbon Monoxide CO Monitor," Dan Friedman, The ASHI Technical Journal, Vol. 2 No. 1, July1991
"Heat Exchanger Testing, Who's Right?" Dan Friedman, The ASHI Technical Journal, Vol. 2 No. 1, July1991
"Case History: LP Gas Leak - Using the TIF 8800", Dan Friedman, The ASHI Technical Journal, Vol. 2 No. 1, July1991
Refrigeration Temperature & Pressure Chart, web search 07/27/2011, Reece National Support Centre 118 Burwood Highway Burwood Victoria 3125 Australia. The company also has offices in New Zealand. Phone: +613 9274 0000 Fax: +613 9274 0198, original source: http://www.reece.com.au/plumbing/techtools/refrigerant - quoting from Reece:

Reece is Australia's leading supplier of bathroom and plumbing products with over 400 stores across the country including our market leading Bathroom Life™ showrooms. We also cater for more specialised industries through our Irrigation, hvac-r and Civil businesses as well Onsite which services commercial plumbers and volume home builders.
Refrigeration temperature & pressure chart for R-14, R14, tetrafluoromethane, also referred to as CF4, web search 07/27/11, original source http://encyclopedia.airliquide.com/Encyclopedia.asp?GasID=61#VaporPressureGraph
Carbon fluoride; Freon 14; Perfluoromethane; Carbon tetrafluoride; Halocarbon 14; R 14; PFC 14 are synonyms for R14 refrigerant.
How to diagnose and fix an air conditioning system that is not working
Since the failure of an air conditioner to turn on, loss of air conditioner cooling capacity, reduced air conditioning output temperatures, loss of cool air supply, or even loss of air flow entirely can be due to a variety of problems with one or more components of an air conditioner or air conditioning system, after reviewing the lost air conditioner cooling diagnosis procedures described in this article, be sure to also review the diagnostic procedures at each of the individual air conditioning diagnosis and repair major topics listed just below. To return to our air conditioning and refrigeration home page go to AIR CONDITIONING & HEAT PUMP SYSTEMS.
If your air conditioning or heat pump system has lost its cooling capacity or won't start select one or more of the diagnostic articles listed below.
A/C - HEAT PUMP CONTROLS & SWITCHES: air conditioner controls and switches - begin here if your A/C won't start. Here's an important tip: most refrigeration problems, in air conditioners, refrigerators, or freezers, are electrical, not mechanical. In air conditioning school, we used to drive out and collect abandoned refrigerators that people were tossing out during our community's spring cleanup week. Taking these appliances back into the shop we found that almost always the problem that had caused the owner to dispose of their air conditioner or freezer was in an electrical connection or electrical control. So it's worth checking out switches and controls on an air conditioner before replacing more costly components.
OPERATING DEFECTS: major air conditioning problem symptoms and how to get the air conditioning system working again,e.g. compressor or fan noises, failure to start, and inadequate cool air volume
LOST COOLING CAPACITY: what to do when not enough cool air comes out of the system
COMPRESSOR CONDENSER: problems with air conditioner compressor/condenser units
AIR HANDLER UNIT: problems with the air handler, air filters, and the cooling coil itself
DUCT SYSTEM DEFECTS: problems with the air duct system, air filters, supply registers, return air registers
A/C REFRIGERANT LEAK DETECTION: how to use a TIF5000 to detect air conditioning refrigerant gas leak
REFRIGERANT LEAK REPAIR - how to repair refrigerant leaks in piping, evaporator coils, condenser coils
A/C DIAGNOSTIC FAQs: air conditioning system diagnostic FAQs: Q&A about air conditioner repair - a detailed air conditioning system diagnostic checklist
Books & Articles on Building & Environmental Inspection, Testing, Diagnosis, & Repair
The Home Reference Book - the Encyclopedia of Homes, Carson Dunlop & Associates, Toronto, Ontario, 25th Ed., 2012, is a bound volume of more than 450 illustrated pages that assist home inspectors and home owners in the inspection and detection of problems on buildings. The text is intended as a reference guide to help building owners operate and maintain their home effectively. Field inspection worksheets are included at the back of the volume. Special Offer: For a 10% discount on any number of copies of the Home Reference Book purchased as a single order. Enter INSPECTAHRB in the order payment page "Promo/Redemption" space. InspectAPedia.com editor Daniel Friedman is a contributing author.

Or choose the The Home Reference eBook for PCs, Macs, Kindle, iPad, iPhone, or Android Smart Phones. Special Offer: For a 5% discount on any number of copies of the Home Reference eBook purchased as a single order. Enter INSPECTAEHRB in the order payment page "Promo/Redemption" space.
Carson Dunlop, Associates, Toronto, have provided us with (and we recommend) Carson Dunlop Weldon & Associates' Technical Reference Guide to manufacturer's model and serial number information for heating and cooling equipment
Special Offer: Carson Dunlop Associates offers InspectAPedia readers in the U.S.A. a 5% discount on any number of copies of the Technical Reference Guide purchased as a single order. Just enter INSPECTATRG in the order payment page "Promo/Redemption" space.

GAS EXPOSURE EFFECTS, TOXIC Toxic Gas Exposure effects, including links to toxic gas exposure screening and gas testing protocols.

A Toxic Gas Testing Plan: A Gas Sampling Plan for Residential and Commercial buildings lists some of the toxic indoor gases for which we test, depending on the building complaint and building conditions
Gas Exposure Hazard Levels: for Toxic Gas Exposure to Ammonia, Arsine, Arsenic, Bromine, Carbon Dioxide, Carbon Monoxide, Hydride, Ozone - allowable exposure levels and hazard levels
Carbon Dioxide Gas Toxicity hazard level, poisoning symptoms, & testing
Carbon Monoxide Gas Toxicity hazard levels, poisoning symptoms, & testing
Formaldehyde: US EPA. UFFI (Urea Formaldehyde Foam Insulation) was previously considered a hazard (formaldehyde outgassing). Subsequent research virtually closed concern regarding this material; however formaldehyde appears to remain a health concern for sensitive individuals.
Ozone Warnings - Use of Ozone as a "mold" remedy is ineffective and may be dangerous.
Sampling for gases in air such as VOC's, MVOC's, toxic chemicals, and combustion products.
Unfortunately no single test or tool can detect all possible building contaminants. We use methods and equipment which can test for common contaminants. If the identity of a specific contaminant is known in advance we can also test for a very large number of specific contaminant gases in buildings.
We use gas sampling equipment provided by the two most reliable companies in the world, Draeger-Safety's detector-tubes and Drager accuro bellows pump, the Gastec cylinder pump and detector-tube system produced by Gastec. We also have used gas detection tubes by Gastec previously marketed for use with Sensidyne pumps but Sensidyne pumps now use Kitagawa gas detection tubes. We also use Sensidyne's Gilian air pump. For broad screening for combustibles and a number of other toxic gases and for leak tracing we also use Amprobe's Tif8850 and 8800, and the TIF 5000 automatic halogen leak detector (for air conditioning and cooling system refrigerant leak detection). All of these instruments, their applications, and sensitivities (minimum detectable limits) for specific gases are described in our Gas Sampling Plan online document.
Radon Gas U.S. EPA Radon level maps

...