Air flow rate (CFM) Measurement Methods
Tools, & air flow measurement data for buildings, air conditioners, warm air furnaces

AIR FLOW MEASUREMENT CFM - CONTENTS: how to measure air movement or flow rates in buildings; how to measure HVAC duct supply or return air flow rates in CFM or by other standards. What tools to use to measure air flow rate, accuracy, procedures, & where to buy. Definitions, Procedures & Tools for Measurements of Air Flow Rates (CFM) in Buildings
POST a QUESTION or READ FAQs about air flow rate or CFM measurement methods & typical rates in buildings and in HVAC systems
InspectAPedia tolerates no conflicts of interest. We have no relationship with advertisers, products, or services discussed at this website.
Air flow rate data & instruments: this article defines air flow rate or cubic feet per minute (CFM) as the term is used to describe building air conditioners, heating systems, or building air movement rates.
We describe the types of devices or instruments used to measure air flow, comparing the features, operation, and accuracy of each approach. We include examples of manufacturer's air flow rate or CFM data for HVAC equipment like air conditioners and furnaces.
We also include a list of air flow rate measurement instrument or tool suppliers - where to buy CFM measurement equipment. Page top photo illustrates an example of a vane anemometer produced by Extech, the Extech ExTech SDL300 Anemometer and data logger - www.extech.com [permission requested 9/12/12]
Green links show where you are. © Copyright 2015 InspectApedia.com, All Rights Reserved.
Definitions, Procedures & Tools for Measurements of Air Flow Rates (CFM) in Buildings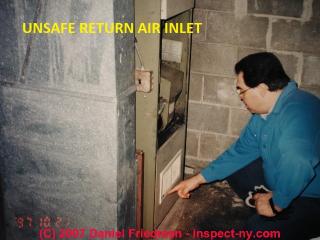 Article Contents
How do we measure air flow in CFM (cubic feet per minute) in an HVAC system such as air conditioners or warm air heaters?
How is CFM measured? - Anon.
Reply: Definition of Air Flow Rate & Flow Rate Measurement
Air flow rates for HVAC systems are expressed as a volume of air being delivered at some rate, typically cubic feet per minute (CFM) or m/sec (meters per second), ft/sec (feet per second), or ft/min (feet per minute).
A nice clear technical answer of how we measure flow rate is provided by Flow Kinetics:
Flow rate is measured by calculating an average velocity for the conduit of interest, and then, multiplying this velocity by the cross sectional area of the duct at the measurement location. The velocity value may estimated using a single reading, or a survey across the duct at a station. [12]
Our HVAC air duct register photos above and below illustrate two common air flow measurement points in a duct system: at the return air inlet (unsafe in the above photo left) and at a supply air register (below left).
Here's a simplistic example of air velocity calculations
If I held up a one-foot square sensor in front of an air source (say an air supply register) and the sensor measured air velocity at 12 inches per minute, I'd be measuring 1 CFM of airflow. (One cubic foot = 12 x 12 x 12 inches).
Or if we measured an air velocity at an air supply register of one foot per minute and we knew that the duct work was a 12-inch square duct, we'd figure we were seeing one cubic foot per minute of air supply at that location.
Actually here are more than one answer to your question about how airflow is measured in an HVAC system because there is a range of air flow measurement instruments on the market.
The measuring devices vary in price, accuracy, and in operating principle, and there are also of course multiple sources of CFM data: manufacturers specifications, theoretical numbers, and actual measurements. We are most interested in the last category.

Air Flow Rate CFM Measurement Devices & Approaches
How Vane / Fan Blade Anemometers are used for air flow rate measurements
Vane or Fan Blade Anemometers, for Fan type air flow measurement: these are the most commonly used lower-cost CFM measurement devices used by home inspectors and HVAC technicians.
At left is a wind speed anemometer - Wikipedia creative commons. At page top we illustrate the Extech ExTech SDL300 Anemometer and data logger available from www.extech.com. [19]
Some anemometers are comparatively small inexpensive (and less precise) air flow measurement devices that use a hand-held fan like instrument such as the Kanomax vane anemometers 6800 series or the ExTech SDL300 shown at page top) to measure air flow in CFM or equivalent rates on other scales.
A hand-held portable fan blade anemometer device is held in the air path and moving air rotates a fan blade. The instrument measures fan blade rotation to calculate a flow rate or pressure equivalent that is combined with the known cross sectional area of the measurement device. An advantage of measuring CFM with an anemometer is that you don't need to correct the measurement for temperature (variation in air density).
Swing Vane Anemometers used for air flow measurements
Swing Vane Anemometers: using a vane or ball that moves along a curved scale are used to measure low velocity air (25 to 400 feet per minute) for checking wind speed or for measuring the air flow rate in duct work, at air filters (is the air filter dirty and needing replacement?), and to meet safety ventilation requirements for OSHA and the US EPA for safety exhaust hoods, spray booths and similar applications.
Pitot tube probes used for air flow measurements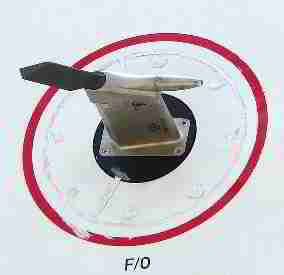 Pitot tube probes: a Pitot tube (invented by Henri Pitot (1732)) is a device that measures air (or other flowing gas or liquid) pressure when the tube is inserted or placed in the proper position (pointed into the direction from which air flow emanates) for sensing airflow.
The pressure is converted to a flow rate by considering the cross-sectional area of the duct or opening through which air is being delivered. (There are some assumptions behind this including that air flow rate is uniform across the cross section of the opening.)
By comparing the dynamic (moving air) pressure to static (non-moving air) pressure a pitot tube can give very accurate air flow velocity data.
Pitot tube image, Wikipedia creative commons. [25]
Quoting Flow Kinetics who offer instruments for air flow measurement as well as excellent technical publications on this topic illustrate a device used fro CFM measurement by measuring air pressure.[12][13]
The (incompressible) velocity measured by a Pitot tube is calculated from the recorded differential pressure, Dp, and density, r, of the fluid. [12][13]
Of course in our case the "fluid" is air and we're interested in air movement through ductwork or out of a supply register into a building space.
Pitot tubes are familiar to air travelers who have noticed that little tube sticking down and pointing forward from the bottom of many aircraft where the pitot tube is used to measure the air speed of the craft. Indeed pitot tubes are used for high velocity airflow measurements where a vane anemometer could not possibly be up to the task.
Pitot tubes are the most accurate technology for measuring air flow rates and are generally used to provide the accuracy standard for comparison with other CFM measurement devices.
How Pressure Transducers are used for air flow measurements
Pressure transducers: also measure pressure from a flowing gas or air and permit conversion to CFM measurements in the same manner as a pitot tube - knowing the cross sectional area of the duct or opening.
Pressure sensors measure the force exerted by a "fluid" including air or liquid by measuring the force that would be necessary to stop that movement. These devices are also called pressure transmitters, pressure senders, pressure indicators, piezometers, and in HVAC equipment and testing, manometers.[14]
Actual measurements of airflow in an HVAC system or at air supply registers are expressed in cubic feet per minute and are most often made in the field using a hand held flow meter through which air moves. The flow meter is calibrated based on the its input area and the resistance offered by its own fan blades.
As air, say coming out of an air supply duct, blows through the handheld device it causes the device fan or sensor to move, giving a measurement of calculated air flow in cubic feet per minute at that location and time.

Watch out however: measuring cfm at a supply register is not at all the whole story since air flow varies throughout the system as it is affected by internal resistances such as bends, crimps, surface smoothness, duct length, etc. And air flow through rectangular duct work is not identical to air flow CFM through a round duct of the same cross-sectional area.
"Hot wire" CFM measurements using a hot wire anemometer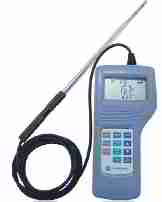 An anemometer type device that uses a heated wire and measures the cooling effect of low velocity air flow can also be used to estimate air flow rates provided that air temperature is also considered to provide a correct estimate of air flow rate. T
The GrayWolf Advanced Sense HVAC differential pressure manometer works on this principle using a hot wire probe inserted into the HVAC duct.
Also see the Kanomax A031 hot wire anemometer (photo at left, kanomax-usa.com, described below. ) [24]
Note: all of the air measurement instrument manufacturers listed in this article produce a range of air flow rate monitoring instruments (and other test equipment) providing a variety of functions, accuracy, and of course, price.
Capture Hoods for air flow measurements
Capture Hoods can be used to make accurate measurements of air flow rates at HVAC system air supply registers. Capture hoods cover the entire supply air register and use a differential pressure device or a hot wire device to obtain an air flow CFM number.
How Liquid Column gauges - liquid column manometers are used for air pressure or air flow measurements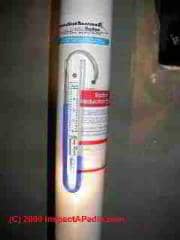 Liquid Column gauges - liquid column manometers are a special form of liquid-column manometer used to measure low velocity air flow by comparing air pressure inside and outside of two spaces. At left the U-shaped plastic tube filled with a blue liquid is connected at its left end to the interior of a 6" plastic vertical exhaust duct forming part of a radon mitigation system.
The right end of the liquid column gauge is simply open to the atmosphere of the room, in this case a basement. The differential in air pressure between the two ends of the tube is marked on a scale indicating the air flow rate inside of the column.
The difference in height between the two ends of the column of blue liquid is always in direct proportion to the difference between the two air pressures (inside & outside of the exhaust duct). If no air were flowing inside of the white exhaust duct, the two ends of the blue liquid would be at the same level.
In this application, air flowing past the end of the flexible plastic tube inserted into the column interior causes a reduction of air pressure in the tube that is a function of the speed of air flow past the tube opening. In this application the liquid column gauge reading of differential air pressure does not have to be precise as its function is simply to indicate that there is some difference in air pressure between the room interior and the exhaust duct interior.
As long as the room is at higher pressure than the column interior, the exhaust system is working and any radon gas below the floor slab (in this application) tends to exhaust through the duct rather than enter the room.
Toilet Paper or Tissue Confirmation of Air Flow

A simple test for air movement at the return air inlet is illustrated in our sketch.
Just hold a tissue or piece of toilet paper near the inlet grille face.
If air is moving into the grille the tissue will be pulled against the opening.
This toilet paper or tissue test can confirm air flow as well as the direction of air movement at an HVAC air supply or return air register, and is a useful, if trivial, demonstration that can help confirm air movement when air flow in the system is weak or uncertain.
Obviously, this is a subjective, non-quantitative test for air movement at a building location.

Sketch at left courtesy Carson Dunlop Associates.
At AIR MOVEMENT in BUILDINGS we illustrate another toilet tissue test by taping a tissue to the bottom of an open window sash in a New York building.
Typical Manufacturer's Air Flow Rate CFM Specifications for HVAC equipment
Fans such as a blower assembly, are rated at a cubic feet per minute of air that the fan can move, presuming a particular rotating speed.
Watch out: the true CFM of a squirrel cage blower fan in a central warm air heating or cool air conditioning system can be 50% less than rated if the fan blades are dirty however.

Accuracy of CFM or other air flow measurements on HVAC systems such as air conditioners or heaters
CFM measurements on HVAC systems should be considered an approximation not precision measurements. There are a number of sources of uncertainty even in the measurement itself. For most HVAC air flow troubleshooting or air balancing applications, we are more interested in comparison measurements of air flow between different locations in the HVAC duct system than in high precision in statement of air flow itself.
OPINION: Therefore while pitot-tube type instruments and some electronic air flow measurement instruments can offer both precision and accuracy in HVAC or building air flow measurements, all of the instruments described in our article above can work suitably for heating and air conditioning design and maintenance.
Where to Buy Air Flow CFM Measurement Devices for HVAC Systems
Dwyer Instruments, 102 Indiana Hwy. 212 (P.O. Box 373) Michigan City, IN 46360 (46361) USA, Website: www.dwyer-inst.com/flowmeters distributes Kanomax Anemometer Air Flow Meters such as the Anemometer LITE Model 6006 or for HVAC testing their vane anemometer, the Dwyer Instruments Anemometer Model A031.
Extech Instruments Corporation 9 Townsend West Nashua, NH 03063 U.S.A., Tel: 877-239-8324, Website: http://www.extech.com, Email: sales@extech.com ExTech_SDL300data.pdf
FlowKinetics LLC, 528 Helena Street Bryan, Texas 77801 USA, Tel: (979) 680-0659, Email: inform@flowkinetics.com, Website: www.flowkinetics.com
GrayWolf Sensing Solutions, 6 Research Dr., Shelton CT 06484, USA, Tel: 800-218-7997, email: salesteam@wolfsensing.com differential pressure manometers, Website: www.wolfsense.com (hot wire air velocity probes). The company has offices in Clare, Ireland as well.
Kanomax Anemometers, Website:kanomax-usa.com, e.g. Kanomax Anemomaster Model A041, (straight-probe type hot wire anemometer typically for HVAC system use), retrieved 9/12/12, original source: http://www.kanomax-usa.com/product_catalog/Kanomax_A031.pdf [copy on file as Kanomax_A031.pdf]
Omega.com, Tel: 800-TC-OMEGA, website: http://www.omega.com, offices world wide
Contact Us to add a listing here. No fees, no conflicts of interest.
...
Continue reading at AIR LEAKS in RETURN DUCTS or select a topic from the More Reading links or topic ARTICLE INDEX shown below.
Or see AIR MOVEMENT in BUILDINGS for a discussion of factors affecting the direction and amount of air movement in buildings.
Suggested citation for this web page
AIR FLOW MEASUREMENT CFM at InspectApedia.com - online encyclopedia of building & environmental inspection, testing, diagnosis, repair, & problem prevention advice.
More Reading
Green link shows where you are in this article series.
OR use the Search Box found below at Ask a Question or Search InspectApedia
...
Frequently Asked Questions (FAQs)
Question:
(Feb 27, 2013) Sam Xu said:
Hi,
I'm doing a tenant fit-up for a nail and spa salon. How do I show/calculate the HVAC systems to provide ventilation of 15CFM/person as described in IEBC 709.2?
Thanks for your help in advance.
(June 23, 2014) NK Gandhi said:
In an HVAC system air duct I am examining there is a diffuser fitted which has air flowing in four direction. So while measurintg four reading have to be taken and then average of four reading is ideal process or should we make an duct near diffuser and take a single reading?
Reply:
NK
Unless the duct configuration is quite asymmetric I'd expect the arriving air to hit uniformly on all four louvered sides of the diffuser, generating pretty much the same air flow at each outlet side. Why not make a few actual reading tests to confirm that the uniformity I predict is what you're finding?
On the other hand if an air duct takes a sharp 90deg. turn then connects to the diffuser very closely, the air flow may be non-uniform, in which case you've pointed out a potentially important source of variation.
If you find that's the case you might make a temporary adapter hood that is simply held in place over the diffuser to momentarily direct all air flow in a single direction to obtain an approximate reading of CFM.

Question:
(Sept 17, 2014) Matt said:
If I have a room that is 1800 cubic feet, and want to have an effective HEPA/UV HVAC system, how many CFM is necessary? Does the total amount of air need to be through the filter every minute? I guess what I'm asking, is will a 300 CFM system be good enough for a 1800 CF room to maintain dust/particle control? Or does it have to be 1800CFM to be a "Cleanroom"?
Reply:
I can't answer this question as we know nothing about the room's air leak rate, access doors, air exchange rate, etc.
Ask a Question or Search InspectApedia
Use the "Click to Show or Hide FAQs" link just above to see recently-posted questions, comments, replies, try the search box just below, or if you prefer, post a question or comment in the Comments box below and we will respond promptly.
Search the InspectApedia website
Technical Reviewers & References
Publisher's Google+ Page by Daniel Friedman
Click to Show or Hide Citations & References
...
[1] Thanks to Mark Cramer, Tampa Florida, for assistance in technical review of the "Critical Defects" section and for the photograph of the deteriorating gray Owens Corning flex duct in a hot attic. Mr. Cramer is a Florida home inspector and home inspection educator.
[2] Thanks to Jon Bolton, an ASHI, FABI, and otherwise certified Florida home inspector who provided photos of failing Goodman gray flex duct in a hot attic.
[3] Air Diffusion Council, 1901 N. Roselle Road, Suite 800, Schaumburg, Illinois 60195, Tel: (847) 706-6750, Fax: (847) 706-6751 - info@flexibleduct.org - www.flexibleduct.org/ -
"The ADC has produced the 4th Edition of the Flexible Duct Performance & Installation Standards (a 28-page manual) for use and reference by designers, architects, engineers, contractors, installers and users for evaluating, selecting, specifying and properly installing flexible duct in heating and air conditioning systems.
Features covered in depth include: descriptions of typical styles, characteristics and requirements, testing, listing, reporting, certifying, packaging and product marking.
Guidelines for proper installation are treated and illustrated in depth, featuring connections, splices and proper support methods for flexible duct. A single and uniform method of making end connections and splices is graphically presented for both non-metallic and metallic with plain ends."
The printed manual is available in English only. Downloadable PDF is available in English and Spanish. 
[4] Engineering toolbox properties of water - http://www.engineeringtoolbox.com/water-thermal-properties-d_162.html and email: editor.engineeringtoolbox@gmail.com web search 09/16/2010
[5] Owens Corning Duct Solutions - www.owenscorning.com/ductsolutions/ - provides current HVAC ductwork and duct insulating product descriptions and a dealer locator. Owens Corning Insulating Systems, LLC, One Owens Corning Parkway, Toledo, OH 43659 1-800-GET-PINK™
[6] "Flexible Duct Media Fiberglas™ Insulation, Product Data Sheet", Owens Corning - see owenscorning.com/quietzone/pdfs/QZFlexible_DataSheet.pdf
"Owens Corning Flexible Duct Media Insulation is a lightweight, flexible, resilient thermal and acoustical insulation made of inorganic glass fibers bonded with a thermosetting resin."
[7] Modern Refrigeration and Air Conditioning, A. D. Althouse, C.H. Turnquist, A. Bracciano, Goodheart-Willcox Co., 1982
[8] Principles of Refrigeration, R. Warren Marsh, C. Thomas Olivo, Delmar Publishers, 1979
"Air Conditioning & Refrigeration I & II", BOCES Education, Warren Hilliard (instructor), Poughkeepsie, New York, May - July 1982, [classroom notes from air conditioning and refrigeration maintenance and repair course attended by the website author]
[9] Refrigeration and Air Conditioning Technology, 5th Ed., William C. Whitman, William M. Johnson, John Tomczyk, Cengage Learning, 2005, ISBN 1401837654, 9781401837655 1324 pages
[10] Carson Dunlop, Associates, Toronto, have provided us with (and we recommend) Carson Dunlop Weldon & Associates' Technical Reference Guide to manufacturer's model and serial number information for heating and cooling equipment ($69.00 U.S.).
[11] IMG HSPACE="3" VSPACE="0" BORDER="0" WIDTH="28" HEIGHT="11" SRC="/graphics/new.gif" ALT="New" />Air Conditioning SEER - New DOE Air Conditioner and Heat Pump Efficiency Standard
[12] FlowKinetics LLC, 528 Helena Street Bryan, Texas 77801 USA, Tel: (979) 680-0659, Email: inform@flowkinetics.com, Website: www.flowkinetics.com, "FKS 1DP-PBM Multi-Function Meter Pressure, Velocity & Flow User's Manual", web search 07/16/2012, original source: http://www.flowkinetics.com/FKS_1DP_PBM_Manual.pdf [copy on file] and "FKT Series Flow Measurement And Pressure Acquisition System User's Manual" http://www.flowkinetics.com/FKTSeriesManual.pdf [copy on file]
[13] Histoire de l'Académie royale des sciences avec les mémoires de mathématique et de physique tirés des registres de cette Académie: 363–376. Retrieved 2009-06-19.- Pitot Tubes, Henri Pitot (1732)
[14] Wikipedia provided background information about some topics discussed at this website provided this citation is also found in the same article along with a " retrieved on" date. NOTE: because Wikipedia entries are fluid and can be amended in real time, we cite the retrieval date of Wikipedia citations and we do not assert that the information found there is necessarily authoritative.
"Pressure sensor", retrieved 7/16/2012
[18] N Lu, YL Xie, Z Huang, "Air Conditioner Compressor Performance Model", U.S. Department of Energy, August 2008, [copy on file as PNNL-17796.pdf] Available to the public from the National Technical Information Service, U.S. Department of Commerce, 5285 Port Royal Rd., Springfield, VA 22161 ph: (800) 553-6847, fax: (703) 605-6900 email: orders@ntis.fedworld.gov online ordering: http://www.ntis.gov/ordering.htm
[19] Extech Instruments Corporation 9 Townsend West Nashua, NH 03063 U.S.A., Tel: 877-239-8324, Website: http://www.extech.com, Email: sales@extech.com

Extech SDL300 Metal Vane Thermo-Anemometer/Datalogger Product Datasheet, retrieved 9/12/12/, original source: http://www.extech.com/instruments/resources/datasheets/SDL300data.pdf, [copy on file as ExTech_SDL300data.pdf and ExTech_SDL300data_Users_Guide.pdf]

[20] Dwyer Instruments, 102 Indiana Hwy. 212 (P.O. Box 373) Michigan City, IN 46360 (46361) USA, Website: www.dwyer-inst.com/flowmeters distributes Kanomax Anemometer Air Flow Meters such as the Anemometer LITE Model 6006 or for HVAC testing their vane anemometer, the Anemometer Model A031.
[21] Extech Instruments Corporation 9 Townsend West Nashua, NH 03063 U.S.A., Tel: 877-239-8324, Website: http://www.extech.com, Email: sales@extech.com, U.S. Tech Support Email: support@extech.com, ExTech_SDL300data.pdf
[22] GrayWolf Sensing Solutions, 6 Research Dr., Shelton CT 06484, USA, Tel: 800-218-7997, email: salesteam@wolfsensing.com differential pressure manometers, Website: www.wolfsense.com (hot wire air velocity probes). The company has offices in Clare, Ireland as well.
[23] Omega.com, Tel: 800-TC-OMEGA, website: http://www.omega.com, offices world wide
[24] Kanomax Anemometers,

Kanomax Anemomaster Model A041, (straight-probe type HVAC system use)

[25] Wikipedia provided background information about some topics discussed at this website provided this citation is also found in the same article along with a " retrieved on" date. NOTE: because Wikipedia entries are fluid and can be amended in real time, we cite the retrieval date of Wikipedia citations and we do not assert that the information found there is necessarily authoritative.
Pitot Tube, retrieved 9/12/12, original source: http://en.wikipedia.org/wiki/Pitot_tube
Books & Articles on Building & Environmental Inspection, Testing, Diagnosis, & Repair