Chemical Toilet Questions & Answers
FAQs for chemical toilets & porta-potties
InspectAPedia tolerates no conflicts of interest. We have no relationship with advertisers, products, or services discussed at this website.
Frequently asked questions (FAQs) about portable chemical toilets:
Questions & answers about the set-up, use, maintenance, cleaning,and emptying-out of chemical toilets. We also discuss portable toilet repairs and winterizing.
This article series describes use of chemical toilets, how they work, and how they reduce wastewater consumption. The photograph at page top is of the Thetford PortaPotti, a portable toilet which uses chemicals.
Green links show where you are. © Copyright 2017 InspectApedia.com, All Rights Reserved.
FAQS on Buying, Using, Repairing a Chemical Toilet or Portable Toilet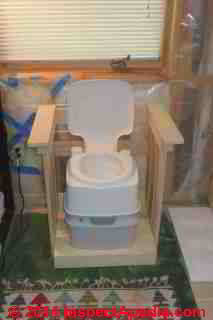 Chemical Toilets: use a chemically treated reservoir located directly below the toilet seat. The chemicals reduce odors and perform partial (incomplete) disinfection of the waste.
[Click to enlarge any image]
Question: can I use household chemicals as an alternative to over-the-counter toilet deodorants & disinfectants
there are alternative effective recipes for use in Portable toilets that can be made from household chemicals. Do you know of any such mixtures that are available - Colin 6/12/11
Reply: yes, ... maybe, ... sort-of
Raft-camping down the Colorado River we carried an ammunition can used as an emergency day-toilet. Inside the can were supplies including ziplok plastic bags, toilet paper, and a small bottle of diluted bleach.
The routine was to defecate into the baggie and also use it to dispose of toilet paper. Since all of that waste had to be packed out of the Canyon, and because the can was exposed to high temperatures during the day, we poured a little bleach into each baggie to slow the decomposition and gas production - avoiding an exploding ammo can.

But in general I don't recommend do-it-yourself toilet chemical experiments since there are health and safety risks.

Furthermore, using bleach or PineSol or similar household cleaners in a portable toilet is likely to leave you with no place to dump the toilet when it needs to be emptied and cleaned.
That's because RV parks and other porta-potty waste receivers won't want you dumping into their systems a mix of waste that includes chemicals that kill off bacteria.
Killing off septic tank bacteria with bleach or household cleaners interferes with septic tank function and can lead to not only ground water contamination but also costly septic drainfield failures or increased costs of extra septic tank pumpouts.
Question: how do I keep my porta-potty from freezing?
I want to keep my porta potty in my van for occasional use during the upcoming Michigan winter. How do I keep it useful without it freezing? - Bonnie Jones 10/5/11
Reply:
Good question Bonnie.

Short answer: to keep a portapotty in a van in freezing conditions, first buy and use RV wastewater and flush water environmentally safe antifreeze product from an RV supplier.

We leave a chemical toilet in a remote cabin in northern Minnesota through very deep freezing weather. But first we empty the water from the flush reservoir and we empty the toilet base as well. Then we leave a very small quantity of water along with toilet treatment chemical in the toilet base receptacle.
By that means the toilet is almost ready to use when people return to the cabin. All that's needed is to add water to the flush reservoir.

I would not leave any water in the toilet nor waste in the toilet in freezing conditions. The risk is that frozen water or wastewater breaks the toilet and later thaws, leaving a mess in your van.

For buildings (or vans) where we need to leave a portapotty in ready-to-use condition in freezing conditions we'd have to add a heat source OR we'd need to add an antifreeze mix to be sure of avoiding damage. You MIGHT get away with letting a small amount of waste in the toilet bottom freeze but it's risky.

If you check with your local RV suppliers you'll find that they sell RV wastewater holding tank antifreeze for use in those larger vehicles. Basically it will be an environmentally safe product that can be used in both the flush water supply and in the wastewater holding tank.

Be sure to follow the proper dilution instructions on the product label so that you don't over-dose your porta potty nor the dumping station into which it is later emptied.
Also see FREEZE PROTECTION for PORTABLE TOILETS
Question: how do I treat a toilet so it can be left for weeks?
Is there no way to treat a toilet so that it can be left for weeks? Thing is we only use the toilet a couple of times when we visit a remote cabin. Getting the toilet to a dump point is a mission, so it would be good if there was a way to avoid it each visit. - Mark 2/1/2012
Reply:
Mark, if you use the proper amount of disinfectant I've found that a chemical toilet is just fine left alone for weeks;
Question: where can I buy a chemical toilet in Ghana?
i live in an area which has a lot of salty water in the soil. if the water does not affect the manhole the salt would. i need this portable chemical potty to buy where can i get one in Ghana - Evelyn 11/9/12
Reply:
Evelyn portable chemical toilets are sold worldwide in most large cities at camping and RV suppliers, contractor supply houses and some plumbing suppliers; if you can't find a close source I'd just ask someone to bring one in for you - they're not heavy.
The Thetford toilet is particularly widely distributed, and back in 2011 we read of a whole collection of test-porta-potty toilets being brought from the U.S. to Kumasi by Danny Alexander.
However as you'll read in the article above, a small porta-potty is not going to be very functional for permanent or regular use in a home with more than one or two occupants - you'll find that you have to empty and clean the unit daily; conversely, a very large reservoir portable toilet means that it may be heavy and awkward to carry to a disposal point.
Where electricity is limited, there is LP fuel shortage, or where cost matters, therefore ruling out an incinerating toilet, you might be better off considering a composting type toilet, even a site-constructed one. See COMPOSTING TOILETS.
Question: is it OK to dump my chemical toilet into the outhouse ?
I have a cabin way up north and are wondering about a chemical toilet instead of using the out house at nite because there are bears and wolves there. The out house is legal there. Would it be safe to dump the chemical in the out house - Dave
Reply:
Dave,

OPINION: it would be safe to dump normal concentrations of chemical toilet waste into the outhouse but it will also have the effect of slowing down any biodeterioration that may have been expected there. Since outhouses collect a rather concentrated dose of solid feces and liquid urine, the rate of break-down of waste is very slow anyway, and the usual procedure is to move the outhouse and bury the pit when it's near full.
I'm doubtful that modest doses of chemical toilet waste will make much of a change there other than perhaps reducing odors. But I'd be sure not to overdose the chemical toilet - just use the required amount of chemical, don't dump whole bottles or packets of chemical into your chemical toilet or you'll be dumping more than needed into the outhouse, and you might risk leaching chemicals into surrounding soil.
Question: we are considering getting a chemical toilet - are they smelly? Can the chemicals be flushed into a home septic tank?
We are considering getting a chemical toilet for use in our home's bathroom.
My questions are, can chemical toilets be flushed into a home septic tank, and do they smell really bad after a bowl movement? Any suggestions as to which type of chemical toilet would be good for in-home use would be greatly appreciated. - K.S. 1/23/13
Reply:
Chemical toilets are not smelly - at least not from urine or feces that are placed in the toilet, any more than a water-flush toilet.
The deodorant recommended by the manufacturer is placed in the chemical toilet holding tank along with a small volume of water as a starter; it's effective both in odor and sanitation;
If you don't use a recommended treatment chemical, indeed the toilet may smell and also may be unsanitary if not emptied very frequently.

Provided you follow the dilution and usage instructions, limited emptying of a chemical portapotty type toilet into a home septic tank should not be harmful - the preservative in the deodorant should be quite dilute.

Details are in the article above. We discuss the worry of dumping chemical toilet chemicals into the septic tank in more detail at Dump into Septic Tank? 

Question: what about using a porta-john on a boat - isn't high temperature a worry?
4/23/14 Anonymous said:
How do you avoid high heat on a boat?, and should I be worried about this?
Reply: No if proper chemical treatment is used, otherwise yes heat is a concern with some portable toilets & some fixed, waterless incinerating toilets
Anon,
If you are asking about a chemical toilet for boat use, in normal use the addition of odor control treatment chemicals to the toilet base should prevent troublesome methane gas formation at problem levels by controlling the amount of bacterial action - basically stopping it.
See HOW TO ADD CHEMICAL DEODORANT / DISINFECTANT to a chemical toilet
Watch out: if someone omits the recommended chemical toilet treatment, then it is possible that some models may use a holding tank that is too air-tight, un-vented, that could result in a toilet explosion. Check with the product manufacturer to make sure that the model about which you inquire is rated for high temperature locations and marine use.

At CAMPING & EMERGENCY TOILETS I describe a real-world worry about harmful explosions that can occur if un-treated sewage waste is kept in a tightly sealed container and exposed to high temperatures.
More about Marine Toilets suitable for both small craft and some larger boats, even submarines, along with their history can be read at MARINE TOILETS.
Question: avoiding high heat or fires on a boat chemical toilet or marine toilet
(Apr 23, 2014) Anonymous said:
how do you avoid high heat on a boat?, and should I be worried about this?
Reply:
Yes Anon, heat can be a concern depending on the toilet type and model. I've posted detailed comments to your question at the end of the article just above.
Question: put a little water in the basin of a porta potty before use
(May 21, 2014) Andy said:
Should you put a little water in the basin of a porta potty before using it.
Reply:
(May 21, 2014) (mod) said:
I do that, though the instructions don't require it. Particularly if using a dry powder. It helps keep the bottom rreservoir deodorized and sanitary.

Question: Century 8l porta potty parts
(July 1, 2014) old Century said:
Century 8l porta potty ... pump will not work. Is there a special lubricant, or sealant, that should be applied to the pump internal rubber parts?
Reply:
Old,
Try silicone grease. More likely you need to replace the pump. You made sure there is water in the reservoir, right?
Question: where can I legally empty the chemical tiolet without need to stay in camping sites?
x(Sept 9, 2014) P.K. said:
Question: If I want to make a long trip around Europe with caravan/camper, is there any places where I can legally empty the chemical tiolet without need to stay in camping sites? For example: can I empty it in public tiolets like in gas stations etc.?
Reply:
PK
In my OPINION if the volume of wastewater were trival, say 1-4 gallons, I'd be oK with emptying that into an ordinary toilet.
Otherwise I would not, as you may damage the receiving system or even kill off bacteria in a gas station's private septic tank (preservatives / deodorants in the RV holding tank can have that effect). For an explanation see
RV HOLDING TANK DUMP INTO SEPTIC TANK?
in the More Reading links above
But there are almost always RV parts and some other stations that post signs permitting emptying of RV tanks (caravan camper toilet holding tanks), typically for a fee. That's where I'd "go".
Question: I want a simple toilet, costing $60. to $100. that is odor free and that produces mulch that I can dispose-of onto our garden.
Dear Sir/Madame,
I find your web resource very useful but I couldt' get the information that I need.
I have a summer cottage in remote area with no water system, we have to bring water from city in bottles. We have a toilet which is just a square hole digged in the earth may be 1.5 meters deep and 90 cm. each side covered by wooden cabin. So we do our job there. No wate tank or septic on our land parcel. I have two questions to ask:
1. Can you please recommend any liquid/powder or treatment solution which is eco friendly and wich I can to add to the toilet hole in order to biodegrade our human waste (urine and feces).
As you understand the odor is awful there so the the amount of feces is also increasing with time.
Are there any bacteria that eat up this biological human waste? I want to achieve two goals: Reduce the volume of waste that is already there and prevent terrible odor in the toilet.
2. I'm also considering to byu portable toilet. I can't afford to spend 900 + on composting toilet so I'm for the one in the range of 60-100 dollars.
As I said ealier, there is no water system or sewage system. I read information about portable toilets chemicals and got impression that the main puporse of this chemicals is to prevent bad odor and degrade solid parts of feces.
But I want to use eco friendly bio substances to add to flushing part and waste part of the portable toilet and then empte waste container into my garden to enrich it with biodegrated kind of humus.
Can you recommend any brand and name of such substances (fluid or powder or concentrate) that will do the job?
- Anonymous by private email 2016/06/16

Reply: build a traditional outhouse or latrine
My best suggestions for deodorizing a privy or open pit toilet are at
and also see
LATRINE TYPES & CONSTRUCTION for more basic designs
For a simple portable chemical toilet, just search InspectApedia.com for CHEMICAL TOILETS to see some very inexpensive suggestions.
I should add that there's no magic solution here; you cannot by any means I've seen, even with even the most modern technology for toilets, fully deodorize human waste, compost it, produce garden-safe humus, spend less than $100., and at the same time avoid any chemical deodorants. Those deodorants are basically chemicals that retard bacterial action.
For a simple, cheap outhouse deodorant that was also used to control flies, take a look at the discussion of old-time us of lyme in outhouses in the outhouse article above.
...
Continue reading at COMPOSTING TOILETS or select a topic from closely-related articles below, or see our complete INDEX to RELATED ARTICLES below.
Or see ALTERNATIVE & WATERLESS TOILETS and also WATERLESS URINALS
Or see CAMPING & EMERGENCY USE TOILETS
Or see DISABLED or ELDERLY-USE TOILETS
Or see INCINERATOR TOILET SYSTEMS
Or see RV HOLDING TANK DUMP INTO SEPTIC TANK?
Or see TOILET TYPES, CONTROLS, PARTS - home
Or see WATERLESS URINALS
Suggested citation for this web page
CHEMICAL TOILET FAQs at InspectApedia.com - online encyclopedia of building & environmental inspection, testing, diagnosis, repair, & problem prevention advice.
Or use the SEARCH BOX found below to Ask a Question or Search InspectApedia
...
Frequently Asked Questions (FAQs)
Try the search box below or CONTACT US by email if you cannot find the answer you need at InspectApedia.
Question: why the pump on the chemical loo has stopped?
(Nov 18, 2014) KD said:
Anyone have an idea as to why the pump on the chemical loo has stopped? There's plenty of water in it, but I haven't used it for about 14 months

Reply:
Check for electrical power
Check for a stuck or failed float or switch control
Check last for a seized pump motor
...
Ask a Question or Search InspectApedia
Questions & answers or comments about buying, using, maintaining, repairing, and emptying out a chemical toilet or porta potty.
Use the "Click to Show or Hide FAQs" link just above to see recently-posted questions, comments, replies, try the search box just below, or if you prefer, post a question or comment in the Comments box below and we will respond promptly.
...
Ask a Question or Search InspectApedia
Use the "Click to Show or Hide FAQs" link just above to see recently-posted questions, comments, replies, try the search box just below, or if you prefer, post a question or comment in the Comments box below and we will respond promptly.
Search the InspectApedia website
Technical Reviewers & References
Click to Show or Hide Citations & References
[1] Splash RV & Marine Antifreeze, Splashproducts, Inc., Tel (651) 489-8211, 51 East Maryland Avenue, St. Paul, MN 55117-4615, web search 05/10/2011, original source: MSDS for Splash Products found at http://www.splashwash.com/data_sheets%5CMSDS%20RV-100%20new%20format.pdf
Products - for Alternative Septic System Designs aerobic system pumps, media filters, gravelless systems, other advanced wastewater treatment products including waterless, low water, chemical, and incinerating toilets.
The

Century 6205 2.6-Gallon Portable Toilet by Century Tool

shown in the photograph at page top was purchased at Amazon.com and costs less than $100. Other Century Tool camping products can be seen at centurycamping.com/
Coleman Corporation, 3600 North Hydrauli, Wichita, KS 67219, Tel: 1-800-835-3278, is a producer of camping equipment and gear, including chemical and portable toilets including both non-flush portable toilets and a large portable flush-toilet. Coleman has offices in many countries.
Reliance Products, 1093 Sherwin Road, Winnipeg, MB, Canada R3H 1A4, Toll Free: 1-800-665-0258, Telephone: (204) 633-4403, produces the Reliance Hassock Portable Toilet #00984421. Quoting from the company's website:
Whether you're on the road, in a campground, out on the water, or at the cabin, the Hassock is one of best portable toilets around. This lightweight, self-contained toilet has a comfortable contoured seat, a removable inner bucket for easy waste disposal and clean-up, an inner splash cover, and toilet paper holder.
In addition, the Hassock is compatible with our standard Double Doodie bag, which means virtually no clean-up and waste disposal is a snap when used together.

Rothco Corporation, 3015 Veterans Memorial Highway, Ronkonkoma, New York 11779-0512, Telephone: 631-585-9446, Toll Free: 800-645-5195 Domestic Fax: 631-585-9447, International Fax: 631-585-9442, Email: info@rothco.comTel. 800-645-5195; Rothco, founded in 1953, is a wholesale supplier of military and outdoor products including camping toilets. Quoting:
ROTHCO is America's foremost wholesale supplier of military and outdoor products. We carry an extensive line of apparel and gear available for domestic and overseas sale to resellers of all types: retail, wholesale, military, police, security, outdoor products, screen printers, uniform dealers, fashion retailers, and sportswear shops. For nearly 50 years we've primarily serviced independently-owned Army/Navy surplus stores across America, but in recent years ROTHCO has expanded our customer and product range to include new lines of sportswear and over 25% of our sales are now to overseas customers.
Thetford Corporation 7101 Jackson Road, Ann Arbor, MI 48103, Phone: 1-800-543-1219, 734-769-6000, Fax: 734-769-2023; Thetford produces a wide range of permanent and portable alternative toilet designs. Quoting:
Our [toilet] products are easy to use at bedside and indispensable for the physically challenged, the aged, and small children.
Thetford's list of toilet products suitable for home or bedside health care are listed at
http://www.thetford.com/Thetford/HOME/ApplicationHome/BedsideApplications/tabid/94/Default.aspx
Mark Cramer Inspection Services Mark Cramer, Tampa Florida, Mr. Cramer is a past president of ASHI, the American Society of Home Inspectors and is a Florida home inspector and home inspection educator. (727) 595-4211 mark@BestTampaInspector.com 11/06
Hankey and Brown home inspectors, Eden Prairie, MN, technical review by Roger Hankey, prior chairman, Standards Committee, American Society of Home Inspectors - ASHI. 952 829-0044 - hankeyandbrown.com 11/06
Arlene Puentes, a licensed home inspector, educator, and building failures researcher in Kingston, NY. 11/29/06
Products - for Alternative Septic System Designs aerobic system pumps, media filters, gravelless systems, other advanced wastewater treatment products including waterless, low water, chemical, and incinerating toilets.
The

Century 6205 2.6-Gallon Portable Toilet by Century Tool

shown in the photograph at page top was purchased at Amazon.com and costs less than $100. Other Century Tool camping products can be seen at centurycamping.com/
Composting Toilet System Book: A Practical Guide to Choosing, Planning and Maintaining Composting Toilet Systems, David Del Porto, Carol Steinfeld. Quoting an Amazon review: Del Porto's book is the definitive composting toilet book at this time. There is nothing even close. His book covers all aspects of composting toilet systems and touches on graywater issues as well. He treats the composting toilet as part of the home system. If a person is seriously interested in installing/having a composting toilet, this book can save him/her all of the mistakes people usually make. He even (carefully) explodes some of the advertising myths that the purveyors of composting toilets would have us believe. The book covers ready-made systems as well as home built systems. As trite as this sounds, the book truly is a must for someone considering installing composting toilet.
The Humanure Handbook: A Guide to Composting Human Manure, 3rd Ed., Joseph C. Jenkins. Quoting part of an Amazon review: The Humanure Handbook provides a wealth of thoroughly researched, hands-on experience and scientific data that demonstrates that after a natural process called "thermophilic" bacterial digestion, which occurs in a compost bin and where all pathogens are killed, excreta is then converted to a valuable nutrient for agriculture and thereby completing a full-circle life cycle. Most importantly, effluent can then be kept out of our drinking water and not treated or referred to as an undesirable "waste product".
The information is conveyed in a humorous, folksy, down-to-earth easy to understand style along with drawings, charts, tables, photos and a wealth of resource info for further research. Jenkins' website has a forum for sharing more info, experiences and to answer any and all questions in the process of humanuring and constructed wetland gray water treatment.
Thermal composting of fecal matter as treatment and possible disinfection method--laboratory-scale and pilot-scale studies, B. Vinneras, A. Bjorklund, H. Jonsson. Quoting Amazon review: When using toilets where the urine and faeces are collected separately for reuse as nutrients in agriculture, the collected matter should be disinfected. One way to do this is by thermal composting. Composting of different material mixes was investigated in a laboratory-scale experiment. This showed that the best mixture for dry thermal composting was a mix of faeces, food waste and amendment. The urine was collected separately by use of urine-diverting toilets. A new method was developed to mathematically evaluate and estimate the safety margins of pathogen inactivation during thermal composting. The method is based upon a mathematical calculation of the number of times total inactivation (at least 12log"1"0 reduction) of the organisms is achieved. In a pilot-scale experiment, the disinfection of a faeces/food waste mix was performed with a calculated safety margin of more than 37 times the total die-off of Enteroviruses and some 550 times that of Ascaris. Thus, well functioning composting seems to be effective for disinfection of faecal matter. To get a high temperature in all of the material, the reactor has to have sufficient insulation. A major disadvantage is the initial need for handling the raw un-disinfected material. The degradation of the organic matter in the compost was almost 75%, resulting in a small final volume that could safely be recycled.
Experiences with a composting toilet article from: Countryside & Small Stock Journal, available as HTML download. Quoting Amazon review: This digital document is an article from Countryside &amp Small Stock Journal, published by Countryside Publications Ltd. on May 1, 1994. The length of the article is 1516 words. The page length shown above is based on a typical 300-word page. The article is delivered in HTML format and is available in your Amazon.com Digital Locker immediately after purchase. You can view it with any web browser.
From the supplier: A composting toilet is a good alternative to propane burning toilets, but it also has many problems. The worst part is emptying the waste and compost every 4-6 weeks. Other problems are the fan that must be kept running constantly and bug infestation.
Decentralized Systems Technology Fact Sheet: Septic Tank - Soil Absorption Systems, U.S. EPA, PDF Document provides basic information about septic tanks and drainfields.
Books & Articles on Building & Environmental Inspection, Testing, Diagnosis, & Repair
US EPA Onsite Wastewater Treatment Systems Manual [online copy, free] Top Reference: US EPA's Design Manual for Onsite Wastewater Treatment and Disposal, 1980, available from the US EPA, the US GPO Superintendent of Documents (Pueblo CO), and from the National Small Flows Clearinghouse. Original source http://www.epa.gov/ORD/NRMRL/Pubs/625R00008/625R00008.htm Onsite wastewater treatment and disposal systems, Richard J Otis, published by the US EPA. Although it's more than 20 years old, this book remains a useful reference for septic system designers. U.S. Environmental Protection Agency, Office of Water Program Operations; Office of Research and Development, Municipal Environmental Research Laboratory; (1980)
Eco John® Innovative Toilet Solutions, Global Inventive Industries, Fountain Valley CA, PDF, product brochure
"International Private Sewage Disposal Code," 1995, BOCA-708-799-2300, ICBO-310-699-0541, SBCCI 205-591-1853, available from those code associations.
"Manual of Policy, Procedures, and Guidelines for Onsite Sewage Systems," Ontario Reg. 374/81, Part VII of the Environmental Protection Act (Canada), ISBN 0-7743-7303-2, Ministry of the Environment,135 St. Clair Ave. West, Toronto Ontario M4V 1P5 Canada $24. CDN.
Manual of Septic Tank Practice, US Public Health Service's 1959.
The New Create an Oasis With Greywater, Art Ludwig; Buy New: $14.25. Ludwig is one of the most thoughtful, prolific, and sometimes controversial writers on gray water systems and alternative designs. We recommend his book as clear, easy-to-understand writing aimed at property owners who want or need to consider a graywater installation to conserve water, recycle water, reduce water use, or to reduce the load on their septic system. This is the latest edition of this Art Ludwig's greywater design book classic.
Builder's Greywater Guide, Art Ludwig; Buy New: $10.17. Installation of Greywater Systems in New Construction & Remodeling; A Supplement to the Book "Create an Oasis With Greywater" (Paperback). Quoting a review from Amazon: I recommend that you get the 3 companion books on greywater treatment "Create an Oasis", "Branched Drain Greywater Systems" and "Builder's Greywater Guide". The information in these volumes will keep most of us far more informed than most of the regulators, the system builders, and the experts-in-theory. These volumes are real-world gems.
Art Ludwig has cut to the core of wastewater issues. He's obviously done all of his homework, mulled-over the variables, and come up with a common sense, economically reasonable, environmentally responsible approach to wastewater. I expect to save money that I would have spent on a post-septic tank, aerobic unit that would seemingly have been ecologically responsible; but because of the technological overkill, ultimately that system would have defeated my altruistic environmental concerns.
... These books talk the talk and walk the walk better than anything else that I've seen. Buy a set for yourself, a set for your neighbors, and a set for the regulators.
Branched Drain Greywater Systems [superseded by "The New Create an Oasis with Greywater"], Art Ludwig. If you already have this book but are in the process of installing new gray water systems you should take a look at the newer edition listed first above in this section of our Greywater book recommendations. You may prefer the newest edition, but there is great information in this older version, perhaps all you need, and these copies are sold at very low prices - an aid to people of limited means.
Create an Oasis With Greywater: Your Complete Guide to Choosing, Building and Using Greywater Systems, Art Ludwig, [superseded by new edition] (Paperback) You may prefer the newest edition, but as I said above, there is great information in this older version, perhaps all you need, and these copies are sold at very low prices - an aid to people of limited means.
Rainwater Catchment Systems for Domestic Supply: Design, Construction and Implementation, Erik Nissen-Petersen, John Gould. (Mr. Ludwig, while much appreciated, is not the only author providing really useful design guides for graywater systems--DF) Quoting from an Amazon review: This book reviews the art of roof and ground catchment systems for rainwater. The water collected can be used for household or other purposes. The designs are aimed for individuals with limited access to electricity and/or civic water utilities. The text includes drawings, photographs and step-by-step instructions.
One might say the book is really written for the 'aid worker' since it also considers ethnic and gender issues that would be 'obvious' to the future owners of the the systems.
Guidelines on rainwater catchment systems for Hawaii, (CTAHR resource management publication) Patricia S. H Macomber. This more technical document may be especially helpful for rainwater collection and recycling systems for climates where there is heavy rainfall such as demonstrated for Hawaii.
Design for Water: Rainwater Harvesting, Stormwater Catchment, and Alternate Water Reuse, Heather Kinkade-Levario. Quoting from Amazon's review: Design for Water is an accessible and clearly written guide to alternate water collection, with a focus on rainwater harvesting in the urban environment. The book:
Outlines the process of water collection from multiple sources-landscape, residential, commercial, industrial, school, park, and municipal systems Provides numerous case studies, Details the assembly and actual application of equipment, Includes specific details, schematics, and references.
All aspects of rainwater harvesting are outlined, including passive and active system setup, storage, storm water reuse, distribution, purification, analysis, and filtration. There is even a section on rainwater harvesting for wildlife.
In addition to rainwater, there are several affordable and accessible alternate sources, including cooling tower bleed-off water, air conditioning condensate, gray water, and fog collection. Design for Water is geared to providing those making development decisions and guidelines with the information they need to set up passive harvesting techniques. The book will especially appeal to engineers, landscape architects, municipal decision-makers, developers, and landowners.
Heather Kinkade-Levario is a land-use planner in Arizona and the author of the award-winning Forgotten Rain. She is president of Forgotten Rain L.L.C., a rainwater harvesting and stormwater reuse company.
The Toilet Papers: Designs to Recycle Human Waste and Water : Dry Toilets, Greywater Systems and Urban Sewage (Paperback) Sim Van Der Ryn, Wendell Berry; Quoting from an Amazon review: With a title like "Toilet Papers" and from a distinguished eco-architect like Sim Van der Ryn, I needed no intro or review to buy a copy of this little, but well researched historical over-view of effluent mitigation and current eco-friendly toilet design.
This book is filled with good line drawings and photographs to depict everything from the historical perspective to the current dry toilets and their construction..
Rainwater Reservoirs Above Ground Structures for Roof Catchment: Most Common Rainwater Tanks in Comparison and Construction Manual, (Paperback) Rolf Hasse. [I have not reviewed this book --DF, but it may be helpful to people constructing rainwater collection and reservoir systems for use in arid climates such as Mexico and the U.S. Southwest.
Quality issues in harvested rainwater in arid and semi-arid Loess Plateau of northern China, K. Zhu, L. Zhang, W. Hart, M. Liu, H. Chen (out of print, find by search and deferred order). Amazon's description may be helpful: Loess soils cover vast areas in the arid and semi-arid regions of northern China. Due to the lack of reliable surface water and ground-water, rainwater harvesting has played a prominent role in farmers' domestic usage and agricultural irrigation. An economical and valid type of water storage cistern with optimum design of components has been introduced to rural areas in the Loess Plateau. Different collection alternatives showed apparent variations in rainwater quality. By using different catchments, such as mortar roofs and cement-paved courtyards, compacted land or road surfaces, rainwater can be effectively collected for storage in cisterns. This study focused mainly on the quality of rainwater harvested from the different catchment systems and stored for different periods of time. By analysis of the water samples stored in these cisterns, it was evident that rainwater quality could be improved significantly by self-purification during the storage. With emphasis on rainwater quality affected by the different catchment systems, it was found that the measured inorganic compounds in the rainwater harvested from roof-yard catchment systems generally matched the WHO standards for drinking water, while the concentrations of some inorganic compounds in the rainwater collected from land and road surfaces appeared to be higher than the guideline values for drinking water, but generally not beyond the maximum permissible concentrations. However, Fecal Coliform, which is an important bacteriological parameter for the three catchment systems, exceeded the limits of drinking water to a greater extend. Trace amounts of 55 organic pollutants were identified, including aliphatic hydrocarbons, aromatic compounds and phthalate esters, etc. The analytical results indicated that roof-yard catchments that included the ''first flush'' usually provided safe drinking water with low organic contents, even for rainwater collected immediately after rainfall. In contrast, rainwater harvested from road surfaces had poor quality with respect to the organic constituents, regardless of stored time.
City eying home water-recycling technology; uses bath and washer water for irrigation., (ReWater Systems' equipment for greywater irrigation): This is an article from: San Diego Business Journal [HTML] (Digital) available online in digital format. I have not (yet) reviewed it -- DF
Onsite Wastewater Disposal, R. J. Perkins; Quoting from Amazon: This practical book, co-published with the National Environmental Health Association, describes the step-by-step procedures needed to avoid common pitfalls in septic system technology. Valuable in matching the septic system to the site-specific conditions, this useful book will help you install a reliable system in both suitable and difficult environments. Septic tank installers, planners, state and local regulators, civil and sanitary engineers, consulting engineers, architects, homeowners, academics, and land developers will find this publication valuable.
Onsite Wastewater Treatment Systems, Bennette D. Burks, Mary Margaret Minnis, Hogarth House 1994 - one of the best septic system books around, suffering a bit from small fonts and a weak index. (DF volunteers to serve as indexer if Burks/Minnis re-publish this very useful volume.)While it contains some material more technical than needed by homeowners, Burks/Minnis book on onsite wastewater treatment systems a very useful reference for both property owners and septic system designers. We refer to it often. While Minnis says the best place to buy this book is at Amazon (our link at left), you can also see this book at Minnis' website at http://web page .pace.edu/MMinnisbook
Septic Tank/Soil-Absorption Systems: How to Operate & Maintain [ copy on file as /septic/Septic_Operation_USDA.pdf ] - , Equipment Tips, U.S. Department of Agriculture, 8271 1302, 7100 Engineering, 2300 Recreation, September 1982, web search 08/28/2010, original source: http://www.fs.fed.us/t-d/pubs/pdfimage/82711302.pdf
SEPTIC SOIL & PERC TESTS soil perc testing guide and instructions
Percolation Testing Manual, CNMI Division of Environmental Quality, PO Box 501304, Saipan, MP 96950
Planting Over Septic System Component", Daniel Friedman (author/editor, InspectAPedia.com), The Innovator, Winter/Spring 2008, BCOSSA, British Columbia OnSite Sewage Association, 201-3542 Blansard St., Victoria BC V8X 1W3 Canada
Save the Septic System - Do Not Flush These Items Down the Toilet, Daniel Friedman, InspectAPedia.com - PDF document, printable
Septic System Owner's Manual, Lloyd Kahn, Blair Allen, Julie Jones, Shelter Publications, 2000 $14.95 U.S. - easy to understand, well illustrated, one of the best practical references around on septic design basics including some advanced systems; a little short on safety and maintenance. Both new and used (low priced copies are available, and we think the authors are working on an updated edition--DF. Quoting from one of several Amazon reviews: The basics of septic systems, from underground systems and failures to what the owner can do to promote and maintain a healthy system, is revealed in an excellent guide essential for any who reside on a septic system. Rural residents receive a primer on not only the basics; but how to conduct period inspections and what to do when things go wrong. History also figures into the fine coverage.
Test Pit Preparation for Onsite Sewage Evaluations, State of Oregon Department of Environmental Quality, Portland OR, 800 452-4011. PDF document. We recommend this excellent document that offers detail about soil perc tests, deep hole tests, safety, and septic design. Readers should also see SEPTIC SOIL & PERC TESTS and for testing an existing septic system, also see Dye Tests
Grass is Always Greener Over the Septic Tank, Bombeck, Erma: $ 5.99; FAWCETT; MM; This septic system classic whose title helps avoid intimidating readers new to septic systems, is available new or used at very low prices. It's more entertainment than a serious "how to" book on septic systems design, maintenance, or repair. Not recommended -- DF.

US EPA Onsite Wastewater Treatment Systems Manual Top Reference: US EPA's Design Manual for Onsite Wastewater Treatment and Disposal, 1980, available from the US EPA, the US GPO Superintendent of Documents (Pueblo CO), and from the National Small Flows Clearinghouse. Original source http://www.epa.gov/ORD/NRMRL/Pubs/625R00008/625R00008.htm
Water Wells and Septic Systems Handbook, R. Dodge Woodson. This book is in the upper price range, but is worth the cost for serious septic installers and designers. Quoting Amazon: Each year, thousands upon thousands of Americans install water wells and septic systems on their properties. But with a maze of codes governing their use along with a host of design requirements that ensure their functionality where can someone turn for comprehensive, one-stop guidance? Enter the Water Wells and Septic Systems Handbook from McGraw-Hill.
Written in language any property owner can understand yet detailed enough for professionals and technical students this easy-to-use volume delivers the latest techniques and code requirements for designing, building, rehabilitating, and maintaining private water wells and septic systems. Bolstered by a wealth of informative charts, tables, and illustrations, this book delivers:
* Current construction, maintenance, and repair methods
* New International Private Sewage Disposal Code
* Up-to-date standards from the American Water Works Association

Wells and Septic Systems, Alth, Max and Charlet, Rev. by S. Blackwell Duncan, $ 18.95; Tab Books 1992. We have found this text very useful for conventional well and septic systems design and maintenance --DF. Quoting an Amazon description:Here's all the information you need to build a well or septic system yourself - and save a lot of time, money, and frustration. S. Blackwell Duncan has thoroughly revised and updated this second edition of Wells and Septic Systems to conform to current codes and requirements. He also has expanded this national bestseller to include new material on well and septic installation, water storage and distribution, water treatment, ecological considerations, and septic systems for problem building sites.

The NSFC Products List has an excellent list of design manuals/modules available from their website or by telephone 800-624-8301
...