Alternative Septic System FAQs
Questions & Answers about Septic systems for wet, steep, rocky, small, poor perc sites
InspectAPedia tolerates no conflicts of interest. We have no relationship with advertisers, products, or services discussed at this website.
Guide to alternative septic system designs:
This article provides a master list (links at the "More Reading" links at the bottom of this article ) of all alternative septic system designs for difficult building sites such as wet sites, steep sites, rocky sites, limited space, bad soils with no percolation or sandy soils with too fast percolation, sites close to a lake, river or stream, and other difficult site conditions.
We provide detailed articles about each alternative septic system design choice, listing its features, design requirements, inspection details, maintenance needs, product sources. We include links to septic design engineers, advanced septic system products and septic design books and building codes. This document is a chapter provides in our Septic Systems Online Book.
Examples of advanced septic designs discussed in this article series include aerobic septic systems, chemical, composting, incinerating & waterless toilets, evaporation-transpiration (ET) septic systems, septic media filters, greywater systems, holding tank septic systems, mound septics, peat filter septics, raised bed septics, pressure dosing septic systems, sand bed filters, peat beds, constructed wetlands, wastewater lagoons, constructed wetlands, and septic disinfection systems.
Green links show where you are. © Copyright 2017 InspectApedia.com, All Rights Reserved.
Alternative Septic System Design FAQs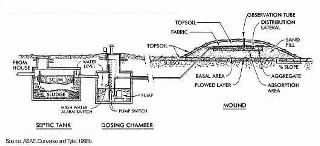 Questions and answers posted originally at SEPTIC SYSTEM DESIGN ALTERNATIVES - topic home.
Catherine
There are small complete onsite wastewater treatment plants and alternative designs. But the place to start is with your local health or building department who approve septic designs, since there's not much value in even thinking about wastewater treatment systems or alternative design since if they won't accept it it's moot.
Hi ,my property is on the river.sand rocks andboulders,I dug a hole and we didn't hit water till after 6 ft.the lot is 50 by 250 .that would be 50 ft of river frontage and 250 from the middle of the river to the road.its a flood plain and environmentally sensitive.is there hope for any kind of septic.
Anne
On occasion a building department might reconsider how removing or adding a closet will change how a building room is classified, but out of responsiblity to both the community and future owners of a property they may decide not to permit such changes.
It is my understanding that if we had not put a closet into one of the bedrooms it would not have counted as a "bedroom". Unfortunately, we have already installed the drain field and septic. We installed it in 2010 and have not yet used it because we are still working trying to save enough money to build our cabin with a small mortgage! While living in a rental here in town, I became active in the local neighborhood's effort to get playground equipment in an undeveloped park. WOW ! Do you know the first fall out from that effort?
Yep, you guessed it. The city sent out an "inspector" to check our well and septic system! No one lives on the property--there is no place except a falling down old cabin. The septic has not been used and the new well, which was installed the same summer, only gets used for drinking water when we are working on the place (got a little garden going and trails cut,etc.) The "inspector" announced that our name "came up randomly" to inspect. Yeah--sure you betcha ! :-)
Anyhow, after talking with him for a little bit he looked really chagrined and said that he had been brought in from out of state to help make sure new laws get enforced. Our djainfield, septic, and well were all permitted and constructed with all the proper permits in advance and passed all inspections at the time of completion !
After that visit I went to the city sewer plans office and the kid there tells me that even though the drainfield is huge, it has never been used therefore they needed to inspect it !

Anne
Sounds like Holden Caufield strikes again - the Graduate.
Usually a building department requires that the septic system, including tank and drainfield, be sized to accomodate the number of people who COULD reasonably be expected to live in a home - often counting bedrooms for that purpose. They have to consider future occupants, not just two old retired fogies like you or me.
You MIGHT be permitted to connect a nearby structure to the existing septic system (tank) provided the tank is large enough, that there are not property line issues, and that your local building department approves. You'd need a septic engineer to specify that the system meets capacity and meets local codes.
Again, a designer cannot "care" that a property is used only once a year. The design for the septic system still must accomodate the maximum number of regular users. Otherwise, though used just one week or weekend a year, the cabin could still be expected to cause and experience a sewage backup or septic failure.
We were required to build a very large drainfield. There are only two of us (retired) and the gal who came out to approve/design the drain field had just graduated 3 weeks before ! She insisted that our drain field be large enough for 5 bedrooms 4 bathrooms--even though we showed her our design for 3 bedrooms 3 toilets. I would like to place a toilet in our new garage which is at the opposite end of the long drain field. Question: can I use the same drainfield and just install a septic tank and and the long line leading into the leach lines?
Our soil is glacial: fast draining sand with some spots of clay (5ft away). Even the slow draining clay came in under the required time. The area where the garage is is slightly higher in elevation and would provide could angle down to the leach fields. Any suggestion as to how to do this without putting the county into a fem/nazi breakdown ! ;-) We are in a rural area and the only house is brother's next door cabin about 100 feet away he has his own septic and drain field.
Their cabin gets used one weekend a year by about 6 people! They installed their drain field 25 years ago with a very small leach field about 10X12 feet ! No problems ! Hope you can help because we are in our 70's now and it is hard to be gardening up at the top of our lot and have to run down to the far end just to go to the toilet! Thank you for your time!

Timothy
We could spin a lot of wheels and more dollars when we ought to start by asking the APA and DOH what they will accept. For example there are plenty of lakefront properties that have installed acceptable septic systems by pumping uphill to a suitable distance away from the lake - and of course away from wells.
If your total site size can not meet those specifications then you might install an aboveground wastetreatment system whose discharge is certified to be cleaner than the lake etc.
I have property on Cranberry Lake, New York and my engineer and I have been working the the Adirondack Park Agency (APA) and the New York State Department of Health (NYSDOH). I have been denied by both departments to install a septic system because I don't meet the APA requirements of being a 100' from the mean high water mark of the lake, and the I don't meet the NYSDOH requirements because I'm not 100' from by neighboring wells. Do you have any suggestions of what type of septic system I can install that will grant approval from these two departments? I purchased this property with a life time dream of owning a home on the lake, and now I faced with this delema. Thank you.
@John,
How do you fix lines that have broken away from the septic out in the yard. We have 2 very wet spots in the yard and feel they broken lines.
Looking at a lot 9\10 of acre that owner thinks will not perk.Looking to build a 1500 to 1800 sq ft home with 3 bed rooms 2 full baths.Lot is narrow but deep.
What is a ball park cost for system and installed.
Location is keswick virgini ,near charlottesville va..
Thanks - dennis shumaker
Jason, thanks for the important question. It's curious that a DOH would improve a leachfield that is seasonally wet as you can be completely assured that during that season the fields will not work: the bacterial processing of pathogens in the effluent will be impeded by lack of oxygen, there is an increased risk of transport of sewage contaminants to other water bodies, wells, etc., and there is increased risk of drainfield total failure, blockage, and sewage backup into the home.
Generally we want to see a couple of feet between the bottom of a drainfield or soakbed (leachfield) bed and the top of the seasonal high water table if we have any hope of a functional drainfield.
Cutting down trees makes sense: you cannot build a drainfield among trees without expecting a short life and destructive root invasion.
Torching weeds and planting grass is not harmful, but a wasted expense if done before the area is excavated for field installation.
You have several options including going to an advanced wastewater treatment system (search InspectApedia for those term), but the most common approaches (assuming there's no area to relocate the fields) include:
1. installing a curtain drain around the drainfield, draining groundwater to daylight well away from the fields - if terrain slope and shape permit
2. building up the soil level to give the clearance I describe - confirming what specifications will be accepted by your local health department, essentially building a MOUND SEPTIC SYSTEM or a RAISED BED SEPTIC SYSTEM - search InspectApedia.com for those terms to read details.
My leech field area was approved over 2 years ago. However, here in Indiana my leech field area is still too wet for the septic system installer to install my 4 100' long fingers. I have cut down trees, applied lime, blow large fans on the area, and cover the area with tarps during the rain, burned off the weeds with a torch, and now planted ryegrass on the area. The county health inspector comes out and digs 12" deep and says that its still too wet. Any ideas on how to get my soil dry at 12" deep?
is there a new system for plumping and sewage without having a septic bed system, we have land in nova scotia which is very rocky
Anon
The buy or not decision for property is not something that can nor should be answered based on a brief e-text. But it is reasonable to assume that the septic design for a property with poor percolation will involve extra cost such as for the design of a mound or raised bed or other alternative septic design. A more factual answer would be given by an onsite septic design engineer who can look at the property size, shape, location, and who knows what alternative designs your local building or health departments will accept.
We want to put an offer in on some land but the soil was tested and came back that there wasnt enough good soils for a drainage system. Would this involve bringing it dirt or going with a different alternative septic system??
Should we stay away from this land?
Good question, K.

You'll need an engineered septic, perhaps a mound or peat bed system that is raised sufficiently above the seasonally high water table (e.g. 2 ft - depending on regulations where you live).
How do we go about sewage treatment in a high water table area?
We are just about to start planning a new build. Our existing septic tank was built 50 years ago and doesn't conform to regulations. The plot is mostly bedrock about 70cm below the ground. The house is 10 metres away from the septic tank and that doesn't give us 2 metres to the road. Any advice about the design we should go for, as there is no water course or room for a leech field.
Many thanks Eimear
Anon:
Throughout InspectApedia.com you can click on virtually every image to see an enlarged, detailed version.
Question: Is there another system that will be approved to control liquid effluent retention?
I was interested in a piece of property which I understand that cannot accommodate sumping. I am under the impression (because I have not gotten to the end of figuring out why just yet) that this is because it is a waterfront property and/or the water table is too close to the surface thus reducing the availability of sufficient drainfield without causing water contamination. So my question is; is there another approved alternative to the absorption field to effectively control liquid effluent retention? - D.M. 8/29/2013
Reply:
From your email I think you need an onsite septic design engineer - there sounds like a confusion of terms, codes, and requirements, and in my own case I'm not sure what you mean by "sumping" nor "liquid effluent retention" - those terms are not ones I use for onsite wastewater disposal.
If you are asking about a holding tank (sewage is retained and periodically pumped and removed by a waste hauler) some communities permit that design along a waterway but many do not.
If you are asking about how sewage and (separated) effluent are handled at wet sites, there are some designs that can handle that case, sometimes combining treatment above ground with disinfection; but again, not all communities will approve them.
That's why you need an onsite expert who also knows local codes & officials.
Some options you might want to discuss can be found in the article link I give just below. Also take a look at Anish Jantrania's book listed in the references section of that article. Dr. Jantrania has described wastewater treatment systems that can function effectively entirely above ground, producing sanitary wastewater discharge.
Question: explanation of septic drainfield soakbed layouts
(Mar 23, 2014) Rocky said:
i noticed that after my septic tank i come across a four way of orangeburg piping. it looks to me that the d box is layed out after this fourway. What would be the most logical explanation for this layout?
Reply:
Rocky,
Indeed in a typical septic tank and drainfield or soakaway bed installation, a single line exits the septic tank and connects to a distribution box or D-box that in turn feeds two or more outlets of piping that are routed into drainage trenches, galleys, or whatever.
But I cannot guess at how your piping is laid out. If that's what you're asking you'd start by guessing by taking a look at the size and shape of the available drainfield area.
In a companion article
inspectapedia.com/septic/Septic_Soakaway_Bed_Shape.php
we show several typical drainfield layouts.
Question: find information about the Clivus Multrum composting toilet
(May 29, 2014) Anonymous said:
Went to Hawk Mnt,Allentown,Pa. Used an outdoor facility called, I belive clumus moltrom. Can you tell me about this and the correct spelling
Reply:
Sure Anon, you're talking about a Clivus Multrum composting toilet discussed here at
inspectapedia.com/septic/Composting_Toilets.php
Question: soil perc test results
(Oct 1, 2014) perne construction said:
We had a test boring done in the only place we can put a new cesspool and the results were Perched Water: 6'1" comment possible stream. Estimated Actual Ground Water Level 18' O +/-
My question is how and what kind of cesspool can be put in under these conditions
Reply:
Perne
I would not install any kind of cesspool - as that approach to wastewater disposal does not effectively treat the effluent (not enough aerobic bacteria) and as cesspools are not permitted in new construction in most jurisdictions.
If your lot space is very small you may need an advanced wastewater treatment system, even an aboveground one such as Jantrania discusses. It's time to ask for help from a septic design engineer.
Question: design for septic systems over soil with high water table
20 January 2015 Susie said:
Im trying to get a septic permit for a property I gave an offer to. In 2002 it was denied due to "too shallow to water table". Is there any solution to this?
Reply:
Susie you need
1. to find out what septic designs your local health department will approve, perhaps a raised bed septic or a mound septic design or another alternative design - see the designs including the two I cite at More Reading above listed under SEPTIC SYSTEM DESIGN ALTERNATIVES
2. to find a local septic design engineer who understands local soil conditions as well as what the building department finds comfortable among various designs
Keep us posted
Question: Can a homeowner be trained to do the maintenance on the ATT systems
(Feb 8, 2015) Diane said:
Can a homeowner be trained to do the maintenance on the ATT systems so not to be spending thousands every 2 years on a required maintenance agreement to some septic company who gets warnings over the phone line?
Reply:
Diane:
Certainly there are septic system maintenance procedures that a homeowner can do such as changing filters and - WITH CAUTION as you could die - if there is an access port to inspect the septic tank level a homeowner can certainly look therein to see if levels are normal. And for systems that use pumps or areators an owner can and should learn to know if the equipment is running.
The hazards that can be fatal are leaning over a septic tank opening (overcome by fumes), working alone, or entering a septic tank (NEVER do that).
If you know the design, equipment brands, etc. of your system together we should be able to undertand what's installed and which tasks an owner can and should perform.
(Feb 12, 2015) Diane said:
Thank you Dan. Understand the cautions you mention and appreciate the list. No plan on entering the tank...ever. Planning for future needs and some requirements I was told in maintenance agreements cost a fortune and seemed easy for a home owner to do and assure a good working system....that is affordable.
Reply:
Don't hesitate to ask us if specific septic system maintenance or care questions arise. Indeed studies by Small Flows and other expert sources have repeatedly indicated that the number one factor in early failure of septic systems is that owners ignore the system maintenance requirements.
...
Continue reading at SEPTIC SYSTEM DESIGN ALTERNATIVES - home, or select a topic from closely-related articles below, or see our complete INDEX to RELATED ARTICLES below.
Or see AEROBIC SEPTIC SYSTEMS, ATUs
Or see ALTERNATIVE SEPTIC DESIGNERS
Or see SEPTIC SYSTEM DESIGN BASICS - home
Or see TYPES OF SEPTIC SYSTEMS - master list
Suggested citation for this web page
ALTERNATIVE SEPTIC DESIGN FAQs at InspectApedia.com - online encyclopedia of building & environmental inspection, testing, diagnosis, repair, & problem prevention advice.
Or use the SEARCH BOX found below to Ask a Question or Search InspectApedia
...
Frequently Asked Questions (FAQs)
Try the search box below or
CONTACT US
by email if you cannot find the answer you need at InspectApedia.
...
Ask a Question or Search InspectApedia
Questions & answers or comments about septic system design specifications & solutions for difficult sites
Use the "Click to Show or Hide FAQs" link just above to see recently-posted questions, comments, replies, try the search box just below, or if you prefer, post a question or comment in the Comments box below and we will respond promptly.
Search the InspectApedia website
Technical Reviewers & References
Click to Show or Hide Citations & References
Septic System Types & Onsite Wastewater Treatment Alternative Designs
Each of the links below presents a document with more in-depth information about each of these alternative septic system designs.
Evaporation-Transpiration (ET) Septic Systems: and Evapo-Transpiration Absorption Septic Systems (ETA) dispose of septic effluent from the septic tank by providing a surface area intended to allow the effluent to evaporate. ET systems depend entirely on evaporation while ETA systems make use of both evaporation and (limited) soil absorption of septic effluent. (Jantrania/Gross wastewater system type IX if effluent is treated to level 2 or better).

ET beds may be used with or without intermediate storage tanks and with or without effluent recycling systems. In this discussion we include the advanced Tafgard soil based wastewater treatment systems - developed in Japan by Taisei Kogyo Co., Ltd., this system uses a combination of a five-chamber waste treating septic tank designed by Taisei, effluent disposed-of by an evaporation-transpiration system through aerated soil (effluent spread horizontally and upwards from distribution piping).



Filter bed effluent treatment systems (if treated to level 2 effluent or better, Jantrania/Gross wastewater system type VIII) - see various filter media types listed here such as sand beds, fabric filters, etc. Filter beds may be
MOUND SEPTIC SYSTEMS or
Raised Bed septic systems,
Media Filter septic systems, septic systems or Sand-Bed filter septic systems.
Readers should distinguish between types of septic filter beds (listed above) and other septic filter products such as
in-tank septic filters.
GREYWATER SYSTEMS: refer to systems which reduce the liquid effluent load on a septic system by separating greywater (or graywater) from sinks and showers from blackwater (black water) from toilets. When we inspect a home which uses a separate drywell to handle greywater we presume that the owners discovered that their septic system, or at least its leach field, was of limited capacity or life.


Gravity or Siphon Dosing Septic Systems: move septic effluent from the septic tank to a final effluent treatment/dispersal/disposal system such as a drainfield by accumulating septic effluent in a dosing tank or chamber and periodically sending the "dose" of effluent to the drainfield.

To move effluent from the dosing tank to the drainfield a "gravity" dosing system uses a mechanical device such as a bell siphon system, tipping tank, or float valve to determine when the dosing tank is full and ready to send effluent to the drainfield at intermittent frequencies or in "doses".

Effluent flows from the dosing tank to the drainfield by gravity. Gravity/siphon dosing systems usually require a larger effluent holding tank or chamber than pressure dosing systems. While some gravity dosing systems do not require electricity to operate, other "gravity" dosing system designs which place the dosing tank uphill and distant from the septic tank, can require an effluent pump to move wastewater from the septic tank to the remote dosing chamber/tank.

Dosing systems permit the drain field to rest between doses and, depending on design, may alternate use of drainfield sections.


"Gravity trench systems" is a generic term to describe distribution of septic effluent into a treatment and dispersal/disposal system using perforated pipes buried in gravel-filled trenches dug into the soil. An example is the conventional septic drainfield but gravity trenches can be used in other designs such as with gravity or pressure dosing systems. Gravity trench effluent systems may also be designed for "level 2 or better" effluent treatment (Jantrania/Gross wastewater system type V).


Greenhouse treatment of septic effluent to level 3 or better (Jantrania/Gross wastewater system type XI). Greenhouses, like ET beds, may be used with or without storage tanks and effluent recycling systems. The system uses an enclosed "greenhouse" constructed around plants and a mini "constructed wetlands" to treat effluent. Greenhouse wastewater treatment systems permit maintaining the treatment system at a higher temperature than otherwise might be possible, such as in a cold or cool climate area.
Also see Constructed and Natural Wetland Septic Systems
and also Lagoon Systems.
HOLDING TANK SEPTIC SYSTEMS: use a sealed tank to hold household waste and wastewater until the tank can be pumped out by a septic pumping company. Most jurisdictions do not permit septic holding tanks as a permanent wastewater handling method for full-time occupied residences, but holding tanks may be permitted during new home construction and in other special cases. In New York State we've seen holding tank systems in use on small-lot properties located along the Hudson River. Generally such systems will not be acceptable for full time occupied residences as even a large tank of several thousand gallons will require frequent and costly pumping and disposal.


INCINERATOR TOILET SYSTEMS: incinerating toilets use electricity or gas to burn the waste placed into these systems. Like chemical toilets and holding tanks they have limited capacity, are used where water is not available or must be conserved, and they do not address the handling of remaining graywater from sinks and showers. My favorite of this type was the "Destroylet" incinerator toilet which was electric/propane fueled and which is no longer on the market. Each flush resulted in a more than 10-minute burn cycle which produced a pretty smelly exhaust.


Latrine or simple trench systems, useful in remote and impoverished areas to improve sanitation and thus the quality of drinking water and other special, extremely low-cost waste handling, wastewater treatment systems are ignored by most modern texts on onsite wastewater treatment, excepting perhaps military manuals which address field toilets and sanitation for military operations. This topic needs considerably more attention as a step in assisting rural, poor areas in developing nations.

Articles, illustrations, and text contributions are wanted; additions to this special topic will be provided as they are developed at this website. Inadequate disposal and treatment of human and animal waste in poor areas is a major cause of dysentery and often high infant and child mortality. Meanwhile see the helpful but inadequate resource sketches at http://www.africanwater.org/ecosan_main.htm"the African Water Page and Ecological Sanitation" and http://peacecorps.mtu.edu/erda/links.htm a peace corps site on composting latrines


Lagoon systems: also known as "pond systems" for onsite wastewater treatment are less often found in use for single family residential wastewater treatment. A residential lagoon system may use a conventional septic tank, but effluent from the tank flows to a storage pond or lagoon for further treatment. Lagoon systems require comparatively large land areas and are more likely to be found therefore in rural areas or where a common wastewater treatment system has been designed to serve multiple dwellings. Also see Constructed Wetland Septic Systems


Media Filter Septic Systems: use a conventional septic tank followed by any of several methods to further filter and treat septic effluent before it is discharged to the soil, soil surface, or waterway. Treatment is by both actual filtration and ultimately by a biochemical process as the filter "matures" and includes its own biomass. Both natural media filter septic systems (such as sand, gravel, or peat) and synthetic media filter septic systems (foam cubes, glass, slag) are used.


Mound Septic Systems: a wastewater absorption trench system which has been constructed using "suitable soil-fill material" which has been placed on top of the natural soil on a building lot. Mound systems are often confused with "raised systems" (see below) but have different design requirements, are generally smaller in total size, and depend on the fill material for successful wastewater treatment. Also see "Raised Systems" below.


Peat-Filtered Septic systems: Septic effluent treatment systems using peat as the filter media include an effluent dosing system, peat filter media, and a drainage system. Unlike sand bed filters, peat filtration systems are sold as prepackaged systems which provide modular peat units enclosed in containers or "pods" ready to install. Also see MEDIA FILTER SEPTIC SYSTEMS


Pressure-dosed Drainfield Septic Systems: pressure dosing systems use a separate dosing chamber and pump, located downstream from the septic tank, to move effluent into a drainfield which in turn distributes effluent through a pressure-fed network of distribution pipes. (Jantrania/Gross wastewater system type II or if treated to level 2 or better effluent, system type VI) Pressure dosing is used in a variety of disposal field designs including mounds and sand beds, and have the advantage of being able to distribute effluent uniformly throughout the absorption system, and the disadvantage of added system cost and complexity, along with the requirement for electricity for system operation.
An alternative but possibly less long-term reliable version of a drainfield dosing system that may not require electricity is the siphon system. Also see Dosing Systems, Gravity/Siphon.


Raised Septic System: a wastewater absorption trench system which has been constructed in soil-fill material which has been placed on top of the natural soil on a building lot. Raised systems are often confused with "mound systems" (see below) but have different design requirements, and make at least partial use of existing soils for wastewater treatment. Also see "Mound Systems" above.


Sand: Intermittent Sand Filter Septic System: wastewater effluent from the septic tank is intermittently distributed over the surface of a specially prepared bed of sand placed atop the existing soil surface. Effluent which has passed through the sand is collected by additional pipes at the bottom of the sand bed. The sand is not visible as it's covered by topsoil.


Spray effluent dispersal systems, treating effluent to level 3 or better (Jantrania/Gross wastewater system type X). Spray systems are normally above ground effluent dispersal systems.


Septic tank and graywater filters are products used at a septic tank outlet or at a graywater tank inlet or outlet to prevent suspended solids from reaching and clogging the soil absorption system. Readers should distinguish between in-tank septic or graywater filters and types of septic media filter and bed systems such as:
MOUND SEPTIC SYSTEMS or
raised bed septic systems,
media filter septic systems, septic systems or sand-bed systems.


Steep Slope Septic Designs - how to install sewer lines from building to septic tank; how to install septic drainfields, leach field systems at steep or sloped sites.


Trenches for effluent dispersal, gravity fed or pressure dosed, with gravel or gravelless systems are discussed under conventional septic and drainfield pages, pressure dosing, or gravelless systems. Also see "Gravity Trenches" above.


Waterless toilets and graywater systems: see the various toilet types and greywater/graywater links on this page such as CHEMICAL TOILETS, COMPOSTING TOILETS, and INCINERATOR TOILET SYSTEMS. (Jantrania/Gross wastewater system type IV). Also see GREYWATER SYSTEMS.


Wetland Septic Systems or "natural" septic systems use a constructed wetlands area (or a greenhouse) to treat septic effluent. These systems are more common in Louisiana, Mississippi, Tennessee, South Dakota, and Florida where both municipal wetland septic designs and private homeowner wetland septic system designs are in use. "Wetlands" may include both visible water such as open ponds, and underground water located in constructed beds which are covered with soil. Also see Lagoon Systems.
The Septic System Information Website home page for this topic
Septic Systems Inspection, Testing, & Maintenance - online textbook. Detailed how to inspect, maintain, repair information
Septic Tank Pumping Guide: When, Why, How to pump the septic tank
Septic Tank Capacity vs Usage in Daily Gallons of Wastewater Flow, calculating required septic tank size, calculating septic tank volume from size measurements
Septic Tank/Soil-Absorption Systems: How to Operate & Maintain [ copy on file as /septic/Septic_Operation_USDA.pdf ] - , Equipment Tips, U.S. Department of Agriculture, 8271 1302, 7100 Engineering, 2300 Recreation, September 1982, web search 08/28/2010, original source: http://www.fs.fed.us/t-d/pubs/pdfimage/82711302.pdf.
How Big Should the Leach Field Be? - table of soil percolation rate vs. field size
Septic System Drainfield Absorption System Biomat Formation - what leads to drain field clogging and expensive drainfield repairs
Table of Required Septic & Well Clearances: Distances Between Septic System & Wells, Streams, Trees, etc.
Ten Steps to Keeping a Septic System Working, suggestions from the U.S. EPA, edits and additions by DJF
Pennsylvania State Fact Sheets relating to domestic wastewater treatment systems include

Pennsylvania State Wastewater Treatment Fact Sheet SW-161, Septic System Failure: Diagnosis and Treatment
Pennsylvania State Wastewater Treatment Fact Sheet SW-162, The Soil Media and the Percolation Test
Pennsylvania State Wastewater Treatment Fact Sheet SW-l64, Mound Systems for Wastewater Treatment
Pennsylvania State Wastewater Treatment Fact Sheet SW-165, Septic Tank-Soil Absorption Systems
Document Sources used for this web page include but are not limited to: Agricultural Fact Sheet #SW-161 "Septic Tank Pumping," by Paul D. Robillard and Kelli S. Martin. Penn State College of Agriculture - Cooperative Extension, edited and annotated by Dan Friedman (Thanks: to Bob Mackey for proofreading the original source material.)

...
Books & Articles on Building & Environmental Inspection, Testing, Diagnosis, & Repair


Advanced Onsite Wastewater Systems Technologies, Anish R. Jantrania, Mark A. Gross. Anish Jantrania, Ph.D., P.E., M.B.A., is a Consulting Engineer, in Mechanicsville VA, 804-550-0389 (2006). Outstanding technical reference especially on alternative septic system design alternatives. Written for designers and engineers, this book is not at all easy going for homeowners but is a text I recommend for professionals--DF.
Builder's Guide to Wells and Septic Systems, Woodson, R. Dodge: $ 24.95; MCGRAW HILL B; TP; Quoting from Amazon's description: For the homebuilder, one mistake in estimating or installing wells and septic systems can cost thousands of dollars. This comprehensive guide filled with case studies can prevent that. Master plumber R. Dodge Woodson packs this reader-friendly guide with guidance and information, including details on new techniques and materials that can economize and expedite jobs and advice on how to avoid mistakes in both estimating and construction. Chapters cover virtually every aspect of wells and septic systems, including on-site evaluations; site limitations; bidding; soil studies, septic designs, and code-related issues; drilled and dug wells, gravel and pipe, chamber-type, and gravity septic systems; pump stations; common problems with well installation; and remedies for poor septic situations. Woodson also discusses ways to increase profits by avoiding cost overruns.
Country Plumbing: Living with a Septic System, Hartigan, Gerry: $ 9.95; ALAN C HOOD & TP; Quoting an Amazon reviewer's comment, with which we agree--DF:This book is informative as far as it goes and might be most useful for someone with an older system. But it was written in the early 1980s. A lot has changed since then. In particular, the book doesn't cover any of the newer systems that are used more and more nowadays in some parts of the country -- sand mounds, aeration systems, lagoons, etc.
Design Manuals for Septic Systems
US EPA Onsite Wastewater Treatment Systems Manual [online copy, free] Top Reference: US EPA's Design Manual for Onsite Wastewater Treatment and Disposal, 1980, available from the US EPA, the US GPO Superintendent of Documents (Pueblo CO), and from the National Small Flows Clearinghouse. Original source http://www.epa.gov/ORD/NRMRL/Pubs/625R00008/625R00008.htm Onsite wastewater treatment and disposal systems, Richard J Otis, published by the US EPA. Although it's more than 20 years old, this book remains a useful reference for septic system designers. U.S. Environmental Protection Agency, Office of Water Program Operations; Office of Research and Development, Municipal Environmental Research Laboratory; (1980)
Eco John® Innovative Toilet Solutions, Global Inventive Industries, Fountain Valley CA, PDF, product brochure
"International Private Sewage Disposal Code," 1995, BOCA-708-799-2300, ICBO-310-699-0541, SBCCI 205-591-1853, available from those code associations.
"Manual of Policy, Procedures, and Guidelines for Onsite Sewage Systems," Ontario Reg. 374/81, Part VII of the Environmental Protection Act (Canada), ISBN 0-7743-7303-2, Ministry of the Environment,135 St. Clair Ave. West, Toronto Ontario M4V 1P5 Canada $24. CDN.
Manual of Septic Tank Practice, US Public Health Service's 1959.

Onsite Wastewater Disposal Books
Onsite Wastewater Disposal, R. J. Perkins; Quoting from Amazon: This practical book, co-published with the National Environmental Health Association, describes the step-by-step procedures needed to avoid common pitfalls in septic system technology. Valuable in matching the septic system to the site-specific conditions, this useful book will help you install a reliable system in both suitable and difficult environments. Septic tank installers, planners, state and local regulators, civil and sanitary engineers, consulting engineers, architects, homeowners, academics, and land developers will find this publication valuable.
Onsite Wastewater Treatment Systems, Bennette D. Burks, Mary Margaret Minnis, Hogarth House 1994 - one of the best septic system books around, suffering a bit from small fonts and a weak index. While it contains some material more technical than needed by homeowners, Burks/Minnis book on onsite wastewater treatment systems a very useful reference for both property owners and septic system designers.
Septic Tank/Soil-Absorption Systems: How to Operate & Maintain [ copy on file as /septic/Septic_Operation_USDA.pdf ] - , Equipment Tips, U.S. Department of Agriculture, 8271 1302, 7100 Engineering, 2300 Recreation, September 1982, web search 08/28/2010, original source: http://www.fs.fed.us/t-d/pubs/pdfimage/82711302.pdf
SEPTIC SOIL & PERC TESTS soil perc testing guide and instructions
Percolation Testing Manual, CNMI Division of Environmental Quality, PO Box 501304, Saipan, MP 96950
Planting Over Septic System Component", Daniel Friedman (author/editor, InspectAPedia.com), The Innovator, Winter/Spring 2008, BCOSSA, British Columbia OnSite Sewage Association, 201-3542 Blansard St., Victoria BC V8X 1W3 Canada
Save the Septic System - Do Not Flush These Items Down the Toilet, Daniel Friedman, InspectAPedia.com - PDF document, printable
Septic System Owner's Manual, Lloyd Kahn, Blair Allen, Julie Jones, Shelter Publications, 2000 $14.95 U.S. - easy to understand, well illustrated, one of the best practical references around on septic design basics including some advanced systems; a little short on safety and maintenance. Both new and used (low priced copies are available, and we think the authors are working on an updated edition--DF. Quoting from one of several Amazon reviews: The basics of septic systems, from underground systems and failures to what the owner can do to promote and maintain a healthy system, is revealed in an excellent guide essential for any who reside on a septic system. Rural residents receive a primer on not only the basics; but how to conduct period inspections and what to do when things go wrong. History also figures into the fine coverage.
Test Pit Preparation for Onsite Sewage Evaluations, State of Oregon Department of Environmental Quality, Portland OR, 800 452-4011. PDF document. We recommend this excellent document that offers detail about soil perc tests, deep hole tests, safety, and septic design. Readers should also see SEPTIC SOIL & PERC TESTS and for testing an existing septic system, also see Dye Tests
Grass is Always Greener Over the Septic Tank, Bombeck, Erma: $ 5.99; FAWCETT; MM; This septic system classic whose title helps avoid intimidating readers new to septic systems, is available new or used at very low prices. It's more entertainment than a serious "how to" book on septic systems design, maintenance, or repair. Not recommended -- DF.

US EPA Onsite Wastewater Treatment Systems Manual Top Reference: US EPA's Design Manual for Onsite Wastewater Treatment and Disposal, 1980, available from the US EPA, the US GPO Superintendent of Documents (Pueblo CO), and from the National Small Flows Clearinghouse. Original source http://www.epa.gov/ORD/NRMRL/Pubs/625R00008/625R00008.htm
Water Wells and Septic Systems Handbook, R. Dodge Woodson. This book is in the upper price range, but is worth the cost for serious septic installers and designers. Quoting Amazon: Each year, thousands upon thousands of Americans install water wells and septic systems on their properties. But with a maze of codes governing their use along with a host of design requirements that ensure their functionality where can someone turn for comprehensive, one-stop guidance? Enter the Water Wells and Septic Systems Handbook from McGraw-Hill.
Written in language any property owner can understand yet detailed enough for professionals and technical students this easy-to-use volume delivers the latest techniques and code requirements for designing, building, rehabilitating, and maintaining private water wells and septic systems. Bolstered by a wealth of informative charts, tables, and illustrations, this book delivers:
* Current construction, maintenance, and repair methods
* New International Private Sewage Disposal Code
* Up-to-date standards from the American Water Works Association

Wells and Septic Systems, Alth, Max and Charlet, Rev. by S. Blackwell Duncan, $ 18.95; Tab Books 1992. We have found this text very useful for conventional well and septic systems design and maintenance --DF. Quoting an Amazon description:Here's all the information you need to build a well or septic system yourself - and save a lot of time, money, and frustration. S. Blackwell Duncan has thoroughly revised and updated this second edition of Wells and Septic Systems to conform to current codes and requirements. He also has expanded this national bestseller to include new material on well and septic installation, water storage and distribution, water treatment, ecological considerations, and septic systems for problem building sites.

The NSFC Products List has an excellent list of design manuals/modules available from their website or by telephone 800-624-8301
Submissions welcome. send us a suggested document link or request an exchange of website links
...