Sink Choices & Materials

Photo guide to types of sinks & sink materials used in baths, kitchens, laundry or other areas
SINK TYPES & MATERIALS - CONTENTS: Photo guide to the types of sinks used in buildings, their history, appearance, composition, durability, and features.
POST a QUESTION or READ FAQs about the the types of materials used to make bath sinks, lavs, kitchen sinks, laundry or utility sinks used in buildings
InspectAPedia tolerates no conflicts of interest. We have no relationship with advertisers, products, or services discussed at this website.
Photo guide to types of sinks & their composing materials:
Here we provide a photo guide to sinks used in bathrooms, kitchens, laundry or utility areas in buildings. We describe the different materials used to make sinks for various purposes and we include research on the use and history of sinks.
Green links show where you are. © Copyright 2017 InspectApedia.com, All Rights Reserved.
Material Choices for Bathroom, Kitchen & Laundry Sinks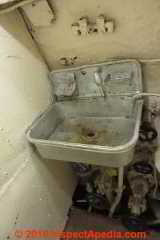 Here we illustrate the wide variety of materials used to construct kitchen, laundry, and bathroom sinks and we discuss the typical age of each sink type.
At left, an aluminum sink aboard a B-39 Soviet Submarine docked in San Diego, CA. Aluminum was used to reduce weight in the diesel and electric-engine powered Soviet Foxtrot class submarines produced from 1958-1984 and serving Cuba, India, Libya, and the Soviet Union.
[Click to e large any image]
Article Contents
Aluminum Sinks
The aluminum sink shown above at our list of Article Contents was photographed by the author [DF] aboard a Soviet Submarine. Below is a modern aluminum sink provided by Sia Thai Yew Hardware. The company's name for the product is a bit confusing: Delux, Star, S/Steel Aluminum Sink.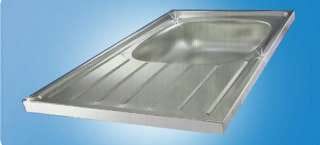 Contact:
Sia Thai Yew Hardware, Trading Sdn. Bhd., 85, 87 & 89, Jalan Pekeliling Lama, 50400 Kuala Lumpur, Malaysia. Tel: 603-4042 9036, S/Steel Aluminum Sink, Website: siathaiyew.com
InspectAPedia tolerates no conflicts of interest. We have no relationship with advertisers, products, or services discussed at this website.
Bowl & Ewer Sinks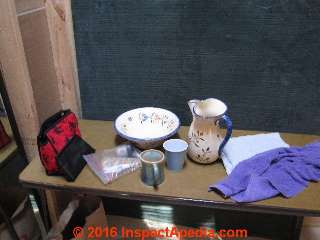 Shown above, a simple and traditional bowl and pitcher or bowl and ewer sink. This bowl and ewer sink is in use in a cabin in northern Minnesota, as the cabin has no indoor plumbing.
Castle Wall Sinks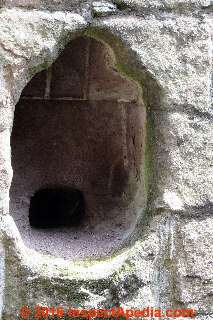 The castle wall sink shown above is actually a special form of stone sink: it was carved directly into the walls of Goodrich Castle, Ross on Wye, in Herefordshire, in the U.K.
Ceramic Tile Sinks
Constructed on site and in-situ by hand, ceramic tile sinks are typically built by installing ceramic tiles to form a rectangular basin with a sloped bottom.
[Photos needed]
Copper Sinks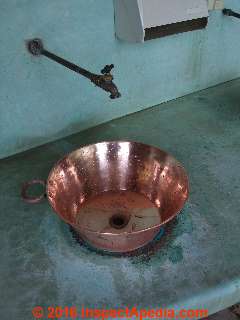 Copper sink, installed at el Charco del Ingenio, San Miguel de Allende, Guanajuato, Mexico.
Concrete Sinks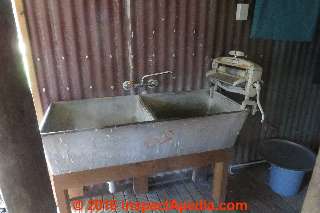 The cast concrete laundry sink with a hand-wringer for clothing shown above is installed at a national park building in Akaroa, New Zealand and is still in active use. In North America cast concrete sinks have been in use for more than 100 years. In the U.S., Erwin O. Warndorff, assigning to the Concrete Fixtures Company, patented an improved metal rim for concrete laundry tubs in 1925. The wide use of these fixtures led to a plethora of patented improvements in sink production, features, and components. (Stoddard 1933). The sink shown above has a metal rim.
As with toilets and bath tubs, often a look at the materials and style of sinks used in a bath, kitchen, or in a laundry area can give clues about the probable age of the building as well as of the plumbing fixture. Lucas (2012) traces the history of kitchen sinks in Canada and illustrates various of these fixtures beginning with galvanized wash tubs used in homes where plumbing was not yet installed.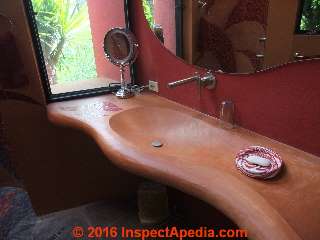 The custom-formed concrete sink shown above takes a one-off approach to using concrete to build plumbing fixtures. This attractive sink using colored or stained concrete is located in a private home in Atontonilco, Mexico and is less than 25 years old.
In some countries concrete laundry sinks, tubs, basins or utility sinks made of concrete have been supplanted by fiberglass or plastic molded substitutes that are considerably lighter in weight. But in many older homes the concrete laundry basin is still installed, a testimony to its durability.
Cultured Marble Sinks
The cultured marble type sink shown below is a late 20th or current 21st century product.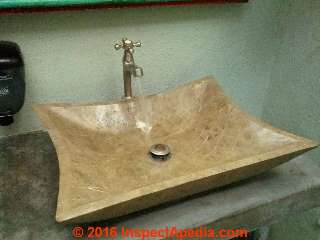 Galvanized Washtub Sinks & Tubs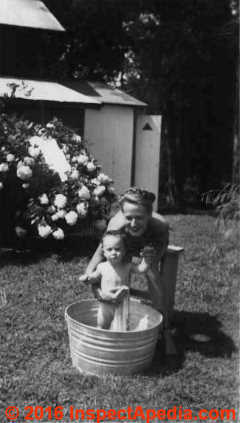 Above, assisted by his mom, the author is having a bath in a galvanized wash tub that was also used indoors as a kitchen sink. Dunnsville, Virginia, 1944.
Glass Sinks
Glass sink basins such as the New York City Mansfield Hotel's glass bath sink shown below are modern. This sink is less than 20 years old.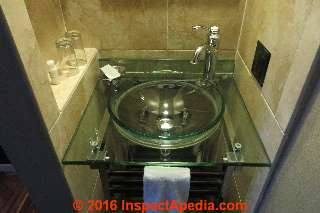 Glazed Fired Clay Sinks
Similarly, the glazed fired clay bath sink shown above, located in the same building as the stone sink above, can't be easily dated except to guess it's large size probably argues for advanced ceramic manufacture that in Mexico usually dates after 1940.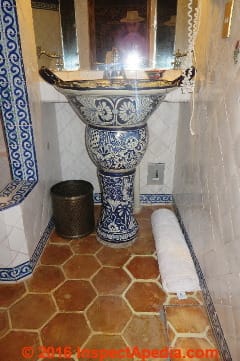 Plastic Sinks, ABS, FIberglass, Other
[Photos needed]
Porcelain on Cast Iron or Porcelain on Steel Sinks
Porcelain and porcelain-coated cast-iron sinks have a still longer history [citations needed]. The porcelain bath lav sink shown below is installed in a pre-1900 hotel in Dunedin, New Zealand (South Island).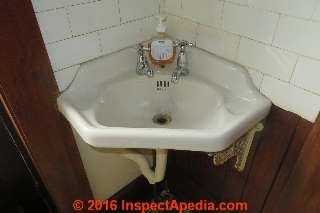 Below we see another small lav sink. My hand indicates just how tiny is this little lav sink that was shoe-horned into a small toilet in Monmouth, Wales in the U.K.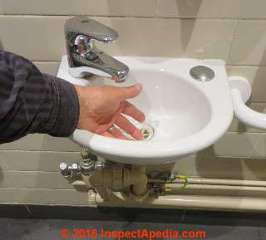 Below, this enameled cast-iron sink installed in a New York home built in the 1920's still sports its original faucets.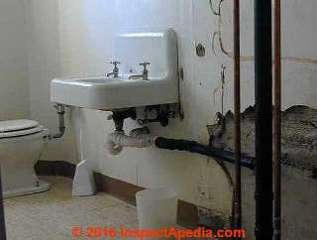 Watch out: don't confuse high vitreous china sinks with enameled or porcelain-coated cast iron or steel. Check the sink under-side. Usually cast iron or steel will be visible on those sinks. A porcelain sink can be destroyed by impact that will chip porcelain- or enamel-coated steel or cast iron.
Below I'm cleaning rust off of the cast iron under-side of a Kohler porcelain-enameled cast iron kitchen sink in preparation for installing a new sink drain. It's easy to learn to recognize cast iron and thus to distinguish these sinks from vitreous china products. This sink was installed in 2000.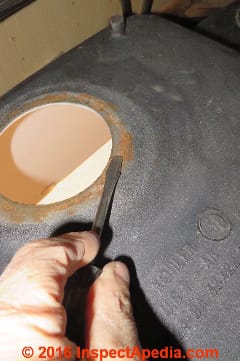 Here is an older cast iron based sink.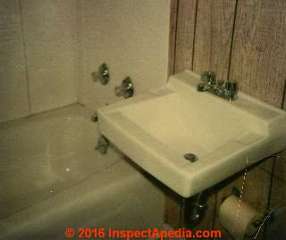 The porcelain-coated or "enameled" cast iron sink shown above was installed in this home in the 1940's. As we describe at BLOCKED DRAIN REPAIR METHODS, when renovating this home (by the author, DF) the galvanized iron drain piping was found so blocked by corrosion that we had to replace all of that drain piping. The pink enameled cast iron sinks shown below were for sale in Dolores Hidalgo, Mexico in 2014 but also probably are more than 50 years old.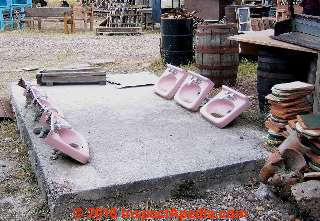 Stainless Steel Sinks
Stainless steel sinks, a more recent innovation (in wide use ca 1960 North America [estimated]).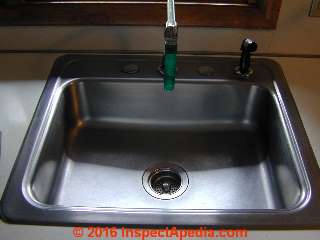 The nearly brand-new stainless sink with an interesting integrated drain board shown below is installed in a kitchen island in a guest house in central South Island, New Zealand (photo 2014).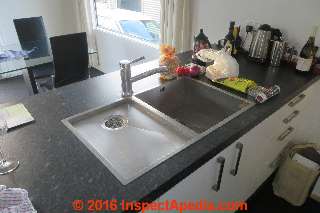 Also see ISLAND SINK PLUMBING VENTS - island sinks are tricky to vent properly.
Stone Sinks
Stone carved sinks such at the stone sink shown just below cannot be easily dated without considering context and other building clues. The carved stone sink shown here is installed in Las Trancas in Guanajuato, Mexico.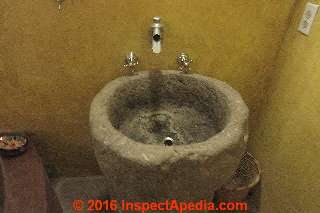 The stone sinks shown below are installed in Penjamo, Mexico and incorporate a bit of Mexican tradition by using replicas of corn grinding slab, or metate. The metate was also used to grind cocoa. Like the metate, these sinks are typically carved from volcanic stone.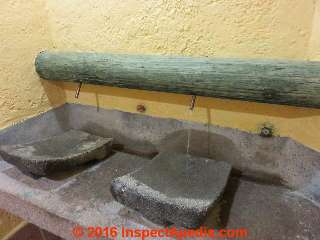 Synthetic Stone or Synthetic Marble or Cultured Marble Sinks
Appearing mostly under the term cultured marble sinks, synthetic stone, cultured stone, or synthetic marble sinks are man-made products that include both sinks and whole counter-tops that include a cast-in sink to provide a seamless connection between countertop and sink.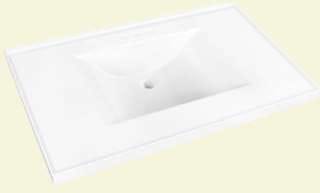 Above: a simple white cultured marble sink and vanity top produced by Glacier Bay and distributed through Home Depot stores.
[Photos needed]
Wooden Sinks
Wooden sinks have been used for centuries in the form of trough-like hollowed logs or carved sinks. Below are modern versions of wooden sinks in a high design style.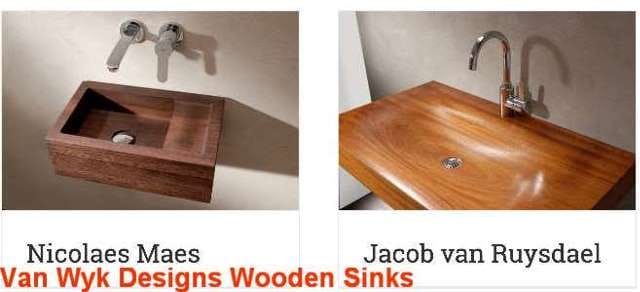 Van Wyk, a Dutch design company, currently offers a range of modern wooden sinks carved by various artists and of various woods. The photo above illustrates some Van Wyk sinks.
Contacts for wooden sink products
Houzz, an Australian website home product source noting various contact countries world-wide, who don't provide a bricks-and-mortar address, provides a Japanese style Moku rectangular bamboo sink basin [not shown]. Website: http://www.houzz.com.au/
Van Wijk Dutch Design Danzigerbocht 15 (Westpoort 3070) 1013 AM Amsterdam The Netherlands Phone: (+31) (0)20 681 33 83 Email: info@vanwijkdutchdesign.nl Website: http://www.vanwijkdutchdesign.nl/
[Photos needed]
Woodstone Sinks or Wood Stone Sinks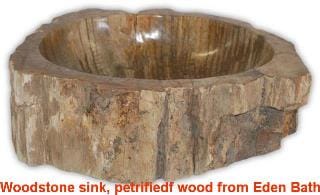 Above we discussed stone sinks carved out of a variety of stone materials. Another specialty-stone sink is made of petrified wood, a stone material that was originally wood.
Illustrated here is a stone sink made from petrified wood and sold by Eden Bath. Stone sinks carved of petrified wood stone or stone-wood or "woodstone" sinks depending on who's talking, have been used for hundreds of years if not longer and are available as contemporary plumbing fixtures.
Eden Bath provides a natural stone sink made of petrified wood. Resource:
Eden Bath And Home Group 1814 Aaron Dr NW, IA 52405 Cedar Rapids, IA, USA 52405, Tel: 1-877-578-5584, website: www.edenbath.com, E-Mail: sales@edenbath.com
Research on the history of kitchen sinks
Charytonowicz, Jerzy, and Dzoana Latala. "Evolution of domestic kitchen." In Universal Access in Human-Computer Interaction. Context Diversity, pp. 348-357. Springer Berlin Heidelberg, 2011.
Hellman, Caroline. "The Other American Kitchen: Alternative Domesticity in 1950s Design, Politics, and Fiction." Americana: The Journal of American Popular Culture, 1900 to Present 3, no. 2 (2004).
Hochhaeusl, Sophie. "From Vienna to Frankfurt Inside Core-House Type 7: A History of Scarcity through the Modern Kitchen." Architectural Histories 1, no. 1 (2013).
Abstract:
This paper traces a history of war-induced scarcity through the material and technological properties of household appliances and kitchens from 1914 to 1930. Investigating the Austrian settlement and allotment garden movement, it argues that the practices of users, self-help builders, and inhabitants who reacted to living with limited resources in the state of emergency found their way into the designs of modern homes, and into the works of canonical modern architecture, in particular the famous Frankfurt Kitchen. This paper thus investigates the design and production of the modern kitchen and its transformations, from Vienna to Frankfurt, moving from a cooperative vernacular building movement to one of the largest construction endeavors to standardize and prefabricate modern housing in Germany.
Lucas, Fiona. "Kitchen Sinks Have a History." Cuizine: The Journal of Canadian Food CulturesCuizine:/Revue des cultures culinaires au Canada 3, no. 2 (2012).
Abstract:
The kitchen sink, with its plentiful hot and cold running water, is a mundane feature of our daily lives that we take for granted—unless, that is, the water dries up or turns smelly, thereby inconveniencing our schedules or threatening our health, or unless we are considering a house purchase or renovation. The tap turns on, the water obligingly pours out; the tap turns off, the water obligingly drains away. Of course it was not always so. The advancement of kitchen sinks from dishpans filled with buckets of water to today's carefully controlled municipal system—with its in/out pipes, hot water tanks, and on/off taps—reflects developments in plumbing technology, society's evolving concerns about civic and moral health, and major alterations in expectations around women's work. Although lavatory and laundry sinks were equally transformative, the focus of this paper is the kitchen sink, and the irksome daily cycle of dishwashing in Ontario homes of the 19th and 20th centuries.
Maguire, Martin, Sheila Peace, Colette Nicolle, Russell Marshall, Ruth Sims, John Percival, and Clare Lawton. "Kitchen living in later life: Exploring ergonomic problems, coping strategies and design solutions." International journal of design 8, no. 1 (2014).
Moody, Dana, and Michelle L. Vineyard. "Evolution of Domestic Kitchen Design: Influence of Disease Theory and the Changing Role of Women." Housing and Society 35, no. 2 (2008): 13-23.
Raviv, Yael. "The kitchen sink." Women & Performance: a journal of feminist theory 21, no. 3 (2011): 291-297.
Schneiderman, Deborah. "The prefabricated kitchen: Substance and surface." Home Cultures 7, no. 3 (2010): 243-262.
Stoddard, Charles F. "Laundry tub." U.S. Patent 1,931,632, issued October 24, 1933.
The main objects of this invention are to provide an improved stopper for the drain O a laundry tub; to provide improved means for securing the stopper to the tub so as to discourage theft of the stopper; and to provide an improved stopper of this kind which can be readily attached to laundry tubs of standard form.
Warndorff, Erwin O., "Laundry tub." U.S. Patent 1,538,766, issued May 19, 1925.
Yaeger, Patricia. "Pre-postmodernism: Academic feminism and the kitchen sink." The Journal of the Midwest Modern Language Association 27, no. 1 (1994): 4-25.
...
Continue reading at PLUMBING FIXTURES, KITCHEN, BATH, a guide to choosing & installing plumbing fixtures for kitchens and bathrooms, or select a topic from closely-related articles below, or see our complete INDEX to RELATED ARTICLES below.
Or see AGE of PLUMBING MATERIALS & FIXTURES
Or see ARCHITECTURE & BUILDING COMPONENT ID
Or see BATH & KITCHEN DESIGN GUIDE
Or see FAUCETS & CONTROLS, KITCHEN & BATH
Or see LEAK TYPES, WATER SUPPLY or DRAIN PIPES if you are not sure how to diagnose a plumbing system leak
Or see SINK LEAK DIAGNOSIS & REPAIR if your sink is leaking
Suggested citation for this web page
SINK TYPES & MATERIALS at InspectApedia.com - online encyclopedia of building & environmental inspection, testing, diagnosis, repair, & problem prevention advice.
Or use the SEARCH BOX found below to Ask a Question or Search InspectApedia
...
Frequently Asked Questions (FAQs)
Try the search box below or CONTACT US by email if you cannot find the answer you need at InspectApedia.
...
Ask a Question or Search InspectApedia
Questions & answers or comments about the age and history of plumbing materials and fixtures in buildings
Use the "Click to Show or Hide FAQs" link just above to see recently-posted questions, comments, replies, try the search box just below, or if you prefer, post a question or comment in the Comments box below and we will respond promptly.
Search the InspectApedia website
Technical Reviewers & References
Click to Show or Hide Citations & References
Mark Cramer Inspection Services Mark Cramer, Tampa Florida, Mr. Cramer is a past president of ASHI, the American Society of Home Inspectors and is a Florida home inspector and home inspection educator. Mr. Cramer serves on the ASHI Home Inspection Standards. Contact Mark Cramer at: 727-595-4211 mark@BestTampaInspector.com
John Cranor is an ASHI member and a home inspector (The House Whisperer) is located in Glen Allen, VA 23060. He is also a contributor to InspectApedia.com in several technical areas such as plumbing and appliances (dryer vents). Contact Mr. Cranor at 804-747-7747 or by Email: johncranor@verizon.net
Thanks to reader Kathy Bohon for suggesting additional details about determining the age of a home by looking for a date stamp in the toilet tank or lid. Ms. Bohon points out that if a building's plumbing system has not been renovated, the toilet date stamp can be a reliable indicator of approximate building age. (7/30/2009).
Carson Dunlop, Associates, Toronto, have provided us with (and we recommend) Carson Dunlop Weldon & Associates' Technical Reference Guide to manufacturer's model and serial number information for heating and cooling equipment ($69.00 U.S.). Technical Reference Guide, Carson Dunlop Weldon & Associates, Ltd., 120 Carlton St. Suite 407, Toronto, Ontario, M5A 4K2 Canada, ISBN 1-895585-90-2 165pp.
America's Favorite Homes, mail-order catalogues as a guide to popular early 20th-century houses, Robert Schweitzer, Michael W.R. Davis, 1990, Wayne State University Press ISBN 0814320066 (may be available from Wayne State University Press)
American Plywood Association, APA, "Portland Manufacturing Company, No. 1, a series of monographs on the history of plywood manufacturing",Plywood Pioneers Association, 31 March, 1967, www.apawood.org
Asbestos products and their history and use in various building materials such as asphalt and vinyl flooring includes discussion which draws on ASBESTOS, ITS INDUSTRIAL APPLICATIONS, ROSATO 1959, D.V. Rosato, engineering consultant, Newton, MA, Reinhold Publishing, 1959 Library of Congress Catalog Card No.: 59-12535 (out of print).
Building Research Council, BRC, nee Small Homes Council, SHC, School of Architecture, University of Illinois at Urbana-Champaign, brc.arch.uiuc.edu. "The Small Homes Council (our original name) was organized in 1944 during the war at the request of the President of the University of Illinois to consider the role of the university in meeting the demand for housing in the United States. Soldiers would be coming home after the war and would be needing good low-cost housing. ...  In 1993, the Council became part of the School of Architecture, and since then has been known as the School of Architecture-Building Research Council. ... The Council's researchers answered many critical questions that would affect the quality of the nation's housing stock.

How could homes be designed and built more efficiently?
What kinds of construction and production techniques worked well and which did not?
How did people use different kinds of spaces in their homes?
What roles did community planning, zoning, and interior design play in how neighborhoods worked?

"
Isham: "An Example of Colonial Paneling", Norman Morrison Isham, The Metropolitan Museum of Art Bulletin, Vol. 6, No. 5 (May, 1911), pp. 112-116, available by JSTOR.
Manufactured & Modular Homes: Modular Building Systems Association, MBSA, modularhousing.com, is a trade association promoting and providing links to contact modular builders in North America. Also see the Manufactured Home Owners Association, MHOAA, at www.mhoaa.us. The Manufactured Home Owners Association of America is a National Organization dedicated to the protection of the rights of all people living in Manufactured Housing in the United States.
Re-Bath, tub lining products is a bath tub relining manufacturer and distributor located in Tempe, Arizona - see rebath.com
Pergo AB, division of Perstorp AB, is a Swedish manufacturer or modern laminate flooring products. Information about the U.S. company can be found at http://www.pergo.com where we obtained historical data used in our discussion of the age of flooring materials in buildings.
Plank House Construction: webslog from plankhouse.wordpress.com/2009/01/25/plank-house-construction/ and where plank houses were built by native Americans, see
Large 1:6 Scale Plank House Construction / P8094228, Photographer: Mike Meuser
06/12/2007 documented at yurokplankhouse.com where scale model Museum quality Yurok Plank Houses are being sold to raise money for the Blue Creek - Ah Pah Traditional Yurok Village project.
Scott C. LeMarr has provided his file of keys to decode Furnace and Water Heater Age from the data provided on the manufacturer's equipment labels. Mr. LeMarr is a professional home inspector, Certified Professional Inspector/President, MASTER Indoor Environmental Specialist (MIES). Vice President of Wisconsin NACHI. He and his company, Honest Home Inspections, LLC. can be reached at 262-424-5587 or by email to scott@honesthomeinspections.com
Sewer History - great resource for the history of sewer piping - see http://www.sewerhistory.org
Weaver: Beaver Board and Upson Board: Beaver Board and Upson Board: History and Conservation of Early Wallboard, Shelby Weaver, APT Bulletin, Vol. 28, No. 2/3 (1997), pp. 71-78, Association for Preservation Technology International (APT), available online at JSTOR.
Wikipedia entry on bathtubs: see http://en.wikipedia.org/wiki/Bathtub
List of Online Articles Giving Detailed Information & Reference Materials for Determining the Age of buildings
FLOORING MATERIALS, Age, Types: history of types and age of different flooring materials: Asphalt or vinyl-asbestos floor tiles, sheet flooring, linoleum, ceramic tile, carpeting, wood floor types and materials
Sears Kit Houses and other special home construction methods


References
Old House Inspection Methods
Restoration Products
Books & Articles on Building & Environmental Inspection, Testing, Diagnosis, & Repair
Our recommended books about building & mechanical systems design, inspection, problem diagnosis, and repair, and about indoor environment and IAQ testing, diagnosis, and cleanup are at the InspectAPedia Bookstore. Also see our Book Reviews - InspectAPedia.
...