Plumbing S-Trap Codes & Hazards
S-trap siphonage risks sewer gas entry
PLUMBING TRAPS & INTERCEPTORS - CONTENTS: How to inspect plumbing fixtures, loose toilets, & plumbing traps in order to track down building odors and sewer or septic gas smells, Definition of plumbing trap, definition of plumbing drain interceptor.
POST a QUESTION or READ FAQs about plumbing traps or plumbing interceptors
InspectAPedia tolerates no conflicts of interest. We have no relationship with advertisers, products, or services discussed at this website.
Plumbing drain S-traps:
This article explains why an S-trap on a plumbing fixture is considered obsolete and why such traps are prohibited by modern plumbing codes.
We include research and history of health hazards, even deaths and explosions traced to sewer gas leaks into buildings that include leaks up through un-vented or inadequately vented plumbing traps. S-traps are particularly prone to these problems as well as a source of poor fixture drainage.
This article series describes the common problems that occur at plumbing traps: odors, leaks, noises, and we discuss plumbing trap types, requirements, locations, connections, installation, repair and replacement.
This article distinguishes between P-traps and older S-traps and explains trap siphonage and the dangers that can result from dry plumbing traps.
Green links show where you are. © Copyright 2017 InspectApedia.com, All Rights Reserved.
Definition of S-Traps & Issues with S-Traps on Plumbing Fixtures & Drains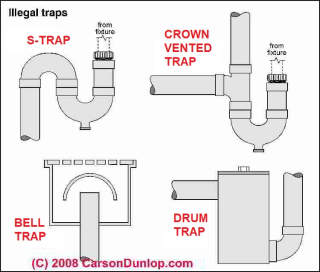 Improper plumbing drain traps can release sewer gas odors indoors. That hazard is increased where an S-trap is installed. An illegal and troublesome S-trap is shown in the upper left of Carson Dunlop Associate's illustration. Carson Dunlop Associates is a Toronto home inspection, education, & report writing company.
Here we explain the following:
How to prevent or cure sewer gas odors from septic systems, building plumbing, & other causes. Sewer gas smell diagnosis - plumbing checklist. Septic gas smell diagnosis - septic system checklist. Other causes of sewage odors, septic odors, sewer gas, rotten egg, or other indoor gas odors.
Our page top photo shows a double S-trap below a sink. The downwards bend after the initial trap bend tells us that this trap cannot be properly vented.
[Click to enlarge any image]
Use of "S" Traps is both illegal and obsolete as plumbing fixture traps where a "P" trap is required. While not every S-trap will cause trouble, enough of them do that they are prohibited in new construction.
S-traps are often installed in older buildings where there is no venting provided for that plumbing fixture. So what's the trouble?
S-traps easily lose the water from the plumbing trap, especially if the S-trapped fixture is near a toilet or other large plumbing fixture.
When the larger fixture is draining, the sudden and large volume of water rushing down the drain creates a vacuum in the drain line that can siphon water out of the nearby plumbing traps.
When a plumbing trap has lost its water seal, sewer gases pass readily back into the building.
Look below the sinks for antiquated or un-vented drains - if you see an "S" trap rather than a modern "P" shaped plumbing drain trap, the fixture is almost certainly not properly vented.
Reader comment: defends S-traps as harmless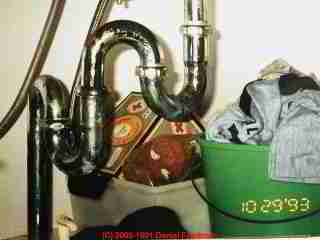 OPINION from a reader: 2017/05/15 Iggy said:
Born and raised amongst S-traps and still have them decades later today. Never-ever had a problem whether they were within 5-feet of the stack or completely unvented 40-feet away from the stack. Sewer Gas DOES NOT search and lurk beyond the Main Stack!
Like water, Sewer Gas follows the path or least resistance! S-traps are EXTREMELY over-exaggerated, Hack Home Inspectors wear them like a badge upon discovery...too bad they don't have any other badges to notice, quite laughable. - Iggy
Reply: S-traps on plumbing fixtures are unsafe, have a long history of association with disease, function poorly, and are illegal in new construction
Glad to hear that your S-traps haven't given you trouble, Iggy though your case is the exception, not the rule.
Regarding your observation that "Sewer Gas DOES NOT search and lurk beyond the Main Stack! " I think you have not considered that an S-trap, by its very definition, location, design, is not vented through a main stack. Instead its connection downwards, without a horizontal section past the trap, is what permits siphonage and back-venting of sewer gases from the drain out through the fixture.
Regarding your observation that "Like water, Sewer Gas follows the path or least resistance!" - not quite. Water in a drain system wants to move down, impelled by gravity. But sewer gases, high in methane, and lighter than air, want to move "up" in a vent piping system.
In a properly designed trap and vent system those gases are vented above a roof. But in a system with incomplete venting or missing venting such as at an S-trap, sewer gases are perfectly happy moving up and out through a siphoned-dry sink or tub trap.
Unfortunately for them, S-traps are easily siphoned of their water seal and thus can vent sewer gas back into a building, and as the use of an S-trap means an un-vented fixture, often the fixture will not drain well either, as wastewater flowing down a poorly-vented or un-vented drain line creates a "sucking" vacuum behind it as it moves down the drain: thus slowing drainage and drawing water out of un-vented traps.
This problem has been well known for more than 100 years, as you can see in articles and research we cite here. As a result of widely-recognized health hazards from pathogens re-entering homes in sewer gas and the occasional dramatic explosion of sewer gas that sometimes levelled buildings, in the U.S. beginning in the 1880's authorities began developing and enforcing plumbing and sanitation codes that addressed, among other things, sanitary drainage requirements.
Moore, Edward Crozier Sibbald. Sanitary Engineering: A Practical Treatise on the Collection, Removal and Final Disposal of Sewage and the Design and Construction of Works of Drainage and Sewerage... and Numerous Hydraulic Tables, Formulae & Memoranda. BT Batsford, 1898.
In an era of fake news and "alternative facts" presented as if they weighed as much as true facts, it's more important than ever that we respect authoritative, unbiased research on problems that confront us.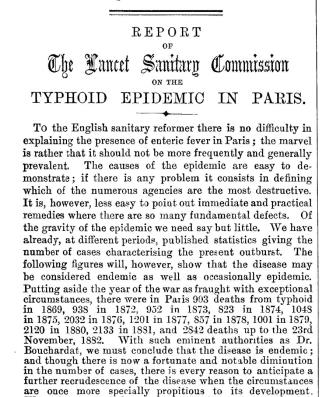 Hoskins, George Gordon. An hour with a sewer rat; or, A few plain hints on house drainage and sewer gas. Simpkin, Marshall, 1879.
Winslow, CE A. "Bacteria in Sewer Air." American journal of public hygiene 19, no. 3 (1909): 640.
Excerpt:

he passed the feces of a typhoid patient suspended in water thru a half-S trap and found the ... made in a previous bulletin that "There is no doubt, also, that sewer gas is a ... relationship with defective drainage, sewers and cesspools,
Bell, George N. "Random Notes for Promoting the Hygiene of the Dwelling." Public health papers and reports 11 (1885): 120.
PARIS, TYPHOID EPIDEMIC IN. "The Lancet Sanitary Commission." The Lancet, Volume 121, Issue 3097, 6 January 1883, Pages 31-33 - this article in a long-respected medical journal describes typhoid deaths in Paris from 1869-1882 as qualifying as what today we call an epidemic.
Excerpt:

so that the direct connexion between the inside of the house and the sewer was broken ... the emanations from the cesspool introduced through the closet, but with gases from the sewers brought up ... Such a thing as a trap, even the simple S-trap, in the leaden beneath a sink ...
Reader follow-up comment: disagrees that S-traps are a problem
Iggy replied:

Yikes! Talk about nonsense claimed to be research, fact or even relevant. A guy that built places with S-traps. Another guy that simply noted there's bacteria floating all around us. Some random guy that isn't even found on the internet. And the sole reason that S-traps were invented...to just remove stink.
I have no problem with change and embrace any improvement, but S-traps have NEVER been the terror laughably claimed by inspectors. P-traps, ONLY WITH VENTING, are an improvement! P-traps, WITHOUT A VENT, are VERY MUCH worse than any S-trap! Calling out an S-trap and not a lack of venting should be criminal!
Venting is the ONLY "defect", patently not the type of trap! That these guys and gals walk into a 100 or 50-year old house and fail the S-traps unbelievable fear-mongering. I'm the exception? You do realize we're talking about a likely still 100-million buildings, not just homes, that are still HAPPILY S-trapped out there.
Reply from moderator: S-traps are improper, unsafe, and are prohibited by plumbing codes
Iggy,
Sorry, Iggy but it just won't suffice for you to call plumbing experts from the past 100+ years a bunch of dopes.
A danger in failing to distinguish between our opinions and sound expertise is that we may end up asserting that nonsense is "true" - that doesn't change it from nonsense to truth. Opinion based on experience is valuable but it is a poor substitute for understanding, fact, or science.
I can't tell from your comments if you're just not writing precisely or if you actually don't understand plumbing traps. Contrary to your assertion, plumbing traps do not "remove stink" - they don't "remove" anything.
The function of a plumbing trap and the water seal it must contain is explained here. The very old plumbing articles we cited illustrate that more than 100 years ago serious disease and death were traced to the back-venting of sewer gases into buildings. The building code citations that prohibit S-traps represent the experience and judgment of plumbing experts charged with writing plumbing codes in countries around the world.
I do agree with you that venting is critical for proper, effective plumbing drain function.
But you are quite mistaken in your s-trap-philia. S-traps are prohibited as new construction under every plumbing code, though codes may permit the repair or replacement of existing S-traps as long as the plumber doesn't observe a problem at that particular fixture.
It's indeed the case, as you point out, that not every S-trap causes trouble and it is indeed the case that there are plenty of S-traps still in service. If all of them did cause trouble, even hard-core S-trap-philiacs like you would have changed their minds long ago.
The difficulty is that a building code committee or a plumbing inspector cannot possibly predict which S-trapped fixtures will be safe and which will give trouble risking poor drainage, sewer gas venting, infections or deaths from the biohazards, and an occasional sewer gas explosion. For all readers:
The S-shaped or S-bend plumbing trap, was invented by Alexander Cummings in 1775. To be legal, a plumbing trap must run horizontally on its outflow side. That's the feature that is missing from an S-trap.
Plumbing fixture drain traps protect your home from sanitation issues involving drains that tie into the sewer or a home septic system by providing a water seal that in turn prevents sewer gases from venting back into the building from the fixture drain.
If the horizontal run on the outflow side of a drain trap is omitted, water flowing down the drain of an S-trap can siphon water out of the trap at the end of the drain cycle, thus leaving a trap dry and ready to vent sewer gases back into the building.
Water can also be drawn out of any plumbing trap, S-trap or P-trap, by nearby fixture drains if the building venting system is missing or inadequate.
Model plumbing code prohibition of S-traps is explicit, clear, unambiguous. See this example from Chapter 10 of the Uniform Plumbing Code section 1002.3, noting item 5 specifically prohibiting S-Traps:
1002.3 Prohibited traps.
The following types of traps are prohibited:
1. Traps that depend on moving parts to maintain the seal.
2. Bell traps.
3. Crown-vented traps.
4. Traps not integral with a fixture and that depend on interior partitions for the seal, except those traps constructed of an approved material that is resistant to corrosion and degradation.
5. "S" traps.
6. Drum traps. Exception: Drum traps used as solids interceptors and drum traps serving chemical waste systems shall not be prohibited.
and from the 2009 National Standard Plumbing Code 5.3.5 prohibiting S-Traps
5.3.5 Prohibited Traps
a. The following types of traps shall be prohibited:
1. Traps that depend upon moving parts to maintain their seal.
2. Bell traps.
3. Crown vented traps.
4. Separate fixture traps that depend on interior partitions for their seal, except if made from plastic, glass or other corrosion resistant materials.
5. "S" traps, of uniform internal dimension.
6. Drum traps.
b. Hair interceptors, precious metal interceptors and similar appurtenances shall be permitted as required.
S-traps on plumbing fixtures are also discussed in the article where your comments were first-posted: PLUMBING TRAPS & INTERCEPTORS
and in the article's REFERENCES section we include additional links to authoritative sources and model building codes pertaining to plumbing traps.
Thank you for arguing, Iggy. Spirited debate can, properly-conducted, help us reach clear, authoritative answers to important questions and can help us move beyond arm-waving and bullying or bluffing into useful and accurate information.
2006 INTERNATIONAL PLUMBING CODE, Chapter 10, TRAPS INTERCEPTORS SEPARATORS[PDF] see section 1002.3 Prohibited Traps
2009 NATIONAL STANDARD PLUMBING CODE [PDF] see section 5.3.5 Prohibited Traps
An, Perry G. "Constructing and dismantling frameworks of disease etiology: the rise and fall of sewer gas in America, 1870-1910." The Yale journal of biology and medicine 77, no. 3-4 (2004): 75. Explains the transition from simple "sewer gas" fear to the actual health hazards in sewer gases (germs).
Abstract:

For roughly forty years, from 1870 to 1910, Americans recognized and feared gases emanating from sewers, believing that they were responsible for causing an array of diseases. Fears of sewer gas arose from deeper anxieties toward contact with decomposing organic matter and the vapors emitted from such refuse.

These anxieties were exacerbated by the construction of sewers across the country during the mid-to-late-nineteenth century, which concentrated waste emanations and connected homes to one another.

The result was the birth of sewer gas and the attribution of sickness and death to it, as well as the development of a host of plumbing devices and, especially, bathroom fixtures, to combat sewer gas. The rise of the germ theory, laboratory science, and belief in disease specificity, however, transformed the threat of sewer gas, eventually replacing it (and the larger fear of miasmas) with the threat of germs.

The germ theory framework, by 1910, proved more suitable than the sewer gas framework in explaining disease causation; it is this suitability that often shapes the relationship between science and society.
Coutts, Francis JH, and John S. Brodie. "Sewer Ventilation and the Intercepting Trap." The Journal of the Royal Society for the Promotion of Health 29, no. 4 (1908): 181-201.
Crook, Tom. "Danger in the Drains: Sewer Gas, Sewerage Systems and the Home, 1850–1900." In Governing Risks in Modern Britain, pp. 105-126. Palgrave Macmillan UK, 2016.
Abstract:

Crook's chapter analyses some of the contestation surrounding the introduction of large-scale, technologised, water-borne sewerage systems in towns and cities. It focuses on the early installation of water-closets in middle-class homes and the danger of 'sewer gas'. He argues that these problems were managed in much the same way as other hazards created by urban infrastructural projects: standards were set and revised; inspectors were called in; and technological solutions were implemented and reviewed.

Sewer gas is particularly significant because it targeted the home, arousing fear on account of its ability to infiltrate what was supposed to be an inviolable sphere of familial intimacy and safety.

Thus, sewer gas was very much a composite risk: a risk defined as much by public fear and dispute as by expert 'rationality' and technological savvy.
Hill, Alfred. "" House drains in relation to health'." RSA Journal 25 (1876): 936.
Excerpt:

... It would be an advantage to protect sink- pipes further by a syphon bend, since an in ... of openiings at the surface of the ground, by which undue pressure upon drain traps is prevented ...
"Sewer gas blamed for southern Minnesota house explosion that injured man", Twin Cities Pioneer Press, (10 June 2012), retrieved 2017/05/16, original source: http://www.twincities.com/2012/06/10/sewer-gas-blamed-for-southern-minnesota-house-explosion-that-injured-man/
Excerpt:

FREEBORN, Minn. — Fire officials confirmed Monday that gas from an uncapped sewer line caused the explosion at a house north of Freeborn on Friday that badly burned a man. Freeborn Fire Chief Steve Siepp and a representative from the state fire marshal's office investigated the explosion on Monday morning.

Siepp said they concluded that sewer gas from an uncapped line had backed into the house, and the gas was ignited when Ralph William Yotter, 75, came into the house and turned on a light switch. Yotter suffered burns to his face and body and remained in serious condition at Regions Hospital in St. Paul Monday afternoon.
Sayers, Royd Ray. "Gas hazards in sewers and sewage-treatment plants." Public Health Reports (1896-1970) (1934): 145-155.
Sayers points out the hazardous gases found in sewer gas including methane, hydrogen, carbon dioxide, possibly carbon monoxide, and hydrogen sulfide and goes onto explain and cite research about the explosion hazards of sewer gas, including in buildings.
Spencer, Ariel U., Shelley S. Noland, and Lawrence J. Gottlieb. "Bathtub fire: an extraordinary burn injury." [excerpt image] Journal of burn care & research 27, no. 1 (2006): 97-98. Describes a severe methane gas explosion occurring while sanding a bathtub.
"Sewer Gas Guide" [PDF], Indoor Air Quality Program 918 East Divide Avenue Bismarck, North Dakota 58501-1947 701.328.5188 www.ndhealth.gov/aq/iaq, retrieved 2017/05/16, original source: https://www.ndhealth.gov/aq/iaq/Biological/Sewer%20gas%20guide%20final.pdf
Excerpt:

Sewer gas is a complex mixture of toxic and nontoxic gases which collect in the sewage system at varying levels depending on the source. Sewer gas is formed during the decay of household and industrial waste. Highly toxic components of sewer gas include hydrogen sulfide and ammonia.

Sewer gas also contains methane, carbon dioxide, sulfur dioxide and nitrous oxides. In addition, chlorine bleaches, industrial solvents and gasoline frequently are present in municipal and privately owned-sewage treatment systems. Sewer gases are a concern due to their odor, health effects and potential for creating fire or explosions.
Webster, Albert L. "Records of Fifty Examples of Defective Plumbing in New York City and Vicinity." [PDF] Public health papers and reports 16 (1890): 190.
This report includes among its defects "basin trap siphons" - a recognized hazard in 1890. Retrieved 2017/05/16, original source: https://www.ncbi.nlm.nih.gov/pmc/articles/PMC2266374/pdf/pubhealthpap00013-0207.pdf
...
Continue reading at PLUMBING TRAPS & INTERCEPTORS - home, or select a topic from closely-related articles below, or see our complete INDEX to RELATED ARTICLES below.
Or see BACKDRAFTING & SEWER / SEPTIC ODORS as back-drafting can also draw sewer gases from dry plumbing traps
Or see DRAIN PIPING & SEWER ODORS full discussion of odors from building drains & drain piping.
Or see HYDROGEN SULFIDE GAS where we discuss the effects of exposure to H2S and H2S exposure limits.
Or see METHANE GAS HAZARDS SEPTIC / SEWER
Or see PLUMBING DRAIN NOISES how errors cause trap siphonage, odors, and noises
Or see PLUMBING SYSTEM ODORS - home for guidance in tracking down plumbing smells
Or see SEWER GAS ODORS
Or see TESTS for SEWER GAS INDOORS
Or see PLUMBING VENT DEFECTS & NOISES
Or see this
Article Series Contents
Suggested citation for this web page
PLUMBING S-TRAP CODES & HAZARDS at InspectApedia.com - online encyclopedia of building & environmental inspection, testing, diagnosis, repair, & problem prevention advice.
Or use the SEARCH BOX found below to Ask a Question or Search InspectApedia
...
Frequently Asked Questions (FAQs)
Try the search box below or CONTACT US by email if you cannot find the answer you need at InspectApedia.
Questions & answers about plumbing traps posted originally at this page are now found at PLUMBING TRAP, INTERCEPTOR FAQs
...
Ask a Question or Search InspectApedia
Use the "Click to Show or Hide FAQs" link just above to see recently-posted questions, comments, replies, try the search box just below, or if you prefer, post a question or comment in the Comments box below and we will respond promptly.
Search the InspectApedia website
Technical Reviewers & References
Click to Show or Hide Citations & References
"Guidance Document for Sizing and Installation of Grease Traps and Interceptors", Carrolton Texas, January 2012, retrieved 2/16/2014, original source: http://cityofcarrollton.com/Modules/ShowDocument.aspx?documentid=8181
Kia Gregory, "New York Tries to Clear Its Sewers of FOG (Fat, Oil, and Grease)", The New York Times, p. A18, 15 February 2014
Thanks to Slade Franklin for the reminder that a leaky wax ring at a toilet can lead to septic odors in bathrooms. 11/2007
Thanks to J.V. (privacy protected) for the reminder to make a detailed inspection of the plumbing vent system when sewer gas odors are present. 07/2008
Thanks to Roger Hankey & Cheryll Brown, www.hankeyandbrown.com, ASHI home inspectors in Minnesota, for the deteriorated transite pipe gas flue vent photograph and comments. Mr. Hankey is a past chairman of the ASHI Technical Committee, serves as co-chairman of ASHI legislative committee, and has served in other ASHI professional and leadership roles. 7/2007.
Thanks to Alan Carson and Bob Dunlop, Carson Dunlop, Associates, Toronto, for permission to use illustrations from their publication, The Illustrated Home which illustrates construction details and building components. Carson Dunlop provides home inspection education, publications, report writing materials, and home inspection services. Alan Carson is a past president of ASHI, the American Society of Home Inspectors.
Steve Smallman, Raleigh, NC, Email: steve@stevesmallman.com, Website: http://stevesmallman.com/ - Quoting: Steve Smallman Property Inspections (SSPI) inspectors have performed or supervised over 25,000 inspections since we introduced home inspections to the Triangle area in 1980. Mr. Smallman is a contributor to InspectApedia.com and has commented on or provided information on plumbing traps, commercial FPE electrical panels and DIY Tests of FPE equipment,, roofing underlayment, and building exteriors.
PLUMBING DRAIN NOISE DIAGNOSIS: may indicate defective or clogged plumbing: how to diagnose and cure drain sounds
Books & Articles on Building & Environmental Inspection, Testing, Diagnosis, & Repair