Mold Exposure Standards & Mold Count FAQs
Questions & Answers about Levels of allergenic or toxic mold
MOLD COUNT FAQs - CONTENTS: questions & answers about mold counts, mold test results, and mold exposure limits, mold exposure standards
POST a QUESTION or READ FAQs about standards for acceptable or unacceptable toxic mold spore counts, levels, or measurements in building interiors
InspectAPedia tolerates no conflicts of interest. We have no relationship with advertisers, products, or services discussed at this website.
Mold Standards for Exposure & Testing FAQs:
Questions & answers about specific mold exposure levels, standards, or measurements & reports of "mold counts" versus various current & proposed mold standards as well as the very substantial shortcomings in any mold exposure standard whatsoever.
This article series also explains at what level is allergenic or toxic mold considered a problem in buildings? How do we obtain an accurate and meaningful measurement of mold exposure indoors?
Green links show where you are. © Copyright 2017 InspectApedia.com, All Rights Reserved.
Mold Counts & Standards: questions & answers, Mold Count FAQs about What mold spore levels indicate contamination in buildings ?

Question: how to interpret airborne mold count levelsk, 1833 Aspergillus/Penicillium outdoors & 8553 indoors?
My workplace has a mold problem and a air sample analysis was done in August. I just got a copy of it as my doctor requested it. Question is - report shows outside level of 1833 or 4.2% Aspergillus/Penicillium and inside count of 8553 or 97.0% per cubic meter of Aspergillus/Penicillium.
What do these numbers suggest? All 6 employees are having health issues.
Thank you for any insight!! - My work has mold
[Click to enlarge any image]
Reply:
My Work:

The numbers you quote suggest an indoor mold contamination problem. Did you ask the mold expert who performed the test to interpret the data, inspect the building, give advice? If not, you folks didn't get much of value.
See MOLD COUNT NUMBER GUIDE and also see MOLD EXPOSURE STANDARDS
Question: Are there health risks to building occupants during duct cleaning & ceiling replacement?
My company is having the building cleaned, the ductwork replaced and ceiling tiles replaced. They have been telling us that there is no health risk to us working in the building. The report that I was given really doesn't say how bad the air quality is. I am just a small fish at the bottom of a very large corporate pool and told I have a job to do. - Anonymous
Reply:
Anon:
There may be OSHA or other regulations that should guide cleaning or renovation work in your building, and if hazardous materials are present that is surely the case. More generally, if the cleaners in your building are taking steps to control the release of dust during the work, such as setting up containment, using negative air machines, or HEPA vaccuming, or if the work is being performed in areas whose air and dust does not readily enter the work area, the risk to occupants is of course reduced.

Dust containing just about anything can be a respiratory irritant and for people at extra risk such as asthmatics, can be more of a problem.

At MOLD / ENVIRONMENTAL EXPERT, HIRE ? we outline some considerations that can help you decide if further investigation, testing, or analysis of your work area are appropriate.
Question: Following a death due to mold exposure in a building, how long can the spores live after the source has been removed?
How long can the spores live after the source has been removed? How serious is the contamination of personal items in the home and how long after the source is removed, are they safe if ever? More specifically, we are dealing with exposure to a home 4 years after a death occured in the home due to mycotoxicosis of asperigillus and stachybotrys. The original source of the mold was not in this home, but rather at a work place.
A year after the death, family members and a caregiver came down with symptoms and now test positive for the same toxins the family member died of. They claim the house is cross contaminated and abandoned it. 3 years later, we were hired to clean out the home and just found out this information. 3 years ago at the time of the abandonment, the house was tested and found to be 16 times the normal levels of the mold spores.
Unknowingly, we brought items into our home, donated items to friends and charity, and cleaned the entire home with out face masks or respirators. A 3 year old child and pregnant woman were also exposed. Should we be concerned? - Tracey
Reply: dead mold spores may still be a problem; but small or sub-acute levels of moldy dust without an actual mold growth reservoir are not normally a problem
Tracey:

Mold spore viability varies by species and condition; some spores can become very dessicated (dried) and remain in place for months or even years, later returning to active growth if conditions of moisture, temperature, and other factors are favorable.

Further, some mold spores may remain toxic, for example containing mycotoxins, even if the spores are "dead" - in the sense that they would not return to active growth.

These are reasons that we emphasize that removing mold contamination is important and that "solutions" to mold contamination that focus on "killing mold" are a mistake.

The fact that you report a previous death in a home and illnesses in a home where the death was associated with mold contamination and that you later worked in such a home performing cleaning, does not alone provide enough data to assert that you caused serious cross-contamination in a second structure by having worked in the first one.

But I can imagine some potential problem sources including use of a non-HEPA rated vacuum cleaner to clean the moldy home - followed by use of the same equipment in another building; the second use risks blowing potentially harmful or irritating dust into the second building.

Conversely, just having dusty moldy clothing would not, for most people, be sufficient to cause a serious cross-contamination in another building. Washing or dry cleaning the clothing will generally be sufficient to remove that concern.

There could be an exception if the clothes were not cleaned. I had a case in which a woman became ill from exposure to high levels of Aspergillus in a leaky mold-contaminated modular home. She was hospitalized, had become hypersensitive to airborne mold, and had apparently recovered. When she was scheduled to return home her husband brought her clothing that had been stored in a closet in (the moldy) home. When the clothes were brought into her hospital room she immediately developed a serious reaction. My investigation found hidden mold reservoirs in the source home.
If you continue to be concerned about having imported moldy dust into your home you should take these steps to reduce that concern:
Make sure that your own home does not have its own leaks, moisture problems, and hidden or visible mold growth reservoir, independent of any dust that you may have imported.
HEPA Vacuum and wipe dusty surfaces in the home
Wash or dry clean clothing that may have been exposed to high levels of moldy dust or other problem dust contamination
Change air filters in your heating or air conditionong system
See MOLD / ENVIRONMENTAL EXPERT, HIRE ? for more advice on how to decide if it is appropriate and justified to bring in an expert to survey the building for problem mold contamination or other IAQ worries.
Question: can you refer me to a mold inspector in Germany?
Can you recommend mold inspectors in Kaiserslautern Germany? I am in the US Military and recently moved here and think I have mold in my rental house.

Is the mold/musty smell caused by spores or are spores only released if they are disturbed - Brian
Reply: sources of mold experts and advice on choosing one
Brian, you should contact your base medical and health officers for advice on inspecting your home for health worries, and see MOLD / ENVIRONMENTAL EXPERT, HIRE ?
Moldy odors are produced by some, not all, species of mold, and even then, not in all conditions. The production of MVOCs (mold volatile organic compounds) that you smell in air depends on the genera/species of mold, the surface on which it is growing, and growth conditions such as moisture, temperature, light exposure. And similarly, mold spore release is a natural event that occurs depending on growing conditions as well as on mechanical disturbance such as during demolition or cleaning.
Question: Can you Interpret my Mold Test Report?
My Mother had some testing done for mold in her home. I was hoping that you could shed some light on this. This threw her into panic mode. She has had some sinus problems which could be related to this mold in home. I am reaching out to you so that we know how quickly this needs to be remediated. I have attached a Mold test report [edited to remove personal information - ed.] that I was hoping you could decipher or point me in the right direction of a company that I could reach out to here in Wyoming, Michigan where my Mother's home is located.
I believe she does have some moisture problems as she has some peeling paint in most rooms of the main level. For years she has worried about the insulation in the attic but just too busy to get to the source of the problem. Thanks - A.R.
Reply:
We took a look at your mold test report and note that your mold investigator through visual inspection and lab report concluded that professional mold cleaning is needed at your home. As we have not seen your property much less inspected it, in my opinion the person whom you paid to examine the home should be the first one in line to answer your questions about how to proceed. If s/he does not provide the service of explaining what was found and what you need to do about it, we might wonder what you paid for. Certainly in our opinion it would be a unconscionable to have to hire a second person just to explain what the first one said.
We agree with the approach of answering a mold remediation need question through a combined building inspection for visual evidence of the location and extent of mold contmaination, an interview with building occupants to estanblish the history ofthe home and possible occupant health concerns, limited testing to confirm that the mold seen is not just "cosmetic" is appropriate in some cases, and the combination of the experience of the inspector and lab results with the application of general mold level standards described by a reasonable and non-quantitative industry standard IICRC S520: Standard and Reference Guide for Professional Mold Remediation [9]
Watch out: you 'll want to be sure that the inspection of the home was thorough and that it identified both all areas that need mold remediation, the extent of remediation needed, and the causes of mold growth that need to be corrected. Without that level of information, in other words, a professional mold remediation plan, not just a "test report", you are at risk of wasting money by doing an incomplete job.
Question: Why are there no mold standards for the workplace?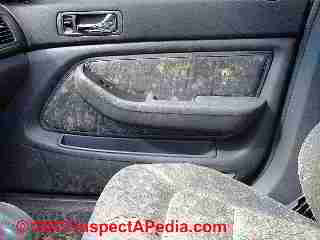 Both, Need to know how we can get someone here to test our building for mold.
In addition, why is there no standards for mold in the workplace?
Building is located in New York we are in Suffolk County here on Long Island.
We just being told that there are no standards for this type of things but they feel that it is safe for us to work.
I have a few reports that they sent me but not sure, what they really mean.
Would you be able to help me/us?
Thanks again for getting back to me so quickly. - K.O.
Reply: Giving any single number for allowable mold exposure as a "standard" borders on junk science
Thank you for the interesting question - it helps us realize where we need to work on making our text more clear or more complete. A competent onsite inspection by an expert usually finds additional clues that help accurately diagnose a problem including addressing the question of whether or not there is in fact an indoor environmental hazard in your workplace.
Your statement that "mold was found..." itself is not diagnostic - I can find some mold in just about any building, new or old, anywhere in the world. Whether or not that constitutes a health risk depends mostly on the size of the mold contamination, also on how mold spores may become airborne and move through the building, and of course the genera/species of the dominant mold present - ranging from harmless cosmetic to seriously harmful.
Presumptive questions
I am also interested in your posing of the question " why is there no standards for mold in the workplace?" Often people will pose a question in a manner that presumes a-priori something that is simply not true - a silly example is the old saw of a legal question "Are you still beating your wife?" which presumes the individual ever beat his wife at all in the first place.
Actually there are dozens of attempts at "mold standards", both quantitative (questionable as I explain below) and qualitative (sensible as I explain in the article above) as you can see in the REFERENCES section of this article. That said, here are some things to consider in answering your presumptive question.
Immediate action:
Take a look at MOLD / ENVIRONMENTAL EXPERT, HIRE ? for criteria that help decide if hiring an expert for a building is needed. Basically, if you see more than 30 sqft. of non-cosmetic mold indoors in a building (a few indoor molds are cosmetic only) then professional mold remediation is in order, period, and your building management would be mistaken to conclude otherewise. For cases where a large problem mold reservoir is not immediately visible and obvious, this article could be most helpful to you in deciding if there is reason to believe your workplace has conditions that make further, expert investigation appropriate.
Why single number mold standards are not accurate nor very useful
Mold "standards" that give an acceptable or unacceptable number of spores are really close to nonsense except at such very high levels as to be both unambiguous and not useful for less obvious mold contamination problems. In other words, at very high levels of problematic spores there is no argument that there is a problem to be found and removed. But that sledgehammer approach is not useful.
There are 1.5 million species that vary in toxicity to about 3 million levels if one adds the effects on toxicity of the substrate on which mold is growing. You'd need standards for each mold species by type, weight, growing conditions. The health effects of inhaling a specific genera/species of spore are so widespread, that a single numeric standard would just be junk science. Add to that the enormous variation in the "exposure level" found by different approaches to testing and the impact of varying building conditions, air movement, temperature, occupancy etc. looking for a standard is waiting for Godot.
Add to that factor a wide range of human or other animal response to mold exposure and a standard becomes still more difficult. I've instrumented some clients who responded with extreme distress to very low levels of airborne Aspergillus sp. (less than 300 spores/M3 of air) for example - an airborne mold level well below most accepted opinions of "what level of mold describes a contaminated building?"
Even the standard of comparing indoor to outdoor spore levels is highly questionable - since we can and usually are comparing numbers of completely different molds - an apples to oranges comparison.
However it is possible to combine an expert and complete outdoor and indoor and mechanicals system building inspection, interviews with building occupants, and some testing to guide a decision on what cleanup may be needed in a building. An experienced building diagnostician will consider some very general rules that help point to the presence of absence of a problematic indoor mold reservoir that needs to be found and removed and its cause corrected. "Testing" without a thorough inspection and interview is frankly not reliable.
What should be the approach to evaluating a mold-suspect building?
What is needed is an approach to deciding if there is an actionable problem in a building where obvious hazards (such as more than 30 sqft of problematic mold contamination) are not immediately apparent. And the conditions of exposure matter too. A worker whose job requires spending hours a day in a moldy automobile such as the one illustrated above could be exposed to serious hazards even when the total square feet of moldy material could be as small as just the interior of the vehicle air conditioning system. Details of moldy automobile hazards are at CAR MOLD CONTAMINATION
References to some helpful articles on mold standards, testing, expertise and need for an investigation
Please keep me posted on how things progress, and send along photos if you can. Such added details can help us understand what's happening and often permit some useful further comment. What we both learn may help me help someone else.
Question: what are safe and reasonable airborne mold counts for a home?
to editor Hi, I have been trying to find a source that lists what are considered to be safe and reasonable mold airborne counts for a home. Do you have this or can you direct me to a resource. Appreciate your help. - P.P. 5/17/2013
Reply:
Sure:

Please be sure to review ALL of the articles I suggest below - otherwise you would be in danger of a possibly harmful or costly misunderstanding
In the article listed just above we state:
Example mold levels:
Aspergillus/Penicillium in a "clean" residential building study was at a mean of 230,
Aspergillus/Penicillium in buildings known to have a moisture or flooding problem it was at 2235
Aspergillus/Penicillium in mold contaminated buildings the figure was 36,037
The third article points out that airborne mold counts are close to junk science because of the range of variability that encompasses several orders of magnitude.
Furthermore, since among the 1.5 million or so mold genera/species there is wide variation in particle size, probability of growing as an indoor mold, and toxicity, it is rather unreliable to consider only "mold count" without knowing something about what mold is actually present in the building as well as what molds are being detected in a test.

Generally we might include airborne counts as PART of a building screen for harmful mold levels, interpreting it based on what we know about how the measurement was made, the building leak history, and other critical observations. In general there are count levels (you'll read above) considered to be consistent with generally low levels or homes that have probably not been flooded, but I warn that even a low airborne mold sample could contain low levels of particles (such as Pen/Asp spore chains) that would be a strong suggestion that even at a low count there is a high probability of an important hidden harmfuil mold reservoir that simply was not detected by the "air test".

An optional fourth article to see is
Let me know if any of that material is unclear or confusing and I'll do my best to help further.
Question: how to interpret an indoor mold air test and inspection that found no actionable contamination
I saw your website and it is very informative. I work in a library that I believe has mold due to water leaks, although there are no outward signs of mold. An air quality test was recently done and it showed some fungi spores such as Bipolaris and Cladosporium, but the outside air quality was shown to be much worse and I do not see how that is possible.
A comparison was made between the outdoor and indoor air and their conclusion was that "The bioaerosol results in [Anonymous] Library for total fungal spores did not identify an amplification or biodiversity of fungi between the indoor and outside sample."
No recommendation was made because I assume they feel that the indoor air is a minor issue when compared to the outdoor air. I have been having high blood pressure when I am in the building, but my blood pressure goes down to a normal level when I am outside, so I do not see how the outside air could be much worse than the inside air according to the test results. If I sent you a copy of the results via email, would you be willing to look at it and to see if this test looks legitimate? - Anonymous [data on file] 1/22/2014
Reply:
Send me the report and I can comment. Keep in mind no remote analysis is a substitute for an onsite expert. I will take an initial look and comment pro bono. ...
[Reader provided a copy of an indoor IAQ inspection and test reports provided by an industrial hygienist. The hygienist performed a visual inspection, tested CO2 levels, and performed some air tests for mold. - document on file]
The details of the tests and lab report do not find evidence of an indoor mold contamination problem.
None of the species found in the actual "test" included the more problematic indoor spores that are most common in buildings where there is a serious mold contamination issue - such as in the Aspergillus group (highly airborne, small particles, breathed deeply into lungs, pathogenic or toxic) nor of the mycotoxin group such as Stachybotrys chartarum that is often found on wet drywall.
While the hygienist cites that there are no mold exposure standards, that is not quite the case. While I argue vigorously that a simple quantitative standard for mold exposure would be junk science (individual mold spores vary enormously in size, toxicity, airborne or other exposure pathways, so we would need hundreds of standards), nevertheless, experts have shown that there are general indoor mold levels that strongly indicate that a building has been subject to leaks and / or that there is probably an actionable (that is large) mold reservoir in the building.  See MOLD EXPOSURE STANDARDS for details.
And even when indoor mold test counts are low, on occasion one may find subtle clues that mean one could infer by looking at mold genera/species found indoors (which certainly were not matched to the outdoor spore mix) provide a very weak or low-level suggestion of water intrusion or leakage - that is, we see some mold growth that might be associated with water leaks.
The risk in any air test is that the airborne spore level can vary by several orders of magnitude depending on how the test is conducted. So absence of evidence of a mold problem when we rely principally on an air test is *not* proof that no problem is present.
But absence of such evidence, when combined with an expert inspection of the building for visual clues suggesting an actionable risk of a hidden problem reservoir (such as mold contamination in a ceiling or wall cavity) can add up to a conclusion that the expert could not find any justification for more invasive or extensive inspection steps.
I cannot comment on how expert the visual inspection was at your building. The reliability of that step depends largely on the particular experience and building-science knowledge of the inspector.
I can comment that comparing indoor air with outdoor air, while a very widely used practice, is rarely actually useful. Too often the genera/species are so different that simply comparing "spore counts" is nonsense - as comparing apples and oranges. The hygienist's own report makes this same pont.
I can add that sometimes, even very low levels of certain problematic mold spores in an indoor sample (such as Aspergillus spores in chains) can be detected by an astute lab technician and interpreted by an astute investigator as reason to look further for a building problem. At InspectApedia.com we have published a series of articles about these sources of error or of discovery should be considered by hygienists or other professionals who inspect or "test" buildings for mold or other similar contaminants. Two you may want to read are
ACCURACY OF VARIOUS MOLD TEST METHODS and ACCURACY vs PRECISION of MEASUREMENTS
The first article introduces the huge variation in airborne particle levels from minute to minute in a building as well as other sources of error that can overwhelm mold test accuracy.
The second article is interesting because a careful read of a typical mold-in-air test will show that sometimes data is being given where only a single mold spore of a given genera/species was actually detected. At that excruciatingly small count level one should not get excited about the translation into percentages. For example if indoor air contains "25% of toxic mold type X" and then we read that only four spores were detected in the whole sample, and one of these was type X, then such numbers are of little import. The devil is in these details.
In sum, nothing in the report you provided points toward an actionable indoor mold contamination issue nor documents a basis for more invasive further inspection or testing. That's not to say that the building is guaranteed "problem free" but it is reasonable to opine that an expert has examined the building and found no evidence that justifies further such action. For a more thoughtful look at how we decide when expert building investigation is probably warranted, see MOLD / ENVIRONMENTAL EXPERT, HIRE ?
If you are still convinced by your own experience that the building is responsible for personal health complaints then you will want to confer with your doctor and document his/her opinion, or that of a referred expert in environmental medicine, that your complaints are environment-related, caused, or aggravated.
For example, your doctor might cite other reasons for elevated blood pressure (your complaint) than an environmental one. Mold contamination itself is not usually blamed for high blood pressure, but in my opinion stress, including environmental stresses or even simple anxiety could be relevant factors.
If that conclusion is indeed reached, then next would be an examination of all environments where you spend the majority of your time, to see what can be found, if anything, that should be addressed.
Finally, I recommend caution against becoming a victim of a "capture error" - that is, don't let a specific fear that has come to mind (mold contamination) prevent you from looking more thoughtfully and broadly, and with medical advice, for the cause and thus recommended actions around a medical or health complaint.
Question: leave the moldy house alone or try to figure it out
(Feb 7, 2012) dee said:
our air test on a house we did inspection on shows 1080 count per cubic meter in basement with 81 in the upper level. i also had a severe burning in my chest/throat with congestion for 24 hours after having been there for the hour or so of inspection. never experienced anything like that before although I've always picked up on musty smells and gotten some congestion from them. we are thinking that it is better to leave this house alone than to try to figure out what could be done to resolve any concern because we don't own the house and we can't locate the problem.
sorry, that was of Asp/Penn I was refering to...
Reply:
I don't know enough about the actual risk level in your home (from mold) - the test data is not by itself very helpful and may be inaccurate. But keep in mind that individual reaction to mold or MVOC or mycotoxin varies widely and that protracted exposure can increase someone's sensitivity.
Question: due diligence laws for commercial property owners and mold?
(Feb 27, 2012) Ryan R said:
What are the laws in Michigan and New York regarding due diligence of commercial property owners where a franchisee is in a space? Specifically, if a franchise restaurant has mold in its location, are there laws regarding notification and removal of mould by the property owner, or is it left to the franchisee? If so, what are these pieces of legislation, and where can they be found?
Reply:
Let us know what your lawyer says about this question.
Question: moldy refrigerator drip pan and other building leaks - I'm getting sick
(Mar 11, 2012) terenceduke@gmail.com said:
Hi. I have lived in a condo for 4 years I have been renting, After the second year, i was vacuuming under the built in refrigerator and noticed the drip pan, I pulled it out and was full to top with moldy water of all colors. I cleaned it up put back with baking soda in pan and thought nothing of it. I had slowly been getting sicker with odd things, breathing, wheezing, numbness in left let, odd large blotchy spot on right shin, horrible itching I have Hep C and docs thought it was just that although my tests were all normal, eat well etc. last month had a sudden infestation of something biting, found evidence of carpet beetles.
Then when running AC which is in ceiling through a panel in bathroom, it was pouring water. Turned off and found the area covered in black looking mold, owner had test done, air levels came back moderate but no significance in air levels from inside to out. He had a window open in living room,
He also had bathroom fan on blowing to outside front door where he did outside test. I had my own done by certified specialist. he asked did he close all windows fans etc, mine asked me to have all windows fans closed prior to arrival. my tests came back 47,000 stachy/black mold inside 0 outside. 11,000 asper/pen inside 480 outside. all in M3 measurements . in reading its all snapshot in time it is scary for me with health.
Recently coughed up sputum that was black/brown trouble breathing like asthma. pustule bites on skin on legs, odd grey hairs that are not grey at roots including beard. doc had giving me antibiotics for chest but still coughing up and wheezing. No money to move, landlord had AC fixed, they put put up plastic on door but it was half open whole time. He was not trained in mold didn't care about my test results. Now having mold remediation company she hired come in.
In a letter to her, her response was she had a qualified tester come in. he was a real estate inspector who did mold testing, said the air levels were low and it was not a concern at this time. help
Reply:
The mold in a refrigerator drip pan won't explain an illness unless you put it in your eye. But building leaks into ceiling or wall cavities could indeed have caused the growth of a significant mold reservoir that is not immediately obvious.
In my opinion and based on field and lab experience over 30 years, air tests for mold, taken alone without a thoughtful inspection are not worth a penny (except for the profit to the testing company).
Question: company won't give copy of air quality test results
(Mar 22, 2012) Tracy said:
I am currently working in a setting which is situated in the basement of a building. We have repeatedly complained of increasing health issues among 8 employees out of 12 working there. The company had air quality testing done but refuse to allow us a copy of the report. We have gained the information that the penicillium/aspergilius count outdoor was zero, in our hallway it was 1600 and in our office it was 5800 per m3.
All of our symptoms are respiratory related from recently diagnosises asthma, pneumonia, repeated sinus infections for one employee 8 since august, chronic coughs and headaches. We did have one employee die prior to the report from pneumonia. Could you please tell me if we need to pursue further action outside of our company since they refuse to cooperate. Can these illness be related to the numbers I have given to you/
Reply:
One can but wonder what management are thinking if they have testing performed but won't tell you the results. It's suggestive of a problem.
Question: wheezing, sick pets
(Mar 23, 2012) Trish said:
I Had an Inspector into my home Today Of Which I And My Pets Have Lived In For a Year and a Half Now and Since, I Have been Ill With Bonchitus about 50 times now...My Dogs have that hacking cough..wheezing..Cant catch their breath...My Daughter dogs Legs Collapsing now...and I have had What They Are Calling a Stroke, and/or my Left side collapse...I was never told the home had Water Damage,Water pouring in the walls and windows while two years vacant, Flooding at another time,and two people Passing in HERE...without Disclosing that as well.
I and My Dogs continue to get Sick...And the Levels were over9.8, 11.9..Etc...and that was without even checking the Possible water in the walls or ceiling. The inspector quoted , I have NO DOUBT there is MOLD in here...I can Smell The Distinctive Smell.
How Dangerous Is This Until I can Find another Place..and How Much Damage Will this have Caused us To This Point(Living in here for a Year and a Half???..and What IS MY RECOURSE?
Reply:
You need to consult your doctor and veternarian promptly, and before making any plans regarding the building where you live.
Smelling mold is a reliable indicator - most people recognize mold smells - but doesn't tell us where or how large the problem is. A more competent inspection is probably needed.
Question: sick at the workplace: skin rashes, respiratory illnesses baterial?
(May 11, 2012) D.W said:
What Next?
We have had a large number (90%) of staff sick at our workplace with recurring skin rashes, cellulitis, pneumonia, bronchitis, strep, sinus and eye infections since we moved from one part of our building to another. We just received the results of an air quality test which shows acceptable results. Being that all of these illnesses were diagnosed as bacterial infections, we feel we need to push for additional testing, but wondered what type of testing would be warranted. thanks
D.W
Reply:
The question of what other tests are appropriate would best be decided with advice from an onsite expert who interviews the sick employees about symptoms and who inspects the building thoroughly for clues such as leak history or other issues.
Question: what does our mold test mean
(June 1, 2012) Lori said:
This is what our test showed, what does it mean. Two small areas on floor joist in crawlspace. 161208769-0001 SMI120528M Front Support Beam Aspergillus High*
Aspergillus/Penicillium High
Fibrous Particulate Medium
Hyphal Fragment Medium
No discernable field blank was submitted with this group of samples.
Bipolaris++ = Bipolaris/Dreschlera/Exserohilum Myxomycetes++ = Myxomycetes/Periconia/Smut
* = Sample contains fruiting structures and/or hyphae associated with the spores.
EMSL maintains liability limited to cost of analysis. This report relates only to the samples reported above and may not be reproduced, except in full, without written approval by EMSL. EMSL bears no
responsibility for sample collection activities or analytical method limitations. Interpretation of the data contained in this report is the responsibility of the client. *-* denotes not detected. Samples received in good
condition unless otherwise noted.
AIHA-LAP, LLC--EMLAP 157245
Andrea Messner, Microbiology Lab Manager
or Other Approved Signatory
1 to 10
11 to 100
101 to 1000
> 1000
Reply:
With respect, Lori, if you hire someone to perform an important test that can involve both health risks and money risks, and if the test person won't tell you what the results mean, you should ask for your money back and hire someone more helpful. I cannot very well interpret the numbers you give while knowing nothing about the building. The lab can't either.
Question: should a cancer patient avoid mold?
(Aug 25, 2012) jerry dupuis,[ dupster1@mnsi.Net said:
I have been told a person with , 'cancer ' should never be exposed to mold spores,
We have black mold in the building, and she is not aware of this hazard , is this true,?
We have staff exposed every day as well as swimmers and work out teams, i am concerned, jerry
Reply:
In my OPINION cancer patients and anyone else who has a compromised immune system is very likely at greater risk of illness if exposed to allergenic, toxic or pathogenic substances, including mold at other than incidental, typical outdoor levels.
Question: I have black mold
(Oct 13, 2012) ruth auerbach said:
I have black mold and also eferfescence we were tested at 800 in an airborne check
should we leave the house until it is fixed
Reply:
Ruth knowing so little about your home and the test I can't say if you should stay in the home or not. Insist that your test consultant help you interpret the test. If no inspection was performed the test is unreliable.
Question: how accurate are mold test labs
(Oct 24, 2012) Khalid said:
I know that mold has high variability but What is the precision and standard deviation for the lab?
Reply:
Good question. Most forensic labs including mold test labs not only pass certification testing but also participate in a "round robin" examination of a lab sample so that the labs can compare results and lab techniques, improving everyone's accuracy.
Forgive me for begging the question but as you put it it's not useful. Given that how the mold sample is collected can result in several orders of magnitude difference in the number of particles collected, meaning that the ability of the sample to accurately represent the test environment can be off by a factor of 10,000 times, the accuracy of a lab count is not a worry.
Please see these two key articles that will answer your question more meaningfully
ACCURACY OF VARIOUS MOLD TEST METHODS
ACCURACY vs PRECISION of MEASUREMENTS
RE: Khalid's excellent question:
I know that mold has high variability but What is the precision and standard deviation for the lab?
Khalid, the variability in lab precision in mold counts indeed varies by technician, microscope adjustment and calibration, slide preparation, mountant used, magnification at which a sample is examined, and other measures such as the percentage of the trace or sample that is actually examined and counted in the lab
However the choice of test method, particularly where air tests for mold or culture tests for mold produces variation of at least several orders of magnitude in the results. Waving a notebook in the air during a collection of airborne particles, for example, can increase the count by a factor of 100 to even 1000. And using a culture to test for mold in buildings fails to account for the fact that 90% of molds don't grow in culture, or among those that do, a genera/species that likes the culture more than one of its neighbors may quickly reproduce, overgrow its neighbor, and falsely appear as the dominant mold when it was in fact an incidental bystander.
These arguments conclude that mold count variability caused by methodological method choices will generally overshadow variation in lab precision. Test lab managers know this. I have argued against providing "precise" particle counts. But their understandable reply is that test labs respond to market pressures. "If we dont' give counts our legal customers will just go to another lab that does" is a common retort.
All of this means that the importance of an expert visual inspection, noting building history, components, risk areas, visual hazards, and noting occupant complaint history and similar factors are very important in assessing building mold contamination risks, and that without these steps, mere quantitative "mold count" tests are not so reliable.
Question: respiratory problems vs allergic response
(Oct 29, 2012) Scott said:
Hi can you advise if exposure to mould spores, mycotoxins and fragments can cause respiratory problems without the person showing an allergic reaction to the mould?
Reply:
In my opinion, certainly yes, if you mean other types of allergic response such as itching; but you should discuss this with your doctor, not online.
Question:
(Jan 24, 2013) Saeed Sheikh Muhammad said:
Now-a-days I am interested to find out the referece values of yeast & mould in Nut candies & Nut paste for food analysis.
Question: CB points out problems with mold related illness, misdiagnosis, and very sensitive transmission of mycotoxins
(Feb 5, 2013) CB said:
Wowza-- keep it up! This is one of only two websites I've read in 9 months that is completely free of misinformation, disinformation, errant conclusions or pure arrogant ignorance. I'm a physician, early 40's, brought to my knees over 6-8 years by the insidious progression of complex multi-system mycotoxicosis. After being misdiagnosed by over a dozen docs (including the infamous Mayo), it was desperation, near death, the internet and one laboratory that helped save my life. However, the diagnosis was just the beginning.
While there is effective treatment, it is expensive and difficult to access. To avoid a huge tangent, I'll just say that there are IV therapies that are extremely effective at clearing circulating and tissue-bound mycotoxins, as well as those that decrease excessive mycotoxin-induced neural inflammation and restoration of depleted GABA stores (but big Pharma doesn't want us to know about these--since the ingredients are commonly described as "not approved for, intended to diagnose, nor treat any illness").
Back on point...... Time, lots of struggling and trial and error, and exorbitant expense have ultimately led us to our epiphany: while molds and their antigenic structural components largely correlate with the "asthma/allergy spectrum," their mycotoxins are a separate, MASSIVE, grossly-under-recognized human health issue. Residual mycotoxins are being retained on fibers of clothes, linens, carpet, insulation, furniture......
And "transfer" from these does occur. In the absence of a DESPERATATELY-needed mycotxin-specific organic compound detector, we've had to indirectly learn some lessons.
With over 100 symptom- and timing-based urine mycotoxin levels in several people, we've documented non-contact airborne transfer from clothing (worn by a person from an effected building) to multiple people who simply spent an hour in the same room with them. We've documented skin-skin transfer and animal hair-human transfer. Multiple individuals had elevated Tricothecene levels after 40 minutes
...
(Feb 5, 2013) CB said:
in a private hot tub (the hot tub water was subsequently tested, and low-and-behold had Tricothecene levels above 40 ppb-- i.e. more than 200 times the toxic threshold). This exposure resulted in one party having a Tricothecene level that peaked 4 days later at 46 times above the toxic threshold, and severe neurocognitive, GI, and rheumatologist symptoms that precluded a full work schedule for weeks).
I've had numerous tests at my house and office, and thorough necessary remediation efforts at both. Two issues have arisen over the past 4-5 months.
First, recurring symptoms and correlative elevated mycotoxin urine levels led to identification of suboptimally-remediated sources of mold in attic insulation (despite supposed negative post-remediation evaluation).
Second, and subsequently, recurring symptoms/elevated toxin levels led to realization that certain areas of carpet were (very likely) retaining mycotoxins in the absence of persistent/recurrent mold (the carpet in question never, itself, had a primary mold issue; and repeat air sample tests of the "intentionally-disturbed" carpet were not remarkable...... yet consistent temporally-based illness issues suddenly resolved upon replacing the carpet). Man, we really need some tech geeks and a couple of engineers and PhD's to develop a real-time VOC meter for mycotoxins.
Anyway, I apologize for the verbal diarrhea. But wanted to say thank you for your efforts, open-mindedness, quest for truth and accuracy, and passion.
While the upper and lower airways suffer well-established collateral damage from antigenic mold particles, mycotoxins are silently causing profound issues including, but not limited to: Autoimmune, neurodegenerative, psychiatric, rheumatologic, endocrine, immunodeficiencies, cardiovascular, dermatological, etc.
One huge confounding variable is that everyone claims to be a mold expert, and 90% don't have a clue that they don't have a clue. My other massive concern is the current dangerous arrogant ignorance of the US medical field regard
Reply:
Thank you for these helpful remarks. I've moved your comments into the article for preservation.
I agree with your concern that "mold experts" vary widely in expertise as well as in avoidance of conflict of interest. My dog was a certified mold inspector by the way - it was easy to send in some money and get a diploma for her. A weekend nor a week do not an expert make, of a dog nor of a human being. You can quote my OPINION on that.
Question: buyers inspection said there's mold: is this a concern?
6/25/2014 Jack said:
I am in the process of selling my house. The potential buyers had a building inspection done. The inspector found what looks like dust on the floor joists in the basement.
This is not a surprise since I have used the basement as a work room for wood working. A mold inspection was done and the only thing reported was Aspergillus/Penicillium *High*. At the bottom of the report the company defines "Category: Count/per area analyzed
Rare: 1 to 10 Low: 11 to 100 Medium: 101 to 1000 High: >1000"
Is this proof of a situation which we should be concerned about or not?
Thanks for your help,
Jack
Reply:
Jack,
I don't know what that "high" means - spores per inch, spores per cubic meter of air, spores in a culture, spores on a swab, spores in the mind of the inspector or what. Also waving a notebook changes the number by several orders of magnitude if air testing was performed, so such tests are wildly inaccurate, especially if they do not detect a problem.
However high levels of indoor Aspergillus/Penicillium is worth looking into. It may have nothing to do with wood dust from a shop. A more intelligent assessment would look at the building leak history, figure out the locations of highest-risk of mold contamination, and examine those areas directly.
Follow the water: look carefully at the home's leak history and what materials have been wet. Inspect those areas, invasively if necesary. If examining the highest-risk points in the home do NOT find an actionable mold contaminated area to clean-up, you've done about as much as is reasonable. That doesn't guarantee that there is no mold problem to find and remove, but the approach can argue that there is no current information that appears to justify further invasive inspection, demolition, etc.
Don't panic - which leads to wasting money, but proceed with some caution.
Question:
(June 25, 2014) Jack said:
I am in the process of selling my house. The potential buyers had a building inspection done. The inspector found what looks like dust on the floor joists in the basement. This is not a surprise since I have used the basement as a work room for wood working. A mold inspection was done and the only thing reported was Aspergillus/Penicillium *High*. At the bottom of the report the company defines "Category: Count/per area analyzed
Rare: 1 to 10 Low: 11 to 100 Medium: 101 to 1000 High: >1000"
Is this proof of a situation which we should be concerned about or not?
Thanks for your help,
Jack

Reply:
Jack a detailed answer is now in the article above.
Question: meaning of a 24-count of mold colonies - serious health worry?
(Aug 11, 2014) TROY WILSON said:
IS A 24 COLONY COUNT FOR PENNICELLIUM MOLD SERIOUS FOR HEALTH CONCERNS
Reply:
A culture test, if it was based on particle settlement out of air, is fundamentally unreliable as a building test for mold contamination. See MOLD CULTURE TEST KIT VALIDITY
Also see MOLD CULTURE TEST ERRORS
Question: reading of 180 CountM3 for Stachybotrys
(Sept 27, 2014) Kal said:
Should I be concerned about a reading of 180 CountM3 for Stachybotrys?
Reply:
The count alone is of little meaning but the presence of the mold you cite indicates a building that has been water damaged and probably has or previously had mold contamination.
Question: indoor spore count of 950000 cladosporium
(Mar 26, 2015) Anonymous said:
If there is an indoor spore count of 950000 cladosporium,... what can you advise about this level for an office area?
Reply:
The count you cite is very high for any indoor mold - indicating a building that has been water-damaged and is worth inspecting for mold contamianation, though of course it has little more meaning without knowing more about the test, how it was conducted, and about the building.
Question: 104,000 cu.m of pen/asp group?
(Apr 26, 2015) jim said:
what to do with 104,000 cu.m of pen/asp group?
Reply:
The count you cite is high for an indoor mold - indicating a building that has been water-damaged and is worth inspecting for mold contamianation
I would start by asking the person who performed the test what it means, where the problem mold is located (assuming that's what she or he says the test means), and what caused it, followed by removing the mold and fixing the cause. If the person you hired is not going to answer such questions I'd ask for a full refund of whatever fees I'd paid.

Question: acceptable standards for toxic mold spore counts,levels or measurements in California
(May 27, 2015) Anonymous said:
what are the acceptable standards for toxic mold spore counts,levels or measurements in California
Reply:
Anon
While your question is perfectly understandable, you need to know that any quantitative answer to that question would be complete nonsense. "mold spore counts" is far too vague a term. We need to know the way that a test was conducted, the test conditions, the mold genera and species and other critical facts before we can make any sense out of a "count" or "level" of mold
. For example waving a notebook in the air during an " air test" for mold can make several orders of magnitude difference in the count level, and further, the toxicity of mold spores varies from none to high depending on the genera and species of mold and even further on the local growth conditions. For example a potentially harmful mold spore may or may not actually contain high levels of mycotoxins depending on just what material on which the mold is actually growing.
As an additional example, "mold spores" vary not only in harmfulness by genera and species and growth substrate but also sheer physical size. It makes no sense to equate one Stachybotrys chartarum spore (large and heavy) with one Aspergillus niger spore (tiny and light). The total volume of these particles is enormously different - at least by a factor of ten.
And where each spore might go in the body is different. A tiny particle can be breathed deeply into the lungs - while a large particle is likely to lodge in the nose (or eye or on the skin). So their possible vectors of harm vary enormously.
And "counts" of mold taken by some methods such as growing spores on a culture plate are further misleading since 90% of molds won't grow on any culture at all. You're 90% "wrong" when you open the test, and that's before considering differences in settlement rate out of air based on particle weight or variations of what's in the air as air disturbance, temperature, humidity, and other factors change.
A simple "mold count" out of context is balderdash. Or should I say, Baloney whether the count was in California or Charleston.
Question: Please advise if these Mold numbers are safe.
(July 8, 2015) Please advise if these Mold numbers are safe. Urgent for buying a house Please !!! said:
I am going to buy a house. The Mold inspection report gave me the following numbers. The inspector is not really telling me in common language if this is good to go or not. I am confused. Any advise would be deeply appreciated !!! I have to get back to the seller by tomorrow regarding any remediation , if needed.
OUTSIDE: (Raw Count, Spores/m3, % )
-----------------
Alternaria (8, 53, 5)
Cercospora (4, 27, 3)
Chaetomium (- - - )
Cladosporium (28, 190, 18)
Epicoccum (- - -)
Ganoderma (8, 53, 5)
Oidium/Erysiphe (4, 27, 3)
Other Ascospores (48, 320, 31)
Other Basidiospores (40, 270, 26)
Penicillium/Aspergillus (8, 53, 5)
Smuts, myxomycetes (8, 53, 5)
TOTAL SPORES (156, 1046, 100)
Cellulose Fiber (4, 27, - )
Pollen (- - - )
ROOM#1: (Raw Count, Spores/m3, % )
-----------------
Alternaria (- - -)
Cercospora (- - -)
Chaetomium (52, 350, 59)
Cladosporium (12, 80, 14)
Epicoccum (8, 53, 9)
Ganoderma (4, 27, 5)
Oidium/Erysiphe (- - -)
Other Ascospores (- - -)
Other Basidiospores (- - -)
Penicillium/Aspergillus (- - -)
Smuts, myxomycetes (12, 80, 14)
TOTAL SPORES (88, 590, 100)
Cellulose Fiber (24, 160, - )
Pollen (8, 53, - )
ROOM #2: (Raw Count, Spores/m3, % )
-----------------
Alternaria (- - -)
Cercospora (- - -)
Chaetomium (- - -)
Cladosporium (- - -)
Epicoccum (4, 27, 6)
Ganoderma (4, 27, 6)
Oidium/Erysiphe (- - -)
Other Ascospores (12, 80, 19)
Other Basidiospores (20, 130, 31)
Penicillium/Aspergillus (4, 27, 6)
Smuts, myxomycetes (20, 130, 31)
TOTAL SPORES (64, 421, 100)
Cellulose Fiber (12, 80, - )
Pollen (- - -)
Reply: time to get your money back
My advice is to ask for a full refund of whatever you paid your "mold inspector"
- first, if s/he cannot explain the report's meaning to you then they're not providing a useful service they're simply taking tests and sending lab results;
- second- a proper "mold inspection" includes an actual inspection of the property, not just a lab test since tests alone are very very unreliable, especially when they don't seem to indicate a thing.
A competent inspection examines the building structure, materials, leak & moisture history, areas of highest risk for hidden mold contamination, presence of visible indications of leaks or mold, and other factors in order to make a reasonable risk assessment. An occupant history, building history, and other data may also be pertinent. For example was there ever a roof leak, plumbing leak, sewer backup, flood.

Question: how bad is wet rug mold for my dogs?
(Aug 6, 2015) Andrea said:
I saw that my new rug was soaked with rain water in my cellar. I pulled the rug back and got black mold on my fingers. I put a fan on till it dried not cleaning it first. The mold is about 1" wide and 10' long. It has been three days and I slept in the room while the fan was on. Now I realize that I was breathing in airborne mold. How bad is that for you and my two small dogs 10 and 18 pounds?
Reply:
That fan was not the best approach to dealing with a wet moldy rug as you are likely to increase the level of airborne mold that might be irritating or harmful. Better is to remove wet moldy carpets, remove the water, and fix the water source or leak.
I can't assess the health risk you ask about: it depends on too many variables including the specific mold genera/species present, the airborne concentration, the duration of exposure, and the health condition of the people or other animals who were exposed - those are questions to take to your doctor and your vet, with some urgency if any of you are experiencing health complaints that your doctor opines could have an envriomental cause or contributor.
Question: house under purchase has to pass a "mold inspection"
(Sept 16, 2015) gazer1023 said:
We just received our air quality test results back from a house we intend to purchase. The results state that there are 647 Raw Count/4335 Spores/M and % of total 94% for Penicillium/Aspergillus. Part of our offer to purchase is that the house has to pass inspection. In my research I think this is a big fail and we need to insist they clean up the problem before we purchase. Lastly, the furnace is in the room of the basement that tested positive so should we insist on the vents being cleaned as well. This is our dream home and is a ton of $$ we want to make sure we understand what to ask for. Thank you!

Reply:
Pass or fail based on a physical count of 647 mold spores is in my opinion nonsense. However the high percentage of Pen/Asp spores in the indoor sample is indeed a red flag that would justify a more competent inspection to find the mold reservoir and to determing what cleanup and leak cures are needed.
Question: interpret the mold counts in my Condo - miserable skin rash
(Dec 9, 2015) Elizabeth said:
Hello, i'm looking for help in interpreting mold counts done in my condo. i've had a miserable rash for 9 months that no one can explain, and i finally thought to have mold testing. also a runny nose, hair loss and weight loss. my pillow is around 10 yrs old, so that may be a problem - i've thrown it out. my skin symptoms are concentrated face/neck/upper back. mold air counts were done w/ the pillow still in my bedroom (in case that matters.) thank you!!!!

Basidiospores MASTER BEDROOM raw count 30 spores/m3 390 % 11 OUTDOOR raw count 221 spores/m3 2870 % 59
Cladosporium MASTER BEDROOM raw count 21 spores/m3 273 % 7 OUTDOOR raw count 121 spores/m3 1570 % 32
Penicillium/Aspergillus MASTER BEDROOM raw count 231 spores/m3 3000 % 82 OUTDOOR raw count 30 spores/m3 390 % 8
Smuts/Periconia/Myxomy OUTDOOR raw count 2 spores/m3 26 % <1
background debris (1-5) master bedroom 3 outdoor 3
sample volume(liters) master bedroom 75 outdoor 75
total spores/m3 master bedroom raw count 282 spores/m3 3660 outdoor raw count 374 spores/m3 4860
Question: mold test air-counts in Montreal home
Dec 13, 2015) Terence said:
My wife and I have put an offer in for a house in the Montreal area. I requested two pre-purchase inspections (building inspection and air quality test). We had no suspicion as a reason to order the air quality test, but we just wanted to make sure. Since it is a pre-purchase inspection, the test had to be non-invasive.
We received the air quality tests back Friday evening (and I had to let the agent know by Friday if we were taking the house). The test has numbers on it, and three line items are highlighted in red, however no further explanation is given. Therefore I have no context in which to take the results. I don't know if the results are a bit high, moderately high, very high, or extreme.
The building inspection did not reveal any particular problems with the house that would alert us. The house was built in 1973, and the previous occupants were very dirty people. There is carpet everywhere, including an area rug directly on the floor in the basement. The house has three bathrooms, one of which was recently redone. The other two bathrooms, the kitchen, and the flooring are all going to be completely redone. The HVAC system and chimney will also be professionally cleaned.
Penicillium/Aspergillis - Basement (Raw Count 31, concentration 1771 spores/m3) // Outdoor (Raw Count 2, concentration 27 spores/m3)
Markers (Stachybotrys/Chaetomium, Globossum) - Basement (Raw Count 16, concentration 914 spores/m3) // Outdoor (Raw Count 0)
Other Spores (Ascopore, Fragments, Arthrinium, Other Dark Brown) - Basement (Raw Count 28, concentration 1600 spores/m3) // Outdoor (Raw Count 0)
I got an extension from the real estate agent until Monday. We are due to meet her Monday morning at 10:30. The period given when you pre-purchase inspections is simply not enough to investigate air quality issues.

Reply: ask for your money back from a "mold tester" who cannot or will not answer questions nor interpret his or her "mold test" report results
Terence:
Start by demanding your money back for your "air test"
Any building inspection or test for which the professional you hired won't or can't explain what she or he found and can't say what it means to you is simply taking your money for doing nothing of value.
Any "air test" without a thoughtful and thorough inspection of a building for its leak history, condensation history, moisture history, construction materials, flood or sewer backup history and a myriad of other important factors, is completely unreliable - in particular if the test does *not* detect a problem. About the most one could say of such as test is "we didn't detect anything but we can't assure you that there is no problem"
Question: living with brown mold
(Dec 29, 2015) C MCKEON said:
I am unsuccessfully trying to live in what i believe to be brown mold for several years.
My health deterioting and have discarded a lot of my lifes treasures because i cannot clean them. I have been quoted tests from $1,000.00 to $5,000.00. My finances will not allow it as i am a senior on fixed income. Any suggestions would be appreciated.
Reply:
CM
Worse still, many people will charge you $1000. and just do a "test" that is of almost no use. Even if such a mold "test" confirms that there is a mold problem in the building you won't know where it is, why it is there, what cleaning is needed to remove the mold and what repairs are needed to prevent its recurrence. This is to say that a superficial approach, even if expensive, is not useful.
If you have more than 30 sqft of contiguous mold growing indoors you need a professional to define the cleaning needed and another to remove the mold and repair its cause. Small areas of mold can be cleaned using normal household cleaning methods.
Search InspectApedia.com for "WHEN TO HIRE AN EXPERT" for details that will help you decide if/.when hiring a professional is really needed.
Otherwise, search InspectApedia.com for HOW TO FIND MOLD, or WHAT MOLD LOOKS LIKE or FIND HIDDEN MOLD or HOW TO CLEAN UP MOLD for extensive detail on what to do about indoor mold.
Question: how to understand mold test count ranges in Florida mold test report
(Feb 5, 2016) Danny said:
Hello, I was hoping for some help in understanding these ranges on an air test that was recently done in my bedroom as well as the kitchen/living area.

We live in South Florida and found water damage caused by a leak in our roof that has caused mold to grow in the walls which is now being dealt with and a mold remediation company came and did the air test, the results of which are below. Any and all help would be appreciated thank you, I am especially worried because what the inspector referred to as a small amount of stachybotrys was found and I know that's considered "toxic black mold".
Bedroom:
Ascospores: Raw Count= 6, Count/m3=40, %=14
Aspergillis/Penicillium-Like: Raw Count= 29, Count/m3=193, %=66
Basiodiospores: Raw Count=1, Count/m3=7, %=2
Cladosporium: Raw Count=7, Count/m3=47, %=16
Stachybotrys: Raw Count=1, Count/m3=7, %=2
Total Spores: Raw Count=44, Count/m3=293
Hyphal Fragments: Raw Count=2, Count/m3=13
Debris Rating: 3
Detection Limit: 7
Kitchen:
Ascospores: Raw Count= 6, Count/m3=40, %=23
Aspergillis/Penicillium-Like: Raw Count= 8, Count/m3=53, %=31
Basiodiospores: Raw Count=2, Count/m3=13, %=8
Cladosporium: Raw Count=6, Count/m3=40, %=23
Smut/Myxomyced/Periconi: Raw Count=4, Count/m3=27, %=15
Total Spores: Raw Count= 26, Count/m3=173
Pollen: Raw Count= 1, Count/m3=7
Debris Rating: 3
Detection Limit: 7
Reply: example of a useless "mold test" report and questionable use of mold swab testing
Danny,
With apologies for having to say so, these counts don't mean a darn thing when taken alone. An air test for mold without a thorough visual inspection for leaks, water leak or moisture history, occupant complaint history, etc. is simply not diagnostic and not prescriptive - it's just numbers tossed over a wall.
None of your counts were "high" and may not indicate a water-damaged or mold-contaimated building - at least that's what some would say. But I have to argue that we can't conclude anytying from just numbers only. Simply turning a fan or or off, opening a door, walking through a room during an air test for particles can change the particle counts by 1 to 4 orders of magnitude.
Furthermore, the "toxic black mold" scare is misleading. There are plenty of harmful indoor molds that are not "black mold". However we do not usually find much Stachybotrys Chartarum (a popular "toxic black mold" enjoyed by mold test folks) indoors. High levels of it may indeed indicate that there has been water or mold contamination;
But for example your bedroom count found ONE single mold spore - that could have come in a window or on someone's foot. It's meaningless. All mold spores are everywhere, all the time. It's the concentration that's important. One spore, alone, with no other information, is not important.
Finally look at the absolute number of spores. It would be nonsense to make any major or costly or health-related decisions based on the detection of five or six particles of any sort in indoor air.
If the inspector who took your money refuses to tell you what she or he thinks the report means, I'd demand a full refund.
(Feb 8, 2016) Danny said:
Thank you
We did indeed have water damage and mold inside the walls, the leak has been fixed amd we will get started on the removing the mold this week. My wife has been experiencing symptoms, it seems to have exacerbated her asthma and is now undergoing treatment.
I'm glad to know the air results numbers weren't "high". He also took a swab from one of the baseboards, he swabbed directly on the mold. These were the results:
Aspergilius/Pencillium-Like: Raw Count=212, Count/m3=329, %=6
Chaetomium: Raw Count= 2,991, Count/m3=4,635, %=91
Cladosporium: Raw Count=82, Count/m3=127, %=2
Thank you so much for your help.
Reply: limitations of swab tests for mold
Swabs, unfortunately, mash up and destroy forms useful for microscopic identification of molds. Swabs only make sense if we are going to culture a sample. Culturing is 90% wrong in all cases when testing for mold since 90% of molds won't grow on any culture at all.
There is no question but that there is a troubling relationship between mold exposure, allergies, and asthma. It's a problem for me, too.
NONE of the mold tests, samples, swabs, are very helpful if we don't find the actual location of the mold problem as well. That needs to be found and removed.
While all molds might show up indoors, certain ones are "red flags" such as Aspergillus/Penicillium which is easily airborne, small, breathed deeply into lungs, often harmful, and is a common genera of molds in water damaged buildings.
You want to know that the mold reservoir has been found and removed and that no significant moldy dust or cross-contamination was left in the home. If on spending time in the home your wife's symptoms seem worse, I'd consider that justification for a closer look at the home environment.
2015/02/09 Danny said:
Thank you so much
The leak has been found and fixed and a mold remediation company is coming this week to open up the walls and decontaminate.

Reply:
MOre than 30 sq.ft. of continguous mold merits professional cleaning that involves dust containment, negative air, post remediation inspection, etc.

Article Series Contents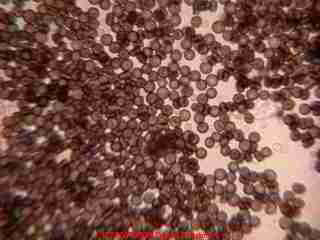 "Mold Levels" warning: single number "mold levels" are unreliable as a measure of health risk in buildings for several reasons including at least the following:
Particle levels vary: the actual level of indoor particles in air varies by several orders of magnitude over very short few-minute intervals, making reliance on any single measurement questionable, particularly if the measurement does not show evidence of a problem.

Simple mechanical disturbance like turning on or off a fan can completely change individual measurement results. Short term measurements are therefore inaccurate.
Human sensitivity varies: because of wide variation in individual human reaction and risk to mold, variation in allergenicity, pathogenicity, and toxicity among mold genera and individual species, and even additional variation in these levels depending on specific environmental conditions such as the substrate upon which a mold is growing (its food), quantitative risk-levels are better used as an overall indication of building cleanliness before and after a mold cleanup, and not as an absolute level of risk to building occupants.
Particle toxicity varies: There is very wide variance among the toxicity of individual mold species, ranging from none to probably highly toxic, pathogenic, or even carcinogenic.
Spore size or mass varies widely from less than 1 u to over 200u, so a large spore contains potentially more harmful material than a small spore of the same "toxicity," making a "count" that does not identify the particle and particle size ambiguous
Mold spore toxicity varies, even within an individual species, depending on what substrate the species is growing on in a particular instance, e.g. wood vs. drywall. For background on how and why molds can be toxic, see this World Health Organization Mold Bulletin.
Viable vs. non-viable "spore counts" vary in significance: procedures that use cultures to identify "viable" spores may omit high levels of non-viable spores which nonetheless remain highly toxic.

Methods that rely on culturing have a high risk of identifying a mold which is present but is not the dominant or even the most problematic mold in the building, while completely failing to disclose a problem mold which is present but which simply does not grow in the culture media used, or is overgrown by another species in that media. For more details see Mold Spore Counts: are indoor fungal spore counts valid?for further explanation.
See ACCURACY OF AIRBORNE MOLD SPORE COUNTS for more details about these issues. That said, here is a sampling of some indoor air mold spore exposure level criteria and comments
...
Continue reading at MOLD COUNT NUMBER GUIDE or select a topic from closely-related articles below, or see our complete INDEX to RELATED ARTICLES below.
Or see ACCEPTABLE MOLD LEVEL and see ACCURACY OF VARIOUS MOLD TEST METHODS
Or see ENVIRONMENTAL TEST ERROR TYPES
Or see MOLD EXPOSURE RISK LEVELS
Or see MOLD LEVEL REPORTING
Or see MOLD EXPOSURE STANDARDS
Or see MOLD TEST METHOD ACCURACY and see MOLD TEST vs. PROBLEM DIAGNOSIS
Suggested citation for this web page
MOLD COUNT FAQs at InspectApedia.com - online encyclopedia of building & environmental inspection, testing, diagnosis, repair, & problem prevention advice.
Or use the SEARCH BOX found below to Ask a Question or Search InspectApedia
...
Frequently Asked Questions (FAQs)
Try the search box below or CONTACT US by email if you cannot find the answer you need at InspectApedia.
Question: can long term mold exposure affect the immune system?
I have a friend who has been working as a kitchen manager at a nearby college for over twentyfive years. Six years ago she came down ill with something no doctor could diagnose. She was actually off on sick leave for just over a year before she could sufficiantly recover to go back to work. Every symptom named in Mold sickness were present. Now after being back at work for a couple years, same job, she is again crashing. Same symptoms. A couple months ago, there was a wall torn out to fix a leak behind the steamer that had been there for years.
It came down the wall from an upstairs bathroom and it was a small leak that was tolerated and cleaned up daily. When finally the problem was fixed the walls inside the kitchen was evey color imaginable and a large portion was torn out and replaced. Mold remediation was not called in and a warning was given to the staff present at the time, that nothing could be said for surely the college would be shut down and extensive work would have to be done. She decided to retire since she it too tired to mvoe these days. I went with her today to clean out her desk.
I have had chemical poisioning year ago and If there is any kind of chemical reaction going on, including mold, I immediatly fell the mold spores light, as if it were on my skin. It feels like a tiny pinprick and begins immediatly to itch and soon spread all over my body. I break out in red welts. I sat in her office today while she emptied her desk and locker. By the time we got back to the vehicle to drive away, I realized without a doubt that I had been in the presence of airborn mold spores. By the time we drove the twenty minutes home, I had to strip, take a shower, wash my cloths with bleach and take a benedryl. I think she has had long term exposure to the mold and therefore, her immune system is highly effected. What do you think? - Chaplain CJ Echols
Reply:
It sounds as if you and your friend needs to consult a doctor who is expert in environmental medicine for expert help in both diagnosis and treatment. Ask the doc what sorts of contaminants or exposures are most likely to cause or aggravate the complaints.

If you have evidence that conditions in your building have made you ill, particularly if your doctor agrees, you might want to give a head's up warning to building management, in writing, since others may be affected too.
Question: Accurate mold counts? How do we know if our school is safe?
So reading this article it seems that accurately determining mold counts is very tough. So how do we know if our school is safe? We do know that there has been a lot of black mold found behind walls and other places. And that indoor mold counts in some classrooms is about 5000 count per cubic meter. But what do we do now? The administration just says 'It's fine.' - My school has mold
Reply:
My School:

I agree and am glad you read the article. There is a lot of confusion between precision and accuracy. What makes sense is to combine testing with an expert inspection of the premises for visible mold and for conditions that create a risk of hidden mold reservoirs at a risk high enough to merit further investigation.

Next, an expert look at the test samples and test results might be useful in making everyone more confident (or less) in the inspection and test results for work done to date. A count of 5000 spores/meter could be quite significant depending on - what is in the count, what type of particles, presence or absence of spore chains and cetain other particles, and comparison with tests taken in control areas.

Finally, because of the variability I've described, it's a negative result that is most suspect - that is, the indication that there is not a problem.
Reader follow-up comment:
Yes.. I agree.. the 'All if fine' routine from admin and the superintendent is a bit worrisome. But no one seems to be doing anything about it. Any idea who or what department or agency I should call to look into this? Thanks!!!
Reply:
MOLD / ENVIRONMENTAL EXPERT, HIRE ? will give you some help in deciding if it's appropriate to bring in an independent expert; if so, you'll then have a credible third party who can provide information to your school administrators. There may be legal or procedural issues about who has authority to bring in someone - be sure you've resolved those before hiring anyone.
...
Ask a Question or Search InspectApedia
Questions & answers or comments about standards for acceptable or unacceptable toxic mold spore counts, levels, or measurements in building interiors.
Use the "Click to Show or Hide FAQs" link just above to see recently-posted questions, comments, replies, try the search box just below, or if you prefer, post a question or comment in the Comments box below and we will respond promptly.
Search the InspectApedia website
Technical Reviewers & References
Click to Show or Hide Citations & References
[1] AAAAI - Asthma and Immunology's Aeroallergen Network is a national U.S. network of data gatherers that is responsible for reporting current pollen and mold spore levels to the public. American Academy of Allergy,
Asthma and Immunology, 555 East Wells Street, Suite 110, Milwaukee, WI 53202. AAAAI can be contacted also by their website at www.aaaai.org
AAAAI provides a table of interpretations of mold and pollen counts (of airborne particles/M3 of air) at http://www.aaaai.org/nab/index.cfm?p=reading_charts
[2] Bioaerosols: Assessment and Control. Janet Macher, ScD., M.P.H. American Conference of Governmental Industrial Hygienists, Cincinnati, OH. 1999
[3] Brazil: Occurrence of airborne bacteria and fungi in bayside offices in Rio de Janeiro, Brazil, by Brickus, L. S. R., Siqueira, L. F. G., Neto, F. R. D. and Cardoso, J. N., 1998)
[4] Building Biology Evaluation Guidelines, available in English Language Translation, provided by the German government, original citation: www.baubiologie.de/downloads/english/richtwerte_2008_englisch.pdf
BAUBIOLOGIE MAES Schorlemerstr. 87 41464 Neuss Telefon 02131/43741 Fax 44127 www.maes.de
[5] Canada: Canadian National Toxic Mold Centre, and also see Moldy Houses: Why They Are and Why We Care & Additional Analysis of Wallaceburg Data: the Wallaceburg Health and Housing Studies)
Fungal Contamination in Buildings: Health Effects & Investigation Methods, Health Canada, Minister of Health, original citation: www.hc-sc.gc.ca/ewh-semt/alt_formats/hecs-sesc/pdf/pubs/air/fungal-fongique/fungal-fongique-eng.pdf

[6] California: California Department of Health Service / Environmental Health Investigations Branch report on whether it is feasible to adopt permissible exposure limits (PELs) for indoor mold - see SB 732 (Toxic Mold Protection Act of 2001, Implementation Update (August 2006)
[7] Connecticut: "Guidelines for Mold Abatement Contractors", Connecticut Department of Public Health, Environmental Health Section, 410 Capitol Ave M.S. #11EOH, POB 340308., Hartford CT 06134, Web search 3/31/12, original source: xxx, [copy on file as Connecticut_Mold_Remediation_Guidelines.pdf/]

[8] Canada: Mould Guidelines for the Canadian Construction Industry - original source www.cca-acc.com/documents/electronic/cca82/cca82.pdf
[9] IICRC S520: Standard and Reference Guide for Professional Mold Remediation 2nd Edition. Institution of Inspection, Cleaning and Restoration Certification. Vancouver, WA. 2008 IICRC Standard and Reference Guide for. Professional Mold Remediation, S520 (first ed. 2003),
[10] IICRC S500: Standard and Reference Guide for Professional Water Damage Restoration 3rd Edition. Institution of Inspection, Cleaning and Restoration Certification. Vancouver, WA. 2006
[11] J.R. Tucker, EMS-sales, presented data at the NC/SC Environmental Information Association 2005 Conference, Myrtle Beach, SC citing mold exposure standards from Brazil, mold exposure standards for Czechoslovakia, Mold exposure guidelines for Finland, Mold exposure standards set by the Nordic Council, mold standards cited by the World Health Organization WHO, and mold exposure standards for the Netherlands and lastly, mold exposure standards for Poland.

Those figures were quoted in this article from the material provided at that conference. Mold exposure standard numbers were expressed spores per cubic meter of air and did not consider individual or viable/non-viable or genera-species specific levels. [This is a serious limitation of the standards since the spores of different genera and species vary widely in total size, mass, and toxicity. -DF]

On 3/16/09 we received follow up correspondence from Dr. Robert Brandys who indicated that Mr. Tucker obtained the data from Brandys' book Worldwide exposure standards for Mold and Bacteria. Dr. Brandys requested that we remove the data from this web article out of respect for his © protected book.


[12] Larry Syzdek, Albany, NY. personal communication at PAAA aerobiology conferences.
[13] Listeriosis, Discussion of, Penn State University,, Oct 27, 2002. "Listeriosis is a bacterial infection usually of the brain. Listeriosis is common in ruminants, pigs, dogs, and cats, some wild animals, and humans. Animals infected with Listeria can show clinical signs of abortions or nervous system disorders." Cooperative Extension
The Pennsylvania State University, University Park, Pennsylvania 16802 FAX (814) 863-6140. See this US CDC article on Listeriosis for more information.
[14] National Allergy Bureau, is hosted by the AAAAI and can be contacted at www.aaaai.org/nab. "

The National Allergy Bureau™ (NAB™) is the section of the American Academy of Allergy, Asthma and Immunology's (AAAAI) Aeroallergen Network that is responsible for reporting current pollen and mold spore levels to the public.

"


OSHA - see OSHA's Policies Regarding Mold which includes the the original citations
[15] OSHA: Brief Guide to Mold in the Workplace, original citation: http://www.osha.gov/dts/shib/shib101003.html
Post-Remediation Verification and Clearance Testing for Mold and Bacteria – Risk Based Levels of Cleanliness Assurance 1st Edition. Robert C. Brandys, PhD, MPH, PE, CIH, CSP, CMR and Gail M. Brandys, MS, CSP, CMR, CIEC. OEHCS Publications. Hinsdale, IL. 2003

[16] Recognition, Evaluation and Control of Indoor Mold, American Industrial Hygiene Association. Fairfax, Va. 2008
Fungal Contamination: A Manual for Investigation, Remediation and Control. Hollace S. Bailey, PE, CIAQP, CIE, CMR. Building Environment Consultants, Inc. Jupiter, FL. 2005
University of Minnesota - Department of Environmental Health and Safety can be contacted at http://www.dehs.umn.edu/ The University Department's advice on mold in buildings can be found at www.health.state.mn.us/divs/eh/indoorair/mold/index.html
[17] U.S. CDC - Mold Questions and Answers: Questions and Answers on Stachybotrys chartarum and other molds - original source: www.cdc.gov/mold/pdfs/stachy.pdf, Questions and Answers on Stachybotrys Chartarum and Other Molds. Centers for Disease Control and Prevention, National Center for Environmental Health. March 9, 2000.
[18] US EPA: Mold Remediation in Schools and Commercial Buildings: original EPA source - www.epa.gov/mold/pdfs/moldremediation.pdf
[19] USP 797 Guidebook to Pharmaceutical Compounding - Sterile Preparations, U.S. Pharmacopeai, Web search 01/23/2012 and available online at usp.org/products/797Guidebook/
[20] USP 797 Standards and Guidelines with USP 797 Testing Lab Services, EMLab P&K, web search 12/1/2011, original source emlab.com/s/services/USP_797.html - EMLab discusses USP 797 as it pertains to mold testing, bacteria testing, and other environmental and health related tests. For mold testing using surface cultures (swabs) that and other testing laboratories typically use broad-spectrum mold culture media such as Malt Extract Agar (MEA) or Cormeal Agar (CMA) - these media do well culturing Penicillium. Aspergillus, and Cladosporium, but beware: in our OPINION other important molds may be present, even dominant in the building but may not show up in culture tests.
[22]World Health Organization bulletin: Human eases Caused by Mold - http://www.inspectapedia.com/mold/WHO_Mold_Bulletin.php
[22] Mold Exposure Standards - levels of allergenic & toxic mold: how much mold means a problem? - http://www.inspectapedia.com/mold/Mold-Exposure-Standards.php
[23] Guidance for Clinicians on the Recognition and Management of Health Effects Related to Mold Exposure and Moisture Indoors, [on file as /mold/Mold_Guide_UConn.pdf] - Eileen Storey, MD MPH, Kenneth H. Dangman, MD PhD MPH, Paula Schenck MPH, Robert L DeBernardo MD MPH, Chin S Yang PhD, Anne Bracker CIH MPH, Michael J Hodgson MD MPH, University of Connecticut Health Center, Division of Occupational and Environmental Medicine, Center for Indoor Environments and Health, 266 Farmington Ave., Farmington CT 06030-6210, 30 September 2004. [We have edited this file to remove blank pages in order to speed its load-time and to add a link back to this website.] This document was designed to help the healthcare provider address patients with illnesses related to mold in the indoor environment by providing background understanding of how mold may be affecting patients. The guidance was published in 2004, with support from a grant by the U.S. EPA, by the Center for Indoor Environments and Health, or CIEH at the University of Connecticut Health Center. " -- original source: oehc.uchc.edu/images/PDFs/MOLD%20GUIDE.pdf (1.13MB PDF file, slow loading)

[24] History of major mold outbreaks: see the WHO bulletin above, also see a nice summary of the history of major mold related illness outbreaks is at moldbacteria.com/newsletters/2005/sep2005.html provided by Dr. Jackson Kung'U, a microbiologist, mycologist, writing for that website.
[25] ASTM Mold Standards, web search 4/15/2012, original source: begin at http://www.astm.org/Standards/E2418.htm

ASTM D3273 - 12 Standard Test Method for Resistance to Growth of Mold on the Surface of Interior Coatings in an Environmental Chamber, Quoting:
An accelerated test for determining the resistance of interior coatings to mold growth is useful in estimating the performance of coatings designed for use in interior environments that promote mold growth and in evaluating compounds that may inhibit such growth and the aggregate levels for their use (see also Note 1). This test method should preferably be used by persons who have had basic microbiological training.
ASTM D6008 - 96(2005) Standard Practice for Conducting Environmental Baseline Surveys, Quoting:
The purpose of this practice is to define good commercial and customary practice in the United States for conducting an environmental baseline survey (EBS) in order to determine certain elements of the environmental condition of federal real property, including excess and surplus property at closing and realigning military installations. This effort is conducted to fulfill certain requirements of the Comprehensive Environmental Response, Compensation and Liability Act of 1980 (CERCLA) section 120(h), as amended by the Community Environmental Response Facilitation Act of 1992 (CERFA). As such, this practice is intended to help a user to gather and analyze data and information in order to classify property into seven environmental condition of property area types (in accordance with the Standard Classification of Environmental Condition of Property Area Types). Once documented, the EBS is used to support Findings of Suitability to Transfer (FOSTs), Findings of Suitability to Lease (FOSLs), or uncontaminated property determinations, or a combination thereof, pursuant to the requirements of CERFA. Users of this practice should note that it does not address (except where explicitly noted) requirements for appropriate and timely regulatory consultation or concurrence, or both, during the conduct of the EBS or during the identification and use of the standard environmental condition of property area types.
ASTM E 1527-00 Standard Practice for Environmental Site Assessments: Phase I Environmental Site Assessment Process (Phase I ESA). [reflects US EPA rules for environmental due diligence as of 11/1/2005, Federal Reference: 40 CFR Part 312]
ASTM E 1528-00 Standard Practice for Environmental Site Assessments: Transaction Screen Process (Transaction Screen) [reflects US EPA rules for environmental due diligence as of 11/1/2005, Federal Reference: 40 CFR Part 312]
ASTM E2018 - 08 Standard Guide for Property Condition Assessments: Baseline Property Condition Assessment Process,
This guide is intended for use on a voluntary basis by parties who desire to obtain a baseline PCA of commercial real estate. This guide also recognizes that there are varying levels of property condition assessment and due diligence that can be exercised that are both more and less comprehensive than this guide, and that may be appropriate to meet the objectives of the user. Users should consider their requirements, the purpose that the PCA is to serve, and their risk tolerance level before selecting the consultant and the level of due diligence to be exercised by the consultant. The user should also review or establish the qualifications, or both, of the proposed field observer and PCR reviewer prior to engagement. A PCR should identify any deviations or exceptions to this guide. Furthermore, no implication is intended that use of this guide be required in order to have conducted a property condition assessment in a commercially prudent and reasonable manner. Nevertheless, this guide is intended to reflect a reasonable approach for the preparation of a baseline PCA.
ASTM E2418 - 06 Standard Guide for Readily Observable Mold and Conditions Conducive to Mold in Commercial Buildings: Baseline Survey Process, Quoting:
The purpose of this guide is to define good commercial and customary practice in the United States of America for conducting a baseline survey for readily observable mold and conditions conducive to mold in a commercial building related to a commercial real estate transaction by conducting: a walk-through survey, document reviews, and interviews as outlined within this guide. This guide is intended to identify observable mold and physical deficiencies conducive to mold as a result of moisture and water infiltration through the commercial buildings envelope or substructure, or generated within the building as a result of processes or mechanical systems, excluding de minimis observable mold and physical deficiencies conducive to mold. This guide is to allow a user to assess the potential need for further assessment or other actions that may be appropriate that are beyond the scope of this guide.
ASTM E2722 - 09 Standard Test Method for Using Seeded-Agar for the Screening Assessment of Antimicrobial Activity in Fabric and Air Filter Media, Quoting:
This test method provides for rapid screening of antimicrobial treatments located in or on fabrics and air filter media.
This test method simulates actual use conditions that may occur on fabrics, for example, food and beverage spills; soiling from body contact, that is, body oils, skin cells; prolonged moisture exposure.
This test method provides a means to screen for activity and durability of an antimicrobial treatment under conditions of organic loading.
This test method provides for the simultaneous assessment of multiple fabric components, for example, fabric, component fibers with polymer incorporated treatments, and back coating if present, for antimicrobial activity.
Fabrics or filter media may be cleaned prior to testing with this method in order to assess the durability of the antimicrobial effect.
Books & Articles on Building & Environmental Inspection, Testing, Diagnosis, & Repair
Our recommended books about building & mechanical systems design, inspection, problem diagnosis, and repair, and about indoor environment and IAQ testing, diagnosis, and cleanup are at the InspectAPedia Bookstore. Also see our Book Reviews - InspectAPedia.
Kansas State University, department of plant pathology, extension plant pathology web page on wheat rust fungus: see http://www.oznet.ksu.edu/path-ext/factSheets/Wheat/Wheat%20Leaf%20Rust.asp
"A Brief Guide to Mold, Moisture, and Your Home", U.S. Environmental Protection Agency US EPA - includes basic advice for building owners, occupants, and mold cleanup operations. See http://www.epa.gov/mold/moldguide.htm
...