Guide to Mold Clearance Inspections
Tests performed after a mold cleanup job
MOLD CLEARANCE INSPECTIONS - CONTENTS: When & How to Inspect and Test after Mold Cleanup. What building areas should be tested?. How does a building "pass" a clearance inspection?
InspectAPedia tolerates no conflicts of interest. We have no relationship with advertisers, products, or services discussed at this website.
Mold clearance inspections & testing: Here we explain and describe the post remediation mold clearance procedures and testing that should be used after a mold remediation or mold cleanup project.
Green links show where you are. © Copyright 2017 InspectApedia.com, All Rights Reserved.
A Guide to Post Remediation Mold Clearance Inspection & Testing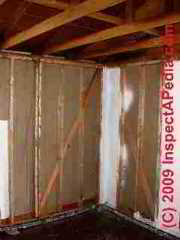 This article is part of our series: the Mold ACTION GUIDE which provides an easy to understand step-by-step guide for dealing with toxic or allergenic indoor mold and other indoor contaminants: what to do about mold "mildew," moisture, in your house or office, building-related illness, involving your physician, treatment, sick building investigators, reduction of irritants, and special products to help clean buildings and air.
Our advice on inspecting and testing to evaluate the adequacy of a mold cleanup job is divided into the articles listed at the top of this page.

We include photos of successful and somewhat questionable mold cleanup practices throughout these articles. Our mold cleanup jobsite photo at left shows a thorough inside demolition, surface cleaning, and spot-application of fungicidal sealant in a 1940's panelized home that had suffered from a severe mold contamination problem while left unattended.
Also see MOLD INSPECTORS & MOLD TESTERS for our online directory of mold inspection and testing experts.
See MOLD CLEANUP COMPANIES for our online directory of mold cleanup companies - mold remediators.
To avoid a conflict of interest we recommend that mold inspection, testing, or post-cleanup inspection and testing should be performed by an expert who has absolutely no financial or business relationship with the mold cleanup or mold remediation company. Before hiring us or any onsite test or investigation expert for a field investigation, inspection, or testing, be sure to review
MOLD / ENVIRONMENTAL EXPERT, HIRE ?.
For each step in the process of diagnosing, identifying, removing, and preventing indoor mold problems in buildings, links to in-depth articles are provided. In some cases in this document We use excerpts from longer dissertations on these subjects. Where we do that we offer a link to the longer, more detailed original documents as well. Extensive, in-depth articles about mold and other indoor air quality concerns are organized at our
Mold Information Center
This article series discusses the importance of mold clearance inspection and testing following a mold cleanup or "mold remediation" project and gives advice on who should conduct mold clearance sampling, when clearance testing should be performed, and how to interpret the results of a post remediation mold clearance inspection and test. What should be involved in a mold remediation clearance inspection and test?
What is the Purpose of a Post Remediation Mold Clearance Inspection?
The purpose of a mold clearance inspection is to assure that the mold cleanup has been done correctly and effectively in the work area and to confirm that the cleanup did not accidentally distribute high levels of moldy dust and debris into other building areas or into its mechanical systems such as heating or air conditioning systems.
Watch out: To avoid conflicts of interest, mold clearance testing should never be performed by the mold remediation contractor nor by someone with any business or financial connection with such contractors.
Also, just "testing" a building for mold is not nearly as reliable as an expert visual inspection.
And if you are testing for mold after a mold remediation job, don't forget to test for cross-contamination of moldy dust by screening building areas that were not part of the mold cleanup job.
Can We Rely on Air Tests for Mold after a Mold Cleanup Job?
Simple air tests for mold after a mold remediation job may be quite unreliable as the airborne level of particles varies enormously from moment to moment, especially depending on variables in building conditions such as we list below. An air test captures a small volume of air at a moment in time and should not be used as the sole criteria for passing or failing a mold clearance inspection and test. Here are some of the sources in variability in the level of indoor particles in air:
HVAC systems turned on or off
Fans moving air or not
See AIR MOVEMENT in BUILDINGS
People in the buildings or not
Level of human activity: we can measure the difference in airborne particle stir-up among an empty room, a room with a person sitting working at a desk, people walking across a carpet, and kids jumping on a bed
Windows open or shut
Doors open or shut between rooms and to the outdoors
Operation of air scrubbers, kitchen and bath powered or passive air exhaust vents, and passive building ventilation system
Building temperatures vs. outdoor temperatures and changes in the degree of stack-effect-generated air movement upwards through the building
The level of building cleanliness, degree of removal of dust, particle reservoirs, or particle reservoir disturbance such as moving building insulation
The use of other building cleaning equipment such as vacuum cleaners, floor polishers
Details: see ACCURACY OF VARIOUS MOLD TEST METHODS
And the commonly-stated and simple use of a mold remediation clearance test acceptable mold spore ratio (percentage of indoor versus outdoor spore counts) can be very unreliable too. A visual inspection for extent of work, cleanliness, and careful selection of screening samples of mold from surfaces, dust, and possibly air, inside and outside the work area are what's needed in a mold remediation clearance test if you want to trust the results.
...
Continue reading at CLEARANCE PROCEDURES where we give details of when, where, and how a post mold remediation job inspection and test should be performed, or select a topic from closely-related articles below, or see our complete INDEX to RELATED ARTICLES below.
Or see WHEN TO STOP LOOKING FOR MOLD
Suggested citation for this web page
MOLD CLEARANCE INSPECTIONS at InspectApedia.com - online encyclopedia of building & environmental inspection, testing, diagnosis, repair, & problem prevention advice.
Or use the SEARCH BOX found below to Ask a Question or Search InspectApedia
...
Frequently Asked Questions (FAQs)
Try the search box below or CONTACT US by email if you cannot find the answer you need at InspectApedia.
...
Ask a Question or Search InspectApedia
Questions & answers or comments about mold clearance inspection & testing procedures & post-mold-cleanup acceptable cleanliness standards.
Use the "Click to Show or Hide FAQs" link just above to see recently-posted questions, comments, replies, try the search box just below, or if you prefer, post a question or comment in the Comments box below and we will respond promptly.
Search the InspectApedia website
Technical Reviewers & References
Click to Show or Hide Citations & References
[1] "A Brief Guide to Mold, Moisture, and Your Home", U.S. Environmental Protection Agency US EPA - includes basic advice for building owners, occupants, and mold cleanup operations. See http://www.epa.gov/mold/moldguide.htm

[2] US EPA - Mold Remediation in Schools and Commercial Building [Copy on file at /sickhouse/EPA_Mold_Remediation_in_Schools.pdf ] - US EPA
[3] US EPA - Una Breva Guia a Moho - Hongo [Copy on file as /sickhouse/EPA_Moho_Guia_sp.pdf - en Espanol
[4] G. A. Payne, W. C. Nierman, J. R. Wortman, B. L. Pritchard, D. Brown, R. A. Dean, D Bhatnagar, T. E. Cleveland, Masayuki Machida, & J. Yu, "Whole genome comparison of Aspergillus flavus and A. oryzae", Medical Mycology September 2006, 44, S9S11
Abstract: Aspergillus flavus is a plant and animal pathogen that also produces the potent carcinogen aflatoxin. Aspergillus oryzae is a closely related species that has been used for centuries in the food fermentation industry and is Generally Regarded As Safe (GRAS). Whole genome sequences for these two fungi are now complete, providing us with the opportunity to examine any genomic differences that may explain the different ecological niches of these two fungi, and perhaps to identify pathogenicity factors in A. flavus. These two fungi are very similar in genome size and number of predicted genes. The estimated genome size (36/8 Mb) and predicted number of genes (12 197) for A. flavus is similar to that of A. oryzae (36/7 Mb and 12 079, respectively). These two fungi have significantly larger genomes than Aspergillus nidulans (30/1) and Aspergillus fumigatus (29/4). The A. flavus and A. oryzae genomes are enriched in genes for secondary metabolism, but do not differ greatly from one another in the predicted number of polyketide synthases, nonribosomal peptide synthases or the number of genes coding for cytochrome P450 enzymes. A micro-scale analysis of the two fungi did show differences in DNA correspondence between the two species and in the number of transposable elements. Each species has approximately 350 unique genes. The high degree of sequence similarity between the two fungi suggests that they may be ecotypes of the same species and that A. oryzae has resulted from the domestication of A. flavus. Keywords aflatoxin, secondary metabolism, koji moulds
[5] Robert A. Blanchette & C. Gardner Shaw, "Associations among Bacteria, Yeasts, and Basidiomycetes During Wood Decay", Phytopathology 68: 631-637, also appearing in Ecology and Epidemiology.
Atlas of Clinical Fungi, 2nd Ed., GS deHoog, J Guarro, J Gene, & MJ Figueras, Centraalbureau voor Schimmelcultures, Universitat Rovira I Virgili, 2000, ISBN 90-70351-43-9 (you can buy this book at Amazon) - The Atlas of Clinical Fungi is also available on CD ROM
"A Brief Guide to Mold, Moisture, and Your Home", U.S. Environmental Protection Agency US EPA - includes basic advice for building owners, occupants, and mold cleanup operations. See http://www.epa.gov/mold/moldguide.htm
"Disease Prevention Program for Certain Vegetable Crops," David B. Langston, Jr., Extension Plant Pathologist - Vegetables, University of Georgia (PDF document) original source: www.reeis.usda.gov/web/crisprojectpages/209797.html
"Disease Prevention in Home Vegetable Gardens," Patricia Donald, Department of Plant Microbiology and Pathology, Lewis Jett
Department of Horticulture, University of Missouri Extension - extension.missouri.edu/publications/DisplayPub.aspx?P=G6202
"Management of Powdery Mildew, Leveillula taurica, in Greenhouse Peppers," Ministry of Agriculture and Lands, British Columbia - Original source: www.agf.gov.bc.ca/cropprot/peppermildew.htm
Fifth Kingdom, Bryce Kendrick, ISBN13: 9781585100224, is available from the InspectAPedia online bookstore - we recommend the CD-ROM version of this book. This 3rd/edition is a compact but comprehensive encyclopedia of all things mycological. Every aspect of the fungi, from aflatoxin to zppspores, with an accessible blend of verve and wit. The 24 chapters are filled with up-to-date information of classification, yeast, lichens, spore dispersal, allergies, ecology, genetics, plant pathology, predatory fungi, biological control, mutualistic symbioses with animals and plants, fungi as food, food spoilage and mycotoxins.
Fungi, Identifying Filamentous, A Clinical Laboratory Handbook, Guy St-Germain, Richard Summerbell, Star Publishing, 1996, ISBN 0-89863-177-7 (English) (buy at Amazon)
US EPA: Una Breva Guia a Moho - Hongo [Copy on file as /sickhouse/EPA_Moho_Guia_sp.pdf - en Espanol

A Summary of How to Conduct Mold Remediation Cleanup Project Follow-up Clearance Inspection & Testing
A mold cleanup or mold remediation project clearance inspection is performed to determine if the demolition and cleaning appear to be complete and effective, and to assure that there has not been accidental contamination of other building areas. Clearance inspection and testing should be performed after all demolition and cleaning, and before the containment system has been removed. Failure to respect this criterion risks cross-contamination between the remediation area and other building areas.
Mold Inspection Clearance should include visual inspection of the building for active leaks or remaining wet areas, visual cleanliness of both areas that were remediated and other building areas which are at risk of cross-contamination. Clearance sampling typically includes one outside air baseline sample and four inside samples using surface dust collection as well as air and/or vacuum samples both to establish the success of cleaning of the remediation area and to check for evidence that cross-contamination of non-remediation areas occurred. Depending on the size and complexity of the building, more than these five samples may be required.
Clearance inspecting, sampling, and testing should be performed by a party who is has no affiliation with the remediation contractor. At your request We can re-inspect the building following demolition and cleanup to confirm that the target areas have been successfully cleaned and that other building areas have not become contaminated during the process.[See Note 1 below]
I have attached my detailed Lab Determination Report along with information about growth factors and health hazards of molds. More information is at my public information website www.InspectAPedia.com, my mold information testing website at /sickhouse.htm and at your health department.
Any mold clean up project must be safe and effective in both its procedure and in its end result. In severe or costly mold cleanup cases the procedure should be documented (work receipts, photos and notes). This information will be helpful in avoiding a health risk to future occupants and in reducing liability for owners.
Note [1] Clearance testing performed after all remediation, repair, and cleanup are "complete" checks for presence of significant levels of toxic spores in the interior air or in dust found on building surfaces.
A history of prolonged or major water intrusion or the presence of significant levels of moldy material in a building suggests this follow-up step to reduce the chance that other hidden mold remains in the building, or that remediation and cleanup were not properly performed.
We do not recommend "home test kits" offered by some vendors as they are fundamentally flawed in methodology. For additional investigation, for example in areas where there was no visible mold but where odors persist, call to make arrangements which might involve limited destructive measures such as making inspection openings to permit visual, surface, and air sampling
CLEARANCE PROCEDURES: to be Used After a Mold Cleanup / Remediation Project
Please see CLEARANCE PROCEDURES for detailed recommendations about the procedure to follow to assure that a mold cleanup project has been successful and that other building areas have not been either cross-contaminated during the mold cleanup, or that they do not have another independent mold contamination problem.
There are no single accepted "pass-fail" criteria for clearance inspections. I examine remediated areas for mold or other allergens and We look in other building areas for evidence of spread of contaminated demolition debris or inadequate cleaning if cleaning was recommended for those areas.
My evaluation combines a visual inspection of the extent of removal and cleaning of infected materials/areas with a microscopic examination of surface, dust, air, and/or vacuum samples collected at the property.
Visual Inspection for Demolition & Cleaning Completeness
A visual inspection is performed of both the cleaned area and other building areas.
In the clean-up area we want to know that demolition has been sufficient - that no moldy materials remain, and that all surfaces appear to have been physically cleaned. If a fungicidal sealant was to be applied, we want to see that it was not simply sprayed atop mold and dirt or debris instead of first cleaning those surfaces.
Mold Screening Tests for Effective Cleaning in the Work Area
We will collect mold clearance inspection test samples of physical surfaces which appear to still be moldy or dirty; if all surfaces are clean we will collect at least one settled dust sample from a representative cleaned surface in each major area. We may also collect other screening samples by using air or vacuum sampling methods. But beware; air sampling alone is not a reliable means of screening a building for problems.
Mold Screening Tests for Cross Contamination Outside of the Work Area
Outside of the remediation area we will collect screening samples of suspect surfaces, settled dust, vacuum and/or air samples of representative areas in the building, paying special attention to areas (or equipment such as HVAC systems) which are at particular risk of having been cross-contaminated by inadequate dust containment measures during the cleanup.
General Property Condition
We will also report ongoing conditions which continue to put the building at extra risk of a new mold problem, such as failure to correct various causes of leaks, water entry, and high moisture.
Lab Processing of Test Samples
Test samples from the site examined in our laboratory using appropriate chemical/stain preparations and a light microscope at magnifications up to 1000X. Our opinion regarding the level of cleanliness reflected by fungal samples is based on several existing studies of building contamination, a comparison with the original contamination levels, and our field and laboratory experience examining properties before and after remediation.
ACCEPTABLE MOLD LEVEL What are Acceptable Mold Levels in buildings
Please see ACCEPTABLE MOLD LEVEL for details about acceptable levels of mold in buildings before or after a mold cleanup project.
Problems with indoor versus outdoor spore counts
Comparing indoor mold spore levels with outdoor mold spore levels
A common mold remediation clearance test plan specifies that the indoor mold level or spore counts should be no more than 50% of the outdoor level. This approach can generate nonsense, particularly in mold sampling reports I've reviewed in which the genera and species of the indoor mold spores were completely different from the outdoor mold spores. For example an outdoor "Pen/Asp" spore count of 1000 spores/M3 of air might be compared with an indoor "Pen/Asp" spore count of 500 spores/M3 of air.
But often the outdoor "Penicillium/Aspergillus" spores are not the same species as the indoor species, making such count comparisons completely meaningless. Worse, some labs include small basidiospores in their "Pen/Asp" count since often many small amerospores (small round featureless mold spores) like certain Penicillium spores and certain Basidiomycetes are difficult or even impossible to differentiate microscopically. If the indoor and outdoor Penicillium or "Pen/Asp" spores are different species from one another, you are evaluating the effectiveness of a mold remediation project by comparing "apples and oranges."
Examine the indoor mold genera and species
It is important therefore to look qualitatively as well as quantitatively at indoor mold spores after a mold remediation project. If there is a high level of indoor spores of the same genera (and species) as the problem-mold which was originally identified then the cleanup may have been incomplete, regardless of "outdoor spore count comparisons. A common example of incomplete work in which We find problem-levels of Penicillium or Aspergillus after a mold remediation is when mold-infected fiberglass insulation has not been removed because it "looked clean" to the naked eye of the mold cleanup crew. A simple vacuum sample of that material can indicate whether or not the insulation needs to be removed.
What indoor mold levels indicate a problem
After a mold remediation? It depends partly on site conditions. In a sealed room where moldy debris has been removed, testing immediately may disclose an abnormally high level of indoor problem mold which has remained airborne even though the cleaning has removed all of the original mold reservoir. In that case some additional surface cleaning and fresh air exchange may be all that's needed.
Mold counts versus mold Species: Even more questionable is the use of "generic" airborne mold spore counts without further attention to genera and species. A count of 200 Stachybotrys chartarum mold spores/M3 of air would be unusually high as this mold is not normally airborne. I'd be worried about where those spores came from. Conversely, a count of 200 Aspergillus sp. spores/M3 of air in the same circumstances might be considered very "clean".
What indoor mold spore level is considered "contaminated" then depends in part on what mold genera or genera and species have been identified. But if the indoor mold spore count/M3 of air is high enough, we may decide that more investigation or cleaning is needed regardless.
While there is no well-established quantitative standard for fungal spores on surfaces or in air, mold contamination is considered present in a building when the total mold spore concentration per cubic meter of air is above 10,000. (Baxter, ETS). Acceptable levels for individual species vary since species toxicity varies widely as does spore size, weight, and other features which affect risk to building occupants. E.g. Aspergillus/Penicillium in a "clean" residential building study was at a mean of 230, in buildings known to have a moisture or flooding problem it was at 2235 and in mold contaminated buildings the figure was 36,037.
Mold sample processing lab variation
Some writers also warn that mold labs have reliability problems. We agree that two experts counting the same slide will not provide precisely the same counts. Our lab participates in a "round robin" quality assurance program in which a group of expert mold sample processing labs around the country "count" spores on the very same slide (we mail it around). We compare our count results as a method for checking on and refining our procedures.
While counts vary among labs, it is unusual for counts by expert labs following the same (agreed-on) count procedures to vary by as much as one order of magnitude. If the mold sample processing lab is actually using an expert to process the samples (rather high-volume part-time minimally-educated workers), then the variability in lab results is very much less than the variation in mold sample results caused by variations in sampling conditions We discussed below at "Mold Sampling Conditions Cause Wide Variation in Results".
Surface samples of mold:
the presence of toxic or allergenic mold as a dominant particle in any sample (surface or air) is usually a cause for further investigation or remediation. The presence of incidental occurrences of toxic or allergenic material in surface samples requires interpretation in light of other building conditions, type of particle (spore chains), and other factors.
Cultures of mold for Clearance Testing
Since only a small percentage of all molds (perhaps 10%) will grow in any culture at all under any condition, using a culture to screen for problematic mold is a questionable practice. There are uses for mold cultures but We question their application for building screening.
The mold level target is never zero except in special applications such as medical and drug facilities which operate in a "clean room" environment where no stray particles are permitted. Mold is a natural ingredient in outdoor air most of the time. We do not want to find higher indoor mold levels than outdoor, and we do not want to find high levels of problematic mold spores indoors.
Mold Sampling Conditions Cause Wide Variation in Mold Test Results
Warning: interpret all quantitative mold clearance test data with caution, particularly air samples. Individual samples of airborne mold (or any other airborne particles in a building) show tremendous variation from minute to minute, usually by many orders of magnitude, making "ok" mold clearance sampling test results a thing to view with care.
If the mold remediation clearance investigator did not document the sampling method, including where, when, and under what conditions a sample was collected, interpretation of sample results can be tenuous. We re building fans on or off? Were windows open or shut? Was work going on in the area? How long after completion of the mold remediation project did the investigator wait before testing? Turning on a ceiling fan in a room can increase the airborne particle level by a factor of 1000! In situations of particular risk (such as sensitive occupants) or ambiguously-conducted post mold remediation testing, additional or periodic testing should be considered.
VISUAL CHARACTERISTICS of Successful Mold Remediation Sites
Please see MOLD CLEANUP, VISUAL CHARACTERISTICS for details about the requirements for visual inspection of a building after a mold remediation project.
All suspect or mold-contaminated material, which cannot be cleaned, should have been removed. There should no demolition debris left in the building. Areas of removal such as remaining structural components, floors, and other surfaces should have been thoroughly cleaned, HEPA (High-efficiency particulate air filtering system) vacuumed, wiped, and sealed if a sealant was to be used. HEPA vacuuming is important since ordinary "shop vacuums" and most home vacuum cleaners will simply pass small mold spores right through the system, actually increasing the level of airborne mold.
Remediated areas should be free of visible mold. On previously infected structural members or surfaces, some remediators use fungicidal sealants as extra assurance against movement of remaining incidental spores and to reduce potential future moisture uptake in wood and thus future mold growth. We report the extent of such treatments if evidence of such is visible.
The most common mold cleanup mistakes We encounter are failure to maintain a working dust containment system for the cleanup area during the procedure, failure to actually clean up demolition dust and debris from every surface, and bringing in new building materials or actually beginning reconstruction of the building before a successful clearance inspection and test have been completed. This last "error" means that either the clearance inspection and test are limited in assuring the success of the job or that some of the new work has to be removed to permit inspection and testing.
SUCCESSFUL MOLD TEST: How do We Define Successful Post-remediation Mold Test Laboratory Results
Please see MOLD CLEARANCE TEST, SUCCESSFUL for details about what constitutes a successful mold test result after a mold remediation project.
In the living area we should find in surface, dust, air, or other samples no more than incidental occurrence of the problem mold or allergens previously found at the property. There should be no significant presence of toxic or allergenic spores or other allergens indicating a remaining mold reservoir.
Air tests, while not a reliable overall indicator of building condition, should, if used for mold screening, show indoor mold levels at or below typical outdoor levels or at levels associated with various studies of "clean" buildings.
Warning: some investigators risk making erroneous conclusions if they attempt to compare directly levels or counts of indoor Penicillium/Aspergillus spore levels with outdoor Penicillium/Aspergillus spore levels in air samples. With some exceptions, it is almost impossible to determine the species of these genera in an air sample. A previous report on a property we were asked to investigate showed that the indoor Penicillium/Aspergillus spore level was equal to the outdoor level and that both were at 8000 spores/M3 of air. But a detailed investigation of the samples disclosed that the outdoor spore level was in fact a species of Penicillium while the indoor species was Aspergillus niger which, at this level We considered an indicator of incomplete cleaning traced, ultimately to incomplete demolition. In this case the original "count comparison" of indoor to outdoor Penicillium/Aspergillus spores was like comparing apples and oranges. It was nonsense.
AFTER THE MOLD CLEANUP: Addressing Other Leaky or Moldy Building Areas
Please see MOLD CLEARANCE: FOLLOWUP STEPS for detailed advice about important steps to take after a mold cleanup project has been completed.
Some building owners make the mistake of insisting that only limited areas of a moldy building be addressed, or they do not repair other building leaks.
When leak-damage, mold, or suspect areas remain in a building following a mold related remediation, the insurance company, contractors, and inspector could express confidence only in the specific areas treated and only at the single point in time of the final successful clearance inspection.
The building remains at risk of future discovery of a separate pre-existing or new mold or water damage problem caused by new moisture or leak problems and potentially exacerbated by mold inoculation from pre-existing un-remediated areas.
Books & Articles on Building & Environmental Inspection, Testing, Diagnosis, & Repair
Our recommended books about building & mechanical systems design, inspection, problem diagnosis, and repair, and about indoor environment and IAQ testing, diagnosis, and cleanup are at the InspectAPedia Bookstore. Also see our Book Reviews - InspectAPedia.
Environmental Health & Investigation Bibliography - our technical library on indoor air quality inspection, testing, laboratory procedures, forensic microscopy, etc.
Kansas State University, department of plant pathology, extension plant pathology web page on wheat rust fungus: see http://www.oznet.ksu.edu/path-ext/factSheets/Wheat/Wheat%20Leaf%20Rust.asp
"A Brief Guide to Mold, Moisture, and Your Home", U.S. Environmental Protection Agency US EPA - includes basic advice for building owners, occupants, and mold cleanup operations. See http://www.epa.gov/mold/moldguide.htm
US EPA - Mold Remediation in Schools and Commercial Building [ copy on file as /sickhouse/EPA_Mold_Remediation_in_Schools.pdf ] - US EPA
US EPA - Una Breva Guia a Moho - Hongo [on file as /sickhouse/EPA_Moho_Guia_sp.pdf - - en Espanol
...