Outdoor Lightning Protection System Designs
LIGHTNING PROTECTION SYSTEM DESIGN - CONTENTS: Outdoor Lightning Protection System Design Specifications & Installation Notes. Aluminum lightning protection system components. Outdoor connectors and details for lightning protection systems.
POST a QUESTION or READ FAQs about outdoor lighning protection system design
InspectAPedia tolerates no conflicts of interest. We have no relationship with advertisers, products, or services discussed at this website.
Basic design specifications for lightning protection systems:
This lightning protection system article describes common Outdoor Lightning Protection System Design Specifications & Details using aluminum components - lightning protection systems, certification, installation, and lightning protection system inspection.
We provide information about lightning strikes, lightning hazards, related equipment, sources of lightning protection system installers, and lightning strike risk assessment. Page top photo courtesy of Bud Schoch, PE.
Green links show where you are. © Copyright 2017 InspectApedia.com, All Rights Reserved.
Design Details for Outdoor Lightning Protection Systems Using Aluminum Components

Example Lightning Protection System Installation Details for Outdoor Systems
[The photographs of details of an old lightning protection system shown here were NOT the work of any of the companies or sources described at this website.]
[Click to enlarge any image]
As with any good construction project, the contract will include a statement that "All equipment shall be installed in a neat workmanlike manner by an experienced installer.

That last part, "experienced installer" is very important in this case since sloppy or improper details can increase rather than reduce the hazards of lightning damage.


All components and work shall meet or exceed all national safety and electrical codes including the Lightning Protection Institute (LPI) and the National Fire Protection Association (NFPA), and all components used shall be approved and listed for that purpose by the Underwriters Laboratories (UL) wherever feasible.

All lightning protection system cabling shall be installed along the side of the main, highest ridge of the building or building-section being protected, along the rake or gable-end boards, and shall continue down to ground level along building corners at inconspicuous locations such as near downspouts or trim


All lightning protection system cabling shall be installed in a horizontal or downward direction and shall not contain U or V-shaped sections or pockets.


The source of all materials is usually listed in order to assure that they are accountable and code-compliant.

These lightning protection system specifications and details were provided to us during presentations on lightning protection systems provided to NY ASHI home inspectors and conducted by Associated Lightning Rod Co.
Example Lighting Protection System Materials for Outdoor Installations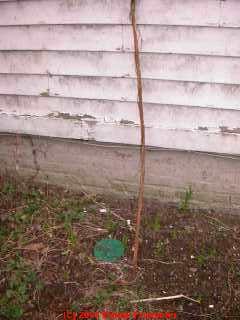 Building chimneys shall be protected with an air terminal to be placed no more than 2' from any outside corner.


Lightning protection system air terminals shall be pointed, solid round aluminum of 1/2" diameter or greater and shall project no less than 10" above the building component or object to be protected from lightning. Air terminals shall be located and spaced according to UL and LPI code requirements, including placement of terminals within 2' of outside corners and at intervals no greater than 20 horizontal feet (along the ridge line).


Air terminal bases shall be aluminum, using bolted or crimped cable connectors and shall be securely mounted with stainless steel screws, nails, or bolts. [By contrast, note the older, rusted and loose components in the lightning protection system photographs shown above.-DF]


Lightning protection system cabling shall be Class I conductors, 24-strand 14-gauge aluminum cable, (102#/1000Ft., 98k circular mils or equivalent)


Cable support fasteners shall be 1/2" wide aluminum strips spaced no greater than at 3' intervals.


Grounding locations shall be properly connected to copper [where rods extend below ground level] using a 3 1/2" x 3/4" hexagonal bimetallic 4-bolt splice connector located 18" above grade.


Ground rods shall be at least 1/2" in diameter and 11' long, and driven into the ground 10', leaving 1' of the ground rod exposed above ground and 10' below ground [this is the UL standard]. Ground rods shall be connected to the lightning protection system using a two-bolt bronze clamp of at least 1.5" long and using stainless steel cap screws. UL requires that at least two ground rods shall be installed.


Metal components on the building such as antennas, weather vanes, and metal gutters are connected to the roof or down conductor


Other bonding devices cable splices, and other miscellaneous connectors shall be aluminum with bolt pressure or crimp connections to stainless steel.


Other hardware such as miscellaneous bolts, nuts, nails, screws, shall be stainless steel.


Building water piping shall be bonded to the lightning protection system with a full-sized copper conductor and a lead-coated water pipe clamp.


Surge protection devices are installed at receptacles on for circuits serving electronic equipment like computers, TV's, or other electronics. Surge protection may also be installed at the electrical panel to protect the circuit serving a well or well pump, or to protect equipment from strikes drawn to steel well casings protruding above ground as well as to protect building appliances.


Lightning protection systems for commercial buildings have similar requirements and add additional air terminals and a "mid roof" conductor at 50' intervals (or less) on larger and flat roof buildings.
[The photographs of details of an old lightning protection system shown here were NOT the work of any of the companies or sources described at this website.]
Question: is it ok to conceal lightning protection system conductors?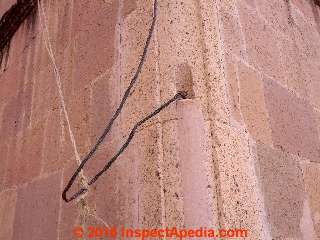 2017/07/10 ian said:
Can lightning conductor tapes be concealed/overboarded?
Reply:
Ian
Yes, under NFPA 780 Standard for the Installation of Lightning Protection Systems, a component of lightning protection systems include "cable conductors" that are used to route the conductor safely over or through the building without damage.
My photo shows the lightning cable conductor on the La Valencia Church in Guanajuato, Mexico.
But you can see that the church tower design includes a corner passage above eye level through which the lightning protection system conductor cable is routed to earth.

Watch out: a danger with concealed cable conductors is that a splice or connection that is not visible might become loose, disconnected or otherwise not reliable. When I took this photo (in 2012) someone had pulled out a loose loop in the lightning protection cable and was using it to secure the end of the bell pull rope. As the grounding electrode for this section of the lightning protection system isn't visible I'm not sure that the hidden end of the cable connects to earth.
More photos of this church lightning protection system are at LIGHTNING PROTECTION, HOW IT WORKS.
Cable conductors are one of the five elements of a protection system (Strike termination device, cable conductor, grounding electrode, bonding of the system to other building metal components, and surge protection for some building electrical devices or systems).
According to NFPA 780, installers are permitted to conceal the UL Standard-96-listed lightning protection system conductors (from below the strike termination device and below the roof) within the building. The supporting lightning strike theory (and experience) is that when a strike occurs, and given properly sized, routed, and connected and grounded conductors, the current flow, though enormous, is so brief that conductor overheating (that would present a risk of fire or building damage) doesn't occur.
Splitting the strike current flow through multiple paths (at least two conductors must be used) also reduces the overheating and fire risk.
The downlead cable ends at a ground rod dedicated to the lightning system (not shared with the electrical system).
Indeed at a lightning struck home I inspected at which the strike current found the building's electrical system ground, and where the electrical system's grounding conductor was bonded to the water pipe at the water meter near the house wall, the strike current melted the water pipe causing a flooded basement!
Experts note that an advantage of running the lightning protection system conductors through the structure during construction (it's more costly to do so as a retrofit) makes it easier to bond other building components to the protection system.
Watch out: The installation details for the lightning protection system conductor are critical. Keep in mind that making a mistake during installation of the lightning protection system may make the risk of building damage or fire greater than if no system were installed at all.
For example adding a strike termination device and conductor that runs through the building but using improper splices along the conductor (that don't conduct the current to earth) might simply conduct the lightning strike current into the building to cause a fire.
In addition to using proper splices, the conductor routing must always run down or horizontally (never "up"), and must be routed without 90 degree or other sharp bends - constrictions that could cause a failure of the conductor splices and fastenings during a strike, or that could cause a failure of the conductor to route the lightning strike current to earth rather than into the structure itself.
Resources on Lightning Protection System Design & Installation
See more citations and articles or documents at REFERENCES
Australia & New Zealand Lightning Protection AS/NZS 1768:2007 - including risk assessment based on the IEC Lightning Protection standards
A Practical GUIDE to LIGHTNING PROTECTION in AUSTRALIA & NEW ZEALAND, [PDF], retrieved 2017/07/10, original source: http://www.enertec.co.nz/product/img/fields/ 1383_A_Practical_Guide_to_Lightning_Protection_and_Australia_and_NZ.pdf|
Abstract excerpt:
This paper discusses the design of a lightning protection system (LPS) as per the prescribed rules in AS1768. It also looks at special applications where it is either very difficult or impractical to adhere to AS1768, and offers alternative practical methods.
IEC 62305-3 INTERNATIONAL STANDARD for PROTECTION AGAINST LIGHTNING Part 3, Physical damage to structures and life hazard [PDF-preview], retrieved 2017/07/10, original source: https://webstore.iec.ch/preview/info_iec62305-3%7Bed2.0%7Den.pdf
Abstract:
IEC 62305-3:2010 provides the requirements for protection of a structure against physical damage by means of a lightning protection system (LPS), and for protection against injury to living beings due to touch and step voltages in the vicinity of an LPS (see IEC 62305-1).

"Lightning Protection Overview" [web article], Lightning Protection Institute (LPI), P.O. Box 99 Maryville, MO 64468 USA, Tel: 1 (800) 488-6864 Email: lpi@lightning.org Website: http://lightning.org/
Article retrieved 2017/07/10, original source: http://lightning.org/lightning-protection-overview/,
Website description of LPI excerpt:
The Lightning Protection Institute (LPI) is a nationwide not-for-profit organization founded in 1955 to promote lightning protection education, awareness and safety.
LIGHTNING PROTECTION SYSTEMS SPECIFICATION, [PDF], Lightning Protection Institute (LPI), Op. Cit., retrieved 2017/07/10, original source: http://lightning.org/wp-content/uploads/2017/03/2.a.-LPI-Standard-Full-Spec-Long-form.pdf
LIGHTNING PROTECTION SYSTEMS SPECIFICATION For RE-ROOFING [PDF], Lightning Protection Institute (LPI), Op. Cit., retrieved 2017/07/10, original source: http://lightning.org/wp-content/uploads/2017/03/2.c.-LPI-Reroof-Full-Spec-Long-form.pdf
Underwriters Laboratory Standard UL96

These requirements cover lightning protection components for use in the installation of complete systems of lightning protection on buildings and structures. These requirements do not cover the installation of lightning protection components.

Products of this type are covered by the Standard for Installation Requirements for Lightning Protection Systems, UL 96A.
Underwriters Laboratory Standard UL96A.

These requirements cover the installation of lightning protection systems on all types of structures other than structures used for the production, handling, or storage of ammunition, explosives, flammable liquids or gases, and other explosive ingredients including dust. These requirements apply to lightning protection systems that are complete and cover all parts of a structure.

Partial systems are not covered by this standard. These requirements do not cover the installation of lightning protection systems for electrical generating, distribution, or transmission systems. These requirements do not cover lightning protection components, which are covered by the Standard for Lightning Protection Components, UL 96.
LIGHTNING PROTECTION MARKING & APPLICATION GUIDE, [PDF], Underwriters Laboratories (UL), (2016), Global Government Affairs, 1850 M. St. N.W., Suite 1000 Washington, DC 20036-5833 U.S.A. Tel: 202.296.7840, California 47173 Benicia Street, Fremont, CA 94538 U.S.A. Tel: 510.319.4000 Email: CustomerExperienceCenter@ul.com, UL has offices world wide, retrieved 2017/07/10, original source: http://www.ul.com/wp-content/uploads/2014/04/LightningProtectionAG.pdf
Abstract:
UL has developed this guide for use by code authorities, electric utilities, contractors, installers, users, system designers, and other interested parties to aid in understanding the basic components of lightning protection systems and the applicable codes and standards in order to facilitate a reasonably safe and code-compliant installation.
"Lightning strike risk assessment guide", NFPA Lightning Protection Code, NFPA #780, Appendix I, National Fire Protection Association, NFPA, Batterymarch Park, Quincy, MA 02269 617-770-3000.

The NFPA lightning strike risk assessment guide considers type of structure, type of construction, structure location, topography, occupancy, contents and lightning frequency.
HPE LIGHTNING PROTECTION GUIDE, [PDF] Hewlett Packard Enterprise, 2016, retrieved 20-17/07/10, original source: https://h20566.www2.hpe.com/hpsc/doc/public/ display?sp4ts.oid=4174759&docLocale=en_US&docId=emr_na-c04682574

Guidance for lightning protection system for network equipment
...
Continue reading at LIGHTNING PROTECTION for TREES or select a topic from closely-related articles below, or see our complete INDEX to RELATED ARTICLES below.
Or see LIGHTNING PROTECTION SYSTEMS
Suggested citation for this web page
LIGHTNING PROTECTION SYSTEM DESIGN at InspectApedia.com - online encyclopedia of building & environmental inspection, testing, diagnosis, repair, & problem prevention advice.
Or use the SEARCH BOX found below to Ask a Question or Search InspectApedia
...
Frequently Asked Questions (FAQs)
Try the search box below or CONTACT US by email if you cannot find the answer you need at InspectApedia.
...
Ask a Question or Search InspectApedia
Use the "Click to Show or Hide FAQs" link just above to see recently-posted questions, comments, replies, try the search box just below, or if you prefer, post a question or comment in the Comments box below and we will respond promptly.
Search the InspectApedia website
Technical Reviewers & References
Click to Show or Hide Citations & References
Portions of this information are based on UL publication 200-81 11/87 and other local service company information about lightning protection systems and lightning strike hazards.
Special thanks to Associated Lightning Rod Company, Associated Lightning Rod Company, Inc., Box 329A, Cooper Road, Millerton, NY 12546 914/373-8309 518/789-4603 who has been contributing technical content in presentations to NY ASHI home inspectors since 1996.
Some of that information [on lightning system material and installation details] was edited for clarity. ALRCi can be reached at 518-789-4603, 845-373-8309, 860-364-1498 and will inspect your lightning protection system at no charge. [We have no financial nor any other business relationship with any company or product discussed at this website--DF]
A-C Lightning Security, Inc., 2100 East First St., PO Box 329, Maryville MO 64468 816-582-8115 800-821-5575 816-562-2932. In New York, Hudson Valley, contact Christensen Electrical Power Systems, Richard G. Christensen, 518-537-4128.
IEC61024, Protection of Structures Against Lightning
Bouquegneau, C. "A critical view on the lightning protection international standard." Journal of electrostatics 65, no. 5 (2007): 395-399.
Heidler, F., W. Zischank, Z. Flisowski, Ch Bouquegneau, and C. Mazzetti. "Parameters of lightning current given in IEC 62305-background, experience and outlook." [PDF] In 29th International Conference on Lightning Protection, vol. 23, p. 26. 2008.
ITU K.27, Bonding Configurations and Earthing Inside a Telecommunication Building
For more details on how lightning protection systems work, see Lightning Protection from Pacific Electric and Gas Company, and Electrical System Grounding and Lightning Protection, Engineering Technical Letter 90-6, Department of the Air Force, HQ USAF.
Lightning strike risk assessment: for the full body of this excellent article which summarizes recent opinions about lightning strike risk assessment and safe practices for individuals or groups needing to avoid being struck by lightning, see Updated Recommendations for Lightning Safety - 1998 Ronald L. Holle and Raul E. Lopez from National Severe Storms Laboratory, NOAA and Norman, Oklahoma, Christoph Zimmermann Global Atmospherics, Inc. Tucson, Arizona
Lightning Protection Institute, 3365 N. Arlington Heights Rd., Suite J., Arlington Heights IL 60004
Lightning Protection International (LPI), Australia, PO Box 379, Kingston, Tasmania 7051 Australia
Website excerpt: For many decades, the principals and senior management of LPI have been providing specialist lightning protection advice to customers in some of the most lightning prone areas of the world. Our personnel have extensive experience in risk management, system design, training, installation, certification, and commissioning of systems in a wide variety of industry groups
"Lightning Awareness," Gerry Schulte, BMW ON magazine, June 2007 pp. 58-60, provided some technical details about lightning, and refers readers to www.lightningsafety.noaa.gov/outdoors.htm
Books & Articles on Building & Environmental Inspection, Testing, Diagnosis, & Repair
Our recommended books about building & mechanical systems design, inspection, problem diagnosis, and repair, and about indoor environment and IAQ testing, diagnosis, and cleanup are at the InspectAPedia Bookstore. Also see our Book Reviews - InspectAPedia.
Armor Lightning Protection Inc Manchester Center, VT, 802-375-0266 state-of-the-art lightning protection and surge protection for residential and commercial buildings in Vermont, New England, and throughout the Northeast
Lightning Eliminators & Consultants 6687 Arapahoe Road Boulder, CO 80303 (303) 447-2828. "Engineering Solutions For Lightning, Grounding and Surge Protection Worldwide Since 1971"
Lightning Protection for Facilities, Dr. Bruce Gabrielson, Robert B. Marcus, Published and presented: EMCEXPO92, Washington D.C.
Lightning Protection for Workers What to Do if You're Outside in a Lightning Storm - Center to Protect Workers' Rights (PDF)
Lightning Risk and Hazard Analysis Measurement from the National Lightning Safety Institute (NLSI).
"Lightning Fatalities, Injuries, and Damage Reports in the United States from 1959-1994", E. Brian Curran, Ronald L. Holle, Raul E. Lopez, NOAA Technical Memorandum NWS SR-193 October 1997
UL - Underwriters Labs Lightning equipment certification program. "Underwriters Laboratories Inc. (UL) has been testing and certifying lightning protection equipment since 1908. UL issues certificates of conformance for systems, inspecting system components and checking completed installations. Installations are required to comply with UL's internationally recognized Standards for lightning protection systems. Manufacturers, suppliers and installers demonstrate their commitment to safety by building, selling and installing only those lightning protection products that pass UL's rigorous testing." -- (Op.Cit.)

...