Reflective Insulation: properties, uses, technical data
REFLECTIVE INSULATION - CONTENTS: Reflective insulation in buildings, composition, installation & technical data. List of typical uses for reflective insulation. Technical data for single & double bubble foil laminated reflective insulation products. Definition of reflective insulation; definition of radiant barrier insulation; what's the difference between reflective insulation & a radiant barrier?
POST a QUESTION or READ FAQs about reflective insulation used in buildings, mechanical systems, & other locations;
InspectAPedia tolerates no conflicts of interest. We have no relationship with advertisers, products, or services discussed at this website.
Reflective insulation:
Properties, R-values, & uses of reflective insulation in buildings and in other applications. Where is reflective insulation used? Where is reflective insulation actually useful or effective?
This article describes the properties & uses of reflective insulation in buildings and other applications.
Green links show where you are. © Copyright 2017 InspectApedia.com, All Rights Reserved.
Foil-based Reflective Insulation material identification, insulation R-values, insulation characteristics, applications, & technical data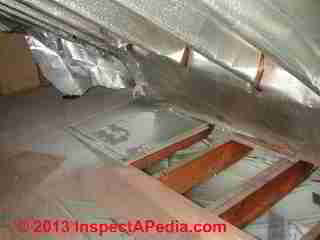 What's the difference between RADIANT BARRIERS[a separate article]
and REFLECTIVE INSULATION [discussed here] ?
[Click to enlarge any image]
Watch out: In understanding insulation, radiant barriers, and reflective insulation products it's worth noting that you may find products labeled as "insulation" that are a simple single thickness aluminum foil radiant barrier, and you may find insulating blankets covered with aluminum or even kraft paper and aluminum labeled as a radiant barrier product. It's confusing.
A radiant barrier works principally by serving as a single layer of aluminum foil, possibly reinforced with fibers or paper backing, used to reflect heat outwards (keep the attic cooler) or inwards towards the building interior (avoid losing heat, keep the building warmer).
Reflective insulation is a similar insulating and energy conserving product that adds an air cushion, usually in the form of plastic bubble material, between layers of aluminum foil to improve the insulating value or R-value of what would otherwise be a simple radiant barrier.
We expand on these definitions at the end of this article.
Thickness & composition distinguish among radiant barriers (thin) and reflective insulation (thicker) and foil faced insulation (much thicker)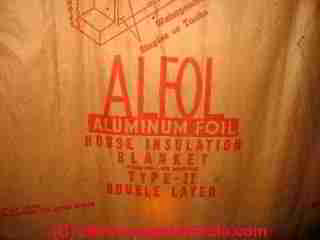 Some radiant barrier products may comprise multiple layers of aluminum foil or foil plus paper.
While the air layer trapped between these layers improves the R-value of the product, in our OPINION, products less than 1/4" in thickness remain, in our book, a radiant barrier.
Products that are made up of at least two layers of aluminum foil, separated by bubble or other material that is 1/4" thick or slightly thicker are reflective insulation.
The double-layer kraft and aluminum "ALFOIL house insulation blanket" shown at left works principally as a radiant barrier.
As we discuss at RADIANT BARRIERS, " Dead air trapped between the double layers of foil above the kraft paper provided a slight increase in the R-value of this product."
Still thicker insulating products, such as foil faced fiberglass insulating batts that are 1" or more in thickness, we refer to as foil faced insulation, not simple reflective insulation that will be described further here.
How is Reflective Foil Insulation Constructed - what layers, what materials?
Reflective insulation is usually made using two layers of aluminum foil that has been laminated or "glued" to the surface of two layers of plastic "bubble wrap" or air bubble material.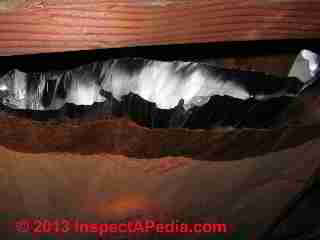 Or in some older reflective foil building insulation such as the "Double Layer" ALFOL Type II Double Layer insulating product shown at left, you may find as many as four layers comprised of
Kraft paper (outer layer, printed with the company's information (at the bottom in our photo)
A doubled layer of kraft paper, possibly coated on one side with a bituminous moisture barrier
Two or more layers of aluminum foil (at the top in our photo).
In newer reflective insulation constructed using a layer of bubble wrap, the rounded surface of the air bubbles keeps the two layers of foil separated and the individual bubbles, by trapping or enclosing air, ensure that there is a still-air insulating barrier between the two surfaces of foil, thus improving the R-value of the reflective insulating material.
The bubble-trapped air means that no air movement by convection should occur within the reflective insulation. Such air currents would reduce or even eliminate the R-value of insulation just as air currents in walls, floors, or ceilings will increase heat transfer through those structures.
When used under a roof or in an attic floor (not our first choice) the aluminum foil on both surfaces of the reflective insulation means that the same insulation layer will reflect heat outwards (back towards the roof) from the upper surface of the reflective insulation in summer, and it will reflect heat downwards or inwards (back towards the building interior) during the heating season.
Common Uses of Reflective Building Insulation
Unlike RADIANT BARRIERS that were used in lieu of fiberglass, mineral wool, or foam insulation in building floor, wall, or ceiling cavities, reflective foil based bubble-interior building insulation is not used in modern residential construction as the primary cavity insulation material. Rather the product is used in more industrial settings and in special applications as we list here:
Properties & R-Values of Reflective Insulation Products

Property

Single Air Bubble Layer

Double Air Bubble Layer

R-value [b]
4.9
5.0
Reflectivity
0.96-0.97
0.96-0.97
Permeability
effectively zero for foil
effectively zero for foil
Emissivity
0.03-0.04
0.03-0.04
Fire Rating
Class A/Class 1
Class A/Class 1
Temperature Exposure
-60F - 180F
-60F - 180F
Puncture resistance
63 psi
66 psi
Weight per sq. ft.
0.8 oz
1.25 oz

Notes:

[a] Based on industry standard sheet [on file];
[b] R values obtained from a C236 hot box test.


Watch out! these ratings were taken from the entire building cavity including the surrounding air space and thus reflect the R-value of the wall, floor, or ceiling the cavity represented, not the R-value of the material itself. Because building construction and air leak properties vary widely we question these numbers.

The original document for double air bubble layer reflective insulation: 15 (D), 7.31 (H) and 5.4 (U), and for single bubble layer reflective insulation 14.5 (D), 7.0 (H), and 4.9 (U).
Question: do some reflective barrier products contain asbestos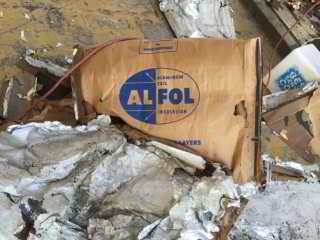 I have been researching the internet for information regarding asbestos in reflective insulation:

Images attached.

We have a small baby and construction was going on while she was very little. So I am trying to find out the likelihood of this material containing asbestos?

Do you have any information other than this post on your web site? - Anonymous by private email 2017/12/12
Reply: Yes some but not all reflective barrier products included asbestos cloth, paper, or boards.
Researching an answer to your question we found that particulary in the U.S. between the 1930's and early 1960's a number of reflective barrier insulation products included asbestos paper or in other forms as both a reinforcement, for fire resistance, or for heat resistance.
I have added that information in this article at REFLECTIVE INSULATION RESEARCH.
Here is a typical example
The composite insulation of the invention comprises two or more sheets of insulating material such as metal foil, laminated metal foil and paper, asbestos, plastic, or paper. (Alexander et als 1957)
Note: By this information I am NOT claiming that the Borg Warner Type II ALFOL aluminum foil + kraft paper reflective insulation shown above in your photo is an asbestos-containing product. Patents from Borg Warner involving insulation were focused on the refrigeration industry (not cited here).
Other reflective barrier products patented by General Dynamics and other companies described inslating products included a variety of heat reflecting inslulating materials whose patent disclosures did not include the word "asbestos". (Clay 1970).
Question: identification of reflective insulation vs. radiant barriers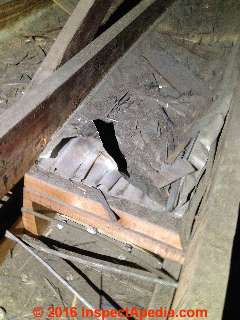 Can you by any chance help me identify this type of insulation ? I have never seen it before. Thank you in advance.
I myself would like to learn more about this stuff since it is the first time i have ever seen it and i am curious and would like to learn more. I spent many hours trying to find any thing about this product to no avail please send me a link to the thread so i can follow along . - Anonymous by private email, 2016/10/23
[Click to enlarge any image]
The reflective insulation shown above was found by the reader and is reported to be installed in a single family home in Altadena California. The home was built in 1951.
Reply:
Looks to me like an early radiant-barrier type "insulation" product. I'm unsure what sort of paper was used inside the foil to give it more air space and thus improve its insulating rating. On the off chance that the paper is an asbestos product I'd take care not to make a dusty mess. We discuss reflective insulation such as your product here at REFLECTIVE INSULATION.
Separately, at RADIANT BARRIERS we discuss a similar product, radiant barriers, another reflective product. What's the difference between reflective insulation and a radiant barrier? It depends on your information source, as not everyone will speak with equal precision.
Watch out: it's possible that the paper baffles shown in the reflective insulation in your photograph are asbestos paper.
Definition of radiant barrier
A radiant barrier is a single sheet of reflective foil used to reduce un-wanted heat loss or un-wanted heat gain by placing a heat reflecting material at a strategic location. In buildings that's typically in an attic and most-often on the under-side of roof rafters or on the upper side of an attic floor.
A radiant barrier might also be placed in a wall or over a basement or crawl area. Historically aluminum foil but perhaps reflective mylar in more recent applications.
Definition of Reflective Insulation
Reflective insulation improves on the concept of a radiant barrier by using two or more layers of heat reflecting material, typically bound together to form a blanket. The blanket may be simply hollow or it may contain internal baffles such as shown in our reader's photograph above. However you'll note that except for material used to provide individual air chambers reflective insulation is hollow.
Reflective Barriers on Other Insulating Products
Other fiberglass insulating products are sold with a non-reflective kraft-paper facing that also aids insulation installation as well as sold as un-faced fiberglass batts. Products that combine a reflective barrier with fiberglass or another insulating material may be referred to as "reflective fibrous insulation" (Fay 1988).
Foil-faced fiberglass insulation is a more-widely-used contemporary insulating product found in building roofs, ceilings, attics, walls, floor. This product combines a foil faced paper on one side of the insulation. The foil facing improves the insulation's perfomance by reflecting heat as well as by serving as an air barrier, and the facing also aids in insulation installation by providing a paper flange that canb e stapled to the building framing rafters, ceiling joists, wall studs, or floor joists.
Unlike reflective insulation, foil-faced insulation combines the foil facing with a thickness of insulating material, typically fiberglass batts.
Research on Reflective Insulation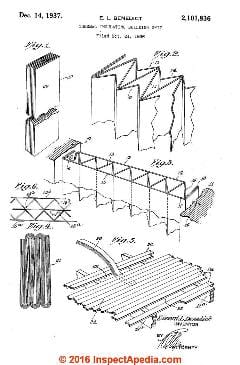 While the insulating properties of multi-layer or multi-wall metallic materials are reflected in earlier patents ca. 1900, a surge of multiple-layer metallic reflective insulating materials began in the United States in the 1920's, possibly with the development of improvements in the economical production of thin aluminum sheeting or foils.
Alexander, Schwartz, and Fogelson Emile. "Thermal insulation." U.S. Patent 2,777,786, issued January 15, 1957.
Excerpt:

The composite insulation of the invention comprises two or more sheets of insulating material such as metal foil, laminated metal foil and paper, asbestos, plastic, or paper. The insulation may be formed entirely of one sulation of continuous sheets or webs of more or less indefinite length and to connect the edge portions of the sheets to supporting other when installed, and a means for attaching the insulation in the place of use, such as to the framing structure of a refrigerator, box, building, or the like.
Alexander, Schwartz, and Fogelson Emile. "Thermal insulation." U.S. Patent 2,750,313, issued June 12, 1956.
Excerpt:

The composite insulation of the invention comprises two or more sheets of insulating material such as metal foil, laminated metal foil and paper, asbestos, plastic, or paper.
Andrews, Bernard R. "Heat-insulating-wall construction." U.S. Patent 1,522,708, issued January 13, 1925.
Benedict, Edward L. "Thermal insulating building unit." U.S. Patent 2,101,836, issued December 14, 1937.
Illustrated at above / left.

Abstract: This invention relates to thermal-insulating building units, that is to means for thermally insulating structures of all sorts suchas houses, ships and the like, and has for its object to provide a unit for such use which is easier to handle and place in position as well as easier to ship than are the present thermal insulating units.

One objection to the use of metal foil has been the inconvenience in handling and shipping it or else the inconvenience in inserting it. One suggestion contemplated the foil being attached to a foundation for giving it strength.

If the foundation is rigid and easy to insert between studs, beams or other framing members, it is not convenient for shipment. On the other hand, if the foil'is mounted on paper and made easy for shipment in rolls, considerable labor expense is required to properly space and mount the foil sheets between the framing members.

It has been customary to crumple up foil sheets and mount them between the framing members. Theobjection to this practice is that the spacing and therefore the efiiciency of the spaced foils will not be uniform and in fact there is not enough certainty that the foils will be spaced apart everywhere. Metal foil is so light and thin and easily torn that its insertion in a building has not been considered altogether easy.

Under this invention metal foils are mounted in pairs with an intermediate foundation and the unit being constructed so that it is easier to assemble and insert in place, yet unusually well adapted for shipment without danger of being torn. Referring to the drawing Fig. 1 shows a folded insulating unit according to this invention.

As shown in Fig. 3, between studs, beams or framing members Ill and II is mounted the thermal-insulating unit l2 of this invention. This unit comprises an accordion plaited foundation I3 having the plaits arranged longitudinally of the unit and spacing layers of metal foil 14 and 15 attached to the foundation.

The foundation 13 may be of paper, preferably about a seventy pound paper (that is, a ream of sheets 24" by 36" weighs lbs.) although heavy metal foil or a metal foil mounted on paper might be used, or where fireproof construction is desired an asbestos or other fireproof paper is suitable. The metal foil layers l4 and 15 are preferably aluminum foil about .0003 inch thick although the foil of other metals may be used, the aluminum foil being preferable.

Also see ASBESTOS INSULATION - home.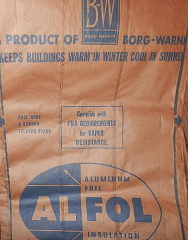 Clay, J., and V. Lintvedt. "Method of insulating." U.S. Patent 3,806,391, issued April 23, 1974., Assigned to General Dynamics
ABSTRACT OF THE DISCLOSURE

An insulation material comprising a thermal heat reflecting material such as aluminized polyester film, viz, Mylar, provided with a multiplicity of fiber tufts of flocking material spaced apart and bonded to the Mylar in a substantially polka-dot pattern. The upstanding fiber bristles serve to space the reflecting material away from adjacent structure or other adjacent layers of insulation. Heat transfer by conduction is reduced to a minimum as a result of the tufts of bristles being in point contact only with adjacent material and structure.
Eldredge, Merrill J. "Building construction." U.S. Patent 2,054,694, issued September 15, 1936.

Includes citation of use of asbestos in Celotex wallboard products:
Excerpt:
My invention consists of taking I-beams l, 2 and 3 and setting them spaced apart with panels A formed by securing sheets of insulation material 4 onto sheets of thin metal 5 and then securing the panels to the I-beams. The insulation may be any of the type of insulation wall boards, such as might be made of fullers earth, or like material, or of a fibrous nature or with porous gypsum, or asbestos fiber and other compositions. One type of these wall boards is sold on the market under the trade name of Ceotex.
Fay, Ralph M., and Theodore R. Rohweder. "Reflective fibrous insulation." [JPG] U.S. Patent 4,726,985, issued February 23, 1988.
Abstract: A laminate of foil and kraft paper is adhered to the upper face of fiber glass insulation so that the exposed foil reflects radiant heat entering the attic through the roof of a building structure. Relatively thick kraft paper supports the very thin layer of foil without causing a fire hazard due to the use of an inorganic adhesive, such as sodium silicate, to bond the two together and also due to the use of a fire retardant water-based adhesive to bond the foil-kraft laminate to the fiber glass. The laminate is preferably perforated to prevent it from functioning as a vapor barrier.
Hnilicka, M. P. "Engineering aspects of heat transfer in multilayer reflective insulation and performance of NRC insulation." In Advances in Cryogenic Engineering, pp. 199-208. Springer US, 1960.
Al-Homoud, Mohammad S. "Performance characteristics and practical applications of common building thermal insulation materials." Building and environment 40, no. 3 (2005): 353-366.
Ghahremani, A. Moayed, and E. Freel Singleton. "Reflective insulation blanket with retaining clips." U.S. Patent 4,590,727, issued May 27, 1986.
Guo, W., X. Qiao, Y. Huang, M. Fang, and X. Han. "Study on energy saving effect of heat-reflective insulation coating on envelopes in the hot summer and cold winter zone." Energy and Buildings 50 (2012): 196-203.
Ladon, Aaron A. "Thermal insulation media." U.S. Patent 1,983,617, issued December 11, 1934.
Excerpt:
In addition to flat bright metal wire strands or ribbons incorporated in fabric form in the usual fashion, I may also employ bright metal strips or ribbons wound spirally on strands or cords of other material; cotton or asbestos e. g. Such combined fibrous and metallic strands being woven into suitable fabric form.
Olson, Fletcher M. "Insulating material." U.S. Patent 1,726,040, issued August 27, 1929.
Olson, F.M., 1927. Insulating material. U.S. Patent 1,651,539. [Shown below]
Excerpt:
The perpendicular orgrades, saturated felt, asbestos, or the like. [... sec]tions of the sheets 9 and 10 forming the aps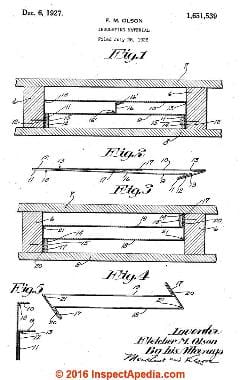 Otto, Schlichting. "Insulation against losses of heat and cold." U.S. Patent 2,001,632, issued May 14, 1935.
Excerpt:

It is known to employ for insulating purposes layers of air which are limited by bright heat- 5 reflecting metal foils spaced by means of asbestos cords, asbestos board, or wire constructions.
Schwartz, Alexander, and Emile Fogelson. "Thermal insulation." U.S. Patent 2,786,004, issued March 19, 1957.
Excerpt:

The composite insulation of the invention comprises two or more sheets of insulating material such as metal foil, laminated foil and paper, asbestos, plastic, or paper, and may be formed entirely of one of these sheet materials or of combinations thereof. In accordance with our invention, we prefer to form the insulation of continuous sheets or webs of more or less indefinite length and to connect the lengthwise edge portions of the sheets together forming reenforced edge strips which provide a means for attaching the insulation to a supporting or framing structure.
Wheeler, Donald B., "Heat reflective insulation." U.S. Patent 2,879,554, issued March 31, 1959.
Abstract excerpt:

the present invention'relates to a heat reflective in sulation. More particularly it covers an insulation which can be made up in collapsed form and can be conveniently expanded and mounted in a building to provide a minimum of two and a maximum of four layers of air spaces, each of which may have a reflective surface. This application is a continuation-in part,of my cc,- pending application, Serial No. 665,821, filed Jun'14', 1957, and a continuation-in-part of my copending application Serial No. 720,873, filed March 12, 1958,
Zupon, Lawrence, David Dejarlais, James Gambatese, and Stephen Neff. "Reflective insulation." U.S. Patent 6,797,356, issued September 28, 2004.
Abstract:

A reflective insulation system. The reflective insulation system includes a reflective layer such as aluminum, a layer of fiberglass, and a layer of vapor retarding material. A first side of the layer of fiberglass is bonded to the reflective layer by a deposit of hot melt glue. The second side of the layer of fiberglass is bonded to the layer of vapor retarding material by a second deposit of hot melt glue. The vapor retarding layer may be a plastic material, such as polypropylene or a reflective material, such as aluminum.


...
Continue reading at RADIANT BARRIERS or select a topic from closely-related articles below, or see our complete INDEX to RELATED ARTICLES below.
Or see COOLING LOAD REDUCTION by ROOF VENTS
Or see ROOF COLOR RECOMMENDATIONS
Or see INSULATION INSPECTION & IMPROVEMENT - home
Or see INSULATION R-VALUES & PROPERTIES - R-values & U Values of various materials
Suggested citation for this web page
REFLECTIVE INSULATION at InspectApedia.com - online encyclopedia of building & environmental inspection, testing, diagnosis, repair, & problem prevention advice.
Or use the SEARCH BOX found below to Ask a Question or Search InspectApedia
...
Frequently Asked Questions (FAQs)
Try the search box below or CONTACT US by email if you cannot find the answer you need at InspectApedia.
...
Ask a Question or Search InspectApedia
Use the "Click to Show or Hide FAQs" link just above to see recently-posted questions, comments, replies, try the search box just below, or if you prefer, post a question or comment in the Comments box below and we will respond promptly.
Search the InspectApedia website
Technical Reviewers & References
Click to Show or Hide Citations & References
"Controlling Moisture in Log Homes" and the more general (but brief) DOE article series on moisture control:
Ice Dam Leaks in building attics and roof cavities, how to inspect for evidence of leaks, identify causes, and correct bad attic ventilation, improper roof venting, and these causes of attic mold or roof structure damage
"Ventilation", U.S. DOE, describes the purpose of building ventilation and three basic ventilation strategies:
"Weather-Resistive Barriers [copy on file as /interiors/Weather_Resistant_Barriers_DOE.pdf ] - ", how to select and install housewrap and other types of weather resistive barriers, U.S. DOE
"Vapor Barriers or Vapor Diffusion Retarders", U.S. DOE: how vapor barriers work, types of vapor diffusion barriers, installing vapor barriers
"Moisture Problems: Causes and Cures. Understanding moisture problems can steer you free of trouble", Steve Bliss: Building it Right, Solar Age, March 1983 p. 37, 38. -- Adapted with permission, from original material to form this web page article.
Asbestos: How to find and recognize asbestos in Buildings - visual inspection methods, list of common asbestos-containing materials
Asbestos products and their history and use in various building materials such as asphalt and vinyl flooring includes discussion which draws on ASBESTOS, ITS INDUSTRIAL APPLICATIONS, ROSATO 1959, D.V. Rosato, engineering consultant, Newton, MA, Reinhold Publishing, 1959 Library of Congress Catalog Card No.: 59-12535 (out of print).
Asbestos Identification and Testing References

Asbestos Identification, Walter C.McCrone, McCrone Research Institute, Chicago, IL.1987 ISBN 0-904962-11-3. Dr. McCrone literally "wrote the book" on asbestos identification procedures which formed the basis for current work by asbestos identification laboratories.
Stanton, .F., et al., National Bureau of Standards Special Publication 506: 143-151
Pott, F., Staub-Reinhalf Luft 38, 486-490 (1978) cited by McCrone

ASHRAE resources on building insulation, dew point and wall condensation - see the ASHRAE Fundamentals Handbook, available in many libraries. The following three ASHRAE Handbooks are also available at the InspectAPedia bookstore in the third page of our Insulate-Ventilate section:
Brick nogging used as soundproofing is mentioned in this article on Popular Forest
Brick Nogging, Historical Investigation and Contemporary Repair, Construction Specifier, April 2006. Historical use of brick in timber-framed buildings, drawing on the investigations of the Kent Tavern in Calais, VT. "Brick nogging is a European method of construction which was brought to the new world in the early-nineteenth century. It was a common construction method that employed masonry as infill between the vertical uprights of wood framing." -- quoting the web article review.
Photo of very rough in-wall brick nogging at an architects website
"Energy Savers: Whole-House Supply Ventilation Systems [copy on file as /interiors/Energy_Savers_Whole-House_Supply_Vent.pdf ] - ", U.S. Department of Energy energysavers.gov/your_home/insulation_airsealing/index.cfm/mytopic=11880?print
"Energy Savers: Whole-House Exhaust Ventilation Systems [copy on file as /interiors/Energy_Savers_Whole-House_Exhaust.pdf ] - ", U.S. Department of Energy energysavers.gov/your_home/insulation_airsealing/index.cfm/mytopic=11870
"Energy Savers: Ventilation [copy on file as /interiors/Energy_Savers_Ventilation.pdf ] - ", U.S. Department of Energy
"Energy Savers: Natural Ventilation [copy on file as /interiors/Energy_Savers_Natural_Ventilation.pdf ] - ", U.S. Department of Energy
"Energy Savers: Energy Recovery Ventilation Systems [copy on file as /interiors/Energy_Savers_Energy_Recovery_Venting.pdf ] - ", U.S. Department of Energy energysavers.gov/your_home/insulation_airsealing/index.cfm/mytopic=11900
"Energy Savers: Detecting Air Leaks [copy on file as /interiors/Energy_Savers_Detect_Air_Leaks.pdf ] - ", U.S. Department of Energy
"Energy Savers: Air Sealing [copy on file as /interiors/Energy_Savers_Air_Sealing_1.pdf ] - ", U.S. Department of Energy
Fiberglass: Indoor Air Quality Investigations: Health Concerns About Airborne Fiberglass: Fiberglass in Indoor Air from HVAC ducts, and Building Insulation
From the walls in, Charles Wing
Humidity: What indoor humidity should we maintain in order to avoid a mold problem?InspectAPedia Bookstore (Amazon.com)
Insulate & Weatherize (Taunton's Build Like a Pro), Bruce Harley. Review quoted:
An engineer who trains builders in energy-efficient construction, Harley offers a wealth of information that will allow readers to improve their home's efficiency, saving both money and natural resources. After an introductory section that explains the underlying principles of heat transfer, insulation, and air quality, Harley demonstrates basics such as weather-stripping and moves forward through advanced projects including insulation and major upgrades. Short "Pro Tips" as well as sections labeled "Trade Secrets," "What Can Go Wrong," and "In Detail" provide a great deal of helpful information. Increasing energy efficiency is one of the easiest ways for homeowners to save money
"Insulation: Adding Insulation to an Existing Home," U.S. Department of Energy - tips on how to do your own check for the presence of absence of insulation in a home
Insulation: Selecting Insulation for New Home Construction, U.S. Department of Energy - "Your state and local building codes probably include minimum insulation requirements, but to build an energy-efficient home, you may need or want to exceed them. For maximum energy efficiency, you should also consider the interaction between the insulation and other building components. This is called the whole-house systems design approach."
Insulation Types, table of common building insulation properties from U.S. DOE. Readers should see INSULATION R-VALUES & PROPERTIES our own table of insulation properties that includes links to articles describing each insulation material in more detail.
The National Institute of Standards and Technology, NIST (nee National Bureau of Standards NBS) is a US government agency - see www.nist.gov

"A Parametric Study of Wall Moisture Contents Using a Revised Variable Indoor Relative Humidity Version of the "Moist" Transient Heat and Moisture Transfer Model [copy on file as/interiors/MOIST_Model_NIST_b95074.pdf ] - ", George Tsongas, Doug Burch, Carolyn Roos, Malcom Cunningham; this paper describes software and the prediction of wall moisture contents. - PDF Document from NIS

Nogging: See this photo of exposed bricks on a building exterior on a building exterior in Canada. [Thanks to Carson Dunlop, Toronto - see References below].
Piquet Wall Construction: See this photo of piquet wall construction - involving timber-framed wall construction with long top girts, diagonal timber bracing, and small diameter logs placed vertically along with concrete chinking to fill in the wall plane.
Plank House Construction: weblog from plankhouse.wordpress.com/2009/01/25/plank-house-construction/ and where plank houses were built by native Americans, see
Large 1:6 Scale Plank House Construction / P8094228, Photographer: Mike Meuser
06/12/2007 documented at yurokplankhouse.com where scale model Museum quality Yurok Plank Houses are being sold to raise money for the Blue Creek - Ah Pah Traditional Yurok Village project.
Principles of Heating, Ventilating, And Air Conditioning: A textbook with Design Data Based on 2005 ASHRAE Handbook - Fundamentals, Harry J., Jr. Sauer, Ronald H. Howell, William J. Coad. Quoting
... textbook for college level HVAC courses or independent study and review, especially when combined with the 1997 ASHRAE Fundamentals Handbook. Contains the most current ASHRAE procedures and definitive, yet easy to understand, treatment of building HVAC systems -- from basic principles through design and operation. Dual units of measurement.
Re-Bath, tub lining products is a bath tub relining manufacturer and distributor located in Tempe, Arizona - see rebath.com
Rubblestone Wall Filler: See this Lartigue House using exterior-exposed rubblestone filler between vertical timbers of a post and beam-framed Canadian building.
The super-insulated retrofit book: A homeowner's guide to energy-efficient renovation (Sun builders series), Brian Marshall
Understanding Ventilation: How to Design, Select, and Install Residential Ventilation Systems, John Bower, Quoting:
Understanding Ventilation is the only book that covers all aspects of exchanging the air in houses: infiltration, equipment selection, design, heat-recovery ventilators, sizing, costs, controls, whole-house filters, distribution, and possible problems that a ventilation system can cause--all in easy-to-understand language.
"Weather-Resistive Barriers [copy on file as /interiors/Weather_Resistant_Barriers_DOE.pdf ] - ", how to select and install housewrap and other types of weather resistive barriers, U.S. DOE
Weaver: Beaver Board and Upson Board: Beaver Board and Upson Board: History and Conservation of Early Wallboard, Shelby Weaver, APT Bulletin, Vol. 28, No. 2/3 (1997), pp. 71-78, Association for Preservation Technology International (APT), available online at JSTOR.
Books & Articles on Building & Environmental Inspection, Testing, Diagnosis, & Repair
The Home Reference Book - the Encyclopedia of Homes, Carson Dunlop & Associates, Toronto, Ontario, 25th Ed., 2012, $69.00 U.S., is a bound volume of more than 450 illustrated pages that assist home inspectors and home owners in the inspection and detection of problems on buildings. The text is intended as a reference guide to help building owners operate and maintain their home effectively. Field inspection worksheets are included at the back of the volume.
Special Offer: Carson Dunlop Associates offers InspectAPedia readers in the U.S.A. a ten percent discount on any number of copies of the Home Reference Book purchased as a single order. Just enter HRBUS10 in the order payment page "Promo/Redemption" space.

Or choose the The Home Reference eBook for using this reference on PCs, Macs, Kindle, iPad, iPhone, or Android Smart Phones. Note: InspectAPedia.com ® editor Daniel Friedman is a contributing author.