Warm Air Stratification Indoors
Comfort & Heating / Cooling Costs, Problems, Solutions
InspectAPedia tolerates no conflicts of interest. We have no relationship with advertisers, products, or services discussed at this website.
Stratification of air indoors as a source of occupant comfort or IAQ complaints:
This article describes the basic causes & cures for un-wanted air stratification indoors that affects the comfort of building occupants.
Page top sketch provided courtesy of Carson Dunlop Associates, a Toronto home inspection, report writing and education company.
Green links show where you are. © Copyright 2017 InspectApedia.com, All Rights Reserved.
Indoor Air Stratification Can Cause Uneven Room Temperatures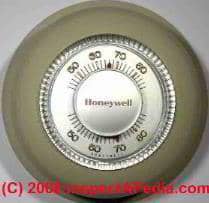 Even when your room thermostat is properly-located and even when a warm-air heating system is operating normally, some rooms or areas within some rooms may be uncomfortable as heat may be distributed unevenly.
Air stratification during the heating season can leave warm air collected near the ceiling with air nearer the floor uncomfortably cool. Solving this problem by turning up the thermostat or moving it lower on the wall can "work" but is likely to increase heating costs unnecessarily.
This article supports THERMOSTAT CALIBRATION where we discuss room thermostat location and adjustment to improve the comfort of building occupants when heating or cooling air are not distributed satisfactorily or when indoor temperatures are uneven.
Causes of Warm Air Stratification: warm air buoyancy, low supply air velocity, short circuits
Supply air velocity too low. Efforts to decrease heating cost by increasing the supply air temperature while decreasing the air flow rate reduce the level of air circulation and causes poor mixing of warm air that tends to collect near the ceiling with cool air collecting nearer the floor
Forced warm air heating system supply registers located near the ceiling instead of nearer the floor
Forced warm air heating system return registers in ceilings instead of near the floor can short-circuit warm air circulation, particularly if supply registers are also located high on walls
Direct short circuits caused when the supply air register is too close to the return air register, reducing air circulation in the heated space. See examples at LOCATION OF REGISTERS & DUCT.
Conflicting objectives when the HVAC duct system is used for both cooling and heating. When running air conditioning the air velocity may need to be reduced to avoid creating uncomfortably cool drafts.

Running the air handler blower or supply air velocity at a lower rate when heating can cause air stratification: warm air congregates near the ceiling, leaving cooler, less-heated and less-circulated air nearer the floor.

Experts refer to the natural stratification of warm air near the ceiling and cool air near the floor as the buoyancy effect. Where warm air rises throughout a building to its upper floor, we call that the stack effect.
Where forced warm air heat is not provided, and where heat is by wall convectors, baseboards, or radiators, that design also contributes to the accumulation of static warm air near the ceiling.
Effects of Warm Air Stratification in Buildings
Decreased comfort of the building occupants
Increased energy cost to heat the space
Possible indoor air quality complaints due to poor air mixing, such as high CO2 levels
Principal methods for curing warm air stratification
Increased supply air velocity, reducing temperature if needed
Improved air diffusers used at supply and return registers.
Review and if necessary, re-location of supply and return registers
Prozuments (2017), quoting in turn the ASHRAE Fundamentals Handbook (2009) section on "Space Air Diffusion" and also excerpting from Bragnanca (2016) offers this description of air stratification in discussing studies of warm air supply systems that focus on nozzle or jet air supply systems.
As described in the 2009 ASHRAE Handbook-Fundamentals, the airflow pattern in cooling mode from a flush-mounted ceiling diffuser is projected downward to the floor and follows it, producing a stagnant region near the ceiling.
In heating mode, however, the airflow reaches the floor and folds back toward the ceiling. If the downward air does not reach the floor, a stagnant zone appears near the floor, causing issues discussed in the background section.
Based on these features, modern commercial multi-cone diffusers were developed to mechanically adjust the inner cones, to switch from vertical flow pattern in heating mode, to horizontal pattern in cooling mode.
Braganca, et al., find in their innovative study that thermal comfort was significantly improved using the diffusers with inserted lobes compared to those without lobes, without increases of pressure drop and sound pressure levels.
Contradicting this view, Prozuments continues by noting that Krajcik (2012) all came to the opposite conclusion [probably because they were not focused on nozzle or jet air supply systems - Ed.]. Those authors found that
... at the set air supply temperature and flow rate the air mass stratification occurs with the temperature gradient above 1.8°F/m (1°C/m). Supply air temperature did raise the temperature in the occupied zone to the desired level. However, it also raised the temperature gradient...
Both sets of authors go on to point out that in essence, making the occupants warm-enough by simply raising the supply air temperature is a more-expensive way to heat the occupied space than if proper mixing of stratified air could be obtained.
Prozuments continues
Even though the warm supply air has gradually heated up room air, the difference between the air temperature right below the supply device and the occupied zone was nearly 5.4°F (3°C), which is the maximum acceptable differential in modern ventilation systems.
... good thermal comfort is described by low-temperature gradient (< 1.8°F/m <1°C/m) and low deviation from the room setpoint temperature. - Op. Cit.
The bottom line: these authors conclude that reducing the temperature differences at different heights above the floor in a heated space (reducing warm air stratification) by increasing the supply air flow rate is desirable for comfort, air quality, and economy.
Other factors in perceived heated area comfort include the level of activity (metabolic rate) of the occupants, their choices of clothing, and the humidity level.
Research & References on Indoor Air Stratification Causes & Cures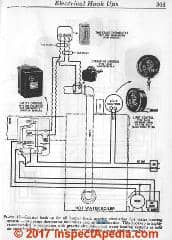 Our excerpt from our copy of the 1946 edition of Audel Oil Burner Guide illustrates that the comfort issue with indoor air stratification is not a new discovery. [Click to enlarge any image]
AMERICAN STANDARD GAS FURNACE INSTALLATION & MAINTENANCE GUIDE [PDF] Upflow / Horizontal / Downflow Single Stage Direct Vent Gas Fired Condensing FUrnaces Manual (2007)

Excerpt: 9. AIR CIRCULATION — To ensure increased comfort, the blower on this unit may be operated continuously for both heating and cooling. This will result in constantly filtered air and aid in maintaining more even temperatures by avoiding temperature stratification throughout the conditioned area. To accomplish constant air circulation, set your thermostat fan switch to "ON".
ASHRAE Handbook, ASHRAE Fundamentals. "American society of heating, refrigerating and air-conditioning engineers." Inc.: Atlanta, GA, USA (2009).
See the table of contents at http://shop.iccsafe.org/media/wysiwyg/material/8950P217-toc.pdf American Society of Heating, Refrigerating and Air-Conditioning Engineers, Inc. 1791 Tullie Circle, N.E., Atlanta, GA 30329 (404) 636-8400 http://www.ashrae.org
AUDELS OIL BURNER GUIDE, INSTALLING, SERVICING, REPAIRING, [PDF online copy of this book] Frank D. Graham, Theo. Audel & Co., New York 1946, 1947, 1955 (out of print, copies occasionally available from antique book dealers and on EBay). Use THIS LINK to read a free online copy of this helpful classic textbook.

Excerpt: Electrical Hookups, Plate 18 p. 303, Control hook-up for oil burner fired, gravity circulation hot water heating system - two stage thermostat minimizes cold air stratification.

This hookup is highly recommended in connection with gravity circulation hot water heating systems as cold air stratification is reduced to a minimum, resulting in greater heating comfort.
Bauman, Fred, and Tom Webster. "Outlook for underfloor air distribution." [PDF] Center for the Built Environment (2001). - Note: this article is about using crawl spaces not under-slab ductwork. The authors, arguing for the benefits of this system, in our opinion, fail to address any of the common problems found with HVAC ducts routed through rarely-entered, less rarely-inspected spaces. Abstract:

Underfloor air distribution (UFAD) is an innovative technology that uses the underfloor plenum below a raised floor system to deliver space conditioning in offices and other commercial buildings. The use of UFAD is increasing in North America because of the benefits that it offers over conventional ceiling-based air distribution.
Bragança, Pierre, Kodjovi Sodjavi, Amina Meslem, and Ilinca Nastase. "Passive control strategy for mixing ventilation in heating mode using lobed inserts." Energy and Buildings 133 (2016): 512-528.
Cho, Young-Hum, and Mingsheng Liu. "Correlation between minimum airflow and discharge air temperature." Building and Environment 45, no. 7 (2010): 1601-1611.
GOODMAN A/C Unit SERVICE INSTRUCTIONS: RS6200004 May 2006 discusses use of constant fan to prevent air stratification
ICC & Virginia Mechanical Code,Section 401, VENTILATION, 2006 [PDF] retrieved 2016/09/12, original source: http://www2.iccsafe.org/states/virginia/Mechanical/PDFs/Chapter%204_Ventilation.pdf
Excerpt:

Table 403.3.1.2 Zone Air Distribution Effectiveness: Zone air distribution effectiveness of 1.2 shall be permitted for systems with a floor supply of cool air and ceiling return, provided that low- velocity displacement achieves unidirectional flow and thermal stratification.
Krajčík, Michal, Angela Simone, and Bjarne W. Olesen. "Air distribution and ventilation effectiveness in an occupied room heated by warm air." Energy and Buildings 55 (2012): 94-101.
Krajcik, Michal, Angela Simone, Bjarne W. Olesen, and Dušan Petráš. "EXPERIMENTAL EVALUATION OF THERMAL ENVIRONMENT AND VENTILATION EFFECTIVENESS IN A ROOM HEATED BY WARM AIR" In 12th International Conference on Indoor Air Quality and Climate. 2011. Retrieved 2017/11/29, original source: http://orbit.dtu.dk/fedora/objects/orbit:72828/datastreams/file_6388114/content
Summary:

The study is focusing on experimental evaluation of the indoor climate in a residential room heated by warm air supplied by a mechanical ventilation system. The experiments were carried out in a full scale chamber, reproducing a typical residential room.

The measurements were done for various positions of supply/exhaust, at different outside conditions, internal gains and air flow rates. Additional setups with floor heating were performed and compared with the warm air heating system.

Vertical air temperature and air velocity profiles were measured in order to describe the thermal environment; contaminant removal effectiveness, air change effectiveness and local air change index were measured to express ventilation effectiveness in the room.

Buoyancy forces play a key role in supply air distribution. No significant risk of thermal discomfort was noted. The ventilation effectiveness may strongly depend on the position of supply/exhaust; moreover, the three different ventilation effectiveness methods may yield different results.
Müller, D., C. Kandzia, R. Kosonen, A. K. Melikov, and P. V. Nielsen. "Mixing Ventilation—Guide on mixing air distribution design, REHVA Guidebook No 19." Brussels: Federation of European Heating, Ventilation and Air Conditioning Associations. Google Scholar (2013).
Prozuments, Aleksejs, and Anatolijs Borodinecs DRSC ING. "Indoor Air Stratification in Warm Air Supply Systems." ASHRAE Journal 59, no. 11 (2017): 54-65.
Abstract:

Supply airflow rate and supply air temperature can be varied to maintain the room temperature setpoint according to the air temperature conditions outdoors and heating loads indoors. Increasing the supply air temperature and decreasing supply airflow rate can reduce energy consumption.

However, it causes insufficient air circulation, leading to risk of low indoor air quality. Increasing the supply airflow will improve air circulation and mixing within the room, but it will also increase energy consumption, so there is a need to find an optimal correlation between air mixing effectiveness and energy efficiency.
Simone, Angela, Bjarne W. Olesen, and Michal Krajčík. "Experimental study of air distribution and ventilation effectiveness in a room heated by warm air and/or floor heating." In 10th Rehva World Congress. 2010.
THERMAL MASS in BUILDINGS [Web article]

Excerpt: The darker thermal mass is another area where solar gospel has been updated. Early solar designers called for dark massive materials. Current thinking, said Balcomb, is that only floors should be dark.

The object here is to keep heat close to the floor to counteract stratification. Walls and ceilings, he said, should be light colored to bounce the light around and get maximum use of a broad surface area of thermal mass.
Tomasi, R., M. Krajčík, A. Simone, and B. W. Olesen. "Experimental evaluation of air distribution in mechanically ventilated residential rooms: Thermal comfort and ventilation effectiveness." Energy and Buildings 60 (2013): 28-37.
Ye, Xiao, Yanming Kang, Bin Zuo, and Ke Zhong. "Study of factors affecting warm air spreading distance in impinging jet ventilation rooms using multiple regression analysis." Building and Environment 120 (2017): 1-12.
...
Continue reading at WARM AIR SUPPLY TEMPERATURE & IMPROVEMENT or select a topic from closely-related articles below, or see our complete INDEX to RELATED ARTICLES below.
Or see AIR FLOW IMPROVEMENT, HVAC
Or see HEAT ANTICIPATOR ADJUSTMENT
Or see LOCATION OF REGISTERS & DUCT
Or see THERMOSTAT CALIBRATION
Or see TEMPERATURE RESPONSE of ROOM THERMOSTATS
Suggested citation for this web page
WARM AIR STRATIFICATION INDOORS at InspectApedia.com - online encyclopedia of building & environmental inspection, testing, diagnosis, repair, & problem prevention advice.
Or use the SEARCH BOX found below to Ask a Question or Search InspectApedia
...
Frequently Asked Questions (FAQs)
Try the search box below or CONTACT US by email if you cannot find the answer you need at InspectApedia.
Recently-posted question & answers about room thermostat accuracy and calibration are at THERMOSTAT CALIBRATION FAQs

...
Ask a Question or Search InspectApedia
Use the "Click to Show or Hide FAQs" link just above to see recently-posted questions, comments, replies, try the search box just below, or if you prefer, post a question or comment in the Comments box below and we will respond promptly.
Search the InspectApedia website
Technical Reviewers & References
Click to Show or Hide Citations & References
Books & Articles on Building & Environmental Inspection, Testing, Diagnosis, & Repair
[2] Thanks to reader S.R. for discussing loss of heat due to a thermostat wiring mistake, October 2010
[3] Thank to Mr. Scott Meenen , G&S Mechanical Services , for providing some common thermostat wiring codes also found at Mr. Meenen's web page Malware Deleted 12/9/2014 . Mr. Meenan provides heating, heat pump, and air conditioning repair services in Maryland, Washington D.C., and northern Virginia. He can be contacted at 301-591-1646 or by Email to Malware Deleted 12/9/2014 - 10/2010. Quoting:
We service American Standard, Amana, Arco, Arco-Air, Bryant, Carrier, Coleman Evcon, Comfortmaker, Day/Night/Payne, Dunham-Bush, Fedders, Fredrich, Goodman, General Electric, Heil, Intertherm, ICP, Janitrol, Lennox (Armstrong, Johnson Air-Ease), Miller, Modine, Nordyne, Rheem/Ruud/Weatherking, Sears, Stewart Warner, Trane, Weather King, Williams, White-Westinghouse, Whirlpool, Weil Mclain, York, (Frasier Johnson/Borg Warner) and others.

[4] Azel Technologies Inc., P.O. Box 53138 10 Royal Orchard Blvd. Thornhill, Ontario, Canada L3T 7R9 Ph: 905-223-5567 Fax: 905-223-3778 Email: info@azeltec.com, Website: www.azeltec.com.
[5] Honeywell Controls, the company wants you to use their contact form at this web page: http://www51.honeywell.com/honeywell/contact-support/contact-us.html
Honeywell Consumer Products, 39 Old Ridgebury Road Danbury, CT 06810-5110 - (203) 830-7800
World Headquarters, Honeywell International Inc., 101 Columbia Road, Morristown, NJ 07962, Phone: (973) 455-2000, Fax: (973) 455-4807 1-800-328-5111

Honeywell product model numbers & instruction Manuals: see http://yourhome.honeywell.com/home/Applications/FindYourModelNumber.aspx


[6] White Rodgers Thermostats and HVAC controls,
Homeowner information: http://www.emersonclimate.com/en-US/brands/white_rodgers/Pages/wr-homeowner-info.aspx
Contractor information: http://www.emersonclimate.com/en-US/brands/white_rodgers/wr_contractor_info/Pages/white-rodgers-contractor-info.aspx
White Rodgers Product Catalog (don't misspell the company's name as White Rogers Thermostats) -
http://www.emersonclimate.com/Documents/thermostats.pdf - Thermostat Catalog
[7] White Rodgers 1F90 Low Voltage Digital Comfort-Set thermostat Installation Instructions, PN 37-3654, White-Rodgers Division, Emerson Electric Co., 9797 Reavis Rd., St. Louis MO 63123
[8] "Automatic Oil Burner Controls - Thermostats", Domestic and Commercial Oil Burners, 3rd Ed., Charles H. Burkhardt, McGraw Hill, 1969 (and later editions), ASIN B0000EG4Y8
[9] Thermostat wiring color codes & conventions, Thanks to reader " Helpful Pointers" Regarding 24V T, 10/7/2012
[10] Domestic Central Heating Wiring Systems and Controls, 2d Ed., Raymond Ward, Newnes, ISBN-10: 0750664363, ISBN-13: 978-0750664363, Quoting from Amazon.com:
This unique A-Z guide to central heating wiring systems provides a comprehensive reference manual for hundreds of items of heating and control equipment, making it an indispensable handbook for electricians and installers across the country. The book provides comprehensive coverage of wiring and technical specifications, and now includes increased coverage of combination boilers, recently developed control features and SEDBUK (Seasonal Efficiency of Domestic Boilers in the UK) boilers ratings, where known.
In addition to providing concise details of nearly 500 different boilers fuelled by electric, gas, oil and solid fuel, and over 400 programmers and time switches, this invaluable resource also features numerous easy-to-understand wiring diagrams with notes on all definitive systems. Brief component descriptions are provided, along with updated contact and website details for most major manufacturers.
[11] Proliphix Corporate Headquarters, 3 LAN Drive Suite #100 Westford, MA 01886 Phone: +1.978.692.3375 Toll Free (U.S.): 866-IP-LIVING (866.475.4846) Fax: +1.978.692.3378 - Email: sales@proliphix.com or Customer support: support@proliphix.com Website: http://www.proliphix.com/ - quoting from the company's website:
All Proliphix Network Thermostats come with our free Uniphy Remote Management Service. This unique offering lets you monitor and control your HVAC systems by simply pointing your Browser to our secure Proliphix Web Site. Enjoy the convenience of programming a thermostat from any location, using a simple graphical interface. No computer equipment or software is required. And since Proliphix takes care of the network configuration for you, you'll be up and running in no time. We'll even proactively monitor your thermostats and send you an immediate email or SMS message when an HVAC problem is detected.
[12] "Heating Control Handbook for the Installer and Service Man,Oil Burner, Gas Burner and Stoker Controls", Honeywell Corporation, March 1949 [copy on file as HoneywellControlsHandbookSA1399-2-1949.pdf] . Some of the controls discussed in detail here include the

Honeywell T1 and T11A = Series 10
Honeywell T21A (T2) = Series 20
Honeywell T847A = Series 80
Honeywell RA117A (RA1) = Series 10
Honeywell LA101A = Series 10,
Honeywell LA419A (LA4) = Series 40
V155A = Series 10, V435A = Series 40, V575A = Series 50, V835A = Series 80

[13] Trane TCONT800 Series Touch Screen Programmable Comfort Control Ownes Guide, American Standard, Inc., Troup Highway, Tyler TX 75711, January 2005, Telephone: Customer Service: 1-877-3381, website: www.trane.com
Domestic and Commercial Oil Burners, Charles H. Burkhardt, McGraw Hill Book Company, New York 3rd Ed 1969.
National Fuel Gas Code (Z223.1) $16.00 and National Fuel Gas Code Handbook (Z223.2) $47.00 American Gas Association (A.G.A.), 1515 Wilson Boulevard, Arlington, VA 22209 also available from National Fire Protection Association, Batterymarch Park, Quincy, MA 02269. Fundamentals of Gas Appliance Venting and Ventilation, 1985, American Gas Association Laboratories, Engineering Services Department. American Gas Association, 1515 Wilson Boulevard, Arlington, VA 22209. Catalog #XHO585. Reprinted 1989.
The Steam Book, 1984, Training and Education Department, Fluid Handling Division, ITT [probably out of print, possibly available from several home inspection supply companies] Fuel Oil and Oil Heat Magazine, October 1990, offers an update,
Principles of Steam Heating, $13.25 includes postage. Fuel oil & Oil Heat Magazine, 389 Passaic Ave., Fairfield, NJ 07004.
The Lost Art of Steam Heating, Dan Holohan, 516-579-3046 FAX
Principles of Steam Heating, Dan Holohan, technical editor of Fuel Oil and Oil Heat magazine, 389 Passaic Ave., Fairfield, NJ 07004 ($12.+1.25 postage/handling).
"Residential Steam Heating Systems", Instructional Technologies Institute, Inc., 145 "D" Grassy Plain St., Bethel, CT 06801 800/227-1663 [home inspection training material] 1987
"Residential Hydronic (circulating hot water) Heating Systems", Instructional Technologies Institute, Inc., 145 "D" Grassy Plain St., Bethel, CT 06801 800/227-1663 [home inspection training material] 1987
"Warm Air Heating Systems". Instructional Technologies Institute, Inc., 145 "D" Grassy Plain St., Bethel, CT 06801 800/227-1663 [home inspection training material] 1987
Heating, Ventilating, and Air Conditioning Volume I, Heating Fundamentals,
Boilers, Boiler Conversions, James E. Brumbaugh, ISBN 0-672-23389-4 (v. 1) Volume II, Oil, Gas, and Coal Burners, Controls, Ducts, Piping, Valves, James E. Brumbaugh, ISBN 0-672-23390-7 (v. 2) Volume III, Radiant Heating, Water Heaters, Ventilation, Air Conditioning, Heat Pumps, Air Cleaners, James E. Brumbaugh, ISBN 0-672-23383-5 (v. 3) or ISBN 0-672-23380-0 (set) Special Sales Director, Macmillan Publishing Co., 866 Third Ave., New York, NY 10022. Macmillan Publishing Co., NY
Installation Guide for Residential Hydronic Heating Systems
Installation Guide #200, The Hydronics Institute, 35 Russo Place, Berkeley Heights, NJ 07922
The ABC's of Retention Head Oil Burners, National Association of Oil Heat Service Managers, TM 115, National Old Timers' Association of the Energy Industry, PO Box 168, Mineola, NY 11501. (Excellent tips on spotting problems on oil-fired heating equipment. Booklet.)
...
Books & Articles on Building & Environmental Inspection, Testing, Diagnosis, & Repair
Our recommended books about building & mechanical systems design, inspection, problem diagnosis, and repair, and about indoor environment and IAQ testing, diagnosis, and cleanup are at the InspectAPedia Bookstore. Also see our Book Reviews - InspectAPedia.
...