Heating Boiler Repair FAQs #2

Boiler diagnosis & repair questions & answers, set #2
BOILER REPAIR FAQs-2 - CONTENTS: questions & answers on how to diagnose loss of heat for heating boilers, hydronic heat systems, baseboards, radiators. Troubleshoot heating boiler oil or gas burners & controls.
POST a QUESTION or READ FAQs how to fix a heating boiler that is not working - how to diagnose the loss of heat in a building
InspectAPedia tolerates no conflicts of interest. We have no relationship with advertisers, products, or services discussed at this website.
Heating boiler repair questions & answers for no heat or loss of heat.
Frequently asked questions (FAQs) about how to diagnose & repair a heating boiler (hot water heat) that is not working.
This article series explains the diagnosis and correction of no heat conditions for water or hydronic or hot water or radiator or baseboard hot water heating systems. We describe how to inspect, troubleshoot and repair heating and air conditioning systems to inform home owners, buyers, and home inspectors of common heating system defects.
Green links show where you are. © Copyright 2017 InspectApedia.com, All Rights Reserved.
How to To Diagnose a "no heat" call: the Homeowner or Heating System Inspector Must Know the Equipment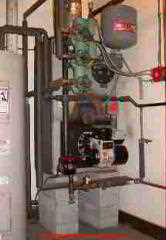 Questions & answers about troubleshooting and fixing heating boilers, posted originally at BOILERS, HEATING - home
Phil,
I've made good use of old cast-iron coal-fired boilers converted to gas or oil, properly fired and tuned and cleaned and running at about 79% efficiency - good enough to defer moving to a newer high-efficiency heating boiler in many cases.
Everhot tankless water heaters are still sold, as Everhot, now in Waterville MA, is a division of Therma-Flow, Tel: 1-800-654-8045 Email: sales@tfi-everhot.com Web: www.tfi-everhot.com
Therma-Flow, Inc.,191 Arlington Street, Watertown, MA 02472, MAIL: P.O. Box 416, Watertown, MA 02471-0416
Here is a link to current Everhot tankless water heater information: this will help you understand your hot water system.
EVERHOT TANKLESS WATER HEATER SPECIFICATIONS
[PDF]
and here is the company's pertinent web page http://www.tfi-everhot.com/ExternalTankless_2008.html
Also see this article
INDIRECT FIRED WATER HEATERS
I appreciate your helping me. You know these old furnaces. No one I know has ever owned such an old antique boiler and they all are advising me to get rid of it before it "blows" up. Plus it's very, very difficult to find an HVAC repair man. Younger ones just say to replace it. They have never seen one like mine. So it's difficult for me. YOu are the only people who can advise and have to deal with people like me who don't know what parts are called. Sorry.
My water heater is a #6 Everhot All Copper Tankless. Made by Everhot All Copper, Inc., Boston 16, MA. The "16" tells you it;s pretty old. HOw long ago have we had zip codes like that? Attached to the water heater is a slim grey Honeywell device to adjust the temperature of the water. Looks like it says LA0064 2017 but difficult to read.

Thanks for all your help before my 78 year old plumber calls me back.
I think you are describing what we call an indirect fired water heater. The water in the water heater is heated by a coil inside its tank. Hot water from your heating boiler circulates through that coil. Hot water from your heating boiler acys as a separate heating Zone. If the domestic hot water is too hot then if you have not changed any of the control settings I suspect the a temperature control on your water heater has failed.
This conversation is a great example of the difficulty of trying to guess at what's wrong with a system and offering advice for its repair when we don't actually have a clear understanding of what kind of equipment is installed
I'm doing the best I can
I have a hot water heater attached to my boiler; in the summertime, I have to keep the furnace running in order to have hot water. It's not a separate tank.
The water has always been set at 120. Then not long ago, I noticed it was scalding hot. Nothing had been touched. The HVAC man camd and did other adjustments confirmed the water temperature was over 140 and said he replaced/adjusted the mixing valve so the water was "about 125". Evidently his adjustment didn't work? I'm waiting to see what he is going to do now.
Can something happen just like that to make the water go from 120 to scalding hot?

A steam boiler, in its role heating a home, boils water to produce steam. So the temperature in the boiler will be closed 212 F. Or 100 C depending on how close you are to sea level.
If your steam boiler also uses a tankless coil to produce domestic hot water for washing and bathing, that water would be scalding hot unless you used a mixing valve to mix cold in with the outgoing hot to avoid scalding.
That valve should be adjusted so that water at the tap is no higher than 120 degrees Fahrenheit. Otherwise people are going to get scalding Burns.
Thank you. I am waiting for HVAC man to call. My hot water was over 140 degrees and he adjusted it, or so he said. But I ran hot water from my faucet this morning, and put an oven thermometer in it and it registered 145 degrees.
I will let you know what he tells me.
Thanks!
Phil
It sounds as if your steam heating boiler maybe overfilled, that is too high water level which would be due to a problem with an automatic water feeder or overfilling manually. Or secondly the boiler maybe surgeon which could have a number of causes including debris or crud in the boiler itself. I'm going to give you links for three articles you should read. Then you'll want to call your heating service tech.
http://inspectapedia.com/heat/Steam_Boiler_Sight_Glass.php
http://inspectapedia.com/heat/Boiler_Chemicals.php
http://inspectapedia.com/heat/Steam-Boiler-Flooding.php
Keep me posted about what you find or what you're told as I may be able to coment further and because what you learn will help other readers
I have ancient National Radiator Boiler - was coal, now gas. Hot water. This morning, the boiler turned on and I could hear loud hissing. The copper pipe that mixes with the cold water (return?) was emitting so much steam from a vent pointed toward the cellar rafters, it was actually dripping on the boiler.
The old steam gauge? which says National Radiator, is usually just about 1; today it went up to almost 4. The Honeywell gauge seemed to stay where it belonged.
The water in the sight glass surged, then returned to normal level.
I lowered the temperature, hoping to stop the steam, and eventually the boiler turned off. The pipes that hold hot was were too hot to touch. After about 1/2 hour, I placed an ordinary house thermometer on the hot water pipe and it registered 120 which is the highest it could go. I'm sure it was hotter than 120.
Can you tell what is wrong by what I am trying to ask?
Does anything sound dangerous? The boiler is probably more than 80 years old.
Thank you.

Rick:
Look for
- thermostat wires shorted together
- a zone valve stuck open
- a circulator relay stuck on
My boiler stays on in one zone and will not shut down even if the thermostat​ is down as low as it will go. Samy
Please see this article
OIL BURNER SOOT & PUFFBACKS
How do I fix the burner oil pullback, which is causing the black smoke to come out of the chimney??
Sorry I'd need to understand more to say anything useful;
How is the hot water made?
Is the problem that the heater isn't working or that there's not enough hot water.
Use the search box just above to read NOT ENOUGH HOT WATER as that might help you out
hot water wont stay hot
Sorry that's an engineering question for a system about which we have no familiarity. If you give the brand and model of the boiler you're asking about it ought to be easy to find the manufacturer to ask them.
If any other are required or not???. Please confirm..
Whether waterwall and bed coils are required in less than 3 bar pressure boiler.
why heat down stairs and not up
Doug:
Search InspectApedia.com for AQUASTAT SETTINGS to see how the control works and how it should be set -= basically never over 200 but there's more to it than that.
I work for a church, headed to a members home. He said boiling shutting down on high limit. If he adjusts too high it opens the relief. Any suggestions where to start?
boiler has 15lbs pressure but temp only at 60 degrees
Time to call a service tech, Bob. I don't think this is a problem a homeowner can repair.
From just the symptom I don't know if it's a loose wire, clogging filter, clogging nozzle, bad cad cell, or something else.
Also search InspectApedia.com for OIL BURNER WON'T RUN to see common problems that could explain what you're seeing at your place.
bruner fires but run a day or two then stops
There should be shut-off valves at your heating convectors. If not, restricting air inflow at the convector or baseboard bottom will reduce heat output.
I live in a building that uses water boilers for heating. There are 3 floors each with 5 suites per floor. It is extremely hot in my suite and I don't know how to cool it off other than opening the patio door which I can't do for very long being it's winter and very cold out. Is there any other way to cool off the suite. I do not even have my thermostat on and it still registers 75 degrees Fahrenheit or 25 Celsius.
We live in a condo association with water boilers for hot water that service several bldgs with 8 units in each bldg. We are losing hot water in the morning and later in the evening but seem to have hot water during the day.
The boiler has been inspected and we are told it is working fine. The problem was explained as the units have a single value in the showers that they are all faulty and causing a "crossover effect" where the cold water flows into the hot water and therefore no hot water. Is this a normal effect and how can it be fixed?

John, this sounds like a wiring error.
Late 1960-1970 Crane Sunnyday 102A Gas Boiler; cannot get the gas valve & circ. pump 2 run at same time- can make gas valve or pump work seperately
Question: our heating boiler won't heat our hot water
Hi. our problem is that while our central heating is fine,our oil boiler will not heat our hot water. A local plumber has replaced all relevent parts,apparently, but still no hot water until the water has been running from the tap for around 25 minutes. - KennyBrown999@hotmail.co.uk - 9/9/2011
Reply:
Kenny: sorry I couldn't even guess at what's wrong with so little information. "all relevant parts" - may not have really been "ALL" since you still have the problem. How is your hot water made - by tankless coil? If so the coil may be blocked with mineral deposits.
Question: oil fired heat not working
My oil heating is not working. the thermometer symbol is lit up on the boiler - Margaret 10.21.11
Reply:
Margaret, it sounds as if a diagnostic light is lit on the primary control of your heater - it's time to call a service technician. Unfortunately hou didn't give me any other info; though you might get some help by following the basics at the top of this article - making sure you have electrical power & fuel and that the thermostat is calling for heat.
Question: oil burner won't fire-up
I have an issue with my boiler with the burners not firing. When the water temperature gets down to 180 degrees it goes into heat mode as it should. The electronic damper opens and the pilot begins to click. I am getting spark at the pilot but no flame. If I turn the gas control valve to off and wait until I hear a "puff" sound, which is the pilot actually lighting, and quickly turn it to the on position it will fire and heat the water to 200 degrees then shut off as it should. I am thinking it is an adjustment to the gas flow on the gas valve or a faulty valve but I am not sure at this point. - kwoyach@frontier.com 11/12/11
Reply:
Kwoyach, I don't have a clear understanding of your heating system but indeed, "I am getting spark at the pilot but no flame." points to a problem with the gas valve or burners. I'd call a service tech for some diagnosis before replacing the gas valve. There could be a gas pressure or regulator problem or even a problem with a safety device or CO sensor.
Question: gas fired warm air furnace - gas boiler - huh?
I have a very strange issue with my brand new boiler/heating system and I'm pulling my hair out trying to solve it. I have a Forced air, gas boiler heating system. The boiler has one pipe that feeds 3 pumps; zone 2 heating, zone 1 heating, and Hot Water. I have never had a problem with Zone 2 or Hot water but Zone 1 is another story.
Every 2-3 weeks my 1st floor heating blows cold air from the vents. The problem is fixed when I bleed Zone 1. But it keeps happening. I have replaced the copper piping that leads to the blower and I have replaced the pump. An electrician has also assured me that it is not an electrical problem. But it happnened again this past week. Any suggestions as to what might be causing this? Any help is greatly appreciated. - Jason 11/15/11
Reply:
Jason, If I've got it right you are describing a mixed hydronic and water-to-air heating system with at least one zone that uses a heating convector and air blower to deliver warm air to part of the building. If the blower fan runs but the air is cold, then your convector is not heating up. When that zone is calling for heat, feel the pipes leading to and from the convector - I'll bet they're staying cold. That suggests that a zone valve is not opening to circulate hot water to that piping loop, or the piping or convector itself have become blocked. Keep us posted - what you learn will help other readers.
Reader follow-up:
OK....so I have now replaced the check valve that sits above the circulator pump. It worked last night and then the system was off until the morning. In the morning, system was blowing cold air again. I bled the system (which normally gets heat to work) and it did NOT work. I then banged on the check valve once with my wrench and it started to work. What is going on? Brand new system. I am losing my mind. Thanks - Jason
Reply:
Jason, flying somewhat blind with so little understanding of just exactly what you've got installed, but

- why are you repeatedly bleeding the system (presumably of air) ? Either you're missing a working automatic air purge vent or there is a system leak that's admitting air into the hydronic piping or boiler, right?

- check valves or flow control valves are normally there just as an anti-siphon device to keep hot water from circulating by convection when the circulator is not running. I don't see them clogging often but if there were an unusual amount of debris in the system that could be occurring.

But usually I don't expect a double fault - that is, typically just one of the explanations is likely to be the root cause.

Feel the piping leaving the boiler and enroute where you can access it; the point at which piping is cold is the beginning of a blockage, perhaps by air or even by a piping error (a solder blob?).

For a brand new heating system, I'm surprised that you're not able to get the installer back to diagnose and repair it. Is the work not guaranteed?
Question: when I bleed the heating radiator black water comes out
when i bleed the radiator. black water is coming out. the system has only recently been installed - William Hanna 11/27/11
Reply:
William, at RADIATORS (article links listed at the "More Reading" links at the bottom of this article or top ) you will find details about using the air bleeder valves on radiators. In general, you should be bleeding AIR out of the radiator, not water. If you open the valve and allow air to escape, as SOON as you see water coming out of the valve you should close it.

It's common for the water in a hydronic (hot water) heating system to be black and ooky looking, and in hot water systems it is most likely not a concern.
Question: why does one of our rooms get no heat?
Hi, we have a forced hot water system. I'm wondering why,if all of our rooms are in the same zone, one room cannot seem to be heated? - JL 12/26/11
Reply:
JL

about having forced hot water heat and one zone and one room not heating, it's possible that the radiators or baseboards in that room are airbound (see AIRBOUND HEAT SYSTEM REPAIRS in the article links at page top or left)
Question: heating system makes noise at startup
system starts up makes grinding noise and shuts off - Jim 12/26/11
is it easy to change bearing - Jim
Reply:
Jim,

changing a motor bearing is usually not something that's easy to do without special tools - we have to press out the old and press in the new, as well as of course disassemble the motor. It depends of course on what motor and what system you're discussing. For example I would not try to change the bearing in an oil burner fuel unit (oil pump) - I'd replace the whole unit.

About your heat shutting off, if you're hearing grinding from the driving electric motor or fuel unit, I'd replace the part and thus get heat up and running again. If the noise is traced to improper burner operation you need a service call
Question: oil fired boiler turns on but no hot water leaves the boiler - and steam is coming out of the pressure-temperature relief valve
I have a warmflow bluebird oil fire boiler, where the boiler is firing but no hot water is exiting the boiler, and there is steam coming from the overflow pipe. Does this imply a problem with the internal pump ? - Jason 5/22/12
Reply: shut off the unsafe boiler immediately and call an expert
Jason
Watch out: I would SHUT OFF THE BOILER IMMEDIATELY

and call for a service technician. If the boiler is low on water it could be damaged or worse, unsafe.
Question: boiler will start and run but no heat enters the house
I have a burnham boiler with three zone valves (garage, house, hot water). There is fuel in the tank. The boiler will start and run fine however it does not distribute any heat throughout any of the zones. It shuts off when it reaches its temperature. I have had this happen once before and it lasted for a couple days and then started working again. What could be causing this? What should I do? I live in Alaska, please help - Heather 9/28/12
Reply:
Check for a circulator that is not running or zone valves not opening.
Question: one pipe steam system not working
I have a Burnham boiler (actually two) with a single pipe steam system. We shut the gas off to the boilers during the summer and restart them each fall. The startup sequence is
1. turn on thermostat and turn temp up (they are upstairs)
2. turn on gas valve on gas line.
3. turn on safety shutoff switch on boiler.
4. turn pilot gas valve from off to pilot, depress, and light pilot. Wait for pilot to heat millivolt sender.
5. Turn pilot valve to ON.
Furnace will usually fire up. This time, the pilot will light and stay lit, but no action from the boiler. I have checked the voltage at the thermostat and it is .25 V.
Closing that circuit does not fire the boiler. There is water in the boiler. It looks like there are two pressure safety switches and the low water cutoff. How do I check them? what else should I look at?
Richard - 10/9/12
Reply:
Richard, steam heating system diagnostics are over at STEAM HEATING SYSTEMS
Question: smoke pours out when our oil fired boiler starts up
I HAVE A HOME HEAT BY A OIL SISTEM BOILER ,AND IS MAKING A LOT SMOCK WHEN IT GOES ON W. - Anon 10/28/12
Reply: shut off the boiler - beware of a puffback explosion
Anon

Watch out: If your heater smokes at startup it is not operating properly and needs cleaning and service by a professional; I suspect a bad fuel unit shutdown - you are in danger of a puffback - so don't delay.
Question: when I tap on the transformer on our Beckett oil burner it will run - else not. Can it be fixed?
I HAVE TO TAP ON BECKETT TRANSFORMER FOR IT TO COME ON DOES IT NEED REPLACED OR CAN IT BE FIXED - Dave 10/29/12
Reply:
Dave:

look for a loose wire or a defective control or transformer;
If that doesn't do the trick it's time to replace the transformer.
[People who type in all types get their text made teensy.]
Question: My heater stopped working - I like this heating company ...

"Thanks for all the help! I'm staying at my sisters house watching the kids while she's away and the heater stopped working. I wanted to check here to see if I could figure out the problem on my own before having to call an hvac service in Modesto CA Thanks again, I'm gonna go see what I can do. "

we're here to help with basic advice but indeed a homeowner should not think they can actually service their own heating system beyond the basics, as training and equipment are needed for safe operation of the system. Stacey 10/30/12

Reply:
Stacey,

RE: your message

Your message was deleted because you included a URL to a service company - a conflict with our policy.
Question: I get hot water but no heat from our heating boiler
I have a burnham hot water boiler that I get both heat and hot water from, my problem is i'm getting hot water but no heat can you tell me what to do or try. So far I've tryed bleeding the boiler and some oof the baseboards. - Anon 11/16/12
Reply:
Anon, if the heating boiler is running enough to heat the tankless coil to give you domestic hot water but no heat comes out of heating baseboards or radiators, check that the thermostat is calling for heat, that the circulator pump runs, and if there are zone valves, that they are opening.
Question: I keep draining water from my steam boiler but the water level in the glass tube never drops - what's wrong?
i have opened up the water (with a sump pump in a 5 gallon bucket) for some time, yet my glass tube never goes down? any ideas? - Damian 11/16/12
Reply:
Damian,

Watch out: I am not sure what you're up to, but most likely the automatic water feeder is just adding more water to the boiler whenever you drain some out. Thank goodness. If you drain the water out of your steam boiler and the low water cutoff does not function to shut down the system the boiler is likely to be ruined, or worse.
Question: my water heater has a damper, it's open, but the heater won't come on
i have universal water heter that one has damper on it but damper open but heter did not fire get on - Anonymous 12/5/12
Reply:
Perhaps, Anon, you are referring to an electric or power damper in the flue vent connecot of your heater. For safety, on a call for heat the damper is supposed to open (to let combustion gases flow up the chimney) but if it doesn't the heater won't turn on. Of course there could be any of a number of other reasons for no heat. Check the items suggested in the article above.
Question:
the thermostat signals but the furnace will not turn on - Tom 12/10/2012
Reply:
Tom there could be any of many reasons that you don't get heat when the thermostat calls for it. Your best bet is to start at the top of this article and run through the checklist.
Question: delayed ignition, smoke odors and smoke leaks at oil fired furnace
(Dec 1, 2012) Evan said:
I had a delayed ignition a couple of days ago. My dad was in the house at the time and indicated it was large enough to shake the house. Since then the furnace is smoking much more inside of the combustion chamber and a smoke odor is noticeable in the basement. When i open the combustion chamber "viewing door" during operation there is a little smoke blowing out. Going to inspect nozel today. Any other suggestions? thanks.
(Jan 19, 2013) John said:
I am in the same boat as Evan. I had sooty smoke blowing out the draft regulator that was getting progressively worse but before I got to shutting the system down I had a small puffback. There was no "bang" but I think soot from the exhaust pipe may have collapsed back into the chamber that in turn blew through the house.It did miniscule damage to the inside of the house. My question is should I close off the oil line going to the unit given that my oil tank is higher than my furnace until I can get a service tech here?
Reply:
Evan and John
Watch out: Shut the heating system off immediately
Call your heating company for emergency service and describe the symptoms you report.
Typical causes & cures are in the article above and at OIL BURNER SOOT & PUFFBACKS
Question: reader replaced cad cell
(Jan 29, 2014) M Harrigan said:
I had a similiar problem some years ago. It took two service visits before the technician tested the cad-cell. It was defective. The furnace was running erratic with the occasional puffback. I write to caution your readers to consider replacing the flame controller cad-cell if it was never changed in five or ten years. The cell is not expensive, lasts for years, is important for safety and will help prevent puffback, loveuming the furnace is regularly cleaned and inspected.
Reply:
MH that advice is OK but first it is critical to properly diagnose and fix the trouble. Just swapping in a new cad cell might shut down a smoky oil burner, but it won't fix the actual cause of a dangerous puffback risk caused by a dirty oil burner nozzle or other combustion issues.
Indeed how quickly a technician finds a problem varies widely - I suspect that sometimes the oil companies are so busy that techs are sent into the field with just basic training; this limitation can be offset if the tech is humble enough to call in to speak with a senior tech on staff for help with troubleshooting.
The cad cell can be quickly tested using a VOM.
Question: oil in the burner tube
(Jan 30, 2014) Anonymous said:
what causes oil to be in the burner tube . I ran the burner for 10 min. shut it down ,open up the transformer looked into the tube & its wet with oil.Wiped the tube dry repeated the run ,Wet again.
Reply:
Oil burner adjustment, nozzle adapter thread damage, dirty nozzle, incomplete combustion, sloppy oil burner start up or shut down, air leaks in or oil leaks out of the oil line are examples.
Question: banging oil burner
(Mar 25, 2014) Anonymous said:
re; the problem with my outside wall mounted Camray boiler. When it is firing now and then it bangs as though the flow of oil stops then starts again. This has only started since having a new storage tank fitted. Could this be a flow problem. I have had a service engineer out and he has stripped it right down and can find nothing wrong. As I live in a mobile home this has me worried
Reply:
It should be pretty basic to confirm that oil is flowing; perhaps the tech needs to be on the scene when the banging is happening.
Watch out: be sure to see t OIL BURNER SOOT & PUFFBACKS
Question: boiler has stopped working: what should I do so that someone can come to repair it?
(Nov 24, 2014) Sandra Edgecombe said:
We have a oil boiler but now its shut off & stopped working what should I do so someone could come & fix it
Reply:
Sandra, it sounds as if it would be smart to call your local heating service company and ask that they send a heat service technician.
To save some aggravation, before calling,
1. check that there is oil in the oil storage tank
2. check that electrical power is on to the system
3. check that the thermostat is calling for heat - that it is set above room temperature
If you still have no heat, call your heating service company for a "no-heat" service call.
Question: boiler cycling on and off at too-low a temperature
(Jan 21, 2015) Donna said:
Boiler system drops room temperature to 60 , then turns on and heats up again . Continues to cycle like that .
Reply:
Donna
I'd start by checking for improper thermostat settings, shorted or loose thermostat wires, or a failed control board at the heater.
Question: Burnham XG2000 boiler goes off randomly
(Jan 21, 2015) Gina ward said:
We have a burnham boiler xg2000 heats then just goes out random power on but have to throw the switch to get heating.
Reply:
Gina
Your question sounds as if there may be a burner operating problem shutting down the system or a motor overheating and shutting off on thermal reset or a control problem. Start by checking all wiring connections.
Question: heat won't turn off
18 March 2015 Cheryl said:
Help! I am recently widowed and live in rural Alaska and do not have a serviceman available to me. I have a Burnham oil fire stove installed a couple years ago and it lost PSI and glycol. Was able to solve that problem and replaced the circulating pump. It smelled like burnt glycol.
Well now I can not get any heat. HELP!
Reply:
Cheryl the diagnostic procedure and repair advice for cases in which heat won't turn off are at THERMOSTAT WON'T TURN OFF
Question:
19 March 2015 Marcy said:
I have gas hot water boiler with baseboard. During recent cold snap, the heater stopped working. Plumber replaced the circulator, aqua stat control and thermostat. Problem now is that the thermostat is turned all the way down (55), but the baseboard remains hot. Spent $2,000.00 to have the above replacements and plumber does not know why the baseboard remains hot. I am concerned that the furnace may explode. The furnace is around 9 to 10 yrs old and never serviced. Do I need to replace it? Please help.
Reply:
Marcy, with no information whatsoever about what's installed I'm unable to do more than suggest following some basic diagnostic routines. For a heat that won't shut off, I'd look for shorted thermostat wires or a defective control or relay (or a mis-wired control).
Start at this "Heat won't turn off" article HEAT WON'T TURN OFF
Question: water flowing out of steam pipe outside
(Mar 22, 2015) Diljit singh SARNA said:
We have a mains boiler but from steam pipe which is outside, there is water flowing too much and pressure is going down pleas tell us what to do
Reply:
Dijit I'm sorry but I don't understand the question.
You may be saying the automatic water feeder for the boiler is not shutting off properly or you may be describing a condensate return piping problem.
Have you called your heating service company?
I would turn off the system and make that call.
Question: Crown gas boiler gas valve not working
(Oct 8, 2015) Jim said:
I have an old crown gas boiler. It goes on and when thermostat is set to make it run, the circulator pump goes on but there is no voltage to the gas valve to open it. I figure it must be either something in the circuit board, or the water heat sensor at back of control board is faulty. what is more likely?
Reply:
Check the thermocouple
Question: water under the gas burner and boiler flooding the boiler room
(Oct 26, 2015) Rpy said:
The gas burner and the boiler have water beneath them. It looks like there is a small flood/pool in the burner and boiler room. What could be causing this? I noticed this two weeks ago. Help.
Reply:
Check for relief valve spillage and then look for a cracked or leakyi boiler itself
Question: oil burner runs but no heat
(Nov 27, 2015) tommy said:
have oil burner for boiler, burner fires but boiler is not starting. what steps do I take to diagnose why there is no heat?
Reply:
Tommy if the burner fires I don't know what you mean by "boiler is not starting" = if you mean the circulators don't run then check the circulator relays and thermostats. If you mean the burner tries to start but trips off on safety reset, leave it OFF and call for a service technician as repeated re=start attempts can cause a dangerous puffback explosion.
See Dave's question "Question: have hot water but no heat " just above.
Question: heat converted from steam to hot water, tech questions pipes
(Dec 1, 2015) Steve said:
I have an older house we have had for 12 years and have had several techs in over those years. It was converted from steam to hot water at some point before we bought. The latest tech in (and he is the only one that ever said this) said the pipes were not converted and should have been. This is the background on the system.
That tech changed the thermocoupler, aquastat, and replace the power venting motor a month ago, and all was fine. Now the furnace is not working again. Checked all the parts he installed, confirmed the pilot is lit and the thermostat is calling for heat. He recommends replacing the entire system, which we cannot afford. He mentioned the circulator as a possible problem, but that it would be a crap-shoot and we are basically throwing darts in the dark at a system that should be replaced. he stayed at the house an hour after bleeding the system of air. At the time he was talking to me, his employee reported that the water was getting tepid, but not yet hot.
Assuming the system does NOT heat (he asked my tenant to call him in 2 days with an update), what is the chance it is the circulator (a $400 repair, he says), and if not, what other problems could it be?

Reply:
Steve
It is not necessary to "convert the pipes" when changing from steam to hydronic heat, though some controls, vents and other features are of course changed. The addition of mention of a circulator as maybe the problem makes me nervous. You are describing a tech who has proposed two repairs: a $200-400 job and a $5000. or more job. I'd ask the heating company service manager to send out an experienced service repair person.
(Dec 7, 2015) Anonymous said:
Don, thank you for your response. He actually is the owner of the company that went out. And while he admitted that he was not that familiar with a system that had been converted from steam to water, he went on to tell me that the old steam pipes were too big to be pushing water to a second story, and that the furnace needed replacing... or it could be the circulator.
He drained the air out of the pipes... something I feel should have been part of replacing the aquastat, or really any service repair of a system that has not been operating for a few days, just as a precaution. It started warming, so I thought the issue might be over and done with, but I just got a report from my tenant that she still does not have heat 5 days later.

Question: should an old boiler be replaced?
(Dec 19, 2015) Beverly Hunter said:
I am from New Mexico and do not understand these boiler types of heating. My mom lives in St. Louis area, she is 92 and right no today I found out she has Pnuemonia. She has not had the heating she has working for two years. She says her heat comes from water in the slab. When she turned it on two years ago, it flooded three rooms. They have a large attice room. I want to put vents and tubing in this area for heat. This would be possible wouldn't it? I can't let her live this way anymore. She won't come live with us. This will be the third. I cannot convince them that they cannot live without heat in Missouri.
I know she got the pnuemonia from the cold house. She is using space heaters now which are dangerous. She only heats one room with them. She warms hers and her husbands pj's at night when they go to bed and then goes to bed in a cold room with electric blankets. She is a very stubborn woman and will not let us help. Her system is probably from the 60's. We are going to have to force her to let us do something and I can't wait anymore. She says it is 40 in the house and it isn't even the worst of winter yet. She says her boiler is fine it just leaks.
wouldn't it be better to try and put a new unit in the attic that is electric?
I forgot to tell you I have woodstoves that is why I don't understand Her system. We don't even have air conditioning here. Can you help me?

Reply:
Beverly,
Replacing an oil or gas fired heating system with electric heat in St Louis is probably going to increase the home heating costs.
Start by having a trained heating service tech inspect the existing system to give as assessment of its condition and repair cost estimates. You can then compare that with a new booklet cost.
Ask for specifics, not just "it's old"
Question: no heat
(Dec 28, 2015) Anonymous said:
b0iler off and no heat
Reply:
Anon:
I'd start with the simple diagnostic steps listed in the article above. If that doesn't work it's time to call your heating company for repair.
Question: thermocouple problems
(Jan 12, 2016) Anonymous said:
Thermocouple has a short life

Reply:
Check for improper installation or poor connections at both ends of the device
Question: neighbor "jump starts boiler" with blown fuse and causes its destruction
(Jan 15, 2016) Steve said:
Dan, got another one for you. After getting the spill switch (etc.) installed and the boiler cleaned, it ran for a week and quit. before my guy could get there, she had a neighbor who is an "engineer" look at it. He found a burnt fuse, removed it and "jump started" it without replacing. Now my tenant owes me a furnace, because the safety to keep the boiler from cracking was not in place, and it did. She was lucky it didn't explode, I am told!
Anyway, the quote to replace is for a 237,500 BTU furnace. This seems ridiculously excessive, and I think they are trying to take advantage of an out-of-state landlord (and, of course, my tenant's insurance and future gas bills).
The house is in the Scranton, PA area, is 2,000 sqf, 2-story, basic insulation (mortar and slat walls, asbestos siding, and appropriate level of insulation for the region in the unheated attic). I am reading anywhere from 50000 BTU to 90000 BTU (lower than my thought of 110000 BTU, actually), but nowhere can I find anyone saying a two-story residential should have what they are trying to put in there. Is there something I am missing here?
Reply:
Wow Steve. Ignorant tenant and idiot Engineer. Good news: nobody died - a possible result of a cracked heat exchanger. Lord protect us from such.
(Jan 17, 2016) Steve said:
Yeah, that is what I am thinking. Thankfully we require renter's liability insurance.
I did think of one other factor that might affect the BTUs called for - 10' ceilings in the downstairs. But 237,500 still seems overly excessive, isn't it? I don't mind replacing it with what is appropriate, but I don't want folks to have $1000/month heating bills!
Question: steam boiler keeps using water
(Jan 19, 2016) George Niebergall said:
I have a steam heat system I keep having to add water to the furnace is running out of water all the time what is my problem
Reply:
Some water usage is normal in steam heating systems; if water usage has become abnormally high check for steam vents that are not closing when they should, or for a leak in the condensate return piping.
Question: gas boiler heat zone problems
(Feb 8, 2016) Lesley said:
We have a triplex with a gas fired hot water boiler heating system. There are3 different zones. The rads are fin type baseboard rads and all are 50 years old. The upstairs and the downstairs apartments are no problem but the main floor apartment loses heat about once a month this year! My husband has bled the rads, and this doesn't help.
Each time he has gone over and added a bit of water to the system, then it kicks in for 3 or 4 weeks. There is no real evidence of water leakage anywhere. Any idea what will cause the main floor rads to suddenly stop heating up? Like I said the other 2 zones are fine. The basement apt keeps their heat pretty high, and the upstairs apt is normal temp with no problem. We've had it looked at by the guy who installed the boiler and the heat zone valves and he can't see any problems and has no idea what is causing them to lose heat. Can you help?

Reply:
It might help to search for & read the InspectApedia.com article AIRBOUND HEATING SYSTEM - you may be getting airbound baseboards that are not being fully purged.
flag like
...
Continue reading at DIAGNOSE & FIX HEATING PROBLEMS-BOILER or select a topic from closely-related articles below, or see our complete INDEX to RELATED ARTICLES below.
Or see this
Article Series Contents
Suggested citation for this web page
BOILER REPAIR FAQs-2 at InspectApedia.com - online encyclopedia of building & environmental inspection, testing, diagnosis, repair, & problem prevention advice.
Or use the SEARCH BOX found below to Ask a Question or Search InspectApedia
...
Frequently Asked Questions (FAQs)
Try the search box below or CONTACT US by email if you cannot find the answer you need at InspectApedia.
Please see the questions & answers about heating boiler repair in the article above.

...
Ask a Question or Search InspectApedia
Use the "Click to Show or Hide FAQs" link just above to see recently-posted questions, comments, replies, try the search box just below, or if you prefer, post a question or comment in the Comments box below and we will respond promptly.
Search the InspectApedia website
Technical Reviewers & References
Click to Show or Hide Citations & References
Blueray Heating Boilers/Furnaces Safety Recall by the US CPSC, with additional history, photos, and technical details; Blue Flame Blue Ray
Domestic and Commercial Oil Burners, Charles H. Burkhardt, McGraw Hill Book Company, New York 3rd Ed 1969.
National Fuel Gas Code (Z223.1) $16.00 and National Fuel Gas Code Handbook (Z223.2) $47.00 American Gas Association (A.G.A.), 1515 Wilson Boulevard, Arlington, VA 22209 also available from National Fire Protection Association, Batterymarch Park, Quincy, MA 02269. Fundamentals of Gas Appliance Venting and Ventilation, 1985, American Gas Association Laboratories, Engineering Services Department. American Gas Association, 1515 Wilson Boulevard, Arlington, VA 22209. Catalog #XHO585. Reprinted 1989.
The Steam Book, 1984, Training and Education Department, Fluid Handling Division, ITT [probably out of print, possibly available from several home inspection supply companies] Fuel Oil and Oil Heat Magazine, October 1990, offers an update,
Principles of Steam Heating, $13.25 includes postage. Fuel oil & Oil Heat Magazine, 389 Passaic Ave., Fairfield, NJ 07004.
The Lost Art of Steam Heating, Dan Holohan, 516-579-3046 FAX
Principles of Steam Heating, Dan Holohan, technical editor of Fuel Oil and Oil Heat magazine, 389 Passaic Ave., Fairfield, NJ 07004 ($12.+1.25 postage/handling).
"Residential Steam Heating Systems", Instructional Technologies Institute, Inc., 145 "D" Grassy Plain St., Bethel, CT 06801 800/227-1663 [home inspection training material] 1987
"Residential Hydronic (circulating hot water) Heating Systems", Instructional Technologies Institute, Inc., 145 "D" Grassy Plain St., Bethel, CT 06801 800/227-1663 [home inspection training material] 1987
"Warm Air Heating Systems". Instructional Technologies Institute, Inc., 145 "D" Grassy Plain St., Bethel, CT 06801 800/227-1663 [home inspection training material] 1987
Heating, Ventilating, and Air Conditioning Volume I, Heating Fundamentals,
Boilers, Boiler Conversions, James E. Brumbaugh, ISBN 0-672-23389-4 (v. 1) Volume II, Oil, Gas, and Coal Burners, Controls, Ducts, Piping, Valves, James E. Brumbaugh, ISBN 0-672-23390-7 (v. 2) Volume III, Radiant Heating, Water Heaters, Ventilation, Air Conditioning, Heat Pumps, Air Cleaners, James E. Brumbaugh, ISBN 0-672-23383-5 (v. 3) or ISBN 0-672-23380-0 (set) Special Sales Director, Macmillan Publishing Co., 866 Third Ave., New York, NY 10022. Macmillan Publishing Co., NY
Installation Guide for Residential Hydronic Heating Systems
Installation Guide #200, The Hydronics Institute, 35 Russo Place, Berkeley Heights, NJ 07922
The ABC's of Retention Head Oil Burners, National Association of Oil Heat Service Managers, TM 115, National Old Timers' Association of the Energy Industry, PO Box 168, Mineola, NY 11501. (Excellent tips on spotting problems on oil-fired heating equipment. Booklet.)
R.E. Prescott Company, a producer of other REPCO™ residential and industrial products as well as a provider of design-build engineering services is at 10 Railroad Avenue, Exeter, NH 03833. Tel: 603-722-04321 or 888-786-7482. Trish O'Keefe from Prescott informed us (10/7/2009) that their company had nothing to do with the failed Repco heating boilers discussed at InspectAPedia.com. She wrote:

Our company manufactures & distributes residential water treatment equipment, including our Repco line of conditioners. We have a plumbing & heating supply dept as well. We are mistaken for the Repco Boiler company on a regular basis, most frequently in Oct. and Nov.
Any information you could give me on the other Repco company would be appreciated. We've assumed it is no longer in business, and we'd like to know that for sure. Many callers want to know where to get replacement parts and I would be glad to direct them if I knew...plus there's always a chance they might be interested in a Crown Boiler instead.

Thanks to Bottini Fuel service manager Ron Thomas for discussing aquastat functions, low limit controls, oil burner short cycling causes, and boiler maintenance, reliability, and service contracts 4/13/2010. Bottini Fuel is a residential and commercial heating oil distributor and oil heat service company in Wappingers Falls, NY and with offices in other New York locations. Bottini Fuel, 2785 W Main St, Wappingers Falls NY, 12590-1576 (845) 297-5580 more contact information for Bottini Fuel
[8] Suntec Model A-7400 Fuel Unit Solenoid Dumping Pump,
Suntec Industries Inc., 60 Aberdeen Drive - PO Box 5000 Glasgow, KY 42142-5000 - USA Tel : 270 651 7116 - Fax : 270 651 9276 e-Mail : info@suntecpumps.com and
Suntec Industries France, 1 Rue Lavoisier - B.P. 102 F-21603 LONGVIC Cedex - FRANCE Tel : +33 (0)3 80 70 60 70 - Fax : +33 (0)3 80 70 61 11 e-Mail : information@suntec.fr, [copy on file as /heating/Oil pumps fuel units/Sunted_Solenoid_DumpingPPump.pdf] ,
Also /Suntech_Solonoid_Safety_Valves.pdf (brochure)
web search 4/19/12, original source: http://www.suntecpumps.com/Suntecus/PDFs/Form%202740%20
-%20Solenoid%20Dumping%20Pump.pdf
Books & Articles on Building & Environmental Inspection, Testing, Diagnosis, & Repair
Our recommended books about building & mechanical systems design, inspection, problem diagnosis, and repair, and about indoor environment and IAQ testing, diagnosis, and cleanup are at the InspectAPedia Bookstore. Also see our Book Reviews - InspectAPedia.
...