Lead Content in Floor Coverings
Lead Ingredients in Asbestos Floor Tiles, Ceramic Floor Tiles, Floor Polishes
LEAD in FLOORING PRODUCTS & POLISHES - CONTENTS: what is the possible lead content in various floor tiles, sheet flooring & floor coatings or polishes (other than lead paint)? What lead testing methods might disclose lead content in flooring? Are lead-containing floor tiles or other floor coverings hazardous?
POST a QUESTION or READ FAQs about the presence of lead in flooring & floor polishes & the detection of lead in flooring using swipe tests, swab tests & hand-held XRF devices.
InspectAPedia tolerates no conflicts of interest. We have no relationship with advertisers, products, or services discussed at this website.
Lead content in asbestos floor tiles, sheet flooring & floor coatings or polishes:
This article discusses the possible lead content in various floor tiles, sheet flooring & floor coatings or polishes (other than lead paint)? What lead testing methods might disclose lead content in flooring? Are lead-containing floor tiles or other floor coverings hazardous?
We also discuss the presence of lead in flooring & floor polishes & the detection of lead in flooring using swipe tests, swab tests & hand-held XRF devices. One or possibly both of the flooring levels shown in the reader-contributed photograph above probably contain asbestos and may also contain lead.
Green links show where you are. © Copyright 2017 InspectApedia.com, All Rights Reserved.
Do Asbestos-Containing Floor Tiles or Sheet Flooring Also Contain Lead Contaminants?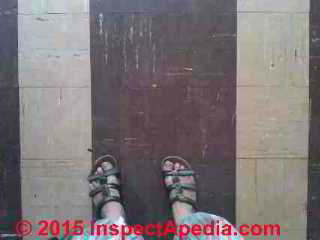 The following discussion explores the risk of lead exposure from asphalt asbestos floor tile, vinyl asbestos floor tile, sheet flooring, resilient flooring, ceramic floor tiles, and floor coatings and polishes all of which may contain lead.
We also discuss the use of swipe testing and XRF testing on floor surfaces as a screen for the presence of lead hazards.
Using XRF on "Soil Setting" to test vinyl-asbestos floor tiles for lead?
Suppose a theoretical home built in 1974 in which we see solid-colour black and white 9x9" white floor tiles that can reasonably be presumed to be asbestos-containing flooring.
If a lead paint test consultant tested the floor surface for lead using both a swab test with negative result and a hand-held XRF testing device on the same floor area that indicated the presence of lead, what might that mean?
Swab tests for lead, also called swipe assays for lead paint are widely sold and are used by both building inspectors and home owners as a low-cost test for the presence of lead on surfaces.
See LEAD TEST KIT for HOME USE for a description of this test method.
Note: experts point out that while this is a low-cost and effective lead test, this method can significantly under-estimate the amount of lead in porous materials. (Dost, 1996). The effectiveness of this test on vinyl asbestos flooring has not been described.
We have come across a few references lead in the production of vinyl plastics (Goss 1953), so there could conceivably a lead component in vinyl/asphalt asbestos floor tiles. For example lead could have been a color-pigment component that someone might have used. We explored this hypothesis using scholarly searches for lead in pigments in vinyl flooring products.
Accuracy of XRF Lead Tests on Vinyl Flooring when on Soil Settings?
An XRF hand held device used at a "soil" setting to detect lead measures (into soil) to a depth of about 2mm - much less than the full thickness of a floor tile and its adhesive mastic. The device is not calibrated on that setting for measuring flooring surfaces so I can't imagine what it actually means. Even something as simple as the moisture level on the floor surface would confuse the XRF lead measurement.
There is no doubt that XRF can pick up a range of contaminants, and XRF equipment is widely used for some types of soil analysis including the detection of lead in soil.
Speculating, if a home is old enough that there could have been previous demolition or lead paint removal that too could have left a residue on indoor surfaces, especially floors if those surfaces were not properly cleaned. A simple swab might detect such contaminants as might XRF testing.
But we don't know what to make of using an XRF on floor with a setting designed for soil. Certainly there can be no doubt that a device operated at specifications for performing a test on soil would not be specifically calibrated (at those specifications) for a test on a vinyl tile floor.
So Might There Be Lead in Vinyl Asbestos Flooring or Not?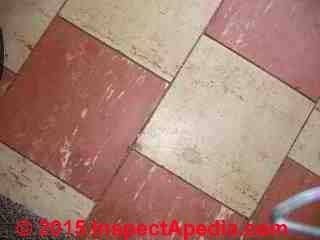 Lead does of course appear in some other flooring materials or floor coatings such as in some ceramic tiles and in some older floor paints. Unlike vinyl flooring, some ceramic tiles can contain lead, typically present in the tile glazing materials and sometimes in paint-pigments under glaze.
Aa search [Google Scholar, 3 July 2015 for "lead contaminants in flooring"] did not find authoritative references citing lead as in ingredient in vinyl floor tiles. As we cite at LINOLEUM & SHEET FLOORING more recent Armstrong brand DLW sheet flooring products were explicitly asserted by the manufacturer to be free of lead.
But a patent review in fact did reveal that low levels of lead were used as ingredients in some vinyl-asbestos floor tile formulations, apparently in preparation of pigmented fillers.
Lead appeared in these asbestos-based floor tile fillers as both lead carbonate and as lead silicate (Petry 1951) and also as lead phosphite, lead stearate and lead stealate as well as other lead compounds. (William 1957). And Braddicks (1975) continues to describe the use of lead as a stabilizer in vinyl flooring products.
Traces of lubricants such as stearic acid, and metallic stearates, and of stabilizers such as basic lead carbonate. basic lead silicate, and basic lead stearate are generally added to the mix. - Petry (1951).
Pounds Vinyl chloride vinylidene copolymer 100-200 Dioctyl phthalate 50- 25 Dibasic lead phosphite 8- 4 Dibasic lead stearate 2- 1 H Pounds Polyvinyl chloride 100-200 Dioctyl phthalate 50- 25 Dibasic lead phosphite 8- 4 Dibasic lead steal-ate 2- 1 HI Pounds Vinyl chloride-vinyl acetate copolymer 100-200 Dioctyl phthalate 50- 25 Dibasic lead phosphite 8- 4 Dibasic lead stearate 2- 1 .... - William (1957)
... Other stabilizers for both heat and light may be used, such as barium cadmium laurate, barium cadmium ricinoleate, cadmium 2 heXyl hexoate or other lead compounds may be used. Organic tin compounds or stabilizers with epoxide type resins may be used. - William (1957)
Small amounts of stabilizers which are incorporated to reduce the effects of degradation by light and heat are usually present in the novel composition. Suitable light stabilizers include ...and other complexes of such metals as barium, cadmium, strontium, lead, tin and the like. - Braddicks (1975)
This filler that includes lead could be present at high percentages in the finished product:
Expressed in parts by weight, a mix for preparing a sheet contains from about 16 to about 38 parts of the polymer, about 7 to about 18 parts of the plasticizer, and about 50 to about '75 parts of filler. Optimum proportions are about 23 parts of polymer, about 12 parts of plasticizer, and about 65 parts of filler. - Petry (1951).
The detection of lead in an XRF scan of vinyl tile or sheet flooring or even other non-painted and non-ceramic floor surfaces may find lead from other sources besides the floor covering itself. Earlier we suggested that there could be lead contaminants tracked into the building or entering as airborne dust containing lead, lead may remain from a lead paint abatement product, and lead may also be detected on flooring coatings or polymers such as some floor polishing compounds. (Fiarmen 1969).
The polyvalent metal complex employed in the floor polish formulation of this invention contains ... poly valent metal ions may be those of beryllium, cadmium, copper, calcium, magnesium, zinc, zirconium, barium, strontium, aluminum, bismuth, antimony, lead, cobalt, iron, nickel or any other polyvalent metal which can be added to the composition ...
... The amount of pigment may be varied widely, depending on the effect desired. The amount of pigment, by weight based on the weight of the organic film-forming material, may vary between about 2% for light, high-hiding pigments such as carbon black and about for heavy, low-hiding pigments such as lead chromate.- Fiarmen (1969).
Conclusion: some vinyl-asbestos and possibly asphalt asbestos floor tiles contained lead in several forms
We conclude that while the calibration of an XRF lead test set on soil and used on a vinyl-asbestos tile floor will be incorrect, it is entirely reasonable that such floors might contain both asbestos lead in the asbestos flooring composition. Thus that an XRF lead test result on vinyl asbestos flooring that indicates the presence of lead would be credible.
A reader reported the use of both swipe testing and XRF testing for lead on a vinyl-asbestos-suspect floor in a 1974 home. The test results in two XRF settings comparing readings on the floor to standards in his state for lead paint (in mg) and lead in soil (in ppm). The XRF on "soil" setting obtained results exceeding the reader's U.S. state standards. - [Anon, private email to DF, 3 July 2015]
Watch out: without XRF calibration to the material being tested (VAT over concrete or over another surface) the results should not be interpreted quantitatively and cannot be compared with acceptable lead exposure standards. What can be concluded is simply that lead was or was not detected.
OPINION: The actual release of lead from asphalt asbestos or vinyl asbestos floor tiles has not been demonstrated (at least we could not find research reports discussing that event) and the fact that although XRF testing detected lead within (theoretically) 2mm of the tile surface, a surface swipe test for lead did not detect it in the flooring.
This might suggest that the actual lead exposure hazard from asbestos-containing flooring may be quite low or even beneath the limits of detection by surface swipe.
Research on lead content in vinyl or asphalt asbestos flooring
Adgate, J. L., C. Weisel, Y. Wang, G. G. Rhoads, and P. J. Lioy. "Lead in house dust: relationships between exposure metrics." Environmental research 70, no. 2 (1995): 134-147.
Belfit, Victoria F., Bryan J. Nix, and Stephan C. Graham. "Evaluation of high levels of lead in select Department of Defense plastic playground equipment." Federal Facilities Environmental Journal 13, no. 3 (2002): 115-122.
Braddicks, Robert P. "Novel floor-tile compositions comprising plasticized vinyl chloride polymers." U.S. Patent 3,904,579, issued September 9, 1975.
Dost, A. A. "Monitoring surface and airborne inorganic contamination in the workplace by a field portable X-ray fluorescence spectrometer." The Annals of Occupational Hygiene 40, no. 5 (1996): 589-610.
El-Fadaly, E., I. M. Bakr, and MR Abo Breka. "Recycling of ceramic industry wastes in floor tiles recipes." Journal of American Science 6, no. 10 (2010): 241-247.
[Lead content in recycled waste used in floor tiles]
Experimental Parameters for XRF Analysis of Soils Yukiko Imanishi1), Atsushi Bando2), Shintaro Komatani2), Shin-Ichiro Wada3), Kouichi Tsuji1), Copyright ©-International Centre for Diffraction Data 2010 ISSN 1097-0002, at http://www.icdd.com/resources/axa/vol53/V53_28.pdf
Ewers, Lynda, Scott Clark, William Menrath, Paul Succop, and Robert Bornschein. "Clean-up of lead in household carpet and floor dust." American Industrial Hygiene Association 55, no. 7 (1994): 650-657.
Fiarman, Irwin S., and David R. Gehman. "Aqueous floor polish compositions containing a water-insoluble addition polymer and a polyvalent metal chelate." U.S. Patent 3,467,610, issued September 16, 1969.
Goss, Alexander E., and Arthur M. Ross Jr. "Effective Control of Lead Dust in the manufacture of vinyl plastics." American Industrial Hygiene Association Quarterly 14, no. 1 (1953): 41-49.
LEAD POISONING HAZARDS GUIDE - sources of lead exposure hazards in or around buildings
Lewis, Roger D., Sridhar Condoor, Joe Batek, Kee Hean Ong, Denis Backer, David Sterling, Jeff Siria, John J. Chen, and Peter Ashley. "Removal of lead contaminated dusts from hard surfaces." Environmental science & technology40, no. 2 (2006): 590-594.
Mielke, Howard W., Eric T. Powell, Christopher R. Gonzales, and Paul W. Mielke. "Potential lead on play surfaces: evaluation of the "PLOPS" sampler as a new tool for primary lead prevention." Environmental research 103, no. 2 (2007): 154-159.
Petry, Robert K. "Composition for floor and wall covering comprising plasticized vinyl resin and filler and method of making same." U.S. Patent 2,558,378, issued June 26, 1951.
U.S. EPA, "X-ray Fluorescence (XRF) Instruments Frequently Asked Questions (FAQ)", - retrieved 3 July 2015, original source: http://epa.gov/superfund/lead/products/xrffaqs.pdf
...
Continue reading at LEAD POISONING HAZARDS GUIDE - home, or select a topic from closely-related articles below, or see our complete INDEX to RELATED ARTICLES below.
Or see ASBESTOS TILE MANUFACTURE discusses the ingredients in asbestos flooring products.
Or see LEAD TEST KIT for HOME USE
Suggested citation for this web page
LEAD in FLOORING PRODUCTS & POLISHES at InspectApedia.com - online encyclopedia of building & environmental inspection, testing, diagnosis, repair, & problem prevention advice.
Or use the SEARCH BOX found below to Ask a Question or Search InspectApedia
...
Frequently Asked Questions (FAQs)
Try the search box below or CONTACT US by email if you cannot find the answer you need at InspectApedia.
...
Ask a Question or Search InspectApedia
Use the "Click to Show or Hide FAQs" link just above to see recently-posted questions, comments, replies, try the search box just below, or if you prefer, post a question or comment in the Comments box below and we will respond promptly.
Search the InspectApedia website
Technical Reviewers & References
Click to Show or Hide Citations & References
Breedveld, Leo, Giorgio Timellini, Giorgio Casoni, Alberto Fregni, and Graziano Busani. "Eco-efficiency of fabric filters in the Italian ceramic tile industry." Journal of Cleaner Production 15, no. 1 (2007): 86-93.
[Lead in Italian ceramic floor tiles]
Nicoletti, Giuseppe M., Bruno Notarnicola, and Giuseppe Tassielli. "Comparative Life Cycle Assessment of flooring materials: ceramic versus marble tiles." Journal of Cleaner Production 10, no. 3 (2002): 283-296.
[Lead oxide in ceramic floor tiles]
Souza, A. J., B. C. A. Pinheiro, and J. N. F. Holanda. "Recycling of gneiss rock waste in the manufacture of vitrified floor tiles." Journal of environmental management 91, no. 3 (2010): 685-689.|
[Lerd in vitrified floor tiles and recycled gneiss rock waste]
William, Rowe. "Method and apparatus for producing a decorative surface covering sheet." U.S. Patent 2,775,994, issued January 1, 1957.
"Lead contaminants in Asbestos Floor" web search via Google Scholar, 2015/07/03.
Other US EPA Publications on asbestos: web search 01/20/2011, see http://www.epa.gov/asbestos/pubs/pubs.html
...

Books & Articles on Building & Environmental Inspection, Testing, Diagnosis, & Repair

Our recommended books about building & mechanical systems design, inspection, problem diagnosis, and repair, and about indoor environment and IAQ testing, diagnosis, and cleanup are at the InspectAPedia Bookstore. Also see our Book Reviews - InspectAPedia.
...