Sticking A/C or Heat Pump Thermostatic Expansion Valve TEV
TEV STICKING REPAIR - CONTENTS: repair of a jammed thermostatic expansion valve (TXV or TEV) at new air conditioner or heat pump installations. Data about & contact information for KeepRite air conditioners & Tempstar air conditioners & heat pumpw. How to Fix an A/C or Heat Pump TEV that's not working, won't cool, warm air flow
POST a QUESTION or READ FAQs about how to diagnose and repair air conditioning and heat pump systems.
InspectAPedia tolerates no conflicts of interest. We have no relationship with advertisers, products, or services discussed at this website.
Sticking or jammed thermostatic expansion valves:
In addition to debris, dirt, or icing problems that occur in TEVs or thermostatic expansion valves, sometimes the thermostatic expansion valve on brand new air conditioners may need an extra jolt to get it working, as we explain here.
Page top image provided courtesy of the Toronto engineering, education & home inspection firm Carson Dunlop Associates.

Green links show where you are. © Copyright 2017 InspectApedia.com, All Rights Reserved.
Sticking Air Conditioner or Heat Pump Thermostatic Expansion Valves at New Installation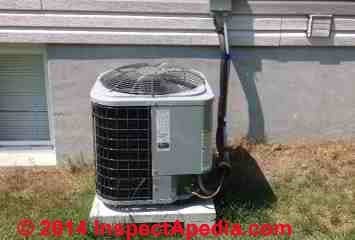 At TEV INSTALL & REPAIR where we list various troubles with thermostatic expansion valves and suggest diagnostic and repair procedures we noted the following:
Sticking TEV valves: The TEV and also AEVs depend on a little oil or oil mist flowing along with refrigerant to lubricate the interior of the valve.
Occasionally debris in the refigerant system can cause the TEV to jam, chatter, or fail to perform properly.
But we suspect that a more common cause of TEV valve sticking is the freezing of a droplet of water at the needle valve, holding it stuck. The valve stops working properly.
But as we learned from Ontario reader E.T. and her HVACR installation and service company, TEVs may be "sticky" right out of the box from the manufacturer. At left: a KeepRite™ air conditioner compressor / condensing unit, newly installed.
The installer used a simple "overcharge" procedure to free the TEV as we describe in this reader report.
[Click to enlarge any image]
Reader Question: new KeepRite® air conditioner not working well: does not cool the house
I placed a comment on the InspectApedia website last night about my new air conditioner not working well. Here are the photos you asked for. Our house is 980 square feet with a finished basement. I have closed all the vents in the basement.
We live in Ontario and are having fluctuating temperatures. Today it is 72F outside with an expected high of 85. I turned the air conditioner on yesterday when the outside temp was 65F and the temp inside my house was 78 because it had been a hot day and the air conditioner was not able to bring the temperature down.
I set the thermostat for 72F. It took 5.5 hours to bring the temp down to 76F, which is when we went to bed. Thorough the night it managed to bring the temp down to 72. In the morning I turned the thermostat up to 73 and the air conditioner has not stopped running, even momentarily, since I got up this morning. The couple of times I woke through the night it was running as well (I have a young baby).
I was not given a manual, only an invoice for the unit and the work done. It was installed 4 weeks ago. We had the ducts cleaned 3 years ago and they do need cleaning again - I have an appointment booked for Friday. If you would like to see the emails that were exchanged with the installer I can forward them to you. Thank you very much for getting back to me so quickly. I appreciate that I am able to ask questions this way. - E.T. 7/21/2014
Reply: why doesn't the installer fix their installation SNAFU?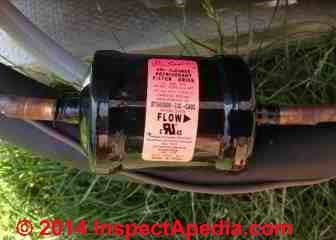 I see in your photos a newly installed air conditioning system that by your description certainly is not cooling. Your additional photo (left) shows that a refrigerant-drier was installed, though I can't tell from the image if it's in the right direction or not. The flow direction is marked plainly on the canister label.
See REFRIGERANT DRIERS & FILTERS.
Something as simple as failure to adequately clean (pull a vacuum) and filter the refrigerant system could cause the system not to cool even if the compressor and air handler themselves seem to be working.
It's usually easy to diagnose a new system by checking refrigerant charge, pressures, temperatures, and current draw. Why didn't the installing company return to fix it? Enlarging your third photograph of the data tag on the KeepRite condenser / compressor unit (shown at below left) gives us more information about this unit.
The Product model number begins with N4A318K ... which is the same as found on Tempstar® R-410A refrigerant air conditioning compressor / condenser units in the N4A3 series. These units use a Copeland® compressor and are factory-charged with R-410A refrigerant.
It's possible that your KeepRite® air conditioner is using the same equipment components, re-branded with the KeepRite® name.
Decoding the Model Data on a KeepRite® Air Conditioning Compressor / Condenser Unit
Since you were given no information whatsoever about your equipment, not even an installation/operation manual we're providing some data here.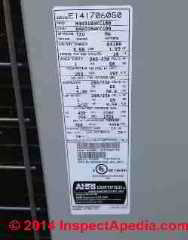 Decoding the KeepRite® product number, N4A318KC100, based on TempStar's data (cited below)
N = "Tempstar Entry" brand ( KeepRite®-branded equipment, according to the manufacturer cited below, uses a product nomenclature beginning with a K, such as KMHA050 H2- HT4A-A)
4 = Refrigerant is R-410A
A = Air Conditioner (H would indicate a heat pump)
3 = SEER = 13
18 = 18,000 BTUH or 1 1/2 tons of cooling capacity
K = Voltage code 208/230V - 1- 60 (single phase 60 cycle)
Reader Follow-up: sticking thermostatic expansion valve on new AC installations
I had the oven on for approximately 20 minutes at lunch time. The inside temp has risen and is staying at 76F although it is 72F outside and I have the thermostat set for 73. The air conditioner still has not stopped running. We have two dogs, our ducts do need cleaning as I mentioned before. But we did have it done 3 years ago.
Can this affect the air conditioner functioning to this extent? The unit is obviously working because it did finally bring the temp down through the night and maintained it this morning - but why it's struggling so hard is unclear to me.
The A/C installer did identify the problem and he came back to fix it.
I'm relaying the information that I recall from what he told us so it may not be perfectly clear, but he said the diaphragm on the TY [TEV or Thermostatic Expansion Valve- Editor] valve (??i think) was sticking on the new installs and causing it to not be seated properly.
When he contacted the manufacturer they advised to overcharge the system and force it open further, which would cause it to then close properly and seat the valve. I hope I got the information right, as this seems to be an innate problem with these units and I would hope that this information could be useful to someone else down the road.
I also want to say that I found this website just through a Google search when we were having the issues with the A/C and I was feeling desperate that something had to be wrong and was being told that it probably wasn't. You provide an invaluable service allowing yourself to be contacted with questions and providing service to others the way you do. It's a very generous thing to do and do and I, for one, am grateful that you took the time to respond. Thank you very much!
I was very glad that our install person kept coming back and looking into the issue and finally got it fixed.
Reply: Expansion Valve SNAFUs
Indeed even a small amount of dirt or debris in a new refrigeration system can foul up the thermostatic expansion valve causing it to fail to operate properly. If the installer is making an error in cleanliness during initial installation, or if s/he forgets to install the proper refrigerant filter/dryer on the refrigerant lines, or if the refrigerant charge is incorrect the TEV may jam or fail to open and close properly.
Of course it's true that the TEV itself could be defective or water, ice, or debris can prevent it from opening or closing when it should.
The result is failure to release refrigerant at the proper rate into the cooling coil in the air handler. In turn that would allow the air handler to run without adequately cooling the building.
Reader Follow-up: using a refrigerant "overcharge" to clear a stuck TEV
Our air conditioner installer installed an identical unit to ours (a Keeprite) at another customer's house this week and was having the same issues as us. He contacted the manufacturer and was told that there is an issue in that model with a valve not closing properly on installation. The unit needs to be overcharged which forces the valve open so that it snaps shut. He came tonight to do just that and it seems to be cooling.
I will be able to send more information about the specific valve etc when my husband gets home as he understands it better than I do, but I wanted to send an update to let you know that the problem has been found and in a case anyone writes in with a similar issue.
Reply: watch out for refrigerant overcharging
Watch out: The overcharge needs to be removed lest the compressor motor be destroyed.
See OVER CHARGED of REFRIGERANT, EFFECTS for details.
Watch out: warranty coverage: You should register your product to assure proper warranty protection, and you should obtain the owners or installation manual for your air conditioner from the installer or if that contractor cannot help you, use the contact information we provide above to contact the company. Our search of the KeepRite websites we found did not provide links to manuals or installation guides for equipment matching your product number.
Reader Follow-up:
You had told me that the overcharge needs to be removed, so I checked and he did remove it at the time.
Company Contact Information for KeepRit®e & TempStar® air conditioning & heat pump product types & series
KeepRite® Heating & Cooling Products, Website: http://www.keeprite.com/ (At this website the company does not provide an address, company information, nor contact information). The KeepRite website does cite HVAC contractors in West Chester OH, USA, and Toronto, Ontario, Canada. Other contact information for KeepRite® Refrigeration is at http://k-rp.com/node/149, Factory telephone: 1-800-463-9517 Email for Warranty claims: warranty@k-r0pcom Customer Support Email: cs@k-rp.com

The KeepRite® compressor/condenser unit features a two-stage scroll-type compressor motor and the company cites a 10-year warranty.
Tempstar® AC & Heat Pump Systems, International Comfort Products, Lewisburg TN 37091 USA, Website www.tempstardir.com, TempStar® N4A3 Series Product Specifications
Reader Question: how to keep an old TEV Working on a house that was flipped and has many problems
I live in Quincy, IL. Be fore my mother passed away she bought me a small, cheap house that needs some repair I'm on SSI so I have a very limited income. I'm on a 2 year waiting list for the state to weatherize my house. I should have about 18 months left to go!
This house was totally redone 15 years ago by a house flipper and everything they used was, at the very best just low quality contractor type materials and they hid a lot of the problems and just made the house look pretty. It worked because a lady fell for it and bought it and it just went downhill from then.
I've fixed what I can since I got the house and I'm trying to hold out for that 18 months to pass to get the other repairs done but Summer is coming and I'm on three meds that make heat unbearable for me so I need my central air to be working before it gets too hot.
My outside unit needs the capacitor replaced (it's exploded at the top) but that's a repair I can do and the cost is low.
The problem I'm having is the previous owner said that the entire AC system would run but not cool so she'd had a service tech in at some point and he found what he said was the problem and showed her husband.
There's type of thermometer type device inside the lower part of the inside unit that had corrosion on it and he told them it would be over an $80 part or he could pull it out and lightly sand it and put it back for much cheaper. So that's what they did and the system cooled as it should again until the next year.
They did this themselves for a few years and then just stopped doing it and got window units. This device looks like a temperature probe and it's held in with one screw. and a bracket that holds it so the probe looking part can point downward. I'd like to find out what this device is called so I can find out if I can afford to replace it.
It's obvious I can replace it but myself but not sure I can afford to buy it and I can't find out a price without knowing what it's called. It's probably something very simple and I sound like an idiot by not having a clue but there's no number or anything on it that I can find. If you can help me figure this out, I'd greatly appreciate it
I looked through all the photos on your website but I couldn't find and pics or articles that seemed to even come close. My laptop has a very small screen and I can't see too well so I may have just missed it. When the previous owner pointed this thing out to me they said they'd never known what it was called.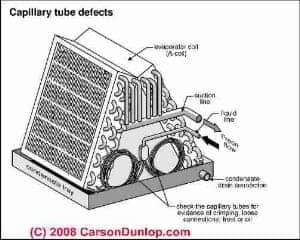 Reply: fixing a non-responsive thermostatic expansion valve - the perils of house-flipping in real estate sales
I'm sorry but not surprised to read of the problems left behind when house-flippers get on to a property and perform only cosmetic skin-deep improvements.
Unfortunately in real estate such problems are so widely known and, regrettably, accepted, that the burden is on the house buyer to hire the inspectors needed to have an accurate understanding of the home.
More trouble comes because a home inspection is not invasive: so if a house flipper simply laminates drywall over a horrible mold contamination problem, only an astute inspector who understands subtle clues will come to even suspect such a problem, for example by noticing that trim has been built-out or that wall thicknesses vary.
About your A/C: unfortunately I doubt that you can do the part replacement you are asking about.
** Send me some sharp photos of your AC system and of the part you describe and I can comment further, but I think that
the "thermometer" device you describe is the temperature-sensing end of the TEV or thermostatic expansion valve that monitors the cooling coil temperature and according to the temperature there, opens or closes a valve that meters refrigerant into the coil. This is an essential part of the system. If the TEV has failed the system won't cool.
To read about this device see see EXPANSION VALVES, REFRIGERANT - home
You will find a series of articles about installation and repair of thermostatic expansion valves starting with that one and continuing with TEV INSTALL & REPAIR.
If cleaning the sensing bulb and clamping it back in place doesn't get it working, sometimes a service tech will try adjusting the TEV itself - SOME (not all) models have an adjustment screw in the unit base. But watch out: one cannot make an accurate adjustment without using some monitoring equipment that looks at temperature and at refrigerant pressures.
To replace the valve requires opening up refrigerant lines, and to do that requires removing the refrigerant from the system using a refrigerant-recovery machine (we don't just dump those gases into the air), followed by the valve replacement, followed by installing a new refrigerant charge in the system.
All of that work will cost probably hundreds of dollars: the $80. part is probably for the TEV itself but doesn't include the labor nor the refrigerant.
Try cleaning the sensor. If the system won't cool, ask your local air conditioning service company if they can perform a low-cost diagnostic inspection to tell you what the system needs to operate.

If all of the repair costs are significantly more than the cost of a window air conditioner, you may want to consider installing a window A/C as a temporary measure.
Keep me posted.
Question: After about ten minutes the heat pump switches to aux and won't go back to normal unless I reset power
First off my equipment is two York heat pumps. Downstairs unit works fine and the systems are only two years old. Unfortunately the company that installed the units are unwilling to figure out what the issue is so I'm taking it upon myself. I turned AC off and switched to heat at the end of November and almost immediately the system shut off.
I discovered one of the relays in the air handler and the ECP and both fusable links and nest thermostat base fried. I ordered the parts ordering doubles of each just incase I was only fixing the symptoms. Installed everything and turned the system on. Fan kicks on fine the outdoor unit fires up and the big copper pipe gets warm.
After about ten minutes of run time the system switches to aux and won't go back to normal unless I reset power. After the outside unit shuts off the big line does cool off and even though I'm reading 118 VAC on the heat strips point to ground it still gets very cold at night. I usually wake up to 58 degrees when requesting 71.
The outside unit does seem to have a bit of a hard start to it and the lights dim inside so I'm thinking I may have a bad starter cap but the fact that it does start up tells me that its not the main problem.
I did also notice that on my downstairs air handler the two 24volt wires are twisted together and the thicker gauge white wire is twisted with an 18 gauge brown wire that goes to the outside unit but my upstairs air handler has all three white wires twisted together.
When I get home this evening I'm going to check to see if maybe they just used a spare wire for the downstairs but it doesn't appear to be that way. Both air handlers appear to be identical in setup with that exception and the outdoor unit for the downstairs is about 2/3 the size as the upstairs unit.
Other then that they appear identical. I'm an aircraft technician by trade so I have some knowledge and have researched my heart out online to try to figure this out. I put my civilian email address in the CC box. Thank you again for any assistance provided! - Anonymous by private email 2017/12/18

Reply: check for a failing compressor motor, bad capacitor, or a sticking TEV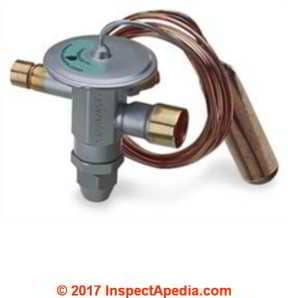 If your compressor is dimming lights and hard starting the motor is probably failing; I'd agree that it would make sense to try using a new hard-start capacitor to see if you can get a bit more life out if it.
I also agree that the starter cap is probably a band-aid on a failing motor. Check the current draw during the startup and when it's running.
Also, if the expansion valve is sticking a compressor can have trouble starting not because of a bad motor but because it's starting against high head pressure.
Photo: a replacement 5-ton capacity TEV distributed by americanhvacparts.com and other vendors.
Reader follow-up: suspect the expansion valve
I wonder if it's not the expansion valve because it runs fine in Cooling mode? I really appreciate you getting back to me. I did check the wiring at the outside units last night and they are wired identically so now I'm really wondering why they have the big white wire coming off of the ECP going to the small brown wire going to the ourside unit.
My main concern is why the outside unit doesn't keep cycling off and back on. It only cycles the one time and then goes to aux and the aux doesn't appear to be heating well at all because it's colder then my exwife in the morning lol.
I do have voltage sitting on the heat strips. This evening I will check from point to point instead of point to ground to make sure it's dropping the potential. If you have any input I appreciate it and I appreciate you getting back to me.
Reply: check for stuck TEV or stuck reversing valve
You might in fact want to call tech support at the manufacturer for the brand and model unit. I expect you understand as I do that the heat pump will switch to aux when it thinks the outdoor temp is too low or when some other sensor in the system detects that it's not able to produce heat.
That could be from a stuck reversing valve or simply a control or wire that's not switching the valve as it should. Try checking voltage to the reversing valve.
Reader follow-up: problem solved, refrigerant had been over-charged, TEV forced "open"
Thank you for all of you help. I did end up calling a technician out to the house and as it turns out my previous HVAC guy had 15 pounds of Freon in a ten pound system to apparently force the reversing valve open.
...
Continue reading at TEV INSTALL & REPAIR - the air conditioning system seems to be "running" but not enough cool air, or no cool air at all is being delivered to the occupied space, or select a topic from closely-related articles below, or see our complete INDEX to RELATED ARTICLES below.
Or see EXPANSION VALVES, REFRIGERANT - home
Or see PRESSURE CONTROLS & SAFETY SWITCHES - home
Or see REFRIGERANT FLOODBACK, LIQUID SLUGGING - a possible result of a failed thermostatic expansion valve.
Suggested citation for this web page
TEV / TXV STICKING REPAIR at InspectApedia.com - online encyclopedia of building & environmental inspection, testing, diagnosis, repair, & problem prevention advice.
Or use the SEARCH BOX found below to Ask a Question or Search InspectApedia
...
Frequently Asked Questions (FAQs)
Try the search box below or CONTACT US by email if you cannot find the answer you need at InspectApedia.
...
Ask a Question or Search InspectApedia
Use the "Click to Show or Hide FAQs" link just above to see recently-posted questions, comments, replies, try the search box just below, or if you prefer, post a question or comment in the Comments box below and we will respond promptly.
Search the InspectApedia website
Technical Reviewers & References
Click to Show or Hide Citations & References
[1] "Air Conditioning & Refrigeration I & II", BOCES Education, Warren Hilliard (instructor), Poughkeepsie, New York, May - July 1982, [classroom notes from air conditioning and refrigeration maintenance and repair course attended by the website author]
[2] Thanks to Mark Cramer, Tampa Florida, for assistance in technical review of the "Critical Defects" section and for the photograph of the deteriorating gray Owens Corning flex duct in a hot attic. Mr. Cramer is a Florida home inspector and home inspection educator.
[3] Thanks to Jon Bolton, an ASHI, FABI, and otherwise certified Florida home inspector who provided photos of failing Goodman gray flex duct in a hot attic.
[4] Thanks to Scott at SJM Inspect for suggesting this EPA document and for technical editing remarks regarding our air conditioning website, SJM Inspection Service LLC, serves the entire state of CT, sjminspect.com 203-543-0447 or 203-877-4774 5/16/07
[5] Thanks to Joe Panimondo for technical editing, April 2011
[6] This website discusses these air conditioning and heat pump terms and problems: Air Conditioners: Central Air Conditioning Troubleshooting & Repair Guide: How to Inspect, Diagnose, & Repair Central Air Conditioning: Defects in A/C compressors, air handlers, duct work, and controls. We explain how to inspect & repair central air conditioning systems and for homeowners we also answer basic HVAC questions such as what are the basic air conditioning components? We provide guidance in determining air conditioning cooling capacity & energy efficiency, Troubleshooting air conditioning compressor problems, Diagnosing air conditioning air handler problems, Air conditioning condensate problems, Duct system inspections, defects, repairs, Cleaning air conditioning equipment & A/C refrigerants.
[7] HVAC brands discussed include but are not limited to: Lennox, American Standard, Amana, Everrest, Goodman, Frigidaire, Coleman and Gibson. Brands of related air handling equipment include Honeywell, Aprilaire, White-Rogers, Broan. Nutone, Fantech, Venmar, Arzel, Hi-Velocity, Vanguard, Wirsbo, Weil McLain, Unico, Heat Link, A.O. Smith, Water Furnace, ClimateMaster, Geo-Excel, Command Aire, Friedrich, LG, Mitsubishi, Sanyo, Hart &
Cooley, Munchkin, Superstor Ultra, Lochinvar and Knight HVAC equipment.
[8] HVAC Employment: U.S. Department of Labor website describes HVAC jobs and the employment outlook for HVAC technicians.
[9] HVAC Education, Training Accreditation agencies: Quoting the U.S. DOL HVAC website above::
After completing the programs below, new technicians generally need between 6 months to 2 years of field experience before they are considered proficient. Three accrediting agencies have set academic standards for HVACR programs:

[10] HVAC Excellence. 1701 Pennsylvania Ave NW, Washington, DC 20006 Tel: (800) 394-5268. Quoting:
HVAC Excellence is a not for profit organization that has been serving the HVACR industry since 1994. It is our goal to improve competency through validation of the technical education process. By setting standards and verifying that they have been met, we inspire the industry to excel. We know that all of the challenges that face our industry are achievable by continuous improvement in the way that we prepare technicians.
[11] National Center for Construction Education and Research, 3600 NW 43rd Street, Bldg. G, Gainesville, FL 32606, Tel: 888.622.3720, Quoting:
NCCER is a not-for-profit education foundation created to develop industry-driven standardized craft training programs with portable credentials and help address the critical workforce shortage facing the construction industry.
[12] The Partnership for Air-Conditioning, Heating, and Refrigeration Accreditation, (PAHRA) 2111 Wilson Blvd., Suite 500 Arlington, VA 22201-3001 (703) 524-8800, Quoting: The Partnership for Air-Conditioning, Heating, Refrigeration Accreditation (PAHRA) is an independent, third party organization that is a partnership between heating, ventilation, air-conditioning and refrigeration (HVACR) educators and the HVACR industry that will award accreditation to programs that have met and/or exceeded industry validated standards. This programmatic accreditation program is the only one that is supported by the major industry associations.

Licensure. Heating, air-conditioning, and refrigeration mechanics and installers are required to be licensed by some States and localities. Requirements for licensure vary greatly, but all States or localities that require a license have a test that must be passed. The contents of these tests vary by State or locality, with some requiring extensive knowledge of electrical codes and others focusing more on HVACR-specific knowledge. Completion of an apprenticeship program or 2 to 5 years of experience are also common requirements.
In addition, all technicians who purchase or work with refrigerants must be certified in their proper handling. To become certified to purchase and handle refrigerants, technicians must pass a written examination specific to the type of work in which they specialize. The three possible areas of certification are: Type I—servicing small appliances; Type II—high-pressure refrigerants; and Type III—low-pressure refrigerants. Exams are administered by organizations approved by the U.S. Environmental Protection Agency, such as trade schools, unions, contractor associations, or building groups.
[13] HVAC Training Courses, Schools: HVAC Technician Training Schools [http://technicianschool.net/hvac-technician-training-schools/], lists the following schools offering technical courses may offer specific training programs for potential careers, including HVAC technicians. Among HVAC schools that website lists are

Everest Colleges [http://www.everest.edu],
Florida Career College 7891 Pines Blvd Hollywood, FL 33024 http:// www.careercollege.edu/,
Lincoln Institute 2299 Vauxhall Road Union, NJ 07083 http:// www.lincolnedu.com/
NOTE: when considering an HVAC training course or school, check the HVAC education accrediting associations listed above.


[14] Ratib Bakera is member of Refrigeration Service Engineers Society (RSES), an International training organization for the HVACR industry provides educational and certification programs to HVACR professionals of all experience levels. www.rses.org provides information on the organization and its training materials. Independent testing and certification of HVAC technicians is provided by North American Technician Excellence - NATE - see www.natex.org. NATE is supported by ASHRAE, the US EPA, and a host of other trade and professional associations.
[15] Singer brand HVAC equipment brand history:

Singer was bought by & became the climate control unit of Dallas-based Snyder General Corp. (founded by a former Singer HVAC manager) in 1982.

The name Singer was dropped in 1984. In 1984 Snyder General operations included Arcoaire, Comfortmaker,

and

McQuay. In 1991 Snyder General sold Arcoaire & Comfortmaker to Inter-City Products. In 1994 Snyder General was acquired by Hong Leong Group Malaysia. Snyder General is at 2001 Ross Avenue Dallas, TX 75201

.
[16] Lennox air conditioning and heat pump owners manuals for air conditioners, air handlers, furnaces, heat pumps, indoor air quality systems, packaged units, water heaters, zone controls and other controls such as thermostats, are provided by Lennox at http://www.lennox.com/support/manuals.asp
[23] Air Diffusion Council, 1901 N. Roselle Road, Suite 800, Schaumburg, Illinois 60195, Tel: (847) 706-6750, Fax: (847) 706-6751 - info@flexibleduct.org - www.flexibleduct.org/ -
"The ADC has produced the 4th Edition of the Flexible Duct Performance & Installation Standards (a 28-page manual) for use and reference by designers, architects, engineers, contractors, installers and users for evaluating, selecting, specifying and properly installing flexible duct in heating and air conditioning systems.
Features covered in depth include: descriptions of typical styles, characteristics and requirements, testing, listing, reporting, certifying, packaging and product marking.
Guidelines for proper installation are treated and illustrated in depth, featuring connections, splices and proper support methods for flexible duct. A single and uniform method of making end connections and splices is graphically presented for both non-metallic and metallic with plain ends."
The printed manual is available in English only. Downloadable PDF is available in English and Spanish. 
[24] Engineering toolbox properties of water - http://www.engineeringtoolbox.com/water-thermal-properties-d_162.html and email: editor.engineeringtoolbox@gmail.com web search 09/16/2010
[25] Owens Corning Duct Solutions - www.owenscorning.com/ductsolutions/ - provides current HVAC ductwork and duct insulating product descriptions and a dealer locator. Owens Corning Insulating Systems, LLC, One Owens Corning Parkway, Toledo, OH 43659 1-800-GET-PINK™
[26] "Flexible Duct Media Fiberglas™ Insulation, Product Data Sheet", Owens Corning - see owenscorning.com/quietzone/pdfs/QZFlexible_DataSheet.pdf
"Owens Corning Flexible Duct Media Insulation is a lightweight, flexible, resilient thermal and acoustical insulation made of inorganic glass fibers bonded with a thermosetting resin."
[27] Modern Refrigeration and Air Conditioning, A. D. Althouse, C.H. Turnquist, A. Bracciano, Goodheart-Willcox Co., 1982
[28] Principles of Refrigeration, R. Warren Marsh, C. Thomas Olivo, Delmar Publishers, 1979
"Air Conditioning & Refrigeration I & II", BOCES Education, Warren Hilliard (instructor), Poughkeepsie, New York, May - July 1982, [classroom notes from air conditioning and refrigeration maintenance and repair course attended by the website author]
[29] Refrigeration and Air Conditioning Technology, 5th Ed., William C. Whitman, William M. Johnson, John Tomczyk, Cengage Learning, 2005, ISBN 1401837654, 9781401837655 1324 pages
[30] Carson Dunlop, Associates, Toronto, have provided us with (and we recommend) Carson Dunlop Weldon & Associates' Technical Reference Guide to manufacturer's model and serial number information for heating and cooling equipment ($69.00 U.S.).
[32] FlowKinetics LLC, 528 Helena Street Bryan, Texas 77801 USA, Tel: (979) 680-0659, Email: inform@flowkinetics.com, Website: www.flowkinetics.com, "FKS 1DP-PBM Multi-Function Meter Pressure, Velocity & Flow User's Manual", web search 07/16/2012, original source: http://www.flowkinetics.com/FKS_1DP_PBM_Manual.pdf [copy on file] and "FKT Series Flow Measurement And Pressure Acquisition System User's Manual" http://www.flowkinetics.com/FKTSeriesManual.pdf [copy on file]
[33] Histoire de l'Académie royale des sciences avec les mémoires de mathématique et de physique tirés des registres de cette Académie: 363–376. Retrieved 2009-06-19.- Pitot Tubes, Henri Pitot (1732)
[34] Wikipedia provided background information about some topics discussed at this website provided this citation is also found in the same article along with a " retrieved on" date. NOTE: because Wikipedia entries are fluid and can be amended in real time, we cite the retrieval date of Wikipedia citations and we do not assert that the information found there is necessarily authoritative.
"Pressure sensor", retrieved 7/16/2012
[35] "GE Zoneline® Owners Manual and Installation Instructions, Heat/Cool Model 2900, Heat Pump Model 3900", General Electric Corporation, [copy on file].
[36] "GE Zoneline® Owners Manual and Installation Instructions, Heat Pump Model 5800", General Electric Corporation, [copy on file].
[37] "Whirlpool WGPH45 Packaged Heat Pump, Product Specifications", Whirlpool Corporation, [copy on file]. Website: www.whirlpoolcomfort.com
[38] N Lu, YL Xie, Z Huang, "Air Conditioner Compressor Performance Model", U.S. Department of Energy, August 2008, [copy on file as PNNL-17796.pdf] Available to the public from the National Technical Information Service, U.S. Department of Commerce, 5285 Port Royal Rd., Springfield, VA 22161 ph: (800) 553-6847, fax: (703) 605-6900 email: orders@ntis.fedworld.gov online ordering: http://www.ntis.gov/ordering.htm
[39] Yinger R, R Bravo, and D Martinez. 2006 Air Conditioner Stalling Effects Study/Air Conditioner Testing Procedures. Southern California Edison, Rosemead, California
[40] Bravo, R, R Yinger, and L Gaillac. 2006. Conditioner Stalling Unit Level Solutions Test Report. Southern California Edison, Rosemead, California.
[41] Lu N, B Yang and Z Huang. 2008a. Evaluation of Southern California Edison Air-Conditioner Stalling Solutions. PNNL-17686, Pacific Northwest National Laboratory, Richland, Washington.
[42] Danny S. Parker, John R. Sherwin, Bart Hibbs, "Development of High Efficiency Air Conditioner Condenser Fans", ASHRAE Transactions June 2005, [copy on file as FSEC-CR-1674-05.pdf]
Books & Articles on Building & Environmental Inspection, Testing, Diagnosis, & Repair
Complete List of Air Conditioning & Heat Pump Design, Inspection, Repair Books at the InspectAPedia Bookstore.
Modern Refrigeration and Air Conditioning, A. D. Althouse, C.H. Turnquist, A. Bracciano, Goodheart-Willcox Co., 1982
Principles of Refrigeration, R. Warren Marsh, C. Thomas Olivo, Delmar Publishers, 1979
"Air Conditioning & Refrigeration I & II", BOCES Education, Warren Hilliard (instructor), Poughkeepsie, New York, May - July 1982, [classroom notes from air conditioning and refrigeration maintenance and repair course attended by the website author]
Refrigeration and Air Conditioning Technology, 5th Ed., William C. Whitman, William M. Johnson, John Tomczyk, Cengage Learning, 2005, ISBN 1401837654, 9781401837655 1324 pages
Asbestos HVAC Ducts and Flues field identification photos and guide
Fiberglass: Indoor Air Quality Investigations: Fiberglass in Indoor Air, HVAC ducts, and Building Insulation
...