PVC Air Ducts for HVAC Systems
Is PVC Ductwork Recommended in Slabs or Above Ground?
InspectAPedia tolerates no conflicts of interest. We have no relationship with advertisers, products, or services discussed at this website.
HVAC ductwork in floor slabs: diagnosis & repair or abandonment FAQs.
Questions & answers about how to diagnose, repair, or abandon under-slab or in-slab heating or air conditioning ductwork.
This article series describes heating and air conditioning ducts that have been placed in or beneath concrete floor slabs.
Green links show where you are. © Copyright 2017 InspectApedia.com, All Rights Reserved.
Use of PVC HVAC Ducts in Residential Applications & In Slabs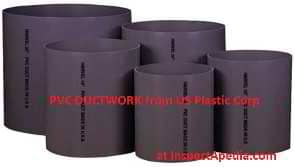 These questions & answers about using PVC or CPVC residential in-slab air ducts were posted originally at SLAB DUCTWORK - topic home.
The illustrations of CPVC duct piping at page top and of PVC duct piping shown just above are adapted from Georg Fischer Harvel, a U.S. producer of PVC and CPVC duct piping in Easton PA. Contact information for the company is given in this article.
[Click to enlarge any image] - permission for image use requested 2017/11/28
Question: will using PVC pipe for in-slab heating avoid issues with water in slab duct?
2017/11/27 Marcia Thompson said:
Would installing PVC pipe for in slab heating system pose the same issues mentioned in your article?
We also have radon and have a mitigation system in place but do not want to increase the radon problem.
Reply:
No, Marcia, at least not where condensation can remain an issue in duct systems.
IN-slab heating using hot water from a boiler, also referred to as radiant floor heat, is a closed system. You would not expect ground water to leak into the piping distribution system.
The piping or routing of slab heat itself does not affect radon leakage into a building through the floor slab as long as the slab is sound - i.e. not cracked.
Any building heating will create a stack effect that causes warm air to rise in the structure; that pressure differences increases the movement of soil gases up into the building if there are openings (such as slab cracks or porous concrete block) through which it can pass.
Reader follow-up:
Just to clarify, I wasn't referring to a radiant heating ststem in the floor. We recently visited a home renovation project in which the HVAC contractor installed some type of PVC pipe instead of metal ductwork beneath the concrete slab.
The owners wanted to eliminate the metal ductwork in the ceiling and therefore had it installed under the slab. We are considering the same system but we have radon and a radon mitigation system. Sounds like the issue with radon leakage is caused by cracks in the slab not the material used for the ductwork.
Correct? Do you know of any other problems with using PVC pipe instead of metal ductwork under the concreate slab? What would you recommend is the safest material to use for ductwork under a concrete slab? And, if it were advising us, would you even consider putting the ductwork under the concreate slab.
Reply: Advantages and disadvantages of using Sch 40 PVC or Sch 80 as in-slab HVAC air ducts: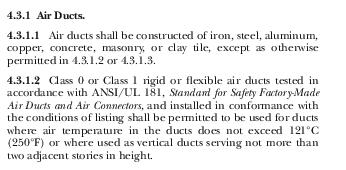 I take it you mean that the contractor is using large-diameter PVC pipe as HVAC air ducts? If that's the case I would still be concerned about ultimate leaks into and contamination in the in-slab ductwork, though the contractor and I might agree that PVC is probably less-likely to leak from corrosion than the older traditional metal ductwork.
Where are PVC & CPVC Duct Systems Used?
OPINION: There are certainly applications such as industrial environments where plastic, PVC, or CPVC duct materials are not just appropriate, but critical, such as in corrosive environments.
To that end, we list some suppliers of PVC and CPVC duct materials at the end of this article.
What About PVC & CPVC Duct Pipe Use in Residential Applications
OPINION: For residential applications there are code, fire, and in some situations water entry or condensate accumulation hazards that should be considered.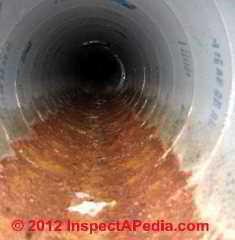 I'd want to review also the specific PVC piping used and to check its specifications for tolerance of the temperatures produced by the heating system (probably ok) and for its rating and listing as approved for in-slab ductwork.
Shown here is a metal in-slab duct that makes clear that the duct system had held water at least intermittently for many years. While plastic ducts would resist the corrosion we show here, they would not prevent water from entering the duct system.
An advantage of PVC ducting in slab systems is that it's less temperature-conductive than metal, possibly reducing interior condensation. But still I would want to know how the in-slab ducts are being insulated against un-wanted heat transfer or heat loss into the slab.
If the slab temperature is ever going to drop below say 55°F the risk of condensation in the in-slab ducts may be significant.
Any in-slab duct system can and probably will accumulate condensate inside the ducts even if ground water is not leaking into the system.
In-slab HVAC ducts in areas of high ground water and ducts in flood zones are at extra risk of water entry.
That in turn invites development of mold or growth of bacterial or other pathogenic hazards. Going from metal to PVC does not eliminate that risk. But better insulation and less heat loss might reduce it.
PVC is generally not designed to withstand temperatures over 140°F. CPVC duct piping can handle higher temperatures, up to 200°F.
Because PVC ductwork also will have a maximum allowable internal negative pressure rating (to avoid risks of duct sag or collapse), PVC ducts carrying hot air or hot gases might also need design considerations on the return side or where the ducts are under negative pressure. That's more likely to be a concern in some industrial applications than in a residential application.
For example a 10" PVC return duct at 73°F can tolerate a negative interal pressure of -146 inches of water or about -5.3 psi. You won't ever see that much pressure drop in a residential HVAC system where a typical pressure drop across an air filter might be about 0.20 in. wc. (Richardson 2014) cited at INCREASING RETURN AIR where we discuss negative pressure problems in return air ducts.
PVC and CPVC ducting for air movement in a residential HVAC system may require special adapters to connect it at transitions to the metal components of the HVAC system plenums and air handler - a place to watch for jury-rigged snafus by an inexpert installer.
2015 International Mechanical Code or IMC 603.8 Underground Ducts
Here is an excerpt from one of the model codes, the 2015 International Mechanical Code or IMC 603.8 Underground Ducts, section 603.8.3 Plastic Ducts and Fittings
Plastic ducts shall be constructed of PVC having a minimum pipe stiffness of 8 psi (55 kPa) at 5 percent deflection when tested in accordance with ASTM D 2412.
Plastic duct fittings shall be constructed of either PVC or high density polyethylene.
Plastic ducts and fittings shall be utilized in underground installations only. The maximum design temperature for systems utilizing plastic duct and fittings shall be 150°F (66°C)
IMC 603.12 Condensation
Interestingly section 603.12 of the IMC includes a provision for addressing condensation but only on the exterior of the ductwork.
Provisions shall be made to prevent the formation of condensation on the exterior of any duct.
IMC [BS] 603.13 Flood hazard areas
For structures in flood hazard areas, ducts shall be located above the elevation required by Section 1612 of the International Building Code for utilities and attendant equipment or shall be designed and constructed to prevent wter from entering or accumulating within the ducts during floods up to such elevation.
If ducts are located below the elevation required by Section 1612 of the International Building Code for utilities and attendant equipment, the ducts shall be capableof resisting hydrostatic andhydrodynamic loads and stresses, including the effects of buoyancy, during the occurrence of flooding up to such elevation.
You can read the flood protection provisions of the ICC IRC IBC Section 1612 here: 2009 ICC IRC INTERNATIONAL BUILDING CODE (2009) [PDF] complete
IMC 603.14 Location
Ducts shall not be installed in or within 4 inches (102mm) of the earth, escept where such ducts comply with section 603.8.
Really? In my opinion the model codes should considere the problems that accrue when water leaks into or floods into the duct interior or when condensation forms on the duct interior where the combination of accumulation of water and the passage of house dust that contains organic particles invites bacterial, mold or similar contamination.
NFPA 90A Section 4.3.1, Air Distribution - duct materials
Also see this page excerpted from NFPA 90A Section 4.3.1 AIR DISTRIBUTION [PDF] that does NOT list PVC among permitted HVAC duct materials and review this fire safety question with your local code enforcement officials.
4.3.1.1 Air Ducts shall be constructed of iron, steel, aluminum, copper concrete masonry or clay tile except as permitted in 4.3.1.2 or 4.3.1.3. - see my attached snapshot of this section of the NFPA code below
NFPA 90A covers construction, installation, operation, and maintenance of air conditioning and ventilating systems, including filters, ducts, and related equipment, to protect life and property from fire, smoke, and gases resulting from fire or conditions having manifestations similar to fire. - available at http://www.nfpa.org/
Bottom line: in my OPINION I would avoid putting HVAC ducts into a slab
Reader follow-up:
Marcia Thompson said:
Thank you so much for taking the time and providing such good references. We will probably avoid taking the risk. Much appreciation and this is a great site. Keep up the good work.
Question: PVC pipes for air ducts in the crawl space?
(July 30, 2015) ed wilson said:
i have a low small space beneath my house . I need to add more heat air ducting , Is it a good thing to install pvc piping for a/c ductv

Reply:
OPINION: There are risks of
return air leaks that draw contaminants in from the crawl area and blow them into occupied space
damage, disconnections, or other problems that remain un-discovered because the ducts are in an inaccessible area
increased heating or cooling costs from routing ductwork through an un-conditioned space
Violation of local builiding and fire codes
Water leaks, condensation, organic dust and debris combine to grow mold and support pathogens in low-routed in slab ducts.
why wouldn't pvc duct work solve most in ground duct problems
Suppliers of PVC and CPVC Ductwork
Chicago Plastic Systems, 440 S Dartmoor Dr., Crystal Lake, IL 60014 USA Tel: 866-697-0329, Website: http://www.cpsfab.com/ Email: sales@cpsfab.com​​​​​​​​​​​​​​
Website excerpts:

World Class Fabrication of Corrosive Air and Fluid Handling Systems, Components and Equipment. ... Chicago Plastic Systems is your source for all types of thermoplastic duct and fittings.

They are available in PVC, CPVC, Polypro, PVDF, HDPE and even static dissipative materials. We produce round duct and fittings to 72" diameter and rectangular duct to 72" x 72" all in accordance with SMACNA guidelines.

Our fittings are fabricated on our proprietary equipment​​​​​​​ and welded by hand to ensure proper fit and weld strength by DVS certified professionals​​​​​​​.​​​​​​​

Comment: Using the company's "cut sheet" for plastic wye http://www.cpsfab.com/mt-content/uploads/2017/05/wye_2017.pdf as an example we note the following materials of construction for these plastic duct components:

Duct sizes from 6" to 24" in diameter
PP and PE temperature up to 180 F
PVC temperatures up to 140 F.
CPVC temperatures up to 200 F.
All fastener hardware 18-8 SS
PVC Classes 12454-B&C per ASTM D-1784-92 (Formerly known as Type I, Grade 1 & 2)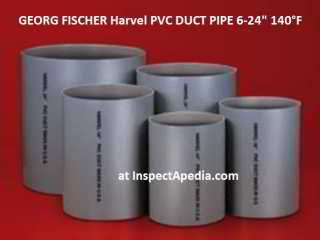 +GF+ Georg Fischer Piping Systems, 300 Kuebler Road, Easton PA 10840, tel: 610-252-7355, PVC & CPVC Duct, Website: http://www.harvelduct.com/

Website Excerpts:

PVC duct systems are suitable for countless applications using a maximum temperature of 140°F.

GF Harvel PVC Duct, available in 6" through 24" diameters, provides long-lasting, cost-effective solutions for industrial and institutional corrosive fume exhaust and drain applications. It can safely carry a maximum service temperature of 140°F.

CPVC duct systems are ideal for elevated temperature service (up to 200°F) and where fire performance is a concern.

CPVC Duct - For Hot Corrosive Fume and Drain Handling Systems

GF Harvel CPVC Duct has exceptional fire resistance, excellent resistance to corrosion, high heat distortion temperature and good mechanical strength. This unique balance of physical properties, combined with the product's inherent light weight and ease of fabrication is now available in large diameters.

GF Harvel CPVC Duct provides a long-lasting, cost-effective solution to many industrial applications involving hot corrosive fume and drain service. It can safely carry a maximum service temperature of 200ªF.
PVC Pipe Supplies, 8971 Yahweh Rd. Olive Branch, MS 38654 USA, Website: http://pvcpipesupplies.com/ Tel: (844) 542-8265

This company provides, among other PVC pipe products, PVC "Duct pipe", and CPVC "Duct Pipe" manufactured by Georg Fischer. Shown above: 8-inch CPVC gray duct pipe described as follows:

GF Harvel CPVC Duct pipe is extruded from a light-gray-colored Chlorinated Polyvinyl Chloride (CPVC) compound with a Cell Classification of 23447 per ASTM D1784.

This enables GF Harvel Duct to safely carry a maximum service temperature of 200ªF. GF Harvel CPVC Duct is chemically resistant to most acids, bases, salts, aliphatic solutions, oxidants, and halogens. Detailed chemical resistance data is available and should be referenced for proper material selection.

Price: $569/99 8" x 20" CPVC Duct Pipe
Weight: 3.348 lbs/ft
Maximum Temperature: 200°F (93° C)
See this HARVEL CPVC DUCT PIPE PRODUCT SPECIFICATIONS SHEET [PDF]

Website Excerpts:
PVC thin wall duct pipe is used for air / exhaust applications. The pipe is made with lightweight thin wall PVC and makes large jobs labor friendly because of its weight. Duct pipe is to be used only on open air systems and is not suited for liquid handling or pressure situations.

PVC Duct pipe is rated to handle temperatures up to 140 degrees F. Most commonly used in industrial HVAC applications for new constructions. The sizes range from 2" up to 60" in diameter. PVC duct pipe has excellent chemical resistance to most fumes, gases, and media. Standard PVC cement and primer can be used for installation. It is recommended to PVC weld these systems with large diameter sizes. The pipe is manufactured in 10' and 20' sections.

CPVC thin wall duct pipe is used for air / exhaust applications. The pipe is made with lightweight thin wall CPVC and makes large jobs labor friendly because of its weight. CPVC Duct pipe is to be used only on open air systems, they are not suited for liquid handling or pressure situations.

CPVC duct pipe has higher impact strengths and great fire resistant properties. CPVC duct pipe is rated to handle temperatures up to 200 degrees F. Most commonly used in industrial HVAC applications for new constructions. The sizes range from 2" up to 24" in diameter.

CPVC duct pipe has excellent chemical resistance to most fumes, gases, and media. Standard CPVC cement and primer can be used for installation. It is recommended to CPVC weld these systems with large diameter sizes. The pipe is manufactured in 10' and 20' sections.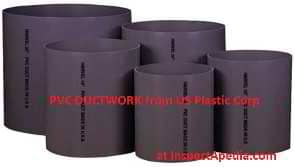 United States Plastic Corp., [shown above from the US Plastic Corp website this photo is identical to the Georg Fischer PVC CPVC duct illustration show above]], 1390 Neubrecht Rd, Lima Ohio, 45801-3120 USA, Tel: 1-800-809-4217 Website: https://www.usplastic.com Technical support Tel: 1-800-821-0349 Technical Email: techsupport@usplastic.com

Website Excerpts:
PVC Duct:
Corrosion-proof PVC components for the construction of exhaust ventilation systems to meet your own requirements. If your special requirements cannot be met with these standard components, inquire and we will special order what you need. Duct wall thickness: 3" dia. wall .135"; 4" dia. wall.173"; 6" dia. thru 18" dia. wall .187"; 20" dia. wall .219"; 24" dia. wall .250". All sizes of duct are plain end. Anything over 8' must ship motor freight. ...


PVC1120, ASTM D-1784, Type 1, Grade 1, Cell Class 12454-B
Temperature range: 33°F to 140°F
...
Continue reading at SLAB DUCTWORK or select a topic from closely-related articles below, or see our complete INDEX to RELATED ARTICLES below.
Or see ASBESTOS TRANSITE DUCTWORK
Or see DUCT & AIR HANDLER ODORS
Or see WATER & ICE IN DUCT WORK
Or see WET CORRODED DUCT WORK
Or see this
Article Series Contents
Suggested citation for this web page
PVC HVAC DUCTS at InspectApedia.com - online encyclopedia of building & environmental inspection, testing, diagnosis, repair, & problem prevention advice.
Or use the SEARCH BOX found below to Ask a Question or Search InspectApedia
...
Frequently Asked Questions (FAQs)
Try the search box below or CONTACT US by email if you cannot find the answer you need at InspectApedia.
Please see the slab ductwork questions & answers in the article above, beginning at SLAB DUCTWORK FAQs
...
Ask a Question or Search InspectApedia
Use the "Click to Show or Hide FAQs" link just above to see recently-posted questions, comments, replies, try the search box just below, or if you prefer, post a question or comment in the Comments box below and we will respond promptly.
Search the InspectApedia website
Technical Reviewers & References
Click to Show or Hide Citations & References
Carson, Dunlop & Associates Ltd., 120 Carlton Street Suite 407, Toronto ON M5A 4K2. (416) 964-9415 1-800-268-7070 info@carsondunlop.com. The firm provides professional home inspection services & home inspection education & publications. Alan Carson is a past president of ASHI, the American Society of Home Inspectors. Thanks to Alan Carson and Bob Dunlop, for permission for InspectAPedia to use text excerpts from The Home Reference Book & illustrations from The Illustrated Home. Carson Dunlop Associates' home inspection education products include
[1] Thanks to Mark Cramer, Tampa Florida, for assistance in technical review of the "Critical Defects" section and for the photograph of the deteriorating gray Owens Corning flex duct in a hot attic. Mr. Cramer is a Florida home inspector and home inspection educator.
[2] Thanks to Jon Bolton, an ASHI, FABI, and otherwise certified Florida home inspector who provided photos of failing Goodman gray flex duct in a hot attic.
[3] Air Diffusion Council, 1901 N. Roselle Road, Suite 800, Schaumburg, Illinois 60195, Tel: (847) 706-6750, Fax: (847) 706-6751 - info@flexibleduct.org - www.flexibleduct.org/ -
"The ADC has produced the 4th Edition of the Flexible Duct Performance & Installation Standards (a 28-page manual) for use and reference by designers, architects, engineers, contractors, installers and users for evaluating, selecting, specifying and properly installing flexible duct in heating and air conditioning systems.
Features covered in depth include: descriptions of typical styles, characteristics and requirements, testing, listing, reporting, certifying, packaging and product marking.
Guidelines for proper installation are treated and illustrated in depth, featuring connections, splices and proper support methods for flexible duct. A single and uniform method of making end connections and splices is graphically presented for both non-metallic and metallic with plain ends."
The printed manual is available in English only. Downloadable PDF is available in English and Spanish. 
[4] Owens Corning Duct Solutions - www.owenscorning.com/ductsolutions/ - provides current HVAC ductwork and duct insulating product descriptions and a dealer locator. Owens Corning Insulating Systems, LLC, One Owens Corning Parkway, Toledo, OH 43659 1-800-GET-PINK™
[5] "Flexible Duct Media Fiberglas™ Insulation, Product Data Sheet", Owens Corning - see owenscorning.com/quietzone/pdfs/QZFlexible_DataSheet.pdf
"Owens Corning Flexible Duct Media Insulation is a lightweight, flexible, resilient thermal and acoustical insulation made of inorganic glass fibers bonded with a thermosetting resin."
[6] Modern Refrigeration and Air Conditioning, A. D. Althouse, C.H. Turnquist, A. Bracciano, Goodheart-Willcox Co., 1982
[7] Principles of Refrigeration, R. Warren Marsh, C. Thomas Olivo, Delmar Publishers, 1979
"Air Conditioning & Refrigeration I & II", BOCES Education, Warren Hilliard (instructor), Poughkeepsie, New York, May - July 1982, [classroom notes from air conditioning and refrigeration maintenance and repair course attended by the website author]
[8] Refrigeration and Air Conditioning Technology, 5th Ed., William C. Whitman, William M. Johnson, John Tomczyk, Cengage Learning, 2005, ISBN 1401837654, 9781401837655 1324 pages
[9] Carson Dunlop, Associates, Toronto, have provided us with (and we recommend) Carson Dunlop Weldon & Associates' Technical Reference Guide to manufacturer's model and serial number information for heating and cooling equipment ($69.00 U.S.).
[11] Asbestos HVAC Ducts and Flues field identification photos and guide
[12] Fiberglass: Indoor Air Quality Investigations: Fiberglass in Indoor Air, HVAC ducts, and Building Insulation
[13] "Design and Installation of Residential Flexible Ductwork Systems", Georgia State Construction Code, retrieved 8/12/12, original source: http://www.dca.state.ga.us/development/constructioncodes/publications/1ONE.pdf, [copy on file as GA_Ductwork_Code.pdf] The information presented in this document comes primarily from sources in the International Mechanical Code including referenced standards and Georgia Amendments.
[14] International Mechanical Code, 2000 Edition, with 2001, 2004 & 2005 Georgia Amendments
[15] Flexible Duct Performance and Installation Standards (3rd ed.) – Air Diffusion Council
[16] Manual D—Residential Duct Systems – Air Conditioning Contractors of America (ACCA)
[17] HVAC Duct Construction Standards—Metal and Flexible (1995 ed.) – Sheet Metal and Air Conditioning Contractors' National Association, Inc. (SMACNA)
[18] Uniform Mechanical Code, 2003 Edition, Appendix A: Standard for Installation of Factory-Made Air Ducts
[19] Florida Mechanical Code, Section 610: Air Distribution Systems
[20] Thanks to Indoor Air Care Corp., for their photograph of flooded flex-duct. The Southhampton NY company can be reached at 866 580-MOLD
[21] ASTM E1368, ASTM Standard Practice for Visual Inspection of Asbestos Abatement Projects
[22] ASTM E2356, ASTM Standard Practice for Comprehensive Building Asbestos Surveys
[23] Nguyen, Tuan ; Hamilton, Jill, " Asbestos in Crawl Spaces", Corporate author: Naval Facilities Engineering Service Center, Port Hueneme CA, Oct. 1999, web search 6/11/12, PDF source: http://www.dtic.mil/cgi-bin/GetTRDoc?Location=U2&doc=GetTRDoc.pdf&AD=ADA370467, Abstract : This document has been developed for use by Navy Asbestos Program Managers (APM), industrial hygenists, Safety and Health Managers, and facility managers to address asbestos contamination in crawl spaces. The contents provide direction for managing and abating asbestos hazards in these areas. Section 1 contains primarily the technical and regulatory requirements. Sections 2 and 3 are checklists with detailed discussions for clean-up or abatement in crawl spaces. These augment the NFESC Field Procedure Manuals for Managing Asbestos Abatement Demolition and Renovation Contracts, TM-2210-ENV and TM-2211-ENV, respectively. Section 4 lists the regulatory and technical references.
[24] Kenneth F. Cherry, Asbestos: Engineering, Management and Control, Lewis Publishers, 1990. [book]
[25] Geoffrrey Tweedale, Magic Mineral to Killer Dust: Turner & Newall and the Asbestos Hazard, Oxford University Press, USA (May 24, 2001), ISBN-10: 0199243999 ISBN-13: 978-0199243990
[26] J. Claydon,Control & Management of Asbestos in Buildings: System of Local Rules (HHSC Handbook), 1997
[27] George A. Peters, Sourcebook on Asbestos Diseases: Asbestos Control & Medical Treatment, 1991
[28] RTCA, the Radon Testing Corporation of America, is in Elmsford, NY - 800-457-2366
"Radon Basics", Q&A article, Solar Age, April 1984, includes advice for radon-resistant construction for an underground house built of concrete
[29] "Radon Basics-PDF", Q&A article, Solar Age, April 1984, includes advice for radon-resistant construction for an underground house built of concrete
[30] Steven Bliss served as editorial director and co-publisher of The Journal of Light Construction for 16 years and previously as building technology editor for Progressive Builder and Solar Age magazines. He worked in the building trades as a carpenter and design/build contractor for more than ten years and holds a masters degree from the Harvard Graduate School of Education. Excerpts from his recent book, Best Practices Guide to Residential Construction, Wiley (November 18, 2005) ISBN-10: 0471648361, ISBN-13: 978-0471648369, appear throughout this website, with permission and courtesy of Wiley & Sons. Best Practices Guide is available from the publisher, J. Wiley & Sons, and also at Amazon.com.
Books & Articles on Building & Environmental Inspection, Testing, Diagnosis, & Repair