Bulk Sample Microscope slide Preparation
Step by step guide shows how to prepare slides of bulk sample materials for forensic analysis - Lab SOP
MICROSCOPE SLIDE BULK SAMPLE PREP - CONTENTS: tips for preparing successful microscope slides from bulk material samples such as wood chips & scrapings collected during environmental sampling
POST a QUESTION or READ FAQs about how to prepare a bulk sample of , scraping, or other large particles for successful forensic analysis by high-powerd transmitted light microscopy
InspectAPedia tolerates no conflicts of interest. We have no relationship with advertisers, products, or services discussed at this website.
How to prepare microscope slides for large particle examination:
This article describes how we make a useful microscope slide from coarse debris or bulk samples of material such as wood chips, scrapings, or other environmental samples collected in, on, or around buildings. Careful preparation of sample materials from just about any source can produce a microscope slide useful for forensic or environmental analysis.
These methods are important for forensic laboratories who may receive material samples that were collected by rough-handed means or because better samples were simply not available.
Using as an example, scrapings from a plywood subfloor on which there was suspected mold growth we illustrate how the sample was mailed, prepared, and then analyzed using transmitted light microscopy at magnifications up to 1200x.
Green links show where you are. © Copyright 2017 InspectApedia.com, All Rights Reserved.
Procedures for Preparing Microscope Slides from Bulk or Debris Samples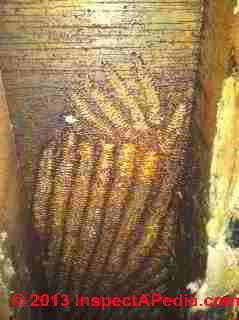 For collecting a possible mold growth sample from the fern-like bracken growth pattern shown in the client-provided photo at left, we'd have preferred to receive an adhesive tape sample (MOLD TEST KITS) that captured the growth pattern and structural materials of whatever was present on the plywood surface of subflooring over the basement where this photograph was taken.
[Click any image to see an enlarged, detailed version]
Tape sampling has the advantages that it does not destroy growth structures, spores, hyphae, or whatever else may be present.
Dust, mold or other particles are simply lifted by adhesion to tape pressed on the sample surface.
Other sampling methods such as swabs produce an ugly, mangled, smeared particle sample that can limit what the lab can do with the material. (Swabs that are collected thinking that we can identify mold by culture have a different and more serious error we report at SWAB & PCR SAMPLING & TESTS for MOLD).
Really? Let's be practical: real-world circumstances are not always nice for the forensic microscopist. Perhaps the surface was too wet, oily, or slimy for particles to adhere to adhesive tape.
Although we asked the client to try a tape lift from the surface shown in the photo, our next photograph shows what he was able to collect and mail to our laboratory - a ZipLok bag containing fragments of wood scraped (g_d knows how) from the floor surface.
Watch out: most forensic labs take care when handling unknown samples, working with a draft hood and protective gear. Although the volumes of material processed is usually microscopic, there are a few particulates that can be quite hazardous if inhaled or got into an eye or into an open cut. If we have a general idea what we're working with and its potential risks, the process may be a bit simpler and faster.
We prepared several types of samples from this horrible mess, hoping that one of them would provide useful information about just what the heck was making that pattern on the basement subfloor. We knew that our analysis would be difficult because
The sample was scraped into a mess of large wood chips, obscuring the original growth structures and patterns
The identity of the original exposed surface on which the material was "growing" was now indeterminate because we have a pile of tiny scraps whose original "up" or "exposed" surface was ambiguous - for most of the sample, without careful examination, perhaps using a stereo microscope first, we could not be sure which material surface actually contained the mold or other whatever-it-is.
The homeowner had already sprayed the surface with bleach, changing the natural colors of the original material on the subfloor - color is a useful element of information when identifying biological and other particulate samples.
At above right you can see that we moved most of the sample into a plastic sample container for safe-keeping, labeling it with a control number, date, and other information. But we kept the plastic bag from the client for a bit longer, using it to prepare a fine-particle dust sample using adhesive tape (below left). This gave me a sample of very fine particulate dust self-selected from the crude sample as it was jostled during shipping.
At above right you can see I'm preparing four different samples of the material submitted - this is more than is fair to expect most forensic labs or aerobiology labs to do. In this case I was not sure which sample was going to yield useful results, and besides I was thinking about this article.
The four samples under preparation shown at above right (slides from left to right) included:
Bulk-Wash: a large piece of bulk material was selected to be processed sufficiently to analyze it with transmitted light microscopy. I could have tried top lighting analysis but the sample was a mess and the pieces were already too small for that to be promising.

This fragment will be macerated, large particles that will interfere with microscopic analysis will be removed, and when prepared with a mountant it will be examined for identifiable particles (other than wood fragments of course). We lose growth structures but can find fungal spores, insect fragments, paint particles, etc. that may otherwise have been buried inside of large fragments.

To avoid over-hydrating my particles or inadvertent dissolving of them I used a mixture of lactic acid (mountant), phenol (a preservative) and cotton blue (very light stain).

Watch out: using any acid-based stain on particulate samples in which you are looking for gypsum or drywall dust will result in a dissolved, foamy mess.
Coarse Particulates: an adhesive tape sample was prepared from the shipping bag interior collecting both fine particles.
Fine Particulates: Adhesive tape pressed into fine dust on the interior of the shipping bag gave a nice sample of fine particulates. Of course these might be just sawdust! The collection of this sample is shown at above left.
Bulk Surface Capture: an adhesive tape sample was prepared by pressing clear adhesive tape onto what appeared to be the original exterior surface of two of the largest fragments in the sample bag. This turned out to be the most interesting of our samples.

Preparing this sample takes a bit of careful work to identify the original exterior surface of one or more large particles; the particle then must be held with fine forceps or tweezers to permit taping its surface.
Preparing the Bulk-Wash Particle Sample
At above left and at the top of this page I'm mashing up a large fragment, under the fantasy that I will be able to separate some interesting particles from it. Using a fairly viscous mountant (described above) gives me plenty of working time. After mashing I used ultra-fine forceps to remove very large particles that would have interfered with my cover slide. Too-big particles under the cover slide reduce the ability to focus the microscope through the entire sample layer.
At above right I'm using a rubber stopper cover affixed over my coarse tweezers to smash my cover slip without breaking it - yielding a usable microscope slide from Sample #1 - Bulk Wash.
Snip a Promising Tape Segment for the Microscope Slide
I snip a small triangular segment from a promising section of each of my tape samples (above left). "Promising" is where judgment of the lab technician is important. We want to select a segment of the tape that by appearance is representative of the whole tape sample; some clients cheat and stick different sections of one piece of tape into five different wall areas of five different materials, hoping I'll process that tape for one sample fee. That's a dirty trick. For difficult tape samples we might first examine the tape under the stereo microscope to be sure we're snipping a promising segment.
How to Mount a Tape Sample On the Microscope Slide
Before mounting the snipped tape segment onto the slide we want to wet the particle-containing side with mountant fluid by touching it in the drop of mountant already waiting on the slide. But it's easy to get mixed up about which side of the tape has the particles. If we mount the segment improperly, with particles "down" instead of "up" facing the cover slide, we will have to focus through the adhesive tape to see the particles - losing acuity and thus information.
Notice that when I grab the tape segment off of my scissors, since only one side of the tape is sticky, that side will adhere to the tip of my tweezers (above right). I am careful to notice which side is the sticky side (in the photo at left the sticky side is "down"). By paying attention to how I hold and invert the tweezers, I can wet the particle-side with mountant, then turn it particle side up (towards the cover slide) before actually placing it in the mountant on the microscope slide (above right).
Mount Large Particles & Add Mountant Fluid Under the Cover Slip
If I have trouble getting my tape snip to let go of my tweezers when leaving it on the microscope slide I just need to give it a little encouragement using just the very tips of a second pair of tweezers (above left).
I set the cover slip in place atop my sample and straighten its position on the slide using that handy rubber-tipped tweezer-end shown earlier. That keeps our fingers out of the mountant and prevents smearing the cover slip.
An irritating large particle may leave our cover slip tipped. I may smash (aplastar) the cover slip a bit to straighten it out, and I may add a bit more mountant by touching my eye-dropper of mountant to the edge of the cover slip until mountant flows below and adequately fills the space under the cover slip (above right).
Get Rid of Excess Mountant Fluid on the Microscope Slide & Sealing the Cover Slip Edges
If I have the opposite trouble - too much mountant fluid, it will run out of the edges of the cover slip and make a mess.
Watch out: I do not want to get any mountant fluid or anything else on the objective lens of my microscope. This is particularly a hazard when using the higher magnification objectives that will be close to the cover slip, or when using oil-immersion and my 100x objective.
All expert microscopists keep a roll of cheap, low-dust toilet paper at hand to make a little twisted dauber to remove excess mountant (above left).
I don't need to make the cover slip edges absolutely clean of excess mountant because for this demonstration I'm also going to seal my cover slip to the slide using clear nail polish (above right). In microscopy classes I first marveled at classmates who I observed "doing their nails" during a break. But heck - it's nail polish, right?
Watch out: if you try examining the slide before the nail polish has fully dried you may be sorry and you may damage your microscope objective.
Storing Finished Microscope Slides
At above left are my four finished microscope slides ready for analysis. The left-most slide, my smashed washed bulk sample is mounted beneath a longer 22x50 mm cover slip, the other three slides are mounted beneath 22x22 mm cover slips, and all four cover slips were cleaned and sealed with clear nail polish.
After analysis I store my slides in a slide box such as the one shown at left, shelved with the cover slips facing up in case of leakage. I also store those original tape samples from which the small segments were snipped. It's easy to stick the large tape samples onto slides, label them, and store them along with the finished slides. How long we keep these samples and slides depends lab policy, client promises, and on the chances that we will want to examine them again.
Really? Is this what every environmental or forensic laboratory does with particle or bulk samples? No! It is very unlikely that any high-volume, high-speed large environmental lab goes to this much trouble, prepares multiple slides, nor seals them in nail polish. And most laboratories do not keep environmental samples nor prepared slides except as pre-arranged or perhaps in cases of legal consulting. But for studies, slower and more extensive examination, it's worth the trouble and time to do so.
What Was Found On These Bulk Sample Microscope Slides?
At MOLD APPEARANCE - STUFF THAT IS NOT MOLD in a section titled "Other Interesting Indoor Stains that are (probably) not Mold" I discuss what was in this sample.
That original statement was mistaken, and as our lab work showed, there was plenty of mold in the sample.
...
Continue reading at MICROSCOPE SLIDE PREPARATION or select a topic from closely-related articles below, or see our complete INDEX to RELATED ARTICLES below.
Suggested citation for this web page
MICROSCOPE SLIDE BULK SAMPLE PREP at InspectApedia.com - online encyclopedia of building & environmental inspection, testing, diagnosis, repair, & problem prevention advice.
Or use the SEARCH BOX found below to Ask a Question or Search InspectApedia
...
Frequently Asked Questions (FAQs)
Try the search box below or CONTACT US by email if you cannot find the answer you need at InspectApedia.
...
Ask a Question or Search InspectApedia
Use the "Click to Show or Hide FAQs" link just above to see recently-posted questions, comments, replies, try the search box just below, or if you prefer, post a question or comment in the Comments box below and we will respond promptly.
Search the InspectApedia website
Technical Reviewers & References
Click to Show or Hide Citations & References
AIRBORNE PARTICLE ANALYSIS METHODS - Airborne Particle Calculations, How to calculate airborne particle concentrations for mold, IAQ, allergens, or other forensic particle studies - Mold Test Laboratory SOPs
MICROSCOPE SLIDE PREPARATION - Microscope slide preparation methods - mold pollen bioaerosols - for indoor air quality analysis - Mold Testing Laboratory SOP
LAB PROCEDURES MICROSCOPE TECHNIQUES - Microscope techniques and laboratory procedures for indoor air quality, toxic mold identification, & bioaerosol investigations
LAB & FIELD IAQ EQUIPMENT SOP - Forensic Microscopy, Particle Identification & IAQ Investigation Field Equipment Specifications, including physical properties (such as particle trace dimensions) and calibration data for air sampling and other test equipment
MICROSCOPE DIGITAL PHOTOGRAPHY - how to obtain sharp photographs of views through the microscope using a digital camera
TECHNICAL & LAB PROCEDURES - Technical Procedure Articles on Testing for Mold and other Indoor Air Quality IAQ Contaminants
For most-recent microscope optical measurements: field width data and calibration see: Olympus-CH-2.xls & Polam Optics.xls Calibration is repeated no less than when an objective is removed/replaced or other microscope optical or stage components are removed/replaced, or if a new technician is employed.
For most-recent calculations of % of trace represented by n cross-scans see: Particle Counts.xls
For automated calculations of particles or spores per cubic meter of air (spores/M3) from raw airborne particle counts see: @SporeCountWork.xls
For spore count worksheets see: sheet 2 of @SporeCountWork.xls
Meltmount for Microscopic Slide Preparations: This product, available from Cargille Laboratories, is a contemporary, non-toxic replacement for Canada Balsam and has the same refractive index. Instructions for preparing slides using MeltMount are available from Cargille. I use this product in the lab for permanent slide mounts.
Mowiol: his replacement for Gelvatol is provided by Burkard. I'll add more information here when I can find it.
The Stains File stainsfile.info/StainsFile/jindex.html This is the most extensive list We have found of slide preparation stains. However it's quite shy on stains for pollen and mold spores. Above are listed stains and recipes of particular interest to aerobiologists and for which I have detail or alternatives beyond the information at the Stains File.
Burkard Co. : We were told that Burkard's term for "polyvinyl alcohol" is Gelvatol - vailable from Burkard.
Some microscope slide mounting technique articles
Books & Articles on Building & Environmental Inspection, Testing, Diagnosis, & Repair
Our recommended books about building & mechanical systems design, inspection, problem diagnosis, and repair, and about indoor environment and IAQ testing, diagnosis, and cleanup are at the InspectAPedia Bookstore. Also see our Book Reviews - InspectAPedia.
...