Clothes Dryer Fire Research
Clothes dryer fire causes, prevention, losses
InspectAPedia tolerates no conflicts of interest. We have no relationship with advertisers, products, or services discussed at this website.
Clothes dryer fire research:
Find here: authoritative research & key articles on clothes dryer safety, clothes dryer fires, clothes dryer standards, & clothes dryer fire statistics.
This article series describes good practices for clothes dryer vent installation, lint traps, wall vents, filters, and screens. We include a list of clothes dryer fire safety hazards and other clothes dryer installation or maintenance mistakes that are either unsafe or that interfere with effective, economical dryer operation. We discuss types of dryer vent ducting and dryer vent doors or opening protection devices.
Green links show where you are. © Copyright 2017 InspectApedia.com, All Rights Reserved.
Clothes Dryer Exhaust Vent Installation, Dryer Temperatures, Dryer Fires Research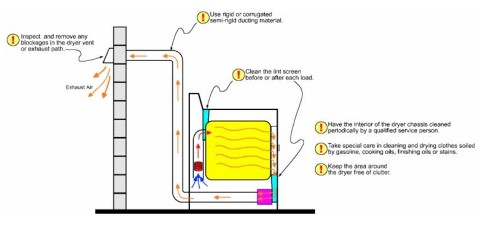 [Click to enlarge any image]
The clothes dryer safety sketch at above-left (US CPSC [2]) illustrates a typical clothes dryer installation and outlines a number of fire and safety recommendations.
You'll notice that the illustration does not include a secondary lint filter.
ANSI Z21.5 1 (CGA 7.1) voluntary safety standard for gas powered clothes dryers
APPLIANCES, BARBECUE. "Clothes Dryer." Transfer 403 (1996): 2.
Bajzek, T. J., Pape, R., & Duvall, D. E. (2012). Thermal Degredation and Ignition Characteristics of Clothes Dryer Lint. Journal of Failure Analysis and Prevention, 341-347.
Beers, Jonathan. "Dryer Venting." HOME ENERGY 20, no. 6 (2003): 14-16.
This article notes that " Once a fire starts, the plastic vent hose burns, spreading the fire."
Bonaccorso, Kyle, Mariah Eldredge, Scott Gould, Cameron Mills, "DRYER FIRES: IMPROVING CLOTHES DRYER SAFETY" (2012) [PDF] An Interactive Qualifying Project Report Submitted to the Faculty of Worcester Polytechnic Institute
In partial fulfillment of the requirements for the Degree of Bachelor of Science,

Abstract
Electric clothes dryers are responsible for approximately 4600 fire incidents annually. This project with the U.S. Consumer Product Safety Commission targeted reducing the number of clothes dryer fire incidents by amending the voluntary safety standard, UL 2158, Electric Clothes Dryers.

We identified the major contributing factors to electric clothes dryer fires, primarily through archival research and interviews, and designed a new performance test to be added to UL 2158 to address one of the major causes of such fires.

Brook, David M. Home moisture problems. [Corvallis, Or.]: Oregon State University, Extension Service, 1994.
Brown, Kate, and Paul Knight. Walatowa Pueblo of Jemez Housing Department Trip Report: Assessment of Mold and Moisture Conditions. Building Research Council. School of Architecture. College of Fine and Applied Arts. University of Illinois at Urbana-Champaign, 2005.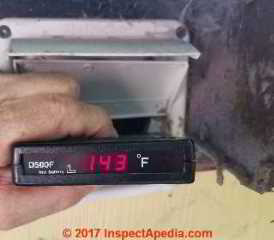 Above: measuring the exhaust vent temperature in a New York home. Details are at CLOTHES DRYER TEMPERATURES.
Cheung, Kisuk. Engineering and Design: Clothes Dryer Exhaust Venting. No. ETL-1110-3-483. CORPS OF ENGINEERS WASHINGTON DC, 1998.

Abstract: This letter provides basic design guidance for exhaust venting systems for residential-type electric and gas clothes dryers.
Craynor, John, "The Facts About Clothes Dryer Exhaust Systems", The ASHI Reporter, (April 2005), available from ASHI online at http://www.ashireporter.org/HomeInspection/Articles/The-Facts-About-Clothes-Dryer-Exhaust-Systems/161
John Cranor, ASHI certified home inspector (house-whisperer.com) in Richmond, VA, can be reached by email to: johncranor@verizon.net or by telephone at 804-747-7747. Technical review, email, 1/2012
Energy Star. (2011, November). Energy Star Marketing and Industry Scoping Report: Residential Clothes Dryers. Retrieved November 12, 2012, from Energy Star: http://www.energystar.gov/ia/products/downloads/ENERGY_STAR_Scoping_Report_Residential_Clothes_Dryers.pdf
Fantech, "Dryer Exhaust" [web article], Fantech, a systemair company, 10048 Industrial Blvd, Lenexa, KS 66215 USA, Email: USsupport@fantech.net, Tel: 800-487-9915, retrieved 2016/03/26, original source: http://fantech.net/enus/Support/FAQs/Dryer-Exhaust/
Fantech, "A new name for Dryer Booster Fans", [PDF], op.cit., retrieved 2016/03/26, original source: http://www.fantech.net/Documents/Leaflets/DEDPV%20White%20paper%20Fantech.pdf
FEMA, "CLOTHES DRYER FIRES in RESIDENTIAL BUILDINGS (2008-2010) - (2012) [PDF] FEMA, U.S. Department of Homeland Security, U.S. Fire Administration, National Fire Data Center, Emmitsburg, Maryland 21727 www.usfa.fema.gov/statistics/ retrieved 2017/07/17, original source: https://www.usfa.fema.gov/downloads/pdf/statistics/v13i7.pdf

Excerpt: In addition to the accumulation of lint, blockage in dryer exhaust vents also can occur from the nests of small birds or other animals or from damages to the venting system itself. A compromised vent will not exhaust properly to the outside. As a result, overheating may occur and a fire may ensue
Flynn, Jennifer D. US Structure Fires in Nursing Homes. National Fire Protection Association, 2008.
Franklin, Frederick F. "Survey of electrical fires." FIRE J. 78, no. 2 (1984): 41-44.
Fugler, Don. "Usage of ventilation systems in Canadian houses." In Proceedings of the First Canadian Building and Health Sciences Workshop, pp. 87-91. 2008.
Geis, Aelred D. "Effects of building design and quality on nuisance bird problems." (1976). OPINION: Birds entering the dryer vent system may cause a blockage, operheating, and a building fire.
General Electric Corporation, "EXPLANATION of DRYER TEMPERATURES" [PDF], retrieved 2017/07/17, original source: http://products.geappliances.com/appliance/gea-support-search-content?contentId=20985
Hall, Jr., John R., "HOME FIRES INVOLVING CLOTHES DRYERS or WASHING MACHINES" (2012) [PDF], NFPA, National Fire Protection Association, Fire Analysis and Research Division, retrieved 2017/07/17, original source: http://www.plumis.com/washersdryers.pdf Note: Plumis is a U.K. firm specialising in innovative fire suppression systems.

Abstract:
In 2006-2010, there were 16,950 home structure fires per year reported to U.S. fire departments where clothes dryers or washing machines were the equipment involved in ignition, with associated annual losses of 34 civilian deaths, 430 civilian injuries, and $209 million in direct property damage. Dryers alone accounted for 92% of these fires and 87% of the reported deaths.

The leading factor contributing to ignition was failure to clean. These estimates are based on data from the U.S. Fire Administration's (USFA's) National Fire Incident Reporting System (NFIRS) and the National Fire Protection Association's (NFPA's) annual fire department experience survey. Keywords: Fire statistics, home fires, clothes washer, clothes dryer, residential fires.
Hall, John Raymond. Home fires involving heating equipment. National Fire Protection Association, 2007.
Hayden, A. C. S. "Residential combustion appliances: venting and indoor air quality." Environmental progress 7, no. 4 (1988): 241-246.
Hoddenbach, Gerard, Jerry Johnson, N. P. S. Chief, and Carol DiSalvo. "RODENT-EXCLUSION MANUAL."
Höppe, Peter. "THE PHYSIOLOGICAL EQUIVALENT TEMPERATURE – a universal index for the biometeorological assessment of the thermal environment." [PDF] International journal of Biometeorology 43, no. 2 (1999): 71-75.
Lee, Arthur, "FINAL REPORT on ELECTRIC CLOTHES DRYERS and LINT IGNITION CHARACTERISTICS 2003", [PDF] U.S. CPSC, cpsc.gov, Arthur Lee is an electrical engineer in the Division of Electrical Engineering at the Directorate for Engineering Sciences, and he cites other experts contributing to this report. original source: http://www.cpsc.gov/pagefiles/117075/dryer.pdf
Excerpts:

In FY 2002, U.S. Consumer Product Safety Commission staff completed a test program to evaluate residential electric clothes dryers under various test conditions. The test program included measurements of temperature and airflow characteristics for different electric clothes dryer designs under normal operating conditions and conditions of partially-blocked and fully-blocked exhaust ducting.

The ignition characteristics of lint in relation to electric clothes dryer operation were also evaluated. The test program produced data on different dryer operating and design characteristics that can be used to help reduce the risk of lint ignition in a clothes dryer and help prevent fires.

The experiments described in this research report were undertaken to support future advances in clothes dryer safety. This report should not be used to suggest that current clothes dryers are unsafe or defective....

CPSC staff tested clothes dryers to evaluate the effects of lint accumulation and abovenormal operating temperatures and determine whether such conditions may result in lint ignition and/or dryer fires. The data was used to help determine if dryer fires result from a single event or a combination of events....

The results of the CPSC staff tests showed that lint that accumulates inside the dryer can ignite if the lint contacts certain areas of the heater housing, if the lint is in proximity to the heater, or if the lint is ingested by the heater box.


NFPA, "Dryer Safety Tips", Nationbasl Fire Protection Association (2013), retrieved Aug 2015, original source: http://www.nfpa.org/safety-information/for-consumers/causes/dryers-and-washing-machines/dryer-safety-tips
Niemeyer, Shirley, and Sharon Skipton. "EC02-458 Heating and Cooling Systems: Saving Energy and Keeping Safe (Home* A* Syst Fact Sheet 1)." (2002).
Sherman, Max H. "ASHRAE and residential ventilation." Lawrence Berkeley National Laboratory (2003).
Sherman, Max. "Residential Ventilation Standard." EETD Newsletter (2001).
Timm, Robert M., and Gerald R. Bodman. Rodent-proof Construction: Structural. Cooperative Extension, Institute of Agriculture and Natural Resources, University of Nebraska-Lincoln, 1983
Tjernlund, " Tjernlund Residential Capacity Dryer Duct Booster® your clothes faster and prevent lint build up with the new Dryer Duct Booster®. ", [web article], Tjernlund, 1601 9th Street White Bear Lake, MN 55110-6794, Tel: (800) 255-4208, Website: www.tjernlund.com, retrieved 2016/03/26 (new retrieveal), original source: http://www.tjernlund.com/dryer_booster.htm
UL 507 Standard for Electric Fans, , Underwriters Laboratories, retrieved 2016/03/26, original source: http://ulstandards.ul.com/standard/?id=507_9
Excerpt:

1.1 These requirements cover:

a) Fans and blowers that circulate air, such as desk, ceiling-suspended, and hassock fans;

b) Fans and blowers that ventilate air, such as attic, whole-house window, through wall, and direct discharge fans;

c) Ducted fans and blowers that exhaust air to the outside of a building structure, such as in-line, wall insert and ceiling insert fans; ... Component fans;

d) Residential cooking area fans, such as rangehoods and downdrafts;

UL 705 Standard for Power Ventilators, Underwriters Laboratories, retrieved 2016/03/26, original source: http://ulstandards.ul.com/standard/?id=705

Excerpt:
These requirements cover power ventilators of the roof-and wall-mounted types and duct fans of the straight-through type intended for commercial or industrial use, residential fans intended for heated and conditioned air and for connection to permanently installed wiring systems in accordance with the National Electrical Code, NFPA 70.
UL 2158 Electric Clothes Dryers (2015), voluntary standard for electric clothes dryers, Underwriters Laboratories, - https://standardscatalog.ul.com/standards/en/standard_2158_4 Website: http://www.ul.com/ UL has locations world wide and provides standards for many countries.

1 Scope
1.1 This Standard applies to electric clothes dryers intended to be used in nonhazardous locations in accordance with the Canadian Electrical Code, Part I (CE Code, Part I) and the (U.S.) National Electrical Code (NEC), on circuits having a nominal voltage not exceeding 600 V. Note: Wherever practical, for convenience, the term "appliance" has been used in lieu of "clothes dryer" or "machine".

1.2 This Standard applies to both cord-connected and permanently connected appliances. The appliances covered by this Standard are intended for use by the general public not specifically trained in the use of the appliance, regardless of the mode by which its operation is initiated.

They are for use in households and for commercial purposes, including appliances provided with coin-, ticket-, or card-operated mechanisms, laundry centers and combination washer-dryers.

This Standard applies to tumbling clothes dryers and non-tumbling clothes dryers, such as drying cabinets, as well as both vented clothes dryers and non-vented clothes dryers, such as condensation-type and heat pump clothes dryers.

1.3 This Standard does not apply to industrial and institutional type appliances. Industrial or institutional appliances are covered under the scope of Electric Commercial Clothes-Drying Equipment, UL 1240.



Note

: Industrial and institutional type appliances are not intended for use by the general public, but only by trained or supervised personnel.
U.S. CPSC, "OVERHEATED CLOTHES DRYERS CAN CAUSE FIRES" (2003) [PDF] Publication 5022, US Consumer Product Safety Commission, Tel: 800-638-2772, Website: www.cpsc.gov retrieved 2017/07/17 original source: https://www.cpsc.gov/s3fs-public/5022.pdf
U.S. CPSC, "Final Report on Electric Clothes Dryers and Lint Ignition Characteristics - May 2003", [PDF] cpsc.gov, original source: http://www.cpsc.gov/pagefiles/117075/dryer.pdf

Wijayasinghe, Mahendra. "Fire losses in Canada: Year 2007 and selected years." (2011).
Wikipedia, "Room Temperature", retrieved 2017/07/17, original source: https://en.wikipedia.org/wiki/Room_temperature, Wikipedia provided background information about some topics discussed at this website provided this citation is also found in the same article along with a " retrieved on" date. Because Wikipedia and other website entries can be amended in real time, we cite the retrieval date of such citations and we do not assert that the information found there is always authoritative.
Wright, Frank Lloyd. "Environmental Barriers." New York Times (1953).
...
Continue reading at CLOTHES DRYER SAFETY CHECKLIST or select a topic from closely-related articles below, or see our complete INDEX to RELATED ARTICLES below.
Or see this
Article Series
Suggested citation for this web page
CLOTHES DRYER FIRE RESEARCH at InspectApedia.com - online encyclopedia of building & environmental inspection, testing, diagnosis, repair, & problem prevention advice.
Or use the SEARCH BOX found below to Ask a Question or Search InspectApedia
...
Frequently Asked Questions (FAQs)
Try the search box below or CONTACT US by email if you cannot find the answer you need at InspectApedia.
Please see the clothes dryer venting questions & answers now found at CLOTHES DRYER VENTING FAQs
...
Ask a Question or Search InspectApedia
Questions & Answers on bathroom vent fan and fan ducting installation procedures, codes, standards.
Use the "Click to Show or Hide FAQs" link just above to see recently-posted questions, comments, replies, try the search box just below, or if you prefer, post a question or comment in the Comments box below and we will respond promptly.
Search the InspectApedia website
Technical Reviewers & References
Click to Show or Hide Citations & References
John Cranor, ASHI certified home inspector (house-whisperer.com) in Richmond, VA, can be reached by email to: johncranor@verizon.net or by telephone at

804-747-7747

. Technical review, email, 1/2012
[1] Heartland 21000 Dryer Vent Enclosure
[1] Lambro Industries 289W Dryer Vent Enclosure
[2] "Overheated Clothes Dryers Can Cause Fires, CPSC Document # 5022 Updated June 2003", U.S. Consumer Product Safety Commission, www.cpsc.gov., websearch 11/25/2011, original source: cpsc.gov/cpscpub/pubs/5022.html
[3] "Electric and Gas Clothes Dryers, Staff Evaluation and Contractor Report", US CPSC Memorandum, 25 Feb 2000
[4] "Report on Electric and Gas Clothes Dryers", U.S. CPSC Memorandum, 25 Feb 1999, the Clothes Dryer Project, March 1999
[5] UL Standard 2158, voluntary standard for electric clothes dryers
[6] ANSI Z21.5 1 (CGA 7.1) voluntary safety standard for gas powered clothes dryers
"About the House - Bathroom Vents", Henri deMarne, New England Builder, November 1985
"Bathroom Vent Fan Beats Open Window", James Dulley, Poughkeepsie Journal, 11/4/1987 p. 12D.
Mark Cramer Inspection Services Mark Cramer, Tampa Florida, Mr. Cramer is a past president of ASHI, the American Society of Home Inspectors and is a Florida home inspector and home inspection educator. Mr. Cramer serves on the ASHI Home Inspection Standards. Contact Mark Cramer at: 727-595-4211 mark@BestTampaInspector.com
John Cranor is an ASHI member and a home inspector (The House Whisperer) is located in Glen Allen, VA 23060. He is also a contributor to InspectApedia.com in several technical areas such as plumbing and appliances (dryer vents). Contact Mr. Cranor at 804-747-7747 or by Email: johncranor@verizon.net
Books & Articles on Building & Environmental Inspection, Testing, Diagnosis, & Repair
Our recommended books about building & mechanical systems design, inspection, problem diagnosis, and repair, and about indoor environment and IAQ testing, diagnosis, and cleanup are at the InspectAPedia Bookstore. Also see our Book Reviews - InspectAPedia.
...