InspectAPedia tolerates no conflicts of interest. We have no relationship with advertisers, products, or services discussed at this website.
This article describes How to Cure Bad Water Pressure Due to Clogged Water Supply Pipes. The process of diagnosis and the costs of the repair are explained.
Green links show where you are. © Copyright 2014 InspectApedia.com, All Rights Reserved.
Guide to Repair of Clogged Water Supply Piping and Poor Water Pressure & Flow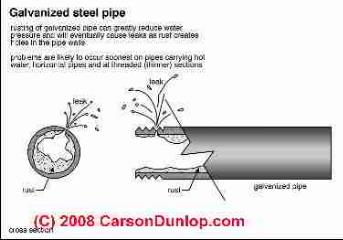 Water pressure falls off very quickly: A quick diagnosis that suggests that bad water pressure at a fixture or in a building is due to pipe clogging is the observation that when you first turn on the water, in that first instant, pressure is pretty good, but falls off almost immediately to a much slower level.
[Click to enlarge any image]
When a water supply pipe pressure has been traced to supply pipe clogging there are several repair approaches that we can try. Here are some clogged piping repair attempts along with comments about how likely it is that they'll help.
The sketch of rust clogging of galvanized steel pipe shown here, courtesy of Carson Dunlop, shows how the inner diameter of a water supply pipe is reduced by build-up inside the pipe walls. This build-up may be due to rust, mineral deposits, or other debris in the pipe.
The reduction in pipe diameter means a corresponding reduction in the flow rate seen at building plumbing fixtures. When you first turn on a faucet water pressure may be normal or "high" but as soon as water starts to flow the pressure and flow fall off to a noticeably lower level. This is the classic diagnosis of clogged water piping. But we don't know, yet, how extensive the clogging is - a single elbow, a clogged faucet strainer, or an entire length of clogged water piping can all produce this effect.
The suggestions which follow presume you've already followed our diagnostic suggestions to get an idea of the type of water supply flow problem that is present.
That's important because some water pressure problems are due to water flow problems caused by a water pump, water pump pressure control, water tank, and on municipal water supply systems, flow problems may be due to problems with the water pressure regulator, water supply piping from a municipal supply, or even water meter and main water valve problems.
Watch out: people generally use the term water pressure to talk about the force or volume of water delivered at a faucet or plumbing fixture. Properly this is water flow rate; water pressure in the system is only one factor that determines the water flow rate at fixtures. Clogged pipes, partly closed valves, length of piping runs, number of ends or elbows are other factors that reduce the actual flow rate or "pressure" observed at a plumbing fixture.
Here we discuss how to correct bad water pressure due to apparent clogs in water supply piping. First we need to do some further diagnosis to determine if the poor water flow problem is at every fixture in the building or just at some of them.
How to Correct Poor Water Pressure & Flow at One or More Plumbing Fixtures When Some Fixtures Flow Well
How to Diagnose & Fix Individual Clogged Faucet Strainers or Valves
If poor flow is at just one fixture it's a good bet that we can trace the flow problem to a local issue that we should be able to repair without more extensive plumbing surgery.
Slow water at the sink - check for debris or mineral clogging of the sink faucet strainer
If the slow fixture is a sink, first check the strainer – debris-clogged strainers can simply be un-screwed. If the pressure is suddenly wonderful you need a new or cleaned strainer, that's all.
Slow water fill at a toilet - check or replace the toilet tank fill valve
If the slow fixture is a toilet, often the toilet tank fill valve itself becomes clogged with debris; it may be possible to remove, clean, and reinstall the valve but often it's easier to just install a new one. We sometimes also find clogging at the small shutoff valve or water supply riser to the toilet.
Slow water flow at a shower - check for debris or mineral clogging in the shower head or flow restrictor
If the slow fixture is a shower head, debris or mineral clogging can be diagnosed by removing the shower head and, as with the sink strainer, look for good water flow. If we find that the problem was the shower head, just replace it. Some shower head models claim to be resistant to mineral clogging by using rubber or other flexible components to form the spray.
Bad plumbing valves or bad fixture supply risers: Plumbing valves or shutoff valves to individual fixtures or valves controlling sections of water supply piping can also become clogged with debris, minerals, or even a broken faucet washer.
Procedure for Fixing Clogged Faucet Strainers or Valves
Check for clogging at the fixture faucet strainer - unscrew and clean the strainer, or if the strainer is badly corroded, bring it along to your hardware store and buy a replacement faucet strainer - they are not expensive, but sizes and threads vary alot so be sure to buy one that fits.
Check for clogging inside the faucet valve itself - this will require turning off water to the fixture, disassembling the3 valve (usually possible without removing the valve from the fixture), and then slowly turning water back on to flush out debris that may have been accumulating at the valve seat.
Check for clogging at the stop valves (local shutoff valves) at the fixture using the same procedure.
Clogged Building Water Piping
If you have good water pressure at all fixtures in some building areas but not any fixtures at other building areas, you may have a clog in building piping (such as due to mineral deposits, rust, or even excessive solder in new work), or mineral and debris clogged strainers at faucets and shower heads (check these first).
Watch out: especially if plumbing fixtures in different building areas are of different ages (say you added a bathroom after the building was built), bad water pressure at all fixtures in a given building area could still be due to clogs at fixture faucet strainers or valves. But if you check or clean or replace valves and water pressure is still poor in some but not all building areas, we suspect a problem with the piping serving the poor-performing areas: mineral clogs, solder or debris clogs, etc.
Also see WATER PIPE CLOG DIAGNOSIS.
How to Fix Bad Hot Water Pressure if Cold Pressure is OK
Poor hot water flow but good cold water flow at one or more plumbing fixtures usually diagnoses mineral clogging in the water heating system. Heat causes mineral precipitation out of hot flowing water faster than out of cold water, that's why often mineral clogs appear on hot water components of a plumbing supply system first.
For a complete list of articles on diagnosing hot water problems see HOT WATER IMPROVEMENTS and HOT WATER QUANTITY IMPROVEMENT.
Guide to Improving Hot Water Pressure & Flow When Heated by a Tankless Coil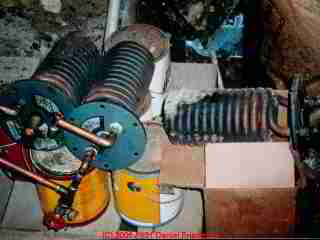 Acid flush of the tankless coil: If hot water is made by a tankless coil, often the coil itself has become blocked with minerals. A blocked tankless coil can be cleaned by flushing it with acid.
We discuss the acid-flush procedure in detail at Clogged Tankless Coil & Hot Water Flow
See these articles for diagnosing and improving hot water from a tankless coil:

TANKLESS COILS
Clogged Tankless Coil & Hot Water Flow
MIXING / ANTI-SCALD VALVES
TANKLESS COIL CONVERSIONS
TANKLESS COIL LEAKS
TANKLESS COIL HOT WATER INCREASE

But beware, acid flushing a coil is not a permanent repair, and some plumbers will tell  you that the acid-etched pipe surface inside the tankless coil will clog more rapidly than before.
Install a water softener: If you find a pile of tankless coils like those in this photo during a building inspection you might suspect that this building has had a history of repeated clogging of tankless coils used for domestic hot water. After the tankless coil was flushed with acid, the building owner would have been better off installing a water softener to protect against subsequent mineral clogging of the tankless coil interior.
How else can we Improve the Hot Water Volume & Quantity When Water is Heated by a Tankless Coil?
See HOT WATER IMPROVEMENT for a detailed guide to improving hot water quantity and flow when a tankless coil is installed as well as using other methods of hot water heating
See MIXING / ANTI-SCALD VALVES for details about mixing valves on boilers and tankless coil systems and for an explanation of how an anti-scald or tempering valve can increase the volume of hot water available from a tankless coil hot water system.
We discuss tankless coils in detail at Guide to Tankless Coils on Heating Boilers.
Guide to Improving Hot Water Flow When Piping Itself is Clogged
Building water pressure that is poor at all fixtures at the hot water tap, or at all fixtures at both hot and cold water taps may be due to clogged piping, which we discuss here. Other links at the end of this article provide guides for diagnosis and repair of other causes of bad water pressure throughout a building.
Use of acid flushing to clear tankless coils or building water piping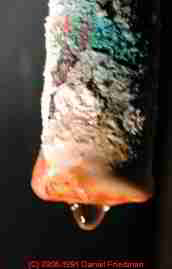 Clogged hot water piping itself can also be due to minerals and may appear worse than on the cold water piping. Some plumbers offer a service of acid flushing the entire hot (or hot and cold) water piping system. If you see minerals building up on fixtures such as the extreme case in our photo at left, you definitely need a water softener.
We discuss the procedure tankless-coil lime-removal by acid-flush procedure in detail at Clogged Tankless Coil & Hot Water Flow.
But any of these acid flush or component replacement "fixes" for mineral-clogged hot water piping or heaters are temporary at best. A better and long lasting repair is to have the water tested for hardness (confirming that there is a mineral problem) and then the installation of a water softener system.
But don't kid yourself. While installing a water softener will protect water piping from further mineral clogging, it will not un-clog or remove caked-on minerals that are already clogging the system.
How to Fix Bad Water Pressure Throughout a Building or in Large Areas: all Hot Water, all Cold, Water Fixtures, or all Both Hot and Cold Fixtures have Bad Water Pressure & Flow
How to diagnose bad water pressure in the whole building or in large areas
Readers should also see WATER PIPE CLOG DIAGNOSIS and WATER PIPE CLOG REPAIR. Also see WATER PRESSURE LOSS DIAGNOSIS & REPAIR in a building and see MUNICIPAL WATER PRESSURE DIAGNOSIS or WELL WATER PRESSURE DIAGNOSISwhere we describe the effects of clogged piping on water flow and offer remedies for this problem.
If only hot water pressure and flow are poor, also see CLOGGED SUPPLY PIPES, HOT WATER.
Where an entire building or large building areas have bad water pressure, check to see if there is clogging at a valve, pipe section, or pipe elbow close to the water source. On occasion we've found that a building always had bad water pressure after a plumbing "repair" had been performed near the water tank. The installer had pushed too much solder into a pipe elbow, blocking water passage through that fitting. It was discovered by making successive cuts in the supply piping beginning back near the source to check for good water flow.
Clogged water filters cause bad water flow throughout a building and can cause water pump problems (if a private well system is installed. Water pump short cycling is discussed further at CAUSES OF SHORT CYCLING)
How to diagnose Bad water pressure in just some areas
Where a single or one or two plumbing fittings are causing poor water pressure, due to poor installation (solder blobs), damage (broken faucet washer or other debris clogging an elbow or valve), the fix is to find and replace the culprits.
What to Do to Improve Water Pressure Where Long Sections of Piping are Clogged or Too-Small in Diameter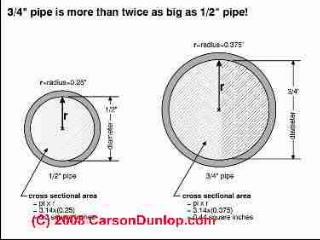 Local piping clogs can cause bad water pressure in entire sections of hot, cold, or both hot and cold water supply pipes and fixtures in a building.
Local water supply clogs due to minerals in the water may clog entire lengths of piping so badly that the only repair is replacement of the water supply pipes.
Certainly if we find that this is what's needed, there are two approaches that can protect the investment in improved water flow.
These can both be done or  you may choose just one of them.
Install a water softener but remember that clogged water supply piping that has not been repaired using an acid-flush will need to be replaced. Installing a water softener won't "un-clog" mineral-clogged water pipes. See WATER SOFTENERS & CONDITIONERS to discuss problems with water hardness.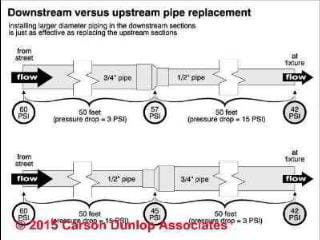 Install larger diameter water piping - this method will provide piping that will deliver adequate water flow and pressure for a longer time before clogging up due to high mineral content in the water supply.

As you can see in the sketches above and at left, courtesy of Carson Dunlop, increasing a pipe size from standard 1/2" to 3/4" in diameter more than doubles the water flow capacity in the piping!
We took this second approach on a building where we found that the hot water line clogged with a combination of minerals and iron.
On cutting open the old hot water supply pipe we saw that its interior was blocked to a mere pinhole of remaining water passage.
But the cold water line was basically clear. So we replaced the hot water line, including straight runs and all elbows, with a ¾" copper pipe. The repair has continued to function well for nearly 30 years.
Contact us know if you have other questions or repair ideas or if this material leaves you with a question or suggestion.
...
Frequently Asked Questions (FAQs)
No FAQs have been posted for this page. Try the search box below or CONTACT US by email if you cannot find the answer you need at InspectApedia.
Ask a Question or Search InspectApedia
Questions & answers or comments about how to de-clog or de-scale building water piping.
Try the search box just below or if you prefer, post a question or a comment in the Comments box below and we will respond promptly.
Search the InspectApedia website
Technical Reviewers & References
Related Topics, found near the top of this page suggest articles closely related to this one.
Click to Show or Hide Citations & References
Books & Articles on Building & Environmental Inspection, Testing, Diagnosis, & Repair
The Home Reference Book - the Encyclopedia of Homes, Carson Dunlop & Associates, Toronto, Ontario, 25th Ed., 2012, is a bound volume of more than 450 illustrated pages that assist home inspectors and home owners in the inspection and detection of problems on buildings. The text is intended as a reference guide to help building owners operate and maintain their home effectively. Field inspection worksheets are included at the back of the volume. Special Offer: For a 10% discount on any number of copies of the Home Reference Book purchased as a single order. Enter INSPECTAHRB in the order payment page "Promo/Redemption" space. InspectAPedia.com editor Daniel Friedman is a contributing author.

Or choose the The Home Reference eBook for PCs, Macs, Kindle, iPad, iPhone, or Android Smart Phones. Special Offer: For a 5% discount on any number of copies of the Home Reference eBook purchased as a single order. Enter INSPECTAEHRB in the order payment page "Promo/Redemption" space.