How Adze, Axe, or Saw Cut Marks on Lumber Indicate Building Age & Wood Cutting Methods

SAW CUTS, TOOL MARKS, AGE -CONTENTS: Photographs of different adze or cut marks on lumber explain how understanding saw kerf marks and othjer lumber cutting marks & methods can indicate the age of a building. Comparison of adze marks, axe marks, hand sawn lumber, mechanical pit sawn lumber, and circular saw mill cut lumber and boards. Table of dimensional lumber nominal vs. actual sizes
POST a QUESTION or READ FAQs about how to read & interpret adze or saw cut marks on boards, framing lumber, & beams in old buildings
InspectAPedia tolerates no conflicts of interest. We have no relationship with advertisers, products, or services discussed at this website.
This article describes and illustrates different types of marks found on old wood boards and beams: adze and axe marks, hand sawn lumber, mechanical pit-sawn lumber, circular saw cut marks, and modern planed or sanded smooth dimensional lumber. We include a table of modern dimensional lumber nominal and actual sizes for kiln dried and treated wood.
Green links show where you are. © Copyright 2014 InspectApedia.com, All Rights Reserved.
Saw Cuts, Tool Marks as Indicators of Building Age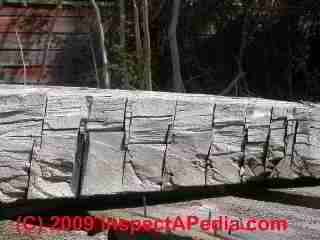 Generations of types of saws used in cutting beams, and similar details are readily available on many buildings and offer both clues to building age and wonderful aesthetic detail.
Below, in rough chronological order, we illustrate different types of saw and tool cut marks in wood: adze cuts, hand sawn pit saw marks, mechanically-operated pit saw marks, circular saw marks, and unmarked, planed modern dimensional lumber.
Adze cut marks in wood - hand hewn beams and planks

Adze marks on hand-hewn beams (photo at left) indicate hand hewn beams.
An understanding of how hand-hewn beams were cut, for example, can permit the careful observer to not only recognize the type and age of building framing, but even to understand just where the worker was standing when a blow from a tool was delivered to a building framing member.
Adze cuts to hew a rectangular beam out of a round log were made in two steps: an adze, a hoe-like cutting tool with wooden offset handle was used to make a series of cuts along the round up-facing surface of a log.
In a second series of cuts, the sharp adze or more often an axe was used to cut away the curled "chip" of rounded log surface cut and "planed" by the adze. The axe cut was made at the base of the chip of wood cut and lifted by the adze. In our photo above, the vertical cuts across the height of the log face (red arrow) are the cuts that were made to remove the chip, while the scalloped (green arrow) or split (orange arrow) rectangular face cuts are the marks left either by the adze blade or by the splits in the wood surface when the adze-cut chip was removed.
This detail offers a very personal connection to the age of a building and to its past construction.
Comparison of Saw Kerf Marks in Wood Cuts: Angled, Straight & Curv Saw Kerfs Indicate Timber or Plank Age
Angled pit saw cut marks in wood - hand operated pit saws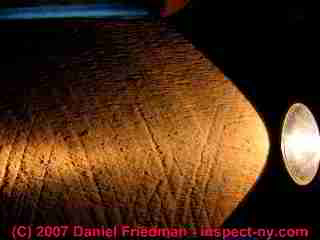 The saw cuts visible by flashlight on this sawn beam form an irregular "vee" shape, a clear indicator that this beam was cut by hand using a two-person pit-saw.
Our photo-left, shows a hand-sawn pit-saw cut beam or plank. Hand-sawn planks and beams are marked by straight saw kerf cut lines that include intersecting angles marking the "up" and "down" cuts made by the sawyer who stood on top of the log (the "up" cut) or beneath the log in the pit (the "down" cut).
This beam was cut before mechanical saws were available, but after hand-hewn beams or raw logs were in common use.
This places the age of this structure perhaps in the mid 1700's.
Parallel pit saw cut marks in wood - machine operated pit saws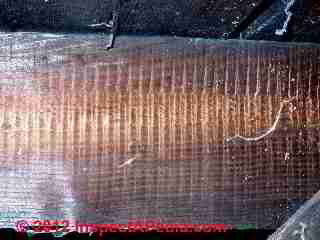 We can contrast these saw marks with the mechanical pit saw which followed, then with circular saw marks, and later with planed dimensioned modern lumber of two generations. We include illustrations of these markings and surfaces below.
Our photo (left) illustrates a wood member cut on a machine-operated mechanical pit saw. In comparing the saw cut marks on this lumber with the hand-sawn wood above, you will notice that the saw kerf marks are all vertical across the wood, all parallel, and quite regular in spacing.
Depending on the location, mechanically-operated pit saws were in use as early as 1840 (in New York), later in locations further west in North America.
Unlike the hand-cut pit saw marks in our photo above, a mechanically-operated pit saw leaves vertical saw kerf marks that are parallel as the pit saw blade was moved consistently and vertically while the log was pushed slowly through the saw machine.
Rounded circular saw cut marks in wood - modern sawmills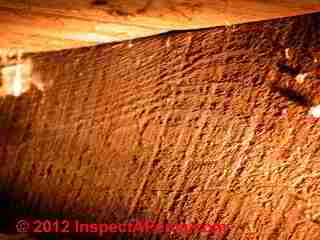 At left we illustraste lumber cut on a circular saw mill. You will see that the saw kerf marks are all rounded or curved, and parallel to one another.
Now a hand saw might also leave somewhat "rounded" saw cur marks on lumber depending on how the sawyer moved his/her saw.
But hand sawn kerf marks will be irreglular in the curvature and will not be neatly parallel to one another.
The radius of the curve of the circular saw cut marks in this beam is quite large - that is, the round saw blade marks are flattened on the lumber, indicating that this was a large-diameter saw blade.
Lumber that was cut on smaller -diameter saw blades will, of course, show saw marks whose rounded radius is smaller as well.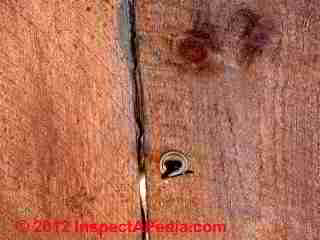 Our photo at left illustrates circular saw blade marks that may indicate lumber from two different sawmills or at least two different circular saws, as the radius of the curved lines appears different in the lumber at left from that at right in the picture.
Keep in mind that lumber within a single building may show a variety of saw cut mark types and ages. That is because lumber may have been re-used or may have been cut at various times and at different mills but all may have been used in a single structure.
Also a old building that has been repaired, remodeled, or expanded and extended is likely to contain wood cut at different times and using different generations of equipment and sawing methods.
Dimensional lumber - machine cut and machine planed lumber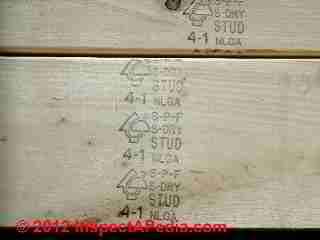 Modern dimensional lumber in North America was cut at speeds and using equipment that no longer left vertical or rounded saw kerf marks on the wood.
Into the 1930's, dimensional lumber (2x lumber, or 2x4's, 2x6's, 2x8's etc.) was actually cut to a size quite close to its nominal dimensions: that is, a 2x4 was close to 2" x 4" in cross section.
By 1940 dimensional lumber was cut and planed to a smaller actual size. A modern 2x4, for example, is about 1-1/2" thick by 3-1/2" wide.
Our photo (left) illustrates a modern kiln-dried 2x4 wall stud, cut and planed to a smooth-surfaced dimension of 1-1/2" x 3-1/2".
Actual dimensions of modern 2x lumber vary, and vary more widely depending on whether or not the members are kiln-dried (more likely to be exact in width) or pressure treated (still wet) or not kiln-dried SPF (Spruce Pine Fir) lumber. Modern framing lumber is provided in these dimensions:
Table of Modern Framing Lumber Dimensions

Nominal Size
(Inches)

Kiln Dried Size
(Inches)

(S4S - smooth)

Pressure Treated (wet) Size (SYP) "S4" Extended Life Lumber
Rough Cut not Kiln Dried Size
2x2
1-1/2 x 1-1/2
Actual size in depth (width) varies +/- 1/4"
Actual size in depth (width) varies +/- 1/2"
2x3
1-1/2 x 2-1/4
2x4
1-1/2 x 3-1/2
2x6
1-1/2 x 5-1/2
2x8
1-1/2 x 7-1/4
2x10
1-1/2 x 9-1/4
2x12
1-1/2 x 11-1/2
4x4
3-1/2 x 3-1/2
6x6
5-1/2 x 5-1/2
More Reading
Green link shows where you are in this article series.
...
Frequently Asked Questions (FAQs) about reading saw or other cut marks on lumber
...
Ask a Question or Search InspectApedia
Questions & answers or comments about how to read & interpret adze or saw cut marks on boards, framing lumber, & beams in old buildings.
Use the "Click to Show or Hide FAQs" link just above to see recently-posted questions, comments, replies, try the search box just below, or if you prefer, post a question or comment in the Comments box below and we will respond promptly.
Search the InspectApedia website
Technical Reviewers & References
Publisher's Google+ Page by Daniel Friedman
Click to Show or Hide Citations & References
Carson, Dunlop & Associates Ltd., 120 Carlton Street Suite 407, Toronto ON M5A 4K2. (416) 964-9415 1-800-268-7070 info@carsondunlop.com. The firm provides professional home inspection services & home inspection education & publications. Alan Carson is a past president of ASHI, the American Society of Home Inspectors. Thanks to Alan Carson and Bob Dunlop, for permission for InspectAPedia to use text excerpts from The Home Reference Book & illustrations from The Illustrated Home. Carson Dunlop Associates' provides:

Commercial Building Inspection Courses - protocol ASTM Standard E 2018-08 for Property Condition Assessments
Home Inspection Education Courses including home study & live classes at eleven colleges & universities.
Home Inspection Education Home Study Courses - ASHI@Home Training 10-course program.
Special Offer: Carson Dunlop Associates offers InspectAPedia readers in the U.S.A. a 5% discount on these courses: Enter INSPECTAHITP in the order payment page "Promo/Redemption" space. InspectAPedia.com editor Daniel Friedman is a contributing author.
The Home Reference Book, a reference & inspection report product for building owners & inspectors.
Special Offer: For a 10% discount on any number of copies of the Home Reference Book purchased as a single order. Enter INSPECTAHRB in the order payment page "Promo/Redemption" space. InspectAPedia.com editor Daniel Friedman is a contributing author.
The Home Reference eBook, an electronic version for PCs, the iPad, iPhone, & Android smart phones.
Special Offer: For a 5% discount on any number of copies of the Home Reference eBook purchased as a single order. Enter inspectaehrb in the order payment page "Promo/Redemption" space.
The Illustrated Home illustrates construction details and building components, a reference for owners & inspectors.
Special Offer: For a 5% discount on any number of copies of the Illustrated Home purchased as a single order Enter INSPECTAILL in the order payment page "Promo/Redemption" space.
The Horizon Software System manages business operations,scheduling, & inspection report writing using Carson Dunlop's knowledge base & color images. The Horizon system runs on always-available cloud-based software for office computers, laptops, tablets, iPad, Android, & other smartphones.

America's Favorite Homes, mail-order catalogues as a guide to popular early 20th-century houses, Robert Schweitzer, Michael W.R. Davis, 1990, Wayne State University Press ISBN 0814320066 (may be available from Wayne State University Press)
American Plywood Association, APA, "Portland Manufacturing Company, No. 1, a series of monographs on the history of plywood manufacturing",Plywood Pioneers Association, 31 March, 1967, www.apawood.org
[9] Isham: "An Example of Colonial Paneling", Norman Morrison Isham, The Metropolitan Museum of Art Bulletin, Vol. 6, No. 5 (May, 1911), pp. 112-116, available by JSTOR.
[10] LeavittownHistorical Society, PO Box 57, Leavittown, LI, NY 11756 Tel: 516-735-9060, web search 07/22/2010. Original source:
http://www.levittownhistoricalsociety.org/history.htm
[11] Levittown: Two Families, One Tycoon, and the Fight for Civil Rights in America's Legendary Suburb, David Kushner, Walker & Company, ISBN-10: 0802716199, ISBN-13: 978-0802716194
Quoting from part of an Amazon.com review
As shocking as the story of Levittown is, I couldn't help but ponder a message that defines the generations and races of even today: (nearly) everyone has a dream they hope to attain. Bill Levitt, in the eyes of the (white) nation and Levittown residents was living the American dream: huge house, gorgeous wives, big boat and he was (viewed as) generous. Bill Myers and his family sought the American dream as they saw it: to own property and live freely. Levitt reflected the times of that period in America. Yet, consider how individual groups think of their American dream today - think of it in terms of black and white - it almost makes you wonder how far we have not come. That's the one thing I really loved about this book: it made me think.
[12] The History of Leavittown, NY, Lynne Matarrese & the Leavittown Historical Society, available from the Leavittown Historical Society website at: http://www.levittownhistoricalsociety.org/museum_shop.htm
Quoting:
The official Levittown story, as presented by Lynne Matarrese and the Levittown Historical Society on the occasion of Levittown's 50th Anniversary.  This comprehensive, illustrated volume provides general readers and serious researchers alike with a fascinating overview of Levittown's birth and development, from the earliest days of the Hempstead Plains to its modern day status as a suburban icon.  

[13] OSB: "Evaluating OSB for Coastal Roofs," Paul Fisette, Coastal Contractor, Winter 2005, online at coastalcontractor.net/pdf/2005/0501/0501eval.pdf . Fisette cites: "Jose Mitrani, a civil engineer and professor at Florida. International University in Miami, was ... Florida's official damage assessment team. ... After Hurricane Andrew, Florida code advisers ruled OSB sheathing inferior to plywood."
[14] Manufactured & Modular Homes: Modular Building Systems Association, MBSA, modularhousing.com, is a trade association promoting and providing links to contact modular builders in North America. Also see the Manufactured Home Owners Association, MHOAA, at www.mhoaa.us. The Manufactured Home Owners Association of America is a National Organization dedicated to the protection of the rights of all people living in Manufactured Housing in the United States.
[15] Pergo AB, division of Perstorp AB, is a Swedish manufacturer or modern laminate flooring products. Information about the U.S. company can be found at http://www.pergo.com where we obtained historical data used in our discussion of the age of flooring materials in buildings.
[16] Plank House Construction: Yuroak Plankhouse - plank houses were built by native Americans, see
Large 1:6 Scale Plank House Construction / P8094228, Photographer: Mike Meuser , 06/12/2007 documented at yurokplankhouse.com where scale model Museum quality Yurok Plank Houses are being sold to raise money for the Blue Creek - Ah Pah Traditional Yurok Village project: bluecreekahpah.org


The earth and its peoples are facing multiple threats. Indigenous people always suffer the worst during these times. The Yurok people are threatened from without by the effects of climate change, diversions of their waters, collapse of the Salmon population, unaffordable energy, land takings and misuse. They are threatened from within by drugs, alcohol, cultural disintegration.

The Yurok people once lived within a network of sustainable self-sufficient villages. Our village will find solutions to today's problems and their effects and serve as an example for others to follow through becoming self-sufficient and sustainable, cultural preservation and renewal, community building, ecological stewardship and individual renewal and healing.

[17] "A Vision of Reviving Tribal Ways in a Remote Corner of California", Patricia Leigh Brown, The New York Times, 19 March 2012, p. A8.
[18] 'Radiographic Inspection of Plank-House Construction, Mary Joan Kevlin, Bulletin of the Association for Preservation Technology, Vol. 18, No. 3 (1986), pp. 40-47
[19] Indian houses of Puget Sound, Waterman, T. T. (Thomas Talbot) and Greiner, Ruth, Museum of the American Indian, Heye Foundation, 1921
Books & Articles on Building & Environmental Inspection, Testing, Diagnosis, & Repair
Our recommended books about building & mechanical systems design, inspection, problem diagnosis, and repair, and about indoor environment and IAQ testing, diagnosis, and cleanup are at the InspectAPedia Bookstore. Also see our Book Reviews - InspectAPedia.

The Home Reference Book - the Encyclopedia of Homes, Carson Dunlop & Associates, Toronto, Ontario, 25th Ed., 2012, is a bound volume of more than 450 illustrated pages that assist home inspectors and home owners in the inspection and detection of problems on buildings. The text is intended as a reference guide to help building owners operate and maintain their home effectively. Field inspection worksheets are included at the back of the volume. Special Offer: For a 10% discount on any number of copies of the Home Reference Book purchased as a single order. Enter INSPECTAHRB in the order payment page "Promo/Redemption" space. InspectAPedia.com editor Daniel Friedman is a contributing author.

Or choose the The Home Reference eBook for PCs, Macs, Kindle, iPad, iPhone, or Android Smart Phones. Special Offer: For a 5% discount on any number of copies of the Home Reference eBook purchased as a single order. Enter INSPECTAEHRB in the order payment page "Promo/Redemption" space.



Design of Wood Structures - ASD, Donald E. Breyer, Kenneth Fridley, Kelly Cobeen, David Pollock, McGraw Hill, 2003, ISBN-10: 0071379320, ISBN-13: 978-0071379328
This book is an update of a long-established text dating from at least 1988 (DJF); Quoting:
This book is gives a good grasp of seismic design for wood structures. Many of the examples especially near the end are good practice for the California PE Special Seismic Exam design questions. It gives a good grasp of how seismic forces move through a building and how to calculate those forces at various locations. THE CLASSIC TEXT ON WOOD DESIGN UPDATED TO INCLUDE THE LATEST CODES AND DATA. Reflects the most recent provisions of the 2003 International Building Code and 2001 National Design Specification for Wood Construction. Continuing the sterling standard set by earlier editions, this indispensable reference clearly explains the best wood design techniques for the safe handling of gravity and lateral loads. Carefully revised and updated to include the new 2003 International Building Code, ASCE 7-02 Minimum Design Loads for Buildings and Other Structures, the 2001 National Design Specification for Wood Construction, and the most recent Allowable Stress Design.