InspectAPedia tolerates no conflicts of interest. We have no relationship with advertisers, products, or services discussed at this website.
Tools for measuring septic tank scum / sludge: this article explains the necessity of measuring the thickness of the floating scum layer in a septic tank and of measuring the thickness of the settled scum layer in a septic tank as well. We include descriptions of how to make septic sludge and scum measuring tools and how to use them.
Whether your system is a conventional septic tank and drain field, an above ground septic system, or even a holding tank, pumping and inspecting the septic tank is a critical septic tank maintenance and septic system maintenance chore. Septic tank pumping pumping frequency guidance is provided in a table at our website (see links abovet.) When the septic tank is pumped, measurements of the scum layer and sludge layer tell you the condition of the system.
Green links show where you are. © Copyright 2014 InspectApedia.com, All Rights Reserved.
USDA / US FPS design for Septic Tank Sludge & Scum Measuring Tube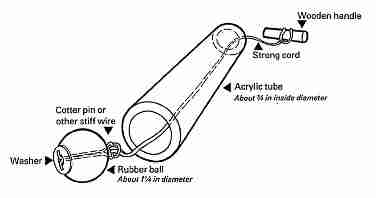 These septic tank sludge/scum measurements, made or at least roughly estimated by the septic pumping contractor at the time that a septic tank is pumped, provide key information that permits the home owner to know
1) whether or not the septic tank is being pumped often enough, and
2) whether or not there is evidence that the septic fields have been damaged by having not pumped the tank soon enough.
Use of this information at other websites, in books or pamphlets for sale is reserved to the author. Technical review by industry experts has been performed and is ongoing - reviewers are listed at "References."
At SEWAGE LEVELS in SEPTIC TANKS we explain how to interpret the meaning of high or low sewage levels in the septic tank as well as thick or thin scum or sludge levels. Readers of this document should be sure to review our table of septic tank pumping frequency. This article is part of our series: Inspecting, Testing, & Maintaining Residential Septic Systems. Also see Diagnosing Clogged Drains Is it a blocked drain or the septic system? If you can't find your septic tank see How to Find The Septic Tank - tips on locating septic tanks for inspection and septic tank pumping.
The USDA/FPS sketch at above left shows a tube and rubber ball design that can be used for measuring both the septic tank floating scum layer, and the septic tank bottom sludge layer thickness.
The tube can be constructed using acrylic plastic (as shown) or a PVC plastic pipe (more readily available. All you need is a rubber ball that is a bit larger than the inside diameter of the pipe, some string, a washer, cotter pin or wire, and a scrap of wood for a handle.
The length of pipe needs to be long enough to safely reach the tank bottom without you having to lean over or reach into the tank, but short enough to be easy to handle. Eight feet should be plenty. If you find that your septic tank bottom is just four or five feet below the ground surface you can later cut some excess off of the pipe.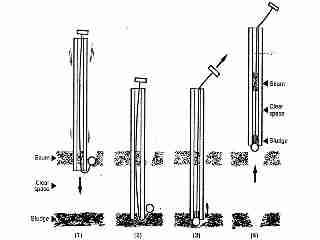 Here we include a USDA sketch showing how this measuring tube can easily measure both the floating scum layer in the septic tank and the bottom sludge layer thickness in the tank.
At left is an illustration showing how the pipe and rubber ball measuring system is used to measure septic tank scum layer and bottom sludge layer.
Watch out: opening, leaning over, or falling into a septic tank is dangerous and can be fatal. Do not work alone. See the safety warnings at SEPTIC SYSTEM SAFETY WARNINGS.
Electronic Monitors for Septic Tank Scum & Sludge Levels
Below at References we also describe an electronic septic tank monitor or grease trap monitor from Worldstone.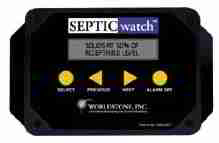 These devices can track sludge, scum, or grease levels in order to best schedule septic tank pumping or grease trap cleaning. This product is suitable for commercial installations and possibly for some residential septic tank systems.
According to the company, "Data from monitors can help establish appropriate service intervals, and document maintenance for regulatory compliance. Alarm features can help detect abnormal conditions and prevent costly backups."The company also produces an oil tank level monitor.

Thanks to reader Robert Shirley for this tip.
OPINION - DF: this product is a great idea for commercial installations or problem septic installations. Substituting actual septic tank scum layer thickness or scum level thickness data for the septic tank pumping schedule table above may allow the tank to be opened and pumped less often - saving some money.
Watch out: But don't forget that regular opening and inspection of the septic tank, such as happens when the septic tank is to be pumped out or "cleaned", gives an additional opportunity to check for other septic system problems that could be leading to a costly failure, but that don't directly concern the septic tank sludge or scum layer thickness.
Examples include the discovery of lost or damaged septic tank baffles, septic tanks leaks that allow ground water to flood the septic system, or septic tank leaks out of the tank.
Continue reading at: PUMPER TRUCK OPERATION PROCEDURE
Below at in the form of individual detailed articles are the Steps in Septic Tank Cleaning Procedure in the order that they should be performed
More Reading
Green link shows where you are in this article series.
...
Frequently Asked Questions (FAQs)
No FAQs have been posted for this page. Try the search box below or CONTACT US by email if you cannot find the answer you need at InspectApedia.
Ask a Question or Search InspectApedia
Check the FAQs just above, try the search box just below, or if you prefer, post a question or comment in the Comments box below and we will respond promptly.
Search the InspectApedia website
Technical Reviewers & References
Related Topics, found near the top of this page suggest articles closely related to this one.
Click to Show or Hide Citations & References
Septic Tank/Soil-Absorption Systems: How to Operate & Maintain [ copy on file as /septic/Septic_Operation_USDA.pdf ] - , Equipment Tips, U.S. Department of Agriculture, 8271 1302, 7100 Engineering, 2300 Recreation, September 1982, web search 08/28/2010, original source: http://www.fs.fed.us/t-d/pubs/pdfimage/82711302.pdf.
SEWAGE LEVELS in SEPTIC TANKS - details on normal and abnormal levels and what they mean.
Mark Cramer Inspection Services Mark Cramer, Tampa Florida, Mr. Cramer is a past president of ASHI, the American Society of Home Inspectors and is a Florida home inspector and home inspection educator. Mr. Cramer serves on the ASHI Home Inspection Standards. Contact Mark Cramer at: 727-595-4211 mark@BestTampaInspector.com
John Cranor is an ASHI member and a home inspector (The House Whisperer) is located in Glen Allen, VA 23060. He is also a contributor to InspectApedia.com in several technical areas such as plumbing and appliances (dryer vents). Contact Mr. Cranor at 804-747-7747 or by Email: johncranor@verizon.net
Carson, Dunlop & Associates Ltd., 120 Carlton Street Suite 407, Toronto ON M5A 4K2. (416) 964-9415 1-800-268-7070 info@carsondunlop.com. The firm provides professional home inspection services & home inspection education & publications. Alan Carson is a past president of ASHI, the American Society of Home Inspectors. Thanks to Alan Carson and Bob Dunlop, for permission for InspectAPedia to use text excerpts from The Home Reference Book & illustrations from The Illustrated Home. Carson Dunlop Associates' provides:

Commercial Building Inspection Courses - protocol ASTM Standard E 2018-08 for Property Condition Assessments
Home Inspection Education Courses including home study & live classes at eleven colleges & universities.
Home Inspection Education Home Study Courses - ASHI@Home Training 10-course program.
Special Offer: Carson Dunlop Associates offers InspectAPedia readers in the U.S.A. a 5% discount on these courses: Enter INSPECTAHITP in the order payment page "Promo/Redemption" space. InspectAPedia.com editor Daniel Friedman is a contributing author.
The Home Reference Book, a reference & inspection report product for building owners & inspectors.
Special Offer: For a 10% discount on any number of copies of the Home Reference Book purchased as a single order. Enter INSPECTAHRB in the order payment page "Promo/Redemption" space. InspectAPedia.com editor Daniel Friedman is a contributing author.
The Home Reference eBook, an electronic version for PCs, the iPad, iPhone, & Android smart phones.
Special Offer: For a 5% discount on any number of copies of the Home Reference eBook purchased as a single order. Enter inspectaehrb in the order payment page "Promo/Redemption" space.
The Illustrated Home illustrates construction details and building components, a reference for owners & inspectors.
Special Offer: For a 5% discount on any number of copies of the Illustrated Home purchased as a single order Enter INSPECTAILL in the order payment page "Promo/Redemption" space.
The Horizon Software System manages business operations,scheduling, & inspection report writing using Carson Dunlop's knowledge base & color images. The Horizon system runs on always-available cloud-based software for office computers, laptops, tablets, iPad, Android, & other smartphones.
Ten Steps to Keeping a Septic System Working, suggestions from the U.S. EPA, edits and additions by DJF
Pennsylvania State Fact Sheets relating to domestic wastewater treatment systems include

Pennsylvania State Wastewater Treatment Fact Sheet SW-161, Septic System Failure: Diagnosis and Treatment
Pennsylvania State Wastewater Treatment Fact Sheet SW-162, The Soil Media and the Percolation Test
Pennsylvania State Wastewater Treatment Fact Sheet SW-l64, Mound Systems for Wastewater Treatment
Pennsylvania State Wastewater Treatment Fact Sheet SW-165, Septic Tank-Soil Absorption Systems
Document Sources used for this web page include but are not limited to: Agricultural Fact Sheet #SW-161 "Septic Tank Pumping," by Paul D. Robillard and Kelli S. Martin. Penn State College of Agriculture - Cooperative Extension, edited and annotated by Dan Friedman (Thanks: to Bob Mackey for proofreading the original source material.)

Inspecting Septic Systems: Online Book, Inspection, Test, Diagnosis, Repair, & Maintenance: our Online Septic Book: Septic Testing, Loading & Dye Tests, Septic Tank Pumping, Clearances, details of onsite waste disposal system inspection, testing, repair procedures.


Advanced Onsite Wastewater Systems Technologies, Anish R. Jantrania, Mark A. Gross. Anish Jantrania, Ph.D., P.E., M.B.A., is a Consulting Engineer, in Mechanicsville VA, 804-550-0389 (2006). Outstanding technical reference especially on alternative septic system design alternatives. Written for designers and engineers, this book is not at all easy going for homeowners but is a text I recommend for professionals--DF.
Builder's Guide to Wells and Septic Systems, Woodson, R. Dodge: $ 24.95; MCGRAW HILL B; TP; Quoting from Amazon's description: For the homebuilder, one mistake in estimating or installing wells and septic systems can cost thousands of dollars. This comprehensive guide filled with case studies can prevent that. Master plumber R. Dodge Woodson packs this reader-friendly guide with guidance and information, including details on new techniques and materials that can economize and expedite jobs and advice on how to avoid mistakes in both estimating and construction. Chapters cover virtually every aspect of wells and septic systems, including on-site evaluations; site limitations; bidding; soil studies, septic designs, and code-related issues; drilled and dug wells, gravel and pipe, chamber-type, and gravity septic systems; pump stations; common problems with well installation; and remedies for poor septic situations. Woodson also discusses ways to increase profits by avoiding cost overruns.
Country Plumbing: Living with a Septic System, Hartigan, Gerry: $ 9.95; ALAN C HOOD & TP; Quoting an Amazon reviewer's comment, with which we agree--DF:This book is informative as far as it goes and might be most useful for someone with an older system. But it was written in the early 1980s. A lot has changed since then. In particular, the book doesn't cover any of the newer systems that are used more and more nowadays in some parts of the country -- sand mounds, aeration systems, lagoons, etc.
Our recommended books about building & mechanical systems design, inspection, problem diagnosis, and repair, and about indoor environment and IAQ testing, diagnosis, and cleanup are at the InspectAPedia Bookstore. Also see our Book Reviews - InspectAPedia.
Books & Articles on Building & Environmental Inspection, Testing, Diagnosis, & Repair
The Home Reference Book - the Encyclopedia of Homes, Carson Dunlop & Associates, Toronto, Ontario, 25th Ed., 2012, is a bound volume of more than 450 illustrated pages that assist home inspectors and home owners in the inspection and detection of problems on buildings. The text is intended as a reference guide to help building owners operate and maintain their home effectively. Field inspection worksheets are included at the back of the volume. Special Offer: For a 10% discount on any number of copies of the Home Reference Book purchased as a single order. Enter INSPECTAHRB in the order payment page "Promo/Redemption" space. InspectAPedia.com editor Daniel Friedman is a contributing author.

Or choose the The Home Reference eBook for PCs, Macs, Kindle, iPad, iPhone, or Android Smart Phones. Special Offer: For a 5% discount on any number of copies of the Home Reference eBook purchased as a single order. Enter INSPECTAEHRB in the order payment page "Promo/Redemption" space.