How & Why to Inspect the Septic Tank Interior After Cleaning
INSPECT the SEPTIC TANK AFTER PUMPING - CONTENTS: how to inspect the septic tank interior for cracks, damage, baffle damage, other signs of trouble, after it has been pumped out or cleaned.
POST a QUESTION or READ FAQs about inspecting the septic tank interior for cracks, damage, baffle damage, other signs of trouble, after it has been pumped out or cleaned.
InspectAPedia tolerates no conflicts of interest. We have no relationship with advertisers, products, or services discussed at this website.
Septic tank interior inspection:
Here we explain the importance of (and procedures for) inspecting the septic tank baffles and tank interior after septic tank pumping/cleaning. Cleaning the septic tank during tank pump-out can expose damage to the septic tank sides and bottom that cannot otherwise be found.
This septic tank pumpout article series provides a step by step, photo-illustrated guide to opening, pumping, and inspecting septic tanks, how a conventional septic tank is located, opened, pumped out, cleaned, and inspected.
This guideline is intended for septic pumping tank truck operators and as general information for homeowners or septic service companies concerned with septic system care.
Green links show where you are. © Copyright 2017 InspectApedia.com, All Rights Reserved.
Septic Tank Inspection Points After the Tank has been Pumped & Cleaned
A Photographic Guide to Pumping a Septic Tank
Inspecting the Septic Tank Condition After Pumping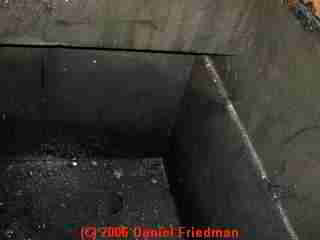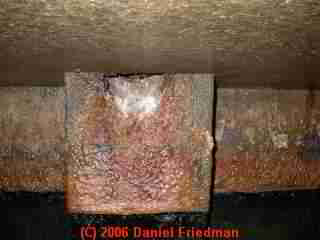 After septic tank pumping or perhaps better, after both pumping and wash-down, the empty septic tank is inspected for damage such as damaged or missing baffles, cracks, or holes. The right hand photo shows the septic tank intake baffle viewed from the cleanout port.
Warning: do not enter nor lean into the septic tank. We obtained this view using a remote digital camera to see the condition of the tank baffles. If the tank is cracked or the baffles missing or damaged, repairs may be needed.
Watch out: Do not enter the septic tank as doing so is likely to cause death by asphyxiation by methane gas in the tank. Even leaning over a septic tank, even one that has been pumped, is dangerous. You can be asphyxiated and fall in. Also, do not work alone.
Special breathing equipment and other safety measures are needed if a tank needs to be emptied.
Citation of this article by reference to this website and brief quotation for the sole purpose of review are permitted. Use of this information at other websites, in books or pamphlets for sale is reserved to the author. Technical reviewers are welcome and are listed at "References." This is a chapter of SEPTIC SYSTEM INSPECTION & MAINTENANCE COURSE an online book on septic systems.
Inspect the Cleaned-Out Septic Tank for These Problems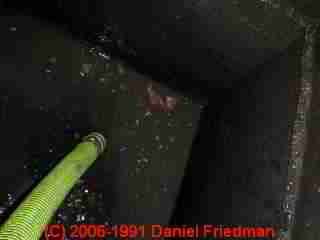 Evidence of cracks, settlement, or damaged tank baffles may be seen after pumping.
At this time the operator can also confirm the tank size. When a steel septic tank has been serviced by removing entire tank cover these conditions are seen easily.
But normally a septic tank is pumped by through a center port intended for tank cleaning. Some older concrete tanks which lack this port are pumped at the tank outlet opening but possibly at the inlet.
Septic pumpers can easily fabricate a tool combining a pole, mirror, and bright flashlight to inspect a tank interior.
We have had good success by inserting a digital camera into the tank and taking flash photos. Most of the photos in this article were obtained by that method.
If septic tank damage is found such as cracking, it may be possible to repair the septic tank by cleaning the surfaces and applying an appropriate masonry patching compound. But no one should enter the septic tank without proper equipment or preparation as there is a real danger of death by asphyxiation by the methane gas remaining in the tank.
Below at in the form of individual detailed articles are the Steps in Septic Tank Cleaning Procedure in the order that they should be performed
Septic Pumping Procedure & Pumper Truck Operation Articles
...
Continue reading at CLOSE the SEPTIC TANK or select a topic from closely-related articles below, or see our complete INDEX to RELATED ARTICLES below.
Suggested citation for this web page
INSPECT the SEPTIC TANK AFTER PUMPING at InspectApedia.com - online encyclopedia of building & environmental inspection, testing, diagnosis, repair, & problem prevention advice.
Or use the SEARCH BOX found below to Ask a Question or Search InspectApedia
...
Frequently Asked Questions (FAQs)
Try the search box below or CONTACT US by email if you cannot find the answer you need at InspectApedia.
Question: Is it acceptable practice to return sewage from a septic pumper truck back into the septic tank after a pumpout?
The septic contractors convinced our municipalities that after a septic tank has been emptied it should be immediately refilled (to its original level) with effluent from the pumper truck - claiming that a) gravity in the pumper truck's tank separates the solids from the liquids (during the 5 to 10 minutes the effluent is in the truck) so that mostly only liquid is returned to the septic tank; and b) that this return of effluent improves septic performance. I can see the financial advantage for the contractors (fewer trips to the water treatment center; lower disposal costs; charge homeowners extra $$$ for 'complete' emptying) but I cannot find any independent evidence from a reputable source that supports these claims. Does anyone know of any sources that actually support these claims? - Bob 5/3/12
Reply: Pumping out and then restoring sewage to a septic tank is a Churn-and-Return Septic Tank Agitation that is likely to cause costly damage to the septic system
Bob,
Thank you for this question about what appears from your description to be a seriously problematic septic tank "service procedure". This process you describe will absolutely not improve septic tank performance, in fact it will harm it and will destroy the septic drainfield. In fact no septic tank additives nor improvers are necessary nor recommended for conventional septic tank operation and using them is not only harmful, but is illegal in many jurisdictions in the U.S. and Canada.
In our opinion the process you describe fails to respect the most fundamental principles of septic tank and drainfield operation, as we explain below.
In addition to the financial issue that you point out surrounds the apparent delivery of a service that is then "un-done" afterwards, below we list the concerns in order from least harmful and costly to most harmful and costly.
Unable to verify septic tank cleaning is complete: You will note by reviewing our description and photographs of the earlier stages in septic tank pumping that during a pumpout the operator first breaks up and pumps the floating scum layer from the top of the septic tank, then the tank contents, with special attention to breaking up and removing settled sludge from the tank bottom. By restoring wastewater to a septic tank after pumping it is not possible for the consumer nor any third party to make an independent inspection of the tank to verify that in fact, all of the sludge and debris from the tank bottom was even removed. This procedure also makes it impossible to inspect the tank itself for cracks, leaks, damage.
Cross-contamination issues: because the pumper truck normally services multiple properties during a day of use, all of the wastewater from those properties is combined and mixed in the truck. Any contaminant or pathogen from a problematic property will be cross-contaminated into the septic tanks of other customers. Examples of such problematic contaminants include chemicals or petroleum products that one property may have dumped into the tank in excess, killing tank bacteria and stopping the treatment process, or wastewater from a septic tank high in salt, or in antibiotics that have the same harmful effect. One property's problem that is ruining its drainfield will be spread to its neighbors.
Insertion of agitated suspended solids into the septic tank: the pumping operation aggressively mixes, macerates, agitates, and homogenizes the separate contents of a resting septic tank. Greases, floating scum, floating solids, and settled bottom sludge are all macerated to some degree as they pass through the vacuum pump, and they are certainly mixed further as they flow onwards into the pumper truck tank by the pumping process. Septic pumper truck operation is described at Pumper Truck Operation. Septic pumper truck vacuum pumps are detailed below.

An example of the type of vacuum pump used on septic tank service vehicles is the Masport HXL400 System - Water cooled 400 CFM unit. Various pump sizes and pumping rates are available, all of them that work on septic pumper trucks will be similar in effect however. This is a very powerful pump, typically weighing 470 pounds, using 6-vanes, water cooled, and pumping sewage at 400 cubic feet per minute. It should be readily apparent that septage moving through the unit and into the pumper truck will be highly agitated and mixed in the truck. This agitation effect will be true with any pump used for this application. Common septic pumper truck vacuum pump brands include Battioni & Pagani vacuum pumps, Conde vacuum pumps, Hertell vacuum pumps, Masport vacuum pumps, Moro vacuum pumps, NVE (National Vacuum Equipment) pumps, PB vacuum pumps, Juro vacuum pumps. Your municipal authorities are welcome to review the specifications for those units. [3][4][5][6][7][8][9][10]

There is not the slightest prospect that these materials will then be separated in a normal septic pumping truck tank, not in 5-10 minutes, not even in a day of rest time. A review of the concept septic tank retention time or settlement time (defined at MEASURE SCUM & SLUDGE) makes this clear. Therefore, in effect, the same sewage that was removed from the septic tank is being reinserted into it on return, but in an agitated condition that may make it appear more liquid. Even if the pumper truck passed sewage through a septic filter (which, if effective, would clog almost immediately) the other problems listed for this process would remain.
Destruction of the septic system drainfield & contamination of the environment: one of the most destructive things you can do to a septic drainfield is to send suspended solids and greases out of the septic tank and into the absorption field or drainfield. The suspended solids and greases speed the clogging of the soils surrounding the drainfield trenches, thereby reducing the drainfield life substantially. And of course a clogged drainfield is not only expensive to replace, but it results in a period of contamination of local groundwaters by the field's failure to absorb and treat the septic effluent.

What is insidious about this problem is that in most cases the drainfield failure will not be immediate and thus the association of the cause (agitated suspended solids and greases placed by the pumper back into the septic tank) and effect (passage of suspended solids and greases into the drainfield and its ruination) may not be readily apparent. But there is no doubt that this procedure will substantially reduce the anticipated life of the drainfield, hastening the need for very costly repairs.
We recommend the use of effluent filters at the septic tank outlet to extend the life of drainfields, precisely in order to reduce the passage of suspended solids into the fields. If, however, the septic is simply agitated by the process you describe rather than being properly pumped, cleaned, and inspected, even if a septic filter were installed at every septic tank serviced by the pumpers you describe, the filter life would be drastically reduced, septic system operating costs will be increased, and the other problems we listed above will still be present.
In sum, the procedure you describe is not one we can recommend for your community nor any other. [11][12][13]
Watch out: Pushing grease, scum, and small solid debris out of the septic tank and into the leach field reduces the future life of that expensive component of a septic system. In fact if a septic tank has become blocked or even nearly-blocked by solids, the system has already had a history of pushing solids into the drainfield and even if the system appears to still be working properly, the future life of the drainfield has been substantially reduced.
Reader Follow-Up 5/15/12 - will I find an authority that prohibits churn-and-return septic tank pumping?
Mr Friedman: Thank you for the very comprehensive response that confirms my suspicions that homeowners in our (rural) municipalities have long been paying $175 every 2 years for a mandatory service using a questionable procedure (empty & refill) that is damaging septic systems (using the "it removes the solids & maintains a bacterial population" rational sold to them by the service contractors). To date they have not been able to provide me with valid, independent documentation supporting 'empty & refill'.
Their response to your expert advice will be "info on the web isn't always valid." So the onus is on me to find published (govt, industry or academic) sources that a) clearly define septic tank 'emptying' as complete evacuation with no fluid replacement (and why); and preferably b) that 'empty & refill' is not an advisable procedure because of all the deleterious effects you itemized in detail.
I have gone through the two huge EPA OWTSM manuals and many of the extensive links on your site, but have yet to find the support I need to 'make a solid case'.
Question: Before I start buying manuals, will I find the evidence I need in your references: Ontario's "Manual of Policy, Procedures, and Guidelines for Onsite Sewage Systems" and/or a current publication of the "International Private Sewage Disposal Code"? If not, could you possibly point me towards other publications. [BTW: Even if the "Manual of Septic Tank Practice" was available, its 1957 publication date would be challenged as outdated.]
Once again, thank-you for your excellent professional advice & guidance… I really appreciate it!
Reply: No, probably not. The number of bad ideas always exceeds the details in codes & legislation
Seeking Authority vs. Understanding A System
You are welcome to refer your authorities to the identitiy of many of our principal technical reviewers and contributors found in these pages and to my own CV and bio linked-to from the ABOUT InspectApedia.com page link at the bottom of each of our web pages and to . However, in my OPINION the approach of seeking an authority that the parties (with conflicts of interest) will accept and who will provide a simple statement that the septic tank stirring-up churn-and-return practice you described is "prohibited" or "illegal" is a dangerous simplification.
The number of crackpot or profit-motive bad ideas and the rate of their appearance in most fields easily exceeds the specific prohibitions one will find in model building codes. You won't find a specific law stating that it is "illegal" to use M1 firecrackers instead of a conventional buckle to un-fasten your car's seatbelt, a goofy example I just "invented", so you won't find explicit prohibition for every crazy septic scheme that comes along.
A second approach, and one that I prefer, requires some mental effort on the part of those involved, to become familiar with how a system works, its principles and with its established maintenance and care procedures, sufficiently to form an educated and defensible opinion about the advisibility of the proposed septic tank "churn and return" policy your pumpers and municipality like.
Two Technical Approaches to Evaluating the Sewage Churn-and-Return Pumping Procedure
While the time, cost and trouble may preclude a scholarly study of the matter, I can describe how you might produce two additional compelling data points to add to the explanation I've already offered.
1. Septic Tank Effluent discharge sample analysis: Collect 5 samples of clarified effluent flowing into the D-box from a conventional septic tank in good condition, with a reasonable net-free area, that has not been churned-and-returned by the process you describe.
Collect 5 samples of effluent flowing into the D-box of a septic system out of septic tanks that have just been "serviced" by the churn-and-return procedure.
Compare these. You will almost certainly observe a very much higher level of floating solids and debris in the second group than the first. Those solids are what are being sent into and damaging the drainfields of homes in your community. In addition to what will be visually obvious you could have the BOD and total suspended solids in the samples examined by an independent testing laboratory.
2. Aerobic septic system comparison: compare the design of aerobic septic systems to conventional non-aerobic designs. In an aerobic system we deliberately agitate the contents of the septic tank and add oxygen via an air bubbler at the same time. This approach significantly increases the treatment level of the sewage and produces effluent with a lower level of both solids and pathogens.
However, you will observe that in aerobic systems provision is made, usually in the form of additional chambers or a separate tank, to provide additional settling time for effluent before it is discharged to the drainfield. I am very doubtful that your officials can produce a single independent government or exert source that supports the claims of your pumpers. No one except those profiting by the procedure would be expected to support such a worrisome approach.
The churn-return procedure you described lacks the continuous oxygenation of the churned effluent, settling chambers, filters, and any other step to protect the septic drainfields. I expect that if you send our discussion to nationally recognized septic system design and maintenance experts such as Jantrania, Loomis, or Minnis, they will be as worried as I am about the process you described.
Watch out: It will take some time for homeowners in your area to figure out that the average life of their septic system drainfields has been significantly cut by the new churn/return practice (soil conditions, maintenance, usage levels, tank sizes, site variations add complexity to septic field life). There are numerous citations to this effect,such as Laak (1970) who observed that "Investigators found that the initial soil clogging rate was directly related to the TSS load.". I worry that both your municipalities and your septic pumpers are inviting class action litigation.
InspectAPedia is an independent publisher of building, environmental, and forensic inspection, diagnosis, and repair information provided free to the public - we have no business nor financial connection with any manufacturer or service provider discussed at our website. We are dedicated to making our information as accurate, complete, useful, and unbiased as possible: we very much welcome critique, questions, or content suggestions for our web articles. Working together and exchanging information makes us better informed than any individual can be working alone.
...
Ask a Question or Search InspectApedia
Use the "Click to Show or Hide FAQs" link just above to see recently-posted questions, comments, replies, try the search box just below, or if you prefer, post a question or comment in the Comments box below and we will respond promptly.
Search the InspectApedia website
Technical Reviewers & References
Click to Show or Hide Citations & References
Books & Articles on Building & Environmental Inspection, Testing, Diagnosis, & Repair
Design Manuals for Septic Systems
Onsite Wastewater Disposal Books