Septic Effluent Retention Time & Effective Septic Tank Volume
EFFLUENT RETENTION TIME - What is Effluent Retention Time? & how effluent retention time affects septic system drainfield or soakaway bed life. Definition of septic tank net free area? How do we estimate the required retention time for a septic tank?
POST a QUESTION or READ FAQs about septic tank retention time and net free area or effective volume inside the septic tank
InspectAPedia tolerates no conflicts of interest. We have no relationship with advertisers, products, or services discussed at this website.
Septic tank effluent retention time & net free area:
This document answers the question: what is septic tank retention time, or "effluent retention time" and explains the importance of this concept. Septic tank maintenance requires that the tank be pumped at the appropriate interval (given in our table of septic tank pumping frequency).
If the effluent retention time is too brief in the septic tank, solid waste is pushed into the drainfield where that important component is clogged, leading to failure. We explain how we calculate or estimate the required septic tank retention time and we describe a related concept: net free area in the septic tank.
Green links show where you are. © Copyright 2017 InspectApedia.com, All Rights Reserved.
Septic Tank Effluent Retention time and Effective Septic Tank Volume - Why pump a septic tank before it is full of solids and grease?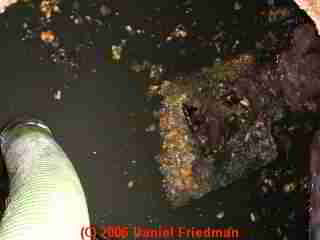 This article explains that if septic tank cleaning is done too seldom the liquid volume area in the tank becomes too small and effluent does not stay long enough in the septic tank.
In short: retention time is the time that septic effluent spends in the septic tank before flowing out to the drainfield. If a septic tank is not pumped frequently enough retention time becomes short and the drain field will have a much shorter life. Solids moving into the drain field will clog it.
A septic tank with too little net free area or free volume for liquid effluent will not permit solids to settle out of the sewage.
The result is that the waste in the tank remains agitated during system use, forcing solids into the absorption system - a condition which can spell the quick and costly ruination of a septic leach field or other absorption system.
Longer retention time in the septic tank permits effluent to separate into floating scum, settled sludge, and clarified effluent. It's clarified effluent not sewage that we want to discharge into the absorption system. Use of this information at other websites, in books or pamphlets for sale is reserved to the author.
Definition of Septic Tank Retention time
Septic tank retention time is the length of time that effluent remains in the septic tank before moving out to the absorption system or leach field. In order for a septic tank to function properly, adequate liquid volume must be maintained to allow for sufficient "settling time" or "retention time" which permits solids to either settle out as sludge or join the floating-scum layer at the top of the tank.
Baffles in the tank prevent the floating scum from leaving the tank, an event which would lead to rapid failure of the soil absorption system or leach field. When pumping is too infrequent, even if the tank is not totally clogged with solids, the reduced liquid volume in the tank (the "net free area") reduces settlement or "retention time" and grease coagulation time.
Definition of net free area or septic tank working volume
Net free area or effective septic tank working volume: The "net free area" (my term) or "effective septic tank volume" is the actual tank interior volume minus the space occupied by settled sludge and floating scum. In addition to the requirements that the sludge level be sufficiently below the baffle and tank outlet, a sludge level which has reached more than 20% of the septic tank volume is unacceptable and such a tank needs to be cleaned.
What is the Required Septic Tank Effluent Retention Time Period?
Retention time requirement: the retention time necessary for a septic tank to function properly depends on the size of the septic tank and the daily wastewater volume or flow.
Typical design-retention time for septic tanks is 1-3 days in some sources or better, 2-3 days but there is not a single exact answer since tank sizes and shapes vary. The formula below gives a reasonable septic tank effluent retention time in days based on the tank volume and daily wastewater volume.
Watch out: for a shallow flat septic tank such as those used on rocky sites, the total tank volume may not be adequate and the retention time target should be increased.
Septic Tank Effluent Retention Time Formula
The necessary days of retention time R = the effective tank volume V(g Tank) divided by the daily wastewater volume in gallons Vol(g Daily Wastewater).
RDays = V(g Tank) / Vol(g Daily Wastewater)
Example: in a 1000 gallon septic tank with an effective tank volume before cleanout of 600 gallons, and with a family placing 600 gallons of wastewater into the tank each day, the tank needs one day of retention time.
This means that if the wastewater flow exceeds 600 gallons a day or if the sludge and scum levels increase to reduce the tank volume below 600 gallons, then we're pushing floating debris into the leach field.
This condition means that the septic tank contents remain agitated when the system is used, forcing small floating solids and grease out of the tank and into the absorption system, shortening the life of that component. If a property owner waits until a system or septic tank is blocked before having the tank pumped, it is quite likely that the leach fields have already been damaged.
This is why various authorities set guidelines on tank pumping/cleaning based on scum layer thickness and sludge thickness, and this is why those figures require cleaning of the septic tank well before it is "full" or nearly full of solids and floating scum.
Research on Septic Tank Design Effluent Retention Time
"SEPTIC TANK DESIGN", [PDF] Pan American Health Organization, World Health Organization (Who) Washington D.C., with offices in 27 countries, retrieved 2017/06/12, original source: www.bvsde.paho.org/texcom/desastres/oxfamstg.pdf
Excerpt:

Decide on a retention time (RT) of 1 to 3 days. Choose a long retention time to minimize cleaning frequency (running costs). Choose a short retention time to minimise tank size and initial cost. Larger tanks allow the sewage more time to digest and thus reduce the load on the drainage system. Smaller tanks (< 6m3) need longer retention times due to increased turbulence (i.e. 2 or 3 days.)
Bounds, T. R. "DESIGN AND PERFORMANCE OF SEPTIC TANKS" [PDF] In Site Characterization and Design of On-Site Septic Systems. ASTM International, 1997.
Abstract:

More than forty million people in the United States currently use onsite wastewater disposal or decentralized sewerage collection and treatment that rely on septic tanks for primary treatment. There is a good reason why, in this age of advanced technology, the septic tank is still in use. It works.

More than 45% of ultimate treatment can be accomplished in the septic tank. Advanced onsite and effluent sewer technologies have established their environmental importance by bringing highly reliable, affordable and permanent wastewater treatment to users worldwide. In short, passive—energy free—septic tanks provide the most cost efficient form of primary treatment available for non industrial sewage.

Decentralized sewers and onsite alternatives have advanced us to a new era of wastewater treatment and management where designers must be able to rely on the many essential components of the system.

System components must be designed and constructed with the same permanency and quality expected of any long-term option. Because the septic tank is an essential ingredient to the success of these systems, a new generation of structurally-sound, watertight septic tanks is evolving.
Merino-solís, María L., Edgardo Villegas, José De Anda, And Alberto López-lópez. "THE EFFECT OF THE HYDRAULIC RETENTION TIME Time On The Performance Of An Ecological Wastewater Treatment System: An Anaerobic Filter With A Constructed Wetland." [PDF] Water 7, No. 3 (2015): 1149-1163.


...
Continue reading at MEASURE SCUM & SLUDGE or select a topic from closely-related articles below, or see our complete INDEX to RELATED ARTICLES below.
Or see SEPTIC TANK OBJECTIVE DATA
Or see these
Septic Pumping Procedure & Pumper Truck Operation Articles
Suggested citation for this web page
EFFLUENT RETENTION TIME at InspectApedia.com - online encyclopedia of building & environmental inspection, testing, diagnosis, repair, & problem prevention advice.
Or use the SEARCH BOX found below to Ask a Question or Search InspectApedia
...
Frequently Asked Questions (FAQs)
Try the search box below or CONTACT US by email if you cannot find the answer you need at InspectApedia.
Questions & answers about septic effluent retention time in septic tanks, posted originally at this article
Question: so what is a typical septic tank effluent retention time: hours or days?
I waited to read an actual septic effluent retention time but never found it in the article on this page.
Reply: 1-3 days
Joseph:
Fair question for which I thank you, and for which there is not a single "right answer" - rather there is a right concept. That's because tank shapes vary as well as volumes, as well as the rate of inflow of wastewater as well as, of course, the thickness of sludge and scum layer. The design concept is that when the free area in the tank is small, down to say 1/3 or less, the sewage remains agitated and solids are pushed out into the fields, ruining them.
An effective retention time of 1-3 days is what's needed but I haven't seen a single design number.

...
Ask a Question or Search InspectApedia
Questions & answers or comments about septic tank retention time and net free area or effective volume inside the septic tank.
Use the "Click to Show or Hide FAQs" link just above to see recently-posted questions, comments, replies, try the search box just below, or if you prefer, post a question or comment in the Comments box below and we will respond promptly.
Search the InspectApedia website
Technical Reviewers & References
Click to Show or Hide Citations & References
New York State Department of Health, "Appendix 75-A Wastewater Treatment Standards - Individual Household Systems", [PDF] New York State Department of Health, 3 February 2010, retrieved 3/1/2010, original source: https://www.health.ny.gov/regulations/nycrr/title_10/part_75/appendix_75-a.htm
Advanced Onsite Wastewater Systems Technologies, Anish R. Jantrania, Mark A. Gross. Anish Jantrania, Ph.D., P.E., M.B.A., is a Consulting Engineer, in Mechanicsville VA, 804-550-0389 (2006), Advanced Onsite Wastewater Systems Technologies. Outstanding technical reference especially on alternative septic system design alternatives. Written for designers and engineers, this book is not at all easy going for homeowners but is a text we recommend for professionals--DF.
Builder's Guide to Wells and Septic Systems, Woodson, R. Dodge: $ 24.95; MCGRAW HILL B; TP; Quoting from Amazon's description: For the homebuilder, one mistake in estimating or installing wells and septic systems can cost thousands of dollars. This comprehensive guide filled with case studies can prevent that. Master plumber R. Dodge Woodson packs this reader-friendly guide with guidance and information, including details on new techniques and materials that can economize and expedite jobs and advice on how to avoid mistakes in both estimating and construction. Chapters cover virtually every aspect of wells and septic systems, including on-site evaluations; site limitations; bidding; soil studies, septic designs, and code-related issues; drilled and dug wells, gravel and pipe, chamber-type, and gravity septic systems; pump stations; common problems with well installation; and remedies for poor septic situations. Woodson also discusses ways to increase profits by avoiding cost overruns.
Country Plumbing: Living with a Septic System, Hartigan, Gerry: $ 9.95; ALAN C HOOD & TP; Quoting an Amazon reviewer's comment, with which we agree--DF:This book is informative as far as it goes and might be most useful for someone with an older system. But it was written in the early 1980s. A lot has changed since then. In particular, the book doesn't cover any of the newer systems that are used more and more nowadays in some parts of the country -- sand mounds, aeration systems, lagoons, etc.
US EPA Onsite Wastewater Treatment Systems Manual [online copy, free] Top Reference: US EPA's Design Manual for Onsite Wastewater Treatment and Disposal, 1980, available from the US EPA, the US GPO Superintendent of Documents (Pueblo CO), and from the National Small Flows Clearinghouse. Original source http://www.epa.gov/ORD/NRMRL/Pubs/625R00008/625R00008.htm Onsite wastewater treatment and disposal systems, Richard J Otis, published by the US EPA. Although it's more than 20 years old, this book remains a useful reference for septic system designers. U.S. Environmental Protection Agency, Office of Water Program Operations; Office of Research and Development, Municipal Environmental Research Laboratory; (1980)
Eco John® Innovative Toilet Solutions, Global Inventive Industries, Fountain Valley CA, PDF, product brochure
"International Private Sewage Disposal Code," 1995, BOCA-708-799-2300, ICBO-310-699-0541, SBCCI 205-591-1853, available from those code associations.
"Manual of Policy, Procedures, and Guidelines for Onsite Sewage Systems," Ontario Reg. 374/81, Part VII of the Environmental Protection Act (Canada), ISBN 0-7743-7303-2, Ministry of the Environment,135 St. Clair Ave. West, Toronto Ontario M4V 1P5 Canada $24. CDN.
Manual of Septic Tank Practice, US Public Health Service's 1959.
Onsite Wastewater Disposal, R. J. Perkins; Quoting from Amazon: This practical book, co-published with the National Environmental Health Association, describes the step-by-step procedures needed to avoid common pitfalls in septic system technology. Valuable in matching the septic system to the site-specific conditions, this useful book will help you install a reliable system in both suitable and difficult environments. Septic tank installers, planners, state and local regulators, civil and sanitary engineers, consulting engineers, architects, homeowners, academics, and land developers will find this publication valuable.
Onsite Wastewater Treatment Systems, Bennette D. Burks, Mary Margaret Minnis, Hogarth House 1994 - one of the best septic system books around, suffering a bit from small fonts and a weak index. (DF volunteers to serve as indexer if Burks/Minnis re-publish this very useful volume.) While it contains some material more technical than needed by homeowners, Burks/Minnis book on onsite wastewater treatment systems a very useful reference for both property owners and septic system designers. We refer to it often. While Minnis says the best place to buy this book is at Amazon (our link at left), you can also see this book at Minnis' website at http://web page .pace.edu/MMinnisbook
Septic Tank/Soil-Absorption Systems: How to Operate & Maintain [ copy on file as /septic/Septic_Operation_USDA.pdf ] - , Equipment Tips, U.S. Department of Agriculture, 8271 1302, 7100 Engineering, 2300 Recreation, September 1982, web search 08/28/2010, original source: http://www.fs.fed.us/t-d/pubs/pdfimage/82711302.pdf
Books & Articles on Building & Environmental Inspection, Testing, Diagnosis, & Repair
Our recommended books about building & mechanical systems design, inspection, problem diagnosis, and repair, and about indoor environment and IAQ testing, diagnosis, and cleanup are at the InspectAPedia Bookstore. Also see our Book Reviews - InspectAPedia.
Inspecting Septic Systems: Online Book, Inspection, Test, Diagnosis, Repair, & Maintenance: our Online Septic Book: Septic Testing, Loading & Dye Tests, Septic Tank Pumping, Clearances, details of onsite waste disposal system inspection, testing, repair procedures.

Septic System Owner's Manual, Lloyd Kahn, Blair Allen, Julie Jones, Shelter Publications, 2000 $14.95 U.S. - easy to understand, well illustrated, one of the best practical references around on septic design basics including some advanced systems; a little short on safety and maintenance. Both new and used (low priced copies are available, and we think the authors are working on an updated edition--DF. Quoting from one of several Amazon reviews: The basics of septic systems, from underground systems and failures to what the owner can do to promote and maintain a healthy system, is revealed in an excellent guide essential for any who reside on a septic system. Rural residents receive a primer on not only the basics; but how to conduct period inspections and what to do when things go wrong. History also figures into the fine coverage.
Test Pit Preparation for Onsite Sewage Evaluations, State of Oregon Department of Environmental Quality, Portland OR, 800 452-4011. PDF document. We recommend this excellent document that offers detail about soil perc tests, deep hole tests, safety, and septic design. Readers should also see SEPTIC SOIL & PERC TESTS and for testing an existing septic system, also see Dye Tests
Grass is Always Greener Over the Septic Tank, Bombeck, Erma: $ 5.99; FAWCETT; MM; This septic system classic whose title helps avoid intimidating readers new to septic systems, is available new or used at very low prices. It's more entertainment than a serious "how to" book on septic systems design, maintenance, or repair. Not recommended -- DF.
Water Wells and Septic Systems Handbook, R. Dodge Woodson. This book is in the upper price range, but is worth the cost for serious septic installers and designers. Quoting Amazon: Each year, thousands upon thousands of Americans install water wells and septic systems on their properties. But with a maze of codes governing their use along with a host of design requirements that ensure their functionality where can someone turn for comprehensive, one-stop guidance? Enter the Water Wells and Septic Systems Handbook from McGraw-Hill.
Written in language any property owner can understand yet detailed enough for professionals and technical students this easy-to-use volume delivers the latest techniques and code requirements for designing, building, rehabilitating, and maintaining private water wells and septic systems. Bolstered by a wealth of informative charts, tables, and illustrations, this book delivers:
* Current construction, maintenance, and repair methods
* New International Private Sewage Disposal Code
* Up-to-date standards from the American Water Works Association

Wells and Septic Systems, Alth, Max and Charlet, Rev. by S. Blackwell Duncan, $ 18.95; Tab Books 1992. We have found this text very useful for conventional well and septic systems design and maintenance --DF. Quoting an Amazon description:Here's all the information you need to build a well or septic system yourself - and save a lot of time, money, and frustration. S. Blackwell Duncan has thoroughly revised and updated this second edition of Wells and Septic Systems to conform to current codes and requirements. He also has expanded this national bestseller to include new material on well and septic installation, water storage and distribution, water treatment, ecological considerations, and septic systems for problem building sites.

The NSFC Products List has an excellent list of design manuals/modules available from their website or by telephone 800-624-8301
...