Guide to Identifying, Removing, Preventing Algae, Fungus, Lichens, Moss on Roof Shingles

MOSS on ROOFS - CONTENTS: Algae, moss, lichens, or fungal growth on roof shingles: causes, effects on roof life, cure & prevention. How to clean off roof moss and lichens: brushing, raking, washing, power-washing? How to prevent moss and lichens growth on roof surfaces: algae-resistant shingles, metal flashings, special products, sunshine. Caution advised before trying to remove moss or lichens growth from roof
LIFE / WEAR FACTORS in SHINGLES - separate article
POST a QUESTION or READ FAQs about cleaning off moss from building roofs
InspectAPedia tolerates no conflicts of interest. We have no relationship with advertisers, products, or services discussed at this website.
Moss on roofs or roof shingles:
Here we explain the causes of algae, moss, lichens, or fungal growth on roof shingles, the effects of these conditions, and how to cure or prevent them.
Just brushing or raking off moss won't prevent future moss growth, and if roof cleaning is not done with care you risk damaging the shingles and reducing the life of the roof.
Green links show where you are. © Copyright 2015 InspectApedia.com, All Rights Reserved.
Algae, Fungus, Lichens, Moss Effects on Asphalt Shingle Roofs
Causes of moss or lichens growth on roofs
Moss growing on any roof surface will be more severe on roof sections that area shaded and exposed to periodically damp cool weather conditions.
The presence or absence of much sunlight on a roof surface is often a determining factor in the amount of moss or lichens growth (more sun, less moss and lichens. When shade and cool moist conditions combine, moss or lichens growth on a roof surface is more likely. [1]
Moss and lichens are more than a cosmetic issue on many kinds of roofing materials - asphalt shingles, roll roofing, wood shingle roofs, wood shake roofs. By holding moisture against the roof surface lichens but more so moss speed the wear of the asphalt shingle surface in freezing climates by increasing frost damage to the mineral granule coating on the shingles.
Sometimes there is so much moss and crud on a roof that we're not sure what roofing material was used. The photo at right is actually of a wood shingle roof, though it may make more sense to call this a moss roof in Rhinebeck, New York.
The differences among algae, lichens, and moss on roofs are described at ALGAE, FUNGUS, LICHENS, MOSS COMPARED where we also show what moss looks like under the microscope. And at ALGAE STAINS on ROOFS we show what roof shingle algae looks like under the microscope.
Also see BLACK STAIN REMOVAL & PREVENTION and see STAINS on ROOF SHINGLES. This website tells readers how to identify & explain the most-common asphalt roof shingle failures and how to obtain asphalt roofing shingle failure claims assistance. We also discuss green algae and moss on building and artifact surfaces at Green Stains on Stone.
What are the effects of moss growth on roofs?
Because moss or lichens growing on a roof surface will hold moisture on the roof longer than other areas, these growths can reduce the life of the roof covering.
Particularly where the roofing materials are asphalt shingles or wood shingles, holding water on the roof surface by any means (leaves, debris, moss, or lichens) speeds up wear on these shingles. In freezing climates there may be faster frost damage, cracking, and wear of the shingles under the moss or lichens. Even in non-freezing climates, the roots or growth structures of moss or lichens eventually penetrate and separate the roof shingle materials, speeding their demise.
Is lichens on a roof as much of a problem as moss?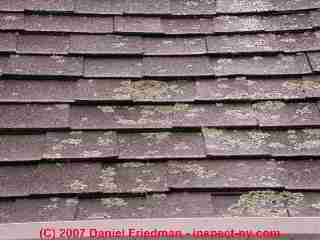 Because lichens growing on a roof surface does not have as much thickness of body as moss, it will hold less water on the roof surface and is less of a wear factor than moss.
Therefore if we have only lichens growing on a roof surface we would be less quick to try to clean it off since lichens not only has a tighter "grip" on the roof surface but the cleaning process for lichens risks doing more harm than good to the roof surface.
At ALGAE, FUNGUS, LICHENS, MOSS COMPARED we show photographs of lichens damage to asphalt shingle roofs.
Is green or black algae on roof shingles as much of a problem as moss or lichens?
Algae on a roof surface appears as a thin green coating which is mostly a cosmetic concern. The presence of algae on the roof is an indicator that this roof area is in a shaded spot where you may want to be alert for development of moss or other roof problems, but the level of damage from algae is probably low, even less than that caused by lichens. Avoid any aggressive cleaning methods that might damage the roof surface.
Black algae stains on asphalt singles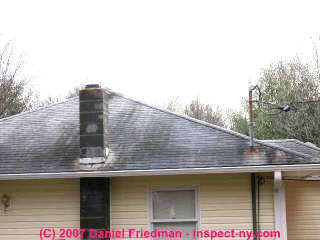 Some black stains on asphalt roof shingles are caused by a black algae (sometimes misnamed as a black fungus or even a "mildew") such as that shown in the photograph here. Black algae stains may be mistaken for but are not "extractive bleeding" - a product cosmetic defect.
When the staining or bleeding appears to run down the roof from individual small points or "spots" we think this is extractive bleeding or "bleed through" on shingles. (See ALGAE STAINS on ROOFS and also STAINS on ROOF SHINGLES for a more detailed discussion of bleed through or extractive bleeding as well as black algae stains on roof shingles.
When black stains on the roof surface are more uniform and cover a wide area that does not originate at one or more single pinpoints in the shingles, this may be a black algae growing on the shingle surface.
As we said about green algae on roofs, the presence of these black fungal or algal stains on the roof is an indicator that this roof area is in a shaded spot where you may want to be alert for development of moss or other roof problems, but the level of damage from the black fungus or algae is probably low, even less than that caused by lichens and certainly less than that caused by moss. Avoid any aggressive cleaning methods that might damage the roof surface.
How to clean off mossy or lichens-covered roofs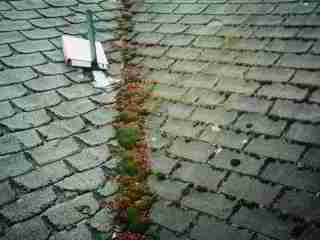 Do not try to clean a roof like the one shown in this photograph. The shingles are worn out and fragile. It will be impossible to clean the roof without damaging it. A new roof is needed.
In our opinion, any roof surface brushing or raking should be done with great care to minimize damage to the shingles themselves. If there is any doubt about the condition of the shingles underneath the moss, work gently by hand on a small area first to see the condition of the shingles below.
If the roof shingles are fragile, brittle, cracking, curled, the risk of serious damage to the roof during moss removal is much more likely. The roof may look cleaner, but its remaining life may be reduced by aggressive cleaning.
Power washing or brushing: it is possible to remove moss from a roof surface by gentle cleaning using a soft brush or a power washer.
But be careful: power washing or even brushing or sweeping an asphalt shingle roof (or a wood shingle roof in old, worn, fragile condition) is itself a process that can damage the roof by breaking shingles or by loosening the protective mineral granules from the shingle surface. As stated at Power Washing Roofs we do not recommend power-washing asphalt shingles nor asbestos-cement roof shingles nor any other roofing product that can be damaged by high pressure spraying.
Raking off roof moss: using a flexible leaf rake to remove moss, providing the raking is done gently, may be easier than brushing. Debris on the roof after raking off moss can make it more difficult to see the actual condition of the shingles. Also, raking leaves more loose debris on the roof that may need to be gently washed off with a garden hose. Otherwise the debris will wash down and clog roof gutters
Chemicals that "kill" the moss or lichens risk also damaging the shingles or contaminating the environment, and have the further disadvantage that they still leave the moss or lichens in place where it holds water on the roof surface.
How to prevent moss or lichens growth on roof surfaces
How to Prevent Moss, Lichens & Algae Growth on Roofs
On an asphalt or possibly some (treated) wood shingle roofs, shingle chemistry is also involved in moss, lichens and algae growth or resistance to it. Some roof shingle materials contain algaecides or fungicides which will also retard moss growth on the roof surface. You'll also notice that moss, lichens, and usually algae and fungus will be conspicuously absent from a roof surface down-roof from areas where galvanized metal, copper, or even aluminum flashing are installed. Mineral salts washing off of these metals will retard moss or algae growth on the shingles.
Moss, Lichens, Algae Resistant Roof Shingles
Use algae-resistant shingles when re-roofing. Chemically treated roof shingles are available from several asphalt roofing manufacturers who offer these products which are resistant to moss, lichens, or algae growth on roofs. Discuss this option with your roofer when it's time to replace the roof.
New asphalt roof shingles are available with an inclusion of chemicals that resist moss, lichens, algae, and even fungal growth. Resist does not mean moss-proof or lichens proof however for shingles subject to difficult conditions such as extensive shade under trees and lots of organic debris left on the roof surface.
At A Brief History of Algae-resistant AR-Shingles and What They Are Made-Of we give details about how shingles are made algae resistant - a property that appears to also retard moss growth by using zinc or copper treated mineral granules or flashings.
Metal Flashings can Retard Moss & Lichens Growth on Roofs
We have observed that the chemical or mineral salt wash-off from some building materials like aluminum flashing and copper flashing and even some paints which appear to kill of moss, lichens, algae, and fungus, as their extracts are washed over the roof surface. It's particularly easy to spot this effect by noticing where there are moss-free areas on an otherwise mossy roof surface.
One of our most obvious photos of rain wash off of copper flashing keeping moss off of a roof happens to be on a wood shingle roof, But we see this effect below copper flashing (and often aluminum flashing) on asphalt shingle roofs as well.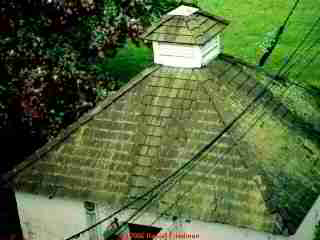 Notice the clear area below the turret on top of this wood-shingled pyramid shaped roof located in Key West Florida.
Chemicals from the metal cap atop the turret and from flashing at the turret base appear to be washing down the wood shingles in a path which prevents or even kills off moss, algae, and lichens on this roof (which we viewed from the Key West lighthouse museum.)
Installing copper or other metal strips along the ridge of an existing roof will slowly kill off moss or lichens as rainwater washes over the metal and down the roof surface. This method is suitable for both prevention of future or further moss or lichens growth on the roof and for gently treating an otherwise fragile old roof.
Here is another photograph demonstrating the effect of copper flashing on algae, moss or lichens on a roof.
Give the roof surface more sunlight: Trim back trees whose branches overshadow the roof surface. Keep the roof clean of organic debris like leaves or pine needles which may collect in valleys or at other roof locations.
Steps to prevent or retard moss growth on roof shingles also work about as well for preventing lichens growth. For advice on diagnosing, cleaning, and preventing algae stains on roofing, see Black Stain Removal & Prevention
Trim back trees too close to the building: see our tree trimming advice at TREES & SHRUBS, TRIM OFF BUILDING or select a topic from the More Reading links shown below.
Continue reading at BLACK or GREEN ALGAE STAINS on ROOFS or select a topic from the More Reading links shown below.
Suggested citation for this web page
MOSS on ROOFS at InspectApedia.com - online encyclopedia of building & environmental inspection, testing, diagnosis, repair, & problem prevention advice.
More Reading
Green link

shows where you are in this article series.

...
Frequently Asked Questions (FAQs)
Question: What about using bleach to clean off roof moss?
I recently bought a home that has green moss on parts of the roof. The roof is only 12 years old and original, but it looks more like 18 years old where the moss is present. I was hoping to get a few more years out of it, before having to replace the shingles.
From everything I've read and/or been told that a mixture of hydrogen peroxide and water will do the job. I understand there are commercial products available like "Spray and Forget" that uses hydrogen peroxide as the main ingredient and is effective, environmentally friendly and won't damage trim, siding or decks. However, they are not readily available in Canada. My next door neighbor uses a bleach/water mix, this may do more harm than good!
Can you suggest a mix ratio for the HP/Water? If you have any other suggestions, they would be appreciated. - G.F.
Reply: Go Easy on Mossy Roofs or Risk Short Remaining Roof Life
Above at How to clean off mossy or lichens-covered roofs we discuss the pros and cons of even trying to remove moss from asphalt shingle roofing. I'm worried that with the heavy roof moss growth that you describe, you will pull off so much of the protective granule shingle coating along with the moss that your roof will be rather short-lived if it does not leak immediately, no matter how you remove the moss. Therefore, gentler is better.
At BLACK STAIN REMOVAL & PREVENTION we discuss using bleach, laundry detergent, and TSP-substitute cleaners to try to remove black algae stains from roof shingles, and some rough formulas are given. You could try those solutions on a mossy roof, but I wouldn't.
Algae stained shingles are not the same as mossy shingles. Most often on an algae-stained roof the shingle granules remain pretty much intact, so the risk of converting from a stained roof to a leaky roof is lower than when converting from a mossy roof to a "cleaned" roof.
Therefore in your case I'd either leave things alone entirely or I'd consider installing a zinc or copper ridge strip to slow down further moss growth on the roof.
And in any case I'd be saving up for a new roof. When you re-roof, see How to Prevent Moss, Lichens & Algae Growth on Roofs so that your roof moss problem is less severe in the future.
Question: how to treat or kill roof lichens before removing it
(Apr 22, 2011) david said:
(this lichens)no help for knowing what i can treat it with to kill it before i remove it?
Reply:
RE: Question on how to treat or kill lichens before removing it:
For lichens already on a roof (as opposed to trying to prevent future lichens growth) the installation of the metal strips or flashings we described above in this article will slowly, over time, kill off lichens, moss, or algae on shingles.
But it is not necessary to kill lichens before removing it.
More important: removing lichens by any mechanical means like scrubbing or scraping is very likely to damage the shingles. Take a look at our page left link titled: ALGAE, FUNGUS, LICHENS, MOSS COMPARED and you will see a closeup photo of lichens on a roof as well as the hole left in the shingle if the lichens is physically pulled off of the shingle.
For this reason, in the case of lichens in particular, I do not recommend physically scrubbing it off. Either rely on the slow-death by metal flashing wash-down I describe above, or let it lie until you are re-roofing, then use algae-resistant shingles.
- Editor
Question: marine paint for roof lichens?
(Oct 16, 2011) bob long said:
how effective would marine copper bottom paint be can one by six plank be sufficiently coated to leach out enough copper to kill moss mold lichens etc and recoated once or twice a year..might this be cost effective in light of price for copper sheeting. thank you for your comments
Reply:
Great question, Bob, I don't know. I suspect that the marine copper boat bottom paint would be effective at controlling moss and lichens growth on a roof because the paint is indeed designed and intended to act as a sacrificial coating. But the paint is not intended for above ground sun exposure so I'm not sure how it will perform.
Finally, keep in mind that a lot of walking on a roof can be a source of wear, damage, or injury.
All that said, it's certainly worth the experiment. Please send along some photos (use the CONTACT link on our pages) and keep us posted - what you find will help other readers.
Question:
(Oct 24, 2011) Lisa McD said:
Hi, I have a 25 year architectural shingle roof in black that is 8 years old. I have a down spout just above the porch roof (okay, poor design - but, I didn't realize). This down spout pours water onto the porch roof leaving a white membrane/algae on the roof - but just in that area. The home faces east and is in full sun without trees. I would appreciate some suggestions. I can have the roof cleaned (but, there is no other algae showing) by a professional.... but, I don't want to be taken advantage of and am not knowledgeable in this area. Have been reading and thought, if I had the roof cleaned professionally, can I apply a piece of copper or zinc flashing on the downspoint exit to help prevent future mold or does this zinc/copper strip need to be placed at the top of the roof before the rain pours down... I do not know why the zinc/copper strip helps prevent the algae.
(Feb 26, 2012) L.Cooper said:
I have a grey looking type of mould that recently has appeared on my roof tiles at the back of my house. What could be the cause of this?
Reply:
x
Question: orange coloured stain on shingle
(Mar 29, 2012) Shannon said:
Hi I have orange showing up on my shingles.
Reply:
Shannon see RUST STAINS on ROOFS
Question: ok to roof over lichens on existing shingles?
(Apr 23, 2012) ken said:
I have one layer of shingle, there are some lichens, can i go over them?
Reply:
Ken, I would think it's ok to roof over lichens on shingles as long as there are not thick growths that would make the new layer of shingles refuse to lie flat. As you are about to roof-over, you can also brush off any thick growths that might be a problem.
If your new shingles are AR (algae resistant) they may also resist lichens re-growth. Send me some photos and I can comment further ( use the CONTACT US link found at page top or bottom)

Question: power wash a flat roof?
(June 5, 2012) DAVID HARMAN said:
I have a rolled roof on the flat part of our cottage that is heavily covered with Lichens.I was going to 1st go after it with a power washer.(good idea or bad idea)?
Reply:
David, IMHO using a power washer on asphalt roofing materials is a bad ideas - the risk is that you blow off the protective mineral granules and shorten the life of the roof. In my tests it is almost impossible to remove lichens without carrying away the granules and exposing the roofing substrate. I'd leave it alone until re-roof time, then use an algae/moss/lichens resistant material.
On the other hand, you should GENTLY sweep off loose debris such as leaves that have fallen onto the surface.
Question: likes using a power washer on algae, lichens, moss on roofs
(Aug 9, 2012) rjh said:
I've cleaned algae stains, moss and lichens off three roofs with a pressure washer. I did not see much granular loss. The lichens were eating holes in the shingles. The shingles were approx. 15 years old. I think the roof would deteriorate more rapidly from not pressure washing. I do not agree that the pressure washing should be avoided.
Reply:
RJH
Thanks for the comment - respectful argument among conscientious readers & researchers is helpful for everyone.
We should distinguish between
algae stains - dark stains on roof shingles without moss or lichens - something that can be reduced by gentle washing or treatments (one reader used laundry detergent) - but a condition that has not caused significant granule loss
and
moss or lichens whose roots grip and pull granules from the shingle surface, hold water onto the roof surface accelerating wear especially in freezing climates, and whose removal immediately leave bald spots.

I imagine that working carefully, not spraying too closely or directly, a pressure washer might not always immediately destroy a roof but unfortunately more often we see the opposite: as soon as we try to remove the moss or lichens we remove so much material that the raw shingle asphalt-impregnated paper or fiberglass base is left exposed - which means the roof is pretty much shot. It would be fair to argue maybe it was shot already. Certainly we have received complaints and photographs from readers showing huge amounts of mineral granules on the ground and bald roof areas after pressure washing. It is not a recommended procedure. Niether is raking off moss as we observed in a newspaper article.
We agree with your own observation that when moss (or lichens) are removed, they carry along granules that previously were at least on, if poorly-attached to, the shingle substrate.
As soon as we leave bald substrate exposed to sunlight, the roof wear accelerates and the remaining roof life plummets.
The roof looks better, sure, but its life has been reduced still further.
Question: increasing frequency of staining on roofs?
(Oct 17, 2012) DW, Pennsylvania said:
Why has staining become such a problem over the recent years? Growing up and living in different homes as well as owning several homes over the years it appears that this has become an epidemic problem. It very noticeable even after only several years on the roofs of new homes, especially, the side that has a northern exposure. Is it primarily due to the cheap fillers that manufacturers are using in asphalt shingles that is causing the problem? Does anyone know of any class action suits involving the maufacturers of ashphalt shingles? It's a love shame for homeowners who take care of there homes/property, but then have to deal with roofs that look really shabby.
I've purchased and used a prouct that is a mixture of sodium hydroxide, surfactants, & wetting agents, which is dissolved in water and then applied with as a spray from a garden spray tank - I usually use a very soft bristle brush(used on cars) and then rinse it off with a stream of water from a garden hose. It works very well and after a couple of good rains, it's looks a bit better. It works but it's a pain in the butt. So far, I've managed to not fall off the roof. I appeciate hearing back/readers experiences and what they have heard re the cause and if they too feel that the problem seems to be getting worse/more common.
Reply:
DW
To answer your interesting question we need to look at
- shingle product properties (not all are algae or fungal resistant
- local air pollutants
- site features: nearby trees, for example

Question:
(Mar 9, 2013) biology report said:
how can i right a bibliography for this?
Reply:
Biology:
If you are asking how you can write a citation for your report that cites this article, take a look at our citation example at our "Website Article Citation Guide"
Just use the page top or bottom search box to search for "Website Article Citation Guide" to read the article.
Or
Suggested citation for this web page
MOSS on ROOFS at InspectApedia.com - online encyclopedia of building & environmental inspection, testing, diagnosis, repair, & problem prevention advice.

Question:
(Mar 18, 2014) Mrs.Ward said:
Could you please tell me the reason for white marks on rough stone patio slabs that have appeared more since the rainy weather.
Reply:
See EFFLORESCENCE SALTS & WHITE DEPOSITS
Question: use a roof sealer after cleaning shingles?
(June 13, 2014) Bill. D said:
After cleaning the shingles, is it worth spraying on a water based clear sealer to help protect them.
Reply:
Bill, while the idea makes sense, my experience is that coating a weather-exposed silicone-based exterio clear sealer is effective for about a year.
Question: algae causes roof leaks
(Oct 15, 2014) Anonymous said:
I have architectial shingles I was told by a roofer that the reason my roof is leaking is because of algae build-up between the shingles. My roof is only about 6 yrs old. he said all of the shingles where the algae is needs to be replaced. does this sound right?
Reply:
No.
Question: roof cleaner likes to clean roofs rather than prevent algae, moss, lichens growth
Roof Cleaner said:
I would not recommend that anyone install zinc or copper strips on their roof, I have cleaned thousands of roofs where these were installed. I would also not just let the stain or moss go, it needs to be taken care of, The roofing material is just like any other part of your home and it needs maintenance also. With the cost of replacement well into the thousands of dollars in makes sense to clean the roof and get the full life span out of it.
Reply:
Thanks for your opinion Roof Cleaner. But with respect, your advice does not acknowledge that physically removing lichens or moss leaves roofs damaged, pulling off still more granules from asphalt surfaces, and thus the "cleaned" roof is left with still shorter remaining life and that step does not prevent future moss or lichens growth.
The alternatives for slow-kill-off of algae, lichens, moss, as well as roofing with algae/resistant shingles are ones that work to give better roof life..
...
Ask a Question or Search InspectApedia
Use the "Click to Show or Hide FAQs" link just above to see recently-posted questions, comments, replies, try the search box just below, or if you prefer, post a question or comment in the Comments box below and we will respond promptly.
Search the InspectApedia website
Technical Reviewers & References
Publisher's Google+ Page by Daniel Friedman
Click to Show or Hide Citations & References
[1] "Poor Season for Sunshine is a Great One for Spores", William Yardley, The New York Times, 20 April 2011, web search, 20 April 2011, http://www.nytimes.com/2011/04/20/us/20moss.html?_r=1&emc=eta1
The Ecology of Algae, F.E. Round, Cambridge University Press, 1984 ISBN-10: 0521269067 ISBN-13: 978-0521269063 (Available at Amazon.com)
After an introduction outlining the chemical and physical characteristics of the environment, the book goes on to look at the actual habitats in which algae occur. The communities of the individual habitats such as open water, sediments, rocky shores, coral reefs, hot springs, sea ice, soil, etc., are then discussed with special phenomena highlighted, for example rhythmic activity, nitrogen fixation and buoyancy. There are also chapters on seasonal cycles of algal growth, energy flow, geographical dispersion, palaeo-ecology and contribution to sediments. The importance of algae in symbiotic relationships and their considerable significance to animal grazers in aquatic food chains are also discussed. The final chapter deals with the relationships of algae to eutrophication and pollution of water. This is an important aspect, which can only be understood through an appreciation of algal ecology.
Lichens of North America, Irwin M. Brodo, Yale University Press, 2001, ISBN-10: 0300082495, # ISBN-13: 978-0300082494 (Available at Amazon.com)
Quoting from Library Journal:
Lichens are a combination of a fungus and an alga but have a unique structure and appearance quite different from either. Existing worldwide and growing on a variety of surfaces, including rocks, soil, and trees, they may appear leafy, shrubby, mossy, crusty, or jellylike and are seen in a wide range of colors, from brilliant oranges, yellows, and reds to dull grays and browns. This huge new book, written by a world authority on lichens and emeritus research scientist at the Canadian Museum of Nature, Ottawa, provides information on about 1500 of the roughly 3600 recognized North American lichens. Part 1 introduces lichens in 14 clearly written chapters that discuss their biology, ecology, geography, environmental roles, and collection. Part 2, the heart of the book, is a guide that offers identification keys to groups, genera, and species and their descriptions, with accompanying photographs and North American distribution maps. The more than 900 truly beautiful, full-color photos were taken by the Sharnoffs, nature photographers whose work has been widely published in National Geographic, Smithsonian, and elsewhere. Of value to professionals and amateurs alike, this book is certain to be a classic reference for decades to come. Highly recommended for academic and research libraries and for public libraries where interest warrants; libraries needing only a brief yet informative introduction to lichens should consider William Purvis's inexpensive Lichens (Smithsonian Institution, 2000). William H. Wiese, Iowa State Univ. Lib., Ames
Books & Articles on Building & Environmental Inspection, Testing, Diagnosis, & Repair
The Home Reference Book - the Encyclopedia of Homes, Carson Dunlop & Associates, Toronto, Ontario, 25th Ed., 2012, is a bound volume of more than 450 illustrated pages that assist home inspectors and home owners in the inspection and detection of problems on buildings. The text is intended as a reference guide to help building owners operate and maintain their home effectively. Field inspection worksheets are included at the back of the volume. Special Offer: For a 10% discount on any number of copies of the Home Reference Book purchased as a single order. Enter INSPECTAHRB in the order payment page "Promo/Redemption" space. InspectAPedia.com editor Daniel Friedman is a contributing author.

Or choose the The Home Reference eBook for PCs, Macs, Kindle, iPad, iPhone, or Android Smart Phones. Special Offer: For a 5% discount on any number of copies of the Home Reference eBook purchased as a single order. Enter INSPECTAEHRB in the order payment page "Promo/Redemption" space.
Best Practices Guide to Residential Construction, by Steven Bliss. John Wiley & Sons, 2006. ISBN-10: 0471648361, ISBN-13: 978-0471648369, Hardcover: 320 pages, available from Amazon.com and also Wiley.com. See our book review of this publication.
Decks and Porches, the JLC Guide to, Best Practices for Outdoor Spaces, Steve Bliss (Editor), The Journal of Light Construction, Williston VT, 2010 ISBN 10: 1-928580-42-4, ISBN 13: 978-1-928580-42-3, available from Amazon.com
The Journal of Light Construction has generously given reprint permission to InspectAPedia.com for this article. All rights and contents are ©Journal of Light Construction and may not be reproduced in any form.
Architectural elements: the technological revolution: Galvanized iron roof plates and corrugated sheets; cast iron facades, columns, door and window caps, ... (American historical catalog collection), Diana S Waite, available used out of Amazon.
Building Pathology, Deterioration, Diagnostics, and Intervention, Samuel Y. Harris, P.E., AIA, Esq., ISBN 0-471-33172-4, John Wiley & Sons, 2001 [General building science-DF] ISBN-10: 0471331724 ISBN-13: 978-0471331728
Building Pathology: Principles and Practice, David Watt, Wiley-Blackwell; 2 edition (March 7, 2008) ISBN-10: 1405161035 ISBN-13: 978-1405161039
Built-Up Roof Systems, Manual, C.W. Griffin, Mcgraw-Hill (Tx); 2nd edition (July 1982), ISBN-10: 0070247838, ISBN-13: 978-0070247833
Concrete Folded Plate Roofs, C. Wilby PhD BSc CEng FICE FIStructE (Author), Butterworth-Heinemann, 1998, ISBN-10: 0340662662, ISBN-13: 978-0340662663
Concrete Shell Roofs, C. Wilby PhD BSc CEng FICE FIStructE (Author),
Concrete Dome Roofs (Longman Concrete Design and Construction Series),
Concrete Roofing Tile, History of the, Batsford, 1959, AISN B000HLLOUC (availble used)
Copper Roofing, by CDA
Copper Roofing, Master specifications for copper roofing and sheet metal work in building construction: Institutional, commercial, industrial, I.E. Anderson, 1961 (hard to find)
Corrugated Iron, Building on the Frontier, Simon Holloway
Green Roof Plants: A Resource and Planting Guide, Edmund C. Snodgrass, Lucie L. Snodgrass, Timber Press, Incorporated, 2006, ISBN-10: 0881927872, ISBN-13: 978-0881927870. The text covers moisture needs, heat tolerance, hardiness, bloom color, foliage characteristics, and height of 350 species and cultivars.
Green Roof Construction and Maintenance, Kelley Luckett, McGraw-Hill Professional, 2009, ISBN-10: 007160880X, ISBN-13: 978-0071608800, quoting: Key questions to ask at each stage of the green building process Tested tips and techniques for successful structural design Construction methods for new and existing buildings Information on insulation, drainage, detailing, irrigation, and plant selection Details on optimal soil formulation Illustrations featuring various stages of construction Best practices for green roof maintenance A survey of environmental benefits, including evapo-transpiration, storm-water management, habitat restoration, and improvement of air quality Tips on the LEED design and certification process Considerations for assessing return on investment Color photographs of successfully installed green roofs Useful checklists, tables, and charts
Handbook of Building Crafts in Conservation, Jack Bower, Ed., Van Nostrand Reinhold Company, NY 1981 ISBN 0-442-2135-3 Library of Congress Catalog Card Nr. 81-50643.
Historic Preservation Technology: A Primer, Robert A. Young, Wiley (March 21, 2008) ISBN-10: 0471788368 ISBN-13: 978-0471788362
Historic Slate Roofs : With How-to Info and Specifications, Tina Skinner (Ed), Schiffer Publishing, 2008, ISBN-10: 0764330012 , ISBN-13: 978-0764330018
Low Slope Roofing, Manual of, 4th Ed., C.W. Griffin, Richard Fricklas, McGraw-Hill Professional; 4 edition, 2006, ISBN-10: 007145828X, ISBN-13: 978-0071458283

Roof failure causes in depth (and specific methods for avoiding them)
Roof design fundamentals and flourishes, based on voluminous industry research and experience
New technologies and materials -- using them safely and correctly
Comprehensive coverage of all major roofing systems pecifications, inspection, and maintenance tools for roofing work

Metal Roofing, an Illustrated Guide, R.A. Knowlton , [metal shingle roofs],
Patio Roofs, how to build, Sunset Books
Problems in Roofing Design, B. Harrison McCampbell, Butterworth Heineman, 1991 ISBN 0-7506-9162-X (available used)
Roofing The Right Way, Steven Bolt, McGraw-Hill Professional; 3rd Ed (1996), ISBN-10: 0070066507, ISBN-13: 978-0070066502
Slate Roofs, National Slate Association, 1926, reprinted 1977 by Vermont Structural Slate Co., Inc., Fair Haven, VT 05743, 802-265-4933/34. (We recommend this book if you can find it. It has gone in and out of print on occasion.)
Roof Tiling & Slating, a Practical Guide, Kevin Taylor, Crowood Press (2008), ISBN 978-1847970237,
If you have never fixed a roof tile or slate before but have wondered how to go about repairing or replacing them, then this is the book for you. Many of the technical books about roof tiling and slating are rather vague and conveniently ignore some of the trickier problems and how they can be resolved. In Roof Tiling and Slating, the author rejects this cautious approach. Kevin Taylor uses both his extensive knowledge of the trade and his ability to explain the subject in easily understandable terms, to demonstrate how to carry out the work safely to a high standard, using tried and tested methods. 
This clay roof tile guide considers the various types of tiles, slates, and roofing materials on the market as well as their uses, how to estimate the required quantities, and where to buy them. It also discusses how to check and assess a roof and how to identify and rectify problems; describes how to efficiently "set out" roofs from small, simple jobs to larger and more complicated projects, thus making the work quicker, simpler, and neater; examines the correct and the incorrect ways of installing background materials such as underlay, battens, and valley liners; explains how to install interlocking tiles, plain tiles, and artificial and natural slates; covers both modern and traditional methods and skills, including cutting materials by hand without the assistance of power tools; and provides invaluable guidance on repairs and maintenance issues, and highlights common mistakes and how they can be avoided. The author, Kevin Taylor, works for the National Federation of Roofing Contractors as a technical manager presenting technical advice and providing education and training for young roofers.
The Slate Roof Bible, Joseph Jenkins, www.jenkinsslate.com, 143 Forest Lane, PO Box 607, Grove City, PA 16127 - 866-641-7141 (We recommend this book).
Slate Roofing in Canada (Studi4es in archaeology, architecture, and history),
Smart Guide: Roofing: Step-by-Step Projects, Creative Homeowner (Ed), 2004, ISBN-10: 1580111491, ISBN-13: 978-1580111492
Solar heating, radiative cooling and thermal movement: Their effects on built-up roofing (United States. National Bureau of Standards. Technical note), William C Cullen, Superintendent of Documents, U.S. Govt. Print. Off (1963), ASIN: B0007FTV2Q
Tile Roofs of Alfred: A Clay Tradition in Alfred NY
"Weather-Resistive Barriers [copy on file as /interiors/Weather_Resistant_Barriers_DOE.pdf ] - ", how to select and install housewrap and other types of weather resistive barriers, U.S. DOE
Wood Shingle Roofs, Care and Maintenance of wood shingle and shake roofs(EC), Stanley S. Niemiec (out of print)
...