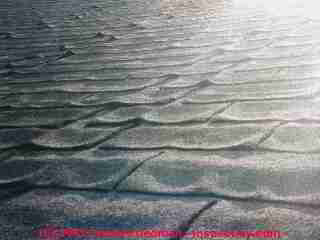 Asphalt Shingle Cupping - Signs of Shingle Wear

CUPPING ASPHALT SHINGLES - Asphalt roof shingle cupping description, definition, diagnostic photographs

Types & photographs of cupped organic felt asphalt roof shingle defects & failures
What questions to ask your roofing manufacturer if you believe you have a shingle warranty claim

POST a QUESTION or READ FAQs about shingle cupping: causes, remedy, types of roofs where cupping asphalt shingles are most often found, impact on remaining roof life
InspectAPedia tolerates no conflicts of interest. We have no relationship with advertisers, products, or services discussed at this website.
Cupping asphalt shingles: this article series describes cupped asphalt roofing shingles and how to identify & explain the most-common asphalt roof shingle failures. These cupping shingle defects occur on both organic-mat and fiberglass-mat asphalt roof shingles, but are more common on organic mat asphalt shingle roofs. We describe the difference between shingle cupping & shingle curling - which can be important in diagnosing the cause of early roof wear or damage. And we warn against walking on cupped shingle roofs. Readers are also invited contribute roof failure information to the web author for research purposes. web author for research purposes.
Green links show where you are. © Copyright 2014 InspectApedia.com, All Rights Reserved.
Cupping Asphalt Shingle Explanation & Photos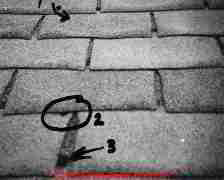 Definition of asphalt shingle cupping:
Cupping asphalt roof shingles, particularly on organic or felt-based asphalt shingles, are a normal wear pattern that shows up with shingle age.
Cupped asphalt shingles are show in our page top photo and in others on this page. In our photo (left) the top arrow in the photo at left points to the left side of a "cupped" area of this roof shingle. The shingle edges are also curled in these photos, which is part of this wear pattern.
This "normal" cupping or curling pattern will display shingles which are concave in their center, with the corners and possibly the three exposed shingle tab edges curled such that the very edge of the shingle curls downwards.
Common Asphalt Shingle Wear Indicators are often combined on a single roof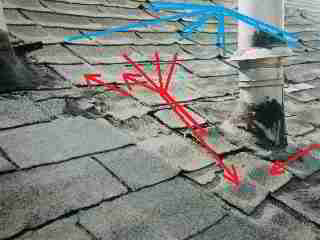 Shingles in this condition are fragile and nearing end of life. In this condition, if someone walks on cupped shingles the raised cupped sections will break and can lead to early failure and leaks.
Our photo (left) shows that on the right-hand roof, virtually all of the shingles are cupped (red arrows & lines) and the shingles are also fish-mouthed. The staggering of fish mouthing on the roof is consistent with the location of shingle butt joints in successive courses.
Asphalt roof shingles as they wear either normally or in some cases at an accelerated (early failure) rate, often show one of the following wear signs, but as our photo at left illustrates (both cupping & curling) shingles can show any or all of these wear signs in combination as well.
Cracking shingles - fine or wide cracks through the shingle surface and into or through the shingle body
Cupping shingles - the roof shingles develop a concave center (discussed here)
Curling shingles - raised shingle edges which curl downwards)
Fishmouthing shingles - raised edge of a shingle tab at its center with little curling , most often over the butt-joint of two shingles in the course below
Granule loss from shingle surfaces - the mineral granules are washing off of the shingle surface, exposing bald shingle substrate below
Each of these asphalt roof shingle conditions is different in appearance and while all of them may indicate worn, old, or fragile roof coverings, their causes and prevention vary. In some of the photos of cupped roof shingles on this page, "fishmouthing" is also visible (see photo at page top). It is common for multiple wear signs to be present at once.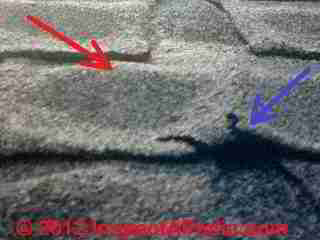 Cupped roof shingles are fragile: You should avoid walking on cupped-shingle roofs, particularly in cold weather (shingles are more likely to break).
As you can see in our photo (left) the raised fishmouth section of the cupped shingles is already cracking on its own. Stepping on this raised point (blue arrow) or on the raised area of the cupped shingle (red arrow) is likely to break it, converting a worn-out roof into one that is actively leaking.
If we absolutely have to walk on such a roof, we would tiptoe carefully, avoiding stepping on the raised or cupped shingle sections, or if doing repairs, we would prop a ladder up off of the roof surface and work from that scaffold as is sometimes done with slate or other fragile roof surface repairs.
Walking on a cupped shingle roof can cause irreparable damage: Take this warning seriously: an old cupped asphalt shingle roof may not yet be leaking and could last several more years depending on its condition.
But we have seen cupped asphalt shingle roofs that had been destroyed by the "inspector" who walked all over the roof, breaking shingles everywhere he stepped, leaving a trail of damage and leading to the need for an immediate roof replacement. The roof would have needed replacement soon before the "inspection."
After the "inspection" the roof needed immediate replacement. we could actually see the "footprints of destruction" across the roof surface.
More Reading
Green link shows where you are in this article series.
...
Frequently Asked Questions (FAQs) about cupping asphalt roof shingles
Question: why are shingles on my new roof cupping ?
Why is my new Roof cupping and it is only 2 weeks old? Yes Two weeks? - Joyce 11/28/11
Reply:
Cupping of brand new roof shingles would be unusual. It might occur if shingles were installed over a wet roof deck or over an old layer of cupped, curled, or wet roof shingles.

Use the CONTACT link found at page top, left, or bottom to send us some sharp photos of the roof including some closeups and photos from a low angle that shows the cupping and we may be able to comment further.
Question: My 25-year warrant asphalt shingles are cupping after 13 years
I have a situation where my asphalt shingles have a 25 year material warranty and were installed 13 years ago. A large portion of the shingles are now cupping. The roof is a very simple hip roof with a single gable and one valley. Why are the shingles failing at approximately half of their life? Should the shingle manufacturer be held liable for the early product failure? Will they actually honor this material warranty? - Scott S. 3/12/12
Reply:
Scott, shingle warranty claims are honored by manufacturers based in part on the manufacturer's assessment of the nature of the problem and their determination of whether the problem is due to faulty product or due to other problems such as a faulty installation or a structural or roof venting problem. You will want to contact the manufacturer and ask them to take a look at the roof, and
First, agree that there is a problem that affects the anticipated roof life
Second, name and define the problem
Third: state an opinion about its cause
Third: provided they agree that the problem is not just cosmetic, indicate if the roof warranty applies
Fourth: give you details of what warranty coverage is actually provided. Typically warranties cover a pro-rated portion of product cost and often labor is excluded.
...
Ask a Question or Search InspectApedia
Questions & answers or comments about shingle cupping: causes, remedy, types of roofs where cupping asphalt shingles are most often found, impact on remaining roof life.
Check the FAQs just above, try the search box just below, or if you prefer, post a question or comment in the Comments box below and we will respond promptly.
Search the InspectApedia website
Technical Reviewers & References
Related Topics, found near the top of this page suggest articles closely related to this one.
Click to Show or Hide Citations & References
Mark Cramer Inspection Services Mark Cramer, Tampa Florida, Mr. Cramer is a past president of ASHI, the American Society of Home Inspectors and is a Florida home inspector and home inspection educator. (727) 595-4211 mark@BestTampaInspector.com
Hankey and Brown home inspectors, Eden Prairie, MN, technical review by Roger Hankey, prior chairman, Standards Committee, American Society of Home Inspectors - ASHI. 952 829-0044 - hankeyandbrown.com
Arlene Puentes, a licensed home inspector, educator, and building failures researcher in Kingston, NY
Books & Articles on Building & Environmental Inspection, Testing, Diagnosis, & Repair
The Home Reference Book - the Encyclopedia of Homes, Carson Dunlop & Associates, Toronto, Ontario, 25th Ed., 2012, is a bound volume of more than 450 illustrated pages that assist home inspectors and home owners in the inspection and detection of problems on buildings. The text is intended as a reference guide to help building owners operate and maintain their home effectively. Field inspection worksheets are included at the back of the volume. Special Offer: For a 10% discount on any number of copies of the Home Reference Book purchased as a single order. Enter INSPECTAHRB in the order payment page "Promo/Redemption" space. InspectAPedia.com editor Daniel Friedman is a contributing author.

Or choose the The Home Reference eBook for PCs, Macs, Kindle, iPad, iPhone, or Android Smart Phones. Special Offer: For a 5% discount on any number of copies of the Home Reference eBook purchased as a single order. Enter INSPECTAEHRB in the order payment page "Promo/Redemption" space.
Best Practices Guide to Residential Construction, by Steven Bliss. John Wiley & Sons, 2006. ISBN-10: 0471648361, ISBN-13: 978-0471648369, Hardcover: 320 pages, available from Amazon.com and also Wiley.com. See our book review of this publication.
Decks and Porches, the JLC Guide to, Best Practices for Outdoor Spaces, Steve Bliss (Editor), The Journal of Light Construction, Williston VT, 2010 ISBN 10: 1-928580-42-4, ISBN 13: 978-1-928580-42-3, available from Amazon.com
The Journal of Light Construction has generously given reprint permission to InspectAPedia.com for this article. All rights and contents are ©Journal of Light Construction and may not be reproduced in any form.
Architectural elements: the technological revolution: Galvanized iron roof plates and corrugated sheets; cast iron facades, columns, door and window caps, ... (American historical catalog collection), Diana S Waite, available used out of Amazon.
Building Pathology, Deterioration, Diagnostics, and Intervention, Samuel Y. Harris, P.E., AIA, Esq., ISBN 0-471-33172-4, John Wiley & Sons, 2001 [General building science-DF] ISBN-10: 0471331724 ISBN-13: 978-0471331728
Building Pathology: Principles and Practice, David Watt, Wiley-Blackwell; 2 edition (March 7, 2008) ISBN-10: 1405161035 ISBN-13: 978-1405161039
Built-Up Roof Systems, Manual, C.W. Griffin, Mcgraw-Hill (Tx); 2nd edition (July 1982), ISBN-10: 0070247838, ISBN-13: 978-0070247833
Concrete Folded Plate Roofs, C. Wilby PhD BSc CEng FICE FIStructE (Author), Butterworth-Heinemann, 1998, ISBN-10: 0340662662, ISBN-13: 978-0340662663
Concrete Shell Roofs, C. Wilby PhD BSc CEng FICE FIStructE (Author),
Concrete Dome Roofs (Longman Concrete Design and Construction Series),
Concrete Roofing Tile, History of the, Batsford, 1959, AISN B000HLLOUC (availble used)
Copper Roofing, by CDA
Copper Roofing, Master specifications for copper roofing and sheet metal work in building construction: Institutional, commercial, industrial, I.E. Anderson, 1961 (hard to find)
Corrugated Iron, Building on the Frontier, Simon Holloway
Green Roof Plants: A Resource and Planting Guide, Edmund C. Snodgrass, Lucie L. Snodgrass, Timber Press, Incorporated, 2006, ISBN-10: 0881927872, ISBN-13: 978-0881927870. The text covers moisture needs, heat tolerance, hardiness, bloom color, foliage characteristics, and height of 350 species and cultivars.
Green Roof Construction and Maintenance, Kelley Luckett, McGraw-Hill Professional, 2009, ISBN-10: 007160880X, ISBN-13: 978-0071608800, quoting: Key questions to ask at each stage of the green building process Tested tips and techniques for successful structural design Construction methods for new and existing buildings Information on insulation, drainage, detailing, irrigation, and plant selection Details on optimal soil formulation Illustrations featuring various stages of construction Best practices for green roof maintenance A survey of environmental benefits, including evapo-transpiration, storm-water management, habitat restoration, and improvement of air quality Tips on the LEED design and certification process Considerations for assessing return on investment Color photographs of successfully installed green roofs Useful checklists, tables, and charts
Handbook of Building Crafts in Conservation, Jack Bower, Ed., Van Nostrand Reinhold Company, NY 1981 ISBN 0-442-2135-3 Library of Congress Catalog Card Nr. 81-50643.
Historic Preservation Technology: A Primer, Robert A. Young, Wiley (March 21, 2008) ISBN-10: 0471788368 ISBN-13: 978-0471788362
Historic Slate Roofs : With How-to Info and Specifications, Tina Skinner (Ed), Schiffer Publishing, 2008, ISBN-10: 0764330012 , ISBN-13: 978-0764330018
Low Slope Roofing, Manual of, 4th Ed., C.W. Griffin, Richard Fricklas, McGraw-Hill Professional; 4 edition, 2006, ISBN-10: 007145828X, ISBN-13: 978-0071458283

Roof failure causes in depth (and specific methods for avoiding them)
Roof design fundamentals and flourishes, based on voluminous industry research and experience
New technologies and materials -- using them safely and correctly
Comprehensive coverage of all major roofing systems pecifications, inspection, and maintenance tools for roofing work

Metal Roofing, an Illustrated Guide, R.A. Knowlton , [metal shingle roofs],
Patio Roofs, how to build, Sunset Books
Problems in Roofing Design, B. Harrison McCampbell, Butterworth Heineman, 1991 ISBN 0-7506-9162-X (available used)
Roofing The Right Way, Steven Bolt, McGraw-Hill Professional; 3rd Ed (1996), ISBN-10: 0070066507, ISBN-13: 978-0070066502
Slate Roofs, National Slate Association, 1926, reprinted 1977 by Vermont Structural Slate Co., Inc., Fair Haven, VT 05743, 802-265-4933/34. (We recommend this book if you can find it. It has gone in and out of print on occasion.)
Roof Tiling & Slating, a Practical Guide, Kevin Taylor, Crowood Press (2008), ISBN 978-1847970237,
If you have never fixed a roof tile or slate before but have wondered how to go about repairing or replacing them, then this is the book for you. Many of the technical books about roof tiling and slating are rather vague and conveniently ignore some of the trickier problems and how they can be resolved. In Roof Tiling and Slating, the author rejects this cautious approach. Kevin Taylor uses both his extensive knowledge of the trade and his ability to explain the subject in easily understandable terms, to demonstrate how to carry out the work safely to a high standard, using tried and tested methods. 
This clay roof tile guide considers the various types of tiles, slates, and roofing materials on the market as well as their uses, how to estimate the required quantities, and where to buy them. It also discusses how to check and assess a roof and how to identify and rectify problems; describes how to efficiently "set out" roofs from small, simple jobs to larger and more complicated projects, thus making the work quicker, simpler, and neater; examines the correct and the incorrect ways of installing background materials such as underlay, battens, and valley liners; explains how to install interlocking tiles, plain tiles, and artificial and natural slates; covers both modern and traditional methods and skills, including cutting materials by hand without the assistance of power tools; and provides invaluable guidance on repairs and maintenance issues, and highlights common mistakes and how they can be avoided. The author, Kevin Taylor, works for the National Federation of Roofing Contractors as a technical manager presenting technical advice and providing education and training for young roofers.
The Slate Roof Bible, Joseph Jenkins, www.jenkinsslate.com, 143 Forest Lane, PO Box 607, Grove City, PA 16127 - 866-641-7141 (We recommend this book).
Slate Roofing in Canada (Studi4es in archaeology, architecture, and history),
Smart Guide: Roofing: Step-by-Step Projects, Creative Homeowner (Ed), 2004, ISBN-10: 1580111491, ISBN-13: 978-1580111492
Solar heating, radiative cooling and thermal movement: Their effects on built-up roofing (United States. National Bureau of Standards. Technical note), William C Cullen, Superintendent of Documents, U.S. Govt. Print. Off (1963), ASIN: B0007FTV2Q
Tile Roofs of Alfred: A Clay Tradition in Alfred NY
"Weather-Resistive Barriers [copy on file as /interiors/Weather_Resistant_Barriers_DOE.pdf ] - ", how to select and install housewrap and other types of weather resistive barriers, U.S. DOE
Wood Shingle Roofs, Care and Maintenance of wood shingle and shake roofs(EC), Stanley S. Niemiec (out of print)
...