Hot Tub, Spa, Whirlpool Bath Diagnosis
Troubleshoot & Repair Spas / Hot Tubs & Whirlpool Baths
InspectAPedia tolerates no conflicts of interest. We have no relationship with advertisers, products, or services discussed at this website.
Hot tub & spa or whirlpool bath troubleshooting & repair:
This article describes the diagnosis & repair of common hot tub or spa problems at the blower unit, the spa or hot tub filter, including filter leaks, spa or hot tub heater repairs, hot tub or spa jet repairs, hot tub and spa motor or wet end troubleshooting & repair or replacement, and fixing other leaks at a hot tub or spa.
This article series describes the use, operation, maintenance as well as common problems, troubleshooting, & repair suggestions for hot tubs, spas, and whirlpool baths.
We discuss hot tub leaks, broken hot tub or spa jets, hot tub or spa water temperature & heater repair, hot tub or spa pump diagnosis & repair, hot tub or spa filter maintenance, cleaning & repair, noisy air pumps at hot tubs, noisy water pumps at the hot tub or spa, and other hot tub, spa or whirlpool bath diagnosis & repair topics.
We also provide a MASTER INDEX to this topic, or you can try the page top or bottom SEARCH BOX as a quick way to find information you need.
Spa / Hot Tub Troubleshooting & Leak Repairs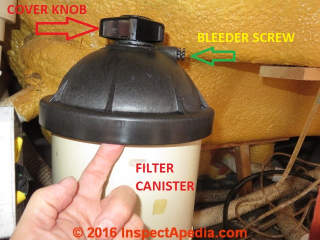 Article Contents
[Click to enlarge any image]
Spa Blower Assembly: the air pump
Air is delivered to hot tubs or whirlpool baths in one or sometimes two methods:
Air inlet to jets: Air enters the water jets by manually opening an air inlet valve, usually a plastic turn-screw on the tub edge. The yellow arrow marks the tub rim air inlet valve to admit air into the water jet system.

No separate motor is needed for this feature; by opening an air inlet on the water suction piping, air is drawn into the water jet piping system for the jets powered by the circulating pump.
Air blower motor: Air is forced through separate piping and up through small openings in the tub bottom, seats, or sides by a separate blower or air pump - discussed here. This feature, found on hot tubs and some other spas may be absent from a simpler whirlpool bath or jetted tub. You can see the pneumatic tub-rim blower on / off button at the white arrow on the right side our photo above.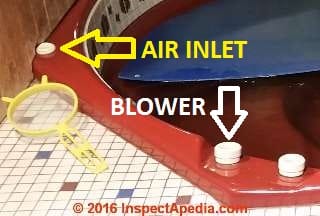 Below at left in the photo taken from underneath the tub rim we see the plastic tube that connects the pneumatic switch on the tub side to the electrical control that in turn will switch on the blower motor. The right-hand switch and plastic tube controls the speed of the water circulating pump.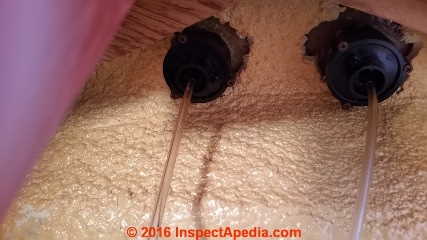 Below we see these two plastic tubes at their connection to the electrical controls below the tub. The tube from the tub rim blower switch connects to the blower switch relay on the electrical control box below the tub while the pump switch, as we noted, will control the water circulating pump speed.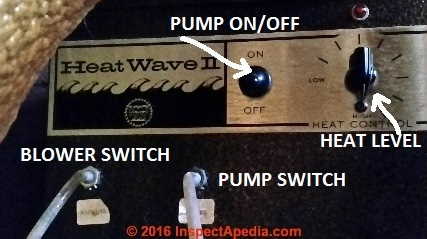 Check the hot tub controls' pneumatic tubing: If your whirlpool or spa has a blower unit an it's not turning on, check below the tub, following the plastic tubing, to be sure that it is connected at both ends and that it has not been crimped, cut, or perforated.
Replace a bad blower control switch: Next (below) we show the two pneumatically-operated electrical switches inside the control box shown just above. In effect, the user is pushing a button that compresses air in the switch and tubing system that in turn operates an electrical switch inside the control box.
This safety feature avoids having people floating about in a hot tub having to touch an electrical switch directly - touching an electrical control directly while wet or in a tub is likely to kill you.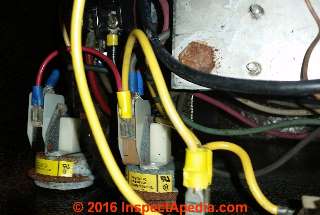 The blower switch and pump switch mounted in this spa /hot tub control are pneumatic devices that can fail and may need replacement. Below is a close-up of one of these that has been removed from the controller.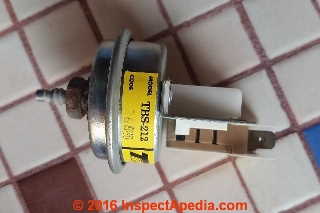 This pneumatic switch, model TBS212 is produced by Tridelaga Industries, Mentor OH 44060.
Check the air blower motor assembly: Below we see the actual blower unit for this hot tub/spa. You can ignore that spare filter atop the blower. It was so dirty that we threw it away.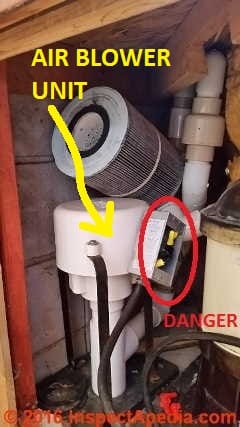 This blower was so noisy we left it off. Further investigation and repair are in order. The blower unit shown is a Santanna Conger Brothers unit.
Santanna Conger Brothers, 13892 Enterprise Drive, Garden Grove CA 92643, USA.
Watch out: notice that open electrical box with two yellow twist-on wire connectors? Touching these, especially while you're wet and standing on a wet floor, is asking for death by electrocution. We need to install a cover on this electrical box.
Spa / Hot Tub Filter Leak Repair - Using Epoxy to Repair Leaks at the Spa Filter Top
We moved this discussion to a new page. Please see SPA / HOT TUB FILTER LEAK REPAIR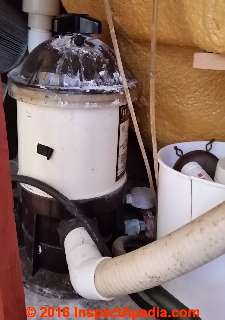 Separately at SPA / HOT TUB FILTER REPLACEMENT you can see details of installing this new filter cover and checking the new installation for leaks.
Watch out: when ordering hot tub or spa parts such as the filter canister cover be sure that you also order the necessary o-rings, seals, gaskets. Typically the filter cover is sold bare without the needed seals.
Spa / Whirlpool Tub Heater Repairs
If your hot tub or spa heater is not heating properly see details at SPA / HOT TUB HEATER REPAIR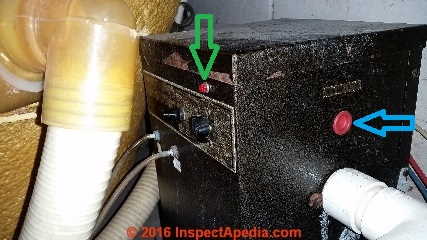 The Heat Wave II hot tub / spa heater shown above was produced by Hot Water Products, 5542 Research Drive, Huntington Beach CA 92649, USA, Tel: 714-891-5509
Spa / Hot Tub Jet Repairs
Reader Question: how to fix a clogged spa or whirlpool bath jet
2016/02/29 Terry said:
Spa bath has no flow from one of 10 jets?
This question was posted originally at SPAS WHIRLPOOLS SOAKING & JETTED TUBS
Reply:
When only one jet is misbehaving and the other 9 are working, we can eliminate a worry about the pump, timer, or controls.
First and most important: check for a disconnected and leaky tube feeding the non-performing jet. Remove the tub access panel and with power to the tub OFF to avoid shock risk, look with care for signs of water or flooding under and around the unit.
While looking under the tub from its access side, I'd inspect for a clogged or crimped tube to that jet.
Next, as on some spas the jet assembly can be removed from the tub side, see if you can disassemble and clean it, looking for a blockage.
Armed with the brand and tub model, if you don't have the owners' manual, download one from the manufacturer. Most spa manuals include a troubleshooting guide at the end of the document. There may be specific clogged jet advice from your manufacturer.
Also check:
1. The filter unit: see if air needs to be bled from the filter. Typically there is an air bleeder screw or valve that can be opened at the top of the filter unit.
2. If there are more than one intake port in the tub be sure the water intake is not clogged with hair and debris.
Spa / Hot Tub Pumps
This topic has been moved to SPA / HOT TUB PUMP REPAIR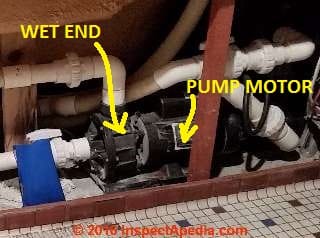 Find & Fix Other Leaks at the Hot Tub
Leak points at a spa, hot tub or jetted are described at SPA / HOT TUB LEAKS
...
Continue reading at HOT TUB SPA WHIRLPOOL OPERATION & REPAIR - home, or select a topic from closely-related articles below, or see our complete INDEX to RELATED ARTICLES below.
Or see these
Article Series Contents
Suggested citation for this web page
SPA HOT TUB WHIRLPOOL REPAIRS at InspectApedia.com - online encyclopedia of building & environmental inspection, testing, diagnosis, repair, & problem prevention advice.
Or use the SEARCH BOX found below to Ask a Question or Search InspectApedia
...
Frequently Asked Questions (FAQs)
Try the search box below or CONTACT US by email if you cannot find the answer you need at InspectApedia.
Questions & answers about installing, troubleshooting, fixing hot tubs, spas, & hydro massage tubs posted originally at SPA HOT TUB WHIRLPOOL REPAIRS
Sarah,

I agree with you - normally the pump's job is just to circulate water from in the tub through tubing and back out jets back into the tub. I don't know of a hydromassage tub whose incoming water would run first through its circulating pump.

You can contact Hydromassage directly for more help at
Hydro Massage Products, 505 Nucla Way, Aurora Colorado 80011
Phone: (303) 341-1845 • Fax: (303) 341-1850
www.hydromassageproducts.com • service@hydromassageproducts.com

and I'll add a link to their installation manual in REFERENCES section of the article above - http://inspectapedia.com/plumbing/Spa_Hot_Tub_Diagnosis.php#reviewers

However nothing I read in that guide suggested that your plumber is right. I think there must have been a mis-communication.

I have a hydromassage bathtub in a newly purchased house (I've never used it). The water from the tub faucet only trickles out. I called a plumber and they said that the bathtub is not filling because the pump is not working. Does this make sense? I did not think the pump would have anything to do with just filling the tub with water.

Excellent going David, do keep me posted; if you want to send along photos of what you found I'd be interested in seeing it, and that info may help other readers.

Dan

I may have found the problem just after asking the question. Right after getting the hot tub, it was kicking the breaker. The dealer sent a tech out and they took the ozonator out of line.
They plugged off the tube with a slotted tube. Maybe the reason was to allow air but, I think this is where it would suddenly drain maybe due to pressure. Thanks for the fast response. I will post an update as my fingers are crossed.
David,

Interesting question. It does sound as if a relay or control is sometimes failing.

I would remove the access panel(s) and look under and around the tub with care. You should see water marks that track back to the point of leakage. You're welcome to send me photos (page bottom CONTACT link) for further comment.

I have a Captiva hot tub. It will hold water for months and then suddenly loose water. It can be refilled and again stay completely full and seems like just over night, it will be empty. I suspect the heater. Any suggestions would be appreciated.

Julie,

I am flying blind, at night, in a fog here, having no information about what sort of tube, its locations, connections. If the tube is under or inside the mechanicals area of the tub, my guess is that it was intended to connect a pneumatic tub control button or switch to a control or switch in the mechanicals of the tub that turns something on or off: an aerator, motor, etc.
Tubing is also used to deliver air to jets and of course larger tubing moves water.

I've a new whirlpool bath and seem to have a loose small clear tube any ideas not been used yet

I have a jacuzzi tub model LE35 and when I push the start button I hear the motor hum but the motor doesn't run it just hums
Any help

Candi:

If the tub water leaks out at the jets one of them is leaking - as Anon discussed below.
If water continues to leak out of the tub when it is below the jets, then I suspect that the drain is not closing. Diagnose that by placing a flat rubber sink-stopper as a drain closure over the drain opening.

Anon

YOu'll need access to the tub wall from both sides -perhaps through the removable panel. You may be able to seal the jet into the tub wall with a neat application of silicone sealant but first let's find out exactly what's leaking.

Americast Stratford whirlpool tub front left jet leaking.
leaking outside of unit.
I recently cleaned my jetted bathtub and now the tub will not hold water. It seems to be draining from the water intake (?) not sure what it is but it is located on the side of tub near the bottom. I'm not sure what are the gadgets are, but there is that drain and then another knob near the upper edge of the tub that opens and closes. I can hear the water draining out as soon as it reaches the one near the bottom.

A timer, or perhaps a motor that's overheating.

What causes jet tub to stop after approx.30min. of use?
Look for a leak in water supply piping to the tub

Water keeps leaking under my whirpool tub even tho no water on the tub

...
Ask a Question or Search InspectApedia
Try the search box just below, or if you prefer, post a question or comment in the Comments box below and we will respond promptly.
Search the InspectApedia website
Technical Reviewers & References
Click to Show or Hide Citations & References
American Standard - www.americanstandard-us.com
Aqua Glass Corp. - www.aquaglass.com
Aquatic Industries - www.aquaticwhirlpools.com
Bains Oceana Baths - www.bainsoceaniabaths.com
Eljer Plumbingware - www.eljer.com
Hayward Industries: spa, hot tub, pool supplies: Website: http://www.hayward-pool.com/shop/en/pools, Hayward Pool Products, Inc., 620 Division Street, Elisabeth NJ 07207, USA, in Canada: 2880 Plymouth Drive, Oakville, Ontario L6H 5R4 Tel: (908) 355-7995 (U.S.) Letter: Hayward Pool Products Attn: Technical Services One Hayward Industrial Drive Clemmons, NC 27102
(Hayward pool and spa products are sold locally in major cities in various countries)



Atlantis Spa and Pool 1410 Highway #2 West Grand Rapids, MN 55744 Tel: (218) 326 3933 Email: atlantiswaterworks@hotmail.com
Hayward Pool Products dealer
Horizon Pool Supply, 2125 Energy Park Drive St. Paul, MN 55108 Tel: (800) 969-0454 Website: http://www.horizonpoolsupply.com/
One on One Pools & Spas, 4088 Misty Morning Dr, Hermantown, MN 55811 Tel: 218-260-8992
Online Pool Supplies via Internet:

Amazon.com
Your Pool HQ, LLC, Website: https://www.yourpoolhq.com, Tel: 877-721-2555

Pools of Fun 4281 Haines Road Duluth MN, 55811 (218) 727-7963 Website: http://www.poolsoffunduluth.com/Home.html, provides Hayward pool supplies & repair services.

[Recommended by DF as particularly helpful and courteous. 2016/03/02]
Hot Tub & Spa Repair Service: Minnesota north shore, Duluth MN area: Northland Spa Service, 4701 Woodland Ave., Duluth MN 55803, Tel: 218-390-9257, Chuck, 218-727-7963 (Works with Pools of Fun company listed above as well as other Minnesota north shore hot tub and spa suppliers)

Special thanks to Chuck from Northland Spa Service for on-site hot tub consulting, inspection, diagnosis & repair advice, 2016/03/11.
Hot Tub Sales, Installation, Parts: Minnesota north shore, Pools of Fun Pool & Spa Center, 4281 Haines Rd, Hermantown, MN 55811 (218) 727-7963 (You will need to provide make, model, serial number, date of manufacture of your hot tub when calling)
Pool Supplies Online Duluth GA, Toll Free: 1-866-534-9725 (USA) Fax: 1-866-534-9725 (USA) 390 N. Orange Ave. Suite 2300 Orlando, FL 32801
Hayward Star Clear Filter Manual [PDF], retrieved 2016/03/02, original source: http://www.hayward-pool.com/pdf/manuals/StarClear.pdf , Hayward Pool Products, Inc., 620 Division Street, Elisabeth NJ 07207, USA, in Canada: 2880 Plymouth Drive, Oakville, Ontario L6H 5R4
(Note: this manual covers the spa / hot tub filter illustrated in the article above)
Hayward Star Clear Filter Part Explosion [PDF], retrieved 2016/03/02, original source: http://www.hayward-pool.com/images/pdf/parts-diagrams/Star-Clear.pdf
(Note: this parts illustration & list covers the spa / hot tub filter illustrated in the article above)
Hayward Spa / Hot Tub Heaters Models C-SPA-XI 5.5 & C-SPA-XI II [PDF], retrieved 2016/03/02, original source: http://www.hayward-pool.com/pdf/manuals/Spa-Heaters-ISCSPAXI.pdf
(Note: this is NOT the spa/hot tub heater illustrated in the article above)

Hydro Systems - www.hydrosystem.com
Hydro Massage Products, 505 Nucla Way, Aurora CO 80011 USA, Tel: (303) 341-1845, Website: http://www.hydromassageproducts.com/ Email: service@hydromassageproducts.com

HYDRO MASSAGE TUB INSTALLATION & TROUBLESHOOTING MANUAL [PDF], retrieved 2017/07/12, original source: http://www.hydromassageproducts.com/wp-content/uploads/pdfs/ownersmanual.pdf
Jacuzzi Whirlpool Baths - www.jacuzzi.com
Jenkins, Kevin, "Hot Tub Care", Leslie's Blog [web page], 17 Oct 2014, retrieved 2016/03/13, original source: http://www.lesliespool.com/blog/hot-tub-care/
Kohler Co. - www.kohler.com
Lasco Bathware - www.lascobathware.com
"Spa Preparation & Maintenance, A Complete Spa Care Guide, Spa Water Testing, Spa Chemical Program, Spa Cleanup" [PDF],
Leisure Time Chemical Corporation, Irwindale CA 91707. (1984) This company also provides a Hot Tub / Spa operating manual with recommendations for water and chemical maintenance. Website: www.leisuretimespa.com, this spa guide was provided at the original installation of the hot tub discussed in this article series.
Leisure Time Spa Care Guide, [PDF] op. cit. (2002) - this is an updated version of the 1984 document provided with the hot tub illustrated in the home article for this series.
Maax - www.maax.com
MTI Whirlpools - www.mtiwhirlpools.com
National Electrical Code (NEC) (United States), Article 680, Requirements for Swimming Pools, Spas, Hot Tubs, Fountains and Similar Installations, [PDF] retrieved 2016/03/13, Original source: Connecticut State Government's copy of Mike Holt's article on U.S. NEC Article 680 [PDF], http://www.ct.gov/dcs/lib/dcs/office_of_education_and_data_management_files/mike_holt_pool_download.pdf
National Electrical Code (NEC) Article 680, at Mike Holt's Forum: original source: https://www.mikeholt.com/mojonewsarchive/NEC-HTML/HTML/SwimmingPoolInstallations~20021227.htm
This text includes the contents of Article 680 of the U.S. NEC along with author's comments that help interpret the code.
Trouble Free Pool [pool care website], retrieved 2016/03/13, original source: http://www.troublefreepool.com/threads/84-How-do-I-use-Bromine-in-my-spa-(or-pool)
Zspas, "Zspas Hydro Spa Owners Manual Leisure Spa", Zspas, 13055 49th St. N., Clearwater FL 33762, Tel: 727-573-9611
Best Practices Guide to Residential Construction, by Steven Bliss. John Wiley & Sons, 2006. ISBN-10: 0471648361, ISBN-13: 978-0471648369, Hardcover: 320 pages, available from Amazon.com and also Wiley.com. See our book review of this publication.
Books & Articles on Building & Environmental Inspection, Testing, Diagnosis, & Repair
Our recommended books about building & mechanical systems design, inspection, problem diagnosis, and repair, and about indoor environment and IAQ testing, diagnosis, and cleanup are at the InspectAPedia Bookstore. Also see our Book Reviews - InspectAPedia.
Best Practices Guide to Residential Construction, by Steven Bliss. John Wiley & Sons, 2006. ISBN-10: 0471648361, ISBN-13: 978-0471648369, Hardcover: 320 pages, available from Amazon.com and also Wiley.com. See our book review of this publication.
...