How to Compare Indoor to Outdoor Mold Counts
InspectAPedia tolerates no conflicts of interest. We have no relationship with advertisers, products, or services discussed at this website.
How should we Compare Outdoor and Indoor Mold Levels or Counts - what are the sources of error?
This document is a brief tutorial which provides information about the accuracy of and sources of errors in tests for the level of allergenic and toxic mold in residential buildings:
Are spore counts valid? These critical questions are discussed in this paper.
We also provide a MASTER INDEX to this topic, or you can try the page top or bottom SEARCH BOX as a quick way to find information you need.
How to Compare Indoor Airborne Mold or Particle Counts vs. Outdoor Counts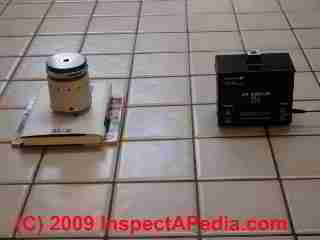 The University of Minnesota fungal experts observe that an outdoor-baseline comparison to indoor air is not valid when the outdoor sample was taken during or immediately after precipitation (spore counts plummet outdoors in the rain and might soar right after it), and the comparison is probably not valid in winter when outdoor counts tend to be below indoors.
We agree and add other constraints: snow cover practically eliminates spores from outdoor air.
Even in warm weather spore counts vary during the day as weather conditions (humidity, temperature, period after rainfall) affect sporulation and spore movement.
Section 2.4.2.2 of The ACGIH Bioaerosols: Assessment and Remediation offers:
Investigators should bear in mind that samples provide information about a site as it existed at the time tested. However, the findings may not represent conditions at a time in the past or future, even the relatively recent past or near future. Changes in the kinds, concentrations, and proportions of biological agents in the air can be rapid and substantial. -- thanks to S. Flappan for suggesting this citation.
OPINION: There are severe problems in the standard practice comparing indoor and outdoor spore counts to decide if a building has a mold problem.
1. Overall Outdoor Mold Spore Counts: Some mold testing laboratory reports give simply an "overall outdoor spore count" number which is compared with either a specific (genera/species) or an "overall" indoor spore count number of mold spores/M3 of air.
This is a silly comparison since that data fails to identify the spore genera/species, thus masking any intelligence about the actual indoor spore risk.
For example the outdoor spores at the time of measurement may be dominated by Cladosporium sp. or Basidiomycetes while the indoor spore level at the same number of spores/M3 may be Aspergillus versicolor - which could well indicate a problem but which would not be indicated as a problem by the lab approach I've described.
You might as well say we found 100 oranges outdoors and 100 apples indoors. What the heck does that mean?
2. Outdoor Pen/Asp may be Different Species than Indoor: Even when outdoor spores are identified to the genera such as Aspergillus sp. few laboratories take the extra step to speciate indoor and outdoor airborne spore trap sample contents. In fact speciation of many species of airborne spores in a spore trap can be difficult or impossible by conventional means.

So an outdoor "Penicillium/Aspergillus" spore count of 3600 spores/M3 of air may be compared with an indoor "Penicillium/Aspergillus" airborne spore level of 3500 spores/M3 of air and reach the completely mistaken conclusion that there is no evidence of an indoor air quality problem.
Looking closely at the indoor spores might, however, have disclosed that the indoor "Penicillium/Aspergillus" was a completely different mold species than the outdoor species - making the indoor-outdoor comparison a meaningless "apples and oranges" comparison.
Yet that comparison is the common one made by many field investigators.
Worse, certain basidiomycetes are difficult to recognize in air samples and are counted by some laboratories as "Pen/Asp" when in fact they may not even be in those genera.
Air samples may miss important particles or may point to the "wrong" particles
High risk of false negative airborne mold test results: Indoor air samples are at high risk of giving a "false negative result" - indicating no problem when a problem is present, either completely missing the presence of the most problematic spores in a building or which indicating as "the problem" the wrong spores in a building simply because they were dominant at the time sampled.
Outdoor or indoor "Pen/Asp" spore counts are often compared erroneously in cases where the indoor genera/species is quite different from the indoor genera/species.
For example a "low" indoor count that is all Aspergillus niger may indicate a problem, even though it's lower than the outside "Pen/Asp" count if the outdoor count was actually Penicillium sp. or perhaps even basidiomycetes mistaken for Pen/Asp.
...
Continue reading at MOLD LEVEL IN AIR, VALIDITY or select a topic from closely-related articles below, or see our complete INDEX to RELATED ARTICLES below.
Or see ACCURACY OF VARIOUS MOLD TEST METHODS
Or see MOLD TESTING METHOD VALIDITY for a more in-depth critique of popular mold testing methods than this tutorial
Or see MOLD TEST vs MOLD INSPECT and also MOLD TEST vs. PROBLEM DIAGNOSIS for an explanation of why more than "testing" is needed to undestand whether or not there is a mold contamination problem at buildings.
Suggested citation for this web page
COUNT VARIATION - INDOOR vs OUTDOOR SPORES at InspectApedia.com - online encyclopedia of building & environmental inspection, testing, diagnosis, repair, & problem prevention advice.
Or use the SEARCH BOX found below to Ask a Question or Search InspectApedia
...
Frequently Asked Questions (FAQs)
Try the search box below or CONTACT US by email if you cannot find the answer you need at InspectApedia.
Question:
(Mar 5, 2014) Jane said:
On a single family home, why would air-o-cell lab results show numbers for the interior, but show zero count for the exterior for the following spores.. aureobasidium, pithomyces, pestalotia, tetraploa and spegazzinia?
Reply:
Jane,
First, it is entirely possible that particular species of mold may grow and flourish indoors at a time when outdoors the airborne concentrations of those same species are so low as to be not detected in a brief air sample, even though as Dr. John Haines says, "all mold is everywhere all the time".
Second, some of the indoor mold genera you name may be at such a low concentration that we really would not worry about them. A few Tetraploa spores that happened to find their way indoors and get stuck there don't present a health risk nor do they indicate a flooded, mold-damaged building.
A "mold test" that only produces some "counts" and does not inspect the building is not very diagnostic.
In fact even when (some) mold reports give outdoor levels and indoor levels of what looks like the very same mold genera/species, such as Penicillium sp., the truth is that the outdoor and indoor individual species of Penicillium could be completely different, making the comparison rather misleading.
Also see CONCENTRATION BURSTS of Mold Spores that can produce the opposite: a high level of outdoor spores just during a specific interval (such as right after a rain).
In sum, we don't ever expect to find the same mold levels indoors and outdoors but they may be close if the building's windows have been opened for some time, a good breeze is blowing, and if there is no indoor mold reservoir that changes what we are seeing inside.
ACCURACY OF VARIOUS MOLD TEST METHODS explains why there is plenty of variability - orders of magnitude - in any air test.
While there are about 1.5 million different mold genera/species, and while we like to say that "all molds are everywhere all the time" - which is true in a sense - one must also point out that not all molds are at the same *concentration level* all the time at a given location. So there is no reason to expect indoor mold counts to ever exactly match outdoor counts and vice versa.
A more useful question is "what does my mold test report mean?"
Without some interpretation by an expert who has investigated the building and who understands building science, moisture movement, the building leak history, occupant complaints, and the exact protocols under which an air test or other mold test was conducted, and especially considering that you don't give any actual spore level or count data, the answer is, the information doesn't mean a darn thing. It is close to useless.

Question:
(Apr 22, 2015) Joe said:
My lab results reflect the following:
Penicillium/Aspergillus inside aire sample near return as. raw ct. 16 & per m3 850.
While the outside air @ front door to be Raw ct. 7 & per m3 370.
Would I be correct in determining the mold count was not very high to begin with?
Reply:
Yes, Joe but of course we cannot conclude much about the actual mold risk in the building from an air test alone.
See MOLD TEST vs MOLD INSPECT and also MOLD TEST vs. PROBLEM DIAGNOSIS
...
Ask a Question or Search InspectApedia
Use the "Click to Show or Hide FAQs" link just above to see recently-posted questions, comments, replies, try the search box just below, or if you prefer, post a question or comment in the Comments box below and we will respond promptly.
Search the InspectApedia website
Technical Reviewers & References
Click to Show or Hide Citations & References
Thanks to Susan Flappan, Flappan Consulting, moldetect.com, Overland Park KS, 913-402-1131, for contributing comments and some suggested text from ACGIH Bioaerosols: Assessment and Remediation 12/2006.
Books & Articles on Building & Environmental Inspection, Testing, Diagnosis, & Repair
Our recommended books about building & mechanical systems design, inspection, problem diagnosis, and repair, and about indoor environment and IAQ testing, diagnosis, and cleanup are at the InspectAPedia Bookstore. Also see our Book Reviews - InspectAPedia.
Environmental Health & Investigation Bibliography - our technical library on indoor air quality inspection, testing, laboratory procedures, forensic microscopy, etc.
Adkins and Adkins Dictionary of Roman Religion discusses Robigus, the Roman god of crop protection and the legendary progenitor of wheat rust fungus.
Kansas State University, department of plant pathology, extension plant pathology web page on wheat rust fungus: see http://www.oznet.ksu.edu/path-ext/factSheets/Wheat/Wheat%20Leaf%20Rust.asp
"A Brief Guide to Mold, Moisture, and Your Home", U.S. Environmental Protection Agency US EPA - includes basic advice for building owners, occupants, and mold cleanup operations. See http://www.epa.gov/mold/moldguide.htm
US EPA - Mold Remediation in Schools and Commercial Building [Copy on file at /sickhouse/EPA_Mold_Remediation_in_Schools.pdf ] - US EPA
US EPA - Una Breva Guia a Moho - Hongo [Copy on file as /sickhouse/EPA_Moho_Guia_sp.pdf - en Espanol
Allergies, Allergens, Allergy Testing in Buildings - References & Products
Air Conditioning System Blower Fans & Filters Cascading for Optimum Indoor Air Quality
Allergen Tests in Buildings advice about how to test, what to look for, in evaluating the level of dog, cat, or other animal allergens in a building
"IgG Food Allergy Testing by ELISA/EIA, What do they really tell us?" Sheryl B. Miller, MT (ASCP), PhD, Clinical Laboratory Director, Bastyr University Natural Health Clinic - ELISA testing accuracy: Here is an example of Miller's critique of ELISA http://www.betterhealthusa.com/public/282.cfm - Townsend Letter for Doctors and Patients
The critique included in that article raises compelling questions about IgG testing assays, which prompts our interest in actually screening for the presence of high levels of particles that could carry allergens - dog dander or cat dander in the case at hand.
http://www.tldp.com/issue/174/IgG%20Food%20Allergy.html contains similar criticism in another venue but interestingly by the same author, Sheryl Miller. Sheryl Miller, MT (ASCP), PhD, is an Immunologist and Associate Professor of Basic and Medical Sciences at Bastyr University in Bothell, Washington. She is also the Laboratory Director of the Bastyr Natural Health Clinic Laboratory.
Allergens: Testing for the level of exposure to animal allergens is discussed at http://www.animalhealthchannel.com/animalallergy/diagnosis.shtml (lab animal exposure study is interesting because it involves a higher exposure level in some cases
Allergens: WebMD discusses allergy tests for humans at webmd.com/allergies/allergy-tests
Animal Allergens: Dog, Cat, and Other Animal Dander - Cleanup & Prevention Information for Asthmatics and regarding Indoor Air Quality.
Atlas of Mold Related Illness Symptoms & Complaints - long list of both documented, studied mold related illness, and complaints ascribed to mold contamination or allergens in buildings
Cat Dander: how to inspect and test a building for past or current presence of cats, cat hair, cat dander, and cat allergens
Clinical Atlas of Mold Toxicity - An Online Description of Toxic, Pathogenic, Allergenic Fungi, Fungal Diseases
Fiberglass Insulation Contains Mold© 2005 comments about a field study in process, & more about health hazards from fiberglass insulation
Humidity: What indoor humidity should we maintain in order to avoid a mold problem?
Mold Action Guide detailed guide on finding, removing, and preventing indoor mold contamination
Odors, Odor Detection, Smells, & Gases how to find and identify sources of noxious or toxic odors and gases
Other environmental risks, Our much longer list: Asbestos, carbon monoxide, electromagnetic fields, etc.
Ozone: The Use of Ozone Indoors for Control of Odors and Mold Removal in Buildings: A Summary of Hazards and False Claims.
Pollen Allergens: identification, plant pollen and indoor air quality
Products to Reduce Mold & Allergy Problems to reduce indoor mold or allergen levels: air cleaners, air purifiers, dust mite covers, vacuum cleaners, crawl space vents
Recognizing Allergens: What various indoor allergens look like - identification photos to help identify pollen, dust mites, animal dander, toxic or allergenic mold - Common Mold and other Allergens, Irritants, Remedies & Advice
Rodent control issues, including dander, fecal, and urine contamination of Buildings and Building insulation are discussed at our
Sewage and Septic backup contamination in Buildings: inspection, testing, remediation, & references to expert sources
Action Guide: What to do about mold, mildew, and other indoor allergens
...
Mold Contamination Testing, Cleanup, Prevention: references & products
The Mold Information Center: What to Do About Mold in Buildings, When and How to Inspect for Mold, Clean Up Mold, or Avoid Mold Problems
Aerobiology, Building Science, Microscopy, & Laboratory References, an extensive technical bibliography
Allergens: what they look like in buildings
Associations: Sick House, Sick Building, SBS - Air Quality, Government, Private Associations and Information Resources
Atlas of Clinical Fungi, 2nd Ed., GS deHoog, J Guarro, J Gene, & MJ Figueras, Centraalbureau voor Schimmelcultures, Universitat Rovira I Virgili, 2000, ISBN 90-70351-43-9 (you can buy this book at Amazon) - The Atlas of Clinical Fungi is also available on CD ROM
Atlas of Mold Related Illness: Index of Symptoms and health, physical, neurological, psychological, and other complaint which people suspect may be mold or building-related.
Atlas of Indoor Mold, Online Clinical Mold Atlas, Toxins, Pathogens, Allergens and Other Indoor Particles - Medical Health Effects of Mold (separate online document)
Black Mold that is Harmless Photos of recognizable, usually harmless black mold on wood, bluestain, ceratocystis, ophistoma
Building Floods: quick steps after a building flood or plumbing leak can prevent costly mold contamination
Classes of Mold: what types of cosmetic, allergenic, or toxic mold are a problem? Can mold be cleaned-up successfully?
Clinical Mold References - Detailed bibliography of mold reference texts
"A Brief Guide to Mold, Moisture, and Your Home", U.S. Environmental Protection Agency US EPA - includes basic advice for building owners, occupants, and mold cleanup operations. See http://www.epa.gov/mold/moldguide.htm
"Disease Prevention Program for Certain Vegetable Crops," David B. Langston, Jr., Extension Plant Pathologist - Vegetables, University of Georgia (PDF document) original source: www.reeis.usda.gov/web/crisprojectpages/209797.html
"Disease Prevention in Home Vegetable Gardens," Patricia Donald, Department of Plant Microbiology and Pathology, Lewis Jett
Department of Horticulture, University of Missouri Extension - extension.missouri.edu/publications/DisplayPub.aspx?P=G6202
"Management of Powdery Mildew, Leveillula taurica, in Greenhouse Peppers," Ministry of Agriculture and Lands, British Columbia - Original source: www.agf.gov.bc.ca/cropprot/peppermildew.htm
Environmental Health & Investigation Bibliography - our own technical library on indoor air quality inspection, testing, laboratory procedures, forensic microscopy, etc.
Fiberglass: Mold in Fiberglass Insulation© 2005 comments about a field study in process, & more about health hazards from fiberglass insulation - DJF
Fifth Kingdom, Bryce Kendrick, ISBN13: 9781585100224, is available from the InspectAPedia online bookstore - we recommend the CD-ROM version of this book. This 3rd/edition is a compact but comprehensive encyclopedia of all things mycological. Every aspect of the fungi, from aflatoxin to zppspores, with an accessible blend of verve and wit. The 24 chapters are filled with up-to-date information of classification, yeast, lichens, spore dispersal, allergies, ecology, genetics, plant pathology, predatory fungi, biological control, mutualistic symbioses with animals and plants, fungi as food, food spoilage and mycotoxins.
Fungi, Identifying Filamentous, A Clinical Laboratory Handbook, Guy St-Germain, Richard Summerbell, Star Publishing, 1996, ISBN 0-89863-177-7 (English) (buy at Amazon)
MOLD in BUILDINGS Procedure: what mold is often found where in buildings - simple technical presentation
Meruliporia: the house eating fungus or "poria"
MOLD ACTION GUIDE Step-by-Step Instructions, What to do about mold, mildew, and other indoor allergens
MOLD APPEARANCE - WHAT MOLD LOOKS LIKE Photos of what mold looks like in buildings
MOLD APPEARANCE - STUFF THAT IS NOT MOLD Photos of NOT-mold material that is sometimes mistaken for mold
MOLD ATLAS & PARTICLES INDEX, Pathogens, Allergens and Other Indoor Particles - Medical Health Effects of Mold (separate online document)
MOLD BY MICROSCOPE Mold under the microscope - photo identification of the most common indoor molds found in buildings
Mold FAQs Answers to Most Questions about Indoor Mold, Mold Related Illness, Mold Cleanup, Mold Prevention
US EPA: Mold Remediation in Schools and Commercial Building [Copy on file at /sickhouse/EPA_Mold_Remediation_in_Schools.pdf ] - US EPA
Mold spores in the Home - a Photo ID Library for detection and identification of mold allergens
Mold Test Kits - How to Collect and Send Your Own Mold Sample to our mold testing lab or to any mold lab you wish
Most Common Indoor Molds Found in Buildings, A Table of
Mycology, Fundamentals of Diagnostic, Fran Fisher, Norma B. Cook, W.B. Saunders Co. 1998, ISBN 0-7216-5006-6 (buy this book at Amazon)
Ozone Warnings - Use of Ozone as a "mold" remedy is ineffective and may be dangerous.
Rot concerns in buildings-some building mold such as Meruliporia incrassata "Poria" risks serious rot and hidden structural damage
US EPA: Una Breva Guia a Moho - Hongo [Copy on file as /sickhouse/EPA_Moho_Guia_sp.pdf - en Espanol
OTHER IAQ ISSUES: How To Find and Address Other Indoor Air or Indoor Environment Contaminants Besides Mold
Mold or allergens may not be the only or even the main indoor environmental contaminant. Don't let media attention to mold cause so much enviro-scare fear that other, possibly more urgent hazards go un-addressed.
Sewage and Septic backup contamination in buildings: inspection, testing, remediation, & references to expert sources
Other environmental risks: Asbestos, carbon monoxide, electromagnetic fields, environmental illness, fiberglass, MCS - multiple chemical sensitivity, toxic gases, etc
Indoor Gas Sampling Plan for Residential Buildings lists a number of toxic indoor gases which we test for, depending on the building complaint and building conditions
Ozone Warnings - Use of Ozone as a "mold" remedy is ineffective and may be dangerous.
Pet control - if you can't say goodbye to your bird, cat, dog, guinea pig, hamster, tropical fish, then limit the areas they occupy and limit the airflow from that area to sleeping or other areas of the building, use allergenic bedding, eliminate wall-to-wall carpeting, improve housecleaning including use of a HEPA-rated vacuum cleaner. For more details see our article Dog, Cat, and Other Animal Dander - Information for Asthmatics and Indoor Air Quality
Rodents, Mice, Squirrel Control - I find high levels of mouse and rodent dander, fecal dust, and urine-contaminated dust in some buildings, and high levels of these materials in building insulation in those locations. If you have a mouse problem, particularly if mice and their waste (fecals or urine) are contaminating the building HVAC or building insulation, may need both steps to clean up or remove infected materials and steps to stop an ongoing rodent problem. If squirrels are a problem, the cleanup needs to include closing off entry openings into the building. Get some help from a licensed pest control expert.
...