Asbestos hazards in popcorn & textured ceiling paints
How to recognize, remove, cover-up or handle asbestos-containing spray-on ceiling popcorn paint

CEILING PAINT TEXTURED ASBESTOS - CONTENTS: How to identify textured ceiling paints that may contain asbestos: photographs of possible asbestos-containing ceiling paint, popcorn ceiling paint asbestos, or textured ceiling paint asbestos content.
POST a QUESTION or READ FAQs about how to identify popcorn ceiling paint that contains asbestos
InspectAPedia tolerates no conflicts of interest. We have no relationship with advertisers, products, or services discussed at this website.
Asbestos in Popcorn Ceiling Paint Sprays:
Asbestos-containing ceiling paint: asbestos was used as a filler in popcorn ceiling paint - a nubbled or pebbled surface sprayed onto interior ceilings. This article describes how to recognize, test, and remove, cover, or renovate popcorn style ceiling paints that may contain asbestos.
This article series photographs and descriptive text of asbestos insulation and other asbestos-containing products to permit identification of definite, probable, or possible asbestos materials in buildings.
Green links show where you are. © Copyright 2015 InspectApedia.com, All Rights Reserved.
Asbestos-containing "popcorn" or textured ceiling paint coatings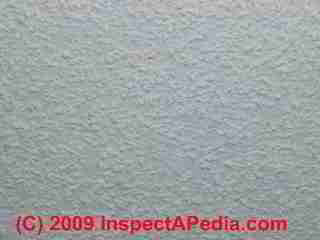 How to Recognize Asbestos suspect ceiling paint in popcorn ceilings
Some acoustic ceiling paint spray-on coatings contain asbestos. If renovation is planned it may be smart to simply handle this material as if it contained asbestos particles.
[Click to enlarge any image]
Asbestos Ceiling paints, textured or popcorn ceilings containing asbestos included spray-on acoustical ceilings and ceilings sprayed for fireproofing.
Textured ceiling paints were particularly popular in North America in the 1970's. If you are considering removing textured ceiling paint or "popcorn ceiling paint" in a building, since removing popcorn ceiling paint or textured paints that may contain asbestos are trickier than you may realize, here are some suggestions:
Watch out: During any construction, demolition, or building remodeling project, as dust and particles from many materials, even paper and wood can be irritating or harmful to workers and occupants, prudent procedure would include appropriate dust control, personal protection equipment, and cleaning methods.
Advice for Handling Asbestos-Suspect Textured Ceiling Paint
Leave textured asbestos ceiling paint alone: The best approach is to leave the textured ceiling paint material alone: experts advise that asbestos containing materials be left alone unless the material is damaged and bringing asbestos into occupied space.

In general people create more hazards by disturbing the material during a cleanup than if it were left alone. In sum the easiest, safest, least costly approach is to leave textured ceiling paint alone, in place.

Painting over a textured ceiling paint coated surface, as long as the paint is secure, is what most people will advise. Try spray-painting as this will disturb sound in-place textured ceiling paint material least.


If you must remove textured asbestos ceiling paint, that is, if there were a good reason to remove the paint, you'd probably to do it yourself (which requires specific procedures to protect health and to protect from contaminating the building) or more likely you'd need to use a professional asbestos abatement company. The combination of health risk and risk of causing a still more costly dust contamination of the home are reasons to think twice before a do-it-yourself asbestos containing ceiling paint removal.
Do not hire someone unqualified to remove the asbestos-containing textured ceiling paint nor any other asbestos-containing material. Use a licensed, qualified asbestos abatement professional. Even for collecting a sample of ceiling paint for testing, If the ceiling has already been painted, you would have difficulty wetting the material to do a scrape-off.

Watch out: Disturbing textured ceiling paint when it is dry is hazardous and should not be done even if the paint is not asbestos containing.
If you know the age of the building you can infer whether or not there is likely to be asbestos at no lab cost whatsoever. If your home was built in the 1980's or later asbestos ceiling paint is unlikely to be present. Our photo, above, shows modern textured ceiling paint that does not contain asbestos. But you cannot determine this just by looking. Testing of a sample of the paint (wet to remove) is necessary.
For asbestos testing and lead testing we recommend that you use either a local testing lab (look in your telephone book yellow pages under "Asbestos Testing" or "Asbestos Labs") or use a national,low cost high volume asbestos-testing-certified lab.
See ASBESTOS TESTING LAB LIST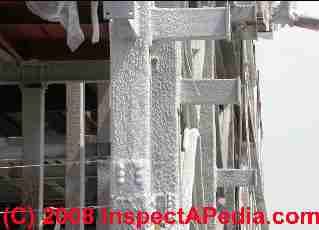 At above left is a photograph of a spray-on fire resistant coating that was installed on a New York building in 2008. This coating will not contain asbestos, though it may resemble older asbestos-containing fire-retardant sprays.
Visual & Historic Clues Assist in Identifying Textured Paint or Popcorn Spray Paint Ceilings that Do Not Contain Asbestos
While the following visual and historic clues are not necessarily conclusive, they give examples of reasons to infer that a textured ceiling spray - at least the coating that can be seen, touched, tested - does not contain asbestos.
Reader Question: is asbestos popcorn ceiling paint hard or soft?
(Sept 15, 2014) anthony said:
i have old plaster that has thin white brown fibers that are about as think as horse hair also i have popcorn paint on the side of the walls my question is.. is alspstose [sic - asbestos] popcorn celing paint soft or hard like cement, i was sanding the love out of it got me worried now. msg tonyboroni@hotmail.com cheers.
Reply:
Anthony,
The asbestos-containing popcorn ceiling paint is rather soft, but might be harder if subsequently given additional coatings. However the actual sperules that make the popcorn kernels in modern non-asbestos popcorn ceilings are typically made of still softer styrofoam that in my experience is easily brushed away from the building surface with almost no force whatsoever.
Reader Question: is it possible to distinguish asbestos from non-asbestos popcorn ceiling paint by visual inspection?
22 Feb 2015 Tyler said:
Is there a way to tell if a ceiling texture has asbestos by the pattern? Im checking out a potential job that has the very small pepple-like pattern to it and asbestos is a longer fiber. I noticed a lot of the articles about asbestos in popcorn ceilings seems to show a more spread out pattern.
Reply:
Tyler, in my opinion the size of the textured popcorn ceiling kernels is principally an artifact of how the mixture was prepared and how the spray gun was adjusted. Asbestos fibers themselves are microscopically so small that I'm doubtful that the choice of asbestos fiber type would determine the popcorn kernel size. Also worth noting was the use of very fine asbestos filler as ultra fine particles in several building products including floor and ceiling coverings.
Popcorn spray on ceilings was popular in some parts of the world including North America from the 1950s, and contained white chrysotile asbestos through the 1980's.
Knowing that a ceiling was popcorn sprayed in the 1990's or more recently, or observing asbestos's successor material used to form the popcorn kernels or flakes, that is fine styrofoam pellets or flakes (Hanson 2013), in the ceiling popcorn kernels might help suggest which substances are present.
I find that modern styrofoam popcorn ceiling spray is a bit softer and more fragile than its antecedents, more fragile, easily brushed off of the surface by hand, and typically containing recognizable fragments of styrofoam in at least the larger popcorn spherules or kernels.
Watch out: even though the newer popcorn ceiling sprays won't contain asbestos, the spray might not contain recognizable asbestos particles. We note that for repair of popcorn or similarly textured ceilings other fibrous materials (not styrofoam) are used and are applied using a method to cause them to clump together to resemble the styrofoam pellets used in initial application (Woods 2004), and consisting of
... Preferably, an example of the material 15 comprises a liquid base, a filler, an adhesive binder, a propellant, an anti-foaming agent, a suspension agent, and fibrous materials.

The liquid base may be any aqueous substance such as water and/or a non-aqueous substance such as alcohol, aromatic or aliphatic hydrocarbons, ketones, esters or the like.

The filler may be any material that can serve as an extender or bodifier such as limestone, clay, mica, silica, or similar materials, or a mixture thereof. The filler may also be made of a paint-based material.

The adhesive binder is an adhesive that may take the form of a natural polymer, such as gums and resins and the like, or a synthetic polymer, such as polyvinyl alcohol, polyvinyl acetate, acrylic polymers, alkyd resins, etc., or a combination thereof.
If large expense or issues of making a mess arise then it's worth the small cost to test a sample.
See ASBESTOS TESTING LAB LIST
Research & Patents for Popcorn Ceiling Paint Application, Removal, Asbestos Handling
Faraci, Clifford C., Rustom A. Khan, and Daniel Winterstein. "Ceiling scraper vacuum accessory." U.S. Patent 6,601,266, issued August 5, 2003.
Greer Jr, Lester R., Stephen E. Cunningham, and James A. Tryon. "Ceiling scraper with integral debris collector." U.S. Patent 6,101,663, issued August 15, 2000.
Hanson, Randal W., Jinru Bian, John Kordosh, Jason Everett, and Jane D. Wasley. "Acoustic Ceiling Popcorn Texture Materials, Systems, and Methods." U.S. Patent Application 13/802,697, filed March 13, 2013.
Excerpt:
Acoustic or "popcorn" texture material is applied to interior surfaces of structures, and typically ceiling surfaces. Acoustic texture material comprises a base material and aggregate material in the form of visible chips or beads. The aggregate material is adhered to the target surface by the base material. In new construction, the acoustic texture material is applied by a hopper gun, and the chips or beads are typically formed of polystyrene foam. The polystyrene foam chips act to dampen sound waves that would otherwise reflect off the target surface.
Kubic, Thomas A. "Method for repairing a textured ceiling or overhead surface." U.S. Patent 5,474,804, issued December 12, 1995.
LaVelle, Scot. "Method and apparatus for toxic substance encapsulation." U.S. Patent 8,721,818, issued May 13, 2014.
Shumway, Christopher. "Scraper with debris collecting means and associated method." U.S. Patent 7,814,609, issued October 19, 2010.
Stankowitz, James L. "Texture applicator." U.S. Patent 4,364,521, issued December 21, 1982.
Viviano, James C. "Vacuum acoustic ceiling removal system." U.S. Patent 8,108,966, issued February 7, 2012.
Woods, John R. "Hardenable flowable substance stored in fluid state and is dispensable in the form of an aerosol spray from a fluid-tight container, after being released and curing, forms bumpy, irregular surface texture, matches with surronding." U.S. Patent 6,797,051, issued September 28, 2004.
Excerpt:
U.S. Pat. Nos. 5,505,344, 5,476,879, and 5,341,970, all to the present Applicant, disclose an acoustic ceiling patch that is sprayable from a hand-held aerosol dispenser. However, certain materials, such as Styrofoam (Dow Chemical Company, Midland, Mich.), used in the acoustic ceiling patch to provide texture in the material, cannot be used in the presence of volatile organic compound (VOC) propellants because they will deteriorate or melt. Therefore, only non-VOC propellants or compressed air may be used with these materials. However, the use of non-VOC propellants or compressed air require a greater pressure to dispense the patch containing these materials. The greater pressure may lead to some loss of control for the user when spraying the patch material. Along with the use of a greater pressure to dispense the patch material is the decrease in atomization of the patch material when being dispensed.
...
It has been discovered that the use of fibrous materials allows the patch material to clump together to form particulates resembling the Styrofoam used in conventional methods. This helps produce the "Popcorn effect". The patch material can then build up upon itself without a need for additional repair material on the damaged area.
An object of an embodiment the present invention is to provide an acoustic ceiling spray patch material that is storable and dispensable from a hand-held dispensing unit for spray-on and direct application of the material in a liquid or semi-liquid form onto a repaired or patched area so that the surrounding surface texture will be visually and mechanically matched.
Another object of an embodiment of the present invention is to provide an inexpensive, practical and economical means for matching the surface texture of a repaired or patched surface area on an acoustic ceiling with the surrounding acoustic surface texture.
...
The hardenable flowable material includes a base, a filler, an adhesive binder, fibrous materials, that do not decompose in the presence of VOC propellants in the preferred embodiment of the present invention, an anti-foaming agent, a suspension agent, and an aerosol propellant, preferably a VOC propellant, that serves as a carrier medium and a pressure source ...
Woods, John R. "Acoustic ceiling patch spray." U.S. Patent 5,505,344, issued April 9, 1996.
Excerpt:
An acoustic ceiling surface usually presents a surface texture which is bumpy or presents an orange peel look and sometimes is referred to as a "Popcorn effect".

Other Interior Ceiling Finish References
...
Continue reading at ASBESTOS FIREPROOFING SPRAY-On Coatings or select a topic from the More Reading links or topic ARTICLE INDEX shown below.
Suggested citation for this web page
CEILING PAINT TEXTURED ASBESTOS at InspectApedia.com - online encyclopedia of building & environmental inspection, testing, diagnosis, repair, & problem prevention advice.
More Reading
Green link shows where you are in this article series.
OR use the Search Box found below at Ask a Question or Search InspectApedia
...
Frequently Asked Questions (FAQs)
Question: broken 1950's Homart Starspray Acoustical Ceiling Tiles
My home has broken Homart Starspray Acoustical Ceiling Tiles which were purchased and installed sometime in the 1950's or 1960's. How can I find out if this was asbestos? The product number is #8445. Help! - Anon 7/20/11
Reply:
I'd like to see some sharp photos of those ceiling tiles (see our CONTACT link at the "More Reading" links at the bottom of this article or bottom or top). From the age of your ceiling tiles, that they are asbestos-containing is a reasonable assumption. If you need to know for sure, you can send a small sample to a certified asbestos testing laboratory - it's not expensive. (Best to check with the lab about what procedure they want you to use to collect a sample, basically you pick an unobtrusive area, avoid creating a dusty mess, wet down and remove 1/2" fragment).
of material and bag it)
Question: Possible asbestos content in popcorn ceilings in an older home - also mold & asthma worries
i live in san diego,ca in a 1936 old house that has mold inside as well as outside the home my friend was born in this house and he said the wall paper the popcorn ceiling carpet doors windows cabin ts still the same since he was a lil child he is now 50 yrs old i been getting sick nausea headache been hospitalize for asthma attack me and my daughter - Trina 11/13/12
Reply:
Trina,

Check with your doctor, but I don't think asbestos exposure produces asthma. In an older home that has not been cleaned nor updated, there could certainly be various respiratory irritants, insect fragments, mold, animal allergens, dust mites etc.
However, popcorn ceilings that are old often used asbestos fibers and filler in the coating.

Search inspectApedia for MOLD EXPERT, WHEN TO HIRE for help in deciding if it is appropriate to hire an expert to inspect your home.
Question: is cleaning up dust after improper asbestos removal dangerous
How dangerous is it to clean up an area after asbestos tiles were removed without proper equipment or disposal? What is required to be safe during clean-up? - Darlene 1/21/2013
Reply: quite possibly
Darlene: in my OPINION the answer is at least potentially YES.
If asbestos containing material, particularly friable materials such as ceiling tiles, or any ACM that was removed in a manner that created dust was removed without proper dust containment and follow-up testing, there could be high enough levels of asbestos in remaining dust in the building to be a hazard to occupants.
For example, running an ordinary household (non-HEPA) vacuum cleaner, or even a HEPA rated vacuum if it leaks, would send that asbestos-containing dust into the air - where occupants may indeed breathe it.
In my own experience I've encountered this problem a number of times and often follow-up testing confirmed that further professional cleaning was needed. Provided that there is an established need (and thus justification of the expense) for an asbestos dust cleanup, a professional will set up dust containment to keep other building areas safe from dust, use a negative air machine as part of that containment, then typically s/he will HEPA vacuum and damp wipe the building surfaces. A follow-up test by a professional confirms that the cleanup was successful and that the containment system also worked.

At ASBESTOS TESTING LAB LIST we provide information on how to find a qualified, certified asbestos testing laboratory.
Question: popcorn ceiling paint removal, asbestos test results, textured paint cleanup procedures
I found your web site very informative. I have a concern about my home which was built in 1976. When I purchased the home I had the popcorn ceiling removed by a professional company. Some of the rooms had already been removed by the home owner. When I bought the house the previous owner told me there wasn't asbestos in the ceiling. Years later a neighbor had the ceiling tested VIA a lab and there was asbestos.
Would there be trace amounts of asbestos remaining and would this be any health issue?
Should I not wear clothing from a top closet shelf that gets very dusty?
Also, there are some tiles 8X8 throughout the house. Looks like early to mid 1980s. The surface is hard white glazed tile but underneath looks like clay. There are cracks in a few of them. I put Super Glue in all the cracks. Will the glue prevent possible asbestos from being airborne? - K.F. 7/7/2013
Reply:
I hope you will understand that from just an email query no one can honestly nor reliably assert whether or not there is an asbestos hazard in the home about which you inquire. However I can offer the following OPINON:
Any time I hear that asbestos-containing materials or asbestos-suspect materials were "removed by the homeowner" that is a bit of a red flag: it is unlikely that an ordinary homeowner would know how to follow appropriate steps for dust containment, wetting, material removal, negative air, testing, etc. therefore it would certainly be possible that asbestos-contaminated dust could remain behind in such a building as well as incompletely-removed asbestos-containing materials. It would thus be prudent to look into the question further. IN such a look I would not rely just on air testing - as the risk of a false negative is just too high. But it might make sense to test some samples of settled dust that you think represent various areas in the home or areas of highest risk. Use a certified asbestos testing lab (do not send samples to me). Keep me posted on what you learn as it may help others.
About asbestos in ceramic tile, I discuss that question at http://inspectapedia.com/hazmat/Ceramic_Tile_Asbestos_Content.php and would welcome any follow-up questions if that article is incomplete or unclear in your view.
Reader follow-up: unnecessary disposal of washable items out of concern for asbestos
Thank you so much for your opinion. I did throw in some blankets that were dusty from the top closet shelf just a few hours ago into the washing machine. Oops!!! I used a double rinse but after I read your email, I just threw the blankets out.
I kept the rest of the clothes that were washing in the machine but used two rinses. In your opinion should I get rid of all the clothes and is the washing machine safe to use?
I have 3 kids and I'm a single mom. I value your opinion Daniel and I thank you for your time.
Reply: lab rest results before & after washing asbestos-dust-contaminated fabrics
I can't cite an authoritative source on this question, but my own field and lab testing of particle-contaminated clothing have found very few remaining particles after clothes are laundered or dry cleaned.
My procedure was to vacuum the fabric surface, collecting particles in an air sampling cassette designed for that purpose. I vacuumed the same fabric in the same area on the fabric before and after cleaning.
After cleaning I found only occasional trace occurrences of particles in the fabrics. T
OPINION: This may not quite be the case for severely-contaminated fabrics, or those with complex structure or many layers; in such cases more extensive cleaning might be required. But normally particle contamination found on clothing has found its way onto the outer surface of garments that were worn in or left in a dusty environment. In such cases one would not expect particulates to penetrate deep into clothing layers such as inside shoulder pads.
Reader follow-up: asbestos test finds asbestos content in textured ceiling spray paint
You had previously asked me to let you know about my home asbestos inspection.
I think this one bit of information might help other homeowners.
The previous owner sent off asbestos samples from the ceiling to a lab. I did not see the report but according to the owner the results were negative. When other neighbors heard of his negative lab results, they assumed their homes were also free of asbestos. All homes were built by same builder at the same time. I know of two neighbors that scraped their ceilings without masks or protection.
One neighbor decided to send in her own sample and that sample came back positive for asbestos.
During my home inspection recently, we found an old light fixture that had been sprayed with acoustic. That was tested and showed 3 percent asbestos. The previous owner was incorrect.
My ceilings had been scraped by a company years ago. I did handle some of the plastic that contained the scraped debris as I wasn't worried since I had been told"asbestos free."
I came away from this realizing that you should independently test your own home and not take the word of someone selling their house or a neighbor. They could be wrong.
The rest of the results: Acoustic overspray in air registers.
I also had a pipe covered with asbestos but it's in good shape.
The drywall compound/mud covering the wall tape tested as less than 1 per cent asbestos. Unfortunately I have large cracks in the garage and the door has done a lot of damage hitting the garage wall.
The only thing I can think of is to spray the cracks/holes with a compound spray and then a paint spray as I'm scared to disturb the fibers with paintbrush. Does this sound like a decent idea? I'm hoping this will encapsulate the fibers.
Thanks for your help and I hope this information can be useful.
Reply: do not rely on a seller assertion of asbestos test results, especially when not in writing
Certainly your experience will be helpful to others and I'll find the appropriate place to post it for other readers. And certainly as well, I'm sorry that your lawyer and real estate agent involved when you bought your home were not working with your interest in mind. If either of them had been doing so, s/he would have advised you of the error of relying on any representation by the seller of a property - the combination of the conflicts of interest and the simple chance of making a mistake add up to reasons never to rely on such a representation, all the more so, as a giant r3ed flag, when the representation is made only orally and not in writing to include the provision of independent, professional reports.
A simple case I've come across time and again is that even when a "lab test" was performed, the test sample was selected from an area believed to be outside the area of concern, rather than testing what should have been tested.
At this point your first step is to avoid making a dusty mess by disturbing asbestos-suspect materials. Most often the risk of leaving in place non-friable, intact, material not in a place likely to be damaged - is low.
Reader follow-up: can I encapsulate an asbestos-paint coated wall with joint compound and paint?
I was hoping to encapsulate the wall behind the door by spraying it with a joint compound spray and then spraying it with paint. This area has been badly damaged from the door hitting the wall.
Would this be O.K.?
Reply:
in my OPINION and presuming that you have reason to know or think that the walls in your home also are covered with asbestos-containing textured paint, new joint compound is soft and will break again if smacked by a door hitting the wall. It's not the best protection against future wall damage and possible asbestos disturbance unless additional steps are taken.
It is indeed common to seal friable surfaces using a sprayed paint coating; using a joint compound repair (or better, laminating 1/4" drywall over the whole area) is fine, provided you also install a door stop to protect the wall from damage.
...
Ask a Question or Search InspectApedia
Use the "Click to Show or Hide FAQs" link just above to see recently-posted questions, comments, replies, try the search box just below, or if you prefer, post a question or comment in the Comments box below and we will respond promptly.
Search the InspectApedia website
Technical Reviewers & References
Publisher's Google+ Page by Daniel Friedman
Click to Show or Hide Citations & References
3/07: thanks to Gary Randolph, Ounce of Prevention Home Inspection, LLC Buffalo, NY, for attentive reading and editing suggestions. Mr. Randolph can be reached in Buffalo, NY, at (716) 636-3865 or email: gary@ouncehome.com
06/07: thanks for photographs of transite asbestos heating ducts, courtesy of Thomas Hauswirth, Managing Member of Beacon Fine Home Inspections, LLC and (in 2007) Vice President, Connecticut Association of Home Inspectors Ph. 860-526-3355 Fax 860-526-2942 beaconinspections@sbcglobal.net
[1] Celotex 1973 Celotex Acoustical Systems catalog, January 1973
[2] Celotex Home Building Materials, 1947 catalog, lists: Cane fiber products: Celotex sheathing, Celotex insulating lath (board), Celotex interior finish, Celo-Siding, Celo-Rok Gypsum products [may contain asbestos]: Celo-Rok anchor lath, Celo-Rock wallboards, Celo-Rok plasters, and Other Products: Celotex rock wool, Celotex roofing, Celotex hard boards, Celotex Cemesta, Celotex Corporation, Chicago IL
[3] Celotex Insulating Cane Board, product catalog
[4] Celotex Building Insulating Materials, 1948 Catalog, listing: Cemesto insulation, Cemesto roof decks, Cemesto exterior wall coverings, Cemesto interior wall coverings [we believe the Cemesto lines refer to cement-asbestos products - ed. ]
[5] Celotex Sound Conditioning, 1948 Catalog, including perforated asbestos board sheets
Celotex ceiling products division was purchased by Ceiling Products & Gypsum Wallboard (BPB) of the U.K. beginning in 1999
Celotex roofing products division was purchased by Certainteed Corporation (Valley Forge PA) beginning in 1999
[6] Certainteed Ceilings, Adagio fiberglass/mineral fiber composite acoustical ceiling product MSDS, web search 11/22/2011, original source: certainteed.com/resources/Adagio_MSDS_2010.pdf
[7] "Board of Education for the School District of the City of Detroit v. Celotex, et al., Circuit Court of Wayne County, Michigan, No. 84-429634-ND"
[8] Armstrong Corporation, web search 6/22/12, original source: http://www.armstrong.rs/commclgeu/eu1/uk/rs/FAQ_other.html, [Copy on file as Armstrong_Ceil_Asbestos.pdf]
[9] Lipsitz & Ponterio, LLC, "Carpenters and Mesothelioma", Lipsitz & Ponterio, LLC, 135 Delaware Ave, 5th Floor, Buffalo, NY 14202-2415 (716) 849-0701. Web search 6/22/12, original source: http://www.mesotheliomacarpenter.com/carpenters-asbestos-exposure/ceiling-tile/ [Copy on file as LiIpsitz_Asbestos.pdf]
[10] INACHI forum discussion about asbestos ceiling tiles, web search 6/22/12, original source: http://www.nachi.org/forum/f18/asbestos-ceiling-tiles-14709/ [Copy on file as Inach_Ceil_Asbestos.pdf]
[11] Celotex [UK] History, Celotex Insulation Specialists, web search 6/30/12, original source: http://www.celotex.co.uk/celotex-history [Copy on file as Celotex_History_UK.pdf ]
[12] Wikipedia provided background information about some topics discussed at this website provided this citation is also found in the same article along with a " retrieved on" date. NOTE: because Wikipedia entries are fluid and can be amended in real time, we cite the retrieval date of Wikipedia citations and we do not assert that the information found there is necessarily authoritative. Web search 6/30/12: "Ceiling Tiles"
[13] Brian Greer, "History of Tin Ceilings", Brian Greer's Tin Ceilings, web search 6/30/12, original source: http://www.tinceiling.com/company/historytin.php
[14] Armstrong Corporation, "Corporate History: a Historical Summary", web search 6/30/12, original source: http://www.armstrong.com/corporate/corporate-history.html
[15] "Ceilings Pressed in Time", Old House Journal, web search 6/30/12, original source: http://www.oldhousejournal.com/ceillings_pressed_in_time/magazine/1070
[16] Steven Mlynarek, Morton Corn, Charles Blake, "Asbestos Exposure of Building Maintenance Personnel", Regulatory Toxicology and Pharmacology, 23, 213–224 (1996) ARTICLE NO. 0045, http://library.certh.gr/libfiles/PDF/GEN-PAPYR-4810-ASBESTOS-by-MLYNAREK
-in-RTAP-VOL-23-ISS-3-PP-213-224-Y-1996.pdf
[17] National Institute of Occupational Safety and Health (NIOSH) (1989). In NIOSH Manual of Analytical Methods (P. M. Eller, Ed.), Method 7400. NIOSH, Washington, DC.
[18] U.S. Environmental Protection Agency (USEPA—Green Book) (1990). In Managing Asbestos in Place: A Building Owners Guide to Operations and Maintenance Programs for Asbestos-Containing
[19] U.S. Department of Labor, Occupational Safety and Health Administration (USDOL) (1994). In Occupational Exposure to Asbestos: Final Rule, FR Vol. 59, No. 153:40964–41162. Materials, Report 2OT-2003. USEPA, Washington, DC.
[20] U.S. Department of Labor, Occupational Safety and Health Administration
(USDOL) (1986). In Occupational Exposure to Asbestos: Tremolite, Anthophyllite, and Actinolite: Final Rule, FR Vol. 51, No. 119:22631–22644.
[21] U.S. Environmental Protection Agency (USEPA) (1990). In Environmental Asbestos Assessment Manual, Superfund Method for the Determination of Asbestos in Ambient Air, Part 2, Technical Background Document, Report EPA/540/2-90/005 b. USEPA, Washington, DC
[22] Ceiling - Frequently Asked Questions, Armstrong Corporation, web search 6/30/12, original source: http://www.armstrong.com/resclgam/na/ceilings/en/us/article17697.html
[23] BPB America Inc., 5301 West Cypress St., Suite 300, Tampa, FL 33607, Tel: 866-427-2872 E-mail: crc@bpb-na.com Web: www.bpb-na.com. Acoustic ceiling tile & accessories.
[24] Affa Tile Company No. 1116/8, Poonamalee High Road, Opposite Hotel Shan Royal, Koyambedu Chennai, Tamil Nadu - 600 107, India, E-Mail: affatiles@gmail.com website: http://www.affatiles.com Tel:044-24757498, 044 - 24757497
[25] Made-in-China.com, online sevice to connect buyers with product suppliers in China, web search 6/30/12
[26] "Directive 2003/18/EC of the European Parliament and of the Council of 27 March 2003 amending Council Directive 83/477/EEC on the protection of workers from the risks related to exposure to asbestos at work". Publications Office of the European Union. 27 March 2003 Web search 6/30/12, original source: http://eur-lex.europa.eu/LexUriServ/LexUriServ.do?uri=CELEX:32003L0018:EN:NOT,
[27] H. M. Murray, testimony before the Departmental Committee on Compensation for Industrial Diseases "Minutes of Evidence, Appendices and Index", 1907. p. 127
[28] D. Auribault, "Note sur l'Hygiène et la Sécurité des Ouvriers dans les Filatures et Tissages d'Amianté (On hygiene and security of the workers in the spinning and weaving of asbestos)" in Le Bulletin de l'Inspection du Travail, 1906, pp 120–132.

[29] Wikipedia entry on Asbestos and various citations from that article, web search 6/30/12, original source: en.wikipedia.org "Asbestos"
Asbestos Identification and Testing References

Asbestos Identification, Walter C.McCrone, McCrone Research Institute, Chicago, IL.1987 ISBN 0-904962-11-3. Dr. McCrone literally "wrote the book" on asbestos identification procedures which formed the basis for current work by asbestos identification laboratories.
Stanton, .F., et al., National Bureau of Standards Special Publication 506: 143-151
Pott, F., Staub-Reinhalf Luft 38, 486-490 (1978) cited by McCrone

Asbestos NESHAP Adequately Wet Guidance, EPA340/1-90-019, December 1990, U.S. ENVIRONMENTAL PROTECTION AGENCY, Office of Air Quality Planning and Standards, Stationary Source Compliance Division, Washington, DC 20460,original web source: http://www.epa.gov/region04/air/asbestos/awet.htm
Asbestos products and their history and use in various building materials such as asphalt and vinyl flooring includes discussion which draws on Asbestos, Its Industrial Applications, D.V. Rosato, engineering consultant, Newton, MA, Reinhold Publishing, 1959 Library of Congress Catalog Card No.: 59-12535 (out of print, text and images available at InspectAPedia.com).
"Handling Asbestos-Containing roofing material - an update", Carl Good, NRCA Associate Executive Director, Professional Roofing, February 1992, p. 38-43
EPA Guidance for Controlling Asbestos-Containing Materials in buildings, NIAST, National Institute on Abatement Sciences & Technology, [republishing EPA public documents] 1985 ed., Exposure Evaluation Division, Office of Toxic Substances, Office of Pesticides and Toxic Substances, U.S. Environmental Protection Agency, Washington,D.C. 20460
Books & Articles on Building & Environmental Inspection, Testing, Diagnosis, & Repair