Canadian Federal Pioneer Electrical Hazards Website
Federal Pioneer (Canadian) FP Electrical Panels & Stab-Lok Circuit Breaker Hazards
InspectAPedia tolerates no conflicts of interest. We have no relationship with advertisers, products, or services discussed at this website.
FP Panels: Federa Pioneer electrical panel hazards warnings
This article discusses possible hazards of the Federal Pioneer Stab-Lok® electrical panel, a Canadian version of the Federal Pacific Electric Stab-Lok® equipment.
Replacement FPE Stab-Lok® circuit breakers are unlikely to reduce the failure risk of this equipment. We recommend that residential FPE Stab-Lok® electrical panels be replaced entirely or the entire panel bus assembly be replaced, regardless of FPE model number or FPE year of manufacture. We do not sell circuit breakers nor any other products.
We also provide a MASTER INDEX to this topic, or you can try the page top or bottom SEARCH BOX as a quick way to find information you need.
What Are Canadian Federal Pioneer Electrical Panel or Breaker Concerns?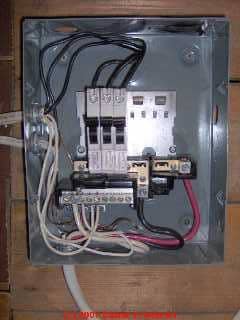 Readers should also see FPE & FP IDENTIFICATION, HOW TO for help in identifying Federal Pioneer old and more recently-manufactured Stab-Lok® products,
and see FEDERAL PIONEER PANEL SAFETY for a discussion of the safety of older and more recently made Federal Pioneer equipment.
These discussions pertain only to the Federal Pioneer Stab-Lok® electrical equipment brand made in Canada, not to the Federal Pacific Stab-Lok® brand made and installed in the United States.
In May 1999 we learned from Schneider Canada that Federal Pioneer circuit breakers sold by that company are re-named from Federal Pacific circuit breakers and that two 15-amp single-pole models NC015 and NC015CP made between August 1, 1996 and June 11, 1997 have been recalled.
The Schneider recall notice is available at this website and a link to it is given later in this article. .
Note that this is a very specific recall. It did not pertain to the entire Federal Pioneer product line nor to other products manufactured by Schneider Electric.
By telephone call we asked the engineer with whom I spoke at Schneider if he could tell me if Federal Pioneer and Federal Pacific components sold in Canada were made in the U.S. or if tooling used to produce them was identical with that used in the U.S.
If this is the case (as one might expect based on economies of production) one should consider the possibility that other defects reported in the U.S. may also appear in Canadian installations.
While the engineer was polite and friendly at the time of our telephone call, the company never responded to this information request.
Article Contents
Federal Pioneer Warranty Alert - 1997
The Warranty Alert was issued by the Ontario New Home Warranty program in October 1997 and provides for circuit breaker replacement. Schneider Canada is an electrical supplier whose product lines combine those previously marketed under the names Federal Pacific Electric, Federal Pioneer, Square-D, Tele Mechanique, Modicon, and Merlin Gerin.
The attorney who researched FPE failures (the American version of this product) for the New Jersey class action suit explains that since a portion of the safety defect with FPE breakers may be due to variations during manufacture, and since Canadian breakers may have been and may continue to be be manufactured in a different plant from those made in the U.S., it is possible that the field performance of Canadian breakers is different than the U.S. design.
Schneider Canada, the Federal Pioneer parent company, has not provided information regarding the original breaker and panel design or manufacturing line changes over the U.S. design, nor provided test result data regarding the Canadian product.
Federal Pioneer Electrical Panel Recall
A 1997 SCHNEIDER CANADA FEDERAL PIONEER CIRCUIT BREAKER RECALL [web page] was issued in 1997, addresses Schneider Canada NC015/NC015P Circuit Breakers, and is reported in the article at that link. In some circumstances these breakers may not trip. In other cases, the breakers will continue to protect anticipated overloads and short circuit currents.
If the circuit breaker does not perform as intended, there is potential for property damage and/or personal injury. There [were, at the time of the recall in 1997] no reports of injuries or fires as a result of the potential problem.
Field Reports of Federal Pioneer Electrical Problems
As of May 2007 we have had just a few reports of failures in the Canadian Federal Pioneer (Stab-Lok® ) equipment and also reports of failures of "replacement" FPE circuit breakers installed in U.S. panels.
We do not know whether this is due to better electrical work in Canada than in some U.S. locations, thus calling on the breakers to trip less often than in the U.S., different manufacturing runs of the product, different levels of reporting between the two countries, or other factors.
Canadian reports of Federal Pioneer electrical panel or breaker field failures are included with the FPE failure reports at FPE FAILURE FIRE PHOTOS but are clearly identified as FP, not FPE.
Canadian homeowners, electricians, home inspectors who encounter Federal Pioneer electrical panels or those who encounter problems with them are asked to report them to us for tabulation.
CONTACT Us to report this equipment. If you encounter failures, also please report them to the CSA and the US CPSC.
Remaining Safety Concerns in Federal Pioneer Electrical Panels and Circuit Breakers
Having inspected a few (less than 10) Canadian FPE (Federal Pioneer-brand) electric panels, I observed two ongoing concerns:
The same circuit breaker bus design was used as in the U.S. equipment. I've seen very poor retention of breakers in the bus - in one house the breaker was held in place by duct tape, as the spring design in the contact of the breaker where it plugs into the special opening in the bus appears not to have held the breaker in place.

I have also seen breakers modified with their inserting pins bent and modified to fit a breaker into a slot where it did not belong - a step that is impossible with other breaker designs.


A similar or identical panel design may expose consumers to panel arcing and fires regardless of changes in the circuit breakers themselves.
Federal Pacific Electric "Stab-Lok® " service panels and breakers are a latent hazard and can fail to trip in response to overcurrent, leading to electrical fires.
The breakers may also fail to shut off internally even if the toggle is switched to "off." Some double-pole (240-Volt) FPE circuit breakers and single-pole FPE Stab-Lok® circuit breakers simply do not work safely.
There are other Federal Pioneer / Federal Pacific electric panel-defects independent of the breaker problems, panel and panel-bus fires and arcing failures in some equipment. The failure rates for these circuit breakers were and still are significant. In some cases failure to trip occurs 60% of the time - a serious fire and electrical shock hazard. Failures are documented in the CPSC study and by independent research.
Additional independent testing and research are on-going and are reported here. FPE Stab-Lok® electrical panels (the American product) should be replaced. Do not simply swap in some replacement breakers (in either the American or the Canadian product).
Comparing Canadian Federal Pioneer FP Circuit Breakers, Panels, & Panel Bus Concerns to the U.S. Federal Pacific Electric Equipment
Canadian "FP" panels were made to the same design, specifications, and physical dimensions, bus layout, breaker connections, breaker internal design, and physical appearance as Federal Pacific Electric Stab-Lok® Panels, but in Canada are labeled "Federal Pioneer".
Modern FP (Federal Pioneer) electrical panels are produced and continue to be sold in Canada by Schneider Electric. Schneider has not responded to our request for information about any changes in the design, specifications, or manufacture of these devices in Canada in comparison with the equipment sold in the U.S.
In 2018 at FEDERAL PIONEER PANEL SAFETY we report that limited tests of Canadian Federal Pioneer / FP circuit breakers show that the Canadian breakers fail to trip at about the same rate as U.S. branded Federal Pacific Electric or FPE Stab-Lok circuit breakers.
Few Field Reports of Federal Pioneer Failures
'We have received some field reports of Federal Pioneer electrical panel failures (not nearly as many as in the U.S.) and there has been a limited Federal Pioneer product recall in Canada.
Currently we do not know if the Federal Pioneer electrical equipment failure rate or only the reporting rate differs from the Federal Pacific Stab-Lok® product marketed in the U.S. However an inspection of the equipment shows that it appears to be substantially the same product as the FPE line, and it has been subject to a product recall.
We have observed directly that at least some of the FPE bus design problems, including difficulty keeping the circuit breake connected to the bus, occur in Canadian FP equipment as well. For example, in a Toronto home (A.C.-D.F.) we observed breakers held into their place in the panel using adhesive tape.
Readers who own a Federal Pioneer electrical panel should see FP FEDERAL PIONEER in CANADA (of the FPE Stab-Lok® product)
Very Low Reporting Rate of Electrical Fires, Hazards, or Events Speaks to the Importance of Even a Few Reports - why are the correct causes of many electrical fires or events unreported?
Among independent test engineers as well as US CPSC engineers, as well as among fire investigators, it is commonly held that only a miniscule percentage, perhaps 1%, of fires, or other electrical "events" or "failures" are ever reported to any authority whatsoever.
The low reporting rate means that even a few reports can carry great significance as representing a much larger population of actual occurrences. Examples of reasons that electrical fires or panel failures or circuit breaker no-trips, burn-ups, or related problems are not reported to any authority include:
The homeowner is unaware that a circuit breaker is "jammed" or continues to conduct power when off, perhaps because no one has attempted to inspect or perform work on that electrical circuit
The homeowner is reluctant to report a fire, failure or event out of concern that their home will be stigmatized at re-sale time or that their insurance premiums will be increased
In our interviews of more than 200 electricians [Dallas TX and other cities, 2001-2012, informal survey] working for various electrical contractors [DF] the most common procedure followed by the electrician was to simply remove and discard failed electrical equipment when installing replacements.
Following a fire important forensic evidence may have been lost or the onsite fire investigator may have lacked the level of experience and expertise to recognize that the root cause of the fire could be traced to failure of a circuit breaker to perform properly
Are there Special Hazards Involving Older (pre-recall) Federal Pioneer or Federal Electric Panels?
Residential Federal Pioneer electrical panels, at least older and pre-recall models, can be expected to have similar hazards and failures as those discussed for FPE Stab-Lok® equipment.
Are there Special Hazards Involving Commercial Federal Pioneer Electrical Panels?
We have no data concerning the performance of Federal Pioneer industrial or commercial electrical equipment and we have not received failure reports for it. We discuss this concern in detail at FEDERAL PIONEER PANEL SAFETY where the safety of FP residential electrical panels is reviewed.
To identify these circuit breaker panels and breakers discussed at the FPE INFORMATION WEBSITE you should look for the product name "Federal Pacific Stab Lok" or "Federal Pioneer Stab Lok" on the equipment.
Federal Pioneer Electrical Panel Field Reports Requested
We invite building owners, electricians, fire marshals, manufacturers, or independent testing laboratories to report to us on the field performance or field failures or product testing results for this product and we will publish here any updates we are able obtain.
We'd also like to see photos of the bus design itself – an electrician can open the panel – remove the cover, and if necessary pull a breaker to expose the bus and breaker connectors – that might tell us if visible changes were made even if we don't know if internal breaker design changes were made.
Reader Question: Federal Pioneer Panel/Breaker Trips AFCIs or GFCIs ??
I purchased a : 1 Phase, 3 Wire, MONOPHASE 3 FILS # BE 132-64-1C100 - and then called an electrician to do the work.
The electrical inspector told my electrician that he was required to install some sort of special fault circuit breaker for the plugs next to our bed in our bedroom. This was done, but now he can't get the breaker to stay on - it trips the second current is required.
My electrician is blaming your product - according to him, he has had so much trouble with the ultra-sensitivity of these breakers that he no longer uses your product - and - of course, now it's all my fault, since I purchased the box before he was called to do the installation.
I think I'm getting a "snow job" - but wonder if you have any suggestions for my electrician (I guess I'd like to call his bluff) - perhaps he's doing something wrong??
He's due to arrive today or tomorrow, so - a prompt reply would be greatly appreciated.
If a phone call is possible, my number is 1 - 403 - 628 - 3600 Thank you, and have a good day,
Reply:
Thank you for the interesting FEP-Stab-Lok® Federal Pioneer Panel question - it helps us realize where we need to work on making our text more clear or more complete. A competent onsite inspection by an expert usually finds additional clues that help accurately diagnose a problem in an electrical system, and it's often the case that when installing a sensitive device such as a ground fault circuit interrupter or an arc fault circuit interrupter, a pre-existing unsafe condition is detected.
So it's possible that your electrician is quite correct that an AFCI or GFCI being installed is detecting a problem at the Federal Pioneer panel/circuit breaker - or it could be elsewhere in the system circuitry or devices.
But in any case an arc fault or ground fault (I'm not certain what you are having installed at your bedroom) is a sensitive device exactly intended to detect unsafe conditions early - before they cause a fire or shock someone. Only if the GFCI or AFCI device itself were defective would that installation be misleading - easy enough to test by swapping out the AFCI or GFCI for a replacement.
Certainly in my personal experience I've found those sensitive devices tripping when installed on improperly-wired or leaky electrical circuits that had pre-existing safety defects that had gone unnoticed by the building occupants.
But let's clear up an important misunderstanding - you are quite mistaken in referring to FPE Stab-Lok® equipment as "your product" - it's not our (InspectAPedia) product. InspectAPedia is an independent publisher of building, environmental, and forensic inspection, diagnosis, and repair information for the public - we have no business nor financial connection with any manufacturer or service provider discussed at our website.
About getting a "snow job" - no, I agree with your electrician that the panel should be replaced regardless of the specific problem you describe.
For more than 30 years we have been independently researching, teaching, and writing informative articles about the hazards of this equipment, and for a like time we have been urging consumers to replace their FPE Stab-Lok® equipment because of its high failure rates. In my opinion the equipment is unsafe and should be replaced. That view is supported by independent testing as well as a large number of field reports of failures, overheating, fires, and no-trips.
HOWEVER there could be in addition, other unsafe electrical conditions in your home. Once the panel is replaced, if any GFCIs or AFCIs installed continue to trip breakers then there is another problem with the wiring itself or the devices to which it's connected, and more investigation would be in order.
I understand it can be annoying to think you're starting with a small electrical upgrade (adding AFCIs to bedroom outlets, for example), but it's not at all unusual for such a step to disclose pre-existing unsafe conditions that simply were not recognized.
The "1 Phase, 3 Wire, MONOPHASE 3 FILS # BE 132-64-1C100 " is currently a Schneider Electric product - and if I'm correct it's a Federal Pioneer 100A main breaker & electrical panel sold in Canada - see http://ontario.nedco.ca/ and see http://www.myschneider.ca/dbp11/Understand/DE1_S1100CT1101EP%20R0.pdf
I emphasize that while we certainly have had field failure reports involving FP products, we have had fewer of them than involving FPE - an inspection of the products shows that the design and components look identical; some independent testing comparing FPE and FP performance has been done and more is ongoing. The company has not been willing to discuss any changes, improvements, or differences between FP sold in Canada and FPE sold in the U.S.
Given the product history, identical appearance, reluctance of the company to provide any information whatsoever, and the field failure reports we've had (no-trips, bus connection failures, overheats), we recommend that the products be replaced out of prudent avoidance, though I emphasize that the Canadian product failure data and testing is to date limited. And I also emphasize that the product concern (Federal Pioneer) can in no way be taken as a more broad concern with other Schneider Electric products.
Please keep me posted on how things progress, and send along photos if you can. Such added details can help us understand what's happening and often permit some useful further comment. What we both learn may help me help someone else. We are dedicated to making our information as accurate, complete, useful, and unbiased as possible: we very much welcome critique, questions, or content suggestions for our web articles. Working together and exchanging information makes us better informed than any individual can be working alone.
Reader Question: Canada FP - Federal Pioneer Electrical Panels & Breakers - contacts for inspection
Hi there, Our house was built in the 1960's and we have a residential FPE Stab-Lok® electrical panel. Do you have any contacts in our area that can offer an inspection? Edmonton, Alberta, Canada Thank you for your time, - S.N.
Reply: reliance on visual inspection or field testing of FP or FPE panels & breakers is unsafe & not recommended
A competent onsite inspection by an expert usually finds additional clues that help accurately diagnose a problem with the electric system or other building components. But in this particular case a visual inspection, though it might turn up evidence of overheating or burnups, would be inadequate and unsafe. That is because
a visual inspection cannot identify internal problems on FPE or FP Stab-Lok® circuit breakers such as an internal jam-up, failure to trip, or other unsafe conditions
"testing" FPE or FP breakers by switching them on and off can actually increase the chances of a failure to trip in the future
"testing" FPE or FP breakers in the field by applying an overcurrent (something we do in the engineering test lab) is dangerous and not recommended unless conducted by one of the very few industry experts under very controlled and monitored conditions. Testing in place risks a house fire, and it also can increase the chances that a tested breaker will fail to trip in the future.
Are FP breakers safer than FPE breakers?
We have indeed received field reports of FP circuit breaker failures in Canada, but the total volume of such reports has been lower than of FPE Stab-Lok® breakers installed in the U.S. We cannot be sure of the reasons for this lower level of incident reporting. Possible explanations for this lower reporting rate include:
Fewer Canadian readers of the FPE topic than U.S. readers
More FPE panels & breakers installed in the U.S. than FP equipment installed in Canada
A reduced inclination to report house-related (and stigmatizing) defects among some reader populations
Possibly fewer do-it-yourself electrical system modifications in Canada (total) than in the U.S.
Differences in average age and level of utilization of electrical equipment in the two countries
Overall higher quality of original electrical wiring installations in Canada, resulting in fewer events that should trigger a circuit breaker to trip
A difference in the actual manufacturing quality and reliability of FP breakers and panels sold in Canada than FPE breakers sold in the U.S. Our OPINION is that there is no solid evidence to support this view as the breakers themselves were of identical design, and the failure mechanism appears to be substantially due to the original circuit breaker design and design tolerances themselves.
Some other factor remaining to be discovered and reported
In sum, while an experienced electrician, one who is familiar with FPE/FP panel and breaker hazards, may find indications of electrical hazards in your home, and while we encourage general safety and electrical safety inspections, one cannot make a safe reliable decision to keep or replace FP circuit breakers and electrical panels based on such an inspection alone.
At DIRECTORY OF ELECTRICIANS we list electricians in some U.S. States/ Canadian Provinces who indicate expertise in these issues, but that list is for practical reasons incomplete. On the other hand, you should beware of relying on the the opinion of electricians or other building inspectors who are unfamiliar with these concerns.
No Conflicts of Interest at InspectAPedia.com concerning FP and FPE products
Because Schneider Electric has at other website and forum postings represented inaccurate information on our role in reporting on Federal Pioneer Electrical panels and circuit breakers, we emphasize here that we have never in the past and do not now sell any product or service.
InspectAPedia is an independent publisher of building, environmental, and forensic inspection, diagnosis, and repair information provided free to the public - we have no business nor financial connection with any manufacturer or service provider discussed at our website. We do not sell products nor services.
We are dedicated to making our information as accurate, complete, useful, and unbiased as possible: we very much welcome critique, questions, or content suggestions for our web articles. Working together and exchanging information makes us better informed than any individual can be working alone.

Our policy on conflicts of interest is summarized on our home page InspectAPedia.com
And our accuracy policy is further elaborated in detail at ACCURACY & PRIVACY POLICIES or select a topic from closely-related articles below, or see our complete INDEX to RELATED ARTICLES below.
...
Continue reading at FEDERAL PIONEER ELECTRIC PANEL IDENTIFY or select a topic from closely-related articles below, or see our complete INDEX to RELATED ARTICLES below.
Or see FEDERAL PIONEER ELECTRIC PANEL FAQs - questions & answers posted originally at this page
Or see COUNTERFEIT FPE CIRCUIT BREAKERS - fakes sold on eBAY.
Or see FEDERAL PACIFIC FPE HAZARD SUMMARY documentation of hazards associated with Stab-Lok circuit breakers & panels
Or see UBI FPE CIRCUIT BREAKER TEST RESULTS - independent failure test results for FPE & FP breakers
Or see these
Federal Pioneer Canadian FPE Stab-Lok Panel Articles
Suggested citation for this web page
FP FEDERAL PIONEER in CANADA at InspectApedia.com - online encyclopedia of building & environmental inspection, testing, diagnosis, repair, & problem prevention advice.
Or use the SEARCH BOX found below to Ask a Question or Search InspectApedia
...
Ask a Question or Search InspectApedia
Try the search box just below, or if you prefer, post a question or comment in the Comments box below and we will respond promptly.
Search the InspectApedia website
Technical Reviewers & References
Click to Show or Hide Citations & References
Note: as we didn't add this reviewers list until 2007, this list of technical reviewers is incomplete; we have received comments and suggestions regarding this topic, edits and remarks included, from engineers and management from the US CPSC, electricians (many listed at our page on field reports of FPE failures), home inspectors, licensed electricians, and electrical engineers, and even a few attorneys and real estate agents, since 1986. Technical review, critique, content suggestions, questions, or clarifications are invited and where a contributor wishes, credit and links will be provided to that source. Contact us to provide feedback.
Dr. Jess Aronstein, electrical engineer, Poughkeepsie, NY, forensic engineering services, independent laboratory testing for various agencies protune@aol.com (independent electrical panel testing, including FPE Stab-Lok® panels, to April 2010)
David Carrier, electrical engineer, 53 Henmond Blvd., Poughkeepsie, NY 12603 845-430-7527 davidwcarrier@earthlink.net (independent electrical panel testing, including FPE Stab-Lok® panels, beginning 2010)
Alan Carson, Carson Dunlop Associates, Toronto, Ontario. Mr. Carson is a home inspection professional, educator, researcher, writer, and a principal of Carson Dunlop Associates, a Toronto home inspection and education firm. Mr. Carson is a past president of ASHI, the American Society of Home Inspectors
Mark Cramer Inspection Services Mark Cramer, Tampa Florida, Mr. Cramer is a past president of ASHI, the American Society of Home Inspectors and is a Florida home inspector and home inspection educator.
Carl Grasso, Esq., Herzfeld & Rubin, New York, NY. Mr. Grasso is an attorney who managed a plaintiff's class action litigation against Federal Pacific Electric in New Jersey.
William King, US CPSC Director of Electrical Engineering (Ret).
Licensed Electricians: FPE FAILURE FIRE PHOTOS includes electricians who have provided cases and photographs of field failures of FPE equipment at this website.
Books & Articles on Building & Environmental Inspection, Testing, Diagnosis, & Repair
The Federal Pacific Stab-Lok® Electric Panel Hazard Website Safety Information for Consumers.
2007 FPE Stab-Lok® TECHNICAL REPORT - an updated test report of independent testing (a large 1.2MB PDF file) using a larger pool of FPE Stab-Lok® circuit breakers than the older CPSC and Wright Malta tests found significantly higher failure rates of FPE Stab-Lok® circuit breakers, including a look at critical safety failures (breaker failed to trip at 200% of rated current or jammed) which found up to 80% failure rate for FPE Stab-Lok® GFCI circuit breakers (n=4), 12% failure rate for double pole FPE Stab-Lok® circuit breakers (n=120), and a 1% failure rate for FPE Stab-Lok® single pole circuit breakers (n=345).
...