Electrical Conduit Basics for Homeowners
InspectAPedia tolerates no conflicts of interest. We have no relationship with advertisers, products, or services discussed at this website.
Electrical conduit: This article answers basic questions about installing electrical conduit. Electrical conduit is metal or plastic rigid or flexible tubing used to route electrical wires in a building.
Green links show where you are. © Copyright 2017 InspectApedia.com, All Rights Reserved.
Page top photo courtesy of Tim Hemm.
Electrical Conduit Installation Tips for Homeowners & DIY Repairs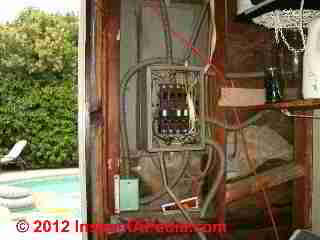 Watch Out: Do not attempt to work on your electrical wiring, switches, or outlets unless you are properly trained and equipped to do so. Electrical components in a building can easily cause an electrical shock, burn, or even death.
Even when a hot line switch is off, one terminal on the switch is still connected to the power source.
Before doing any work on the switch, the power source must be turned off by set­ting a circuit breaker to OFF or removing a fuse.
See SAFETY for ELECTRICAL INSPECTORS and ELECTRICAL WIRING BOOKS & GUIDES

Electrical conduit for wiring has some advantages in protecting wires and also in running multiple wires to a location.
The proper selection of electrical conduit materials, fittings, and installation are important for safe electrical wiring.
Our photo (above left, courtesy of Tim Hemm), shows an electrical conduit snafu along with an unsafe FPE Stab-Lok electrical sub panel. Both flexible electrical conduit and rigid conduit were used. Our arrow points to an improper "bend" made in the rigid metal electrical conduit. [3]
Cutting, Bending and Threading Electrical Conduit
Electrical conduit is often used to hold and protect house wiring. In some localities electrical conduit is required by the local code. Conduit protects building wiring from damage better than flexible steel (BX) cabling or plastic sheathing (Non metallic sheathed or NMC wire).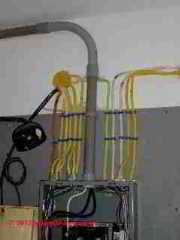 However, it electrical conduit is more difficult to install and it requires both some special tools and some special knowledge about permitted bending radii and similar details.
Instead of damaging rigid electrical conduit tubing (as in the photo above) make your bends using the proper tool, use elbows and fittings, buy pre-formed bends (shown at left in plastic conduit), or use flexible metal or plastic conduit (illustrated at above left).
- Photo courtesy Galow Homes. [7]
A Photo Guide to Types of Electrical Conduit
Thin-wall metal conduit
The most common type of electrical conduit for house wiring is the thin-wall type. Thin-wall conduit is too thin for threaded joints. It is joined to other lengths of conduit and to boxes by pressure-type fittings. Thin-wall conduit is sold in ten-foot lengths in either one-half inch or three-quarter inch (outside) diameter.
The one-half inch conduit can contain four No. 14 wires or three No. 12 wires. Three-quarter inch conduit accommodates four No. 10 or five No. 12 wires.
These wire capacities are for individual wires, not pairs. The wires used are the same as the individual conductors found in steel armor cable and plastic sheathed cable. Wires in conduit must follow standard coding. In a two-wire electrical circuit you need one black wire, one white wire, and one ground wire.
The general procedure for using thin wall conduit is similar to the use of steel armor cable. The big difference is that conduit cannot be "snaked" through openings in ceilings and walls.
You must have full access to joists and studs to install electrical conduit. So you probably won't want to use it unless your local code requires it.
Reader Comment: more wires allowed in thin wall metal conduit: NEC Table C.1
2016/08/22 Alan said:
The conduit fill listed under thin-wall metal conduit [above] is wrong. Granted, under normal conditions, you generally cannot go over 9 current carrying conductors in a conduit without needing to reduce its current carrying capacity below the size circuit for which it is generally used (e.g., #14 = 15A; #12 = 20A). A
NEC Table C.1 (for electrical metallic tubing, EMT) allows for 12 #14 and 9 #12 in 1/2" conduit, and 22 #14 and 16 #12 in 3/4" conduit.
lso, good luck pulling nine #12 wires in a 1/2" conduit, but just wanted to point out that NEC allows for more conductors than indicated above.
Also, I should note that is for THHN - other types may allow for more or less.
Spacing & Support for Rigid Metal Electrical Conduit
See NEC Table 344.30 (B)(2)
Rigid metal electrical conduit to 1/2-3/4" or 12.7-9.1 mm: 10 feet or 3.05 meters between supports
Rigid metal electrical conduit 1" or 24.5mm in diameter: 12 ft / 3.66 m
Rigid metal electrical conduit 1 1/4 - 1 1/2" in diameter: 14 ft / 4.27m
Rigid metal electrical conduit 2 - 2 1/2" in diameter: 16 ft / 4.88 m
Rigid metal conduit 3" in diameter or larger: 20 ft or 6.1 m
Rigid threaded electrical conduit
[Photos needed]
[Citation needed]
Plastic conduit - PVC Tubing used for Electrical Conduit: PVC-U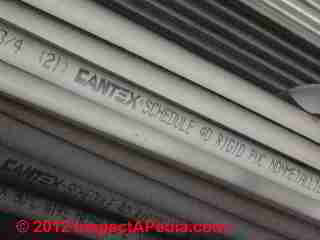 Plastic electrical conduit or rigid pvc conduit, shown in our photographs here, is easier to cut; conduit sections and fittings are joined by conduit solvent cement specifically formulated for use with PVC (polyvinyl chloride) plastic conduit ducts and fittings.
Plastic conduit can be heated and bent to non-standards shapes, or pre-formed bends and elbows can be used.
Watch out: do not mix types of cements (glues) used with plastic water or drain piping with conduit cement. Conduit cement is not suitable for piping and fittings subjected to pressure.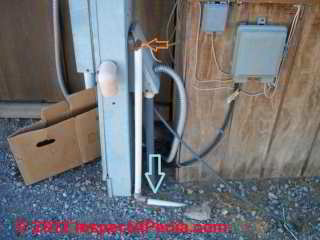 Use proper fittings to join and terminate rigid plastic conduit tubing, and protect it from damage too.
Tim Hemm's photo (left) illustrates a do-it-yourself and improper PVC conduit termination (blue arrow) and a damaged, disconnected plastic conduit elbow and tubing at ground level (red arrow). [3]
Spacing & Support for Rigid PVC Electrical Conduit
Table 352.30(B) NEC shows the support requirements for Schedule. 40 & Schedule 80 PVC electrical conduit
Rigid PVC electrical conduit at 1/2" - 1" in diameter, maximum space between supports: 3 ft.
Rigid PVC electrical conduit 1 1/4" - 2" in diameter, maximum space between supports: 5 ft.
Rigid PVC electrical conduit 2 1/2" - 3" in diameter, maximum space between supports: 6 ft.
Rigid PVC electrical conduit 3 1/2" - 5" in diameter, maximum space between supports: 7 ft.
Rigid PVC electrical conduit 6" in diameter, maximum spacing between supports: 7 ft.
Notes on using PVC electrical conduit:
Total weight of conduit including wires enclosed may be a factor in the requirements for conduit support
PVC electrical conduit (PVC-U) in the U.S. is sold in sizes from 1/2" to 8" in diameter and in three formulations: EPT-A-PVC, EPC-40-PBC, and EPC-80-PVC.
Plastic conduit should always be installed away from steam lines and other high heat sources.
PVC electrical conduit support straps should allow for lineal movement caused by expansion and contraction.
Maximum ambient temperature exposure for PVC electrical conduit is 122°F (50°C)
Sources:
U.S. National Electrical Code, Table 352.30(B)
Carlon Corporation, "Rigid Nonmetallic Conduit - Schedule 40, Carlon Rigid Nonmetallic Conduit (RNC), Fittings & Accessories", Gross Automation 3680 N. 126th St. Brookfield, WI 53005 , Tel: 877-268-3700, Website: Carlonsales.com, Email: sales@grossautomation.com - retreived 8 Sept 2015 original source: http://www.carlonsales.com/techinfo/brochures/conduit/Conduit_Schedule_40_and_80.pdf
Flexible metal electrical cvonduit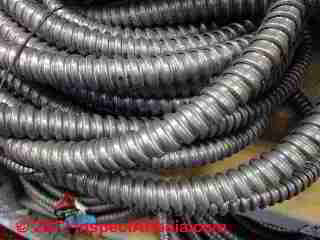 Flexible metal conduit is sold in rolls and cut to the necessary length, joined with appropriate fittings.
Shown is Alflex™ 3/4" diameter metallic flexible conduit produced by Titan.
What's the Difference between Flexible Metal Electrical Conduit and Armored Cable or "BX" Wiring?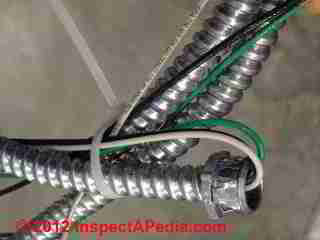 Flexible metal conduit sold for electrical wiring (photo above) is sold empty, and is larger in diameter than pre-wired armored cable such as the 12/3 Armorlite® armored cable shown at left.
This electrical cable is pre-wired with THHN/THWN conductors and is intended for use in cable trays and includes a green-insulated ground wire.
Watch out. Do not use set-screw type connectors with this cabling. Doing so risks pinching the cable end and cutting into the wires, causing a short circuit.
Pre-wired flexible electrical conduit whips

For special applications such as shown in our sketch (below left), flexible conduit is often used for convenience or to avoid vibration problems, but steps must be taken to prevent water from entering the conduit and/or special water-resistant wiring and fittings are required. In nearly all new installations the electrician uses a pre-wired liquid tight electrical conduit whip (photo at below right).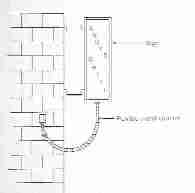 Pre-wired whips in residential applications (photo above right) are found connecting air conditioner & heat pump compressor units to their outside power source. There the flexible whip avoids problems with vibration-loosened connections in the conduit. Electrical whips are also used for connecting spas and swimming pool equipment. Shown is a six-foot 3-wire Carlton Carflex™ whip assembly produced by Thomas & Betts. [5]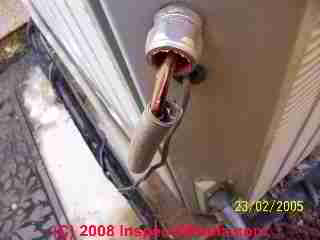 Watch out: Flexible conduit and whips are "flexible" but not to degrees that exceed the laws of physics and the properties of the materials.
If you force flexible conduit or a pre-wired conduit whip to bend too acutely over too short a radius such as at its connection to a rigid surface the conduit will eventually break, as Tim Hemm's photograph (left) illustrates.
Flexible Plastic Conduit - Electrical Nonmetallic Tubing or ENT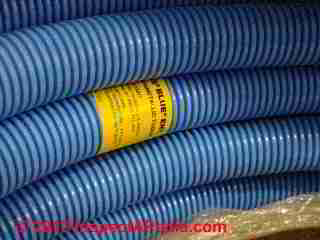 Flexible plastic conduit is illustrated in our photograph (left). Shown is blue 3/4" Flex-Plus® Carlon Blue® ENT (Electrical Nonmetallic Tubing).
This electrical conduit is intended for use in residential attics up to three feet above the bottom of ceiling joists.
Sections and fittings are joined with PVC cement using a brush (not a dauber).
What tools you need and the procedures for using conduit?
Tools for Cutting Electrical Conduit
Thin-wall conduit can be cut with a special electrical conduit cutter. To use the cutter, clamp it around the conduit. To cut the conduit, tighten the knurled nut in the handle.
As you tighten, force the cutter around the conduit. The sharp cutting blade cuts a groove that deepens with each revolution, making a smooth, quick cut. After cutting through the conduit, file off any burrs around the edge of the cut.
Tools for Bending Electrical Conduit
Thin-wall electrical conduit can be readily bent by using a special tool designed to make a smooth, even bend with little effort.
The more bends in a run of conduit, the more it is to "fish" the wires through.  Plan the conduit run carefully to avoid sharp bends and to make as few bends as possible.  Never have more than four right angle bends between openings.  Follow the manufacturer's instructions for the type of conduit bender you use.
How an electrical conduit bender works
Screw a 30-inch length of threaded pipe into the bender head (sometimes called a an electricians "hickey.")
Insert the conduit into the bender through the hook at the top of the head. The hook marks where the bend will start.
Put one foot on the conduit near the head and lever the pipe handle backward, checking the angle of the bend as you go.
How to thread electrical wires through conduit
A fish tape is a thin, flexible metal tape with a hook on one end. The tape is usually packaged on some type of reel. The tape is used to pull wires through conduit or through openings in walls. For conduit use, the tape is inserted in one conduit opening and worked through to the next opening. The wires to be drawn through the conduit are bent around the hook on the fish tape.
If the run is long and has a few bends it is a good idea to wrap some electrical tape around the wires to hold them on the hook.  The tape is then reeled in to draw the wires through the conduit.  A slow, steady is less likely to kink the tape or jam the wires than is a series of sharp.
Electrical codes allow multiple electrical wires to be pulled through a single conduit, but limit the number of wires allowed in a conduit run depending on the number of wires and the wire diameter or gauge.
The more wires you pull, the more crowded the conduit, so buy larger conduit---perhaps 3/4 inch instead of 1/2 inch.
More Electrical Wiring Conduit Defects Detectable by Visual Inspection
If our inspection is limited to an external, visual inspection of electrical conduit, we may not immediately be able to see safety and electrical code violations such as use of improper wire type or too many wires in a conduit, but here are some easy to spot concerns that merit further review by an expert: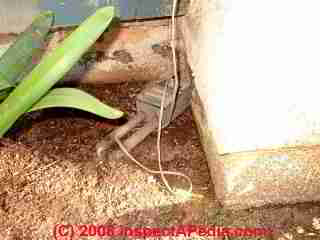 Damaged electrical conduit.
While electrical conduit can provide superior protection for electrical wiring, rigid conduit is also vulnerable to impact damage.
We often see a free-standing electrical junction box, perhaps holding an electrical receptacle, which has been struck and broken off. Look for conduit which has been bent, dented, crimped, cut, or broken.
Tim Hemm's photo at left shows how easily a rigid conduit mounted outdoor electrical receptacle can be kicked over and broken. This condition adds the risk of a nicked or cut wire insulation making an immediate risk of electric shock or electrocution.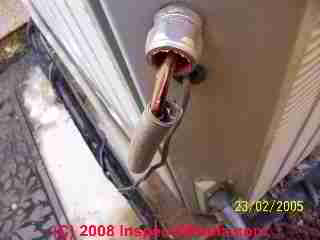 Leaks into electrical conduit can occur where improper fittings are used or where the conduit is damaged.
See ELECTRICAL WIRE STRIPPING TIPS for details on proper preparation of flexible conduit, metallic cable (MC) or "BX" cable, or armored cable (AC) wiring.
Even flexible conduit, such as the one shown in Tim Hemm's photo at left can be damaged by impact or pulling on the conduit. Such an open conduit line invites water entry, short circuits, and unsafe conditions.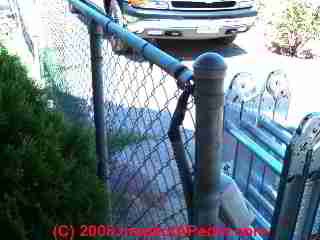 Improper materials used as electrical conduit: only tubing which has been approved (NEC) and listed (UL, CSA) should be used for routing electrical wires.
In Tim Hemm's photo shown here some fool has used metal fence piping to run electrical wires, risking electrocuting someone who simply touches the fence.
This website provides information about a variety of electrical hazards in buildings, with articles focused on the inspection, detection, and reporting of electrical hazards and on proper electrical repair methods for unsafe electrical conditions.
...
Continue reading at ELECTRICAL WIRING BOOKS & GUIDES or select a topic from closely-related articles below, or see our complete INDEX to RELATED ARTICLES below.
Or see ELECTRICAL CODE BASICS and SAFETY for ELECTRICAL INSPECTORS.
Suggested citation for this web page
CONDUIT, ELECTRICAL at InspectApedia.com - online encyclopedia of building & environmental inspection, testing, diagnosis, repair, & problem prevention advice.
Or use the SEARCH BOX found below to Ask a Question or Search InspectApedia
...
Frequently Asked Questions (FAQs)
Try the search box below or CONTACT US by email if you cannot find the answer you need at InspectApedia.
Reader comment:
(Mar 6, 2012) rich lindsay ----peterborough nh said:
Wiring through a metal fence! That jerk must have used a guidebook from a Nazi prisoner of war camp. His local town newspaper should put the picture and story on page one and indicate to the people such a hazard. He should be fined by the code agent and the amount also posted with the story. Talk about the south end of a horse.
Reply:
Yep, we agree Rich.
Reader comments: numnber of wires in conduit
(Aug 22, 2012) Anonymous said:
"The one-half inch conduit can contain four No. 14 wires or three No. 12 wires. Three-quarter inch conduit accommodates four No. 10 or five No. 12 wires.
Aug 22, 2012) Anonymous said:
You write "The one-half inch conduit can contain four No. 14 wires or three No. 12 wires. Three-quarter inch conduit accommodates four No. 10 or five No. 12 wires."
I am not sure what type wire you are using, but with THHN or THWN code says one can put up to 9 #12 wires in 1/2" inch, and 16 #12 in 3/4" EMT. I realize that would be hard to pull, but I think your estimate is low.
(Nov 12, 2012) Wendell Mac Cormack said:
An insector cited me for an exposed wire caused by mt conduit slipped main power to house wgat do I do?
(Apr 3, 2014) Anonymous said:
all conduit caps can be exceeded as per, req #3561NEC variance, as long as the faever is 3 feet from the johnson rod.
Question: using NMC vs Conduit in a Garage
(May 5, 2014) BBaker said:
I have a CMU (concrete masonry unit) garage and I'm installing two new receptacles, branching from a pre-existing outlet (soon to become an outlet and a junction for the two branches). I recently bought 150 feet of NM cable for the rest of the house and was planning to use it in the garage for my branches.
My questions are (prioritized)...
1: "Can NM 12-3 be run through conduit (of any type) without issue, and without raising a flag during a home inspection?"
2: "I know its good practice but, do I need to run conduit at all? If not... then whats the best way to secure the NM wire to the concrete wall?"
3: "The prexisting outlet that I'm wiring my branches from, rests beneath a wooden plank where the NM is exposed, but stapled to the plank, leading into the attic space above the garage and over to my breaker panel. Is this a safe practice? Or should I find a way to protect that cable as well?
Any help would be greatly appreciated. Thanks.
Reply:
BB
I have to give what amounts to a partial answer = opinion.
I have seen NMC run through conduit but that is not a listed, nor approved installation. The intended use and rating for NMC presumes that it is not routed inside of a small-diameter conduit.
Using wire in a manner other than approved is a potential safety hazard regardless of whether or not a particular home inspector happens to pick up that detail.
U-clamps can secure NM cable to a surface but with some work as you'll be drilling into the masonry to mount them. A nice short-cut might be to use Tapcons instead of lead anchors to screw the clips to the wall. That would greatly speed the process and be quite secure.
I don't understand question 3. If you mean that wiring is exposed where it may be walked-on, clearly that's not proper practice.
Question: electrical conduit on the property boundary
Mary Ellen said:
A neighbour has run wiring in an electrical conduit within their boundary but on my side of the fence, under the fence rails. Is this legal?
Reply:
Mary Ellen, this is an interesting question and not one of electrical code or even safe wiring practices, but rather one for your local building department about property line setback requirements.
Those requirements vary by country as well as local jurisdiction, and vary further by types of construction involved. For example where property lines are *very* close between neighbors, attached townhouses, electrical wiring and other building features must respect fire safety codes.
Quoting from an Australian building code example:
To minimise the spread of fire, fire growth as well as safety of occupants in the event of a fire a building must be constructed so as to satisfy the requirements of:
Part 3.7 of the Building Code of Australia - Housing Provisions (Volume 2) AS4072.1 and AS1530.4 with regard to fire stopping service penetrations. Manufacturer's Specification to ensure that the product performs as tested. - retrieved 5/12/14 original source www.bradfordinsulation.com.au/Regulations/BCAFire/Class1a.aspx
In other jurisdictions, the authority may specify that even fences must be kept a specified distance back from the exact property boundary. - retrieved 5/12/14 www.capetown.gov.za/en/Planningportal/Documents/Boundary% 0Walls%20%20Fences%20Policy_Final.pdf)
This sort of wiring constraint does not sound as if it applies to your case as I think you're describing outdoor property.
You don't state your country, city, state, so we don't have an idea what your local rules may require.
I suggest taking the question and your concern to your local building or zoning department for a specific answer.
Reader Commen on Number of Wires in Electrical Conduit
(4 days ago) Frank CArone said:
"The one-half inch conduit can contain four No. 14 wires or three No. 12 wires. Three-quarter inch conduit accommodates four No. 10 or five No. 12 wires."
[Reader says this is incorrect]
Check the "conduit and tubing fill tables for conductors and fixture wires of the same size"
Comment: Thanks, useful.
(June 11, 2015) (mod) said:
eliteelc01 said:
Many brave homeowners take on electrical work in the course of everyday household maintenance, but it is all too easy to make a mistake that could bring on both minor and major problems. Thanks for sharing useful tips.
Question:
(June 22, 2015) jim said:
can more than one circuit be run in a single conduit pipe
(Sept 24, 2015) can you run condit on a wooden fence. said:
Can you run conduit on a wood fence
Reply:
Provided it is secured against mechanical damage including separation of connectors - which may be difficult to achieve.

Comment: hire an electrician
Re-posting without advertising link
KayEhm said:
"Do not attempt to work on your electrical wiring, switches, or outlets unless you are properly trained and equipped to do so."
Basically, unless you ARE a professional electrician, don't try this at home. Or, at the very least, consult with a professional electrical installation company. I'd suggest a small business like [deleted - a licensed electrical contractor or repair company] which is comprised of a handful of electricians with over 20 years in the electrical industry. They offer free quotes, and handle everything from inspection, design, installation, any future maintenance, and inspections. I'd rather be safe than sorry and investing some time to create a relationship with some professionals seems much more cost effective both financially and physically.
Question: advantages of conduit wiring over surface wiring
(Mar 5, 2016) Idakwo Emmanuel said:
Give three advantages of conduit wiring over surface wiring
Reply:
Sorry, id. Yours sounds a bit too much like a test question or homework assignment.
Question: Can a contractor's plumber install electrical conduit as well?
(July 11, 2016) Ray Rodriguez said:
Can a contractor's plumber install electrical conduit as well? I ask because my contractor's plumber installed the plumbing for my pool, bending PVC with open torch flame and he used same flame torch to bend electrical conduit. I believe that code does not allow bending of PVC (both water & electrical) using an open flame?
Reply:
Who can do what and what licenses are required is a local code jurisdiction question.
Generally licensed plumbers do not perform electrical wiring: it's a separate qualification and license and separte codes apply.
For example in some locales only a licensed electrician can install electrical wiring while in others someone else may be allowed to do it provided that the local electrical inspector is called in at appropriate times to inspect and approve the work. Give your building department a call and ask for help.
...
Ask a Question or Search InspectApedia
Use the "Click to Show or Hide FAQs" link just above to see recently-posted questions, comments, replies, try the search box just below, or if you prefer, post a question or comment in the Comments box below and we will respond promptly.
Search the InspectApedia website
Technical Reviewers & References
Click to Show or Hide Citations & References
[1] Elizabeth Sluder, Montross, VA, the original author of this article, is a public school teacher who writes basic educational articles about a variety of building, construction, and other topics. Her husband, a licensed electrician, consults for her writing on electrical topics. Her articles appearing at the InspectAPedia TM Website have been edited, illustrated, and on occasion content has been added by the website author. These articles are © 2010 InspectAPedia copyright-protected, all rights reserved.
[2] Carson, Dunlop & Associates Ltd., 120 Carlton Street Suite 407, Toronto ON M5A 4K2. (416) 964-9415 1-800-268-7070 info@carsondunlop.com. Thanks to Alan Carson and Bob Dunlop, for permission to use illustrations from their publication, The Illustrated Home which illustrates construction details and building components. Carson Dunlop provides home inspection education including the ASHI-adopted a Home Inspection Home Study Course, and publications such as the Home Reference Book, the Home Reference eBook, and report writing materials including the Horizon report writer, and home inspection services. Alan Carson is a past president of ASHI, the American Society of Home Inspectors.
[3] Timothy Hemm has provided photographs of various electrical defects used at the InspectAPedia TM Website. Mr. Hemm is a professional electrical inspector in Yucala, CA.
[4] NFPA - the National Fire Protection Association can be found online at www.nfpa.org
[5] The 2008 NEC National Electrical Code (ISBN 978-0877657903) Online Access LINK (you'll need to sign in as a professional or as a visitor)
[6] Thomas & Betts Corporation, Memphis TN, website: www.tnb.com.
[7] Eric Galow, Galow Homes, Lagrangeville, NY. Mr. Galow can be reached by email: ericgalow@gmail.com or by telephone: 914-474-6613. Mr. Galow specializes in residential construction including both new homes and repairs, renovations, and additions.
Books & Articles on Building & Environmental Inspection, Testing, Diagnosis, & Repair
Our recommended books about building & mechanical systems design, inspection, problem diagnosis, and repair, and about indoor environment and IAQ testing, diagnosis, and cleanup are at the InspectAPedia Bookstore. Also see our Book Reviews - InspectAPedia.
Recommended books on electrical inspection, electrical wiring, electrical problem diagnosis, and electrical repair can be found in the Electrical Books section of the InspectAPedia Bookstore. (courtesy of Amazon.com)
Rust and Corrosion in Electrical Panels, A Study and Report on Frequency and Cause for Electrical and Home Inspectors at Residential Electric Panels
"Electrical System Inspection Basics," Richard C. Wolcott, ASHI 8th Annual Education Conference, Boston 1985.
"Simplified Electrical Wiring," Sears, Roebuck and Co., 15705 (F5428) Rev. 4-77 1977 [Lots of sketches of older-type service panels.]
"How to plan and install electric wiring for homes, farms, garages, shops," Montgomery Ward Co., 83-850.
"Simplified Electrical Wiring," Sears, Roebuck and Co., 15705 (F5428) Rev. 4-77 1977 [Lots of sketches of older-type service panels.]
"Home Wiring Inspection," Roswell W. Ard, Rodale's New Shelter, July/August, 1985 p. 35-40.
"Evaluating Wiring in Older Minnesota Homes," Agricultural Extension Service, University of Minnesota, St. Paul, Minnesota 55108.
"Electrical Systems," A Training Manual for Home Inspectors, Alfred L. Alk, American Society of Home Inspectors (ASHI), 1987, available from ASHI. [DF NOTE: I do NOT recommend this obsolete publication, though it was cited in the original Journal article as it contains unsafe inaccuracies]
"Basic Housing Inspection," US DHEW, S352.75 U48, p.144, out of print, but is available in most state libraries.
...