Electrical Conduit Basics for Homeowners

InspectAPedia tolerates no conflicts of interest. We have no relationship with advertisers, products, or services discussed at this website.
Electrical conduit: This article answers basic questions about installing electrical conduit. Electrical conduit is metal or plastic rigid or flexible tubing used to route electrical wires in a building.
Page top photo courtesy of Tim Hemm.
Green links show where you are. © Copyright 2014 InspectApedia.com, All Rights Reserved.
Electrical Conduit Installation Tips for Homeowners & DIY Repairs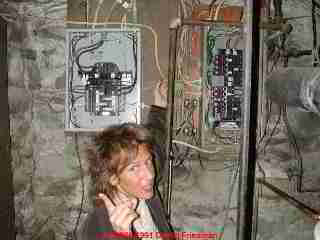 Watch Out:
Do not attempt to work on your electrical wiring, switches, or outlets unless you are properly trained and equipped to do so. Electrical components in a building can easily cause an electrical shock, burn, or even death.
Even when a hot line switch is off, one terminal on the switch is still connected to the power source. Before doing any work on the switch, the power source must be turned off by set­ting a circuit breaker to OFF or removing a fuse. See SAFETY for ELECTRICAL INSPECTORS and Electrical Wiring Books & Guides

Electrical conduit for wiring has some advantages in protecting wires and also in running multiple wires to a location.
The proper selection of electrical conduit materials, fittings, and installation are important for safe electrical wiring. Readers of this article should also see ELECTRICAL CODE BASICS and SAFETY for ELECTRICAL INSPECTORS. This website provides information about a variety of electrical hazards in buildings, with articles focused on the inspection, detection, and reporting of electrical hazards and on proper electrical repair methods for unsafe electrical conditions. Critique and content suggestions are invited.
Cutting, Bending and Threading Electrical Conduit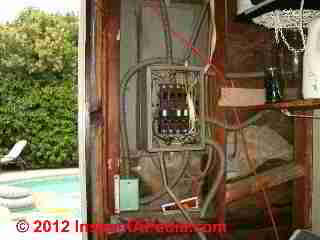 Electrical conduit is often used to hold and protect house wiring. In some localities electrical conduit is required by the local code. Conduit protects building wiring from damage better than flexible steel (BX) cabling or plastic sheathing (Non metallic sheathed or NMC wire).
However, it electrical conduit is more difficult to install and it requires both some special tools and some special knowledge about permitted bending radii and similar details.
Our photo (left, courtesy of Tim Hemm), shows an electrical conduit snafu along with an unsafe FPE Stab-Lok electrical sub panel. Both flexible electrical conduit and rigid conduit were used. Our arrow points to an improper "bend" made in the rigid metal electrical conduit. [3]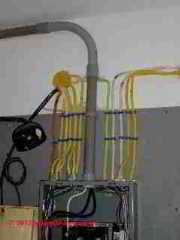 Instead of damaging rigid electrical conduit tubing (as in the photo above) make your bends using the proper tool, use elbows and fittings, buy pre-formed bends (shown at left in plastic conduit), or use flexible metal or plastic conduit (illustrated below).
Photo courtesy Galow Homes. [7]
A Photo Guide to Types of Electrical Conduit
Thin-wall metal conduit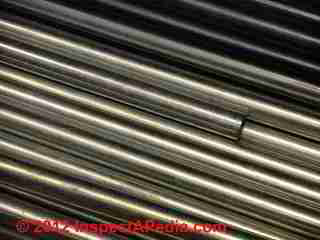 The most common type of electrical conduit for house wiring is the thin-wall type. Thin-wall conduit is too thin for threaded joints. It is joined to other lengths of conduit and to boxes by pressure-type fittings. Thin-wall conduit is sold in ten-foot lengths in either one-half inch or three-quarter inch (outside) diameter.
The one-half inch conduit can contain four No. 14 wires or three No. 12 wires. Three-quarter inch conduit accommodates four No. 10 or five No. 12 wires.
These wire capacities are for individual wires, not pairs. The wires used are the same as the individual conductors found in steel armor cable and plastic sheathed cable. Wires in conduit must follow standard coding. In a two-wire electrical circuit you need one black wire, one white wire, and one ground wire.
The general procedure for using thin wall conduit is similar to the use of steel armor cable. The big difference is that conduit cannot be "snaked" through openings in ceilings and walls. You must have full access to joists and studs to install electrical conduit. So you probably won't want to use it unless your local code requires it
Rigid threaded conduit
[photos needed]
Plastic conduit - PVC Tubing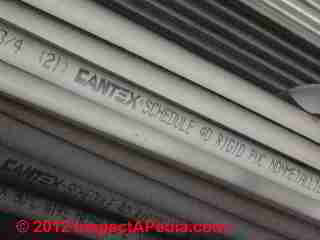 Plastic electrical conduit or rigid pvc conduit, shown in our photographs here, is easier to cut; conduit sections and fittings are joined by conduit solvent cement specifically formulated for use with PVC (polyvinyl chloride) plastic conduit ducts and fittings.
Plastic conduit can be heated and bent to non-standards shapes, or pre-formed bends and elbows can be used.
Watch out: do not mix types of cements (glues) used with plastic water or drain piping with conduit cement. Conduit cement is not suitable for piping and fittings subjected to pressure.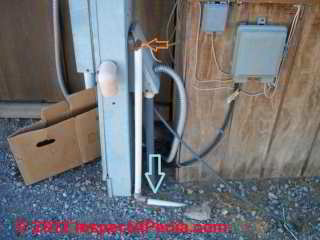 Use proper fittings to join and terminate rigid plastic conduit tubing, and protect it from damage too.
Tim Hemm's photo (left) illustrates a do-it-yourself and improper PVC conduit termination (blue arrow) and a damaged, disconnected plastic conduit elbow and tubing at ground level (red arrow). [3]
Flexible metal conduit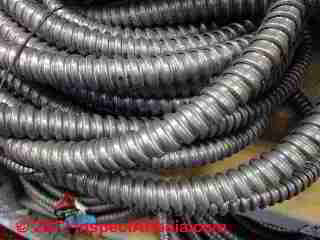 Flexible metal conduit is sold in rolls and cut to the necessary length, joined with appropriate fittings.
Shown is Alflex™ 3/4" diameter metallic flexible conduit produced by Titan.
What's the Difference between Flexible Metal Electrical Conduit and Armored Cable or "BX" Wiring?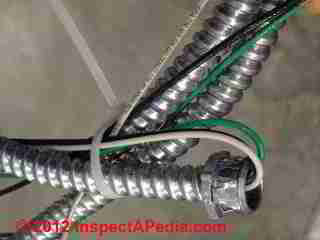 Flexible metal conduit sold for electrical wiring (photo above) is sold empty, and is larger in diameter than pre-wired armored cable such as the 12/3 Armorlite® armored cable shown at left.
This electrical cable is pre-wired with THHN/THWN conductors and is intended for use in cable trays and includes a green-insulated ground wire.
Watch out. Do not use set-screw type connectors with this cabling. Doing so risks pinching the cable end and cutting into the wires, causing a short circuit.
Pre-wired flexible electrical conduit whips
For special applications such as shown in our sketch (below left), flexible conduit is often used for convenience or to avoid vibration problems, but steps must be taken to prevent water from entering the conduit and/or special water-resistant wiring and fittings are required. In nearly all new installations the electrician uses a pre-wired liquid tight electrical conduit whip (photo at below right).
Pre-wired whips in residential applications (photo above right) are found connecting air conditioner & heat pump compressor units to their outside power source. There the flexible whip avoids problems with vibration-loosened connections in the conduit. Electrical whips are also used for connecting spas and swimming pool equipment. Shown is a six-foot 3-wire Carlton Carflex™ whip assembly produced by Thomas & Betts. [5]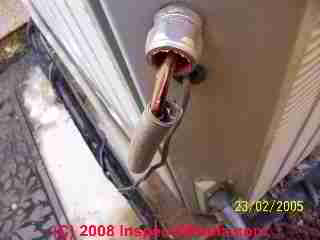 Watch out: Flexible conduit and whips are "flexible" but not to degrees that exceed the laws of physics and the properties of the materials.
If you force flexible conduit or a pre-wired conduit whip to bend too acutely over too short a radius such as at its connection to a rigid surface the conduit will eventually break, as Tim Hemm's photograph (left) illustrates.
Flexible Plastic Conduit - Electrical Nonmetallic Tubing or ENT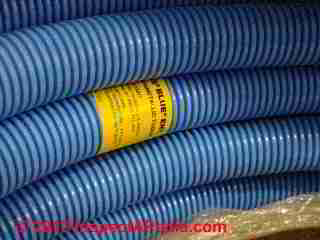 Flexible plastic conduit is illustrated in our photograph (left). Shown is blue 3/4" Flex-Plus® Carlon Blue® ENT (Electrical Nonmetallic Tubing).
This electrical conduit is intended for use in residential attics up to three feet above the bottom of ceiling joists.
Sections and fittings are joined with PVC cement using a brush (not a dauber).
What tools you need and the procedures for using conduit?
Tools for Cutting Electrical Conduit
Thin-wall conduit can be cut with a special electrical conduit cutter. To use the cutter, clamp it around the conduit. To cut the conduit, tighten the knurled nut in the handle.
As you tighten, force the cutter around the conduit. The sharp cutting blade cuts a groove that deepens with each revolution, making a smooth, quick cut. After cutting through the conduit, file off any burrs around the edge of the cut.
Tools for Bending Electrical Conduit
Thin-wall electrical conduit can be readily bent by using a special tool designed to make a smooth, even bend with little effort.
The more bends in a run of conduit, the more it is to "fish" the wires through.  Plan the conduit run carefully to avoid sharp bends and to make as few bends as possible.  Never have more than four right angle bends between openings.  Follow the manufacturer's instructions for the type of conduit bender you use.
How an electrical conduit bender works
Screw a 30-inch length of threaded pipe into the bender head (sometimes called a an electricians "hickey.")
Insert the conduit into the bender through the hook at the top of the head. The hook marks where the bend will start.
Put one foot on the conduit near the head and lever the pipe handle backward, checking the angle of the bend as you go.
How to thread electrical wires through conduit
A fish tape is a thin, flexible metal tape with a hook on one end. The tape is usually packaged on some type of reel. The tape is used to pull wires through conduit or through openings in walls. For conduit use, the tape is inserted in one conduit opening and worked through to the next opening. The wires to be drawn through the conduit are bent around the hook on the fish tape.
If the run is long and has a few bends it is a good idea to wrap some electrical tape around the wires to hold them on the hook.  The tape is then reeled in to draw the wires through the conduit.  A slow, steady is less likely to kink the tape or jam the wires than is a series of sharp.
Electrical codes allow multiple electrical wires to be pulled through a single conduit, but limit the number of wires allowed in a conduit run depending on the number of wires and the wire diameter or gauge.
The more wires you pull, the more crowded the conduit, so buy larger conduit---perhaps 3/4 inch instead of 1/2 inch.
More Electrical Wiring Conduit Defects Detectable by Visual Inspection
If our inspection is limited to an external, visual inspection of electrical conduit, we may not immediately be able to see safety and electrical code violations such as use of improper wire type or too many wires in a conduit, but here are some easy to spot concerns that merit further review by an expert: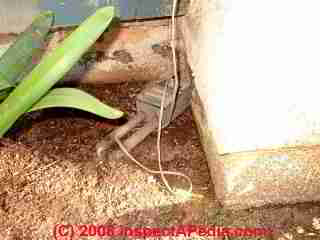 Damaged electrical conduit.
While electrical conduit can provide superior protection for electrical wiring, rigid conduit is also vulnerable to impact damage.
We often see a free-standing electrical junction box, perhaps holding an electrical receptacle, which has been struck and broken off. Look for conduit which has been bent, dented, crimped, cut, or broken.
Tim Hemm's photo at left shows how easily a rigid conduit mounted outdoor electrical receptacle can be kicked over and broken. This condition adds the risk of a nicked or cut wire insulation making an immediate risk of electric shock or electrocution.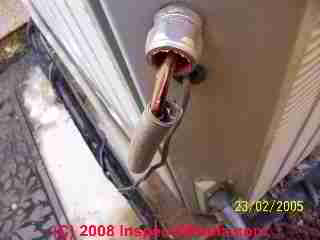 Leaks into electrical conduit can occur where improper fittings are used or where the conduit is damaged.
Even flexible conduit, such as the one shown in Tim Hemm's photo at left can be damaged by impact or pulling on the conduit.
Such an open conduit line invites water entry, short circuits, and unsafe conditions.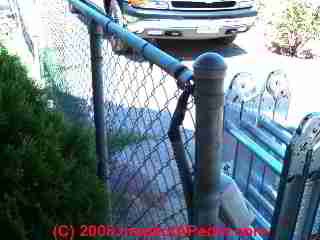 Improper materials used as electrical conduit: only tubing which has been approved (NEC) and listed (UL, CSA) should be used for routing electrical wires.
In Tim Hemm's photo shown here some fool has used metal fence piping to run electrical wires, risking electrocuting someone who simply touches the fence.
...
Frequently Asked Questions (FAQs)
No FAQs have been posted for this page. Try the search box below or CONTACT US by email if you cannot find the answer you need at InspectApedia.
...
Ask a Question or Search InspectApedia
Try the search box just below or if you prefer, post a question or a comment in the Comments box below and we will respond promptly.
Search the InspectApedia website
Technical Reviewers & References
Related Topics, found near the top of this page suggest articles closely related to this one.
Click to Show or Hide Citations & References
[1] Elizabeth Sluder, Montross, VA, the original author of this article, is a public school teacher who writes basic educational articles about a variety of building, construction, and other topics. Her husband, a licensed electrician, consults for her writing on electrical topics. Her articles appearing at the InspectAPedia TM Website have been edited, illustrated, and on occasion content has been added by the website author. These articles are © 2010 InspectAPedia copyright-protected, all rights reserved.
[2] Carson, Dunlop & Associates Ltd., 120 Carlton Street Suite 407, Toronto ON M5A 4K2. (416) 964-9415 1-800-268-7070 info@carsondunlop.com. Thanks to Alan Carson and Bob Dunlop, for permission to use illustrations from their publication, The Illustrated Home which illustrates construction details and building components. Carson Dunlop provides home inspection education including the ASHI-adopted a Home Inspection Home Study Course, and publications such as the Home Reference Book, the Home Reference eBook, and report writing materials including the Horizon report writer, and home inspection services. Alan Carson is a past president of ASHI, the American Society of Home Inspectors.
[3] Timothy Hemm has provided photographs of various electrical defects used at the InspectAPedia TM Website. Mr. Hemm is a professional electrical inspector in Yucala, CA.
[4] NFPA - the National Fire Protection Association can be found online at www.nfpa.org
[5] The 2008 NEC National Electrical Code (ISBN 978-0877657903) Online Access LINK (you'll need to sign in as a professional or as a visitor)
[6] Thomas & Betts Corporation, Memphis TN, website: www.tnb.com.
[7] Eric Galow, Galow Homes, Lagrangeville, NY. Mr. Galow can be reached by email: ericgalow@gmail.com or by telephone: 914-474-6613. Mr. Galow specializes in residential construction including both new homes and repairs, renovations, and additions.
Books & Articles on Building & Environmental Inspection, Testing, Diagnosis, & Repair
The Home Reference Book - the Encyclopedia of Homes, Carson Dunlop & Associates, Toronto, Ontario, 25th Ed., 2012, is a bound volume of more than 450 illustrated pages that assist home inspectors and home owners in the inspection and detection of problems on buildings. The text is intended as a reference guide to help building owners operate and maintain their home effectively. Field inspection worksheets are included at the back of the volume. Special Offer: For a 10% discount on any number of copies of the Home Reference Book purchased as a single order. Enter INSPECTAHRB in the order payment page "Promo/Redemption" space. InspectAPedia.com editor Daniel Friedman is a contributing author.

Or choose the The Home Reference eBook for PCs, Macs, Kindle, iPad, iPhone, or Android Smart Phones. Special Offer: For a 5% discount on any number of copies of the Home Reference eBook purchased as a single order. Enter INSPECTAEHRB in the order payment page "Promo/Redemption" space.
Recommended books on electrical inspection, electrical wiring, electrical problem diagnosis, and electrical repair can be found in the Electrical Books section of the InspectAPedia Bookstore. (courtesy of Amazon.com)
Rust and Corrosion in Electrical Panels, A Study and Report on Frequency and Cause for Electrical and Home Inspectors at Residential Electric Panels
"Electrical System Inspection Basics," Richard C. Wolcott, ASHI 8th Annual Education Conference, Boston 1985.
"Simplified Electrical Wiring," Sears, Roebuck and Co., 15705 (F5428) Rev. 4-77 1977 [Lots of sketches of older-type service panels.]
"How to plan and install electric wiring for homes, farms, garages, shops," Montgomery Ward Co., 83-850.
"Simplified Electrical Wiring," Sears, Roebuck and Co., 15705 (F5428) Rev. 4-77 1977 [Lots of sketches of older-type service panels.]
"Home Wiring Inspection," Roswell W. Ard, Rodale's New Shelter, July/August, 1985 p. 35-40.
"Evaluating Wiring in Older Minnesota Homes," Agricultural Extension Service, University of Minnesota, St. Paul, Minnesota 55108.
"Electrical Systems," A Training Manual for Home Inspectors, Alfred L. Alk, American Society of Home Inspectors (ASHI), 1987, available from ASHI. [DF NOTE: I do NOT recommend this obsolete publication, though it was cited in the original Journal article as it contains unsafe inaccuracies]
"Basic Housing Inspection," US DHEW, S352.75 U48, p.144, out of print, but is available in most state libraries.
...