Do Not Use CU-Only, COALR or CU-AL Electrical Outlets and Switches as a "Repair" for Aluminum Wire
POST a QUESTION or READ FAQs about using CO/ALR or CU-AL devices (electrical receptacles, "outlets", or switches) with aluminum electrical wiring
InspectAPedia tolerates no conflicts of interest. We have no relationship with advertisers, products, or services discussed at this website.
Safety advice about using COALR type devices with aluminum electrical wiring: this article explains why COALR, CO/ALR, AL-CU or CU-AL marked devices are not recommended for use with aluminum wiring as a "repair" for aluminum wiring. We explain the differences between COALR, CO/ALR devices and AL-CU or CU-AL devices - they are not equivalent!
Aluminum wire connections can overheat enough to start a fire without ever drawing enough current to trip a circuit breaker. Making proper repairs to aluminum electrical wiring, using the proper electrical wire connectors and methods, can bring the level of electrical wiring safety in building to about the same as a copper-wired building.
Making improper repairs to aluminum wiring might actually increase the level of risk. The history, differences in performance, and significance of COALR, CO/ALR, CU-AL and AL-CU marked electrical devices in aluminum-wired homes. What are the concerns with COALR or CO/ALR -marked electrical devices when used with aluminum wiring.
We also provide a MASTER INDEX to this topic, or you can try the page top or bottom SEARCH BOX as a quick way to find information you need.
Use of COALR, CO/ALR, AL-CU or CU-AL or CU-Only Marked Electrical Devices, Switches or Receptacles with Aluminum Wiring
Independent tests support the US US CPSC recommendations for repairing aluminum electrical wiring: only the AMP TYCO COPALUM or the King Innovations AlumiConn connector repair - or re-wiring with copper
Electrical Receptacles and switches marked COALR, CO/ALR, AL-CU or CU-AL or CU-Only (photo above right) have not been recommended by the US CPSC for aluminum wiring repairs.
However COALR or CO/ALR - marked devices are not and should not be treated identically with electrical devices marked CU-AL or AL-CU.
Also, devices marked CU-only are intended for use only with copper wire.
Article Contents
Prior to the introduction of the "CO/ALR" wiring devices in about the 1973 timeframe, UL did not have any standard or standard tests for wiring device terminals for aluminum wire. The markings prior to that time regarding type of wire were optional for the manufacturer to apply as they wished. UL considered all wiring devices with screw terminals as suitable for aluminum wire, even if the devices also had push-in backwired terminals.
The photograph shows a back-wired electrical receptacle with an aluminum-wired branch circuit. In the case in these photos the electrical receptacle was marked as "AL-CU" but was further marked as Backwire CU-ONLY by its manufacturer.
["Electrical receptacle" as used in our articles is a synonym for "electrical outlet" or what some people inaccurately call a "wall plug" or "wall socket". "Electrical devices" include receptacles, switches, and possibly other electrical components which are connected to the electrical wiring in a building.
Technical content courtesy of Dr.Jess Aronstein. Photographs courtesy of Roger Hankey. Contributions of photos of CU-AL and COALR receptacles are sought by the author.].
Electrical devices marked CU-AL or AL-CU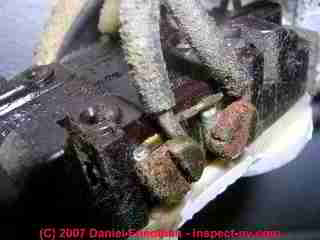 The CU-AL and AL-CU markings were applied by the wiring device manufacturers at their option, without any special testing for compatibility with Aluminum Wire. This was allowed (by UL) until about 1972.
Most of the devices marked this way are identical to those (of the same model # "family" from the same manufacturer) that are not marked AL-CU or CU-AL.
The AL-CU or CU-AL marking was a manufacturer's option. Within a brand and model line - Leviton 5320 receptacle, for instance - there was no difference in design or construction (other than the stamped marking) between the devices that were marked "AL-Cu" and those that were not.
If the electrician and/or jurisdictional electrical or building inspector required the wiring devices to have the markings, they were available with the markings.
Since the markings were optional with the manufacturer, there was a wide variety, but most commonly either none or "Al-Cu", and, either way, the wiring devices were considered to be, promoted as, and sold as suitable for use with aluminum wire.
In about 1974 or so UL published a pamphlet on aluminum wiring which warned that the wiring devices with the "Al-Cu" marking should not be used with aluminum wire. [We are looking for a copy of this document - DJF]
Electrical devices marked COALR or CO/ALR
In about 1972, UL and the wiring device manufacturers agreed on a test standard for receptacles for use with Aluminum Wire. The devices that passed the standard were marked CO/ALR.
Five manufacturers initially manufactured "CO/ALR" wiring devices (receptacles and switches), and we believe that one or two continue to manufacture them today.
Since devices marked COALR or CO/ALR conform to the UL standard for compatibility with aluminum wire, the devices with CO/ALR markings must be considered differently - they are not the same as the AL-CU or CU-AL devices.
Summary of Test Results Comparing COALR and CU-AL Electrical Devices
Wright-Malta Corporation conducted long-term tests of "old technology" (including "CU-AL") wiring devices and CO/ALR devices for CPSC.
A total of 1000 receptacles (4000 wire terminations), were tested, including 500 of the CO/ALR (100 of each brand. All of the testing was done within the ratings for the wire size and receptacle application.
[Aronstein reports in summary that there were] "... many failures and burnouts of the "old technology" receptacles, and one failure (burnout) of a CO/ALR device."
Electrical devices marked CU-Only
Electrical devices that are stamped CU-Only are intended only for use with copper wiring and should not be used with aluminum electrical wiring.
Should COALR or CO/ALR or CU-AL or AL-CU -Marked Devices Be Used With or as a "Repair" for Aluminum Wiring?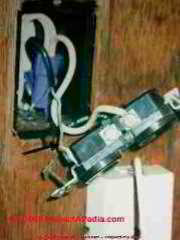 No. Make the proper aluminum wiring repair instead: experts including the US CPSC, Aronstein and others recommend that aluminum-wired homes be repaired using only one of the approved, recommended measures described at HOW TO REDUCE THE RISK of aluminum electrical wiring in buildings
CU-AL or AL-CU marked electrical outlets, switches, or other devices should not be used as a repair for aluminum electrical wiring.
COALR or CO/ALR marked electrical devices as tested by Wright Malta Corporation performed better than CU-AL devices when used with aluminum branch circuit wiring provided that the connections and wiring were installed properly.

Aronstein has not [yet] commented, for example, on aluminum wiring and back-wired receptacles with COALR devices nor on field reports of aluminum wiring failures with either type of marked electrical device.

[Other research by Aronstein found poor performance at back-wired electrical devices, most likely because of the very limited contact surface between the spring end and the wire surface. - Ed.]

The replacement of receptacles with CO/ALR devices is treated to some extent in the report "Reducing The Fire Hazard in Aluminum-Wired Homes" a document available at REFERENCES .

One might reasonably infer that it may be the case that an aluminum-wired home which has properly installed, not-backwired COALR or CO/ALR electrical outlets and switches might be at a lower risk level of an incident than homes without these devices, and such a home is probably at lower risk of an electrical incident than homes wired with CU-AL or AL-CU marked devices.

But risk assessment of the condition of aluminum wiring in any individual building is more complex than just this. Relying on the observation of the presence of COALR devices alone to assess risk is questionable at best.
Don't guess about aluminum wire safety: We recommend against guessing about the condition of aluminum wiring in a building or making any assumption about its safety if the wiring has not been repaired using an approved method. We also recommend against relying on superficial and possibly technically un-sound safety surveys using test instruments in buildings as a way to assess the risk of aluminum electrical wiring and as a way to decide whether or not to repair it.
The level of risk in an aluminum-wired building: Assessing the actual level of risk associated with aluminum wiring at any individual building is difficult, highly technical, requires special equipment and procedures, and should not simply be "guessed" based on casual observations like "no problems have been reported" or " we have COALR devices already installed" or "the workmanship here was good".

The risk of an overheating connection in an aluminum-wired building varies with many factors which are difficult to assess because many of the variables are simply not visible, and because any individual risk assessment, even using special equipment, cannot predict future changes in building conditions, changes that could occur moments after the assessor left these building.

Some of these variables include changes in use of an electrical circuit by a new occupant, changes in the condition of an electrical connection, say at a receptacle, as the device is used, increased deterioration of an individual electrical connection in a building with age or time, variations in electrical installation workmanship from one part of a building to another. we have received mail from readers reporting that a home inspector or electrician has "looked at the wiring" and has proclaimed it "safe". Such assessments are nonsense, irresponsible, and are potentially dangerous.
The US CPSC has recommended only re-wiring or use of the AMP TYCO COPALUM connector and the "copper pigtailing" repair approach for aluminum wiring, and that there is one additional newer product, the AlumiConn, which appears to perform well in this application and is now also recommended by the US CPSC., Readers should note that no authority has recommended use of electrical switches or outlets of any kind as a "repair" method for aluminum wiring
Examples of Improperly-Wired COALR or AL-CU Devices with Aluminum Wiring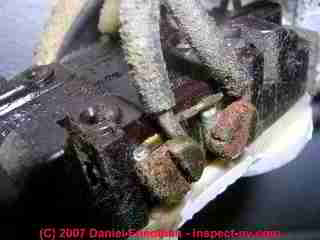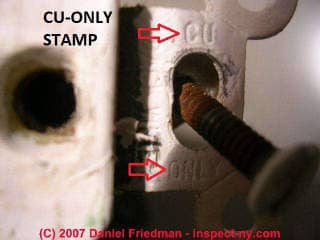 These photographs from a large condominium complex wired with aluminum show aluminum wiring connected to an electrical outlet marked CU-ONLY.
This aluminum-wired device was not installed according to the manufacturer's specifications and is a safety hazard. Some of the clients at this property wanted to simply replace the electrical outlets and switches with COALR or AL-CU devices. As we've explained above, that is not a recommended repair. Beyond the concerns with use of COALR devices with aluminum wiring in a building we note two additional worries:
What about all of the other electrical connections and splices in the building? Even if these devices worked, which has not been demonstrated, I am concerned that any incomplete "repair" of aluminum wiring also risks creating a false sense of security among the building's occupants, possibly leading them to ignore dangerous warning signs of a problem or leading them to fail to complete the proper repair using approved, recommended methods and devices -- OPINION DJF.
Back-wiring any electrical receptacle that uses a simple spring-clip to contact the wire internally gives a poor and unreliable connection. In this case the receptacle was (1) back-wired which is a less reliable connection, and (2) was back-wired with aluminum wire specifically in contradiction to the instructions of the manufacturer.

This is an improper and unsafe electrical connection. Some newer electrical receptacles that permit back-wiring use a connector that pinches the wire in a screw-tightened contact and may perform better when used with copper wire or a copper pigtail connected to aluminum wire by an approved connector. -- OPINION DJF
Reader Questions & Comments on Aluminum wire and CO/ALR CU-AL Devices
Question: What switches or receptacles are OK to use with Solid Conductor Aluminum Electrical Wiring?
Are switches and receptacles marked with Solid Core Wire Only suitable for use with Aluminum Wire? - D.C.
Reply: None
A competent onsite inspection by an expert usually finds additional clues that help accurately diagnose a problem with wiring, use of aluminum wire, and with the connectors, pigtails, or other repairs that have been attempted or that are needed.
That said, the short answer to your question is NO.
Here are some things to consider:
Even CO/ALR devices that the manufacturer has stamped as intended for use with AL wire are not suitable according to industry experts and according to research already performed and documented here. See ALUMINUM WIRING REPAIR NOT-Recommended.
If your building has solid conductor AL wiring the proper repairs are either re-wire with copper or pigtail with copper using a CPSC recommended connector. See ALUMINUM WIRING REPAIR METHODS for details.
Watch out: some "approved" aluminum wire to copper wire connectors that the manufacturer has tested as meeting the appropriate standard in fact do not work, melt, catch fire. And there are no connectors currently sold intended for straight aluminum connections.
Stick with what the CPSC recommends and you'll be ok.
Aluminum Wiring Repair Articles
...
Continue reading at ALUMINUM WIRING REPAIRS NOT-RECOMMENDED or select a topic from closely-related articles below, or see our complete INDEX to RELATED ARTICLES below.
Suggested citation for this web page
ALUMINUM WIRING REPAIR COALR & CU-AL at InspectApedia.com - online encyclopedia of building & environmental inspection, testing, diagnosis, repair, & problem prevention advice.
Or use the SEARCH BOX found below to Ask a Question or Search InspectApedia
...
Frequently Asked Questions (FAQs)
Try the search box below or CONTACT US by email if you cannot find the answer you need at InspectApedia.
Question: upgrade an apartment with new "outlets" ?
(Aug 3, 2011) Harold Wehby said:
My apartment building has aluminum wiring,,which outlet should be used to upgrade?
Reply:
Really? Mr. Wehby as this article explains, no outlet should be used as an "upgrade" to aluminum electrical wiring - as that is not the repair recommended by the U.S. CPSC nor experts in the field. The proper repair is either re-wiring with copper (very costly) or copper pigtailing every single aluminum wire connection in the building - using a connector recommended by the U.S. CPSC such as the AMP TYCO COPALUM connector or the tested AlumiConn from King.
Question:
(June 18, 2012) John said:
According to NEC 404.14(C) and NEC 406.3(C)Switches and receptacles rated 20amps or less and designed for direct connection to aluminum conductors shall be marked CO/ALR.
Reply:
That is so, John, but "designed for direct connection" never addressed the performance of those connectors that have, as described above, not performed acceptably. CO/ALR is absolutely NOT a repair recommended for aluminum wiring, as you'll read in the US CPSC document as well as in research described at InspectApedia
We are dedicated to making our information as accurate, complete, useful, and unbiased as possible: we very much welcome critique, questions, or content suggestions for our web articles. Working together and exchanging information makes us better informed than any individual can be working alone.
InspectAPedia is an independent publisher of building, environmental, and forensic inspection, diagnosis, and repair information provided free to the public - we have no business nor financial connection with any manufacturer or service provider discussed at our website.
Question: thinks aluminum wiring hazards are not real - it's a "witch hunt"
(July 9, 2012) Bill Miller said:
I want to respect your institution and its views, but I am finding the aluminum branch wiring issue to be a cross between a witch hunt, jobs program for electrical contractors all rolled into a Chicken Little claim that if you have aluminum branch wiring your house will burn down. Why? According to your own reporting; only 1 in 500 of the COALR didn't perform adequately. You didn't say failed. Also, according to the National Fire Protection Association, for 2005-2010, only 6 percent of house fires were attributed to all forms of electrical malfunctions. Of the 6 percent, 61 percent was attributed to all types of distribution issues. So at best, aluminum branch wiring could be cause for approximately 2 percent of all house fires during this time period. 2 Percent. That is less than candles, smoking, and clothes dryers. 2 percent was the starting level to even make the causal list. What has this unfounded hysteria caused? Well, here in the state of Florida, the insurance companies have jumped on this as a cause to deny coverage. A house with aluminum wiring has only one insurer to use, the state run Citizens, and at nearly double the rate of a copper house. This attack on aluminum wiring has made thousands of Florida homes worthless, as they are unsellable because they can't get insurance. Kitchen fires accounted for 47 percent of house fires, heating equipment 21 percent, intentional 9 percent. So a house with aluminum wiring has a better chance of catching fire if someone uses the kitchen, uses a heater, or if an arsonist attacks it. Aluminum wiring is so far down the list it is not even mentioned specifically as causal. Your results may be factual, but they must be held in context with what the outcome may be. The CPSC also needs to be more up front in how it presents data and suggestions. It is outrageous to claim aluminum wiring and COALR devises are unsafe when the total picture is viewed in a cause/effect based outcome.
(Aug 18, 2014) Jay said:
I would like to know who wrote this article. I totally agree with Bill about the scare mongering in Florida. If aluminum wiring is as dangerous as this article implies explain to me why hundreds of thousands of homes with it are still standing in the all over the US. Thank you Bill for putting the "danger" in perspective.
Reply:
Bill, thank you for the courteous disagreement. Unfortunately the hazardsfrom aluminum solid conductor branch wiring are very real, not theoretical, and have been amply studied and reported as we document in articles at this website. In addition we continue to receive field reports of fires, overheats, burnups, etc/
The COALR concerns are documented above and represent the experience, tests, and views of sources we judge to be unbiased professionals with no skin in the issue.
When we read comments asserting that the aluminum wiring hazard is unreal I often find that the source is one who has a financial stake in the matter. Or who is uninformed.
I share your objection to hysterical reporting and I assure you that we are scrupulous in editing and rejecting such reporting as it serves no one and risks consumers being ripped-off by aggressive folks who may be selling snake oil or worse. So I am doubtful that you will find hysteria in the reporting at InspectApedia but if you do find errors of fact or omission or presentation I'd welcome hearing specifics.
The position of the insurance companies on aluminum wiring derives principally from their loss data, not from a wish to burden homeowners with needless expense.

InspectAPedia is an independent publisher of building, environmental, and forensic inspection, diagnosis, and repair information for the public - we have no business nor financial connection with any manufacturer or service provider discussed at our website.
We are absolutely dedicated to making our information as accurate, complete, useful, and unbiased as possible: we very much welcome critique, questions, or content suggestions for our web articles. Contributors, even if it's just a small correction, are cited, quoted, and linked-to from the appropriate additional web pages and articles - which benefits us both. Working together and exchanging information makes us better informed than any individual can be working alone.
I want to add that in my own meetings with engineers and management from the US CPSC I was very impressed with the technical depth of the engineering department and the great caution with which the agency considered advice to consumers. I did not see any evidence of superficiality, scare mongering, nor conflicts of interest in the public information about aluminum wiring hazards. I have on occasion found conflicting interests among a very few folks from several industries who put profit before safety.
Finally, while the repair option of re-wiring is very costly and rarely followed except in renovations, the other options for pigtailing are plausible and to me and to experts in the field, make perfect sense. In my experience it has been very rarely the case that someone undertook a proper aluminum wiring repair without discovering burned, overheated connections in their home.
Jay,
The information provided in the InspectApedia series of articles on aluminum wiring safety is based on professional citations dating from the 1970's to the near present. These can be seen in the References section of most of the pages on this topic.
Unfortunately for your point of view, and with all due respect, the research and the field experience with fires, even fatalities, associated with aluminum solid conductor branch wiring are amply documented with decades of research, experience, testimony, and expert advice.
Question: Re-wiring older home with BX Armored ungrounded aluminum cable
(Oct 2, 2012) Thomas M. said:
I recently rewired my 1927 house. It appears to have been 'upgraded' at sometime with BX armored Al cable (ungrounded) sometime in the past. All the BX that I could get to was pulled or decommissioned if I couldn't actually pull it out (I usually rerouted the new Cu 12/2 cable from another direction). Right now I have old BX connected to four light switches for ceiling or outdoor lights--getting the cable out and replacing/rerouting is a huge & damaging task and is why they are still there. After reading up here, I am somewhat discouraged about what to do. Also, I erroneously pulled the old light switches (unmarked or Cu Al types) and replaced them with Cu only. That is a near future project to correct. None of these had charring or scorches on them, but the insulation is dried out & needed taping.
However, two questions
I want to swap out the Cu switches with CO/ALR switches (I avoid backwiring), the main reason are the boxes are shallow and crowding with pigtails in other boxes was incredibly difficult with receptacle boxes, and it appears that the alumiconn method could be problematic space-wise. it would be connected to Al only and no receptacles are on the same circuits. Not sure what to do or believe--the main consensus I read is that the Al wiring itself is not the problem, but improper connections & splicing, particularly with Cu wiring and Cu only devices.
Second is that if swapped out, I don't consider this a 'complete' repair because the far greater issue I see are where the switch cables go: to junction boxes with all new Cu cable where those have to be respliced with proper connectors. This sight was very clear about what is advocated as proper and all the alternate known methods deemed improper. Which is the greater problem?
If CO/ALR is considered not a true repair, then why do manufacturers still make and sell it? This seems like a liability risk.
Thanks for this excellent resource.
Question: found arcing in aluminum-wired old receptacles, thinks COALR are OK
9/26/14 Anonymous said:
This article is a problem. My house has aluminum wiring and recently I have experienced some arcing in the receptacles. The connections to the plug were very loose and there was difficulty sometimes in making a good connection. I have replaced a portion of the receptacles with Cooper Devices CO/ALR dual receptacles. The difference is very noticeable. This is a quick fix anyone can do. You seem to be discouraging people from reducing the risk with a fix that is approved. The receptacles that I removed were not marked with the CO/ALR and after 40 years of use are still functioning. This whole article is misleading and I would say dangerous.
Reply:
With all due respect, the problem is not this article unless we failed to make clear the following: CO/ALR dual receptacles that you tout are *NOT* recommended by the US CPSC for aluminum wiring repairs. The U.S. CPSC is the key authority in this matter - folks who have taken pains to specify which aluminum wiring repairs work and are safe when properly executed. The "repair" you like is not one of them.
Your second observation, that the old receptacles you removed "are still functioning" needs to be undertood in the context of how overheating occurs at connections and how that leads to fires. "Functioning" in the sense of passing along electricity through a duplex receptacle to the device plugged-in does not mean "safe". A small change such as wiggling around a receptacle or switch by plugging devices in and out of it or by flipping a switch on and off add movement that can be a source of loose connections.
But even without *any* such movement, as Aronstein's research points out, a combination of oxidation and micro-fretting at the connection points of aluminum to copper receptacle or switch screws leads to a cycle of increased heat, increased oxidation and corrosion, until an overheat and possibly a fire occurs.
On homes where all of the devices have been removed and replaced as part of aluminum wiring repair, it is certainly the case that not every device shows signs of overheating. But after several decades of independent research and receipt of field reports on aluminum wiring overheats and fires, we see that during an aluminum wire repair at a building, it is very very rare for the electrician to fail to find at least one dangerously overheated device, connector or receptacle or switch.
Happily not all overheats burn the building down. Many are contained within the junction box and some simply burn enough to shut off the circuit.
OPINION: One can but wonder if some of the gripes about the US CPSC's position on non-recommending the use of COALR and CO/ALR or CU/AL-marked devices as an aluminum wiring "repair" originate with folks who have a financial interest in selling those devices. If that sould be the case, one might be more confident in the US CPSC and in the work by independent researchers who have no skin in the sale of particular products.
You should rely on COALR or CO/ALR devices if you want to follow the advice of those independent experts who have no conflicting interests.
...
Ask a Question or Search InspectApedia
Questions & answers or comments about using CO/ALR or CU-AL devices (electrical receptacles, "outlets", or switches) with aluminum electrical wiring
Try the search box just below, or if you prefer, post a question or comment in the Comments box below and we will respond promptly.
Search the InspectApedia website
Technical Reviewers & References
Click to Show or Hide Citations & References
[1] AlumiConn™ AlCopStore.com 223 Salt Lick Road, #279, St. Peters, MO 63376
Tel: 866-826-2256, Fax: 636-754-0500, Email Sales: pking@AlCopStore.com, Email General Inquiry: info@AlCopStore.com
[2] "Repairing Aluminum Wiring," [As updated 2011] U.S. Consumer Product Safety Commission Publication REPAIRING ALUMINUM WIRING, US CPSC Pub. No. 516available online
[3] "Record of Commission Action, Commissioners Voting by Ballot", CPSC Publication No. 516, Repairing Aluminum Wiring (original version op.cit.), (Briefing package dated March 15, 2011), Quoting:
The Commission voted unanimously (5-0)·to approve republication of CPSC Publication No. 516, Repairing Aluminum Wiring, with the explicit recognition that the COPALUM and AlumiConn connectors currently are the only products that meet the agency's standards to prevent aluminum wire fire hazards
Copy on file as /aluminum/Pub516_Alumi_Conn.pdf
[4] Dr. Jess Aronstein, protune@aol.com is a research consultant and an electrical engineer in Schenectady, NY. Dr. Aronstein provides forensic engineering services and independent laboratory testing for various agencies. Dr. Aronstein has published widely on and has designed and conducted tests on aluminum wiring failures, Federal Pacific Stab-Lok electrical equipment, and numerous electrical products and hazards. See ALUMINUM WIRING BIBLIOGRAPHY and see FPE HAZARD ARTICLES, STUDIES for examples.
[5] "The Influence of Corrosion Inhibitor and Surface Abrasion on the Failure of Aluminum-Wired Twist-on Connections", Aronstein, J.; Campbell, W., Components, Hybrids, and Manufacturing Technology, IEEE Transactions on Volume 7, Issue 1, Mar 1984 Page(s): 20 - 24
Reducing the Fire Hazards in Aluminum-Wired Homes, [.PDF document], Jess Aronstein, Ph.D., 21 May 2007. This document answers most technical questions about the hazards and remedies of aluminum electrical wiring and includes a report on independent test results of alternative products and methods for repairing aluminum wiring. Some of the sections of this very thorough document are listed below:
HOW TO REDUCE THE RISK of aluminum electrical wiring in buildings
ALUMINUM WIRING REPAIR ELECTRICIANS specializing in aluminum wiring repairs
ALUMINUM WIRING REPAIR, Other Products for aluminum wiring, ones that work, or don't
DETAILED EXPLANATION of the aluminum electrical wiring hazard
Books & Articles on Building & Environmental Inspection, Testing, Diagnosis, & Repair
Our recommended books about building & mechanical systems design, inspection, problem diagnosis, and repair, and about indoor environment and IAQ testing, diagnosis, and cleanup are at the InspectAPedia Bookstore. Also see our Book Reviews - InspectAPedia.
Recommended books on electrical inspection, electrical wiring, electrical problem diagnosis, and electrical repair can be found in the Electrical Books section of the InspectAPedia Bookstore. (courtesy of Amazon.com)
The Aluminum Wiring Information Website Aluminum Wiring Hazards and Repairs: in-depth info, photos, documents. Main Page.

The Aluminum Electrical Wiring Hazard Explained (in the document you are presently viewing)ALUMINUM WIRE REPAIR METHODS to reduce risk in buildings with Aluminum Electrical Wiring - Overview of Acceptable Repair Practices (in the document you are presently viewing)Aluminum Wire Repair Method Details - "How to" details, how to identify, COPALUM repair, alternative repairs, history, products, research, source of special AMP TYCO COPALUM connectors & COPALUM Electricians (in the document you are presently viewing)COPALUM Electricians: Sources of TYCO COPALUM -Certified/Trained Aluminum Wire Repair Services (in the document you are presently viewing)
Other Products, Ideal 65 Purple Twister (not recommended), & other Aluminum Wire Products/Articles (in the document you are presently viewing)

The Aluminum Wiring Bibliography: extensive resources on Aluminum Wiring
Aluminum Wire Failure Reports & Photos: Real life aluminum wiring field failure reports
Reducing the Fire Hazards in Aluminum-Wired Homes, Jess Aronstein, Ph.D., This document answers most technical questions about the hazards and remedies of aluminum electrical wiring. Some of the sections of this very thorough document are listed below:
Fire Hazards With Aluminum to Copper Twist-on Connectors & Acceptable Aluminum Wiring Repair Practices Color Photos, Current Issues. 9/28/95 CPSC Meeting Minutes
"Is YOUR Aluminum Wiring Safe?" article discussing safety claims made by some people without looking at the wiring, J. Aronstein, 11/21/95
REPAIRING ALUMINUM WIRING, US CPSC Pub. No. 516 U.S. Consumer Product Safety Commission Publication REPAIRING ALUMINUM WIRING, US CPSC Pub. No. 516available online
* Safety Hazards and Safe Inspection Procedures for Electrical and Home Inspectors at Residential Electric Panels
Electrical Panels, How to Inspect in buildings, safety for electrical inspectors, electrical panel, fusing, wiring defects, defective products. Inspection Class Presentation
Electrical System & Wiring Hazard Inspection, Detection, Cause, Remedy, Prevention - Main Electrical Page
Directory of Home Inspectors accessible via Internet
...