How to Diagnose & Repair
an Air Conditioner that Won't Start
Fix an A/C or Heat Pump that won't start
InspectAPedia tolerates no conflicts of interest. We have no relationship with advertisers, products, or services discussed at this website.
Air conditioner or heat pump won't start:
What to check if your air conditioner or heat pump just won't start at all. Here we give a diagnostic sequence of things to check if the A/C is just not working. Checking these simple items, switches and controls, including some you may not know about (overflow pan switch for example) may get your system running without a costly service call.
This article forms part of our series on how to diagnose an air conditioner or heat pump that is not cooling: this article explains how to diagnose and correct air conditioning problems like lost or reduced air conditioner cooling capacity, reduced or no cool air flow, reduced or no actual lowering of the air temperature, or an air conditioner that won't start.
We also provide a MASTER INDEX to this topic, or you can try the page top or bottom SEARCH BOX as a quick way to find information you need.
What to Check First if the Air Conditioner or Heat Pump Won't Start

Air Conditioner Won't Start - Air conditioning system is not running at all:
Is there no cool air at all coming out of the supply registers? Is the air conditioner or heat pump indoor or outdoor unit silent? If so it's not running. Here is what to check first.
Check first that
the air conditioning equipment is turned on,
the thermostat is calling for cooling, and that
the blower unit or air handler is actually blowing air through the ductwork.
Here are the details of what to check in what order if your air condtioner or heat pump doesn't start at all when you set the room thermostat to call for cooling:


If Steps 1-4 All Check Out OK but the A/C System Is Not Working Check These Items

If the air conditioning system is still not working, or if the A/C system is running but cool air is not coming out of the supply check the following:
Thermostat problems: Air Conditioner Thermostats:
Air conditioner won't turn on, or fan won't turn on or won't turn off.

See THERMOSTATS for a discussion of how air conditioner thermostats work and how the air conditioner blower fan controls work.
Air Conditioner Air Handler Blower motor Won't Start?
See MOTOR OVERLOAD RESET SWITCH just to be sure that the air handler blower fan motor has not shut off on thermal overload.
And if your blower fan is driven by a fan belt and an electric motor, of course check to see that the drive belt is in place and un-damaged. If the blower fan belt is broken the electric motor will run just fine (you may be able to hear it) but the blower fan assembly itself won't be turning.
Air Conditioner Won't Start - electrical problems
If the air handler or indoor blower assembly does not start in response to a call for cooling the no-start problem is probably at the indoor thermostat or at the blower assembly itself.
If the indoor air handler blower runs but the outdoor compressor/condenser unit never starts then the problem is more likely there. If the indoor air handler runs but the outdoor compressor/condenser does not,
see COMPRESSOR / CONDENSER DIAGNOSTICS
1. Check that electricity is on for the equipment, everywhere. Check all switches and controls, including service switches, including outside by the compressor, inside at the air handler, and fuses or circuit breakers in the electrical panel.
See KEY HVAC SWITCHES service switches, circuit breakers, fuses, power

2. Check all of the safety and interlock switches: For example, condensate spilling into an overflow pan that uses a sensor switch can be enough to shut down your air conditioner.

There are several switches and controls, both manual and automatic that can leave an air conditioner or heat pump turned "off" such as a blower compartment door interlock safety switch
BLOWER DOOR SAFETY SWITCH - an open blower door will shut down the air handler unit
CONDENSATE PAN SWITCH LOCKOUT - a condensate tray spillage detector switch (water in the overflow tray shuts down the air handler) Below in this article we give more details about condensate drip tray or overflow tray safety switch problems.
RESET BUTTON, ELECTRIC MOTOR - electric motor overload or overheat switches - a motor overload switch will keep fan motors from running
See A/C - HEAT PUMP CONTROLS & SWITCHES to be sure you have found and checked every manual or automatic electrical switch on the system both at the outdoor compressor/condenser unit and indoors at the air handler and duct system.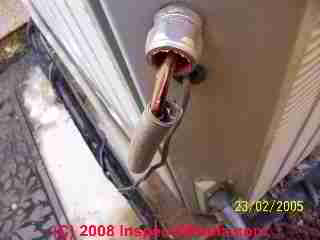 Electrical problems: air conditioning system won't start: it may sound silly, but is the air conditioner turned on?

Has the cooling thermostat been set to "cool" and the temperature set below ambient room temperature?

Do both the outdoor compressor/condenser unit and the indoor blower fan/evaporator coil unit have electrical power?

Has the air conditioning electrical wiring been physically damaged or cut? Photo courtesy of Tim Hemm.

Are the power switches on at these units, are the fuses good, are the circuit breakers in the "on" position, and is the thermostat set correctly?
See THERMOSTATS for more diagnostic tips.
Check the electrical power supply: is power on to all of the A/C equipment and is voltage within normal operating levels for the equipment. We cited this and included some warnings earlier in the article above.
Air conditioner compressor problems, including compressor noises, hard starting, and burned-out compressors, are explained in detail beginning
at COMPRESSOR & CONDENSING COIL and including topics such as
3. Check for a blown fuse locally inside the air handler, such as on or near a control board.
4. Check for a bad contactor or start relay inside the air handler or outside at the compressor/condenser unit
5. Check (or your service tech will check) for a bad or failed starter capacitor for the fan motor in the blower assembly or outdoors at the compressor/condenser unit could also be leaving your system shut down, failing to start a blower motor fan indoors or outside the compressor condenser unit's fan, or compressor motor.
If an electric motor hums but won't start or won't keep running the problem could be a bad start/run capacitor. Of course a frozen bearing or burned-up compressor or motor or even low voltage can also mean a motor hums but won't start - we give links to those diagnostics in step 2 above.
See CAPACITORS for HARD STARTING MOTORS
Air Conditioner Won't Start or Stays Off Due to Condensate Pan Switch - details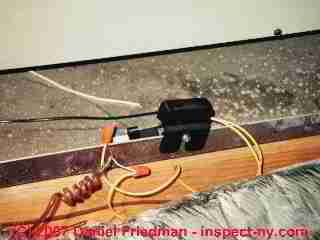 Condensate pan switch lockout: an attic or other air conditioner air handler condensate drip tray or drip pan located under an air handler is installed to catch air handler condensate leaks if the normal condensate drain system fails.
Some condensate pans have their own separate overflow drain (a proper installation) or share their drain with the normal condensate drain (an improper installation).

But on some air conditioning air handlers the installer may provide a condensate overflow pan switch rather than a separate pan drain line.
In this installation the switch is designed to turn off the air conditioning system if it finds condensate water in the overflow pan. The idea is to shut down the air conditioner before there is a more costly leak into the building insulation or ceiling.
Condensate leaks into the condensate pan can shut down the air conditioner.
In tracking down an air conditioner condensate leak, I found that the the condensate pump drain line, a small-diameter PVC pipe, was clogged with water mold.
That was why my air conditioner wasn't kicking on. It would of ended up costing at least a hundred dollars just for a service tech to fix something as simple as that. I had to take the pump apart and clean it. I took off the PVC drain line coming out of inside air conditioner and blow and clean it all out too. - Jacob Behrends, FL
(July 24, 2014) Randy said:

The central a/c in my Florida home (in late July) would not turn on and the temp in the house was well above the preset temp of 78. Fearing a complete failure (the system is 17 years old) I googled my problem and eventually found this very clear and concise Inspectapedia site.
The past few days I could hear water dripping in the condensate drip pan and new something was up as this never happened before. I climbed my ladder at 11:30p and sure enough the condensate float switch was parallel to the tray meaning it tripped and turned the a/c system off. Grabbed my shopvac and within minutes the immediate problem was solved - Now to clear the drain...Excellent DIY website!
So if your air conditioning system seems to be normal in all other respects but it simply won't turn on, check for a flooded condensate pan or a defective condensate switch.
See these
Condensate overflow or drip tray fix-it articles:
...
Continue reading at AIR CONDITIONER WON'T START FAQs (diagnostic questions & answers), or select a topic from closely-related articles below, or see our complete INDEX to RELATED ARTICLES below.
Or see these
Air Conditioner or Heat Pump Won't Start or Won't Run Articles
Suggested citation for this web page
AIR CONDITIONER WON'T START at InspectApedia.com - online encyclopedia of building & environmental inspection, testing, diagnosis, repair, & problem prevention advice.
Or use the SEARCH BOX found below to Ask a Question or Search InspectApedia
...
Ask a Question or Search InspectApedia
Questions & answers or comments about air conditioner system diagnosis & repair
Try the search box just below, or if you prefer, post a question or comment in the Comments box below and we will respond promptly.
Search the InspectApedia website
Technical Reviewers & References
Click to Show or Hide Citations & References
Timothy Hemm, Yucala, CA, contributed photographs of electrical wiring and equipment installed in California buildings. Mr. Hemm can be contacted at TimHemm@yahoo.com
A/C - HEAT PUMP CONTROLS & SWITCHES: air conditioner controls and switches - begin here if your A/C won't start. Here's an important tip: most refrigeration problems, in air conditioners, refrigerators, or freezers, are electrical, not mechanical. In air conditioning school, we used to drive out and collect abandoned refrigerators that people were tossing out during our community's spring cleanup week. Taking these appliances back into the shop we found that almost always the problem that had caused the owner to dispose of their air conditioner or freezer was in an electrical connection or electrical control. So it's worth checking out switches and controls on an air conditioner before replacing more costly components.
OPERATING DEFECTS: major air conditioning problem symptoms and how to get the air conditioning system working again,e.g. compressor or fan noises, failure to start, and inadequate cool air volume
LOST COOLING CAPACITY: what to do when not enough cool air comes out of the system
COMPRESSOR CONDENSER: problems with air conditioner compressor/condenser units
AIR HANDLER UNIT: problems with the air handler, air filters, and the cooling coil itself
DUCT SYSTEM DEFECTS: problems with the air duct system, air filters, supply registers, return air registers
A/C REFRIGERANT LEAK DETECTION: how to use a TIF5000 to detect air conditioning refrigerant gas leak
A/C DIAGNOSTIC FAQs: air conditioning system diagnostic FAQs: Q&A about air conditioner repair - a detailed air conditioning system diagnostic checklist
Thanks to reader and research scientist Cyril Roberts, Barbados, for technical discussion and investigation of air conditioning system dehumidification problems (April 2009).
Thanks to readers Beth & Dennis for asking about how to improve an inadequate air conditioning system supplying cool air through crawl space ducts and floor registers. (May 2010).
Thanks to reader William Smith for discussing cooling coil leaks and lost cooling capacity diagnosis - June 2010
Thanks to reader Jacob Behrends, FL for discussing how a clogged condensate drain line can overflow condensate into a condensate pan that in turn may contain a safety switch that shuts down the whole air conditioning system. August 2010.
Determining Electric Motor Load and Efficiency, U.S. Department of Energy, web search 08/01/2011, original source: http://www.p2pays.org/ref/40/39569.pdf [copy on file at InspectAPedia.com]
Books & Articles on Building & Environmental Inspection, Testing, Diagnosis, & Repair
Our recommended books about building & mechanical systems design, inspection, problem diagnosis, and repair, and about indoor environment and IAQ testing, diagnosis, and cleanup are at the InspectAPedia Bookstore. Also see our Book Reviews - InspectAPedia.
Complete List of Air Conditioning & Heat Pump Design, Inspection, Repair Books at the InspectAPedia Bookstore.
Modern Refrigeration and Air Conditioning, A. D. Althouse, C.H. Turnquist, A. Bracciano, Goodheart-Willcox Co., 1982
Principles of Refrigeration, R. Warren Marsh, C. Thomas Olivo, Delmar Publishers, 1979
"Air Conditioning & Refrigeration I & II", BOCES Education, Warren Hilliard (instructor), Poughkeepsie, New York, May - July 1982, [classroom notes from air conditioning and refrigeration maintenance and repair course attended by the website author]
Refrigeration and Air Conditioning Technology, 5th Ed., William C. Whitman, William M. Johnson, John Tomczyk, Cengage Learning, 2005, ISBN 1401837654, 9781401837655 1324 pages
...