Water Entry & Water Damage to Buildings
InspectAPedia tolerates no conflicts of interest. We have no relationship with advertisers, products, or services discussed at this website.
How to diagnose the cause of & how to cure building leaks & water entry: key concepts for an effective approach to building, basement, or foundation leaks & waterproofing, how to dry out a wet or flooded building, how to determine a building's leak history, and the age of leaks & water damage.
This series of articles explains the causes of building water entry, leaks, or actual flooding of buildings and describes how to fix building water entry problems.
We describe the damage that is caused by flooding, water entry, or smaller leaks, and we explain how best to cure water entry problems in buildings using a series of measures to keep water out of the building basement or crawl space (or other areas), how to get rid of water or wet conditions in a building, and how to correct building damage, mold, rot, etc. caused by water entry.
We also provide a MASTER INDEX to this topic, or you can try the page top or bottom SEARCH BOX as a quick way to find information you need.
Building Leaks, Water Entry, Flooding, Moisture: Diagnosis, Evaluation, Cure, Prevention - Key Concepts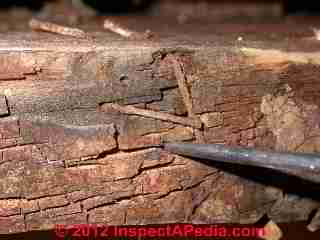 We include a series of detailed "how to" articles for stopping and fixing building water damage.
Our page top photo shows our client pointing to flood lines on a heating system expansion tank, indicating that this building was subject to severe deep flooding. We learned from neighbors that a nearby river had flooded this home and others in its neighborhood repeatedly over the 60 year life of the building.
If your building has been flooded by hurricane, tropical storm, burst pipe, or other water problems, see FLOOD DAMAGE ASSESSMENT, SAFETY & CLEANUP.
Also see BASEMENT LEAKS, INSPECT FOR where we describe procedures for finding evidence of the frequency, extent, source, and causes of leaks, water entry, and actual building flooding - a critical step in evaluating a building as well as in planning the cure for building leaks, water entry, and mold.
Article Contents
The most basic advice we can give on stopping or preventing basement or crawl space water entry is that it's best to find where and why water is leaking into the structure and to correct that source - usually it's outside the home.
If there are reasons that you really cannot address the water problem at its source, a second best approach is to choose among various methods for keeping water out of the building at the last minute - from inside, combined with steps to dry out or remove excess indoor moisture or water, combined with avoiding generating excessive moisture by proper handling of moisture coming from indoor activities.
Here we begin a article series on drying out a wet basement or crawl space and keeping it dry.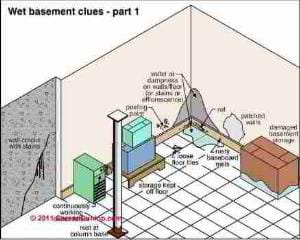 Visual inspection of a the exterior and interior of a building can provide ample evidence of the history of leaks and water entry at a property.
Carson Dunlop Associates' sketch (left) shows some clues that easily indicate a history of wet basement troubles.
Even when a building is brand new, an experienced home inspector or waterproofing or de-watering contractor can spot conditions that are likely to lead to future leaks, water entry, flooding, and moisture or even mold problems at a structure.
At BASEMENT LEAKS, INSPECT FOR we describe how to inspect a building for evidence of its history of leaks, water entry, or flooding.
How Long Does It Take for a Building To Dry Out After a Flood or Leak
Our photos below show the basement dry-out procedure for a New York home that had water entry from a foundation wall leak. Because a finished floor had been put down over wood sleepers, it would have been virtually impossible to dry out this space without pulling up the flooring.
The contractor also removed the bottom foot of all drywall to permit inspection of wall cavities for leak signs. It was that step that allowed us to trace this basement soaking to a single foundation wall crack.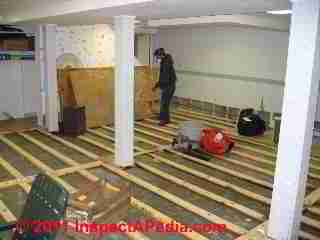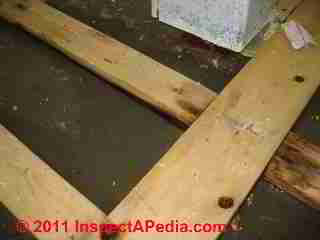 The length of time required for wet conditions in a building to dry out is quite variable, depending on multiple factors. The time for water to dry in a wall cavity can be substantial, depending on:
the original wetness level: Was the building flooded, was there a plumbing leak, is the moisture due to trapped condensation?
the building materials involved: more porous materials dry more rapidly and permit the cavities they cover to dry more rapidly
the amount of air movement in and out of wet or damp building cavities as well as along the outer surfaces of damp materials or wet building cavities (this is why we supplement use of dehumidifiers with area fans when drying out a building).
the permeability of building surface coverings: more porous materials dry more rapidly; building walls, floors, ceilings that include openings or cracks might dry more rapidly, but probably unevenly and unreliably nonetheless
temperatures and relative humidity outside the wet building cavities on all sides
other factors such as weather involving wind (and wind direction), intermittent rain or snow, etc.
A Comparison of the Effectiveness of Basic Building Dry-Out Procedures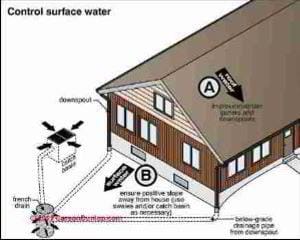 We have inspected numerous buildings after flooding or severe plumbing leaks, and we have examined and tested the results of various building dry-out, "de watering", or "water extraction" methods used by contractors.
Carson Dunlop Associates' sketch (left) shows common measures to control roof and surface runoff to get water away from the building. In general this is the first step in stopping or preventing wet basements or crawl spaces.
Detailed Investigation to Determine the Extent of Basement Water Entry
Even when drywall is measured (using a moisture meter) as "dry", we have pulled off wall baseboard trim to find visible water and soaking conditions in such locations.
Readers who need to know how to properly respond to flooded buildings should see our series of articles beginning
at FLOOD DAMAGE ASSESSMENT, SAFETY & CLEANUP
and also FLOOD RESPONSE CHECKLIST.
Simply operating a dehumidifier and/or fans will not remove moisture from wet building cavities fast enough to avoid a risk of hidden mold contamination.
Making small 2" diameter openings along the bottom of a wall, or even along the bottom and top of a wall between each wall stud pair in order to try to speed wall cavity dryout has proven ineffective and has resulted in severe mold contamination in some locations.
Strip cuts at the entire length of the bottom of walls in a room that has been flooded, removing the bottom 12" of drywall or plasterboard is often sufficient to dry out cavities that were not flooded to higher levels, but check for wet materials such as wet insulation at higher levels in the wall cavity and extend the strip cut higher as necessary.
Complete wall covering demolition indoors is often needed on at least one side of the wall to rapidly dry cavities that were wet from above, such as during a fire extinguishment, an upper floor plumbing leak, or severe building flooding. Similar approaches may be used for wet ceilings.
Wet carpeting needs to be removed and disposed-of;
Wet finish flooring that has buckled or moved will probably have to be demolished. Often it is possible to allow subflooring to remain in place if it is not water-damaged.
See TRAPPED MOLD BETWEEN WOOD SURFACES for details.
Wet building insulation needs to be removed and disposed-of, not re-used.
Six Topics to Sort Out Building Leaks, Water Entry Cause, Cure, and Prevention
A series of detailed articles addressing these categories are listed below. Contact Us to suggest changes and additions to this material.
Present building condition: how wet or dry is the building, what building surfaces or cavities have become wet, what steps have already been taken or need to be taken to dry out the building.
See WATER ENTRY in BUILDINGS for a discussion of sources of building leaks, moisture, and moisture related problems other than actual building flooding.
Building water entry damage control: what emergency steps should we take to minimize damage to a building that has suddenly been wet by leaks or flooding? (If your home has been flooded
see FLOODS IN BUILDINGS-priorities first)
Building water entry history: Identify evidence of the leak, water entry, moisture, or flood history at the building.
Building water entry causes: identify building or site conditions likely to cause leaks, moisture, basement or crawl space water entry, or actual flooding at the building. Often on older buildings there has been a history of water entry and there may be multiple sources of water entry, confusing insurance claims as well as proper building repair procedures.
Building Leaks & water entry cures: what should we do, in what priority order, to stop recurrent water and moisture problems at a building?
Building water entry and flood damage prevention: what should we do at any building to prevent future leaks, condensation, water entry, or actual flooding at a building
Evidence of Prior Building Water Entry & Flooding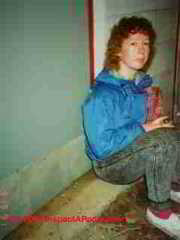 This home inspection client was not happy to learn that the home she had recently purchased had been the subject of recurrent basement and crawl space flooding.
Flood lines in a building indicate the depth of water entry. Careful observation of water and mud stains can also indicate the number of significant floods that have occurred as well as possibly their frequency.
Even after a post-flood cleanup it is usually the case that clues of a building's history of leaks and water entry can be found.
See BASEMENT LEAKS, INSPECT FOR

Also see FLOOD Damage Assessment & Repairs.
How to Sort Out Evidence of the Age & History of Water Entry or Leaks In a Building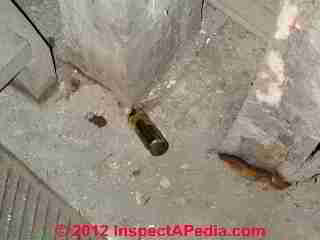 Here is an approach to get a better idea of the building leak and mold or other water damage history.
Three types of wet-building events
Often one can easily spot the difference between
a single water entry or leak event that wet a building - no other wet building areas, no other clues indicating prior leaks
chronic water entry or wetting events - recurrent wetting of the same area from the same cause (or rarely, from different causes), often seasonal or weather related, such as during spring thaw, spring flooding, or hurricane season
episodic but not chronic wetting events (a roof leak 10 years ago that soaked attic and wall cavities, a fire 10 years ago that soaked entire building floors, a burst pipe last week) - by noting water leak evidence in varying, disparate, even not-connected, or not entirely overlapping wet areas and events; correlate leak events to known hurricanes, floods, storms
In our photo above, our screwdriver has pushed easily in to its handle through the bottom of a wood post set into a concrete floor. Look closely and you can see water lines about five inches up from the floor on this post bottom and much lower water stains on the bottom of the stair stringer in the upper right of the photo. Give careful thought to the conclusions you'd draw from this example.
Even without basement flooding a wood post set through a concrete floor slab is likely to suffer rot or insect damage at its hidden end.
See BASEMENT LEAKS, INSPECT FOR for more clues indicating the history of water into a building's lowest floor.
Distinguish Among Recent Water Entry or Flooding & Old or Chronic Water Entry & Flooding in a Building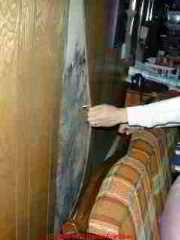 A recent water entry/flood event or an old, single-water-entry event: look for wet areas, stains, mold, but with no long term deterioration of materials (rot) due to water. Note that mold contamination can occur in 24-48 hours after a flooding or water entry event, depending on local conditions; cool temperatures slow the onset of mold contamination, and of course mold growth depends also on just what materials were wet. More about mold and chronic water entry is just below.
Recurrent or chronic water leak area: look for wet or dry but stained areas, suggested by
evidence of rotted or decayed wood trim - check the back side of floor baseboard molding, unlike mold growth, rot doesn't show up in just a few days after a flooding event
check height of water stains behind vertical door trim moldings 
check for multiple stain lines that may indicate multiple water entry events, though watch out as slowly receding floodwaters can also leave multiple stains on vertical surfaces
Our photo at above left shows me finding significant mold contamination behind paneling that itself looked perfectly clean; the floor trim in this basement was also intact and it was difficult to find clues suggesting prior flooding and certainly there was no evidence of chronic water entry.
But the owner's daughter had immediate breathing difficulties and asthma attacks immediately on entering this basement area - in fact her reaction started when she opened the door to the basement. On reviewing the history of the home the owners noted that more than a decade before there had been a burst sewer line and sewage backup that wet the basement floors. All exposed surfaces were cleaned, dried, disinfected within 24 hours. But no one thought about the wetting that had occurred within the wall cavities and behind the paneling.
Study Trim & Trim Hidden Sides to Learn Building Leak History
Our photo at below left shows door and floor trim removed from a home that had experienced a single-event flood from a burst toilet tank. Notice that although these trim components had been wet, there are no stains, no rot, no mold evident in the picture. This suggests that these components had not been subjected to recurrent flooding or wet floors.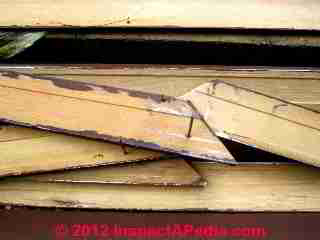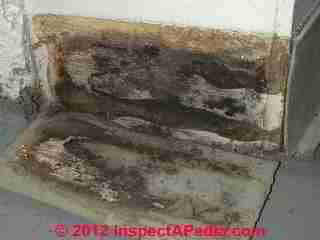 At below left, we have removed (without damaging it) floor baseboard trim to show the absence of any water stains on both the hidden side of the trim as well as on the drywall behind it. This area has not been wet since these materials were put in place.
At below right, we have two clues of prior water entry: the stains and fungal growth on the back side of the plastic baseboard molding trim and on the wall surface behind it; and while plastic baseboard trim is widely used (e.g. in kitchens and baths and some commercial areas), in a finished residential basement above a tile or concrete floor, its use may indicate that previously people got sick of dealing with wet floor problems there.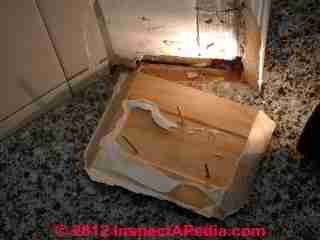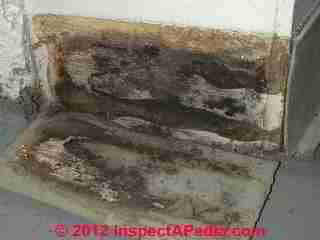 Watch out: mold growth in a building may be quite recent (just a few days old) to months or even years. Some mold growth details and growth structures can suggest that there has been a long-standing mold contamination problem in a building.
See AGE of MOLD, HOW OLD for details.
At below left, the thick mold on the underside of the pantry shelf occurred following a single event building flood in a home that was left unattended for weeks or longer. But if you find rot on wood structural members, floor sills, or on the back side of floor baseboard trim (Photo below right), then this component and this building area has been wet repeatedly and over a long time.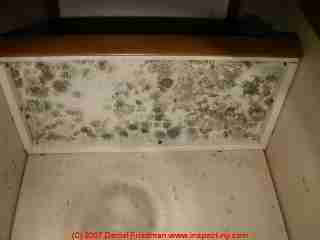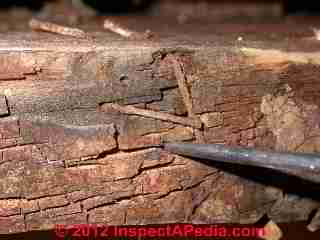 How to Study Carpeting Tack Strips to Learn the Building's Wet Floor History
Here we illustrate how to sort out among four wet floor cases:
clearly the floor and carpet were never wet
the floor and carpeting have been wet at least once, probably not repeatedly
the floor and carpeting have been wet at least once, and we are not sure if it was chronic or not - (let's be honest here)
the floor and carpeting have been wet certainly more than once, chronically
Our photo at below left illustrates carpet tack strips that have in our OPINION never been wet more. Notice also there are no water stains on the OSB subfloor around the tack strip, BUT the surface itself looked a bit rough - a condition that can be caused by water. That rough surface of the OSB made us decide we needed to look further under this carpet. What we found is shown in our second photo, below right. There was evidence of what appeared to be a single-event flood.
Notice the water stains on the tack strips in the upper photo areas as well as water stains on the subflooring. This sequence illustrates the danger of too-hasty spot-checks for water entry. In the photo at below right, in that picture's lower left corner you can see that the owner had installed new carpet tack strips in some areas when a previously-wet carpet was replaced. That's what our first photo at below left had discovered.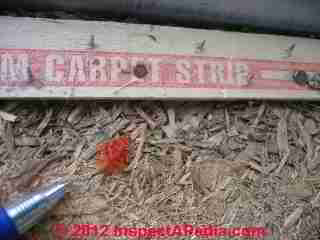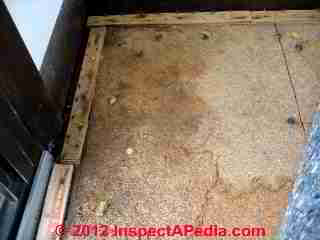 Let's not pretend we can be more certain about building water entry history than is appropriate to the evidence at hand. At below left, to me the carpet tack strip looks like one that remained wet for some time - the nails are quite rusty and black stains have spread into the wood of the tack strip.
But I don't see rot nor significant damage at the wall itself. This could have been a single event wet floor that stayed wet for longer than just a few days; or there may have been more than one wet floor event. I'm uncertain.
In contrast, our photo at below right illustrates carpet tack strips that have in our OPINION almost certainly been wet more than once. Also note the rust stains on the bottom of the carpet itself.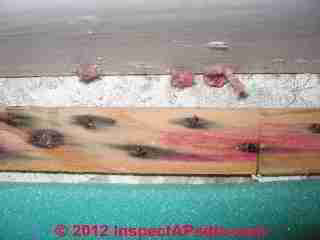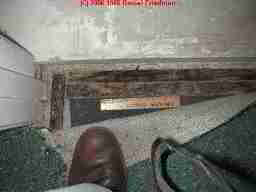 But here is a water entry case that we can sort out. At below left I've pulled back carpet in a corner (that's the easiest place to pull up wall-to-wall floor carpeting without tearing it) to show dark stains and damage to the tack strips and some stains on the back of the carpeting itself.
To me this looked like chronic water damage. Now taking a close look at the bottom of the baseboard trim at the floor-wall juncture (photo below right), you can see unequivocal evidence of chronic water entry: the bottom of the floor trim is rotted. This was not a single-event wet floor.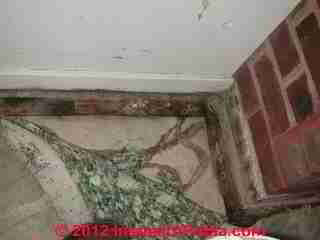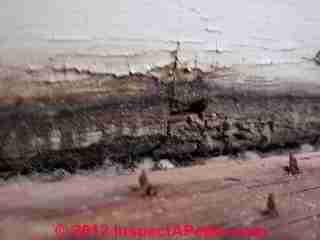 Links to Key Articles on Diagnosing & Curing Moisture and Water Problems in Buildings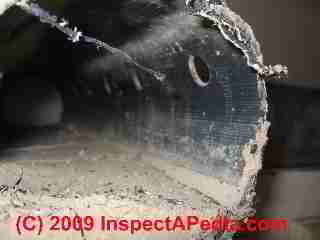 Photo of a mud-clogged footing drain
Our client saved this partly-clogged footing drain that was excavated from around their nearly-new but very wet home to show how quickly soils can enter and block drainage at a property if the system was not properly installed.
Scroll down to see our links to building water-entry related articles on the detection, diagnosis, cure, and prevention of building water damage and water related problems such as rot and mold.
Comment on Using Moisture Meters During a Home Inspection to Screen Buildings for Leaks or Mold
Question: will my inspector test for moisture?
I am scheduling a pre-purchase home inspection and my real estate agent asked a question about moisture detection: he wants to know if the home inspector will check the moisture level in Sheetrock? - C.W., New York, NY.
Reply: ... it depends ...
Moisture meters, particularly pin-type probing moisture meters that detect moisture by sending an electrical signal between two probes inserted into a material (such as the time-tested Delmhorst™ twin-point electronic resistance moisture meter shown at left) are one of the first tools that many building inspectors purchase after a flashlight, ladder, and screwdriver.
Relying on any test instrument, as we discuss at GAS DETECTOR WARNINGS , is not a good substitute for a careful inspection. While using a moisture meter is a popular tool among home inspectors and building environmental inspectors or "mold investigators", and a useful one, the visual inspection of a building for leak history is much more critical than a general "check" using a moisture meter.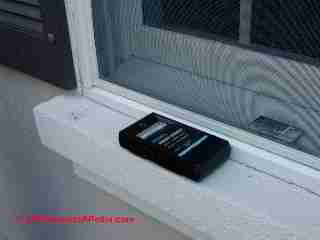 After all, the building could have had a history of leaks in the past, as well as hidden rot, insect damage, or mold, related to leaks or trapped moisture, but the leak spot could happen to be dry at the time of testing.
Absence of evidence of moisture when using a moisture meter in a building is not evidence of absence of a history of building leaks, and there is a long list of visual clues that readily tell the story of a building's leak history or the risk of building flooding. .
So properly a moisture meter is, in our opinion, useful principally to confirm that a leak is current. We also find moisture meters useful, particularly radio-signal based non-probing moisture meters such the Tramex™ electronic moisture encounter, to check for hidden leaks behind ceramic tile walls in bathrooms and kitchens where probing is impossible.
Tramex also makes pin-type moisture meters.
And certainly "spot checks for moisture" done randomly at a building would be nonsense.
In a field study we conducted in February 2004 we compared the effectiveness of various methods to test for moisture in the walls of a home reported to have suffered leaks from ice dams at its roof eaves. We surveyed the inside surface of building exterior walls of the entire second floor front and rear building surfaces using the popular tools and methods - the results are reported at MOISTURE METER STUDY.
Home buyers and home owners are right to worry about building leaks and moisture - water where we don't want it is at the top of the list of sources of building problems. If you have a particular reason to be suspicious about something be sure to let the inspector know.
Watch out for "show and tell" tools that impress the client but are a poor substitute for doing a good job.
...
Continue reading at BASEMENT LEAKS, INSPECT FOR or select a topic from closely-related articles below, or see our complete INDEX to RELATED ARTICLES below.
Or see BASEMENT WATERPROOFING
Or see CRAWL SPACE DRYOUT
Or see GRADING, DRAINAGE & SITE WORK
Or see GUTTERS & DOWNSPOUTS
Or see MOISTURE CONTROL in BUILDINGS
Suggested citation for this web page
WATER ENTRY in BUILDINGS at InspectApedia.com - online encyclopedia of building & environmental inspection, testing, diagnosis, repair, & problem prevention advice.
Or use the SEARCH BOX found below to Ask a Question or Search InspectApedia
...
Frequently Asked Questions (FAQs)
Try the search box below or CONTACT US by email if you cannot find the answer you need at InspectApedia.
...
Ask a Question or Search InspectApedia
Use the "Click to Show or Hide FAQs" link just above to see recently-posted questions, comments, replies, try the search box just below, or if you prefer, post a question or comment in the Comments box below and we will respond promptly.
Search the InspectApedia website
Technical Reviewers & References
Click to Show or Hide Citations & References
International Residential Code, IRC Section R406, Foundation Waterproofing and Dampproofing, http://publicecodes.cyberregs.com/icod/irc/2012/icod_irc_2012_4_sec006.htm, retrieved 3/2/2013
Mark Cramer Inspection Services Mark Cramer, Tampa Florida, Mr. Cramer is a past president of ASHI, the American Society of Home Inspectors and is a Florida home inspector and home inspection educator. Mr. Cramer serves on the ASHI Home Inspection Standards. Contact Mark Cramer at: 727-595-4211 mark@BestTampaInspector.com
John Cranor is an ASHI member and a home inspector (The House Whisperer) is located in Glen Allen, VA 23060. He is also a contributor to InspectApedia.com in several technical areas such as plumbing and appliances (dryer vents). Contact Mr. Cranor at 804-747-7747 or by Email: johncranor@verizon.net
Books & Articles on Building & Environmental Inspection, Testing, Diagnosis, & Repair
Best Practices Guide to Residential Construction, by Steven Bliss. John Wiley & Sons, 2006. ISBN-10: 0471648361, ISBN-13: 978-0471648369, Hardcover: 320 pages, available from Amazon.com and also Wiley.com. See our book review of this publication.
Decks and Porches, the JLC Guide to, Best Practices for Outdoor Spaces, Steve Bliss (Editor), The Journal of Light Construction, Williston VT, 2010 ISBN 10: 1-928580-42-4, ISBN 13: 978-1-928580-42-3, available from Amazon.com
The Journal of Light Construction has generously given reprint permission to InspectAPedia.com for certain articles found at this website. All rights and contents to those materials are ©Journal of Light Construction and may not be reproduced in any form.
Appliances and Home Electronics, - energy savings, U.S. Department of Energy
Avongard foundation crack progress chart for structural crack monitoring
Basement Moisture Control, U.S. Department of Energy
Building Failures, Diagnosis & Avoidance, 2d Ed., W.H. Ransom, E.& F. Spon, New York, 1987 ISBN 0-419-14270-3
Building Pathology, Deterioration, Diagnostics, and Intervention, Samuel Y. Harris, P.E., AIA, Esq., ISBN 0-471-33172-4, John Wiley & Sons, 2001 [General building science-DF] ISBN-10: 0471331724 ISBN-13: 978-0471331728
Building Pathology: Principles and Practice, David Watt, Wiley-Blackwell; 2 edition (March 7, 2008) ISBN-10: 1405161035 ISBN-13: 978-1405161039
The Circular Staircase, Mary Roberts Rinehart
Construction Drawings and Details, Rosemary Kilmer
Crawl Space Moisture Control, U.S. Department of Energy
Design of Wood Structures - ASD, Donald E. Breyer, Kenneth Fridley, Kelly Cobeen, David Pollock, McGraw Hill, 2003, ISBN-10: 0071379320, ISBN-13: 978-0071379328
This book is an update of a long-established text dating from at least 1988 (DJF); Quoting:
This book is gives a good grasp of seismic design for wood structures. Many of the examples especially near the end are good practice for the California PE Special Seismic Exam design questions. It gives a good grasp of how seismic forces move through a building and how to calculate those forces at various locations. THE CLASSIC TEXT ON WOOD DESIGN UPDATED TO INCLUDE THE LATEST CODES AND DATA. Reflects the most recent provisions of the 2003 International Building Code and 2001 National Design Specification for Wood Construction. Continuing the sterling standard set by earlier editions, this indispensable reference clearly explains the best wood design techniques for the safe handling of gravity and lateral loads. Carefully revised and updated to include the new 2003 International Building Code, ASCE 7-02 Minimum Design Loads for Buildings and Other Structures, the 2001 National Design Specification for Wood Construction, and the most recent Allowable Stress Design.
Diagnosing & Repairing House Structure Problems, Edgar O. Seaquist, McGraw Hill, 1980 ISBN 0-07-056013-7 (obsolete, incomplete, missing most diagnosis steps, but very good reading; out of print but used copies are available at Amazon.com, and reprints are available from some inspection tool suppliers). Ed Seaquist was among the first speakers invited to a series of educational conferences organized by D Friedman for ASHI, the American Society of Home Inspectors, where the topic of inspecting the in-service condition of building structures was first addressed.
Domestic Building Surveys, Andrew R. Williams, Kindle book, Amazon.com
Defects and Deterioration in Buildings: A Practical Guide to the Science and Technology of Material Failure, Barry Richardson, Spon Press; 2d Ed (2001), ISBN-10: 041925210X, ISBN-13: 978-0419252108. Quoting:
A professional reference designed to assist surveyors, engineers, architects and contractors in diagnosing existing problems and avoiding them in new buildings. Fully revised and updated, this edition, in new clearer format, covers developments in building defects, and problems such as sick building syndrome. Well liked for its mixture of theory and practice the new edition will complement Hinks and Cook's student textbook on defects at the practitioner level.
Guide to Domestic Building Surveys, Jack Bower, Butterworth Architecture, London, 1988, ISBN 0-408-50000 X
"Avoiding Foundation Failures," Robert Marshall, Journal of Light Construction, July, 1996 (Highly recommend this article-DF)
"A Foundation for Unstable Soils," Harris Hyman, P.E., Journal of Light Construction, May 1995
"Backfilling Basics," Buck Bartley, Journal of Light Construction, October 1994
"Inspecting Block Foundations," Donald V. Cohen, P.E., ASHI Reporter, December 1998. This article in turn cites the Fine Homebuilding article noted below.
"When Block Foundations go Bad," Fine Homebuilding, June/July 1998
Historic Preservation Technology: A Primer, Robert A. Young, Wiley (March 21, 2008) ISBN-10: 0471788368 ISBN-13: 978-0471788362
Log Homes: Minimizing Air Leakage in Log Homes, U.S. Department of Energy
Manual for the Inspection of Residential Wood Decks and Balconies, by Cheryl Anderson, Frank Woeste (Forest Products Society), & Joseph Loferski, October 2003, ISBN-13: 978-1892529343, $39.00 at Amazon.com or at the InspectAPediaBookstore
Masonry structures: The Masonry House, Home Inspection of a Masonry Building & Systems, Stephen Showalter (director, actor), DVD, Quoting:
Movie Guide Experienced home inspectors and new home inspectors alike are sure to learn invaluable tips in this release designed to take viewers step-by-step through the home inspection process. In addition to being the former president of the National Association of Home Inspectors (NAHI), a longstanding member of the NAHI, the American Society of Home Inspectors (ASHI), and the Environmental Standard Organization (IESO), host Stephen Showalter has performed over 8000 building inspections - including environmental assessments. Now, the founder of a national home inspection school and inspection training curriculum shares his extensive experience in the inspection industry with everyday viewers looking to learn more about the process of evaluating homes. Topics covered in this release include: evaluation of masonry walls; detection of spalling from rebar failure; inspection of air conditioning systems; grounds and landscaping; electric systems and panel; plumbing supply and distribution; plumbing fixtures; electric furnaces; appliances; evaluation of electric water heaters; and safety techniques. Jason Buchanan --Jason Buchanan, All Movie Review
Masonry Design for Engineers and Architects, M. Hatzinikolas, Y. Korany, Canadian Masonry (2005), ISBN-10: 0978006100, ISBN-13: 978-0978006105
Masonry Structures: Behavior and Design, Robert G. Drysdale, Ahmid A. Hamid, Lawrie R. Baker, The Masonry Society; 2nd edition (1999), ISBN-10: 1929081014, ISBN-13: 978-1929081011
Masonry, Engineered: Using the Canadian Code, J. I. Gainville, Cantext publications (1983), ASIN: B0007C37PG
Masonry, Non-reinforced masonry design tables, Hans J. Schultz, National Concrete Producers Association and the Canadian Masonry Contractors Association (1976), ASIN: B0007C2LQM
Moisture Control in Buildings, U.S. Department of Energy
Moisture Control in Walls, U.S. Department of Energy
Quality Standards for the Professional Remodeling Industry, National Association of Home Builders Remodelers Council, NAHB Research Foundation, 1987.
Quality Standards for the Professional Remodeler, N.U. Ahmed, # Home Builder Pr (February 1991), ISBN-10: 0867183594, ISBN-13: 978-0867183597
R-Value of Wood, U.S. Department of Energy
Slab on Grade Foundation Moisture and Air Leakage, U.S. Department of Energy
Straw Bale Home Design, U.S. Department of Energy provides information on strawbale home construction - original source at http://www.energysavers.gov/your_home/designing_remodeling/index.cfm/mytopic=10350
More Straw Bale Building: A Complete Guide to Designing and Building with Straw (Mother Earth News Wiser Living Series), Chris Magwood, Peter Mack, New Society Publishers (February 1, 2005), ISBN-10: 0865715181 ISBN-13: 978-0865715189 - Quoting:
Straw bale houses are easy to build, affordable, super energy efficient, environmentally friendly, attractive, and can be designed to match the builder's personal space needs, esthetics and budget. Despite mushrooming interest in the technique, however, most straw bale books focus on "selling" the dream of straw bale building, but don't adequately address the most critical issues faced by bale house builders. Moreover, since many developments in this field are recent, few books are completely up to date with the latest techniques.
More Straw Bale Building is designed to fill this gap. A completely rewritten edition of the 20,000-copy best--selling original, it leads the potential builder through the entire process of building a bale structure, tackling all the practical issues: finding and choosing bales; developing sound building plans; roofing; electrical, plumbing, and heating systems; building code compliance; and special concerns for builders in northern climates.
"Vapor Barriers or Vapor Diffusion Retarders", U.S. DOE: how vapor barriers work, types of vapor diffusion barriers, installing vapor barrier
Ventilation for energy efficient buildings, Purpose, Strategies, etc.,
...