InspectAPedia tolerates no conflicts of interest. We have no relationship with advertisers, products, or services discussed at this website.
Clay tile roof slope, sheathing, underlayment specifications: this article describes the requirements & specifications for clay tile roof installation: roof slope, roof sheathing,m and clay tile roof underlayment.
This article series discusses best practices in the selection and installation of residential roofing. This article includes excerpts or adaptations from Best Practices Guide to Residential Construction, by Steven Bliss, courtesy of Wiley & Sons.
Also see our clay roof tile home page CLAY TILE ROOFING and see CLAY TILE ROOF STYLES, DESIGNS for detailed descriptions of different clay roof tile styles and characteristics, and see ROOFING TILE SHAPES & PROFILES for the basics of roof tile profiles and what they mean.
Green links show where you are. © Copyright 2015 InspectApedia.com, All Rights Reserved.
Tile-Covered Roof Slope Specifications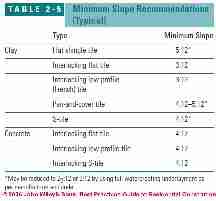 Adapted/paraphrased with permission from Best Practices Guide to Residential Construction, chapter on BEST ROOFING PRACTICES:
Roof Slope Requirements for Tiled Roofs
Most manufacturers recommend minimum slope requirements for their tiles as well as special underlayment and fastening techniques for low-slope installations.
[Click to enlarge any image]
Typical minimums are shown in Table 2-5. Some manufacturers allow specific tile types to be installed on roofs as shallow as 2 1/2 :12 if a full waterproofing layer, such as a built-up roof or single-ply membrane, is installed.
Reduced exposure and special fastening techniques may also be required for low slopes.
On slopes less than 3 1/2 :12, roofing tile is considered decorative only. The underlying roof provides all the necessary waterproofing.
In general, there is no maximum slope for tile roofs. However, on extremely steep roofs above 19:12 or on vertical applications, wind currents may cause tiles to rattle. To avoid this, use wind clips on each tile along with a construction grade silicone sealant or other approved sealant.
More information about roof slope & roof slope calculation or measurement is at ROOF SLOPE DEFINITIONS.
Roof Sheathing Requirements for Tiled Roofs
While spaced sheathing is allowed under the codes, most installations today are done on solid wood sheathing with or without battens. The sheathing must be strong enough to support the required loads between rafters. Minimum requirements are nominal 1 inch for board sheathing or 15/32 for plywood and other approved panel products.
Underlayment Requirements for Clay Tiled Roofs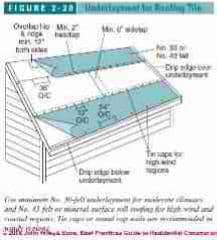 Because of the long service life of tile, a long-lasting underlayment should be used as well. Underlayments play a key role in tile roofing, since most tile roofs are not completely waterproof.
At a minimum, use a Type II No. 30 or No. 43 felt, lapped 2 inches on horizontal joints and 6 inches at end laps. The underlayment should lap over hips and ridges 12 inches in each direction and turn up vertical surfaces a minimum of 4 inches (Figure 2-20).
At tricky areas, such as around roof vents, chimneys, and skylights, self-adhesive bituminous membrane can help achieve a watertight seal.
In windy areas, use tin caps or round cap nails to hold the underlayment securely. The fastening schedule for the underlayment will depend on local wind conditions.
For harsher conditions or shallower slopes, use mineral surface roll roofing, self-adhering bituminous membrane, or other durable waterproofing systems.
For slopes below 3-1/2:12 the underlayment must provide complete weather protection, and the tiles are considered merely decorative. Underlayment recommendations for different types of tiles and climate conditions are shown in Table 2-6, Table 2-7, and Table 2-8 below. [Click to enlarge any tables or images in these articles.]
Tile Roof Underlayment Options from NRCA
In the 1990's NRCA's Thomas Smith noted that a paper published in the Proceedings of the 10th Conference on Roofing Technology expressed concern for the lack of conservative roofing industry guidelines for the components of tile roofing systems in the U.S.
The recommendations in the then-current NRCA Steep Roofing and Waterproofing Manual indeed included recommendations for tile roof underlayment, fasteners, and metal flashings, but Smith noted that these were "non-conservative" for many areas in the United States (and other locations of challenging weather). Smith posed some interim underlayment options to improve the life of tile roof systems, including for 4" in 12" or greater (steeper) sloped tile roofs:
A single layer of organic smooth-surfaced roll roofing meeting ASTM D 224 Type I or II (II is preferable)
Two layers of coated organic base sheet meeting ASTM D 2626 (un perforated)
Two layers of organic felt meeting ATM D226 Type II (30 pound felt) over 1 layer of ASTM D226 Type I (15 pound felt)
One layer of self-adhering modified bitumen meeting ASTM D 1970, over one layer of ASTM D226 Type I (15 pound felt) to make it easier to later remove self-adhering underlayment and reducing moisture damage to the deck
One layer of self-adhering modified bitumen underlayment meeting ASTM D 1970, under one layer of ADTM D 226 Type II 30 pound felt
Certain types of SBS modified bitumen, heavyweight sheets may also be good underlayments, but Smith noted that until ASTM standards were developed, specifying those products was difficult.
Special provisions were needed for lower slope roofs (under 4" in 12")
Roofing Materials, Methods, Standards
Asphalt Roofing Manufacturers Association (ARMA) www.asphaltroofing.org
Cedar Shake and Shingle Bureau www.cedarbureau.org
Metal Roofing Alliance www.metalroofing.com
The Tile Roofing Institute, 23607 Highway 99, Suite 2C Edmonds WA 98026 P: 425.778.6162 F: 425.771.9588 Email: info@tileroofing.org, Website: http://tileroofing.org supported by the Western States Roofing Contractors Association. The Tile Roofing Institute publishes the "Concrete and Clay Roof Tile Installation Manual for Moderate Climate Regions, Design Criteria", retrived 5/2/2014, original source: http://www.tileroofing.org/tri/wp-content/uploads/2014/01/ TRI_Moderate_Guide_HIGH_RES.pdf
Where to Buy Concrete Roof Tiles
Bartile Roofs www.bartile.com
Eagle Roofing Products www.eagleroofing.com
Entegra Roof Tile www.entegra.com MonierLifetile www.monierlifetile.com
Vande Hey-Raleigh www.vhr-roof-tile.com
Westile www.westile.com
Where to Buy Clay Roof Tiles
Altusa, Clay Forever LLC www.altusa.com
Ludowici Roof Tile www.ludowici.com
MCA Clay Tile www.mca-tile.com
U.S. Tile Co. www.ustile.com
-- Adapted with permission from Best Practices Guide to Residential Construction.
More Reading
Green link shows where you are in this article series.
...
Frequently Asked Questions (FAQs) about clay tile roof slopes & requirement for underlayment
Question: What is the minimum slope for a tile roof?
(Feb 18, 2013) what is minimum roof degree requ said:
what is minimum roof degree require for clay roof tile
Reply: waterproof membrane required beneath roofs at slope under 3:12
About minimum slope allowed for clay tile roofs or other tile roofs, if you read through standards such as ICC-ES-ESR2015 "Concrete and Clay Roof Tile Installation Manual for Moderate Climates" (copy on file) you'll see that there is no prohibition of clay tiles on low slope roofs. Rather for slopes at 3:12 or less the installer is required to install a BUR or similar waterproof membrane on the roof below the tiles.
The document I cite is available from the Roofing Institute - the Western States Roofing Contractors Association (TRI/WSCRA) and other sources.
I give contact information for the Tile Roofing Institute in the article above,
Question: why do I see daylight through the tile roof? Does that mean it leaks?
(Jan 25, 2013) Anonymous said:
I am in process of Purchasing a home with spanish clay tile without underlayment. We checked for water leaks and surprisingly there are none but on a sunny day, we can see the light poking through the holes...How could that be? Can someone advise if it is safe to purchase it. There are [no] water stains either
5/2/2014 Rob said:
Hi anonymous, hopefully I can catch you. I am curious about what happened in your situation. I just found out that the home I really want to buy has the same problem with no underlayment (concrete tiles,not clay).
Reply:
Rob and Anon,
On some roof designs, particularly if there is sufficiently steep slope, in the attic one might observe daylight filtering in through the roof covering for a slate or clay tile roof that is installed on spaced nailers. The roof may never leak, given pitch and adequate head lap of the slates or tiles, OR it may leak horribly if there is wind-driven rain blowing water up-slope.
In that circumtance on an older home the observation of leak stains on the nailers or on the floor below would be helpful clues telling us that the roof has or has not leaked.
"Safe to purchase" is too big and vague a question to answer by text with almost no information about a building.
Ask a Question or Search InspectApedia
Questions & answers or comments about clay tile roof slope, sheathing, underlayment specifications.
Use the "Click to Show or Hide FAQs" link just above to see recently-posted questions, comments, replies, try the search box just below, or if you prefer, post a question or comment in the Comments box below and we will respond promptly.
Search the InspectApedia website
Technical Reviewers & References
Publisher's Google+ Page by Daniel Friedman
Click to Show or Hide Citations & References
Books & Articles on Building & Environmental Inspection, Testing, Diagnosis, & Repair
The Home Reference Book - the Encyclopedia of Homes, Carson Dunlop & Associates, Toronto, Ontario, 25th Ed., 2012, is a bound volume of more than 450 illustrated pages that assist home inspectors and home owners in the inspection and detection of problems on buildings. The text is intended as a reference guide to help building owners operate and maintain their home effectively. Field inspection worksheets are included at the back of the volume. Special Offer: For a 10% discount on any number of copies of the Home Reference Book purchased as a single order. Enter INSPECTAHRB in the order payment page "Promo/Redemption" space. InspectAPedia.com editor Daniel Friedman is a contributing author.

Or choose the The Home Reference eBook for PCs, Macs, Kindle, iPad, iPhone, or Android Smart Phones. Special Offer: For a 5% discount on any number of copies of the Home Reference eBook purchased as a single order. Enter INSPECTAEHRB in the order payment page "Promo/Redemption" space.
Best Practices Guide to Residential Construction, by Steven Bliss. John Wiley & Sons, 2006. ISBN-10: 0471648361, ISBN-13: 978-0471648369, Hardcover: 320 pages, available from Amazon.com and also Wiley.com. See our book review of this publication.
Decks and Porches, the JLC Guide to, Best Practices for Outdoor Spaces, Steve Bliss (Editor), The Journal of Light Construction, Williston VT, 2010 ISBN 10: 1-928580-42-4, ISBN 13: 978-1-928580-42-3, available from Amazon.com
The Journal of Light Construction has generously given reprint permission to InspectAPedia.com for this article. All rights and contents are ©Journal of Light Construction and may not be reproduced in any form.
Architectural elements: the technological revolution: Galvanized iron roof plates and corrugated sheets; cast iron facades, columns, door and window caps, ... (American historical catalog collection), Diana S Waite, available used out of Amazon.
Building Pathology, Deterioration, Diagnostics, and Intervention, Samuel Y. Harris, P.E., AIA, Esq., ISBN 0-471-33172-4, John Wiley & Sons, 2001 [General building science-DF] ISBN-10: 0471331724 ISBN-13: 978-0471331728
Building Pathology: Principles and Practice, David Watt, Wiley-Blackwell; 2 edition (March 7, 2008) ISBN-10: 1405161035 ISBN-13: 978-1405161039
Built-Up Roof Systems, Manual, C.W. Griffin, Mcgraw-Hill (Tx); 2nd edition (July 1982), ISBN-10: 0070247838, ISBN-13: 978-0070247833
Concrete Folded Plate Roofs, C. Wilby PhD BSc CEng FICE FIStructE (Author), Butterworth-Heinemann, 1998, ISBN-10: 0340662662, ISBN-13: 978-0340662663
Concrete Shell Roofs, C. Wilby PhD BSc CEng FICE FIStructE (Author),
Concrete Dome Roofs (Longman Concrete Design and Construction Series),
Concrete Roofing Tile, History of the, Batsford, 1959, AISN B000HLLOUC (availble used)
Copper Roofing, by CDA
Copper Roofing, Master specifications for copper roofing and sheet metal work in building construction: Institutional, commercial, industrial, I.E. Anderson, 1961 (hard to find)
Corrugated Iron, Building on the Frontier, Simon Holloway
Green Roof Plants: A Resource and Planting Guide, Edmund C. Snodgrass, Lucie L. Snodgrass, Timber Press, Incorporated, 2006, ISBN-10: 0881927872, ISBN-13: 978-0881927870. The text covers moisture needs, heat tolerance, hardiness, bloom color, foliage characteristics, and height of 350 species and cultivars.
Green Roof Construction and Maintenance, Kelley Luckett, McGraw-Hill Professional, 2009, ISBN-10: 007160880X, ISBN-13: 978-0071608800, quoting: Key questions to ask at each stage of the green building process Tested tips and techniques for successful structural design Construction methods for new and existing buildings Information on insulation, drainage, detailing, irrigation, and plant selection Details on optimal soil formulation Illustrations featuring various stages of construction Best practices for green roof maintenance A survey of environmental benefits, including evapo-transpiration, storm-water management, habitat restoration, and improvement of air quality Tips on the LEED design and certification process Considerations for assessing return on investment Color photographs of successfully installed green roofs Useful checklists, tables, and charts
Handbook of Building Crafts in Conservation, Jack Bower, Ed., Van Nostrand Reinhold Company, NY 1981 ISBN 0-442-2135-3 Library of Congress Catalog Card Nr. 81-50643.
Historic Preservation Technology: A Primer, Robert A. Young, Wiley (March 21, 2008) ISBN-10: 0471788368 ISBN-13: 978-0471788362
Historic Slate Roofs : With How-to Info and Specifications, Tina Skinner (Ed), Schiffer Publishing, 2008, ISBN-10: 0764330012 , ISBN-13: 978-0764330018
Low Slope Roofing, Manual of, 4th Ed., C.W. Griffin, Richard Fricklas, McGraw-Hill Professional; 4 edition, 2006, ISBN-10: 007145828X, ISBN-13: 978-0071458283

Roof failure causes in depth (and specific methods for avoiding them)
Roof design fundamentals and flourishes, based on voluminous industry research and experience
New technologies and materials -- using them safely and correctly
Comprehensive coverage of all major roofing systems pecifications, inspection, and maintenance tools for roofing work

Metal Roofing, an Illustrated Guide, R.A. Knowlton , [metal shingle roofs],
Patio Roofs, how to build, Sunset Books
Problems in Roofing Design, B. Harrison McCampbell, Butterworth Heineman, 1991 ISBN 0-7506-9162-X (available used)
Roofing The Right Way, Steven Bolt, McGraw-Hill Professional; 3rd Ed (1996), ISBN-10: 0070066507, ISBN-13: 978-0070066502
Slate Roofs, National Slate Association, 1926, reprinted 1977 by Vermont Structural Slate Co., Inc., Fair Haven, VT 05743, 802-265-4933/34. (We recommend this book if you can find it. It has gone in and out of print on occasion.)
Roof Tiling & Slating, a Practical Guide, Kevin Taylor, Crowood Press (2008), ISBN 978-1847970237,
If you have never fixed a roof tile or slate before but have wondered how to go about repairing or replacing them, then this is the book for you. Many of the technical books about roof tiling and slating are rather vague and conveniently ignore some of the trickier problems and how they can be resolved. In Roof Tiling and Slating, the author rejects this cautious approach. Kevin Taylor uses both his extensive knowledge of the trade and his ability to explain the subject in easily understandable terms, to demonstrate how to carry out the work safely to a high standard, using tried and tested methods. 
This clay roof tile guide considers the various types of tiles, slates, and roofing materials on the market as well as their uses, how to estimate the required quantities, and where to buy them. It also discusses how to check and assess a roof and how to identify and rectify problems; describes how to efficiently "set out" roofs from small, simple jobs to larger and more complicated projects, thus making the work quicker, simpler, and neater; examines the correct and the incorrect ways of installing background materials such as underlay, battens, and valley liners; explains how to install interlocking tiles, plain tiles, and artificial and natural slates; covers both modern and traditional methods and skills, including cutting materials by hand without the assistance of power tools; and provides invaluable guidance on repairs and maintenance issues, and highlights common mistakes and how they can be avoided. The author, Kevin Taylor, works for the National Federation of Roofing Contractors as a technical manager presenting technical advice and providing education and training for young roofers.
The Slate Roof Bible, Joseph Jenkins, www.jenkinsslate.com, 143 Forest Lane, PO Box 607, Grove City, PA 16127 - 866-641-7141 (We recommend this book).
Slate Roofing in Canada (Studi4es in archaeology, architecture, and history),
Smart Guide: Roofing: Step-by-Step Projects, Creative Homeowner (Ed), 2004, ISBN-10: 1580111491, ISBN-13: 978-1580111492
Solar heating, radiative cooling and thermal movement: Their effects on built-up roofing (United States. National Bureau of Standards. Technical note), William C Cullen, Superintendent of Documents, U.S. Govt. Print. Off (1963), ASIN: B0007FTV2Q
Tile Roofs of Alfred: A Clay Tradition in Alfred NY
"Weather-Resistive Barriers [copy on file as /interiors/Weather_Resistant_Barriers_DOE.pdf ] - ", how to select and install housewrap and other types of weather resistive barriers, U.S. DOE
Wood Shingle Roofs, Care and Maintenance of wood shingle and shake roofs(EC), Stanley S. Niemiec (out of print)
...