Septic Tank Inspection FAQs
InspectAPedia tolerates no conflicts of interest. We have no relationship with advertisers, products, or services discussed at this website.
Questions & answers about how to inspect the condition of a septic tank:
These septic tank inspection FAQs discuss when, where, how and why to inspect the condition of a septic tank.
We discuss specific septic system inspection details and concerns for steel septic tanks, concrete septic tanks, home made septic tanks, fiberglass or plastic septic tanks, and the condition of septic tank baffles.
Green links show where you are. © Copyright 2017 InspectApedia.com, All Rights Reserved.
Septic Tank Inspection FAQs: Inspect the Condition of the Septic Tank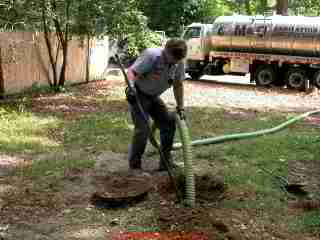 Recently-asked questions and answers about septic tank inspections, approvals, certifications, tests
Corey,
We'd need more information to answer your question, including
1. Local building codes and regulations, zoning regulations about operation of a takeout food business from your home - ask your local building or zoning department about permitted uses of your property before spending money on anything else for this idea, as you'll need to operate legally both to avoid getting in trouble and worse, to avoid making someone sick by making a health-mistake.
2. If the use is permitted, you'll need to review any changes in the anticipated wastewater volume at your property as that may exceed the capacity of your septic system.
I apologize that it sounds a bit glib, but as long as a property use is permitted, you can usually do almost whatever is needed - if you are able to spend enough.
An "engineer" isn't the person who approves your septic system for an expanded use, that's your local health, building, or code department. However you might need a septic engineer to describe what's installed and its capacity to assert that it meets the local requirements, or to give you a plan to make it meet what's required.
Search InspectApedia.com for STEEL SEPTIC TANKS to see details about metal septic tanks and their common hazards and problems. I would be careful about making assertions that the septic tank is in "perfect working order" without inspection and testing of both the tank and the drainfield.
I have a steel septic tank that is in perfect working order...but I'm trying to open a pizza takeout in my home and need to get an approval from an engineer to get my food establishment permit...is this possible?
SCM
An outlet filter at the septic tank is a good design improvement at any time and would be expected to extend the life of the drainfield. The filter reduces the passage of small solids out of the tank and into the absorption area where such solids clog the soil and shorten the field life.
Be sure to discuss the ease of access to and frequency of maintenance requirements for the new filter. Installing a filter of limited capacity that needs frequent service would be a pain and might not in fact be maintained as it should. That can in turn lead to a sewage backup. Search InspectApedia for SEPTIC TANK FILTERS to read details.
If by"t-box" your tech meant the baffle or tank tee found at the septic tank outlet end, if that's missing or damaged it's very important to repair as otherwise large solids, grease, scum flow out of the tank and ruin the drainfield. Search InspectApedia for SEPTIC TANK TEES to read details.
If the tech meant "D-box" or distribution box, search InspectApedia.com for SEPTIC TANK D-BOX to read details.
Recently had my septic system (1000 gal. concrete / condition good / circa 1998) pumped. At time of inspection, the second access port for the septic outlet filter checked. The tech. alerted no removable filter / "t-box" (concrete) that presented as in poor condition. Have been advised to have that removed, and a filter added.
The original leech field quite old (unsure of date) but given dyanamics of the property would seem to work well / no issues ever noticed (in the area of the front year / very open lawn area facing a road, land area slopes gently on other side of road. The tech. indicated that the system seemed to be working well overall, but that a current outlet filter would be prudent.
Both access ports provide clear access / inspection. Have owned the property (Ellsworth, Maine) since 2004. The home is a combination of new stick build and (from the sills up) restructuring of the original property (2 bath / two bedroom with den / bedroom).
Given that the system has continued to work well to this point (pumped every 4 yrs. on average), add the filter? (as a rule one / two occupants...care taken as to what is flushed / drained. Perspective appreciated.

Jim the pumper's surmise is reasonable; why not check the tank levels when it's in use, then check it again when it's been out of use for a few months; normally the tank level will fall very little as there is little evaporation out of a closed septic tank.
I am not aware of any septic tank with a bottom drain feature. To me that makes no sense at all and sounds more like a suburban legend. Where would that drain drain-to? How would one access such a drain? Why would it be used? How would opening a tank bottom drain remove inches or more of settled sludge nor floating scum from a septic tank - the objectives of cleaning a septic tank?
When the tank has been completely pumped and cleaned out your pumper can inspect the tank for visual evidence of damage, cracks, holes. Certainly steel septic tanks rust out and leak; concrete tank leaks or fiberglass/plastic tanks are more rare.
Pumper claimed there is probably a leak in my concrete septic tank due to a low level of scum/effluent.
Not sure how much below it was from the outlet pipe invert. Home was used by six people for one week about 2 months prior to pumping. Other than that it is used just once a year for a week or two.
House/septic tank is 40 years old with good maintenance.
Neighbor states some tanks have a drain hole in the bottom that may be plugged or unplugged, if unplugged, letting water drain out slowly.

"Guessing" by a seller is worth as much to you as the amount of money I am enclosing with this e-text reply.
Root-clogged piping can be cleared out but the roots will come back within typically about a year;
High waste in a septic tank tells me that either lines out of that tank are blocked or the absorption field is flooded and is likely to be in failure. You can purchase the house but I'd have in reserve money to repair or replace the septic system or at least the fields. Or obtain an independent, un-biased inspection and report and repair cost estimate before proceediing if you can.
I am getting ready to purchase a older house and the septic inspection showed the out line was not discharging properly and a full inspection couldn't be done for it was over full.
The owners had the out line cleared *guessing roots were growing through line" is what we were told and now they said teh aeration is 3 in too high in cross over tank? I don't understand...should I run from the deal, fast?

Ryan
I've been thinking about your question;
Start by looking at the pump alarm floats to be sure a float is not stuck "up" - that would keep the alarm on.
If the wastewater level is anywhere above the highest that the high level float will reach then the float should turn on the alarm and the system is telling you a pump repair is needed. The intent is to tell you early enough - before the pumping chamber is full-to-overflowing - that you can get a repair done without having to risk a sewage backup into the building.
I don't know the "safe limit" for the second tank as I've no design data for your system but as I said, see where the floats are in re the sewage level. That'll tell you if the float and its switch and alarm are doing their job or rather need repair or replacement.
Basically if the float that turns on the pump is not turning the pump on, then the float, switch, pump or wiring are in trouble and need repair.
Details are at SEPTIC PUMP ALARM SYSTEMS - https://InspectAPedia.com/septic/Sewage_Pump_Alarms.php
we have moved to a new home in the country , we have a 2 part septic tank. My high level alarm has been going off .
Stopped using water for 16 hours to see if this would do anything , The tank remained the same . Pulled the pump and alarm out both seem to work fine . what is the safe limit for water in the second tank ? it about 6 inches over the pump and 2 feet from the solid side over flow is this normal amounts ?

On opening the tank check the sewage levels. A drop of a few inches below the tank outlet may not mean trouble as there will be a *little* liquid loss over a couple of years of disuse.
If the sewage level is lower than that the tank may be leaking and damaged.
If the sewage level has been high in the tank, say overflowing the baffles, the drainfield or piping is blocked or failed.
House was unoccupied for 2 yrs and septic not used. Are there any concerns or special considerations we should be aware of before pumping out septic tank?
Question: My septic tank was cleaned out, then received about two feet of wastewater - the level never dropped. Is something wrong?
I had my septic tank emptied and left the lid off so I could monitor what was going on . soon there was 2 feet of liquid in it ..
I then left town for 2 weeks and when I came back , the 2 foot level had not dropped at all ... if this tank is a 2 compartment tank does that mean that the water level must get a lot higher to spill over to the part of the tank that heads to the leach field ? also , if that is true then by putting in liquid that would help clear up my leach lines wouldn't do any good until the level is much higher ?
can you give me any comments about this please ? thanks for the help. P.D.
Reply:
A competent onsite inspection of the septic tank by an expert usually finds additional clues that help accurately diagnose a problem with the tank, its baffles, piping, or the septic drainfield. That said,
Watch out: you should never leave the lid off of a septic tank. Doing so risks killing someone. Anyone, adult or child, who falls into an open septic tank is likely to die very quickly due to asphyxiation from methane and other gases in the tank. Details are at SEPTIC SYSTEM SAFETY WARNINGS

Now, a properly functioning septic tank is water tight. The liquid or sewage or wastewater level in the septic tank won't drop below the tank outlet opening unless the tank is damaged and leaking. A normal septic tank is always full of waste up to a level just below the outlet opening.
In a two compartment septic tank the wall separating the two compartments will have an opening that allows liquid effluent to flow into the second compartment, keeping floating scum and settled sludge in the first compartment (mostly). The entire tank, both compartments, will need to be filled with wastewater before any effluent will begin to flow out of the septic tank and into the drainfield or soakaway bed.
So when you observed about two feet of waste in the septic tank, then left the system unused, you'd expect to find exactly the same amount in the tank weeks later. Only a very slight drop in level might occur, less than an inch - caused by evaporation - because you left the tank open (and dangerous).
Please see SEPTIC TANK LEVELS of SEWAGE for details about how to interpret abnormal levels of sewage found in the septic tank (too high or too low).
Question: I am concerned that my septic pumping chamber is being eaten away above the water line - the concrete is chipping
i have a concern my pump chamber is eating away above the water line and the concrete is chipping away have any idea and the tank is only nine years old i never noticed this 3 years ago but my neighbor whose house was built about 3 months after mine said he noticed his after six months can u help me as to what may have cause this. - Joseph 4/15/12
Reply:
Joseph,
You are describing a concrete septic tank or in this case a concrete effluent or sewage pumping chamber. I'm doubtful that the chipping away (probably spalling) is due to anything you are putting into the septic tank via your wastewater, certainly not in normal use.
If the damage to the concrete tank is significant, you may have a concrete tank that was poured out of a bad mix.
If the damage is superficial, say 1/2-inch or less into a 4" or thicker concrete tank wall, it's not a near term issue.
When the septic tank is pumped, ask the pumper to note the condition of the tank, evidence of cracks, holes, damage, damaged baffles, excessive spalling, or a lot of concrete scrap on the tank bottom.
See SEPTIC TANK INSPECTION PROCEDURE for help in understanding how a septic tank is cleaned and inspected, and for examples of defects that can be found on inspection of the septic tank.
...
Continue reading at SEPTIC TANK INSPECTION PROCEDURE or select a topic from closely-related articles below, or see our complete INDEX to RELATED ARTICLES below.
Or see SEPTIC TANK LEVELS of SEWAGE
Or see SEPTIC TESTS: DYE & LOADING TESTS.
Below in the ARTICLE INDEX in the form of individual detailed articles are the SEPTIC TANK CLEANING Procedure in the order that they should be performed
Suggested citation for this web page
SEPTIC TANK INSPECTION FAQs at InspectApedia.com - online encyclopedia of building & environmental inspection, testing, diagnosis, repair, & problem prevention advice.
Or use the SEARCH BOX found below to Ask a Question or Search InspectApedia
...
Frequently Asked Questions (FAQs)
Try the search box below or CONTACT US by email if you cannot find the answer you need at InspectApedia.
...
Ask a Question or Search InspectApedia
Questions & answers or comments about "how do you inspect or test a septic tank?", what septic tank problems can be seen and what problems can be found before, during, or after pumping out the septic system.
Use the "Click to Show or Hide FAQs" link just above to see recently-posted questions, comments, replies, try the search box just below, or if you prefer, post a question or comment in the Comments box below and we will respond promptly.
Search the InspectApedia website
Technical Reviewers & References
Click to Show or Hide Citations & References
New York State Department of Health, "Appendix 75-A Wastewater Treatment Standards - Individual Household Systems", [PDF] New York State Department of Health, 3 February 2010, retrieved 3/1/2010, original source: https://www.health.ny.gov/regulations/nycrr/title_10/part_75/appendix_75-a.htm
US EPA Onsite Wastewater Treatment Systems Manual [online copy, free] Top Reference: US EPA's Design Manual for Onsite Wastewater Treatment and Disposal, 1980, available from the US EPA, the US GPO Superintendent of Documents (Pueblo CO), and from the National Small Flows Clearinghouse. Original source http://www.epa.gov/ORD/NRMRL/Pubs/625R00008/625R00008.htm Onsite wastewater treatment and disposal systems, Richard J Otis, published by the US EPA. Although it's more than 20 years old, this book remains a useful reference for septic system designers. U.S. Environmental Protection Agency, Office of Water Program Operations; Office of Research and Development, Municipal Environmental Research Laboratory; (1980)
Eco John® Innovative Toilet Solutions, Global Inventive Industries, Fountain Valley CA, PDF, product brochure
"International Private Sewage Disposal Code," 1995, BOCA-708-799-2300, ICBO-310-699-0541, SBCCI 205-591-1853, available from those code associations.
"Manual of Policy, Procedures, and Guidelines for Onsite Sewage Systems," Ontario Reg. 374/81, Part VII of the Environmental Protection Act (Canada), ISBN 0-7743-7303-2, Ministry of the Environment,135 St. Clair Ave. West, Toronto Ontario M4V 1P5 Canada $24. CDN.
Manual of Septic Tank Practice, US Public Health Service's 1959.
Advanced Onsite Wastewater Systems Technologies, Anish R. Jantrania, Mark A. Gross. Anish Jantrania, Ph.D., P.E., M.B.A., is a Consulting Engineer, in Mechanicsville VA, 804-550-0389 (2006). Outstanding technical reference especially on alternative septic system design alternatives. Written for designers and engineers, this book is not at all easy going for homeowners but is a text I recommend for professionals--DF.
Builder's Guide to Wells and Septic Systems, Woodson, R. Dodge: $ 24.95; MCGRAW HILL B; TP; Quoting from Amazon's description: For the homebuilder, one mistake in estimating or installing wells and septic systems can cost thousands of dollars. This comprehensive guide filled with case studies can prevent that. Master plumber R. Dodge Woodson packs this reader-friendly guide with guidance and information, including details on new techniques and materials that can economize and expedite jobs and advice on how to avoid mistakes in both estimating and construction. Chapters cover virtually every aspect of wells and septic systems, including on-site evaluations; site limitations; bidding; soil studies, septic designs, and code-related issues; drilled and dug wells, gravel and pipe, chamber-type, and gravity septic systems; pump stations; common problems with well installation; and remedies for poor septic situations. Woodson also discusses ways to increase profits by avoiding cost overruns.
Country Plumbing: Living with a Septic System, Hartigan, Gerry: $ 9.95; ALAN C HOOD & TP; Quoting an Amazon reviewer's comment, with which we agree--DF:This book is informative as far as it goes and might be most useful for someone with an older system. But it was written in the early 1980s. A lot has changed since then. In particular, the book doesn't cover any of the newer systems that are used more and more nowadays in some parts of the country -- sand mounds, aeration systems, lagoons, etc.
Septic Tank/Soil-Absorption Systems: How to Operate & Maintain [ copy on file as /septic/Septic_Operation_USDA.pdf ] - , Equipment Tips, U.S. Department of Agriculture, 8271 1302, 7100 Engineering, 2300 Recreation, September 1982, web search 08/28/2010, original source: http://www.fs.fed.us/t-d/pubs/pdfimage/82711302.pdf

Septic System Owner's Manual, Lloyd Kahn, Blair Allen, Julie Jones, Shelter Publications, 2000 $14.95 U.S. - easy to understand, well illustrated, one of the best practical references around on septic design basics including some advanced systems; a little short on safety and maintenance. Both new and used (low priced copies are available, and we think the authors are working on an updated edition--DF. Quoting from one of several Amazon reviews: The basics of septic systems, from underground systems and failures to what the owner can do to promote and maintain a healthy system, is revealed in an excellent guide essential for any who reside on a septic system. Rural residents receive a primer on not only the basics; but how to conduct period inspections and what to do when things go wrong. History also figures into the fine coverage.
US EPA Onsite Wastewater Treatment Systems Manual Top Reference: US EPA's Design Manual for Onsite Wastewater Treatment and Disposal, 1980, available from the US EPA, the US GPO Superintendent of Documents (Pueblo CO), and from the National Small Flows Clearinghouse. Original source http://www.epa.gov/ORD/NRMRL/Pubs/625R00008/625R00008.htm
Books & Articles on Building & Environmental Inspection, Testing, Diagnosis, & Repair
Our recommended books about building & mechanical systems design, inspection, problem diagnosis, and repair, and about indoor environment and IAQ testing, diagnosis, and cleanup are at the InspectAPedia Bookstore. Also see our Book Reviews - InspectAPedia.
Inspecting Septic Systems: Online Book, Inspection, Test, Diagnosis, Repair, & Maintenance: our Online Septic Book: Septic Testing, Loading & Dye Tests, Septic Tank Pumping, Clearances, details of onsite waste disposal system inspection, testing, repair procedures.
SEPTIC SOIL & PERC TESTS soil perc testing guide and instructions
Percolation Testing Manual, CNMI Division of Environmental Quality, PO Box 501304, Saipan, MP 96950
Test Pit Preparation for Onsite Sewage Evaluations, State of Oregon Department of Environmental Quality, Portland OR, 800 452-4011. PDF document. We recommend this excellent document that offers detail about soil perc tests, deep hole tests, safety, and septic design. Readers should also see SEPTIC SOIL & PERC TESTS and for testing an existing septic system, also see Dye Tests
...