Relief Valve Discharge Tube Hazards
Installation, inspection, & specifications for discharge tubes on TPR valves used on boilers, calorifiers, geysers, & water heaters
RELIEF VALVE DISCHARGE TUBE - CONTENTS: how should the drain line or discharge tube be installed on T&P valves: TPR valves or temperature & pressure relief valves used on heating boilers, hot water cylinders, geysers, or on other water heating devices?
POST a QUESTION or READ FAQs about TPR valve or temperature/pressure relief valve drain line piping
InspectAPedia tolerates no conflicts of interest. We have no relationship with advertisers, products, or services discussed at this website.
T&P valve discharge tubes:
This article describes the requirements for a discharge tube or drain line on temperature & pressure relief valves used on any appliance that heats water. These include hydronic heating boilers (hot water boilers), steam boilers, and all types of water heaters, both those that use a water storage tank or cylinder and those that heat water on demand such as tankless water heaters.
Here we describe the installation specifications for TPR valve drain line piping and we include an extensive list of discharge tube installation or condition defects, most of which are unsafe. All of them are improper.
Green links show where you are. © Copyright 2017 InspectApedia.com, All Rights Reserved.
Temperature/Pressure Relief Valve Discharge Tubes & Drain Lines & Their Piping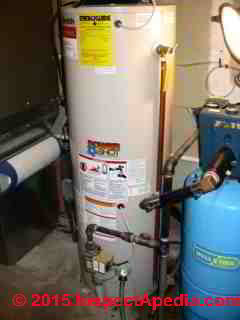 The Temperature & Pressure Relief Valve or TPR Valve on any heated appliance that contains water, such as a heating boiler, hot water tank, water heater, water cylinder, must have a drain line or discharge tube properly installed, routed, and made of proper materials. The purpose of this drain line is to discharge potentially hot scalding water to a safe location so that a bystander is not scalded.
At left we see a typical TPR valve installation (by the author) including the vertical 3/4" copper drain piping that will discharge any T&P valve spillage to the floor.
[Click to enlarge any image]
An unsafe TPR drain line installation is shown at the top of this page. Only a complete fool would do what we found on this boiler. To "stop" an annoying boiler drip at the pressure temperature relief valve, the mechanic installed a short length of pipe capped by a drain valve which he could simply shut. This might have been installed on a system for other reasons, such as connecting a hose to permit easy draining of pressure off of the boiler through the TP valve.
But it is in all events dangerous, illegal, and plain stupid to ever install a shutoff valve or any other sort of "cap" on a pressure/temperature relief valve.
But how dangerous is it to omit a discharge drain tube on a TPR valve? The possibility of a scalding burn is obvious but do these accidents actually happen?
Noticing that a TPR discharge tube was missing on a heating boiler during a home inspection I [DF] pointed out this safety hazard to my client while the real estate agent nearby frowned at my "old maid" trouble-making personality. My client burst into tears. Sobbing she told me that she was grateful that inspectors would routinely point-out this hazard. Her son, playing with friends in the basement, lost an eye when he and a pal opened the discharge lever on a heating boiler, scalding his face and ruining his left eye forever.
Less dramatic but scary, at a different inspection I found that a string tied through a small hole in the end of the TPR valve's test lever. The string was routed up towards the ceiling, over a horizontal plumbing line and back down to a termination in a nice knot a few feet above the floor. This interesting TPR test lever addition was explained by the building owner. His son and friends liked to play steam boat. It was fun to pull the string, pretending it was a steam boat whistle, and to see the burst of steamy hot water emerge from the end of the discharge line.
TPR Valve Discharge Tube Inspection: Signs of Trouble, Unsafe Installation, Safety Hazards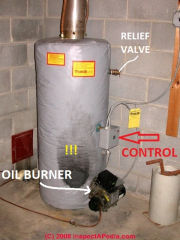 Watch out: While it is possible to "open" a boiler TP relief valve by lifting its "test" lever, unless you are a trained heating service technician or plumber, and unless you have a spare TP valve of the proper size in your hand, we advise against "testing" a TP relief valve by opening this lever.
TPR Valve Discharge tube is installed: Check that the Temperature/Pressure relief valve has a discharge tube properly installed. The drain line must be connected to the discharge outlet of the T&P valve to "avoid water damage and scalding injury." (Watts 2011)

Our photo (left) shows an oil fired water heater with a T&P valve that has no discharge tube installed. There are of course other operating problems with this water heater as the photo makes clear.
TPR Valve Discharge tube blocked: Check that the discharge is not blocked by anything whatsoever. Our page top photo shows a shutoff drain valve installed at the end of a short T&P valve discharge line.
TPR Valve Discharge Tube Corrosion: any leak or corrosion stains around the mouth of the valve indicates that the T&P valve has been leaking.

The risk is that the valve is no longer leaking not because a proper repair has been made, but because the valve has become clogged and blocked by mineral salts left behind by the evaporating hot water - leaving the installation dangerous and risking a BLEVE - explosion.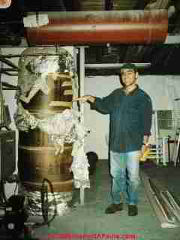 TPR Valve Discharge Tube Covered: the tube end or termination cannot be covered such as by add-on water heater insulation.

In our photo at left, the relief valve on this water heater has been covered by owner-installed water heater insulation.

This is an unsafe condition as the operation of the temperature or pressure relief valve may be interfered with by the insulation and also because the valve cannot be inspected for evidence of leaks or failure.

Similarly, discharging a relief valve leakage or drip to a location where the leak or drip cannot be observed is a dangerous practice because the leak can go unnoticed, causing failure to recognize an unsafe condition.

When a relief valve continues to leak it may become damaged and then fail to operate when an unsafe pressure or temperature occurs.

TPR Valve Discharge Tube Piped "UP": the drain line must never be piped upwards in any of its course. The hazard is that the drain can become blocked or that a small drip, representing an unsafe condition at the T&P valve, may be hidden as the water simply accumulates in the bend of the trap or upwards piped section.
See TPR DISCHARGE DRAIN PIPED UP
TPR Valve Discharge Drain Line Traps: the T&P valve drain line may never be trapped for the same reasons that the drain line cannot be piped upwards.
TPR Valve Discharge Tube Crimped, Plugged, or Reduced: the drain line may not be bent, crimped, nor plugged by any material. The diameter of the drain line may not be reduced to a size smaller than the opening of the T&P valve that it serves. Some jurisdictions may limit the number of elbows or bends permitted in the piping.
The photos above illustrates this unsafe installation practice: a 1/2" copper tube has been installed through a reducing fitting into the mouth or piping of a 3/4" diameter TPR valve. At above left the reducer from 3/4" to 1/2" was installed at the TPR valve opening. At above right a reducing elbow was used to shrink the 3/4" horizontal T&P drain line (from the TPR valve mouth) to 1/2" for the vertical run to the floor. Both of these installations are improper and unsafe.
TPR Valve Discharge Tube Active Leaking: at above left we show a wet floor area as well as the corroded end of the T&P discharge tube. This relief valve is actively leaking. In this case investigation showed that the valve itself had failed - we replaced it.
TPR Valve Drain line Drip Marks: any drip stains on the floor below the valve discharge tube (photo at above right ) also indicate a history of leaks at the T&P valve. Without further investigation we don't know if this problem has been repaired or if it is simply intermittent.
TPR Valve Discharge Tube Opening is Wet: If there is corrosion on the end of the discharge tube or if you see drip stains on the floor below the drain pipe, even if the floor is dry you should always test for active or recent spillage at the relief valve. It's possible that water on the floor has dried (on its own or with some help before a building inspection).

But if there has been recent spillage at the TPR valve the interior of the end of the discharge tube can confirm that. Using your finger, feel the inside of the tip of the discharge tube and check for water - it should be dry. As the two photos show below, even though the floor was dry below this T&P drain line, the interior of the drain was wet - there was active leaking (or someone had recently opened the valve).
TPR Valve Discharge Tube Materials: the drain line material requirements vary by jurisdiction; some areas permit both plastic as well as copper or galvanized steel piping. But where plastic drain line materials are used, the temperature rating of the plastic must be above the highest temperature that might be produced by the heating appliance to which the T&P valve is connected.
TPR Valve Discharge Tube Shut-off Valves: no shutoff valve can be installed anywhere in the discharge piping of a T&P valve
TPR Valve Discharge Tube Termination Fittings: the end of the discharge or drain line tube should not be threaded nor fitted with any device that would permit attachment of a cap, plug, or valve that could close off the line.
TPR Valve Discharge Tube Termination Location: The water that may be discharged from a T&P valve must be conducted to a safe place of disposal. This may be a floor drain (recommended by Watts) or in some jurisdictions another location may be permitted. Some jurisdictions do not permit the discharge drain destination to be hidden from view, on the theory that you won't see a drip or leak and won't thus detect an unsafe condition.

Other jurisdictions, such as in the U.K., permit the TPR valve drain line to be piped to a hidden location but require the installation of a tundish in the drain line at a suitable visible location. The Tundish will allow the occupants to see that the TPR valve is leaking, and its air gap provides other plumbing sanitation and blockage protection features.
See TUNDISH used in PLUMBING

Outdoor terminations of a T&P valve drain line may be permitted in some jurisdictions, even required, to avoid water damage inside the building. However unless a tundish device is properly included such installations are unsafe. And piping a T&P drain line outside in freezing climates is unsafe because a dripping line may freeze and become blocked.
TPR Valve Mounting Leaks: Check for leaks around the valve where it is mounted on the boiler or boiler piping. This is a TPR valve defect, not a TPR discharge tube defect, but depending on the valve position and location, a leak around the TRP valve mount may send water (or corrosion or mineral salts) down the outside of the discharge tube, offering a valuable visual clue and possibly being mistaken for a defect in the tube itself
Why We Never Pipe the T&P Valve Drain Line Upwards from the Valve Mouth
Reader Question: explain the concern for a water heater discharge line above the TPR valve - why can't we pipe a TP valve discharge tube "up"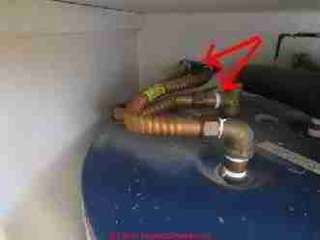 I am ... in the process of selling a condo I own. I got this request for repairs for the hot water heater with a picture of the heater. On the picture it shows the that the discharge line is above the TPR valve, and that this is a problem (see description on attachment). This doesn't make any sense to me. Can you help me decide what the best action would be? thanks. - R.N. 7/11/2013
Quoting from the inspection report:
The overflow line is higher than the Temperature and Pressure Relief (T & P) valve. The over flow line should always allow to water to drain to a point lower than the valve without backing up to the valve.
Water trapped in the discharge line may cause the T & P valve to corrode and malfunction. (The concern is if the water overheats and turns to steam, and the temperature control valve fails to function, the over pressure may cause the heater to burst or explode.)
Lowering of the discharge line to a point below the valve and replacement of the valve should solve the problem.
Reply:
The photo is a bit difficult to read but if you look closely where the two flexible copper lines enter the wall behind the water heater, you'll see that the smaller leftmost flexible tube, connected back to the water heater TP valve, enters the wall at a height above the valve outlet opening. What the home inspector said was perfectly correct and represents a safety hazard.
Perhaps if I explain the concern in my own words it will be more clear:

The temperature/pressure relief valve on a water heater is connected to a drain line so that if the valve  opens someone nearby is not shot in the face with hot water. The discharge drain extension is typically taken to just a few inches above the floor or in some jurisdictions it may be directed outdoors - a solution that I think is risky because IF the valve should be leaking, dripping, etc., one wants to notice that and fix it to keep the system safe.

The inspector's report makes a valid point: we should never route the discharge tube "up" from the actual outlet opening of the TP valve. That's because if the valve should develop a small leak or be discharged on occasion, the up-routed discharge tube will keep water and debris remaining in the tube at the valve outlet where debris or mineral accumulation clog the valve or interfere with its operating spring.
The result over time could be that the valve becomes clogged and would then fail to open in a true emergency - risking, ultimately a dangerous BLEVE or water heater explosion.

Watch out: ALSO, I suspect from the photo that your water heater has a discharge tube that directs the valve outlet into a wall and going to who knows where. If the other end of that line is not already readily visible and in a location where it would be noticed, that too would be unsafe and improper.

The FIX for this unsafe condition is usually trivial: the discharge tube must be routed only "downwards" from the TP valve outlet opening, and the end of the discharge tube must be in a readily accessible, visible, and safe location. You'd probably find these same instructions in the installation manual for the water heater.

The COST for this repair should be no more than a simple plumbing service call and perhaps a few piping connections. What would make sense to me and what would be most economical would be to combine this repair with any other plumbing repairs that are needed at the home.

The TIME to fix this problem is as soon as possible, without handling it as an extra-cost "immediate-emergency" plumbing repair. That means, call a plumber and schedule the work for as soon as possible and practical, but not sounding so scared that the plumber gouges the customer with extra fees.
...
Continue reading at RELIEF VALVE LEAKS or select a topic from closely-related articles below, or see our complete INDEX to RELATED ARTICLES below.
Or see RELIEF VALVES - TP VALVES - home
Suggested citation for this web page
RELIEF VALVE DISCHARGE TUBE at InspectApedia.com - online encyclopedia of building & environmental inspection, testing, diagnosis, repair, & problem prevention advice.
Or use the SEARCH BOX found below to Ask a Question or Search InspectApedia
...
Frequently Asked Questions (FAQs)
Try the search box below or CONTACT US by email if you cannot find the answer you need at InspectApedia.
Question: no discharge tube on TP valve, steam coming out; Wrong TP valve rating?
(Oct 8, 2012) Filipe Bernardino said:
I have a relief valve right on top of my steam boiler, it doesn't have a discharge outlet but it has openings right on top of it where i see some, if not too much steam coming out, it should be replaced or it is normal?
(Oct 8, 2012) raul said:
if the installation for my boiler said use 50psi and the tech put in 30psi relief valve. do you think that's the reason it keeps leaking.
Reply:
Anon
Possibly. But it's easy to check. Compare the actual boiler pressure when leaks are seen with the valve rating. Normally a hydronic heating boiler doesn't run over 30 psi
Fillip, the valve should not be leaking, but before replacing it you need to know why it's leaky, as the problem may not be the valve. Call your service company as this is va safety concern
Watch out: a discharge tube is required on TP valves to avoid scalding burn hazards.
Question: does the relief valve discharge tube have to be of copper? Is PVC ok?
Thanks for the information. Is there any requirement that the fitting and pipe extension is required to be made from copper? I came across a boiler where the fitting off the T&P and the extension to the floor is made of PVC. - Kevin 7/26/2011
Reply:
Kevin the relief valve would itself tap into a metal fitting on the boiler or on older installations on metal heating piping. But the discharge tube on many new installations is plastic; it's a pipe that rarely sees service and whose job is to divert hot water to the floor rather than onto a bystander. In that application most code officials accept PVC.
Question: Should TP Valve Discharge Lines be Trapped?
Does TP valve on residential water heater use a p-trap - Xavier
Reply:
No Xavier, the discharge from a TP valve should not be trapped it's discharge end should be visible
Question: handling TP valve discharge
(Nov 12, 2012) W Fisher said:
My new tankless water heater is in a place in my basement (finished) where there is no floor drain. A sump pit and pump exist in the area. Obviously if my relief valve activates, if it were to just be allowed to dump onto the floor, the water would travel through a finished part of my basement before reaching the drain.
Right now I have a piece of plastic tubing attached to the bottom of the 3/4" relief valve pipe. This is probably not the best or legal solution but it would keep my basement from flooding (so long as sump pump operates.) Is there a legal uption of looping the relief valve dicharge tube up through the band board of my house so it can drain to the outside?
Reply:
Plastic discharge tube extensions may be unsafe if the plastic is a type that may deteriorate, melt, or rupture when exposed to hot water.
Do not pipe the TP valve discharge tube UP - the result (because dripping or leaks can remain in the piping and valve opening) can be a clogged, failed TP valve and a fatal BLEVE explosion.
You can pipe a tp valve down and to a floor drain provided the end ofmthe extension remains visible.
Question: Can 3/4-inch flexible copper tubing sections (with FIP ends) be legally used in any part of a water heater's T&P discharge line?
13 March 2015 Stan Stan the Inspector Man said:
Can 3/4-inch flexible copper tubing sections (with FIP ends) be legally used in any part of a water heater's T&P discharge line?
Reply: yes but not as termination and not piped up and not where the line can be bent "up"
Thanks for the excellent question, Stan.
In a photo above on this page you can see a flexible 3/4" copper tube used in the routing of the discharge of a TP valve from the top of a water heater. No one called out the use of that piping material itself as a hazard, but there can be hazards nonetheless depending on how that tube is routed - such as to a hidden location without a Tundish or routed "up" from the TP valve itself.
So ... it depends. If for example someone installed a flexible line to replace a straight downtube running down the side of a water heater from the TP valve, I'd be worried that some fool would come along and bend the tubing "up" - as nothing prevents them from doing so. Maybe to get it out of the way of a basketball or something. The result is a dangerous blockage of the TP valve and the risk of a BLEVE explosion. SO if I I were a building inspector given final authority I'd object to that installation. But I might not object to use of the same tubing connecting properly beween a valve's discharge opening and a proper destination.
Quoting from Watts:
Discharge line must always be installed to avoid water damage and scalding injury, when valve operates. Discharge line must be same size as valve outlet, be pitched down for free draining, and have no shut-off valve or obstructions throughout its entire length. Discharge line termination point should be visible to observe any discharge.
Nothing in their installation instructions prohibit use of flexible lines per-se but in summary, it is certainly possible to find two violations:
1. the flexible line, if not connected at both ends, could be bent "up" causing an unsafe condition
2. it is not permissible to terminate a TPR valve discharge line with a threaded fitting - the reasoning is that it's too easy for someone to screw a cap onto a dripping line, leading ultimately to a BLEVE explosion.
...
Ask a Question or Search InspectApedia
Use the "Click to Show or Hide FAQs" link just above to see recently-posted questions, comments, replies, try the search box just below, or if you prefer, post a question or comment in the Comments box below and we will respond promptly.
Search the InspectApedia website
Technical Reviewers & References
Click to Show or Hide Citations & References
"T&P and ASME Safety Relief Valves", (2011), retreived 10 Dec 2012, original source: http://media.wattswater.com/PG-TP-ASME.pdf, Watts Water Technologies, No. Andover MA, USA, 978-688-1811, Website: www.watts.com,
Watts Water Technologies, Burlington ON, Canada, Tel: 905-332-7068, Website: www.wattscanada.ca
Amtrol, "Therm-X-Trol Thermal Expansion Absorbers", Amtrol Inc., 1400 Division Road, West Warwick, RI 02893, Tel: 401.884.6300 Website: www.amtrol.com, online product literature re4trieved 3/26/2014, original source: http://www.amtrol.com/thermxtrol.html
Georg Fischer Piping Systems, "CPVC Pipe", retrieved 12/23/12, GF Piping, Pennsylvania 300 Kuebler Road Easton, PA 18040 phone (610) 252-7355, original source http://www.harvel.com/piping-systems/gf-harvel-cpvc-industrial-pipe, copy on file as GF_CPVC Industrial Pipe _ CPVC Pipe.pdf.
Thanks to Mark Cramer, Tampa Florida, for assistance in technical review of the "Critical Defects" section and for the photograph of the deteriorating gray Owens Corning flex duct in a hot attic. Mr. Cramer is a Florida home inspector and home inspection educator.
Zurn Engineered Water Solutions, retrieved 12/23/12, original source: http://www.zurn.com/Pages/ProductsList.aspx?NodeKey=398872
(Model BR4EC - Water Pressure Reducing Valve With Thermal Expansion Relief Valve … Discontinued Products,Pressure Reducing Valves,Wilkins Water Control,,R4EC,4EC)
[1] "Residential Electric Water Heater Installation Instructions and Use & Care Guide", American Water Heater Co., October 2001, American Water Heater Co., Johnson City, TN, [manufacturer of residential & commercial water heaters, also manufacturer of Polaris/Commercial water heaters], Tel: 800-999-9515, web search 1/12/2012, original source: americanwaterheater.com/support/manuals/res-elect.pdf [copy on file] [Technical review requested 1/25/2011]
[2] ANSI Z21.22 - 1986, provides requirements for pressure/temperature relief valves and automatic shutoff devices for hot water supply systems

[3] Pounds of lime deposited vs. temperature and hot water usage: see Purdue Bulletin #74 (also provided by A.O. Smith in the article below). Purdue's chart shows the number of pounds of lime deposited per year as a function of the water usage in gallons per day, with an assumed 10 grains of water hardness.
[4] "When, Why, and How to Remove Water Scale from Tank Type Glass-Lined Water Heaters (for non glass-lined tanks, consult water heater manufacturer)" PDF provided by A.O. Smith Water Products Company - hotwater.com/lit/training/4800r9.pdf 800-433-2545 - 01/07/2009.
[5] A.O. Smith's Form No. 4800 Rev. 8 Why? When? & How? /UN•LIME Specific De liming Instructions for use with Up-N-Down Transfer Kit for Tank Type Heaters. (Normally supplied in UN-LIME shipping cartons), Supersedes Form Nos. 4800 Rev. 7 and 4813-100.
[6] A.O. Smith's Form No. 4778* All about Deliming Coil-Type/Tube-Type Commercial Water Heaters and Hydronic Boilers *Normally supplied when ordering Part No. 4930 Motorized Deliming Pump Kit
[7] "Building Owner Water Heater Safety Notice", Building Department, City of Colleyville TX, web search 09/24/2010, original source: http://www.colleyville.com/dmdocuments/Building%20
Owner%20Water%20Heater%20Safety%20Notice%203-6-102.pdf
Quoting:
Water heater safety is imperative to the occupants of a building or structure. If improperly installed, water heaters can be detrimental to the structure, as well as being potentially fatal to its occupants. The proper installation of a water heater is so important that according to Texas State Law all water heater installations must be inspected by a state licensed plumbing inspector.
[8] Rheem Electric Water Heater "Owners Guide and Installation Instructions", (Australian models) rheem.com.au/images/pdf/owners_dom-elec_121996C_0707.pdf
[9] Watts, 815 Chestnut Street, North Andover, MA, USA 01845-6098, web search 09/18/2010 original source: http://www.watts.com/pages/learnAbout/reducingValves.asp?catId=64
[10] 52 Questions and their Answers [about] Hot Water [Heaters, Explosions & Water Heater Safety], Watts Regulator Company (1973)
[11] "Four hurt as water heater explodes", Elaine Porterfield, Paul Shukovsky, Lewis Kamb, Seattle Post Intelligencer, 28 July 2001, web search 25 Sept 2010, original source: http://www.seattlepi.com/local/33094_boom28.shtml
Quoting from the original news article:
The powerful blast occurred at 10:23 a.m. at Plaza Zacatecas -- a small strip mall that includes four Mexican American-run businesses: a video store, a butcher shop, a Mexican restaurant and a shop that sold clothing and other items. ... The steam-powered tank hurtled across the busy intersection at First Avenue South and South 152nd Street -- over at least six lanes of traffic -- before landing more than 439 feet away in the parking lot of a Pizza Hut. ... The tank then tumbled another 25 feet before coming to rest. Four people were injured in the blast. Three were treated and released from a local hospital, but one woman was admitted to Harborview Medical Center with second-degree burns to her arm.
[12] Water heater rocket myth: Mythbusters water heater explosion video produced in 2007, web search Sept 25 2010, original source: http://www.youtube.com/watch?v=JmJoyuUJj2Q
Website: http://dsc.discovery.com/tv/mythbusters/
Quoting from Mythbusters: (Discovery Communications,
In small scale testing, the Mythbusters started with a small six gallon water heater and disabled all of its safety features under the theory of poor installation or neglect. While the water heater eventually ruptured, it did not explode like a rocket. The Mythbusters then upgraded to larger thirty gallon water heater which exploded with significantly greater force, sending the water heater several hundred feet into the air. In order to confirm the stated myth, the Mythbusters obtained a full size fifty two gallon water heater and built a shack around it with a roof that followed standard California building codes. The water heater eventually exploded, shooting through the roof five hundred feet into the air and disintegrating the shack. In light of these results, and the fact that there is documented evidence corroborating the myth, the Mythbusters deemed it confirmed.
[13] Water heater video #2, Mythbusters exploding water heater demonstration, a 50 gallon water tank explosion
http://www.youtube.com/watch?v=0rXwcDkobUY&feature=related

http://www.waterheaterblast.com/
Because of built in safety devices most water heaters safely operate day in, day out without any major problems. But don't let the excellent safety record of water heaters lull you into forgetting about the explosive potential of these marvels of convenience. When a water heater explodes, it releases a tremendous blast force which can easily demolish a building.
Randall Hilton and crew, with help from the Service Roundtable has prepared this video of a water heater explosion as a demonstration of the explosive power of a simple water heater. The hot water tank explodes using the steam pressure that any water heater can generate when the thermostat and temperature pressure relief valve (T&P valve or PT valve) malfunction. We were impressed by how far the tank flew after the water heater exploded. Click on the links below to view the video. Then, visit the Q&A page for warning signs as well as simple steps which can help you prevent your own water heater from exploding.
Books & Articles on Building & Environmental Inspection, Testing, Diagnosis, & Repair
Our recommended books about building & mechanical systems design, inspection, problem diagnosis, and repair, and about indoor environment and IAQ testing, diagnosis, and cleanup are at the InspectAPedia Bookstore. Also see our Book Reviews - InspectAPedia.
...